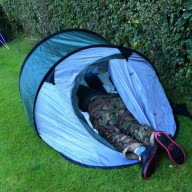 aka Philomena Cunk aka Barry Shitpeas
ClioSport Club Member
Bought this a couple of weeks ago to replace the BMW as Erik is getting on a bit and doesn't always make the jump into the boot, so I wanted him to have his own door so he can step up into the car, plus I fancied a change and a new project so I decided to get back into Mk4 Golfs and build a 200+bhp daily that'll do 45mpg.
So using all the car knowledge i've learnt over the years, knowing what to look for and being very thorough I somehow ignored all of that, took a leaf out of
@cookies
book and bought the first barely functional shed I laid eyes on, it was up for £895 so after having a good look round it and listening to the engine which actually sounds pretty sweet for a 183k mile car and taking it for a test drive, I offered him £850 and he instantly said yes which gave me a feeling of regret straight away knowing that not only should I have started lower, but he said yes very quickly which is never a good sign.
It sat on the drive for a few weeks while I bought a few bits for it, new wheels off ebay for £100 with more tread than the fronts currently had, even if they were mint alloys with new tyres there was no way I was going to roll around with Team Dynamics multifit Jets on them, proper chav sh*te.
They could do with a refurb but for the time being this is how they're staying, remains to be seen if they hold air for more than a day.
Tried and failed to do a service because the sump nut is cross threaded, the oil was like black tar so I put engine flush in it which I now couldn't get out, the oil filter housing was also stuck solid and needed a hammer to hit the socket to make it move, so only managed to change the air filter last weekend which was long overdue, another bad omen, I don't think this thing's been serviced in a very long time.
So bought a new sump off ebay for £25 and took it and the rest of the stuff I failed to do over to my good mate Ryan (
@Dr HMS Derv Destroyer
), who's has been fixing my broken junk for years and is the only reason the Clio has carried on working as long as it has.
As soon as I pulled up he said "your brake pad's fallen out", turns out he was wrong it hadn't fallen out at all, it had completely disintegrated and come away from the backing plate, on the way over I did think "why is there a slight judder when braking"?
That's why!
So with everything closed on a Saturday afternoon the only place that had pads wanted £28, although not expensive it's certainly more expensive than normal oem pads, especially as there going in the bin as soon as i've sourced new discs as they're so f*cked Ryan had to take a grinder to them to get all the rusted crap off so the pads had a decent surface to make contact with.
Oh well it's an old car there's bound to be a few things wrong with it, as long as that's all that's wrong then.......oh
Going well so far, don't worry it gets worse, in the end the last two bolts on the sump were seized solid and are going to take longer than a Sat afternoon to sort so the new sump will have to wait for another day, at least the oil got changed by removing the sensor and dropping it out that hole instead, didn't get any photos of that as Ryan was swearing a lot by this point so I stayed well out of his way.
Also has the wrong battery but the guy I bought it off said it fired up instantly after sitting for two weeks, it also fired up instantly after sitting on my drive for two weeks, so i'm not counting that as a problem that needs fixing.
It has H&R springs on the back with Sachs dampers, but new oem springs on the front, so it's got some serious reverse rake.
Bodywork isn't too bad, one front wings has a dent and loads of scratches, a sill has lost a fight with a jack, the rear bumper looks like a small dog has been jumping in and out the back as there are loads of tiny claw marks, there's a few rust bubbles here and there but nothing too bad, interior is in excellent nick but by this point we'd had enough so I couldn't be arsed to take a photo, plus it was full of parts and wheels, anyway it should scrub up well.
I vinyl wrapped the front grill which i'm not sure about tbh, Ryan said it looks like i've fitted the poverty spec grill.
So all in all a bit of a basket case with a good engine and gearbox, Ryan said he's seen worse but that's the car equivalent of saying "your misses seems alright, i've f*cked far uglier than that".
List of parts so far :
Bottom arms x2 (bushes are damn near popping out)
Front discs & pads
Drivers side calliper
Track rod ends (seized solid and it tracks like a broken shopping trolley)
Inner tie rods
Drop links
Two front H&R springs to match the back, or just find a full set of something on FB.
I think that's about it, not my best buy but nothing throwing money at it won't fix.
Last edited: