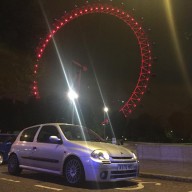 South East - Kent
ClioSport Area Rep
Afternoon guys,

Got a weird issue with my 172, I've only just started using it regularly again and it's obviously more annoying now.

It basically has a random "cough", it doesnt always happen, and it is literally one cough, it can do this once in each gear a few times after 6k. No engine lights or anything, and all pulls nicely.

It has a 182 engine, with 428 catcams. Mapped by Engine Dynamics. The issue occurred once during mapping which showed the knock sensor signal dropping out. Have fitted a new knock sensor and wiring checked with no issues to report, issue is still there.

Today I've checked and cleaned plugs, sensor connectors and HT leads. Leads were a bit grim at the coil pack end, also found the throttle body connector was a bit naff, had been chewed up, so fitted new TB and also wired a new connector for that. I'm hoping this sorts the issue.

Anyone else had similar to this issue?