This thread should really read 'Oulton Park Race Report', but then it would have been overselling things somewhat!
Unfortunately i didn't get to race at the weekend, or even qualify. Unfortunately (you must be used to that word with me!), the engine blew three laps into the morning practice session on Saturday. After snatching defeat from the hands of victory in the last round, to say i was gutted would be a massive understatement. Its been a while since i've felt so low, particularly as in testing the day before i was two seconds quicker than my nearest rival. So, another weekend of 'potential'!
It was also particularly crushing as we all put a lot of effort into the weekend's race. On Tuesday i was at a local airfield to work on our gearchanges. The previous failure was put down to the violence of the gearchanges; each time we changed gear, the abrupt slackening and tightening of the oil pump belt caused it to break. The aim of the day was to work on the mapping of our paddleshift system to smoothen things out, reducing the shock on the engine components.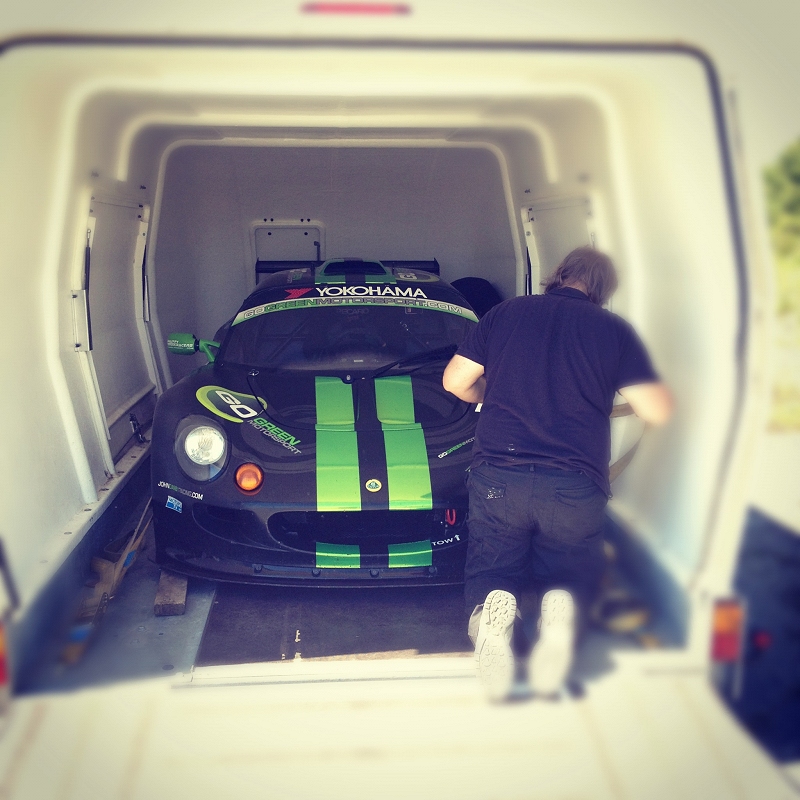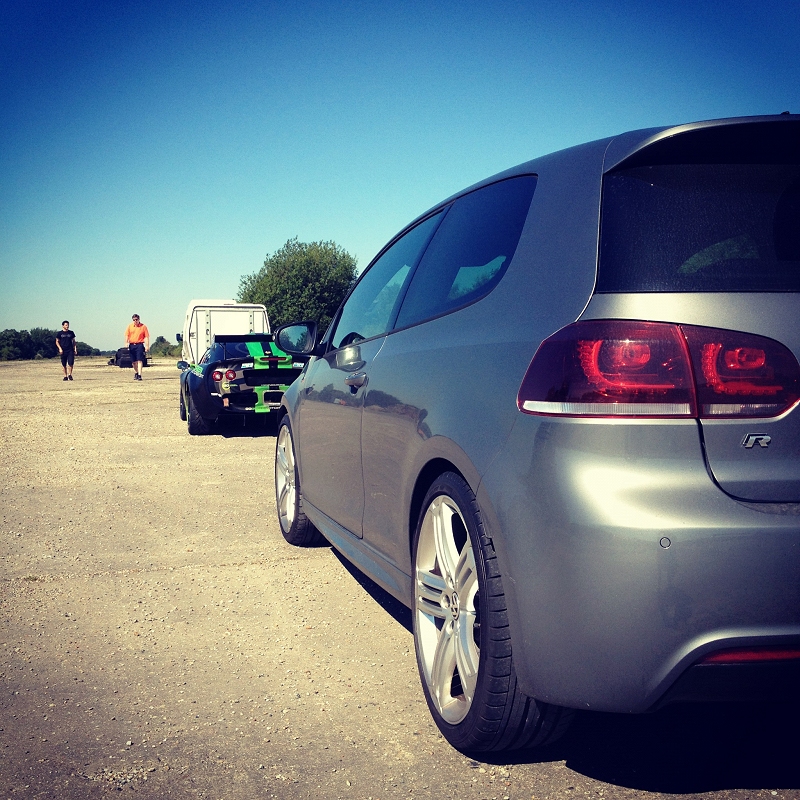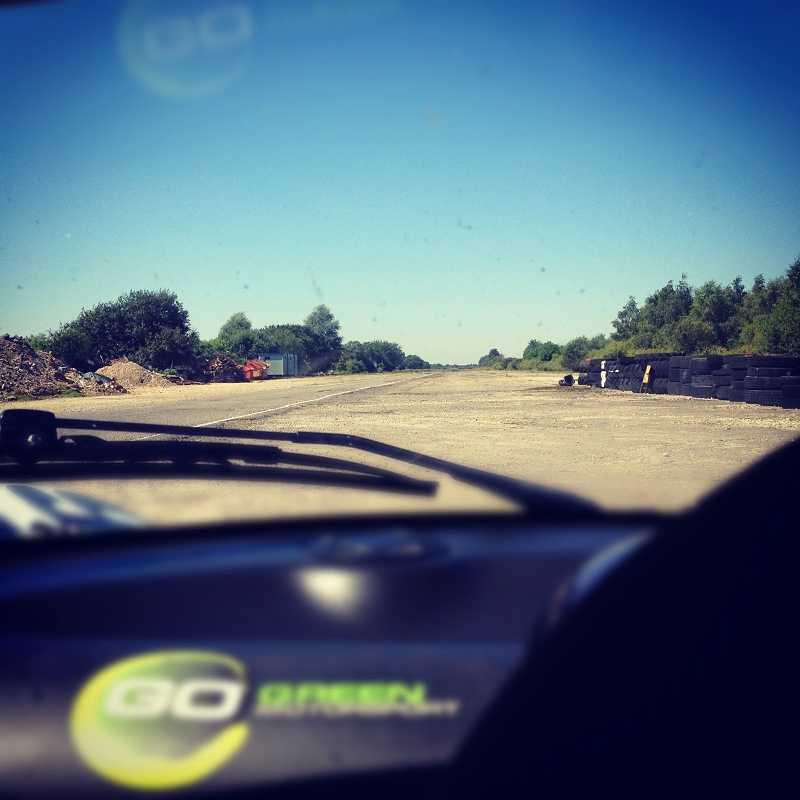 It all went very well. Although we lost the characterful shotgun bang of every gearchange, it was now almost DSG 'box smooth! It also made the pitlane speed limiter much gentler; before it just sounded like it was something broken.
We were limited given the space, but the team had also fitted adjustable traction control which i simply tested by trying to oversteer at the end of the airstrip. Hoping to give it a proper test at a later date.
With the car seemingly all ok, the next trip was to Oulton Park for a track day, where i met a few CSers. I was meant to be getting into a rented Exige S, but it was damaged in a motorway trip on the way up! So suddenly, the Golf was called into action until a replacement car was sourced.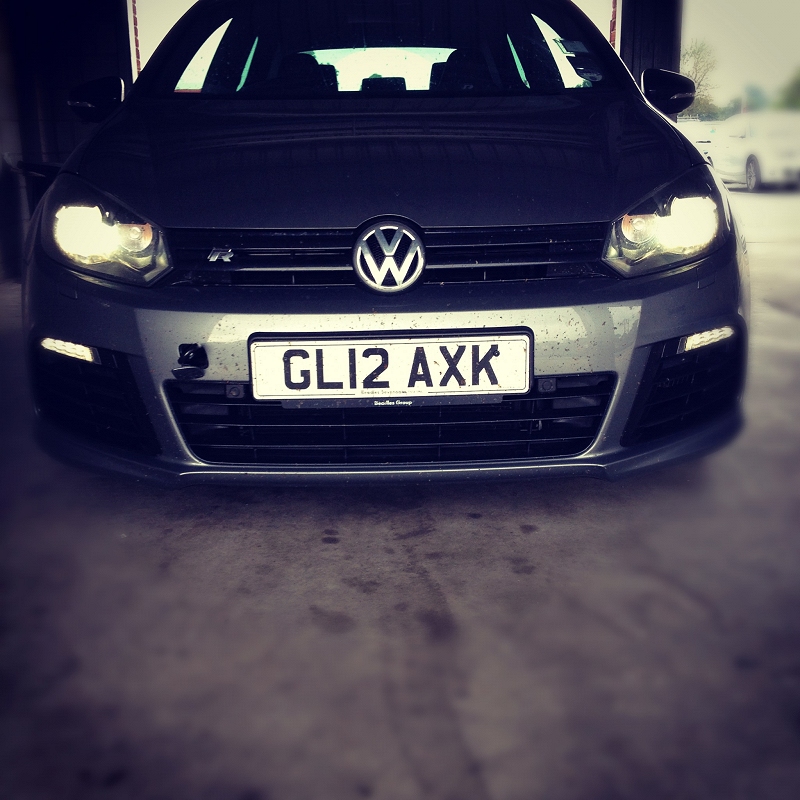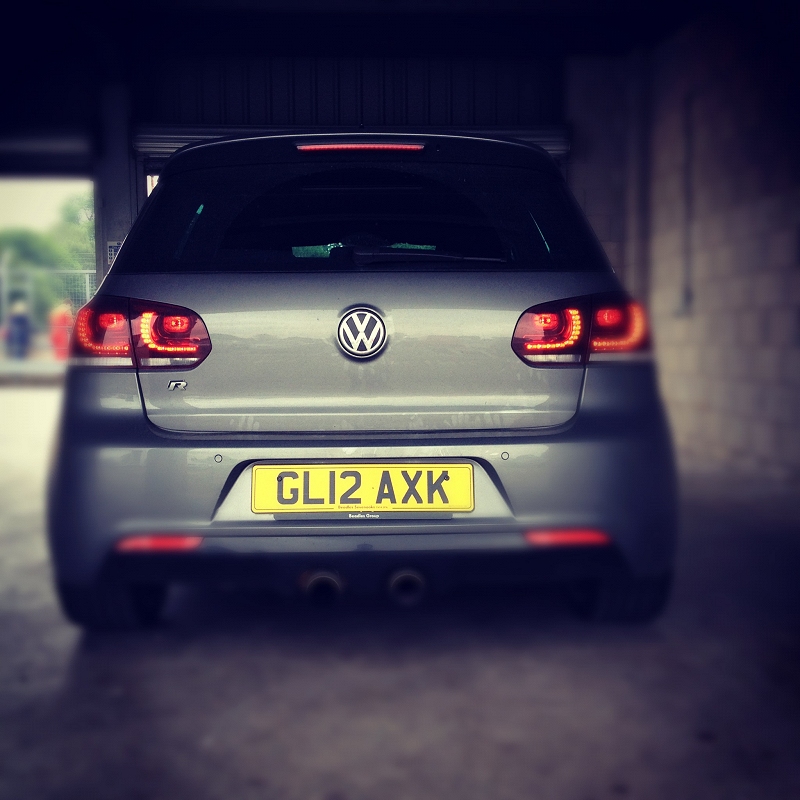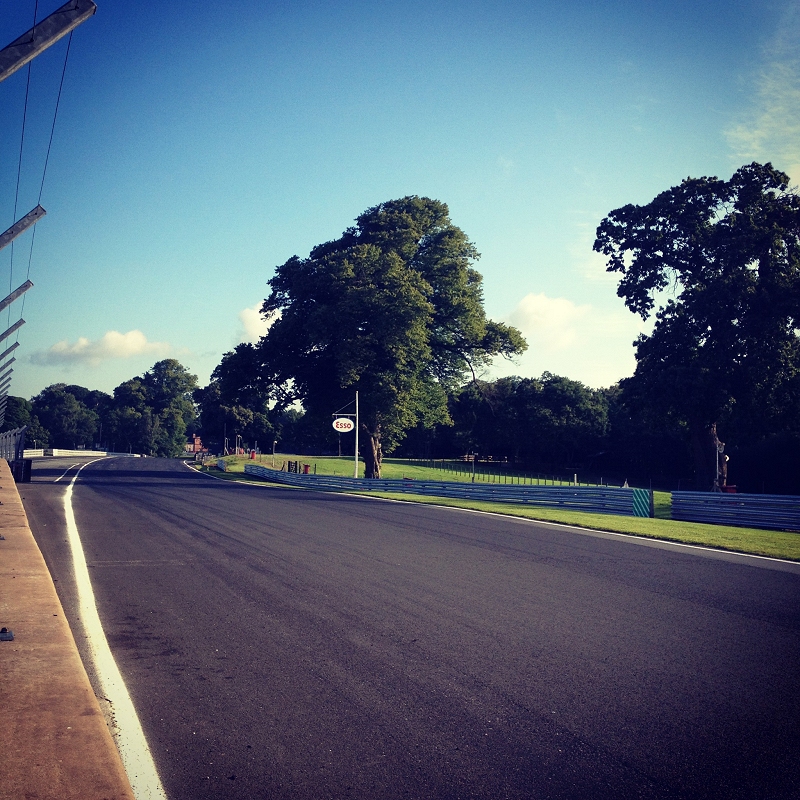 What was the Golf like on track? Well, as you'd expect really. Lots of grip, fail safe handling which would take any kind of abuse. Couldn't seem to disable ESP fully, but if you drove it sensibly, the light didn't flicker. The brakes must have got hot though as i am now missing a centre cap, which must have popped off!
I used an instructor who helped me to make notes for the weekend; i learnt a few new lines and the valuable pointers in case it was wet.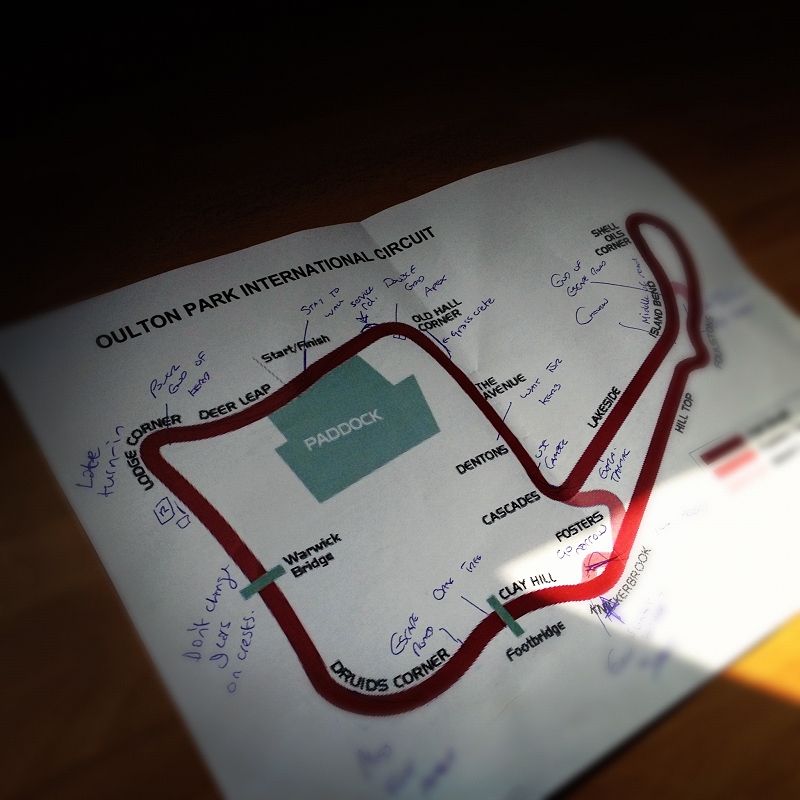 In the afternoon, i was given a Clio to use. It was a 197 with a stripped rear and rollcages. It also had wider wheels (Rotas!) and AO48s. The comparison with the Golf is, again, as expected. The Clio was of course more nimble, and adjustable (or less forgiving, depends how you look at it). It was however gutless, particularly noticeable at Oulton which has a few uphill slogs. I think it was reflective of its hard life, as some newer 200s were noticeably quicker in a straight line. Nevertheless, it was still reasonably quick over a lap and i was pushing a couple of Caterfields.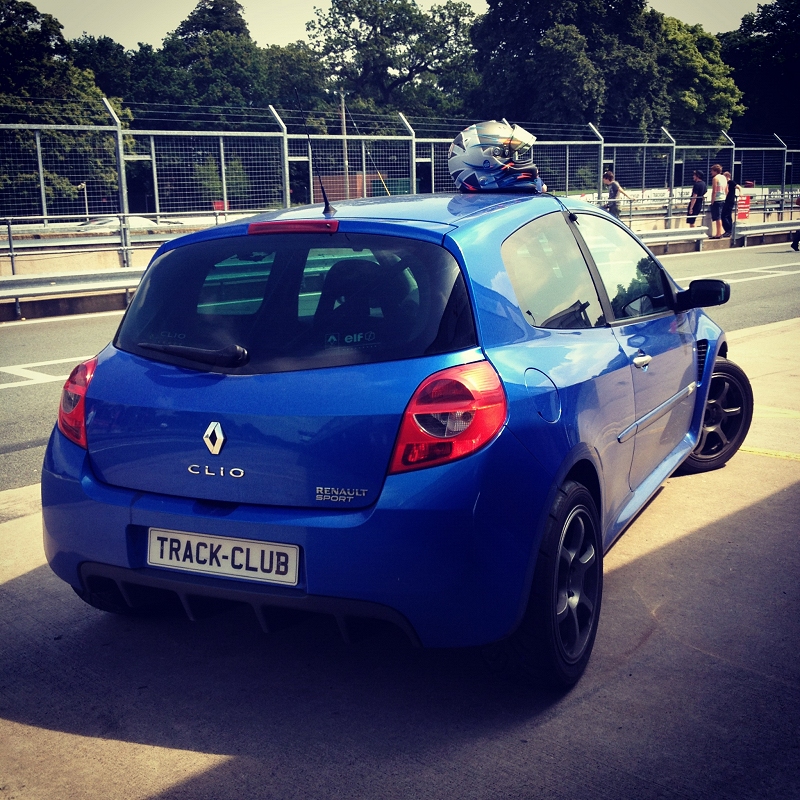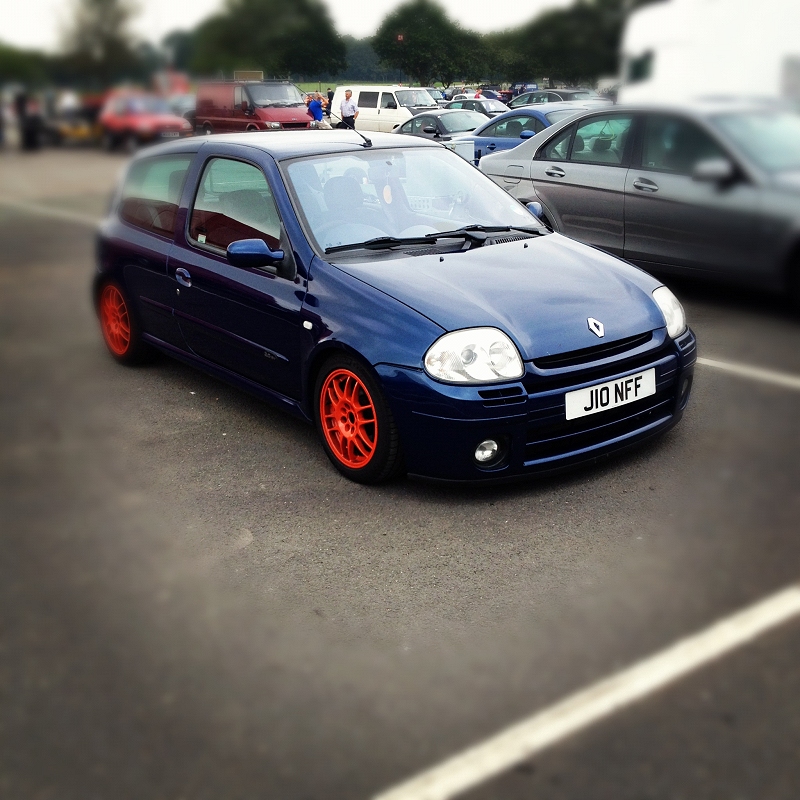 I then did a day of work and came back for the following test day in the Elise. I was very confident and within the first session i was as quick as the car was with slicks (albeit with the K-Series engine). As the day progressed, we put the wing up for greater stability and i managed to get down to a 1.49.53. As you can see from my previous time a couple of years back (3rd from bottom), i would have been quite high up the field if i was on slicks (3-4 seconds gained over the AO48s).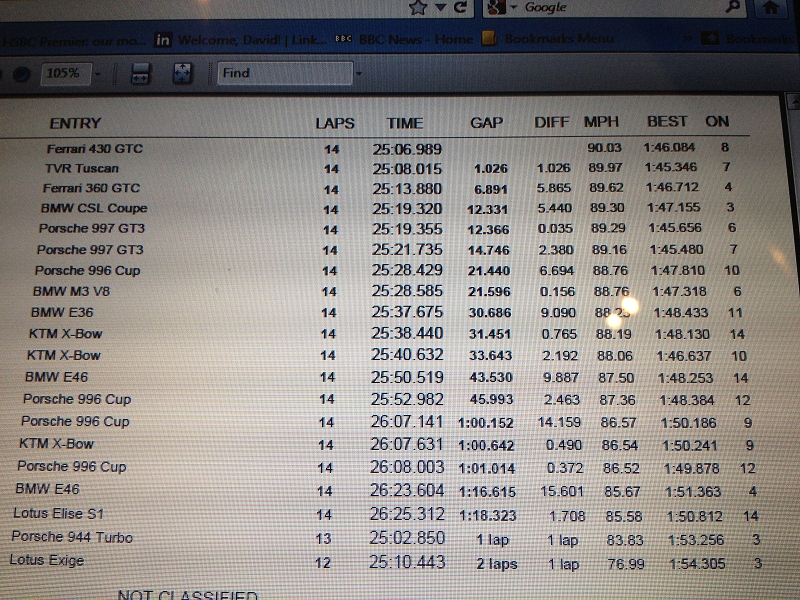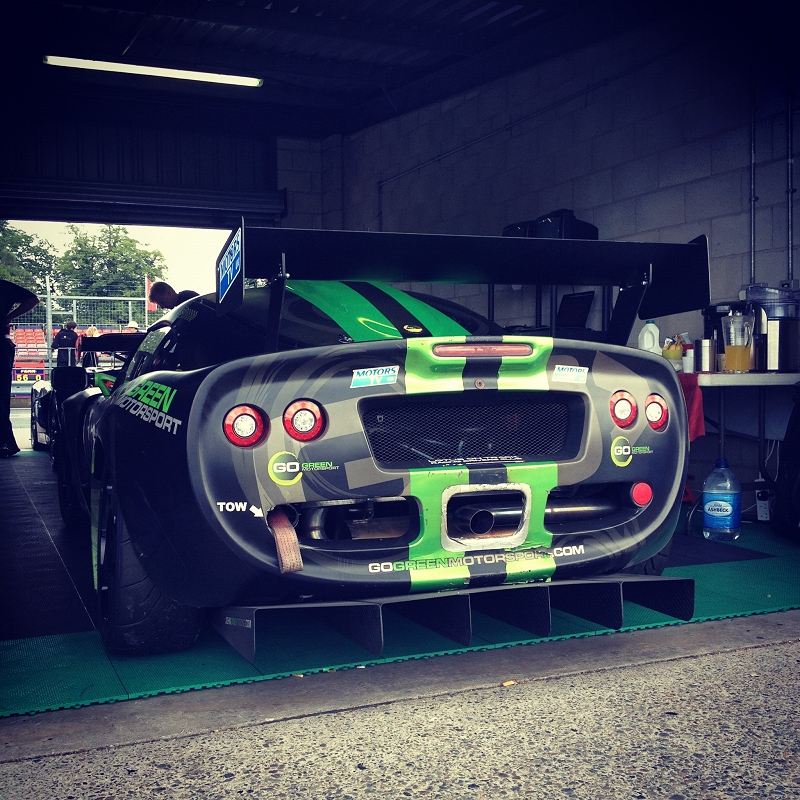 The car performed faultlessly, which made it quite a shock to hear the engine let go behind me as i was cruising around in practice. I'd only gone out to scrub a new set of tyres in....i didn't expect to be dragged back to the garage!
So, do we give up? No. Racing is like drugs, you just can't resist going back for that next high! Despite my current feelings, it is always worth it for that one great race. So, we are now sourcing another Cosworth Duratec lump whilst Scholar perform a post-mortem on the blown engine. The team phoned up earlier to say it had a massive hole in the side of it! Scarily, if timing is a problem, the K-Series is going back in for the next race towards the end of August. However, changing a headgasket is a piece of piss in comparison with a bottom end going...
Stayed tuned for that
Oh, and this made me chuckle. I made it into the programme in my Production Elise; i treat it like crap and yet it is the one car that never breaks!