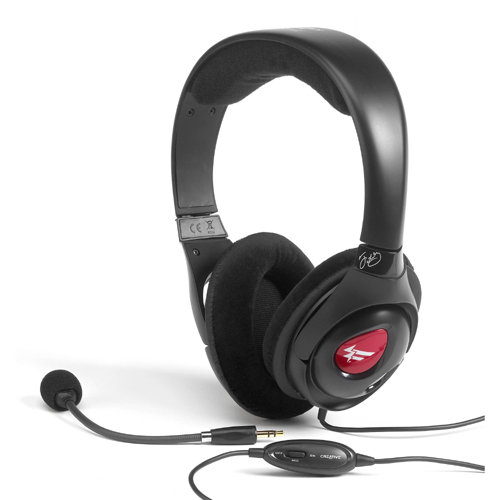 Creatives Fatal1ty Gamer Headset provides power, precision and comfort for the serious gamer. The ergonomic, lightweight design, with padded velvet earpieces and headband, ensures a comfortable fit during extended gaming sessions. Weapons, positional cues and environmental audio effects sound fantastic through the high-quality drivers, with excellent bass response for powerful explosions. The noise-cancelling microphone transmits voice commands clearly to other team members, and it can be detached for easy storage or to use the headset like regular headphones. In the heat of battle this is the headset that wont leave people stranded and thats why Johnathan Fatal1ty Wendel, the worlds best known pro gamer, uses it.

Ergonomically designed and acoustically tuned for gaming.
Padded headband and earpieces for ambient noise exclusion and comfort during long gaming sessions.
Swivel joint earpiece design adapts to every user.
Detachable and adjustable noise-cancelling microphone.
In-line external volume control with microphone on/off.
Excellent response for voice communications and dynamic in-game audio, with extended bass response for high-impact explosions.
http://accessories.euro.dell.com/sna/produ...&lid=122756
Go to the checkout and enter this coupon code - 9PLXV0DJMCS304 - the final price should then be £15.49 including delivery.
Even if you don't need a new headset at the moment for that price it makes an excellent spare set and/or present with Christmas not far away.