not sure how many people will like this.. but I absolutely adore it.. and thats all that matters!
Anyways typical waffle
.. some of you know I had a Racing blue 182.. I loved it to bits, and in bits, it hated me!.. since april ive been rolling about in a 307 1.6 petrol boat.. and its ruining my love of driving!.. I dont drink, I dont smoke, I just love to drive..
For a while now ive been looking at possible new cars, in a realistic budget.. I had pretty much decided to go for something boosted.. just an itch ive wanted to scratch, the sort of cars ive been looking at - Golf 1.8T, Mk1 TT 225, Meg225, Seat LCR, Ep3 TypeR (ok not boosted, but vtec y0).. and such is like! searching for a few days non stop..
when this came up, with a decent spec list, and a fair price to suit.. HAPPY DAYS!
2004 '54' Subaru WRX in Java black (bit like black gold in the right light)
106200 miles
mot til April 15
Full engine rebuild and all the upgrades below 07/03/13 with paper work for everything!
ACL race thrust main & big end bearings
Cosworth steel gaskets with new head bolts
Head skimed
New oil stem seals
New crank seals
New camshaft seals
New piston rings
New clutch Kit
New cam belt kit
Welbro 225 fuel pump
Sti Inlet manifold with TGV deletes
Blue Hawkeye STI Injectors
lHl VF35 Turbo
Front mount intercooler
3" Straight through exhaust (TOO LOUD.. way... Too loud!)
3 Port boost control
Launch control @ 5000rpm
Quick shift
Coilovers (not sure what brand yet, abit too low for me.. will fix this!)
Genuine CarbonFiber boot lid and spoiler.... Rare to find both - £1500 worth!
Silicone intake pipe
Boost Gauge
K&n cone air filter
Car has been maped by Duncan Graham at Race Dynamics - 320BHP / 299Ft/lb With a print out to prove it
(was tuned up to 342.1 with printout, but tweaked down to keep it safe)
And more!....
Bad bits:
Passanger window opens but doesnt close from the passanger side switches, but does from drivers side
Intercooler pipes knocking in places, previous owner used PARCEL tape, to fix CARDBOARD in place to stop it knocking.. pillock!
Little dent on bonnet by the scoop.. not a big one..
coilovers too low.. ill get these raised soon
No boot carpet.. Boohoo..
got an intermittent boost leak.. also has a bov block/cap.. sounds awesome but its not so good for the turbo.. and im pretty sure its that causing the boost leak? ill investigate!..
brake pedal goes down alot before it starts to brake, but once you are on the "bite" of the discs.. it stops well (may need bleeding or different fluid / hoses)
Ive only got a couple pics before ive washed it im afraid, ive spent so much time driving round for the smiles per mile! owned the car 24 hours and already filled the tank from empty 2 and a half times! (drove home 220 miles on £45 of Vpower.. yes thats 21.8mpg) but i was "playing" with boost and driving around some of the more interesting roads round this way!
and yes im parked on double yellows.. sue me
the other side of the road is garages that arent "in use" anymore abit deralict, so the lines are irrelavent now..
Pics!
(yes shes low on the rear.. ill raise it up ASAP! dont shoot me, I didnt slam it)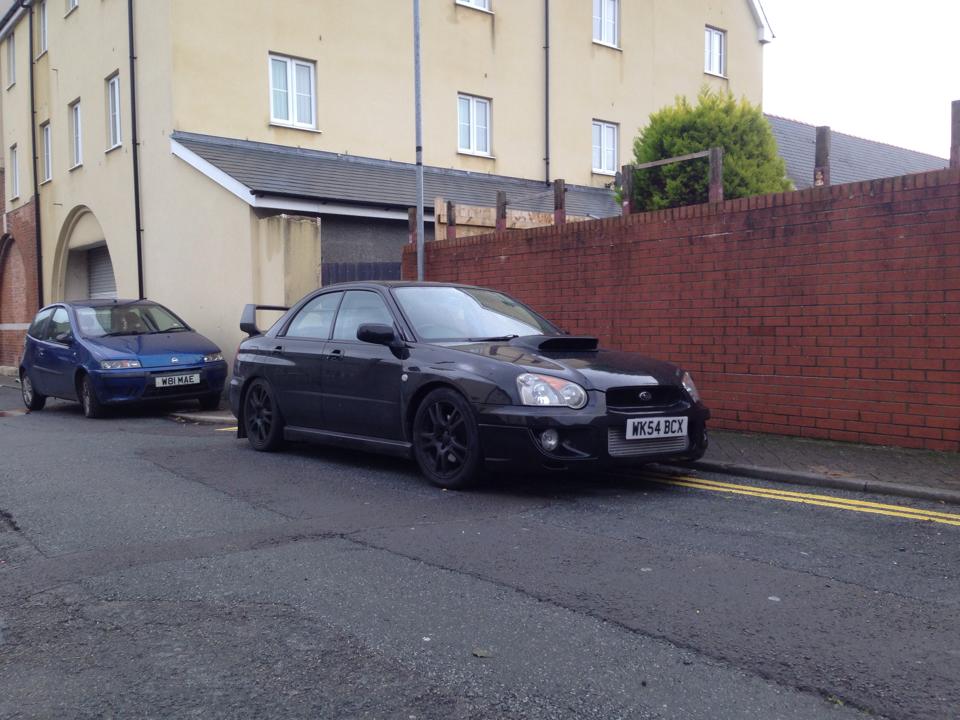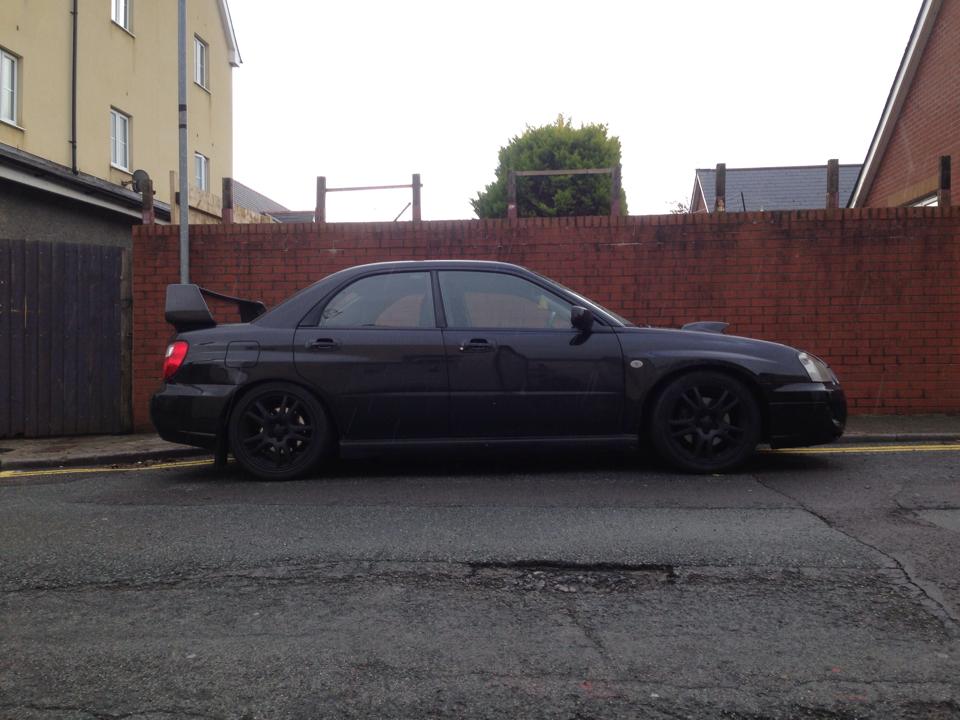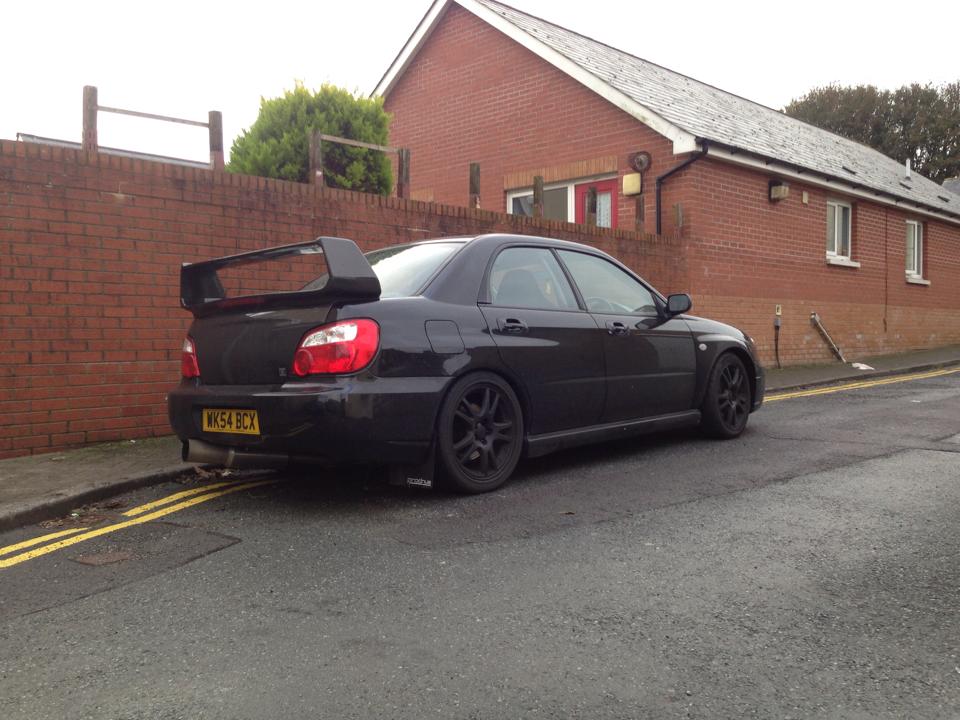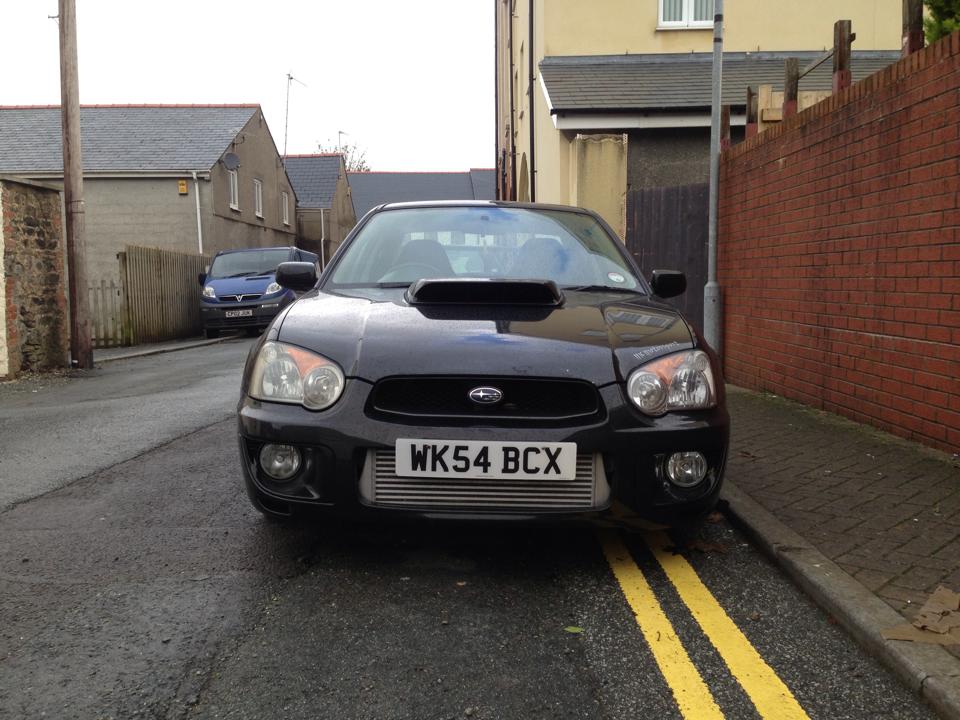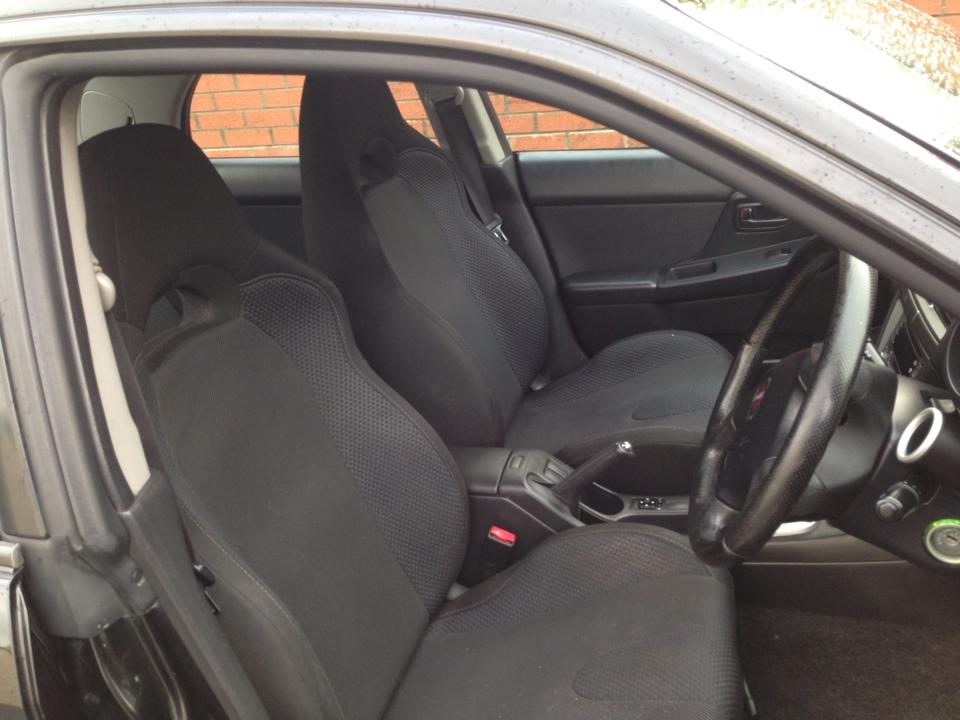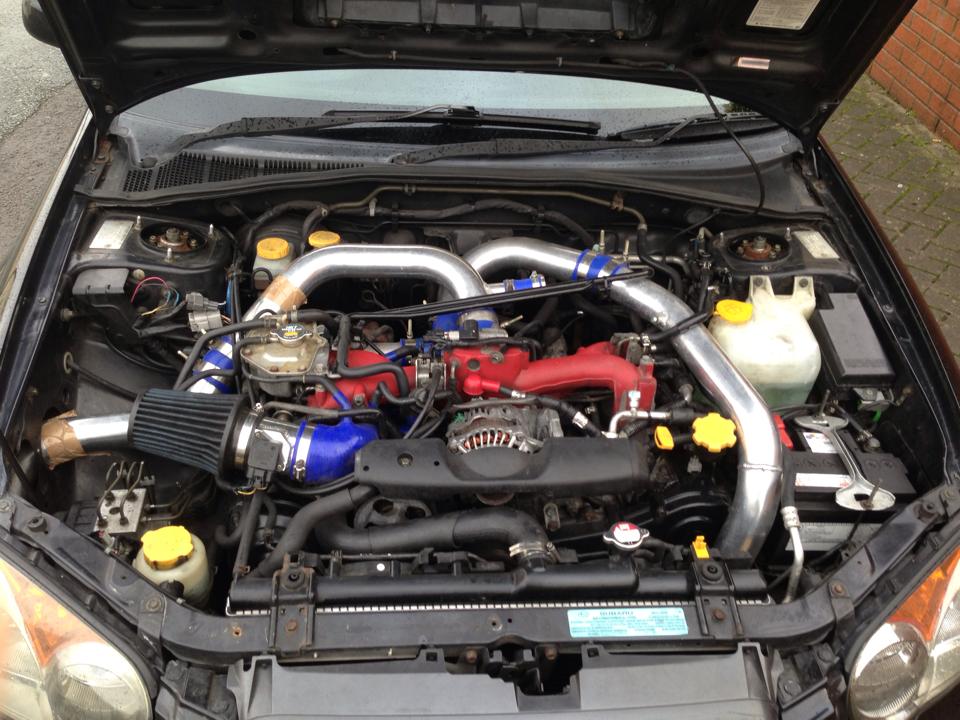 Genuine Carbon.. Mmmmmm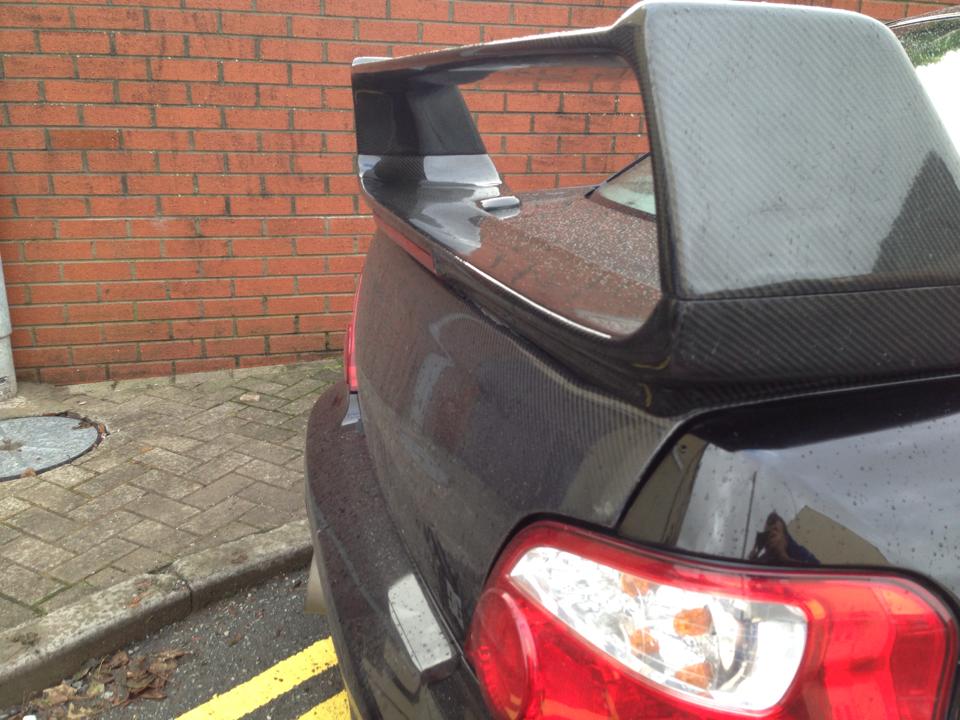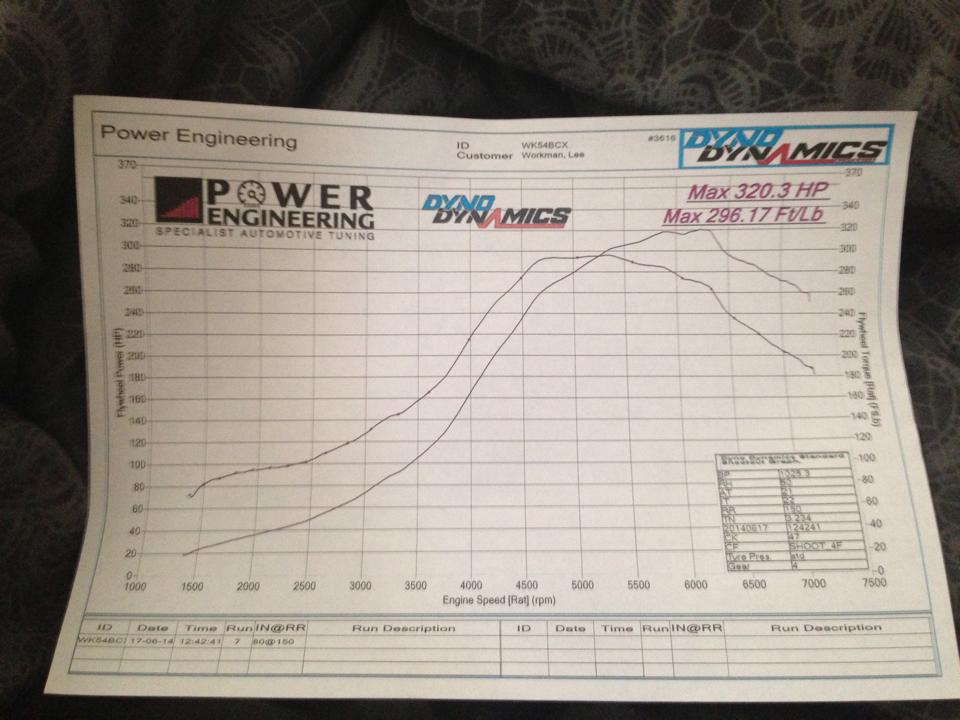 And thats it for now!
plans:
Raise it..
clean it..
find / fix the boost leak \/ could be because the lack of bov?
fit a bov.. the chatter is addictive but not got for the turbo.. ill get a video soon for the lols..
smaller back box.. you can fit your head in the one and it annoys EVERYONE including me, good at setting car alarms off tho!
Carbon bonnet + Scoop (just to match the rear)
few more guage to replace the dash clock
STI Brembo's
STI front bumper spats/winglets
STI Fog covers
front bumper lip spoiler/splitter
rear bumper splitter
new wheels with sticky tyres
Mesh over the intercooler to protect it
Mesh in the boonet scoop
New set of wheels (not sure what style yet)
Hella supertones
debadge front grill
obligatory [Hoonigan] sticker somewhere
C and C welcome.. I know its not everyones taste but Im seriously in love with it and thats all I really care about
it goes like a stabbed rat, makes exotic noises like its eating squirrels, annoys old people and makes children cry! what more could you ask for
the important bit, it makes me want to drive for the sake of driving again! YES!!
Cheers for looking!