I've been busy the last 6 months or so, over the winter the car doesn't move much, just a few trips to keep it ticking over. But now we're moving into spring/summer work can commence for the coming track day season! The cars come along way over the 9 years I've owned it (me buying this brand new in 2003!)
I've been thinking about stripping the dash out for a while and finally took the plunge. I got to the point where I didn't know how much further to go with the car. It was a dedicated track car, but still had a dash and original door cards, but not much else. After a long think I decided to go through with it and started to dismantle it all.
Admittedly I probably should have taken the dash out before I put the cage in, but never mind. I'm also gutted that it's a dash dodger now as it looks a bit odd, but when this was installed it was pretty much the only sort about unless I wanted to pay mega bucks for a custom one
So off came the top dash, airbag out as well as cabling etc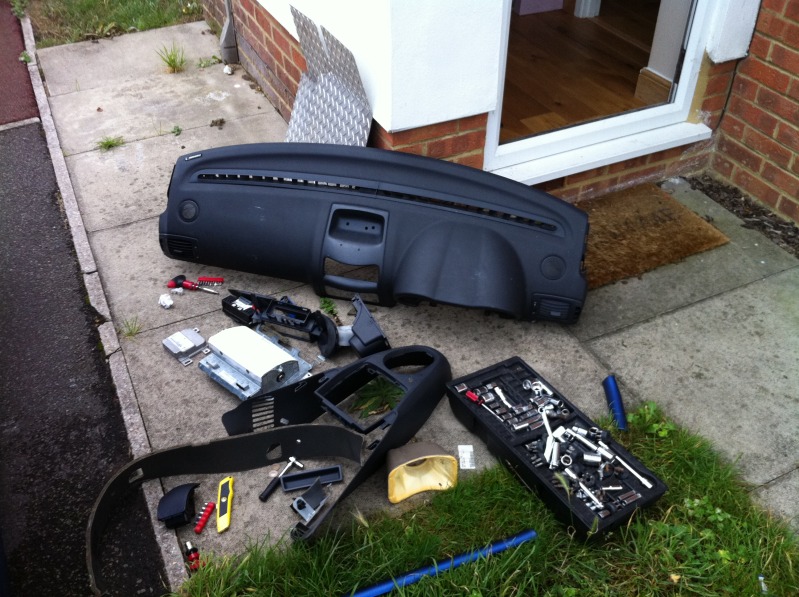 All sound deadening and gubbings also came out, amazing how much this lot weighs really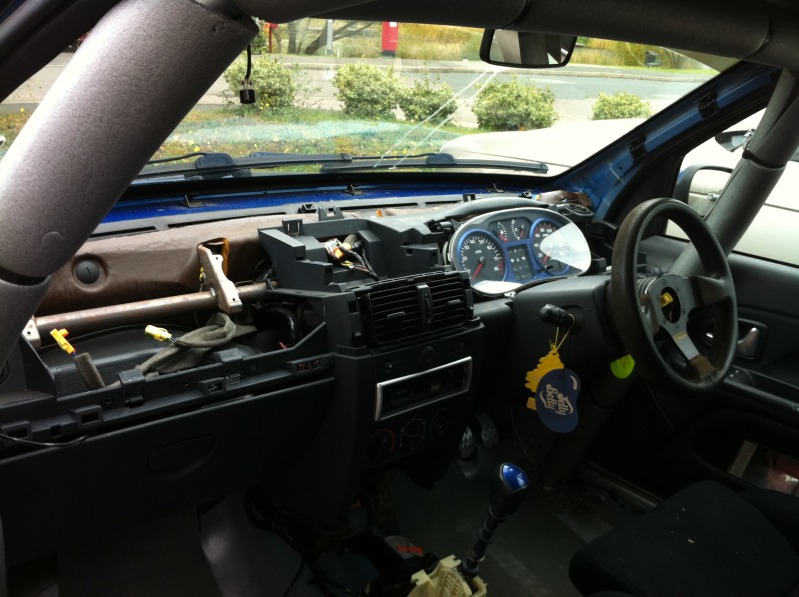 The bottom dash was more tricky, because of the cage there was no way I could get it out the normal way and in one piece, so out came the saw and trimmed and cut until I could get the 3 or 4 pieces out! I was then left with a mass of wiring and sound deadening that needed to be stripped out too.
I thought about taking the dash out without even thinking about where switches and cabling would go, bit of an after thought really!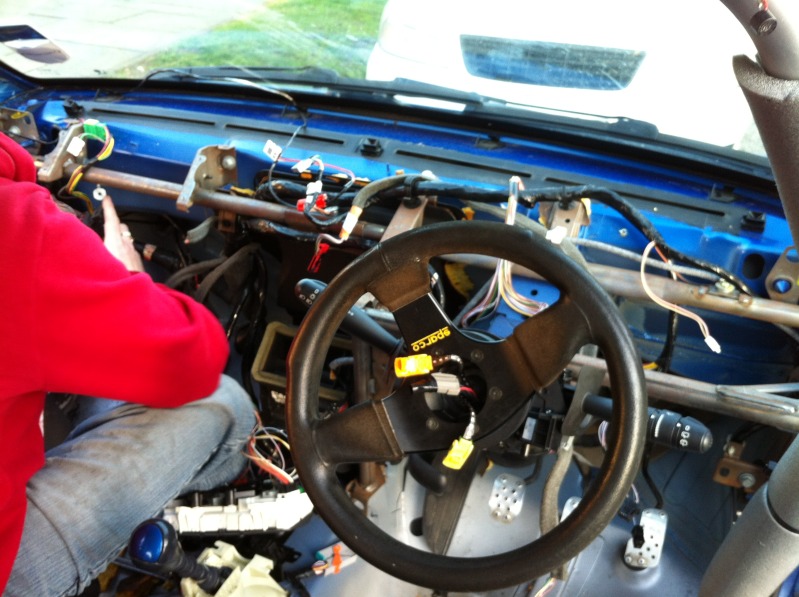 I did originally think about having no dash at all, but seeing the amount of wires, made me think it would be a neater install to just put the top dash back in, so that was the next step, my mind was made up after I put the top back it, made it look 10 times better than without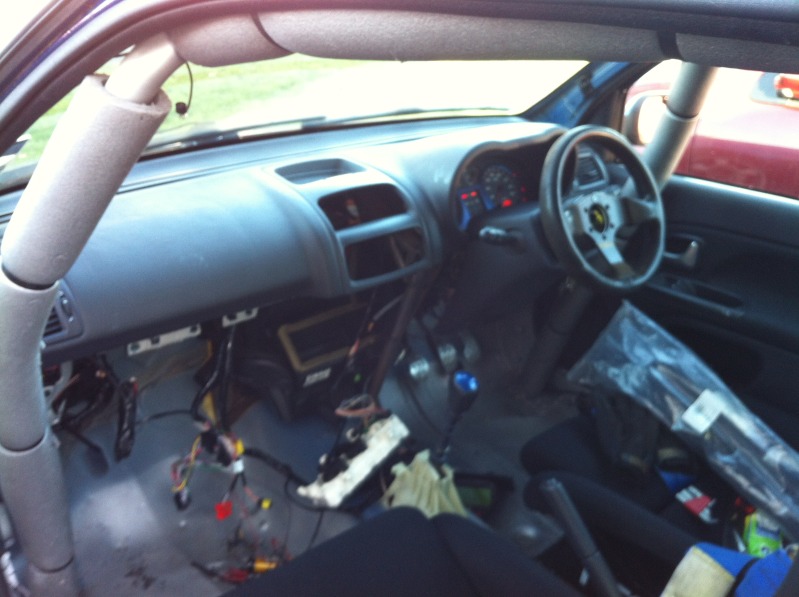 I'd always liked the idea of getting a flocked dash too, plus mine was fairly grubby from installing various seats and the cages over the years, so off to my mates to get flocked…it looks so much better, so happy with the results too (pic below)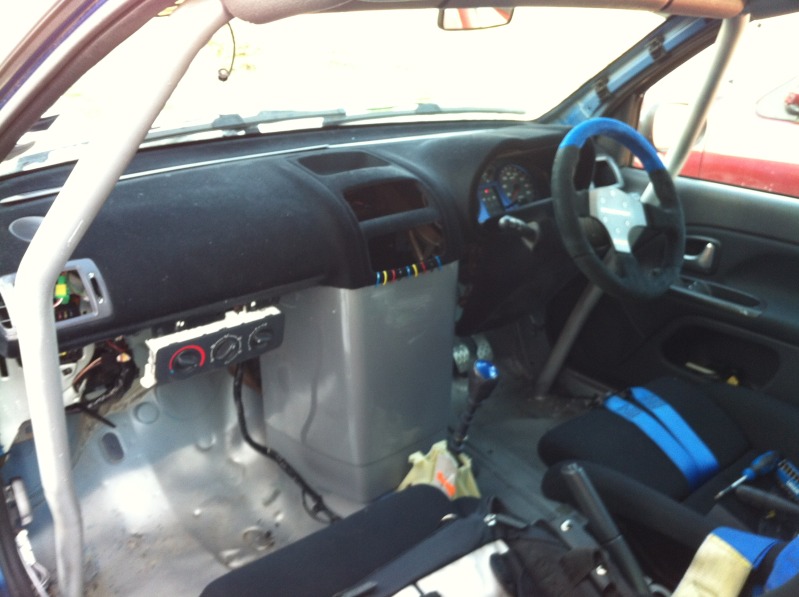 Then came the thinking process about what to do with switches and buttons. I still wanted to retain the heater, just for the demist function. I also wanted to keep the cigarette lighter, as a charging point for my Iphone for when I record track days etc, as well as keeping the hazards and the rear screen demist for obvious reasons. I want to keep it road legal for as long as possible, simply because I can't warrant getting a trailer then applicable car to tow it with.
I put the heater switches where the glovebox used to be for the time being, but soon realised that wasn't a good idea as I couldn't reach them! (you'll see my bin mock up below as well, I'll come onto that in a bit)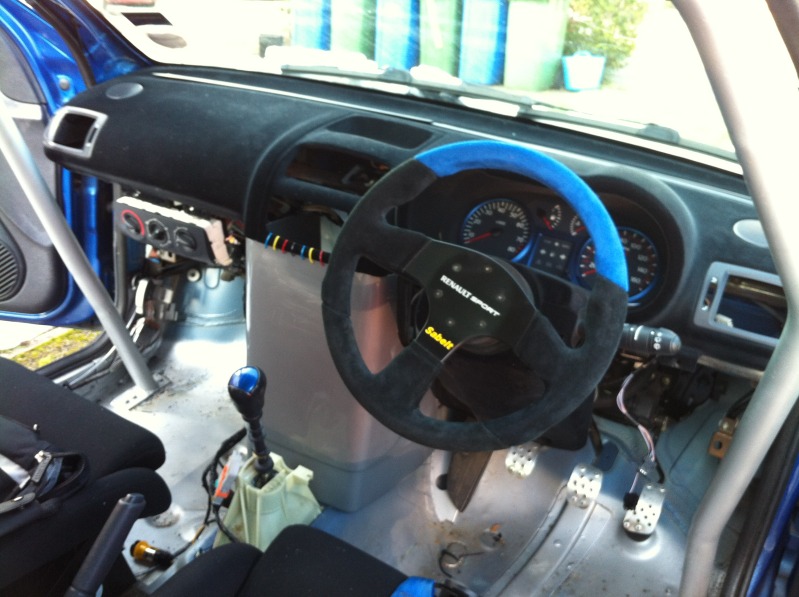 So I took apart the heater controls and removed the cable adjuster that changes the output direction of the fans and fixed it into the demist front screen option. Then came the problem about what to do with the heat and fan speed controls. After some thinking, cutting and sticking, I came up with this idea…. I relocated the fan speed switch to the front blower, and run the cable for heat control next to the steering wheel, I was surprised when everything worked first time too! I haven't got any pics of this, but I'll stick some up if people are interested.
I decided to do away with the head unit and speakers as well, mainly because I didn't want to cut holes in the new door cards
Now to the good bit! I started looking for pre fabricated centre consoles that I could just screw in place, I came across a few MK1/2 escort centre consoles that I thought I could make work, but after some measuring I came to the conclusion it would be too much work to make them fit and look like it should be there rather than just knocked together. I even thought about making something out of sheet metal myself, but thought better of it. In the end I settled for a £7 Asda bin and some carbon wrap!! You've already seen the trail fit above and after some cutting a trial fitting I came up with the below….not bad for £15 and its superlight too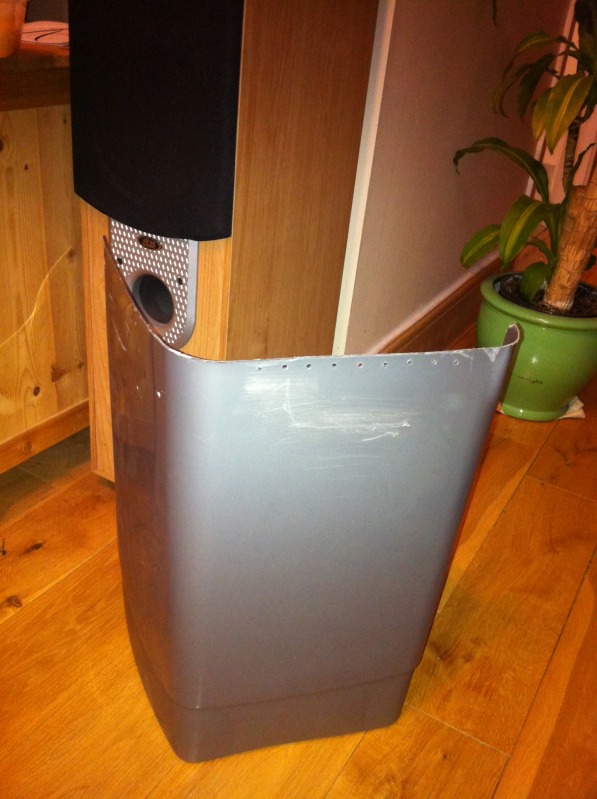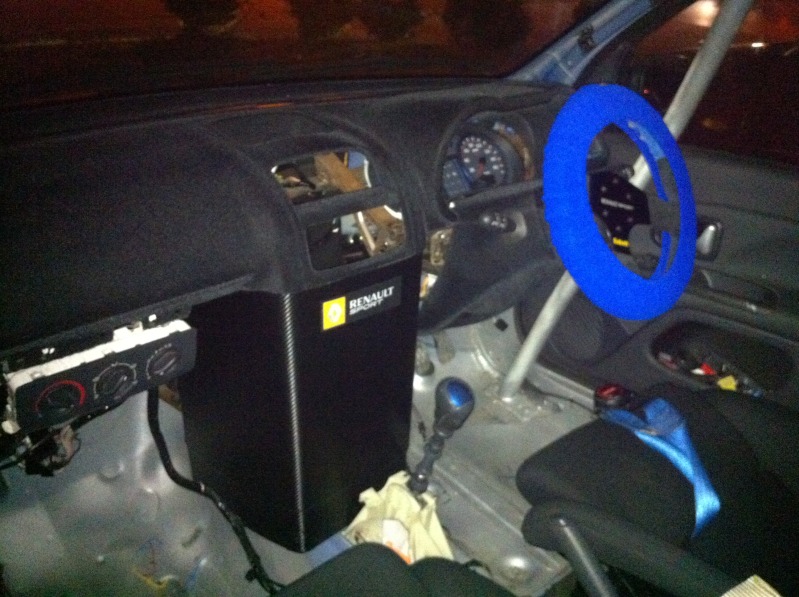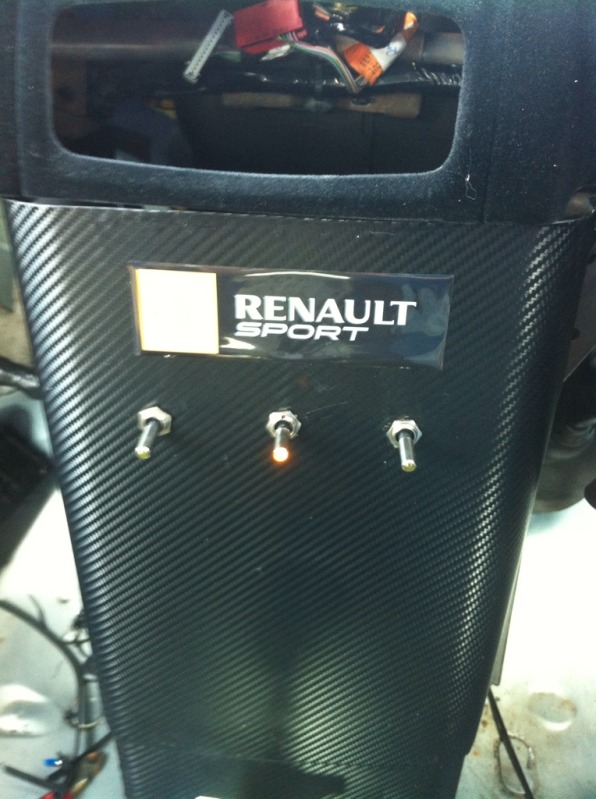 It does exactly what I wanted it to do, hide the fan module and wires, and act as a space to house further switches and controls. That's a shocking night pic from my phone, there's a better one further on.
Once that was done I moved onto the door cards, off with the old and on with the new! I got some cup racer spacers from Madmax on here, very quick turn around too! I just need to sort some door grab handles/straps and they're done too. Also need to relocate the electric window switches, why keep them? I hear you ask! It's the one 'luxury' that I really want to keep, it's just easier for me personally!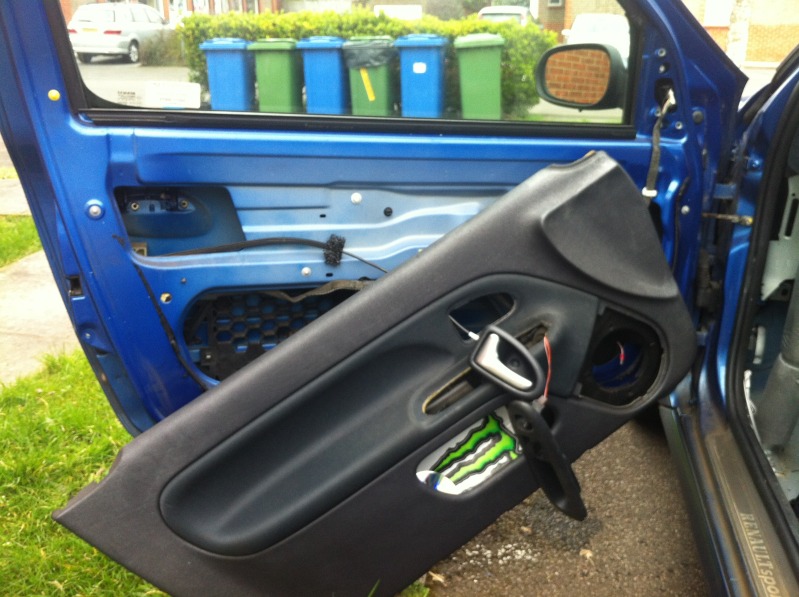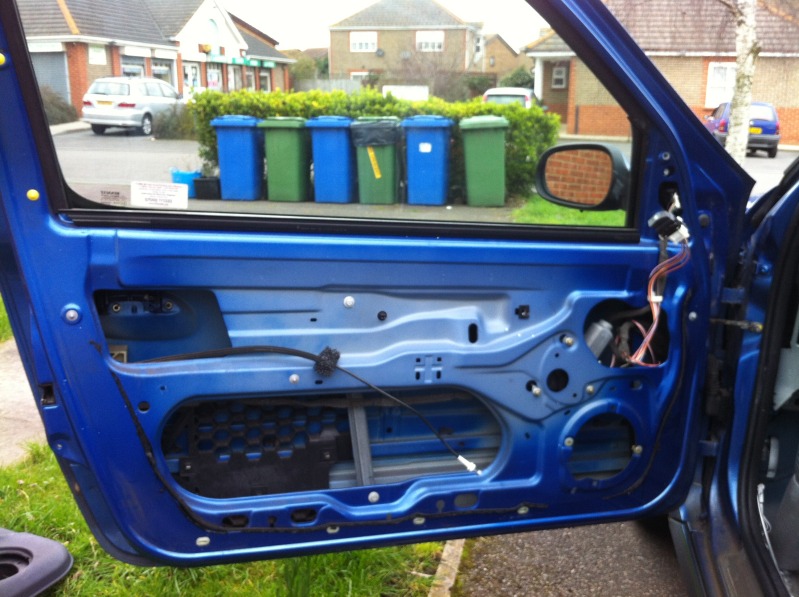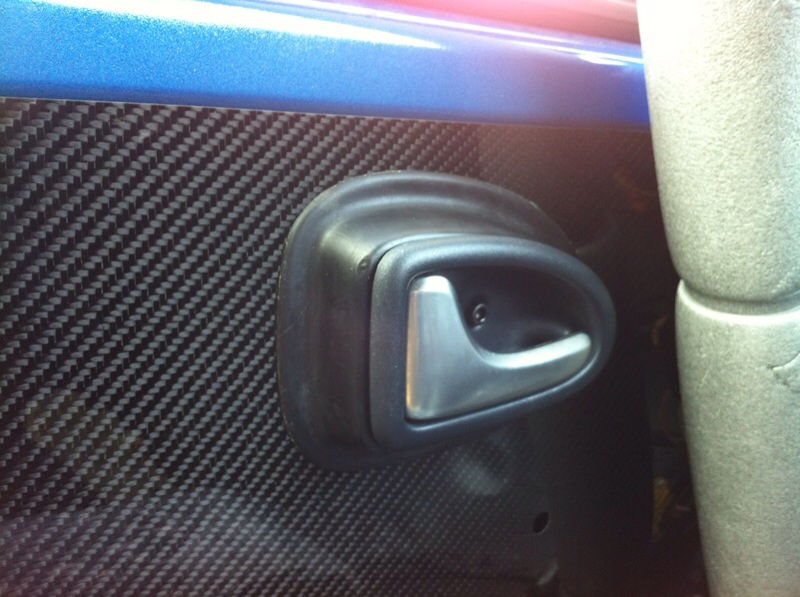 I was starting to think it would never end as it was dragging on and looking quite untidy if I'm honest, which wasn't what I wanted at all.
But after spending a day finishing off the wiring, tidying up the bits and pieces, plus I installed my karting lap timer and camera mount it all came together and I was properly pleased with how it looks!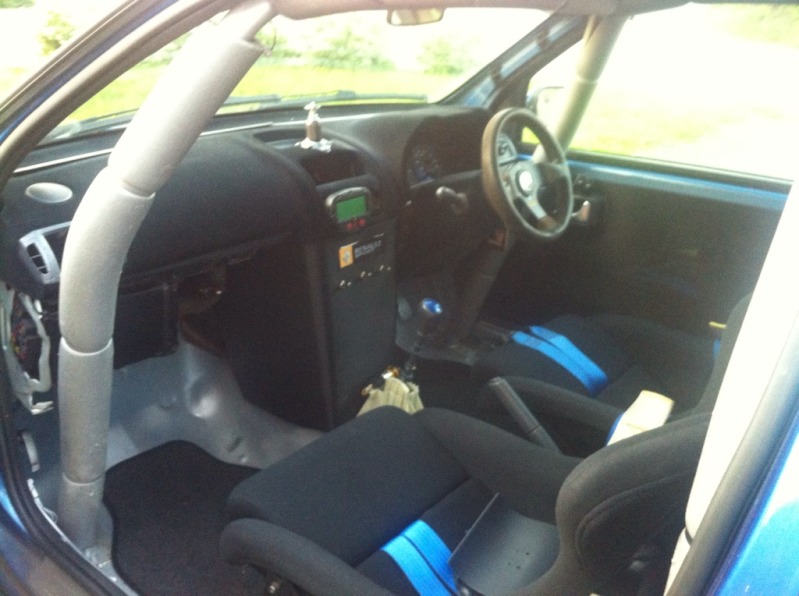 So there you go, there is where it currently stands – interior done!!
Comments welcome!