I normally just add pictures into a thread a post them on here but this time i thought i'd share my experience on the car from throughout the day as it has a fairly big following. I know Scott would like this as he has been very excited for the pics to be published and mentioned that it would be nice if i shared my thoughts on the day as well as my pics. Im no journalist, so i'm writing it in layman's terms!
For a while now, I've been speaking to Scott
@Phase1sr
about getting some pics of he's Spec-C. Upon a catch up at CSF last month, we had arranged to meet up the following saturday (just gone) and get some pics. It was a good chance for me to continue to use my camera which im enjoying and for Scott to give the car a good outing and get some pics. He also wanted to use he's camera more to so this was a perfect opportunity.
We had spoke about going into london and decided during the week that we would hit some spots. With London being so busy, we decided to get there early. Scott had sent me a pic of a Porsche that was parked up with Canary Wharf in the background. I knew of the place loosely but didn't know how to get there or even where it fully was. After a quick message to a friend who had pics of he's Golf taken there, we then knew how to get there. We ideally wanted the sunrise in the background so we settled on aiming to get there around 6am. This was perfect as the roads would still be empty. Scott lives 40 mins way from me (I'm Harlow, Essex and he is Tilbury, Essex) so the decision was to get to Scott's for 5am and head into London in the Spec-C together.
It rained heavily Friday night/Saturday early morning. I got up at 3:30am and it wasn't raining, but the roads was wet. The weather forecast said sunny spells throughout the day so i was a bit gutted that it was wet as i was hoping it would be dry when i woke up. Nevermind. I got washed and dressed and left my house at 4am. A quick stop off at my local Tesco to get some cash out and something to eat/drink along route and i was on my travels. As predicted, i got to Scott's at 5am. I met Scott outside, he started the car and i put my camera bag in the car. The car, as expected, was gleaming under the nearby streetlight. We set off to get some fuel and then proceeded to head into London. Luckily by this time, the roads was dry and the weather was warming up. Its going to be a nice day :smile: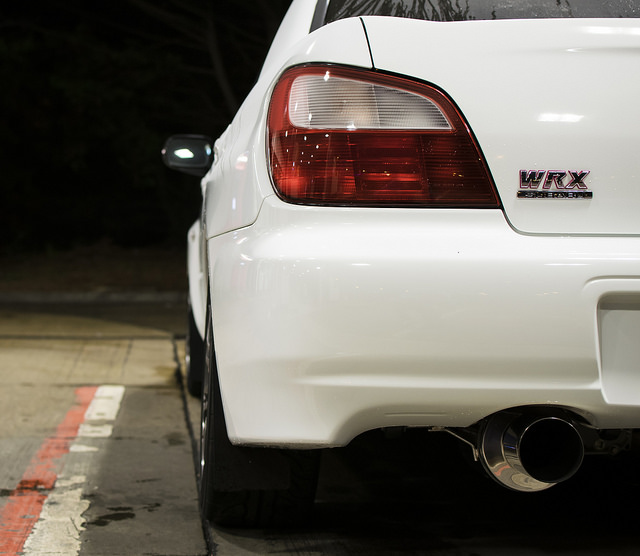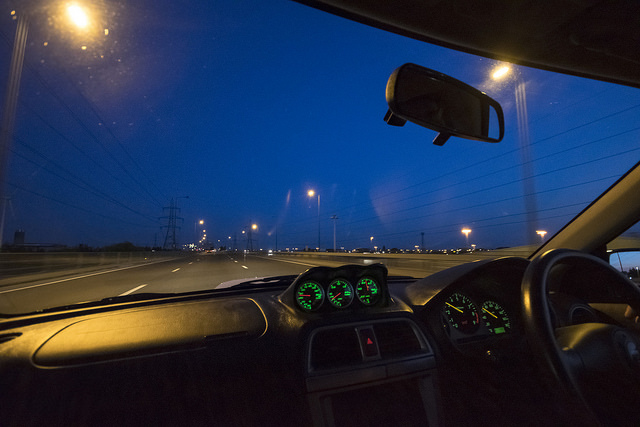 The car was quieter than i expected. I was a tad noisy in the rear, due to the diff. The coilovers felt a tad bumpy on the uneven street roads. The seats were very comfy mind. Being small, i sat quite low but still at a sensible height. We mostly cruised until we hit a main road where we picked up a little more speed. The coilovers felt much better. The engine noise changes tone and the gearbox sounds like a mild straight cut gearbox. The shifting is nice and short. Scott described the box well in one word: Mechanical.
We went through the Blackwall tunnel and then turned left. We was told to look out for a "upside down electrical pole". Upon a little guess work we spotted it. I got out, while Scott parked up the car on the verge. Unfortunately it would mean scrapping the car so we settled on being on the lower side of the ramp. The sunset was just coming up from behind us so we timed it very well :smile: Pics of said pics: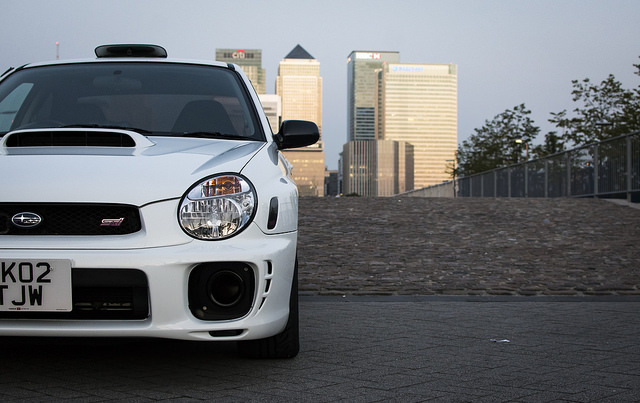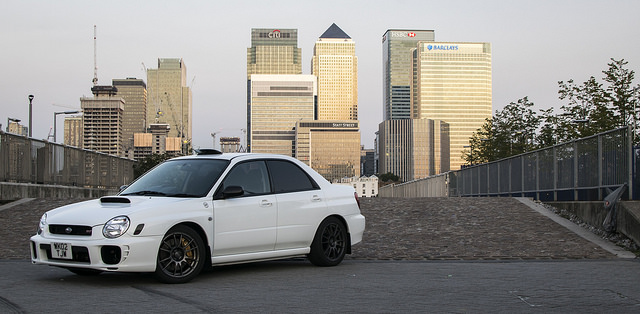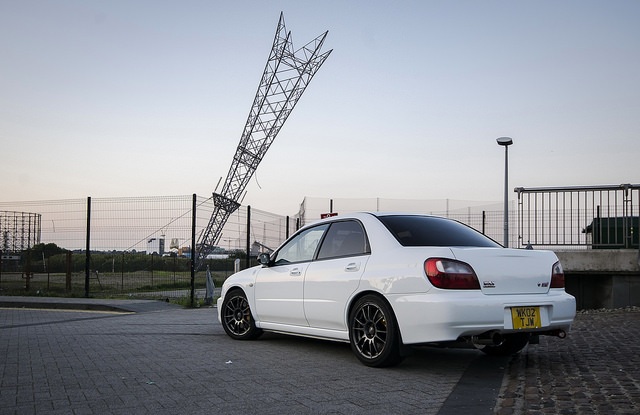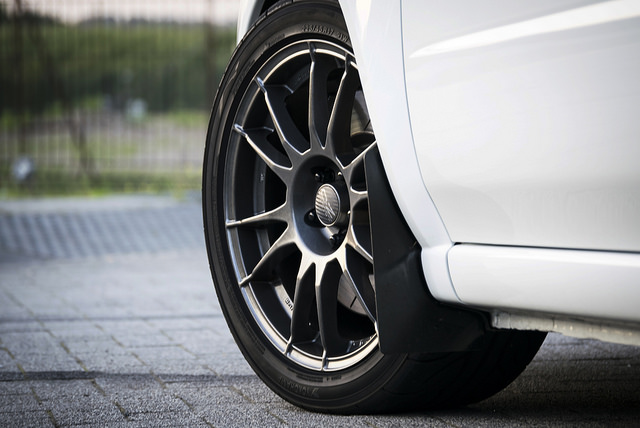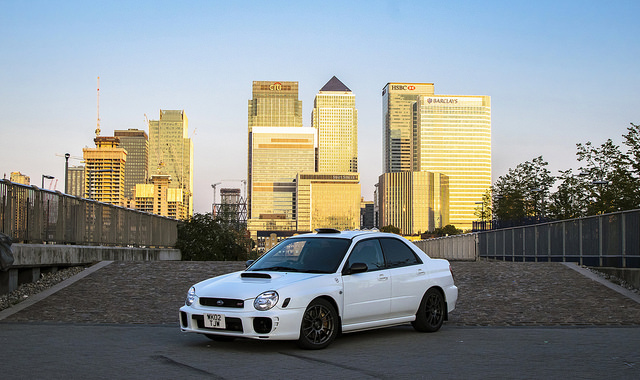 Scott also got he's camera out so i snapped some pics of him taking pics.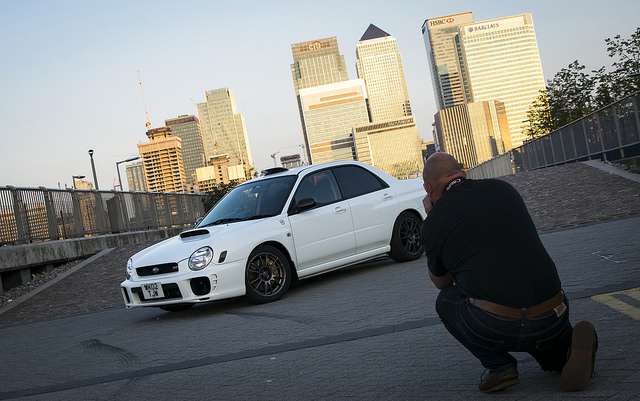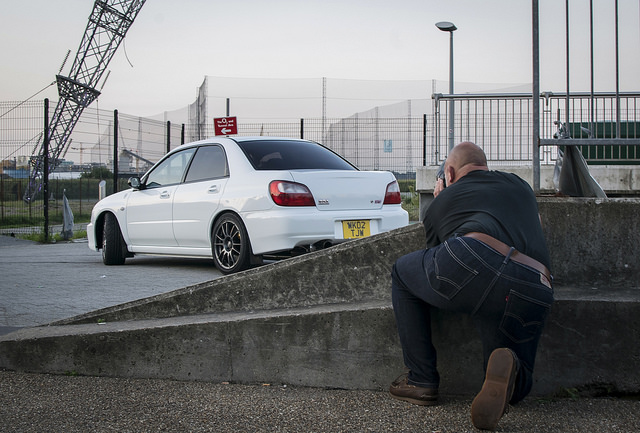 Being pleased that we got the shots we came for and it only being just before 7am, i suggested we head into Canary Wharf itself. Scott had never been there and because i went there earlier in the year taking some pics of my RB and
@Ricardos
LY200 EDC, i knew it could make some cool shots. We headed there and upon arrival, we got stopped by security. After speaking to them that we wanted to take some pics of the car for personal use, he let us in. He did warn us that we may get asked to move on but said that we should try our luck! I told Scott to head towards the Heron Quays station as it had a cool bridge we could take some pics under. The sound of the exhaust bellowed rather nicely through the money ridden buildings. Had a lovely echo and sounded nice, waking up the empty district.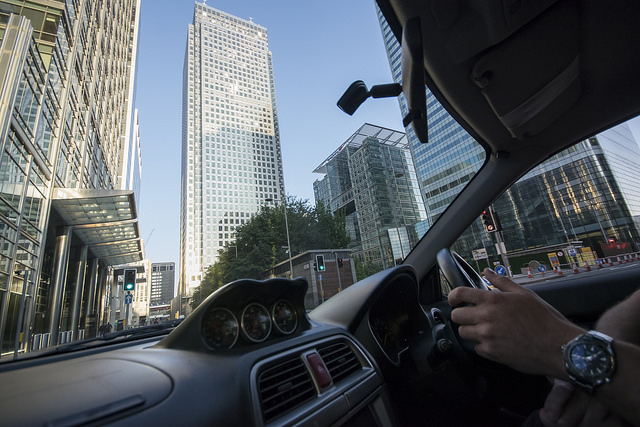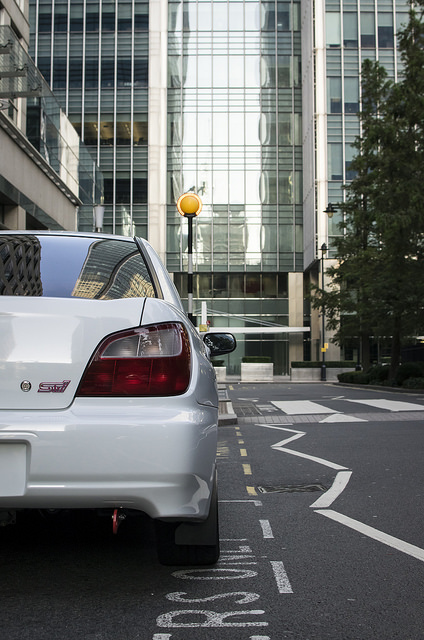 We parked outside the offices above and a chap came out and admired the car. He was a really nice chap and a real car enthusiast. We spoke to him for a good 1/2 hour and i seriously reckon that if Scott had said it was for sale, the chap would have made an offer there and then!
After that, we moved onto the bridge area, but i spotted a zebra crossing first that would make a cool shot if we parked in the center. Scott drove round, sountrack in tow and stopped on the spot. Here's the shot: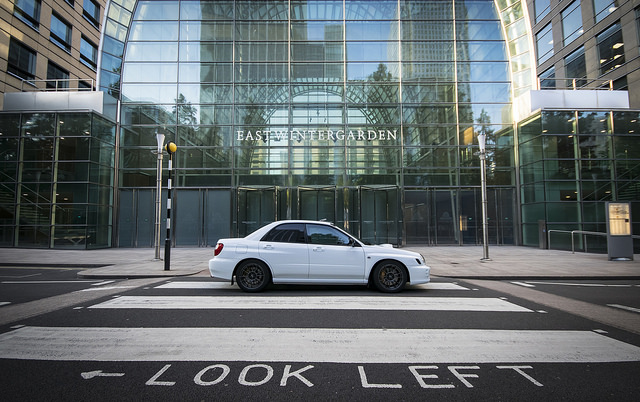 Really happy with that one. Onto the bridge shots. As we parked up, we hit the train exit/entrance time and nearly everybody was looking at the Subaru. I guess its not often to see a White Spec-C take charge in the center of the road in Canary Wharf!
Few shots: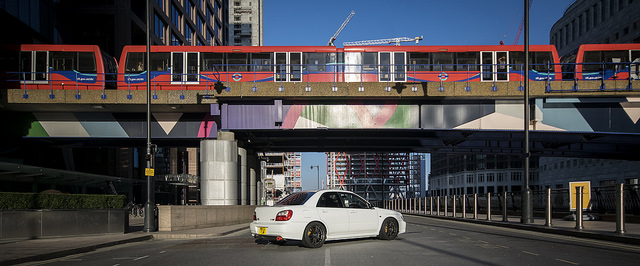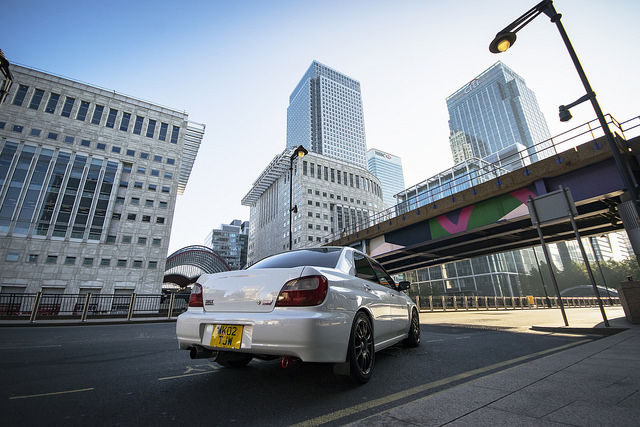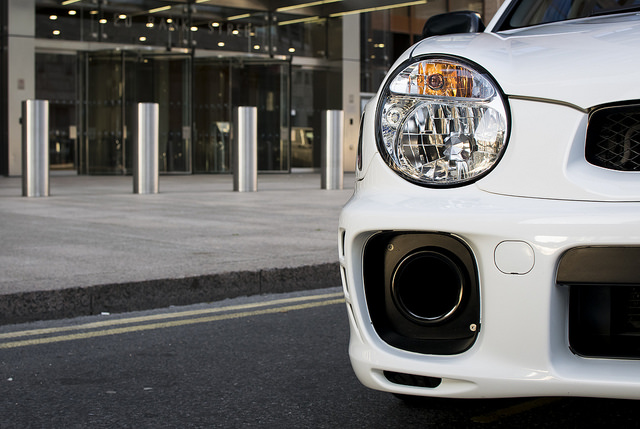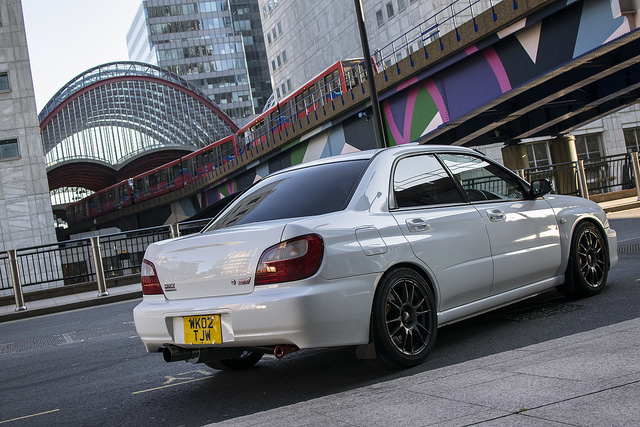 At this point our stomachs were rumbling, so we decided to head off for some food. We both admitted we don't head into London often and didnt know where to eat, so we headed for a nice healthy McDonald's as its a play safe bet! Along route we spotted this, so we quickly stopped off for a quick pic!

Got chatting to the guy and he seemed nice. Scott mentioned that he had worked on a Jota a few years ago (probably more than a few!) and the guy was interested. He even handed Scott a business card! With that done we headed to the nearest McDonalds, which was Liverpool Street. The parking was busy but we got a spot right outside the front. Scott had to turn around. This highlighted 2 things for me. The diff noise is loud. This is normal but it sounds abnormal, almost like its broken. Once again, the word "mechanical" would be a perfect description. The 2nd, was how quick it was to do a 3 point turn on the steering! We parked up and ate like kings!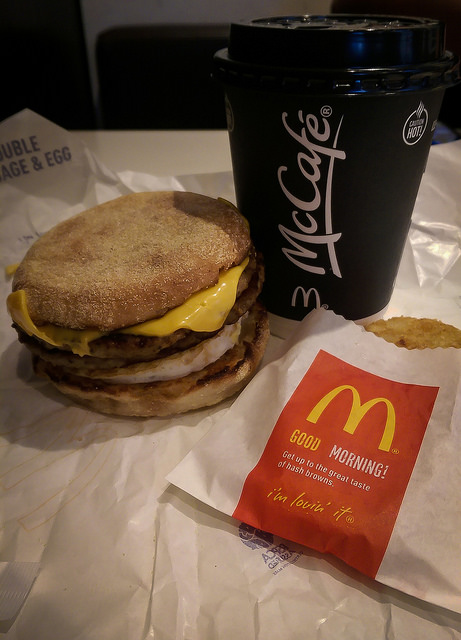 We had a good chat about things over breakfast, which none was car related. With breakfast done we had a quick toilet break and then headed off to St Katherine's Dock, under the recommendation from
@Scrooge
. Unfortunately we didnt really find anything in there. It was getting busy by this time as the weather was nice. The spec-C does not feel that great on small uneven, pebbly roads. TBH its not the best car for driving into busy london with all the small stops due to traffic! I did take one picture while we was there but i didn't like it so i deleted it. After a quick stop, we decided to head back towards Scott's home to maybe find a industrial estate for some not so exotic pics!
I got a few shots along the route as we was leaving london, via the Tower bridge.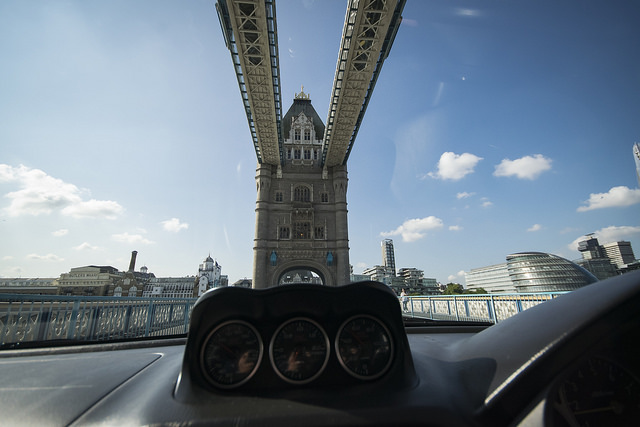 We headed out of london and on the main roads. Here it was nice to open the Spec-C up a bit. Polar opposite of town driving. Its quite apparent now that the Spec-C doesn't like to be driven slow. Its like its begging to be driven harder than normal. It was here that i got a nice feel for the car. Modern boosted cars seem too smooth. I like the old skool turbo feel of lag, then kick. This does that, and rather violently. It pulls very well and wants to continue through the gears. Gearing is nice and slick under a bit more anger, the boost is brutal and on/off the throttle is hard. Its short and sharp. The TEIN coilovers seem a lot better and more compliant at higher speeds, over the town driving. But, the way it goes through the gears is wicked. Everything sounded better at speed. I certainly enjoyed the little blasts for sure and it was definitely more superior than the driving we had experienced over the past few hours previous, however the best was yet to come.....
We found a industrial section along route and stopped off for a few more pics. We liked the look of the yellow as it gave a nice contrast against the immaculate white of the bodywork. The trainline in the background also added a nice contrast to the mix.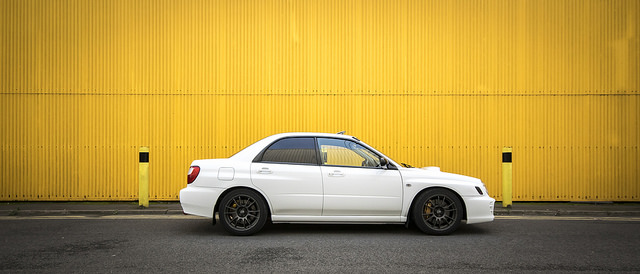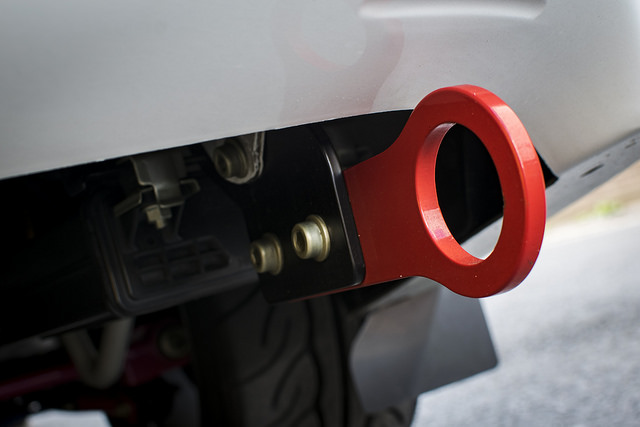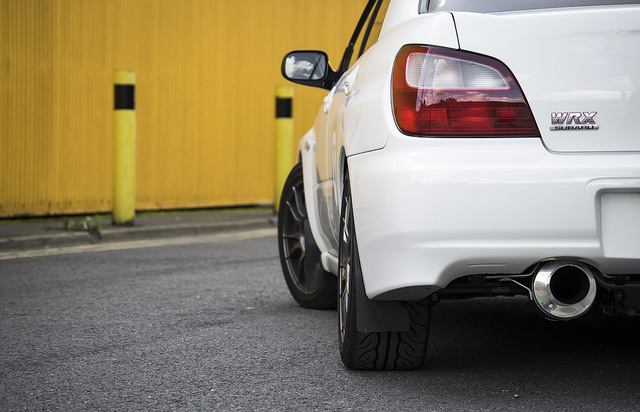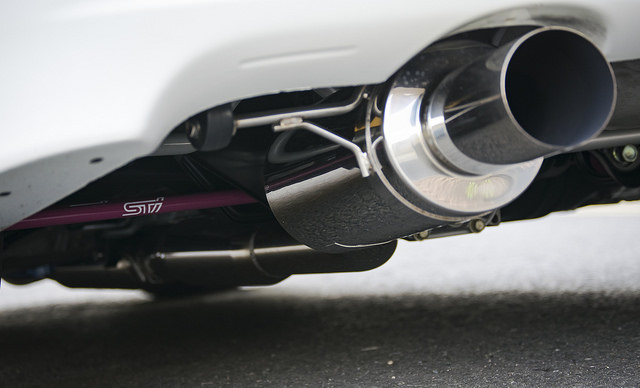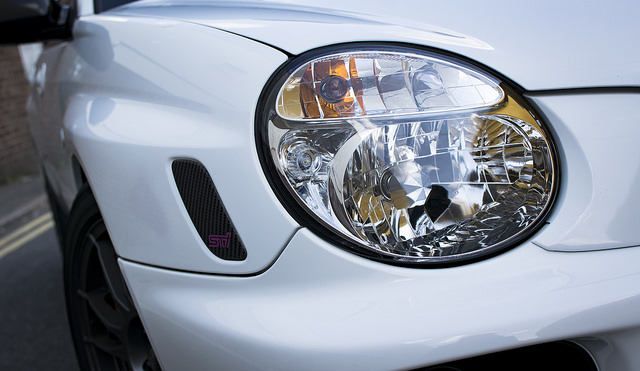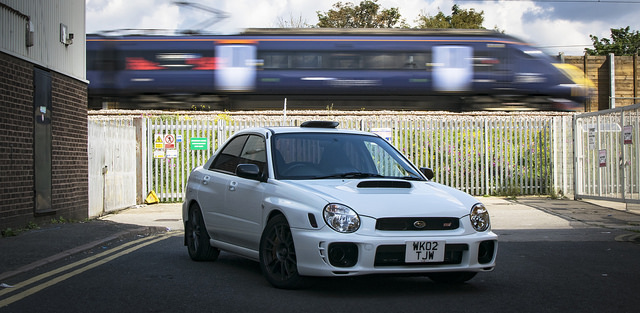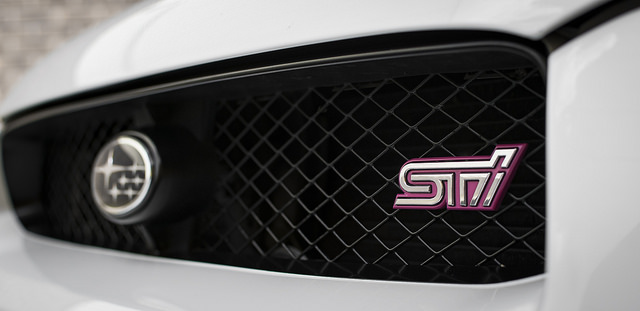 This car is ridiculously clean, even after the few hours of driving through the various streets of London. Typical of Scott and it really does live up to the hype. It is as clean as you see in the pictures. We went back to Scott's hometown and he knew of a spot we could take some pics. It was along a nice, empty windy road so he we stopped and set up he's GoPro. I knew what was coming up and it didn't disappoint. Not one bit. This car is f**king awesome at speed. Like proper f**king awesome. The way it feels is so strong. I can only describe it as violent and raw. When it comes on boost, its a huge pull, then off the throttle to change gear and for a split second you regain your position before being forced back into the seat. The seats are nice and supportive. The TEIN coilovers have now come into a world of there own. Totally different than before. They felt smooth and soaked up the road vey well. Corning hard through the lines and they felt planted. And we was cornering HARD! The AD08R's do an amazing job of keeping the stickiness to maximum. This is a proper enthusiasts car. A real drivers car and it loves to be driven in anger. The way its handles and accelerates is another level. Not once did i feel unsafe and it just fills you with so much confidence. All the diff noises thats ive heard earlier are now gone. The brute force is punchy, and i friggin loved it!! Its just one badass car that loves being pushed hard and it does it very well. The grip through the corners is immense and the on/off throttle is lustful!
We stopped off at the said spot and snapped away, letting the tyres cool down!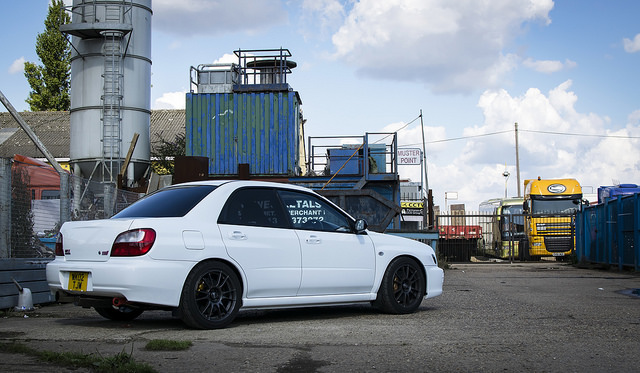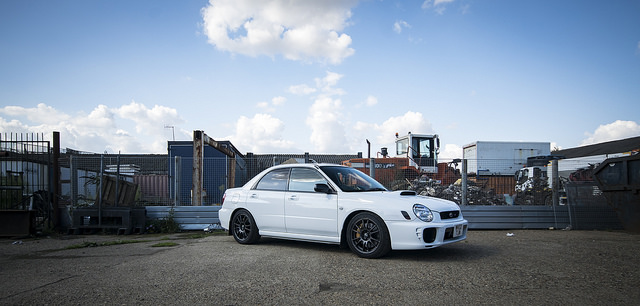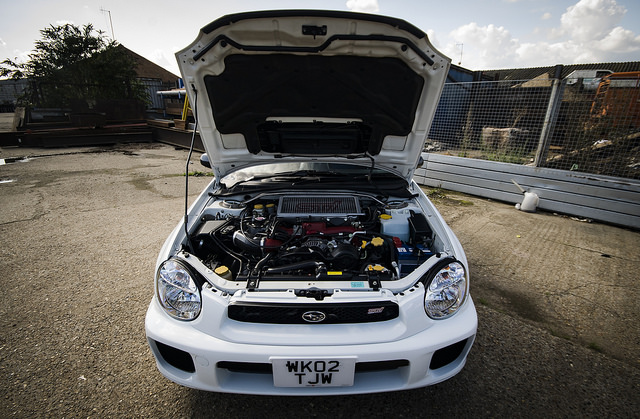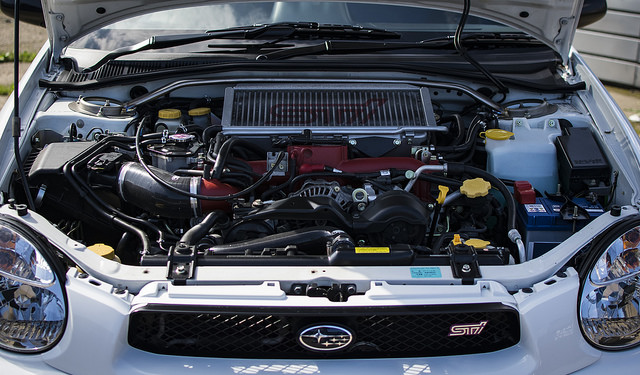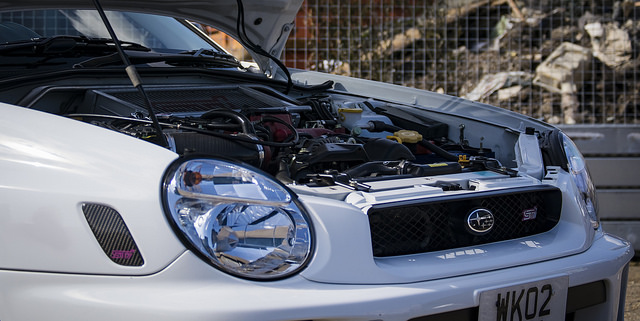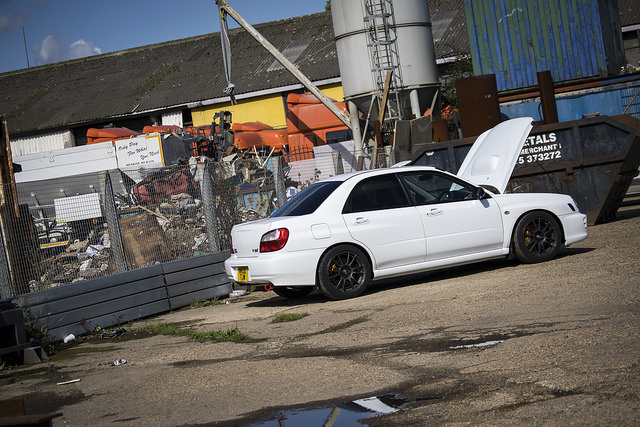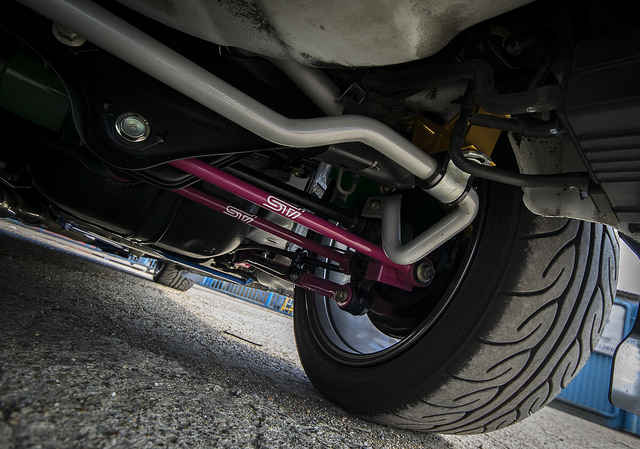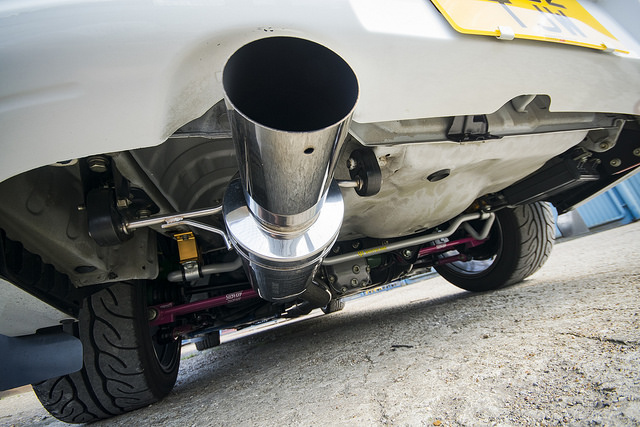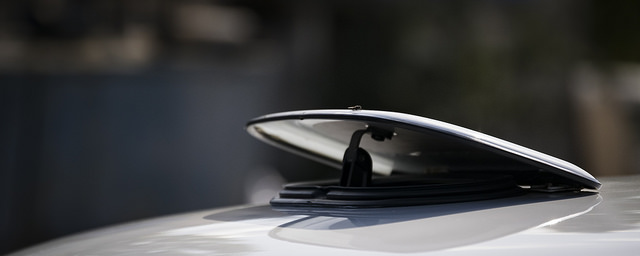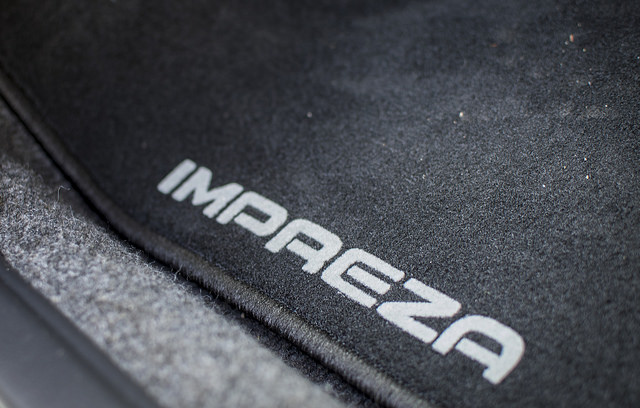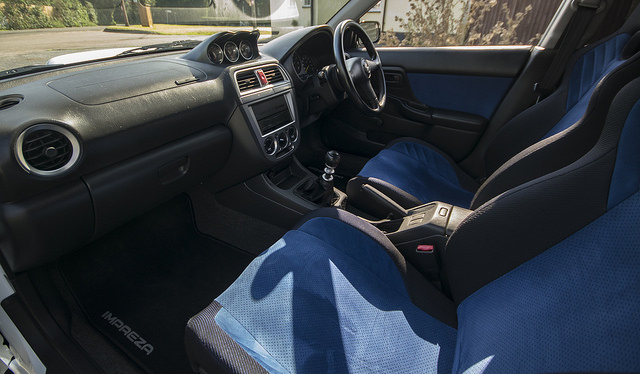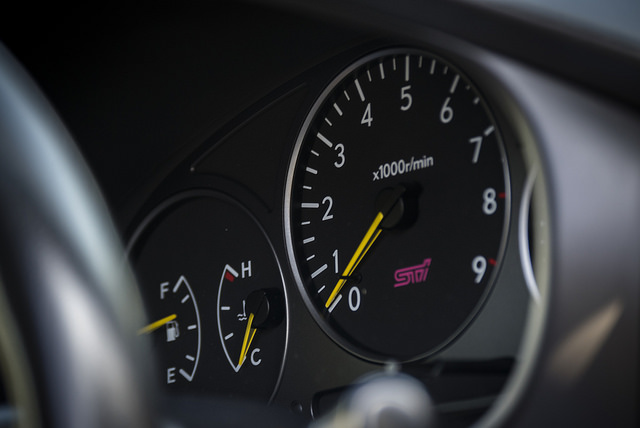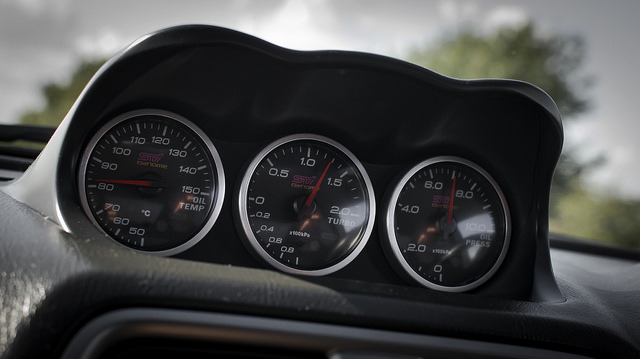 (Its very hard to get the boost gauge in focus when your being driven at hard speeds through hard cornering in this thing!)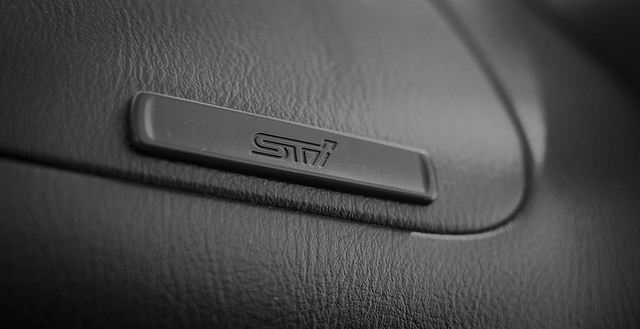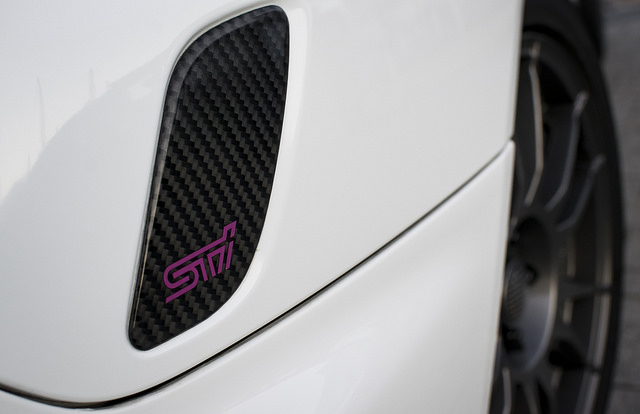 So yeah, that's about it. The days was fantastic and i really enjoyed Scott's company. The pics came out well i think and as for the Spec-C? Well in a nutshell, the thing is f**king EPIC!!!
Hope you enjoyed the read and the pictures.
Mark.
Last edited: