I have been needing a car for doing my daily commute. Needed something very frugal, half decent stereo and fairly comfortable as I would probably be doing mega mileage. I started looking for MK3 DCi's - cheap , high milers and went to see quite a few but they were all scrappers.
Was browsing Gumtree and came across as really cheap CAT S MK4 DCi non runner / non starter. The owner had smacked a curb and bent the front passenger wheel back as well as setting off airbags.
The car on the whole was really nice though:
Dynamique media nav
Light Yellow
Pano roof
limited edition Le mans (check the hideous steering wheel)
2014 - 28K miles
It was up for £2750 which is really cheap considering they are £9k for a similar non CAT S car.
So me and
@.Joe
jumped in my car and went to view it in Birmingham. Joe is absolutely amazing with Clios and Renault Clip in particular.
This is how the car was when we turned up - look at the front wheel: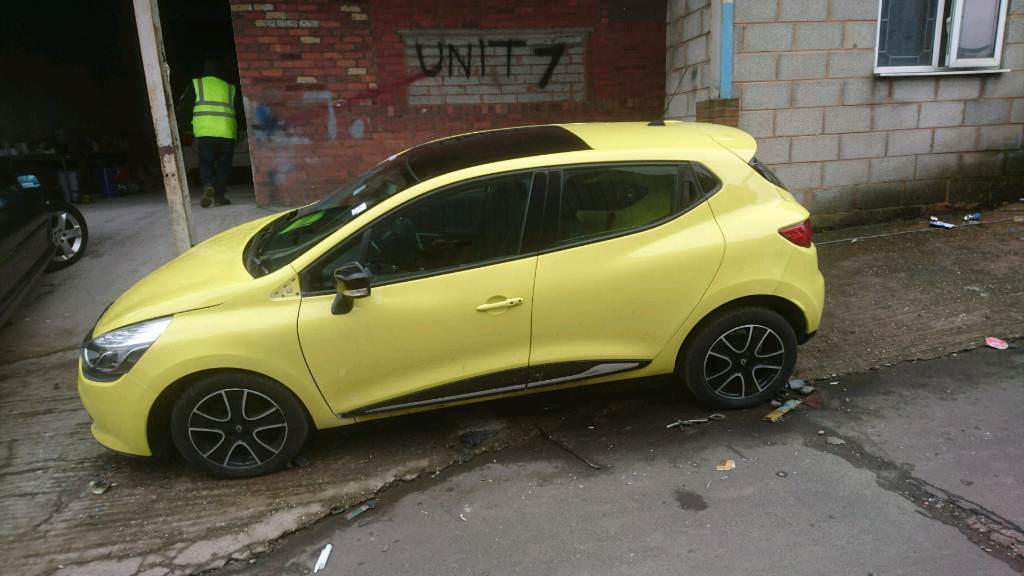 The owner didnt have a clue about cars and had tried to fix the car himself by replacing the airbags and possibly the pretensioners. The car wouldnt start for him even after some mates of his had spent the weekend trying.
After a thorough going over the damage was the wishbone was bent, archliners were off the car and some small odds and ends that needed tidying up.
I didnt want to buy the car unless it started so concentrated on that. This is where Joe works his magic. Joe connected Clip to the car, diagnosed all the faults and reset the Airbags , fuel inertia cut off and various other things. We had troubles with the car battery but after a bump start the car fired in to life. Joe honesty is a fooking wizard with clip!
We drove it round the block and it seemed fine, the steering wheel wasnt straight and the car was veering a little but drove safely. I bought it and paid the man asking price. I didnt want to haggle as at that point it seemed a massive bargain as it was.
We taxed it and insured it and Joe drove it back to Oxford for me. I got straight on to Ebay and bought a new subframe complete with wishbones and ARB for £100. Renbreakers on ebay are amazing and have bought a good few things off them. They arrived and the next weekend i set about replacing them. Not the easiest of jobs on axle stands on your own due to the weight of the subframe etc and having to hold the subframe and stick the bolts in etc. Got it all done in a day though and the good news is the wheel was now central.
I then carried out a full service - oil+filter, Airfilter, coolant change, pollen filter. I also spent this weekend cleaning the car and restoring the paintwork as it wasnt very vibrant or shiny. Took it for an alignment and 2 new front tyres and it now drives perfectly!
Ive been using it for work for a week and using ECO mode to save as much money as possible. The best thing about this car is TAX is FREE and it can genuinely do
99 MPG
Ive been driving it at 58 - 60 mph on the M40 , M4 A34 ( no town driving) for 400 miles so far and that is the average. It is the trip computer mind but doubt it is wrong and is probably higher than that as it only goes up to 99.9mpg.
Here are some pics of it now, I reckon it looks pretty good, the black pano roof has been lovely in the sun, its comfortable , easy to drive, no loud exhaust so really quiet, soaks up bumps so much better than my other clio RS's. Ive probably saved just under £6k buying this.