Our 3rd season in the CSCC Tintops and we were very much looking forward to it. We were not at all disappointed with our engine failure at the last race of 2011, as we had been competitive towards the end of the year with a very old and tired engine. A new lump for the 2012 season had been in development for several months at 519 Automotive and the whole car had a rebuild. Suspension, joints, bushes, bearings etc. The car would start the new season in tip-top condition.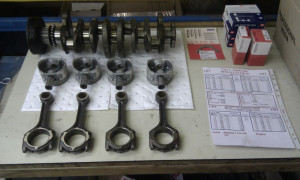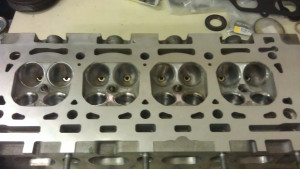 The car was dyno'd and calibrated in mid March with very pleasing results so we were off to Brands Hatch for a pre season trackday as a test. After its major rebuild we wanted to make sure everything was as it should be. It was a little chilly when we arrived but the car felt much as it did at the back-end of last season which was a relief as we had changed quite a bit at the rear. A few small damper changes were made to compare but overall the car was balanced well and we were both happy as it was pretty much spot on from the word go.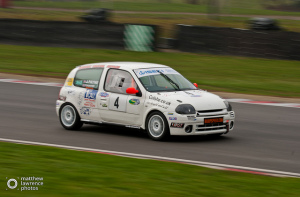 So a long winter break was finally over and we were at the first meeting of the season. Brands Hatch Indy Circuit had never been kind to us in the past, our best result being 10th in 2011. We were feeling more comfortable after our recent test and were aiming for a top 10 finish. I was the first out in qualifying, having never done a start at Brands before. The tyres took a few laps to come in and they caught me out as I understeered off the track at Clearways and had to Rallycross back on the circuit. Luckily I didn't get beached. The Quali session was shorter than usual at only 20 minutes, so it was down to Tony to do a time now the tyres were up to temperature. His best being good enough for 7th place on the grid.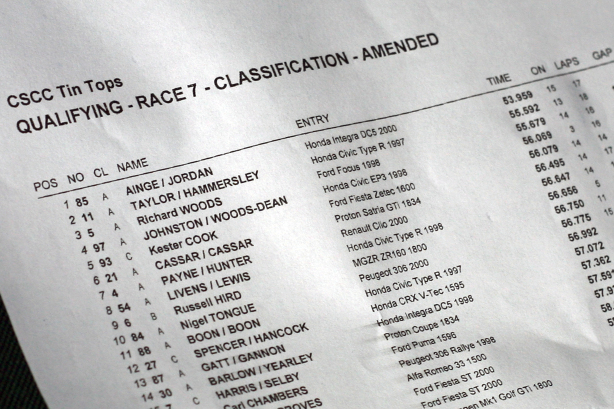 At the race start I got a good launch but the Fiesta in front was slower away and I had a little lift as I looked for space. There was just enough room on the right so went for it. In 2nd gear the car just took off and I was passed him easily. A big gap ahead of me started to close as the Proton gave me just enough room but I did just touch the grass as we went into Paddock Hill for the first time. So at the end of the first lap we were 5th. I had to watch my mirrors for the rest of the stint as I slowly fell down the order but we were never far away from the leaders time wise.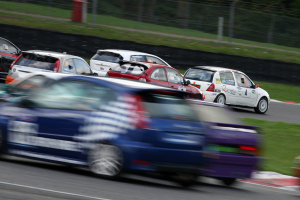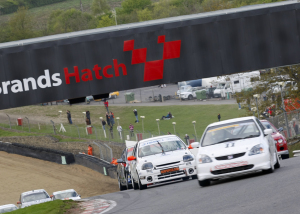 On lap 14 I came across the aftermath of an incident between Simon in the Civic and Nigel in the Integra. The Civic was beached in the gravel at Druids and brought out the safety car. I joined the end of the safety car snake at the start of the next lap and pitted next time by. As we were so close to the safety car when we came in, Tony got back out while the exit was still open and rejoined the queue behind the safety car. The gamble had paid off as we were now 4th on the road with 2 cars ahead still to pit. Tony went on a mission. He had no idea if we'd lost out or gained through the pitstop/safety car period so just drove the wheels off the car. The 2 cars ahead pitted within a few laps and that left us 2nd on the road and heading for a class win. Mike Jordan was now in the very battered #85 Integra and trying to recover lost ground from the accident. He was around 2-3 seconds per lap faster so it would be possible he'd catch us near the end, and he did so leaving us 3rd on the road and 2nd in class, a great way to start the year.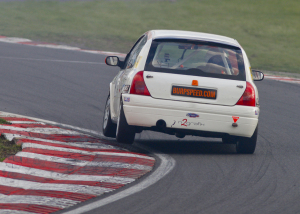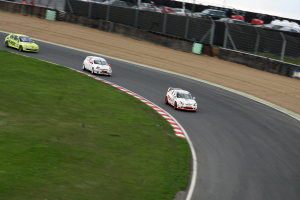 The 2nd race of our season at Silverstone was really warm and sunny. With the new engine we hoped to be a little more competitive than in the past around the fast layout. As at Brands, the quali session was only 20 minutes so getting a decent lap in and both of us getting into a rhythm was going to be tight. The car felt ok but the brakes were suffering slightly with the heat. 10th on the grid was all we could manage and we were slightly disappointed with that. We both felt the car could go quicker. After the session we were called up to see the stewards for exceeding track limits, i'd had an off at Beckett's and Tony had run wide at Luffield. We said our apologies and went back to the paddock for a think about things. We took out the brake cooling ducts completely to leave just 2 big holes and get as much air into the wheel arch area as possible. It was really hot by this stage and it was going to be a tough race for the car and us.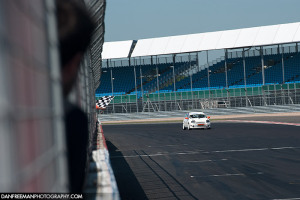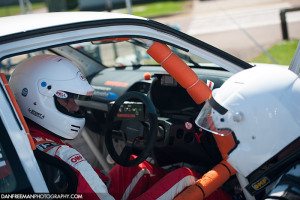 Tony started this one on the right hand side of the grid and got away well. But a slow shift to 2nd cost him a few car lengths. Once in, he was away and passed 2 cars before Copse and was 8th towards Becketts for the first time. Looking for the gaps as always he passed Jerry and Davids 306 on the left and dived to the right of the #87 Integra. Carrying a little too much speed had an oversteer moment into Becketts loosing momentum and was back to 7th at Brooklands. The 306 with its superior straight line speed went by along the pit straight leaving him 8th. As the race settled down Tony was now lapping in the high 1 minute 8 second bracket, quicker than qualifying and the times we were aiming for. A few laps in Tony began to struggle with the gearbox, difficulty selecting gear and crunching on down changes, the engine was also running hot. Tony and the #87 Integra began a great dice for a few laps, swapping positions at Copse and Brooklands. The pit window was now open and as soon as we saw Tony loosing time we called him in.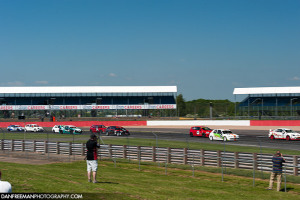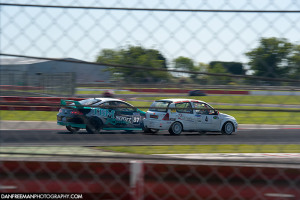 A swift stop saw us rejoin in a comfortable 2nd place. I had a very clear run but the car wasn't in great shape. The engine temperature was sat at 102 degrees. I continued to circulate in the low 9′s with the gearbox getting slowly worse but felt comfortable with my pace. Three laps from the end, going through Copse, the engine stuttered but then was fine. I checked the temperature and it was still 101 degrees. It then started to cut out and stutter on all right hand corners (everywhere but Brooklands) We were running out of fuel. I was desperate for the chequered flag to come out and at one point coming onto the back straight it died completely. I really didn't think we would make it and rounding Luffield for the final time it was coughing and spluttering. I could see the chequered flag and limped across the line to finish 2nd, our best ever result. I was greeted in the pits by Tony and a bottle of water spraying everywhere (no champagne to hand) We were interviewed for the circuit commentary and had a good chat with Mike and Nigel in the Integra. They had issues with their car and the 306 in 3rd place had a misfire. We were the only 3 cars on the lead lap and all of us carrying problems. The heat had effected everyone. The car had given it's all for the result and it turned out to be a broken clutch causing our gearbox woes. 2 races down and it was already shaping up to be a fantastic year.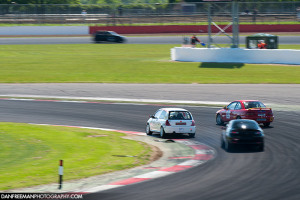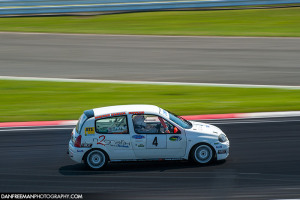 With a mad rush, we got the car repaired in time for a trackday at Llandow we had organised. It was a fantastic day and a great social event. We took many people out for a passenger ride.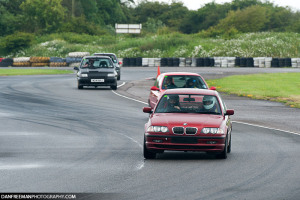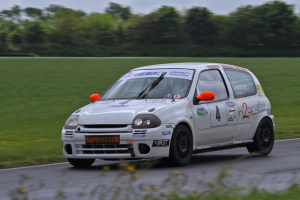 The next round of the Tintops was at Anglesey, a weekend we usually enjoy. This trip was a little different. The wind was very strong and he skys overcast for much of our time there. The car didn't go that well as we struggled with the setup. 7th on the grid was ok but we both knew the car wasn't up to fighting much. The laptimes we were posting were slower than previous years so a top 3 would be a long shot. Another good start but the car was a real pig to get into the corners and loosing us loads of time. A good pitstop put us in 3rd place and things were looking up. But a safety car closed the pack up again at 3/4 distance. Tony was powerless to stop quicker cars coming through as the front tyres were going off badly with the poor handling and the understeer was getting worse. So we finished 4th, it sounded like a good result and it was. But if the car was at the pace we know it should have been we'd of been happy with that. But with not doing pre-race testing this year we were on the back foot. The front tyres were a real mess after the race, really showing that the setup was miles off. The trip home was a long one after a disappointing day.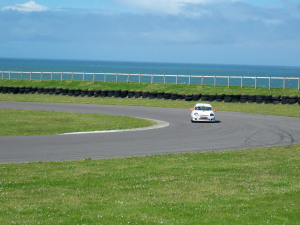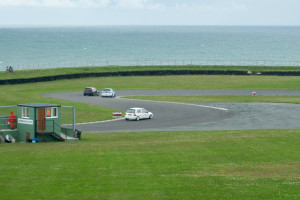 A big summer break for us after Anglesey and we rejoined the Tintops for Mallory Park and it was one we really had high hopes for. We went back to what we knew with geometry and damper settings after our Anglesey struggles and spent a lot of time getting it all right. A test at Mallory 2 weeks before the race had gone well but a damp qualifying session wasn't what we wanted. Being August the track dried pretty quickly tho and we qualified in 3rd place as we had 12 months ago.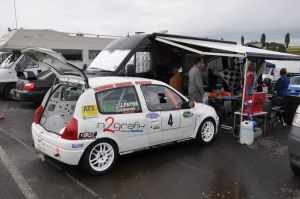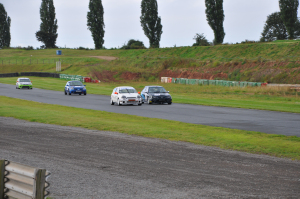 We lined up in exactly the same grid box as we did in the race last year. As the 5 second board was shown, Russ in the MG came into my peripheral vision. He had crept out of his grid slot by almost a car length. The lights went out and I got away well, drawing alongside pole sitter Nigel in the 306 as we braked for the first corner. By lap 2 we were in 3rd place and I could see Russ in the MG had David in the #15 Peugeot 306 to deal with so it gave me some breathing space for a few laps. On lap 7 and David had passed Russ in the MG-ZR so he was hunting me down. The Peugeot passed me into Gerards at the start of lap 9 and I expected him to disappear. But he locked up into the hairpin on the same lap and we went back passed. For the next 10 laps we had a brilliant dice, side by side on the pit straight a number of times. I managed to keep ahead as the pitstops began.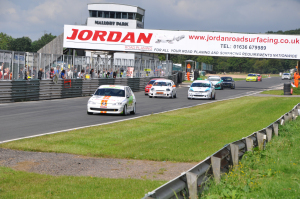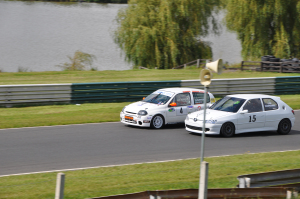 We made a big leap during the stops as we were one of the last cars to pit. Tony rejoined in the lead of the race by over 4 seconds. Luck wasn't on our side though as almost every lap Tony had to pass a car exiting Gerards, compromising speed down the back straight. Richards 2nd placed Focus closed the gap right up and on lap 35 a Honda was unknowingly indicating right in Gerards. Tony expected to pass to on the left but the Honda keeps moving over. The momentary loss of momentum meant a compromised entry into the esses as Tony went defensive, he locked up at hairpin and Richards Focus was through into the lead. For the rest of the race the gap was not more than half a second at the finish line. But there was no way through unless Richard made a mistake.
Tony got along side as they lapped some cars. But got boxed in by an MG-ZR and unintentionally gave it a nudge. Richard takes his first win of the season and we finish half a second behind. Shortly after we'd returned to the paddock we were informed of a penalty we were to be given along with Nigel in the 3rd placed Peugeot, for a yellow flag infringement. But after Russ in the MG had been given his start line penalty, the amended results put us back in 2nd. What a great race, a fantastic day and the closest we've been to a win.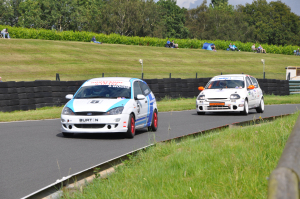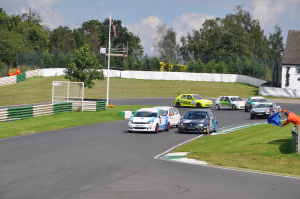 The 5th round of our season was at Donington Park. It's usually one of our weaker circuits and one that suits the high power cars well. So a top 6 finish would be a good result we felt. I set off first in quali to try to relearn the circuit. I'd only been here once before. 4 laps into my run the safety car came out for a car off at Craner, so I headed for the pits and handed over to Tony. He had a few hairy moments and the car had a fair bit of oversteer but managed to get us 10th on the grid.
Race time, we lined up on the left hand side of the grid and had to wait what seemed like an age. I got a great launch and the car took off. I had so much momentum and the gaps just opened up for me. Before I knew it I was 4th as we went through Hollywood. One of the best starts id ever done. Coming up the hill into Coppice and not under pressure from anyone I saw a red flag. I knew this meant a restart, it would be a new grid and id be back to 10th. Gutted! The second start was good but others around me got away a fair bit better this time. I moved right as the gaps opened and there was space up the inside of Marks Civic as we braked for the first corner. I was as far over as I could go but had to take to the grass as the Clio sized gap that was there suddenly disappeared. We touched, only minor but it folded my left hand mirror in so I was carefull through the next few corners in case cars were there. Mark got up the inside at Coppice and Richard in the Focus followed him. Taking a wider exit I had good momentum down the straight alongside him. My thoughts were, I'll brake when he does. He locked up, I missed my braking point and we both went through the gravel trap. So end of lap 1 in 8th place.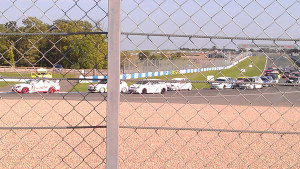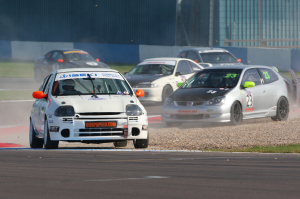 Two of the cars in front had drive through penalties, so we were effectively 6th. The car wasn't great and quite tail happy. 5 laps later there were 2 cars stranded at the chicane and the safety car was deployed. Cars started to pit but we stayed out. Tony, Mike and Nick on the pit wall had read it spot on. Everyone who was pitting was getting stuck at the red light at the end of pit lane. I could see them queueing every time we went by. More and more cars peeled off until it was only Richards Focus in front. We both followed the safety car in for our stops as the track went green. It was one of our quickest stops ever. A total pitlane time some 7 seconds quicker than anyone else. Tony rejoined in 10th place, 35 seconds off the lead. But the majority of the cars ahead had stayed out during the safety car and still had to pit. We gradually moved up the order on the timing screens as cars came in to pit. Meanwhile out on the track Tony was having an interesting few laps. Trying to lap a Class B Honda at Redgate, he turned into our car! It was a hell of a hit. We were lucky not to sustain a puncture or spin out.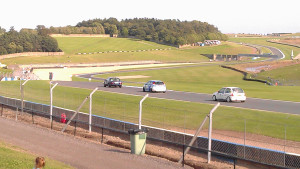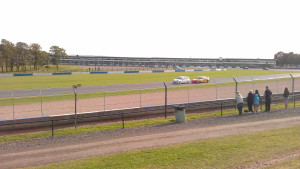 Tony had a quick spin at the chicane next time by but with all cars now pitted we were in 1st place. We gave him the board to let him know and with a returning thumbs up he settled down to steady lapping in pretty clear air. Our lead grew steadily to the cars behind but the quick cars were coming. Mike Jordan in the Integra was taking some 5 seconds per lap out of our lead as he worked his way back up the order. Tony was now getting a bad vibration from the damaged rear wheel and doing all he could to bring the car home with minimum risk. Mike Jordan passed on lap 20 and the worry now was Nigel in the 306. He was several seconds a lap faster also. The clock ticked down and we crossed the finishing line just over a second ahead of Nigel to take 2nd place. A few more laps and even 3rd would have looked in doubt as Richards Focus was also putting in some fast laps. So our fourth 2nd place of the season and at a place we never expected it. Even more surprising as we were much slower than we expected to be.
Onto the last race of the season at Oulton Park. The weather was forecast to be dry but there was no sign of the 30 degree plus temperatures we had a year ago. The circuit was damp from overnight rain but as the 3rd qualifying session out, we were pretty confidant it would be dry for our group. I'd done a total of 3 laps last year so really wanted to get some dry running in.
Out onto the circuit for qualifying and it was still very damp and slippy. The safety car was out on lap 2 for a stranded car exiting Cascades, so a familiar story for me of very few laps and there was still no real dry line. No grip was the only advice I could give Tony when I came in to hand over. He pounded round as best he could, the track getting faster every lap. With 1 lap to go Tony had us in 10th place. On the final lap he took half a second off each sector, as a dry line had now formed, and was on course for a top 6 position, only to lose time in the final corner going off-line to pass a slower car. Almost everyone's best lap was their last.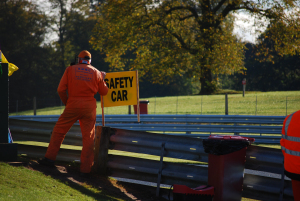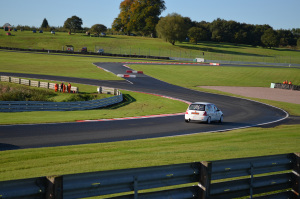 The race was to be dry and warm, on the out lap I explored the grip level. The track was completely dry now as we lined up in 10th place. The lights didn't stay on for long and my initial getaway wasn't great and bogged down slightly. But that meant I had forward momentum and no wheel spin so I floored it. The car got great traction and I made my way through the gaps over to the pit wall and was alongside Russ in the MG as we braked for turn 1. I clipped the inside kerb, had to lift, had a big sideways moment but was into 5th place. By lap 4 I'd started to drop away from the leading pack slightly and Simon in the white Civic began to catch me after a slow start.
Over the top of the hill there was a slippery surface flag displayed. As Simon came alongside I could see Russ in the MG spinning across the grass at Knickerbrook. Not knowing if I'd driven through something oily, I was far too conservative into Druids and the Civic got by into the last corner. Still in 5th place but annoyed with myself. By the end of lap 5, Lee in his rapid Saxo had caught me after I'd made another mistake at Druids. I went defensive for the next few corners and he got by at Cascades. Russ was regaining lost ground in his MG and was now my next worry. I'd decided no one else was coming through though and after half a lap of elbows he gave up and pitted. I now had clear road ahead and nothing in my mirrors for the first time in 10 minutes. The Boon Civic was a few seconds behind, this I thought was my chance to push on.

But exiting the first chicane there was a yellow flag for a car off to the right. A very slow Civic was crawling up the hill. I couldn't pass until the green flag, loosing me around 3 seconds and that put the Boon Civic right on me. Yet again I had to drive the widest Clio in Cheshire. I managed to hold him off for the next 3 laps and had a close call lapping some cars in Druids. Jamie's 205 was slowing with fuel pump failure as I came to pass a Clio. I had to stand on the brakes hard to avoid hitting him. Biggest fright I'd ever had racing.
We pitted at half distance, the end of lap 10. A great stop again, with a pit lane time 4 seconds quicker than anyone else, but I'd lost too much time to the leaders early on for us to take advantage. Tony rejoined 5th.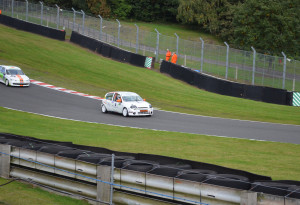 Tonys lap times were slowly coming down despite several corners being slippy with mud. We weren't quick enough to catch the group in front though. All he had to do was maintain the gap to the Boon Civic behind and as usual got really unlucky passing lapped traffic. On lap 17 Nigel slowed in the Peugeot with engine problems, promoting us up to 4th. As Russ in the Class B MG was ahead we earned another trophy for 3rd place in Class A. What a great way to end a brilliant year. Although we slightly felt we should have done better. Our fastest lap was a massive 2.8 seconds quicker than last year but everyone ahead of us was faster.
All in all a great season of more highs than lows. Particular highlights are the results at Silverstone and Donington. Both very unexpected. Mallory Park yet again the most fun and competitive race for us. The low point being Anglesey. A place we normally go well at turned out to be our worst result of the year and the car wasn't fun to drive at all.
A few weeks after the end of the season we received a phone call from Hugo at the CSCC. We had finished the year 3rd in Class A and earned a lovely trophy for our efforts. (collect the trophies in a few weeks time)
What an amazing year and one we will not forget. A huge thank you to everyone who had helped us out this year. Mike, Nick, Matt and Helen. A great team. And the biggest thank you to Dan at 519 Automotive. The engine he built us was the key to our season. It was so driveable, had loads of torque and didn't miss a beat.

Season Stats:
Starts – 6
Finishes – 6
Trophys – 5
Best Finish – 2nd (Silverstone, Mallory, Donington )
Best Grid Position – 3rd Mallory
Racing Laps – 193
Wet Racing Laps – None!
Start Of The Year – Jay, Donington (Then Red Flagged)
Hours On Track – 12