About me:
My name is Gerben Visser, 27 years old and living in the Netherlands. I am a Cliosport member since 2014, but I never posted pictures or a story about my car. On the moment I am writing this the car is finished (for now) and I did all the mods I wanted to do, so it is time to show the result!
Background:
This is my first Renault after a Peugeot 106 Rallye Ph2 and a Lancia Delta HPE HF Turbo (model 1998, 2nd generation). I really love small fast cars and make them even better/more special by upgrading them. Exterior must have a OEM look, I don't like big wings and spoilers etc. Engine performance is what I like the most, my number 1 hobby is tuning and racing small 2 stroke bikes (tuning on a far more higher level than with my car).
Build:
Bought this car beginning of 2014 and drove it for about a year. I did some small modifications right away, like the wheels, polishing the headlights and some other small stuff. In September 2014 it was time to replace the timing belt, so I decided to throw some Schrick cams in & I matched the inlets myself.
At the beginning of 2015 it went into the garage to finish the build. I was still driving around with the stock exhaust and I wanted to rebuild the gearbox because it was leaking some oil. Also had plenty of other mods which I wanted to do, but I never had time for it because the Clio was my daily drive. I bought another car as daily, so I had enough time to finish the car. Since December 2015 it is finished (for now) and on the road again. Read a lot on the cliosport.net forum and did a lot of the basic mods.
Service:
Except the mods I did (see the specs list below), I also did a lot of general maintenance. The gearbox has been rebuilt including the clutch and cable. Because the box and engine were out of the car, I also cleaned the engine bay and painted some parts of the engine. All filters, fluids, oil, sparkplugs and so on were replaced. Also mounted a new radiator, because the mountings were gone. All the mounts and bushes of the car are checked and when necessary they are replaced. Painted al lot of other parts as well, like the sub frame, wishbones, wipers etc. Some small parts are repainted flame red together with my new cup spoiler and washer blanks, like the mirror caps, rear wiper blank etc.
Everything is done by myself (also the gearbox rebuild), but I got a lot of help from my dad who is a car mechanic. I spent a lot of attention to rebuilding it nicely and clean. All parts that were on their way out are replaced.
Specs:
Engine:
KTR Induction Kit Blue
KTR Decat
Schrick Camshafts
Matched Inlets (DIY)
Cup racer exhaust
Remap by Henk from Fastchip
Exterior:
OZ Superleggera`s (refurbished in Silver Metallic)
OZ Carbon Center Caps
Brembo HC front discs
Brembo EOM pads front + rear
Yellow painted brake calipers
H&R Lowering Springs (30mm drop)
Powerflex bushes for dogbone
Cup Spoiler
Carbon Bullets with silver writing (by Simon@SprayShack)
Washer Blanks (by Russo)
Skoda Fabia splitter
RS197 tailgate badge (Renault Sport)
Foliatec short antenna
Bumper cut out for the exhaust
Interior:
OEM Renault Navigation (factory option)
Custom Cliosport.net mats
Custom Footrest (by andy_con)
Yatour audio interface (for USB, SD and Aux)

Results:
I drove about 15.000 kilometers with the Schrick cams without a remap (end of 2014, a bit in 2015 and 2016 until May). A couple of weeks ago (21 of May 2016) Henk from fastchip mapped the car at the dyno and I was very pleased with the result:
170 hp & 218 Nm at the wheels!
When I calculate this back to the engine with a loss of 12% (no pub figures, 12% is not much) you get the following results:
170 x 1,12 =
190,4 hp @ engine
and
218*1.12 =
244,2 Nm @ engine
or
180 ft/lb
like common used on this forum
The dyno we used is very reliable, a strong/good Clio 197 for example gives 170 hp at the wheels as well on this dyno. A good/strong 172 or 182 gives somewhere between 145-155 at the wheels (when stock).
Additional info about results:
Without remap my car already gave 170 hp at the wheels. After the remap there were only gains in the mid section. The mid section is really strong, pulls like a train. The remap was definitely worth it, car is running much smoother and also Henk did some small tweaks, like raising the idle and rev limiter etc. The small gains in the mid section are really noticeable!
The only strange thing is the big dip in torque between 2750 and 4000 rpm (see my graph at the pictures). Also there were no gains at higher rpm`s. The Clio`s Henk mapped always gained something in top end power. In my case you can see that the new graph has exactly the same output from 5500 until 7000 rpm as the old graph before the remap, which is strange. Because of this 2 strange symptoms (dip @ low rpm`s and no gains @ higher rpm`s) Henk advised me to check the cam timing again, because it is very good possible that they are slightly out and this is causing the problems.
On the other hand, the dip in torque is not really a problem. When you are flooring the car you are not driving in that rpm range. Also there is the possibility that I will gain some power in the top end (after correcting the cam timing), but lose some torque in the mid section. Now the mid section is really a strong point of the car, the torque output is very high (looking at torque only, I did not see higher ones in the Netherlands so far).
The camshafts are mounted with genuine Renault locking tools. After a couple months of driving I checked the timing again and it was still the same. The special bracket was a little bit under tension while mounting, so I could not move it freely like it should (but not so bad that the bracket would not fit, so I thought it was good enough). Conclusion, the timing can be out a bit but not more than a couple degrees. Now I am going to measure the timing with a degree wheel and depending on the measurements I will decide what to do!
Pics:

How I bought the car (with very ugly wheels):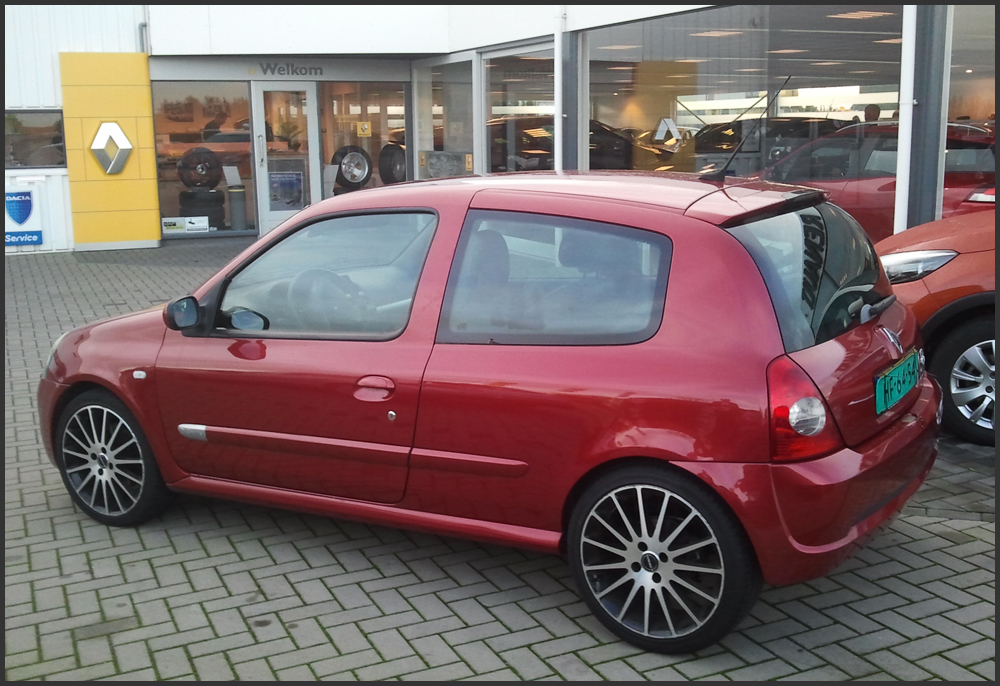 After a couple of weeks (much better):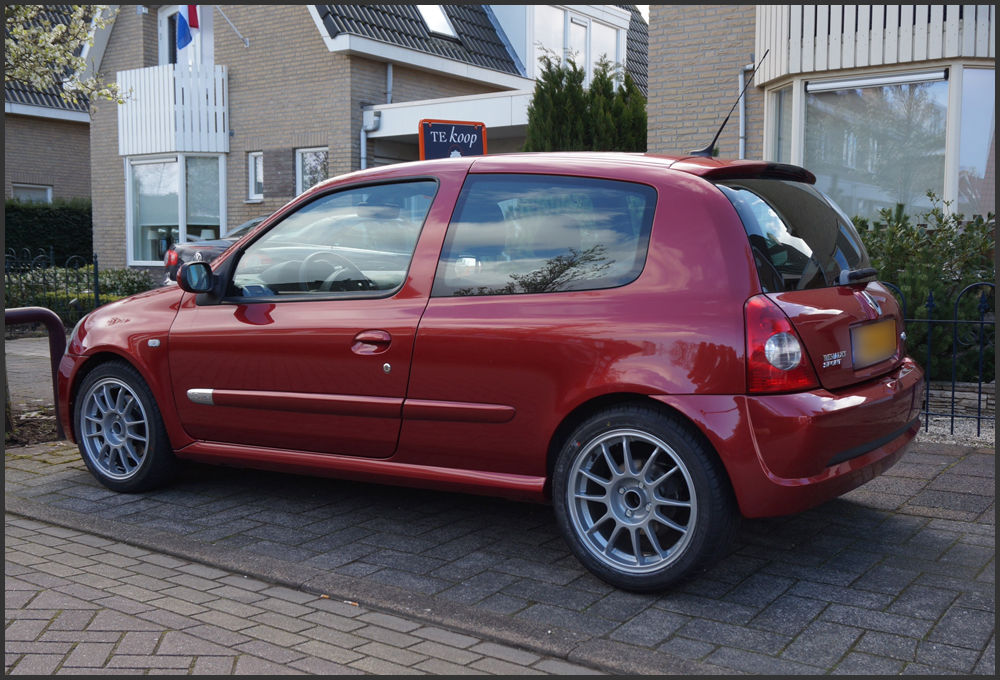 Engine after gearbox rebuild, nice and clean again: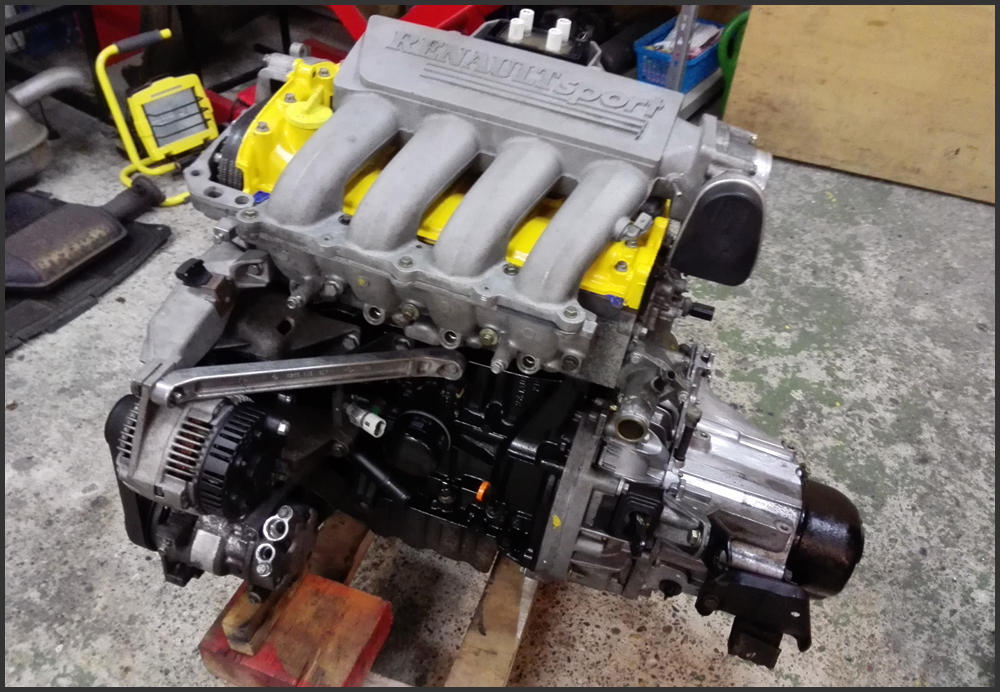 H&R Springs with painted shocks: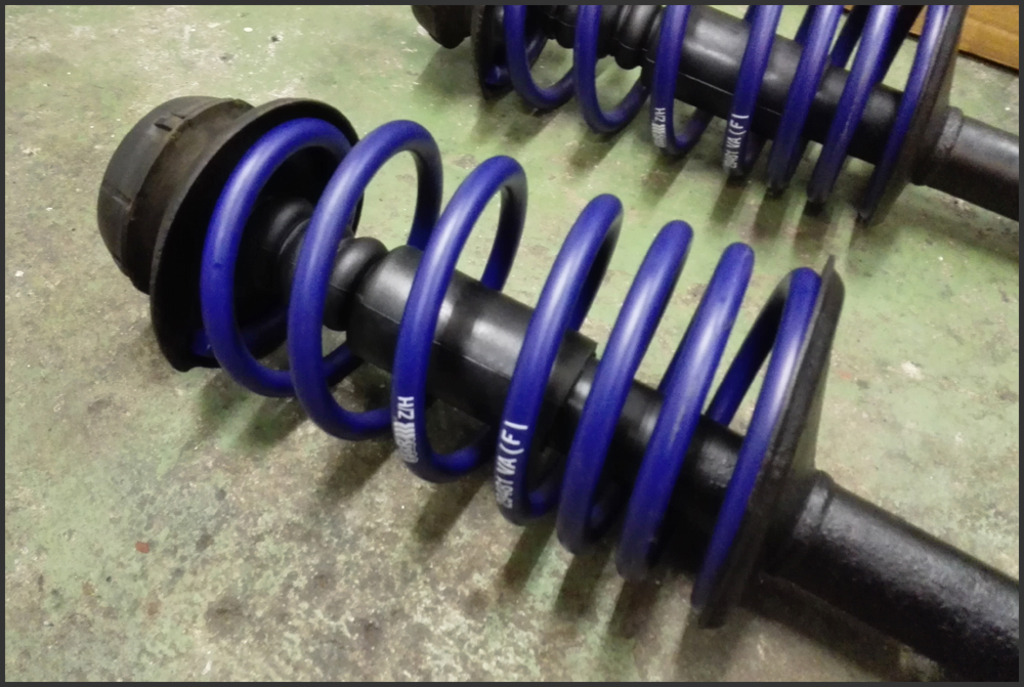 My custom mats: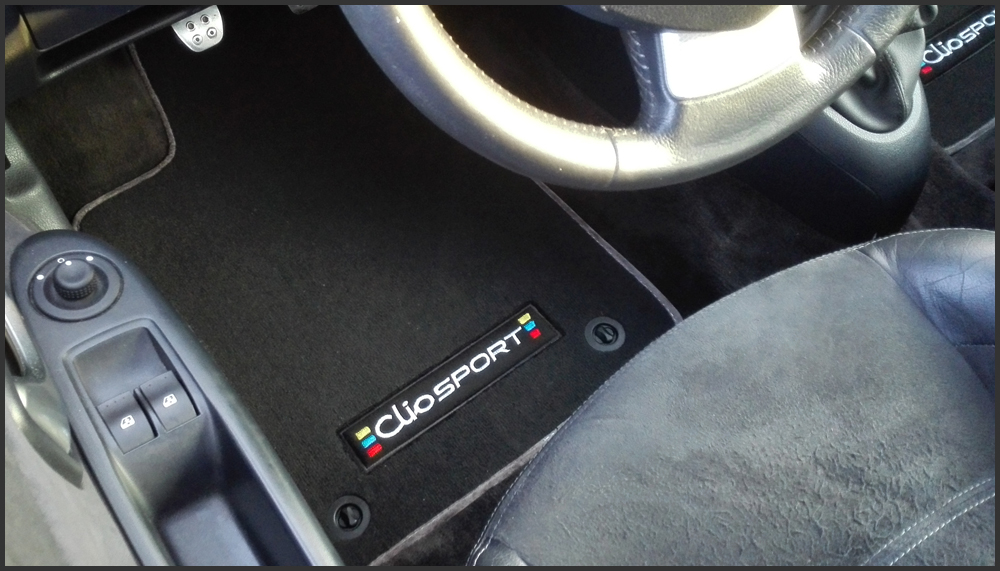 Too bad that I did not make more pictures during the build. I did a lot more to the car, but I haven't made a lot of pictures. I can only show the result afterwards, so here we go.
The result: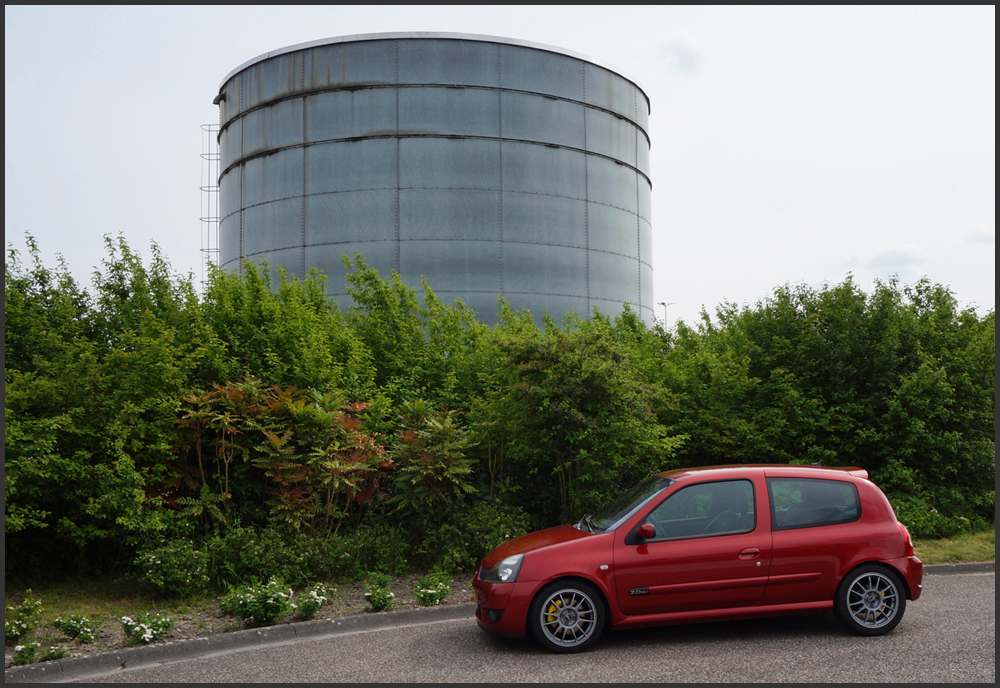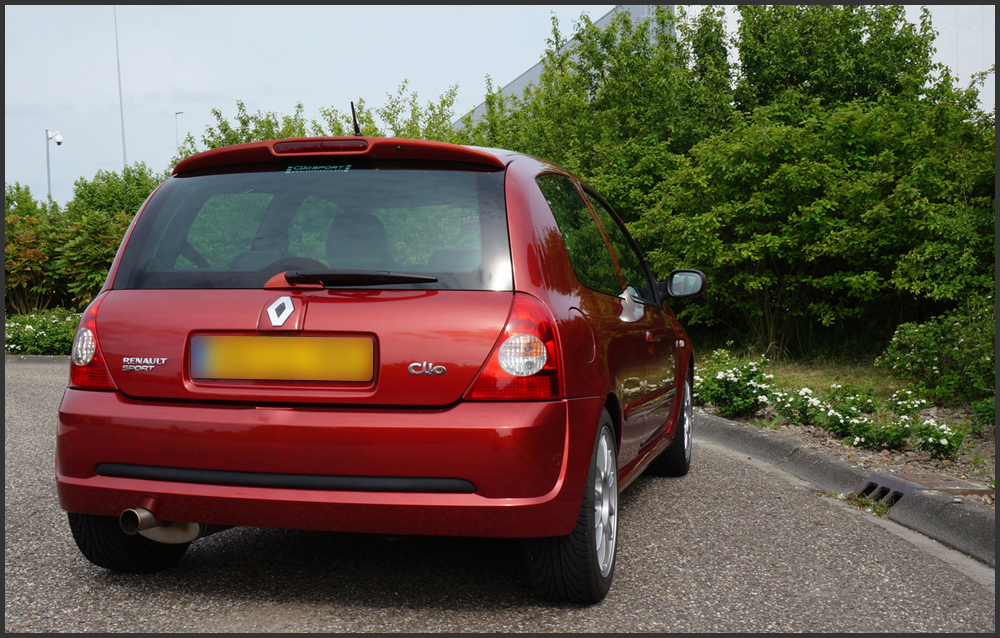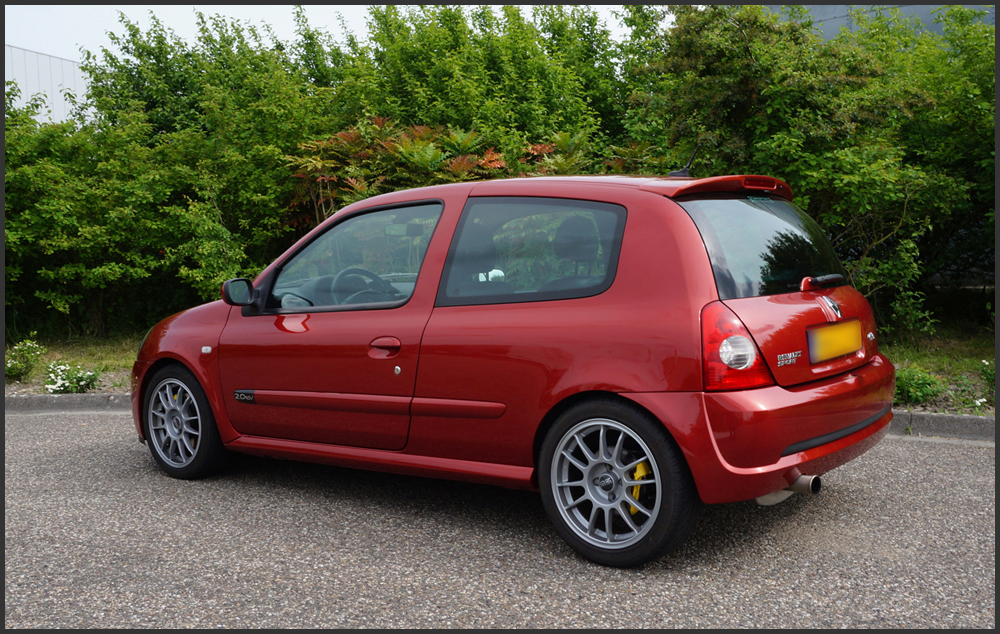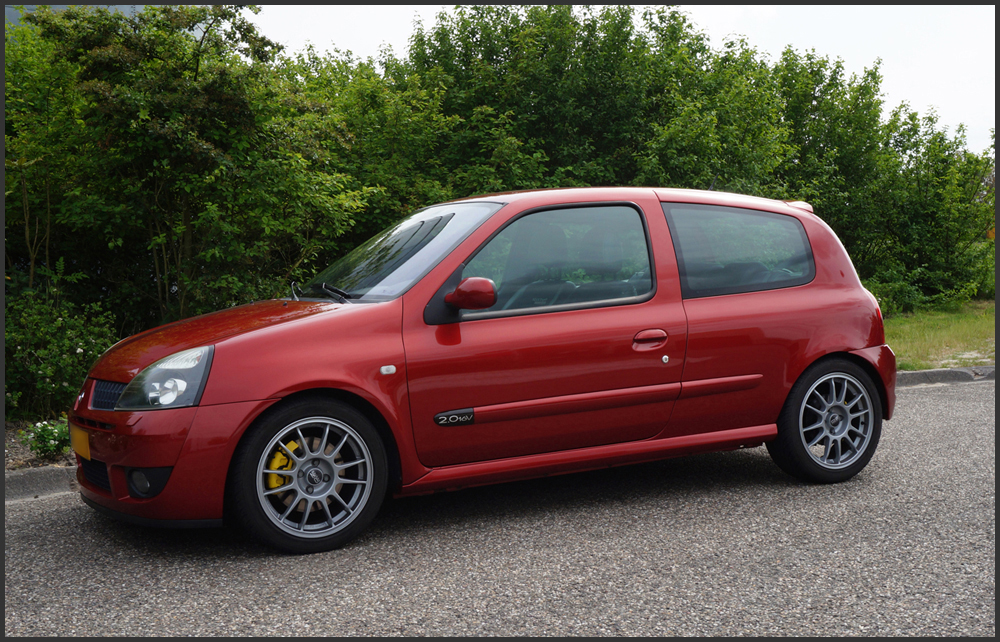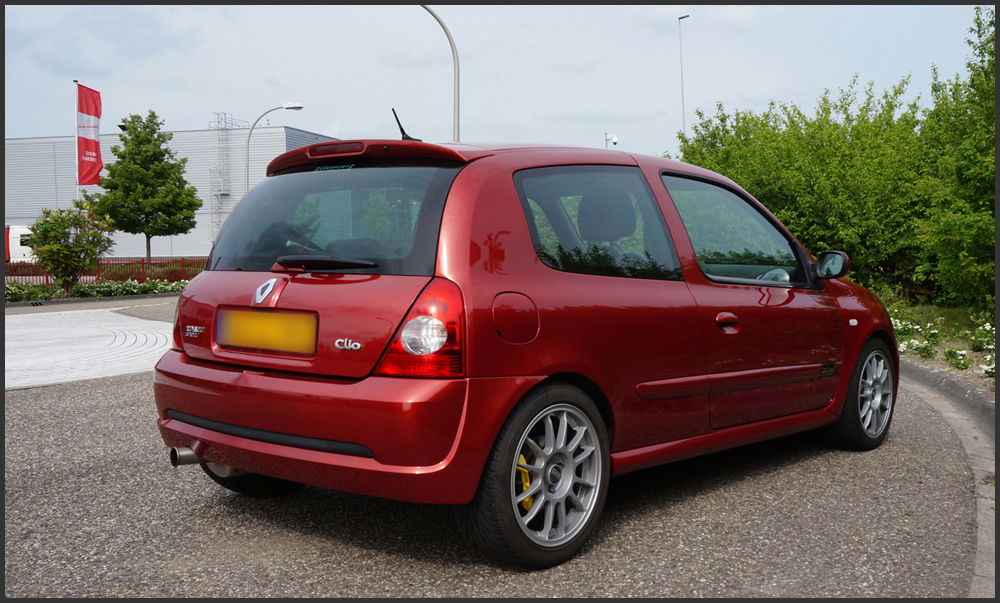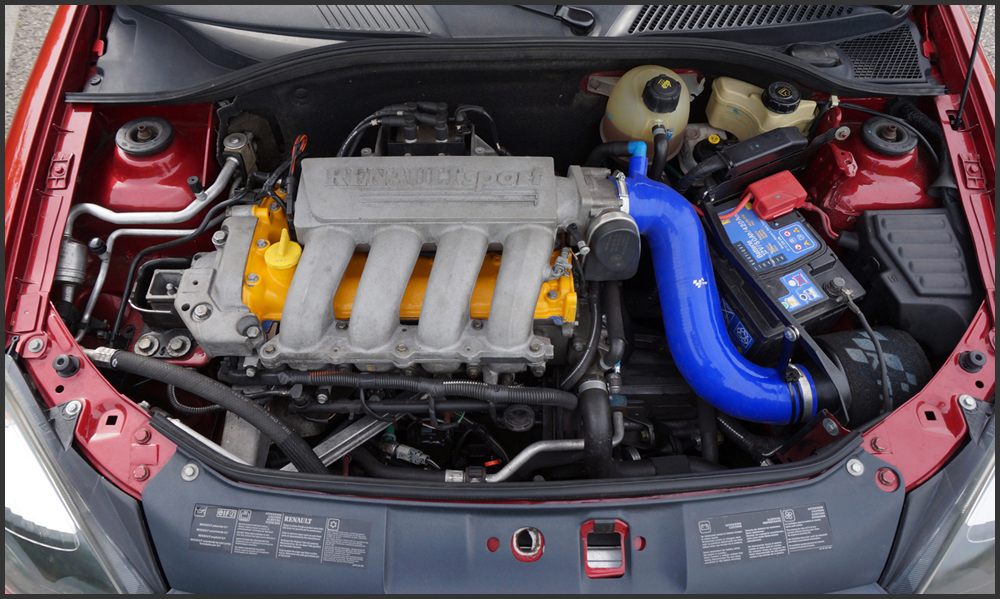 At the dyno: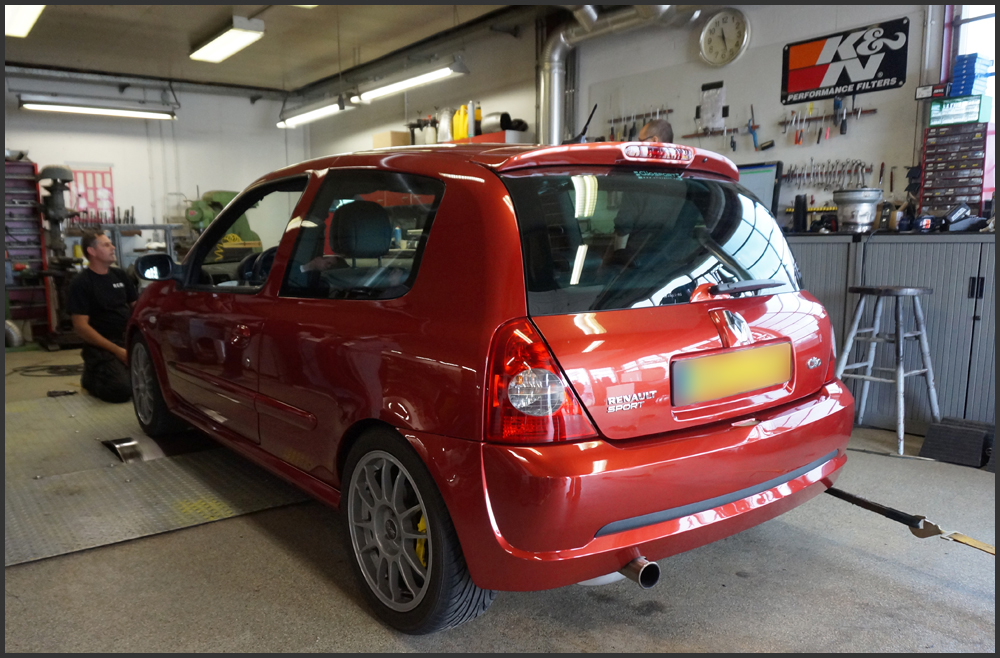 Graph shows the result before (run 2) and after (run 8) the remap: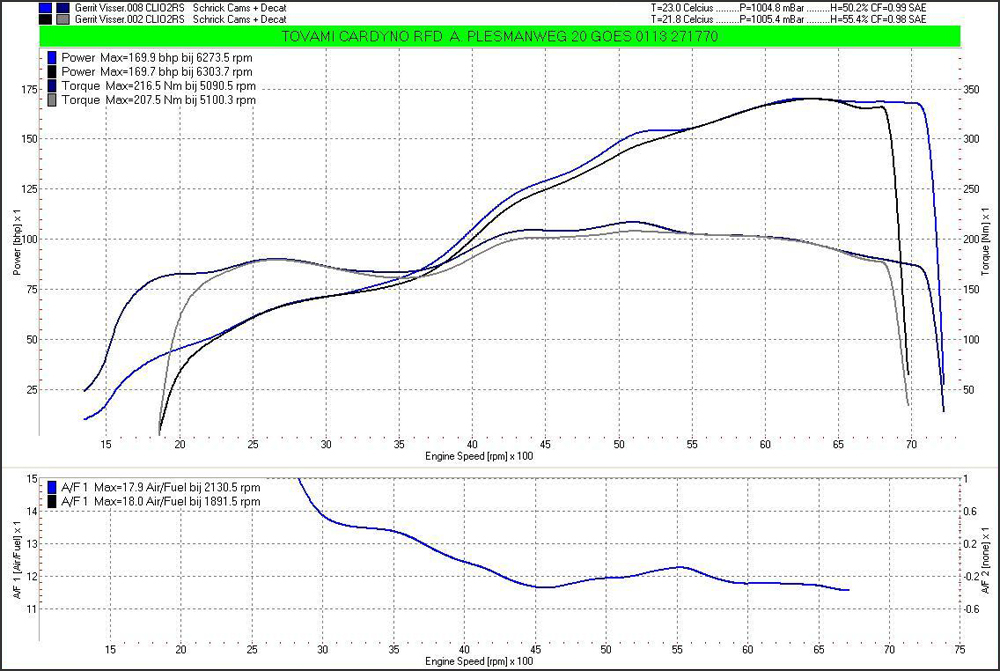 Short vid @ the dyno:
I hope you guys like the car, I am very happy with it!
Regards,
Gerben