So,
Here is my motor, In the process of doing some work to it. Got it for free and free insurance, (thanks paddypower)
So far, colour coded side strips and popped bullets in Renault Silver.
Used the amazing 3M headlight restore kit. worked brilliant. The headlights, were shocking and yellow.
RS front grill also fitted.
To Do -
Colour coding the rear spoiler, might do that this easter weekend. Need more paint...
Colour coding the front bumper strips (Just cannot be ARSED to remove the full bumper and side panels etc etc, and fit the 172/82)
Fit the 172 rear bumper.
New alloys, would like 182's.
Lower by 30mm
Light smoke tint rear windows and back window.(Not too dark, it will look like a van)
And fix that f**king airbag warning service light.
New stereo (I'm in Hong Kong/China in August, so going to pick up something mental for about a fiver)
Canny Photo...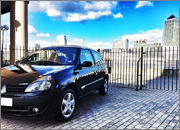 Last edited: