hi everyone thought id start a proper build thread on my clio this time around.
its all a bit back to front as i actually bought this one before my last project clio but i will explain that now.
all the way back in 2014 my other halfs 206 gti replica was suffering from a noisy gearbox and we were debating getting rid of it. among the cars we were thining of was a clio 172/182 as she had had a few mk1 clios previously and really like them. we were popping up to exeter to do some shopping and i just had a look to see if any garages had any on the forecourt she could test drive. as it happens a garage in exeter had a silver 02 plate 172 with just 52k come into stock with no photos. we went to look at the car which had only arrived the day before and hadnt even been prepped despite this the car was stupidly clean and apart from red painted calipers completely standard. we took it for a spin with me taking the wheel first, all i can say is wow it drove like a brand new car we swapped over and my other half had a go and as soon as she put her foot down she fell in love. we were so impressed with the condition and she really liked it that we went straight back to the garage and paid the £1995 asking price. we left the car there for the rest of the day while they put a fresh mot and 2 new tyres on and picked it up later on.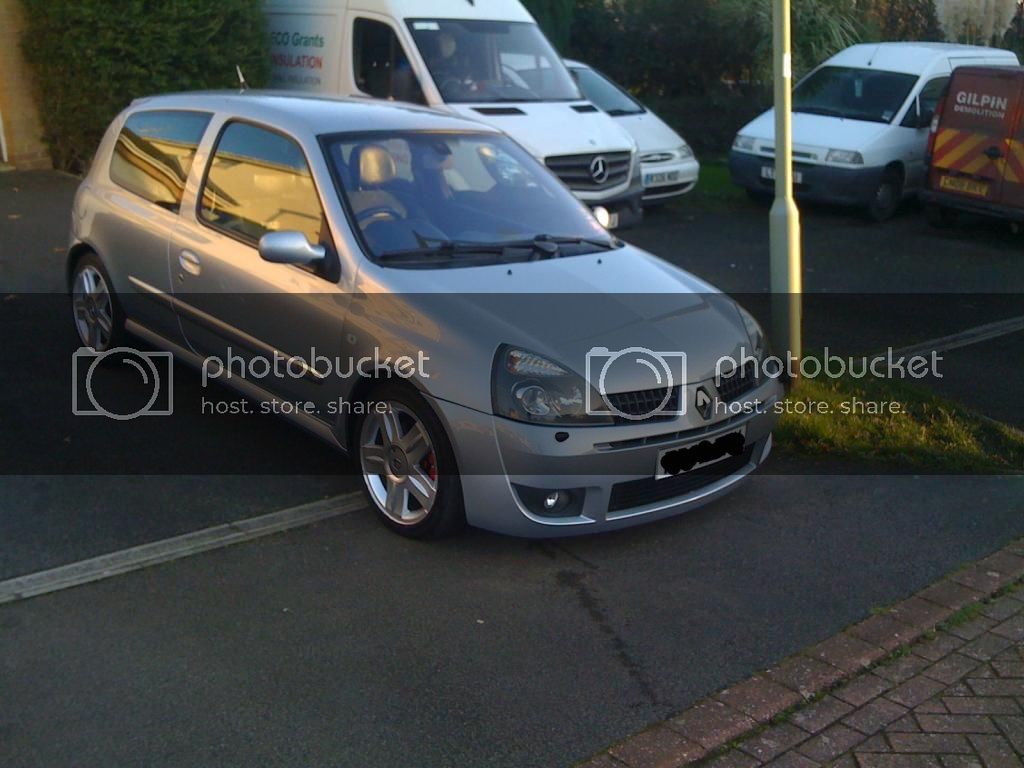 we were over the moon with the car and a few months later decided to take it with us on a long journey to the btcc at brands hatch and holiday to sussex. i think i drove it more than she actually did those few days and it was so much fun i wanted one too!
after a few months of looking at various lemons described as good condition not only did i really just how good the silver one was but also i was really going to struggle to find one that clean. a flame red 2004 172 came up in plymouth a short drive from me so i went to have a look. the owner was at work but told me where the car was parked so i could go have a look im not going to lie i got there and was met with a clearly tatty and unloved car but i fell in love with the colour, it had only done 57k and just wanted to have one now. i met with the owner and drove the car it was clear it needed quite a bit of work and was no way it was worth the asking price after quite a bit of serious haggling including walking off and giving up i managed to get it for a price i was happy with.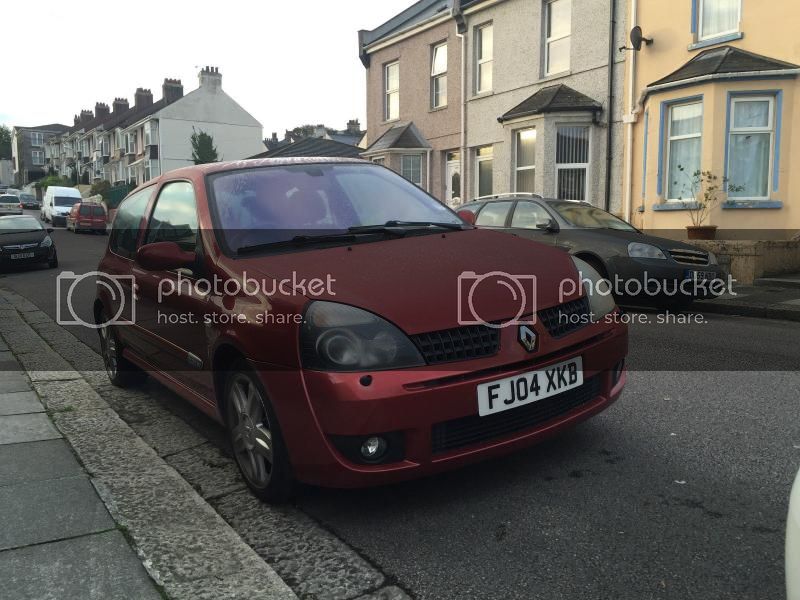 i took the car to my work for a look over and gave it a full detail including taking the whole interior out to clean which was minging. there wasnt too much wrong just simple stuff so after doing the few little bits and bobs a good service and a few little mods i ran the car as my daily driver 300 miles a week for just over 18 months.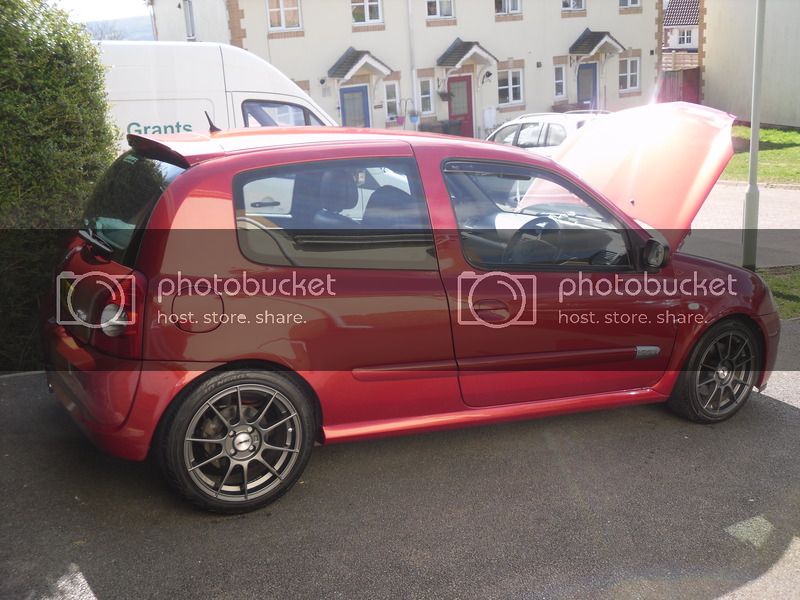 after that i decided i wanted to have a go on track (bad idea haha) although i was pretty slow i loved it unfortunately on my last lap of the session at castle combe i managed to destroy the already heavy and tired clutch so the poor flamer went home on a recovery truck (the first and only time it let me down 41/2 years and 30k of ownership).
i then decided i really wanted to get in trackdays and the bug had bitten son i bought a little 107 as a daily and over the next few years the clio became more and more track focused and i really did love the car spending every penny i had making it as best as i could. i did plenty of track days and had many comments on how quick it was for a little clio and how clean the car was.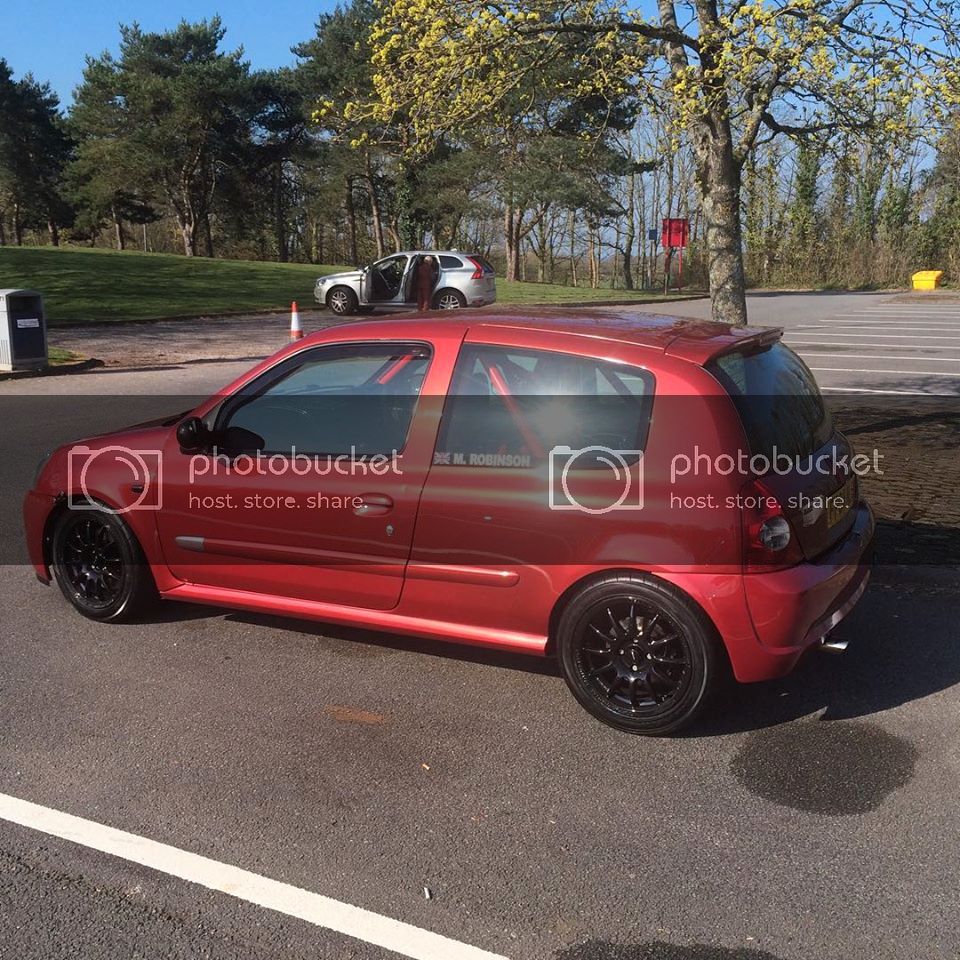 unfortunately due to health issues and a crappy series of personal issues i had to part way with the flamer in may 2019 which broke my heart after all the time money and work i had put in but thats life.
life sorted itself out a bit and i swapped my daily 107 for something a bit nicer a honda crz hybrid and i actually started working for honda at pretty much the same time.
throughout the end of the year i missed driving properly so tarted the crz up with some type r brakes, bc coilovers,spoon front arb and a few power upgrades. this made the car a lot more fun to drive and it really is so lovely to own but i still missed that fun factor of the clio.
after constantly looking back at the flamer i was really started to get quite down about the fact it had gone. we are now at march 2020 now remember that silver 172 from the very beginning nearly 6 years ago well my other half still owns it and its had a few nice upgrades along the way donw nearly 50k of trouble free motoring other than a couple of dodgy injectors. we had an issue with a throttle pedal playing up and then one day it decided it wouldnt start the starter motor had given up. my other half had been saying although she loved the car she wanted something cheaper to run and also despite being extremely particular where she parked the bumpers had taken a couple of knocks by careless parkers at her work. she was getting a bit disheartened and she said the breakdown was the final straw she just want a cheap little simple car she didnt need to worry about leaving anywhere in car parks etc.
now i know this car inside out the shell is ridiculously clean absolutely no rust and it already had some nice mods so what did i do? i agreed i give her £1500 towards a new car if i could take the clio on. she was a bit miffed that i was going to waste a tonne more money on another car but she knew it would keep me happy and she couldnt complain as that was only £500 less than she paid for it nearly 6 years ago.
so here we go again i was the owner of another 172 again and an extremely happy guy