After going to Le Mans in 2011 with a couple of people before continuing on round Europe for a week we decided to do it again in 2012, just on a bit bigger scale. Booked everything before Christmas, then a few months prior started to get some things together.
A couple of us put a few hundred quid in each and bought a caravan off eBay, simply just to take to Le Mans. The remainder of the group of ten would just be in pauper tents. I was going to tow it in the 320d, another one of the group in an A4 estate and lastly a Vivaro van. We had planned to get there the Sunday before to make a week of it, especially considering how much slower the drive would be with a caravan on the back.
The list of stuff to take had became gigantic - two generators, two fridges, mini-bikes, mini-quads, 10 pushbikes (one per person), lighting, home-made BBQ, 50kg of charcoal, gas bottles, the list went on. This filled the Vivaro to the roof, and the caravan to the max. Still, we managed to get on the road Saturday evening to make the 6am ferry on Sunday..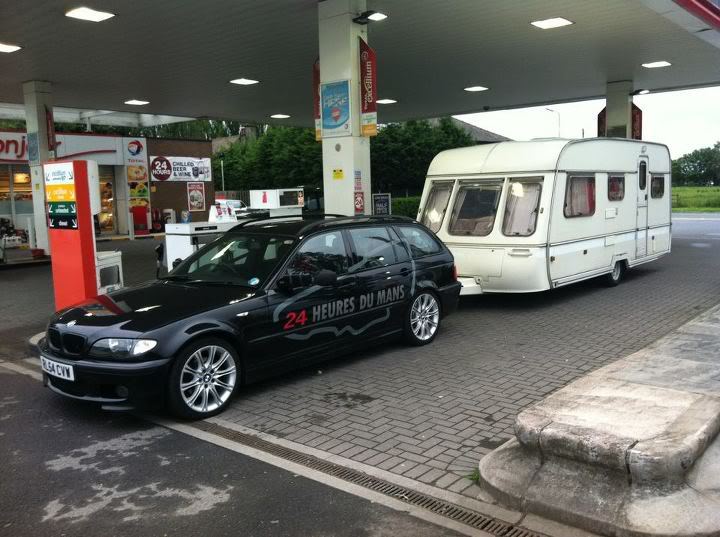 Got to Dover far to early and had to park up on a side road for some sleep for a few hours. 5am soon came and we got on the ferry which left sometime after 6am.
First stop on the other side was a Cash and Carry in Calais for the most important thing...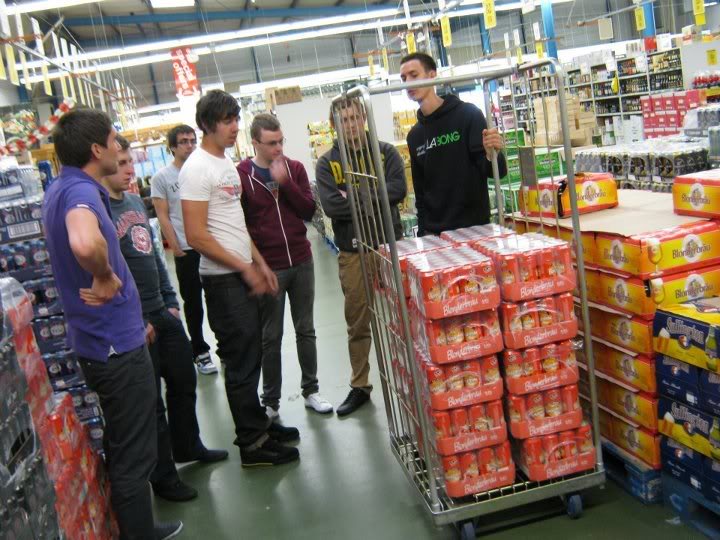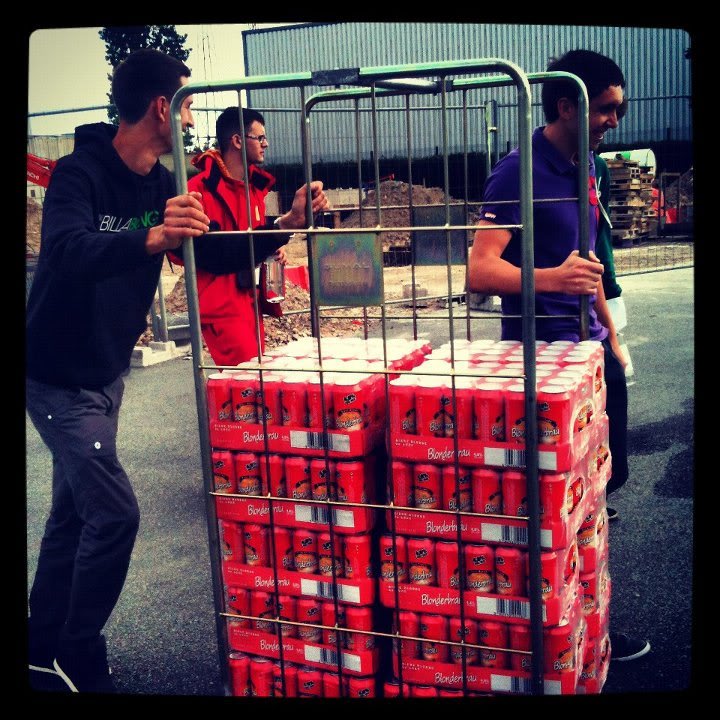 ...which took some time to load as the van, caravan and cars were full. The caravan already had enough weight in it with the car only managing 25mpg on the way down! Anyway, we got it all loaded and made (slow) progress through France..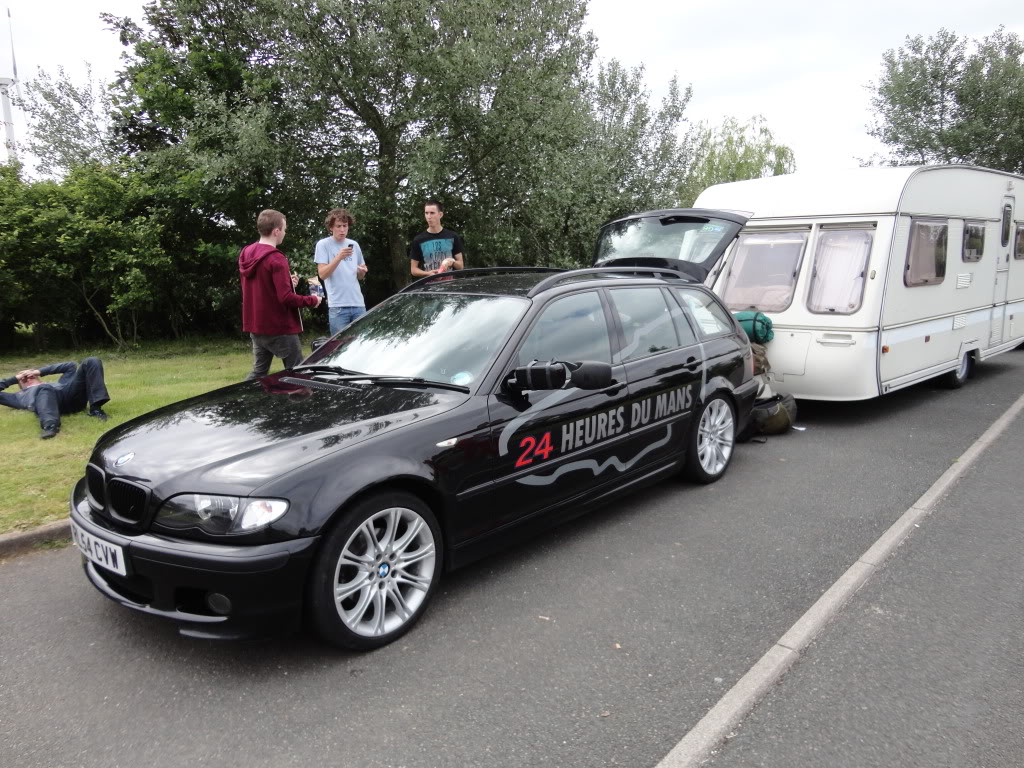 We arrived at Le Mans around 5pm, with some very dull looking weather. We called in at McDonalds in Mulsanne for a quick bite to eat then set about heading over to Bleu Nord to set up. Its was pretty quiet...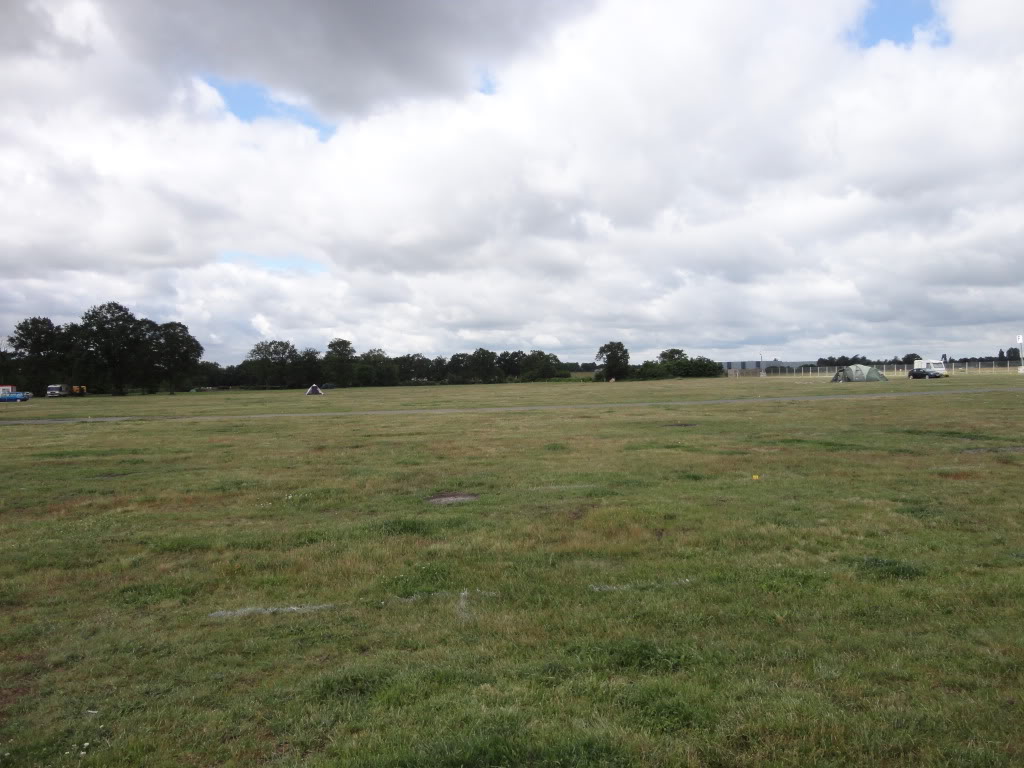 Then a few hours later we had most things set up, just in time before it started to rain..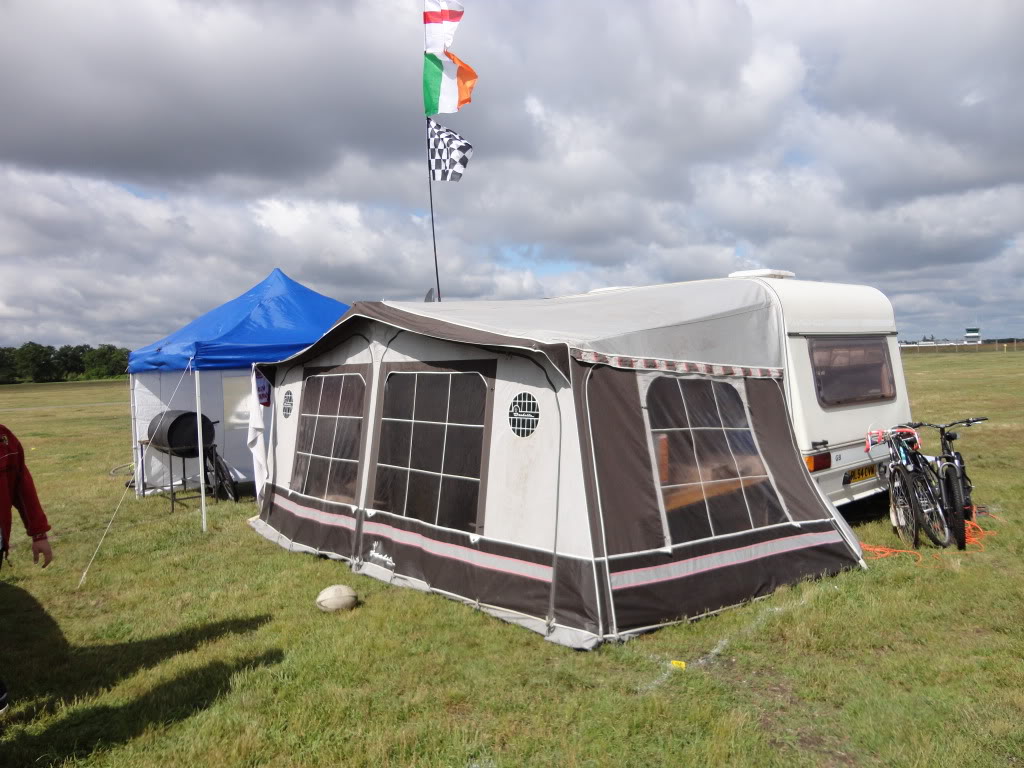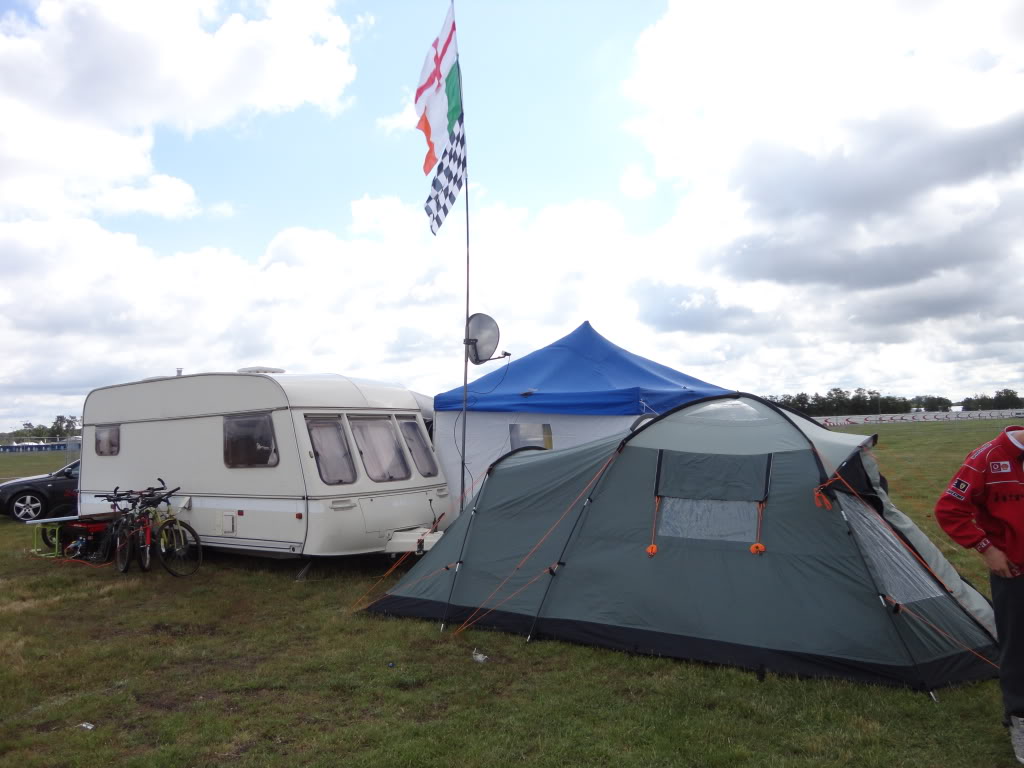 After getting some sleep we headed to get a load of shopping for the week. When we returned the thunderstorms had arrived..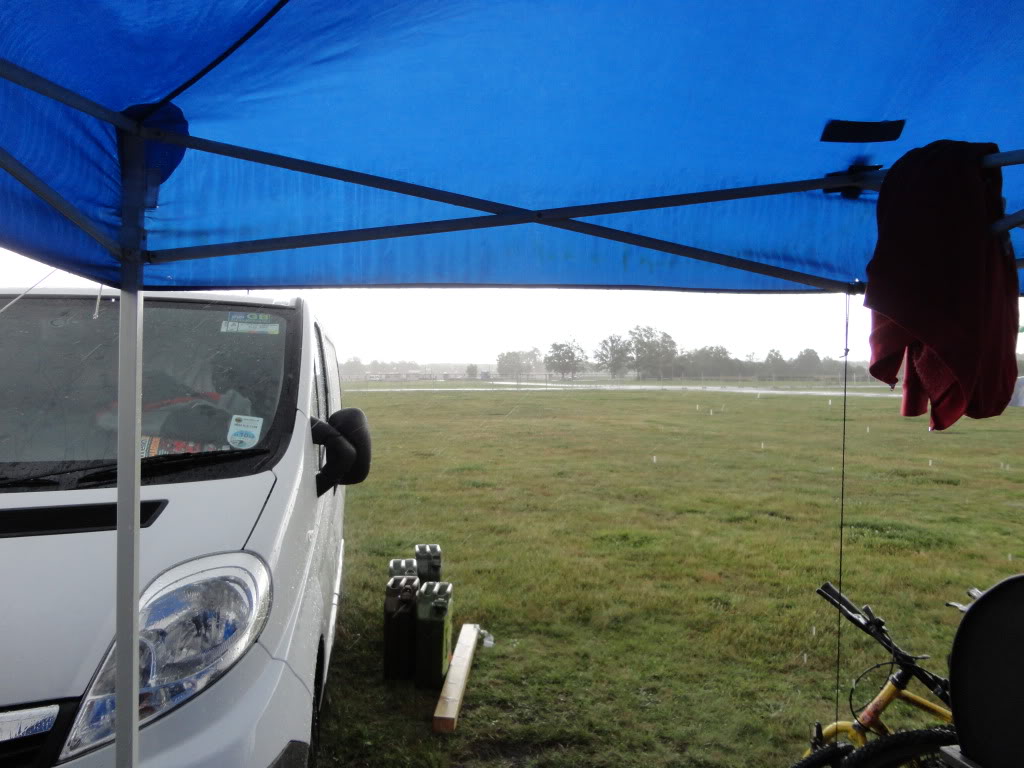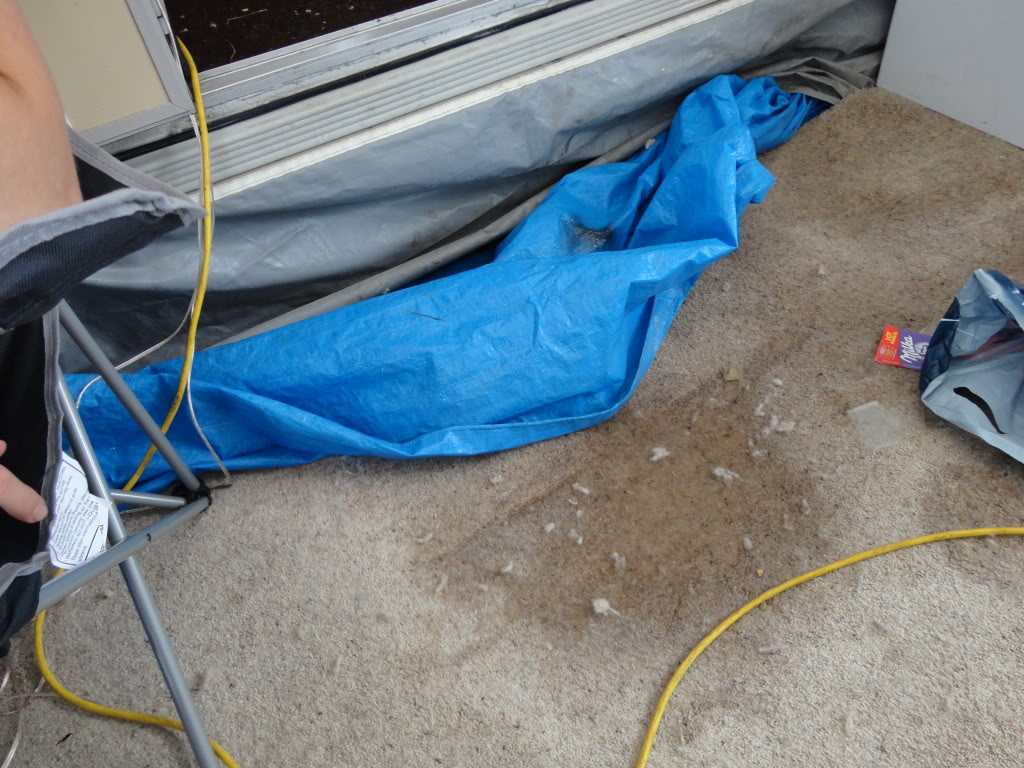 It soon passed and we ended up messing about with the mini-quad/bike considering the campsite was empty.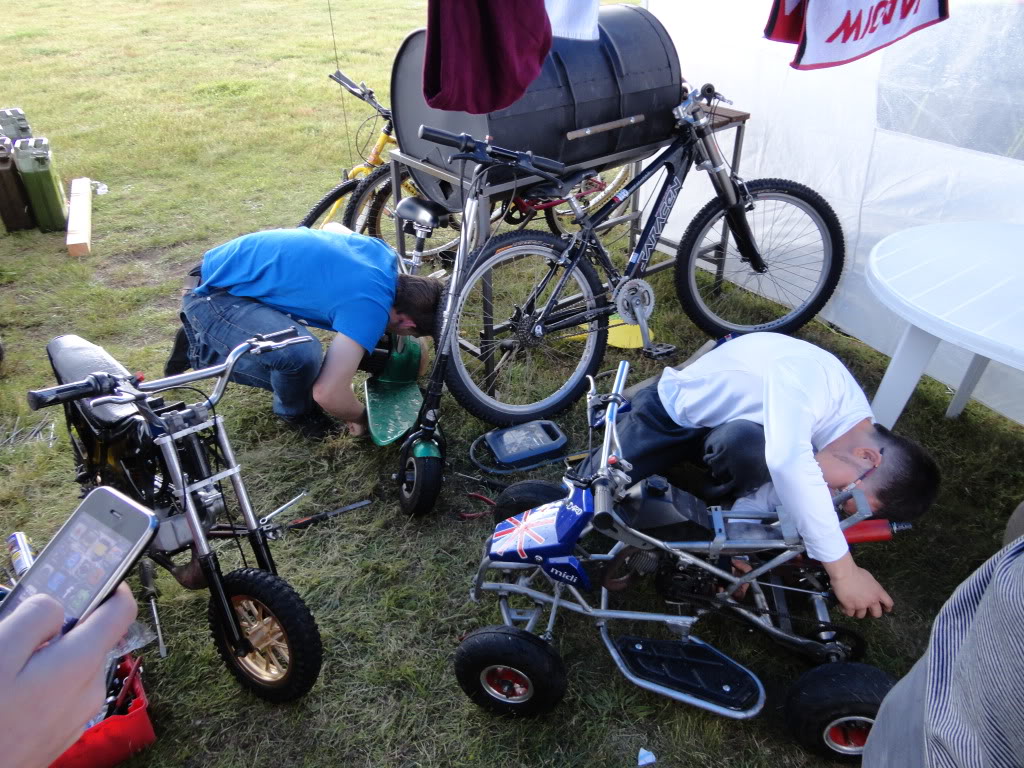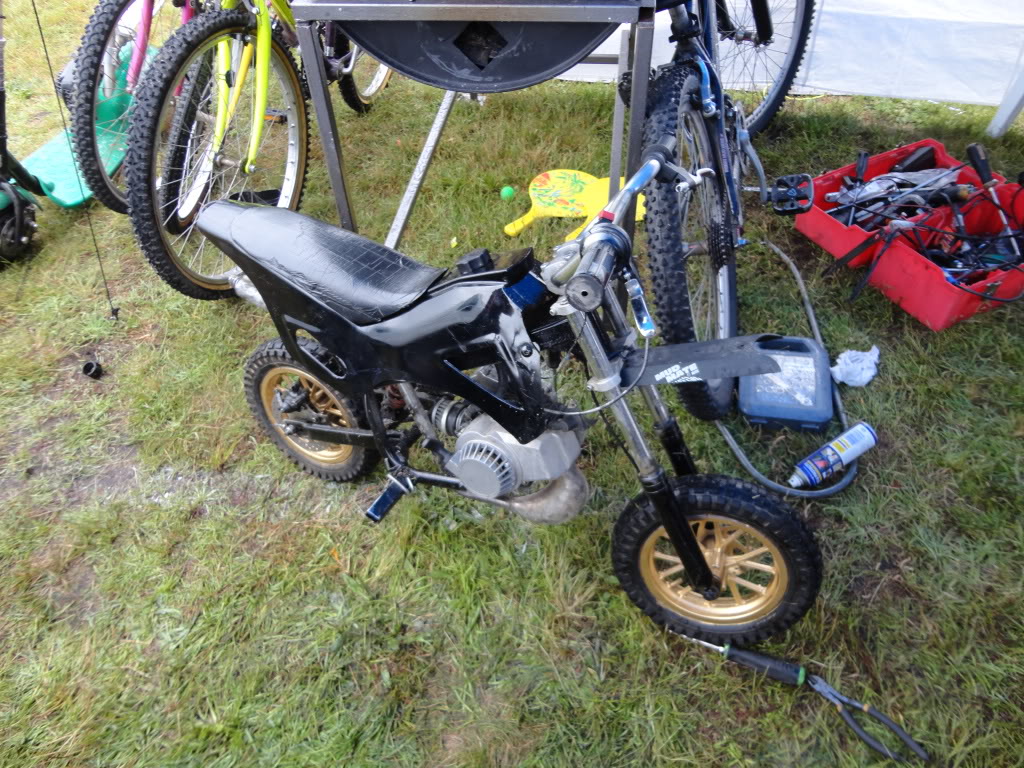 It wasn't long before everything started to fall apart... thanks Whiteley.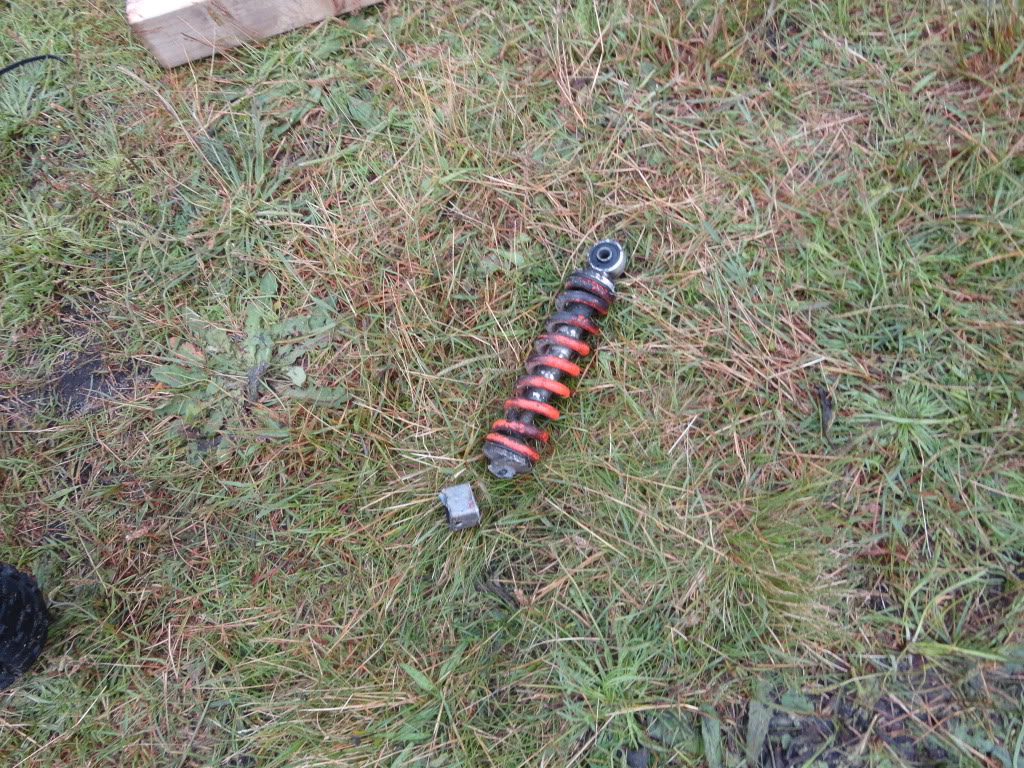 Ok. What do we have that could be used to fix it? Well, I found a piece of wood. Luckily I had brought a box full of tools, and someone else had brought a cordless drill.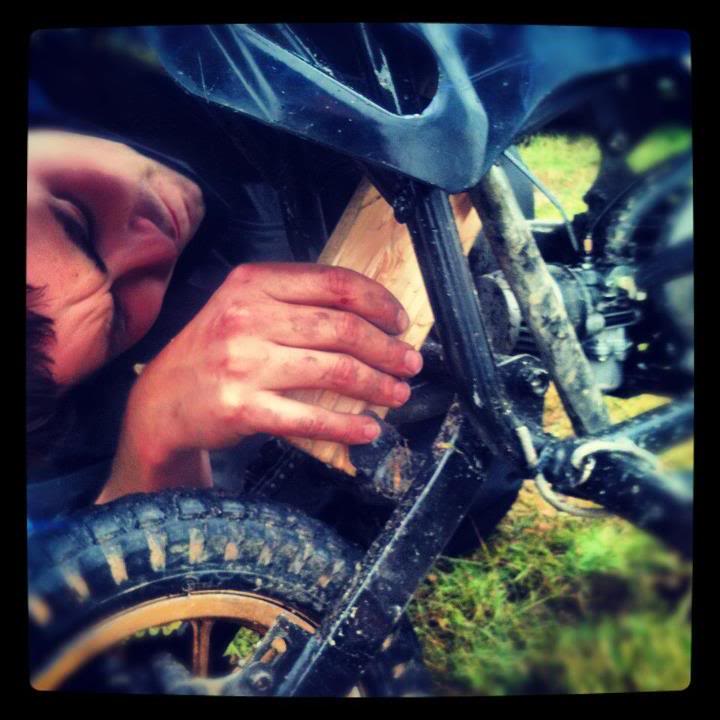 That lasted all of 2 seconds. What else could be used.... simply cut a leg off the BBQ frame I built to take. Although, we had no grinder. How do you cut box section with no grinder? Simply put a grinder disc onto a electric mitre saw. A few minutes later we had a solid strut...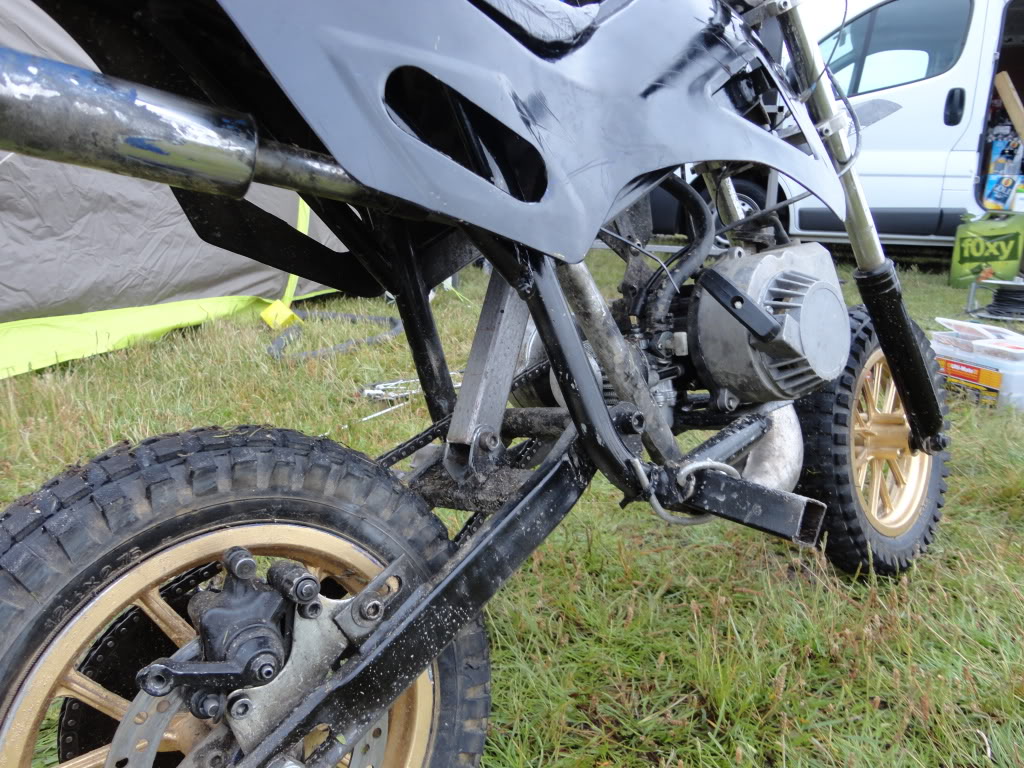 ...and that was it sorted for the remainder of the week until it got stolen along with the quad, lol. Considering it was dry we got the BBQ going..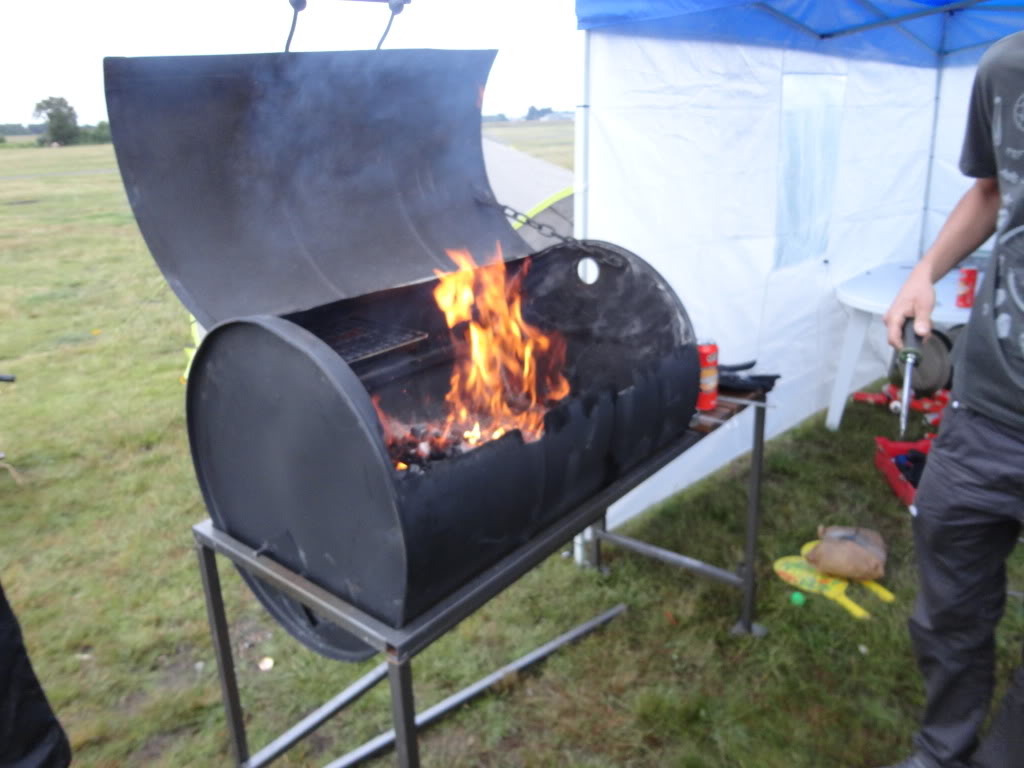 ..then set up the entertainment for the evening...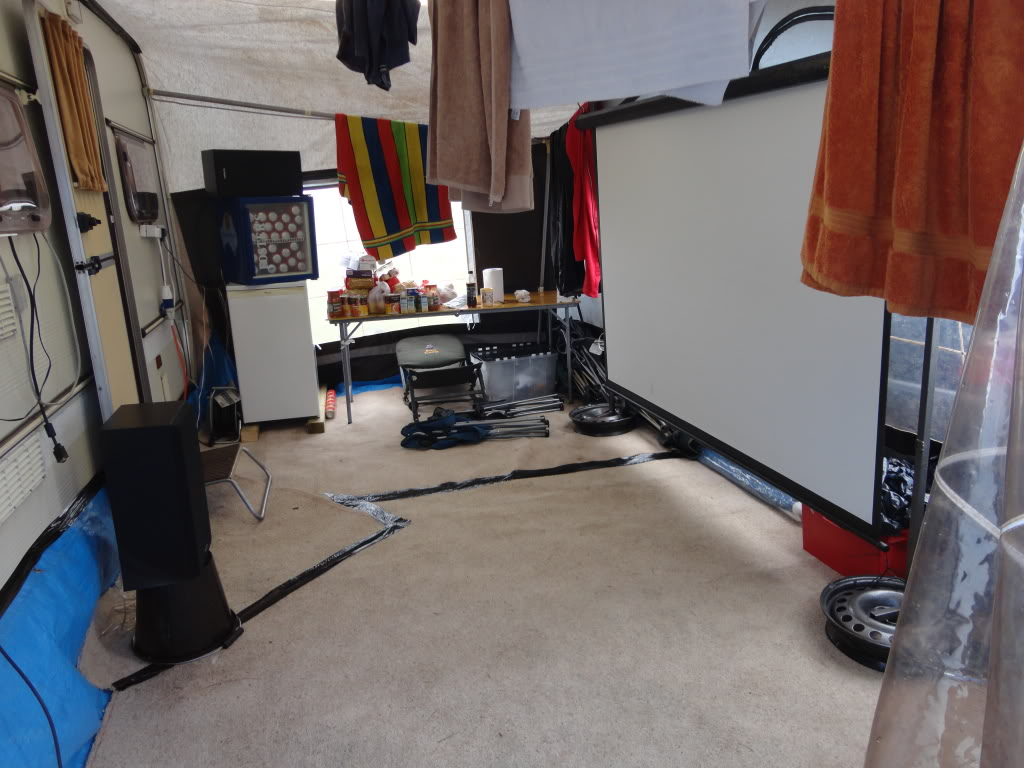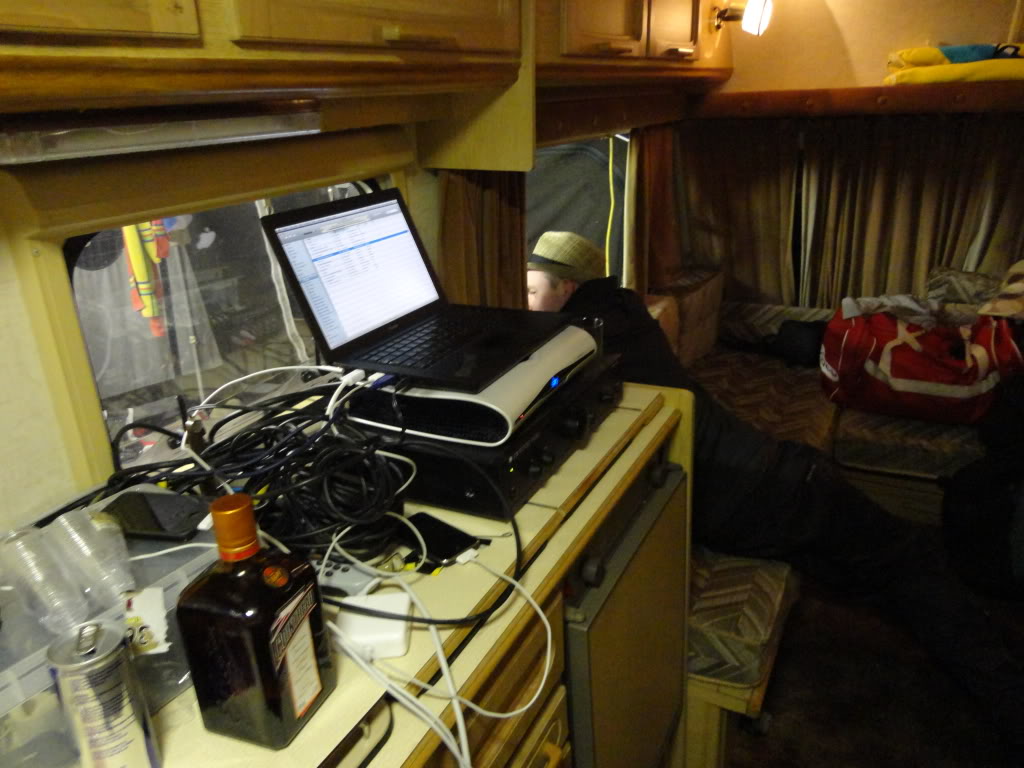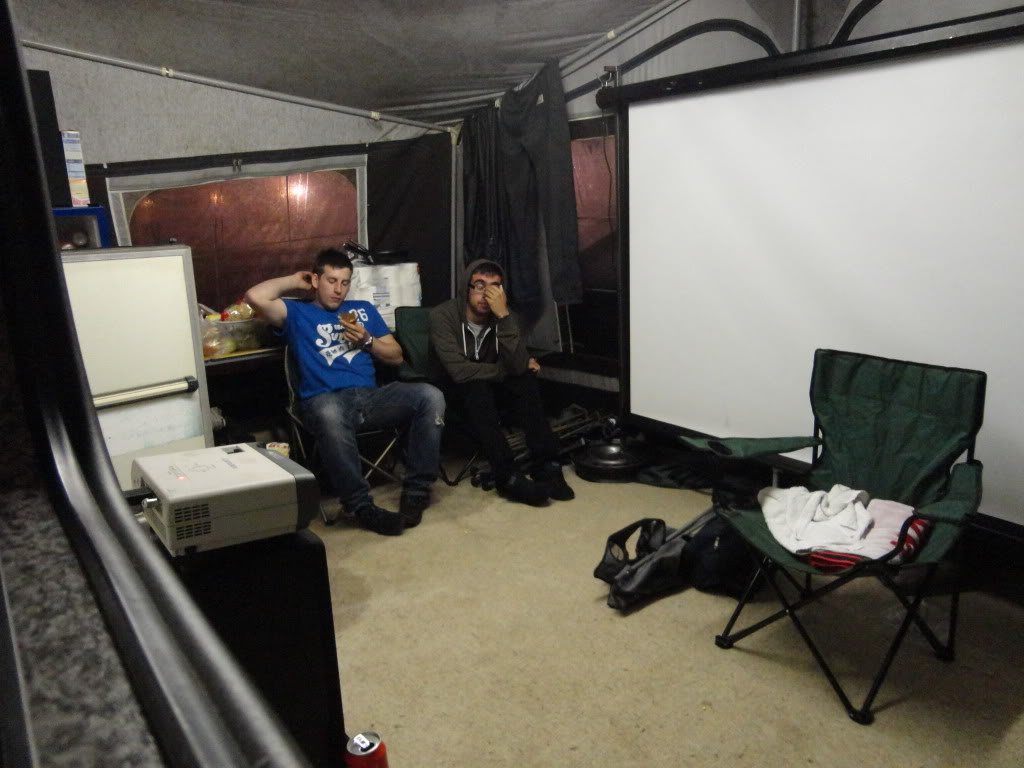 The next day it was p*ssing down, again. Regardless some of us decided to get the pushbikes out and do a lap (well as much as you can) on them. Headed down to McDonalds in Mulsanne to start...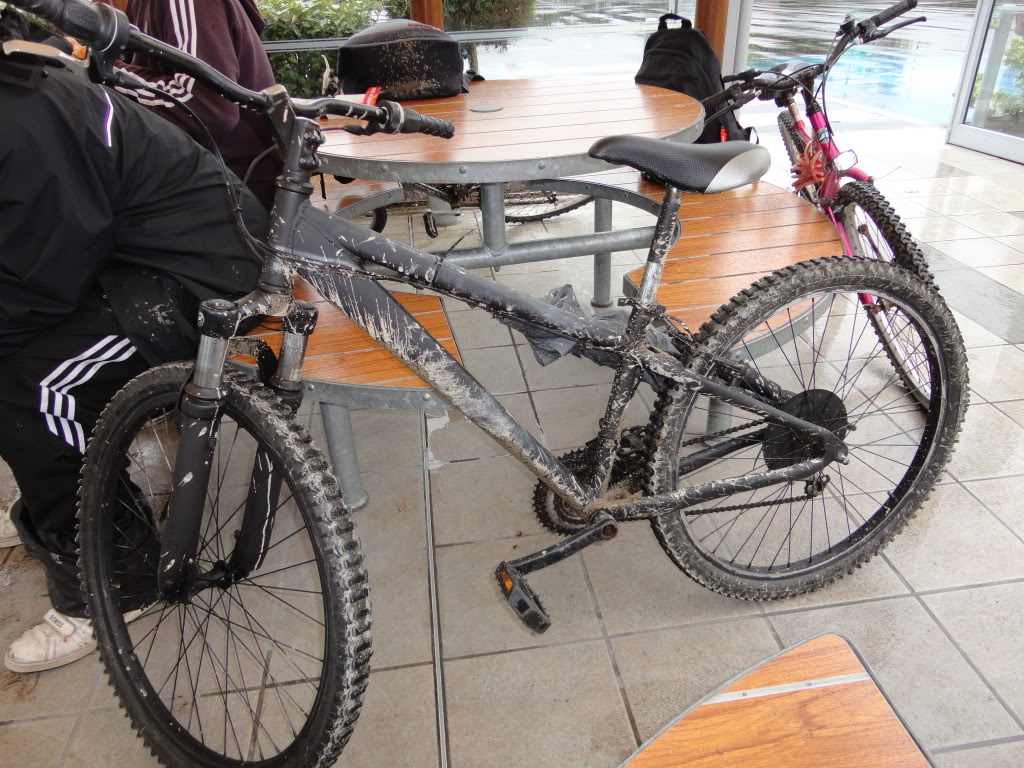 Then onto the second chicane and down to Indianapolis..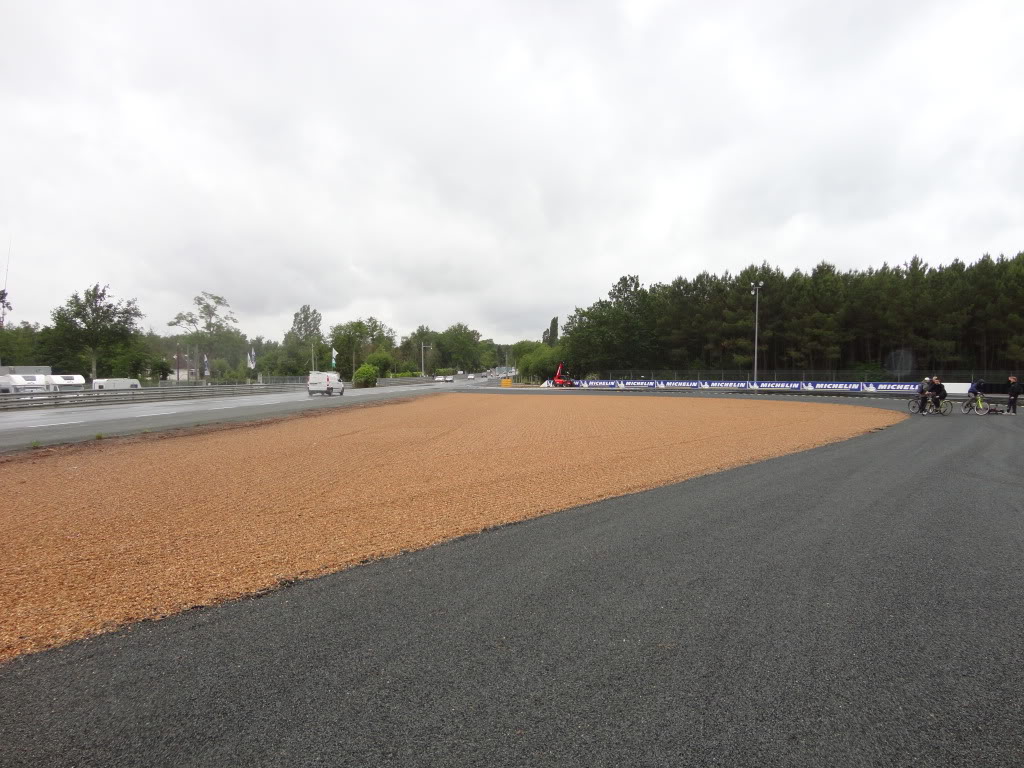 Once we got back I managed to get the dish pointed properly for Sky. The flagpole was moving about too much in the wind, so had to improvise..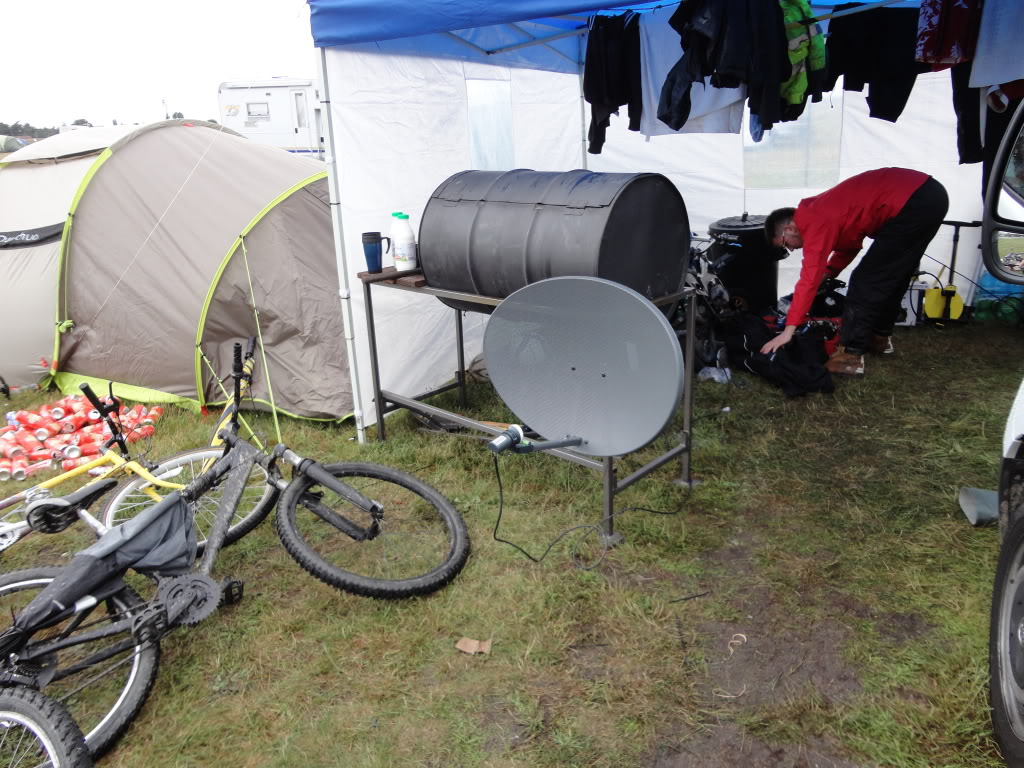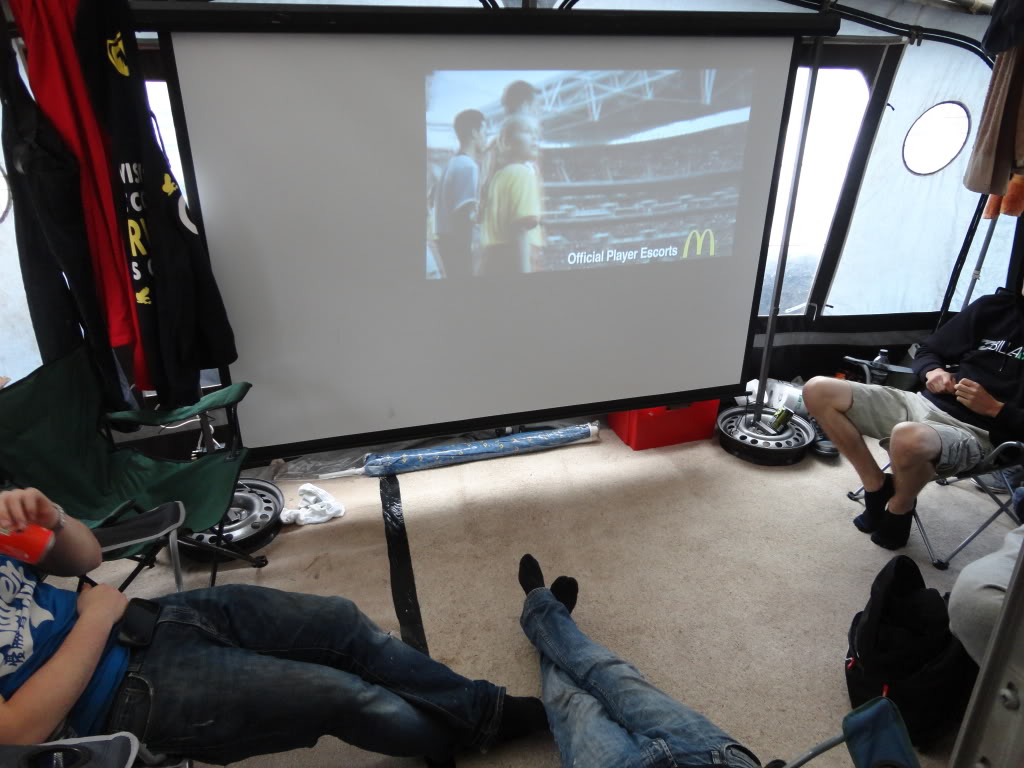 The weather picked up again and it looked promising for the next day..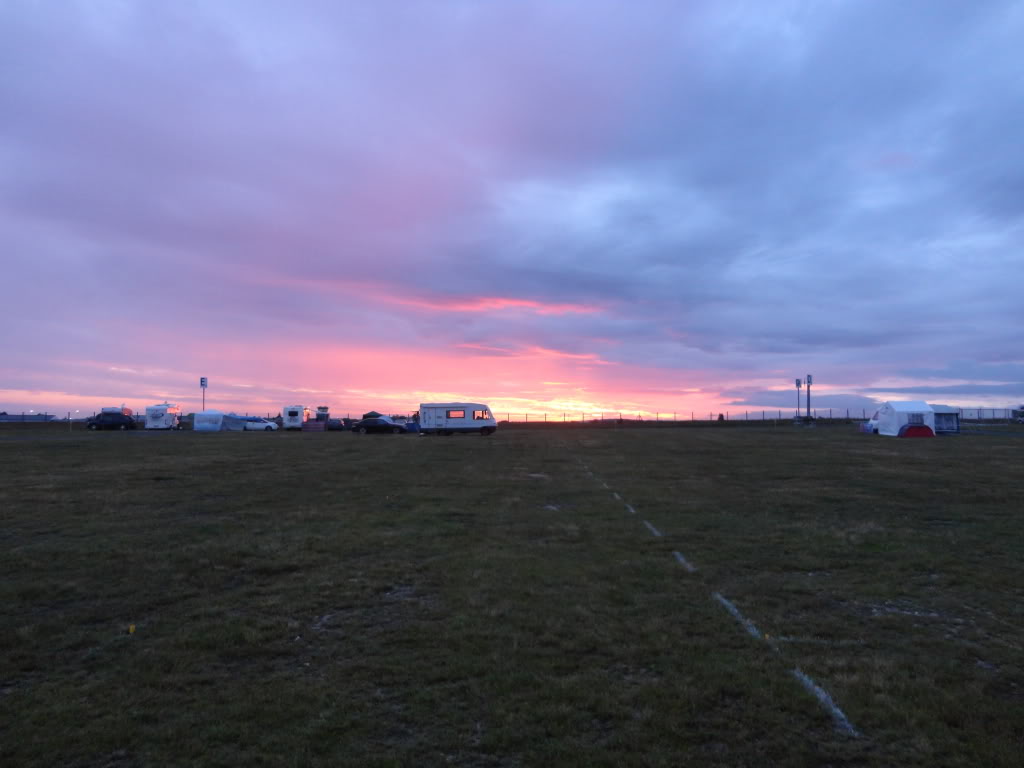 By this point it was Wednesday and we decided to go to Carrefour in the car to get any last bits, drove round a few parts of the track too..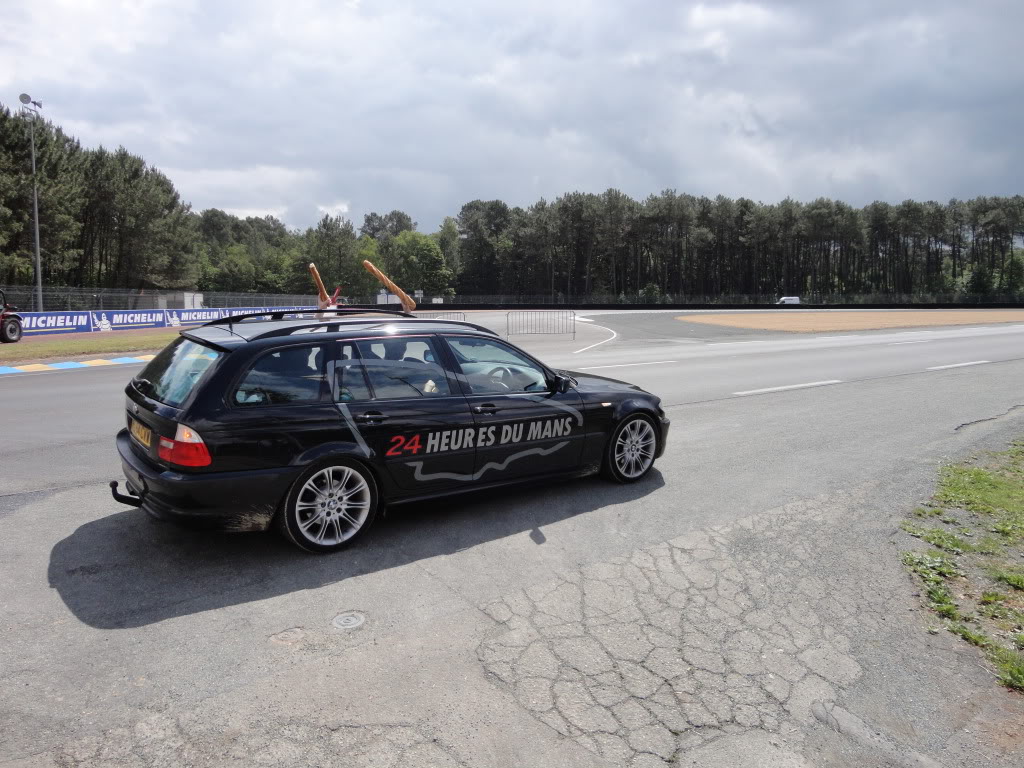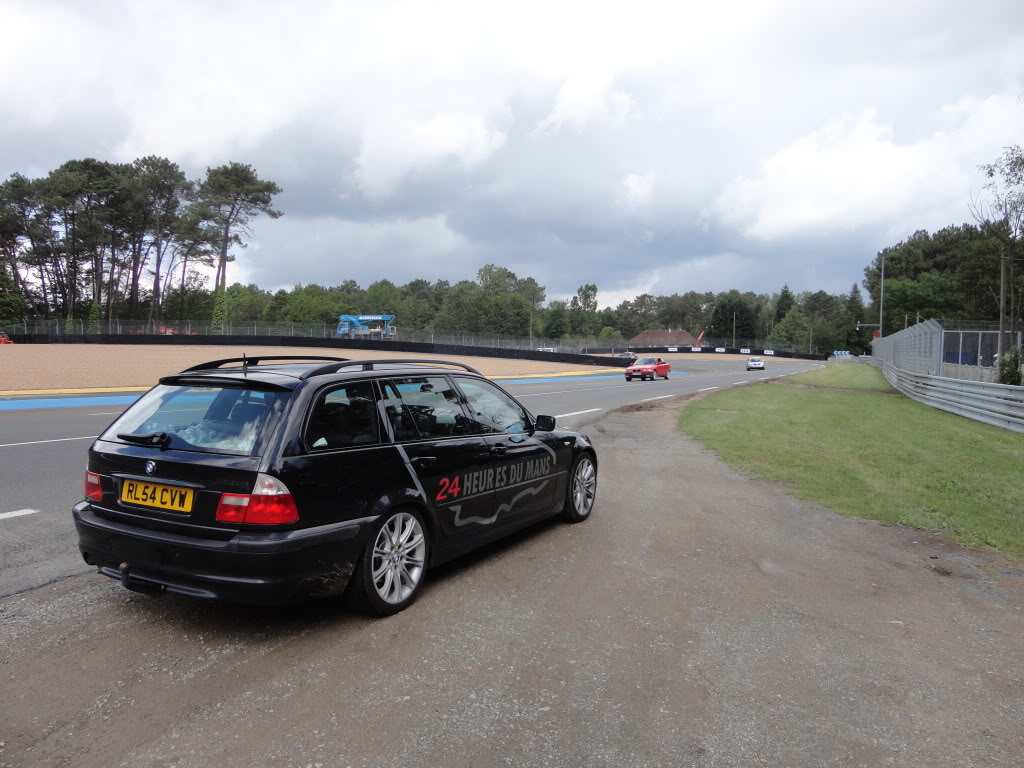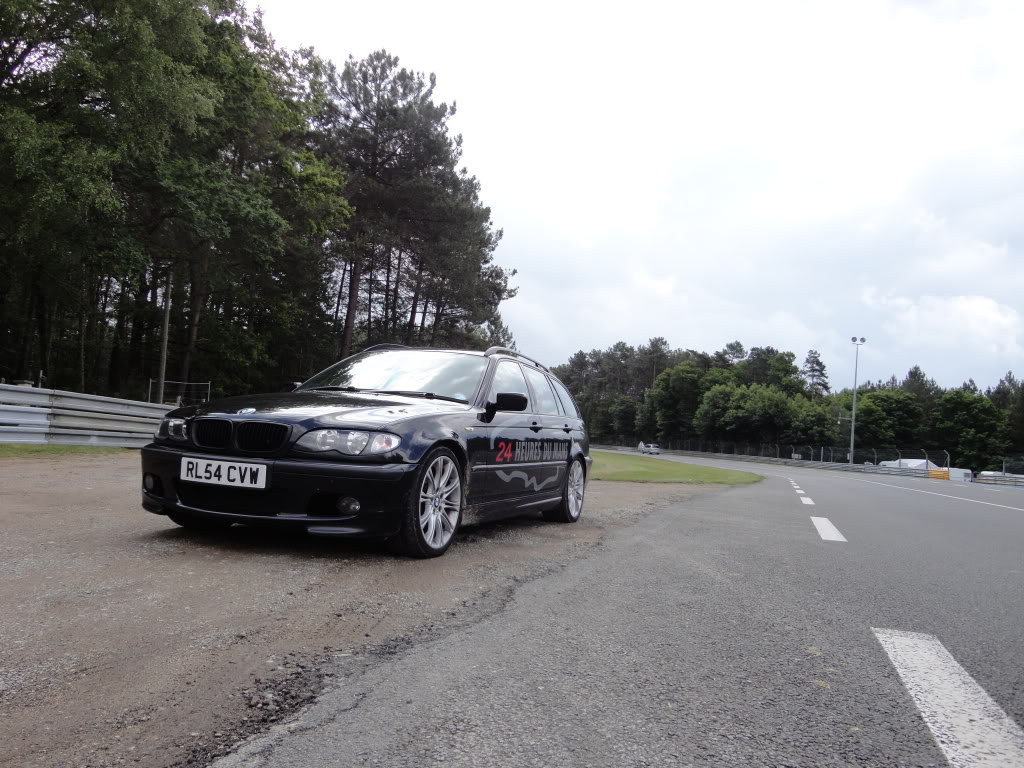 We headed to the track once back to get a first look at this years cars as they were out for free practice, then later in the evening qualifying started. No pictures from that as we went to a few different places round the track. Thursday came and we found out there was an Audi drivers autograph signing at the Audi stand mid-afternoon. We queued up for a bit but didn't get anywhere, still didn't stop us catching Dumas and Kristensen on their way off the stand..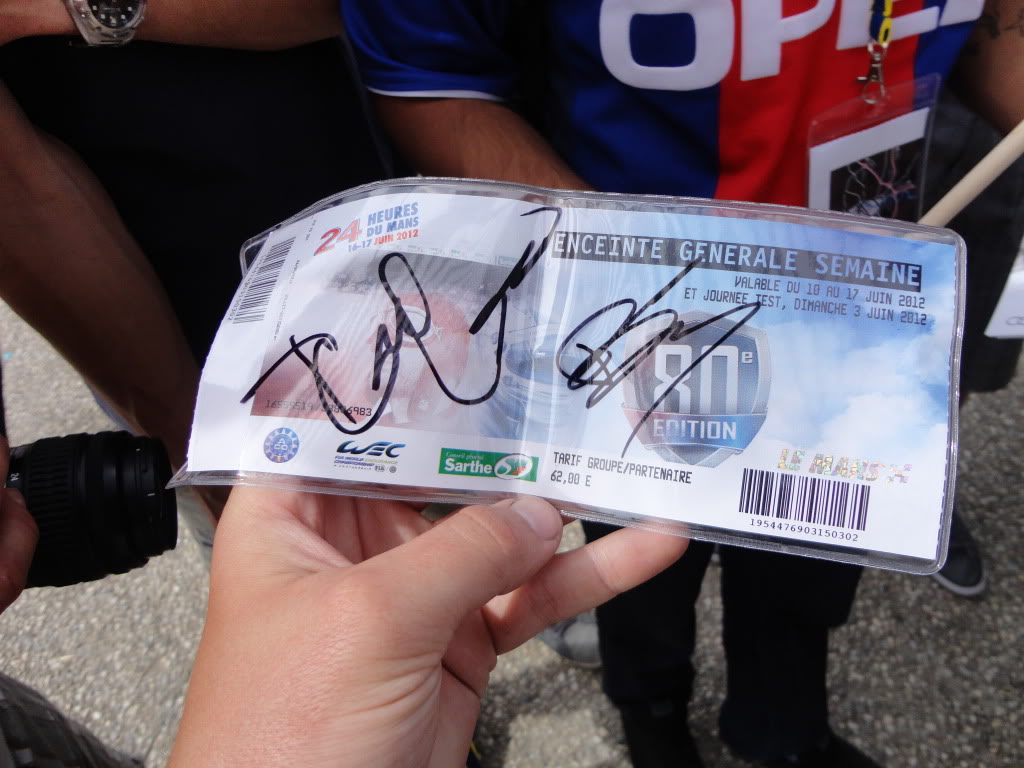 Had a bit of a wander to see some of the classics dotted about..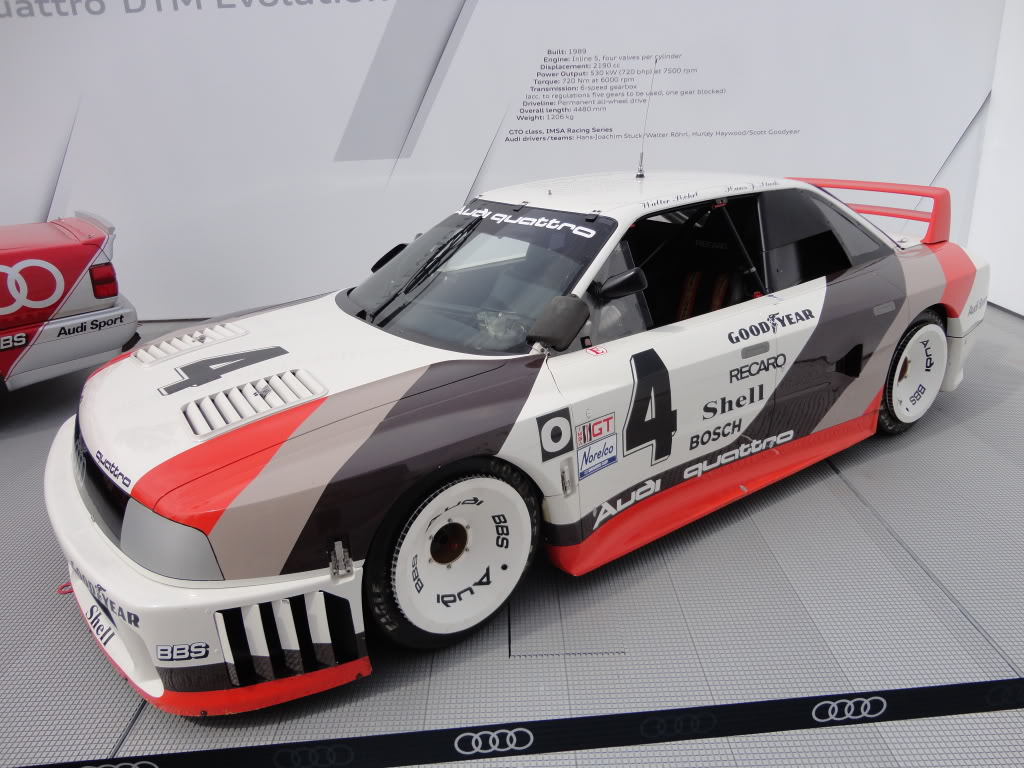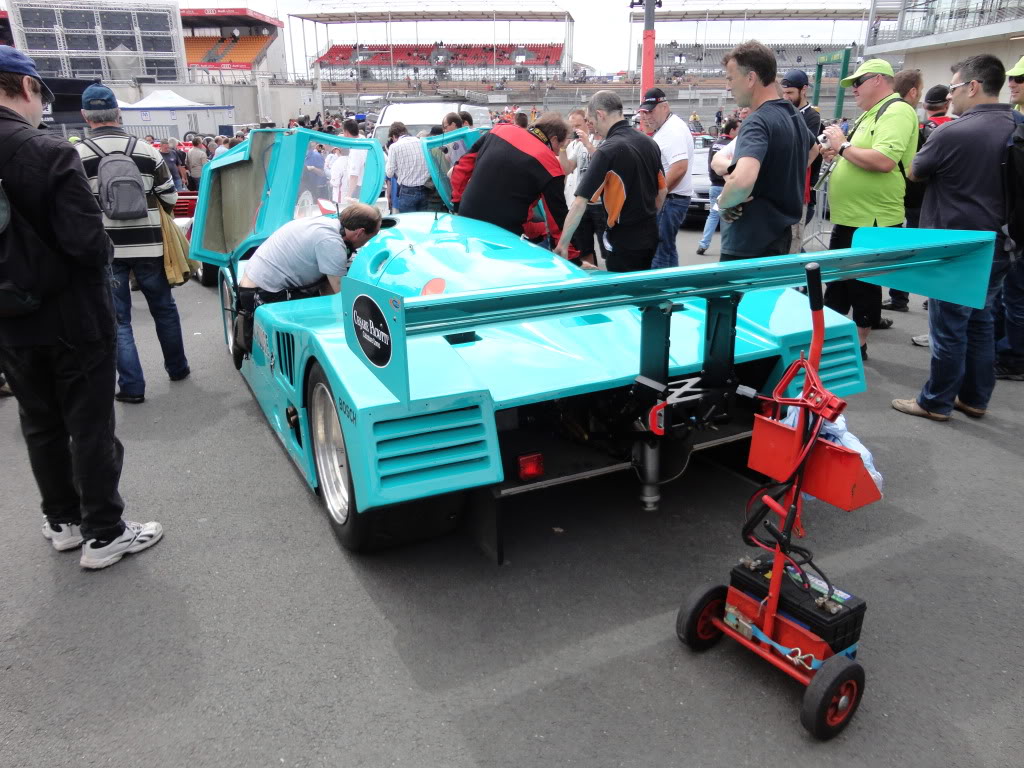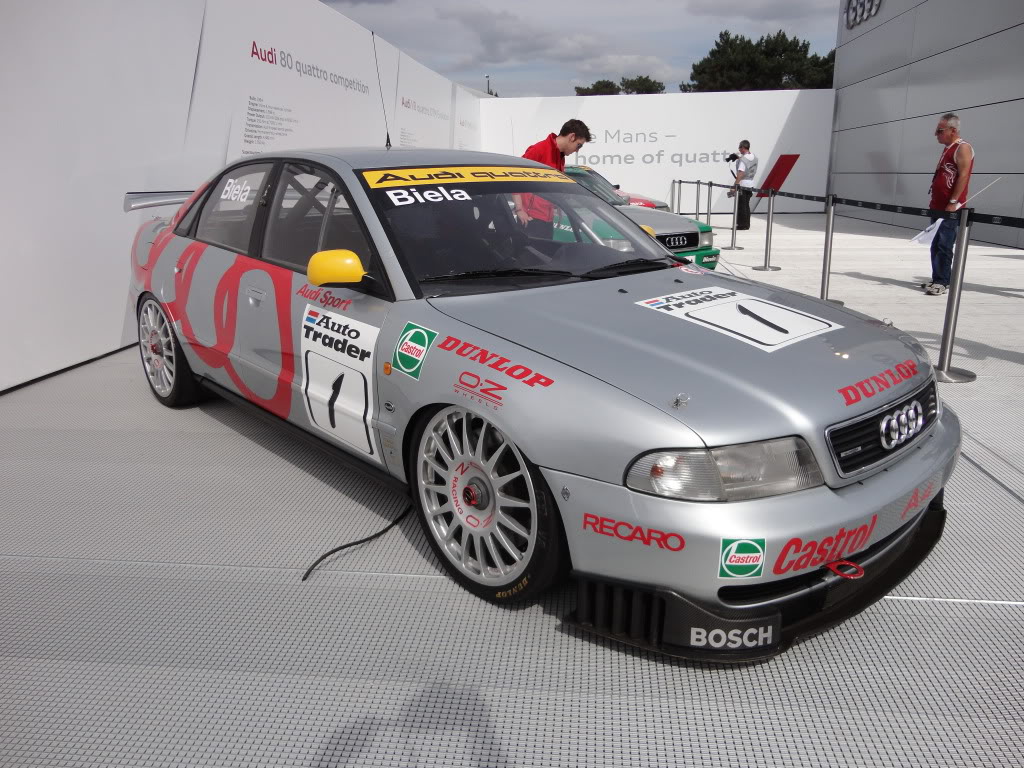 Including the #1 car..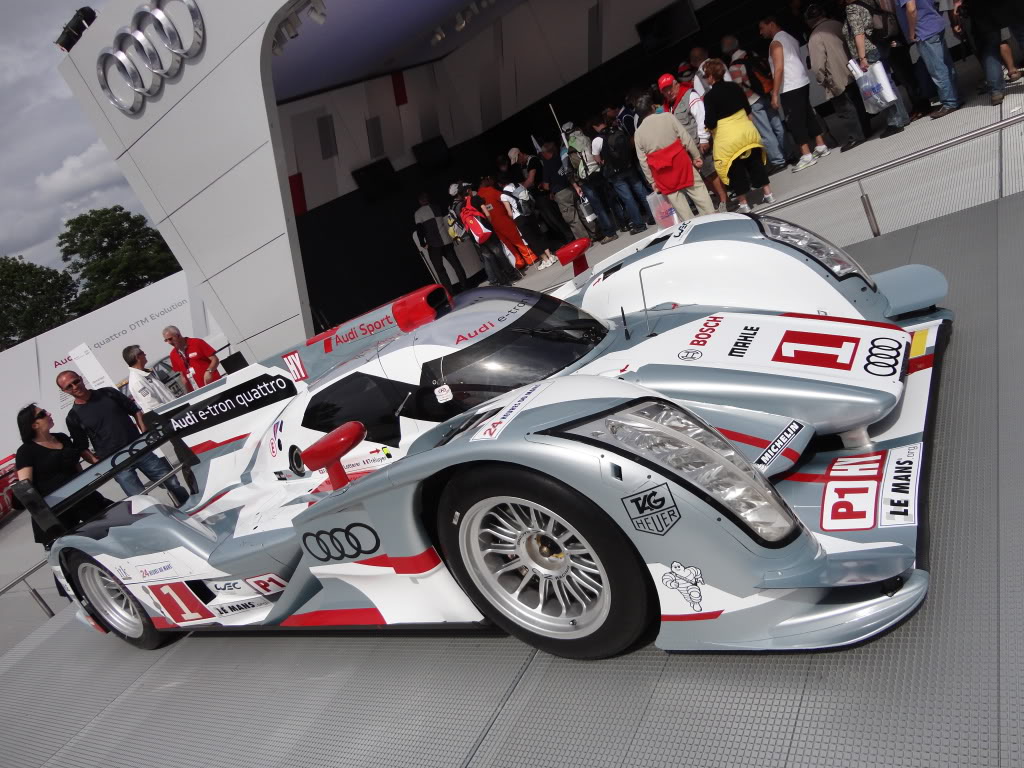 Heading back to the campsite it was starting to fill up, along with the Bleu car parks. Some nice machinery had been left there..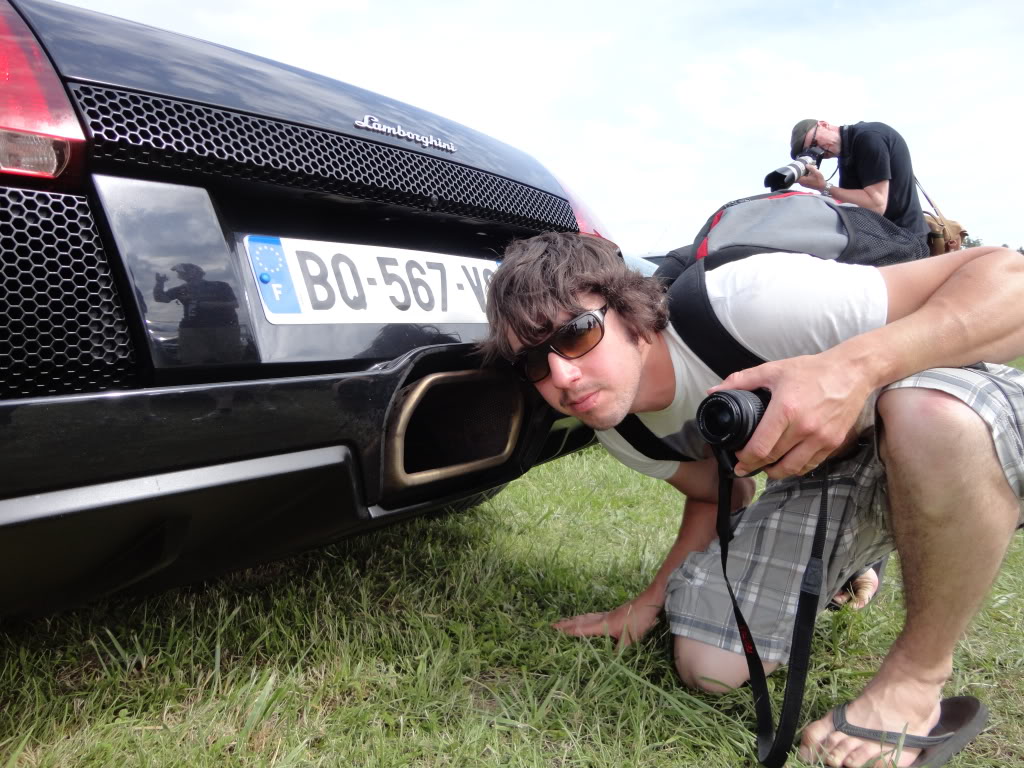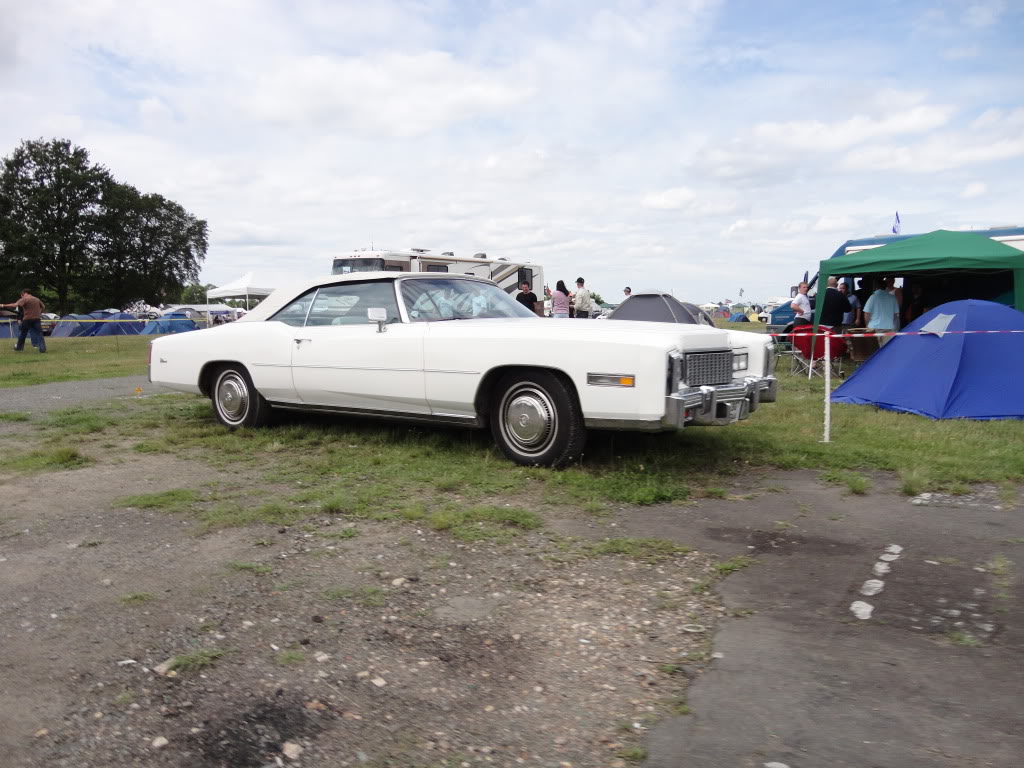 Along with this rig-up that we spotted :clown:..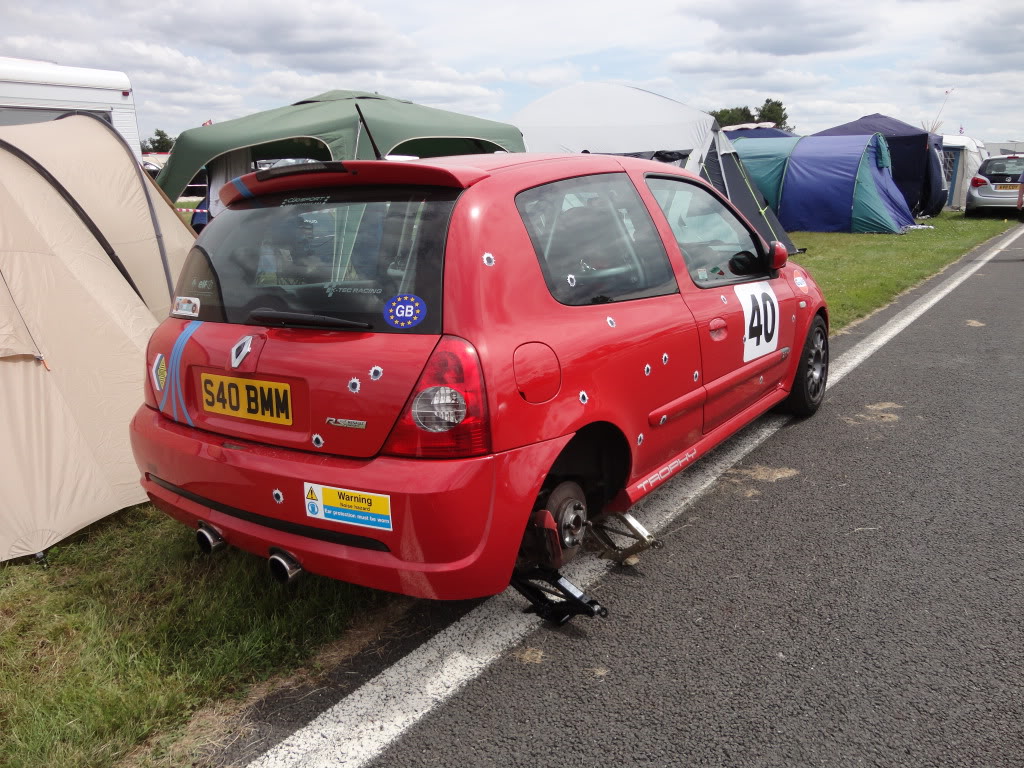 Once back at the caravan the ClioSport lot had started to arrive, and it turned out they were next to us on the campsite. After a quick chat with 172Ben, Bloooor, Christopher etc we remembered it was qualifying on thursday night also - you can get into the grandstands without a ticket on these days so we headed up to the start-finish straight for a while..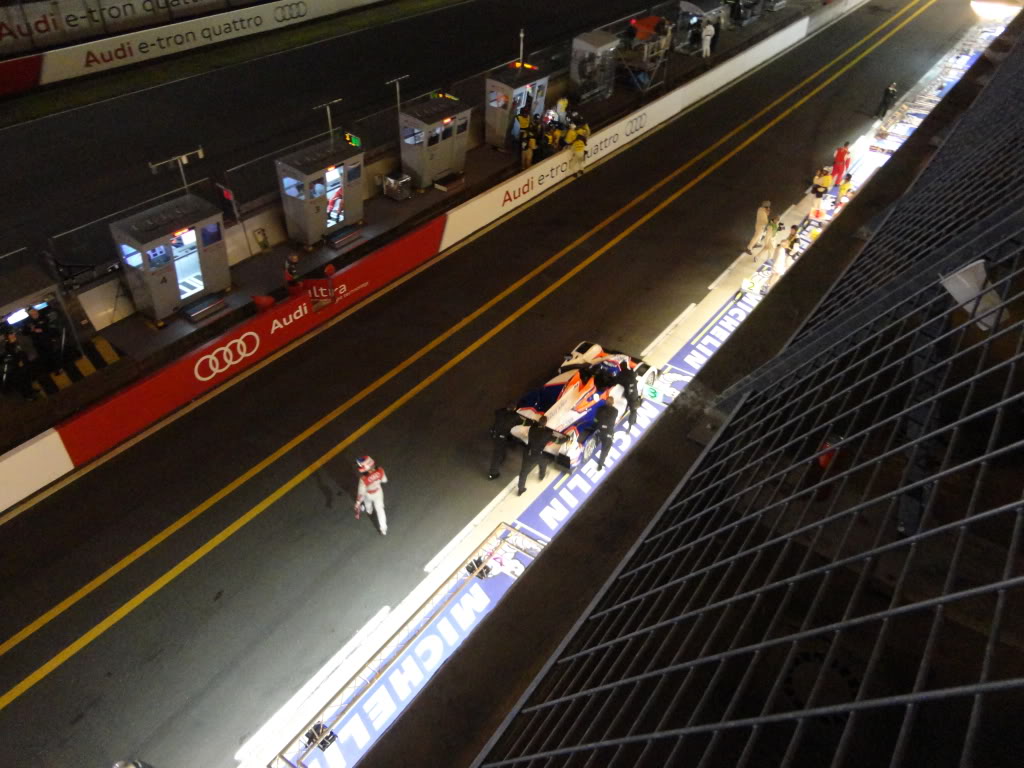 After qualifying finished the group made their way back down into the paddock area. Adam spotted a gate that was open down to the back of one of the garages, so we made a dash for it and it was clearly somewhere we shouldn't have been with a general ticket..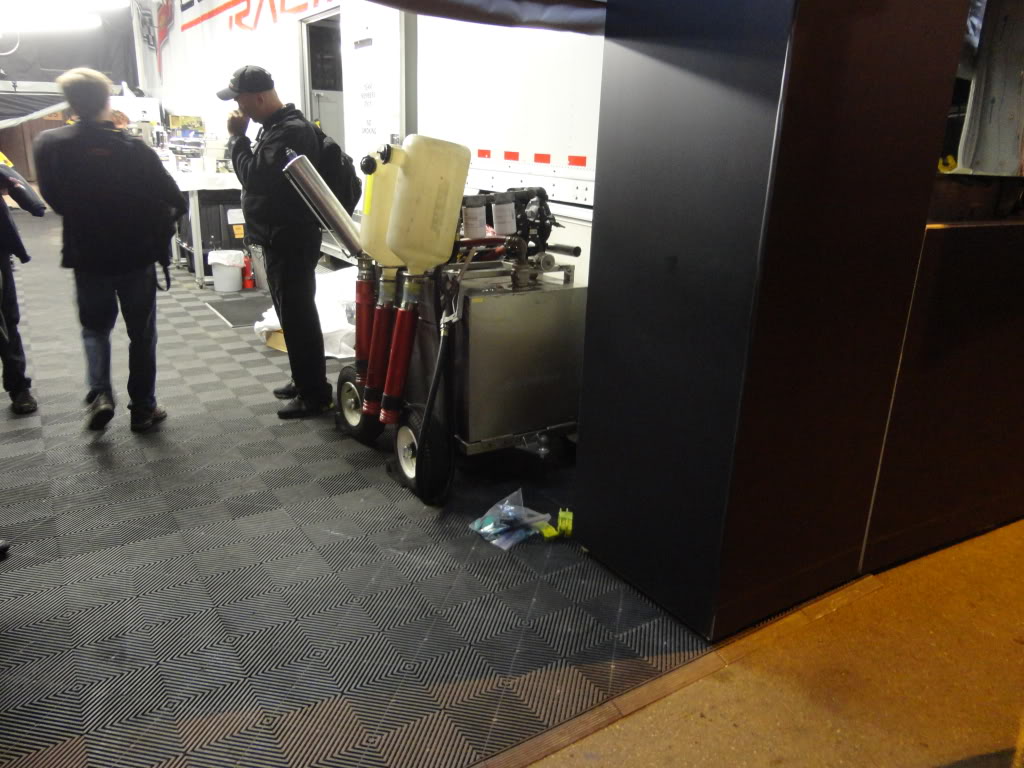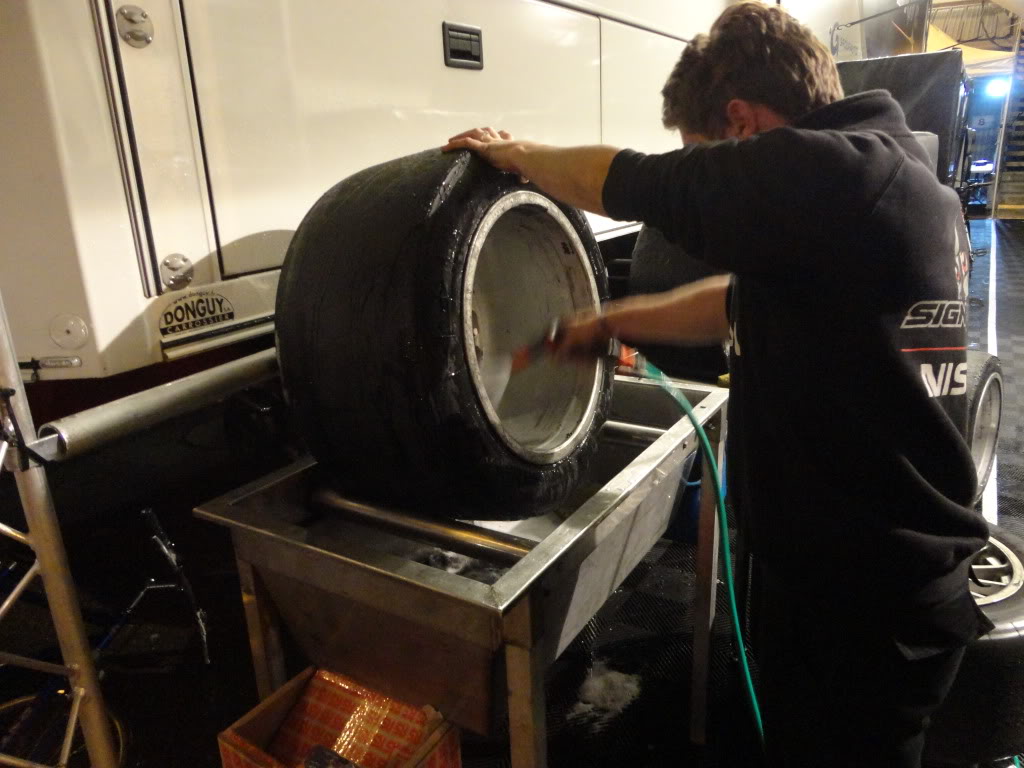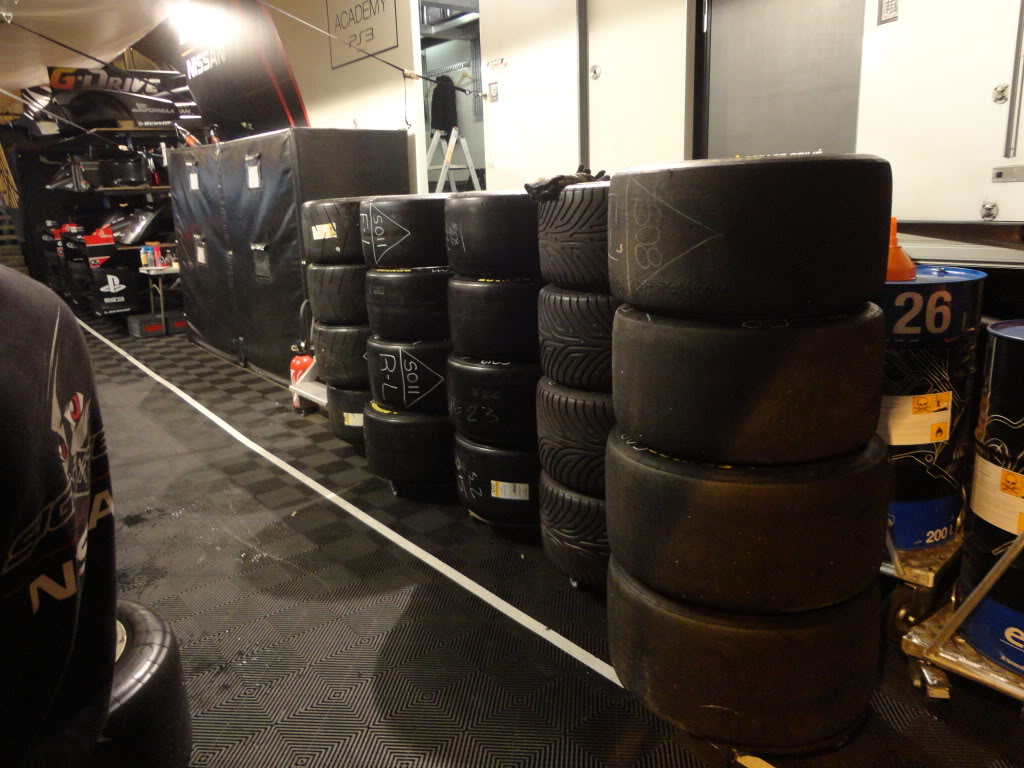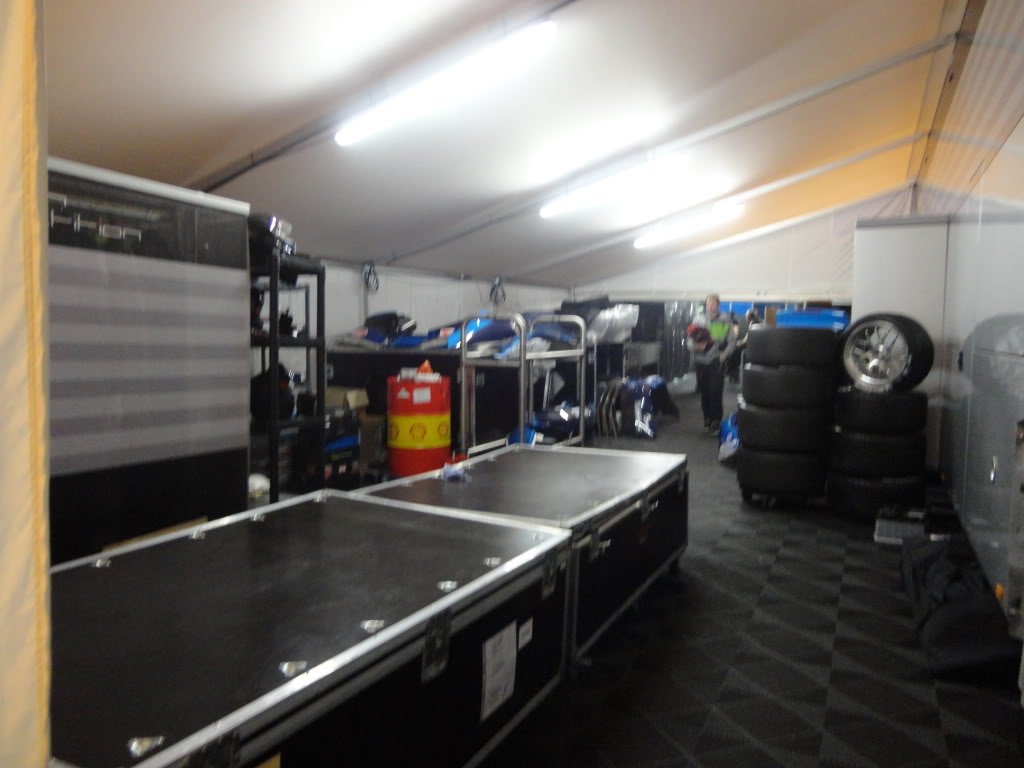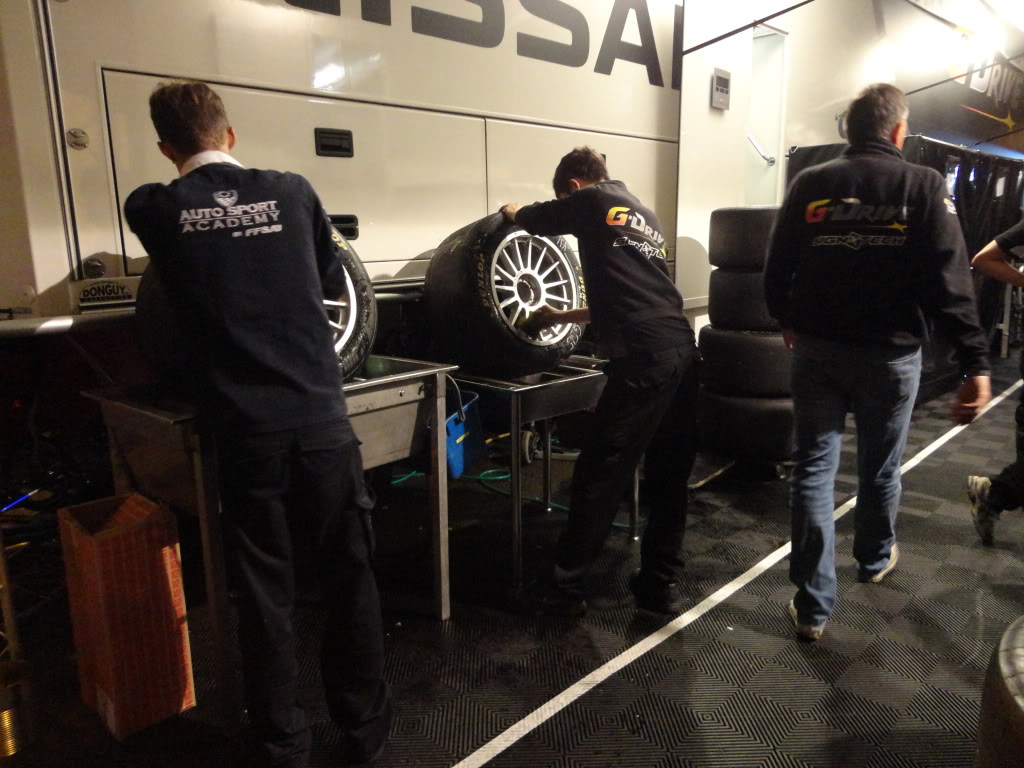 Walking up to the far end towards Audi we thought we recognised the #3 car head engineer, but walked straight past him. On the way back we spotted someone else..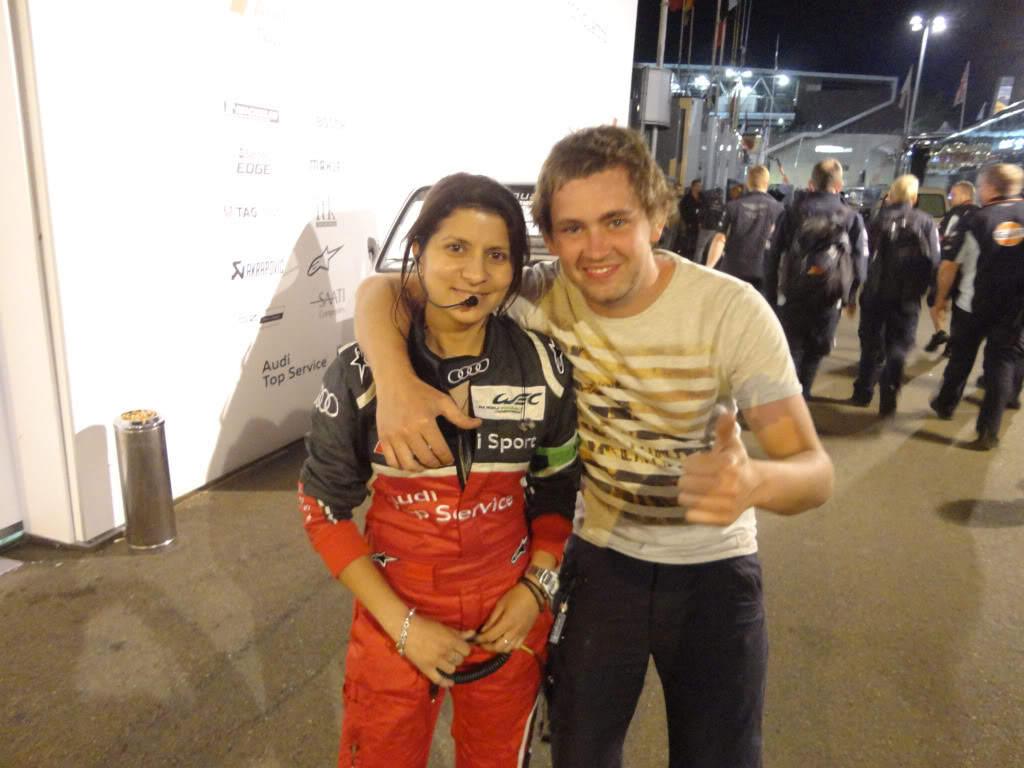 Heading further down towards Nissan we saw one of the drivers, as I was getting my camera out to ask for a picture I dropped it on the tarmac. Bit too much Blonderbrau for one evening I think.
After a lie in on Friday I went to buy a new camera from Carrefour. Once it was charged we headed down to the pits where they have the pit-walk on all day. Each garage has parts of the cars laid out, sometimes practicing pit stops, wheel changes etc. Pretty interesting to see up close..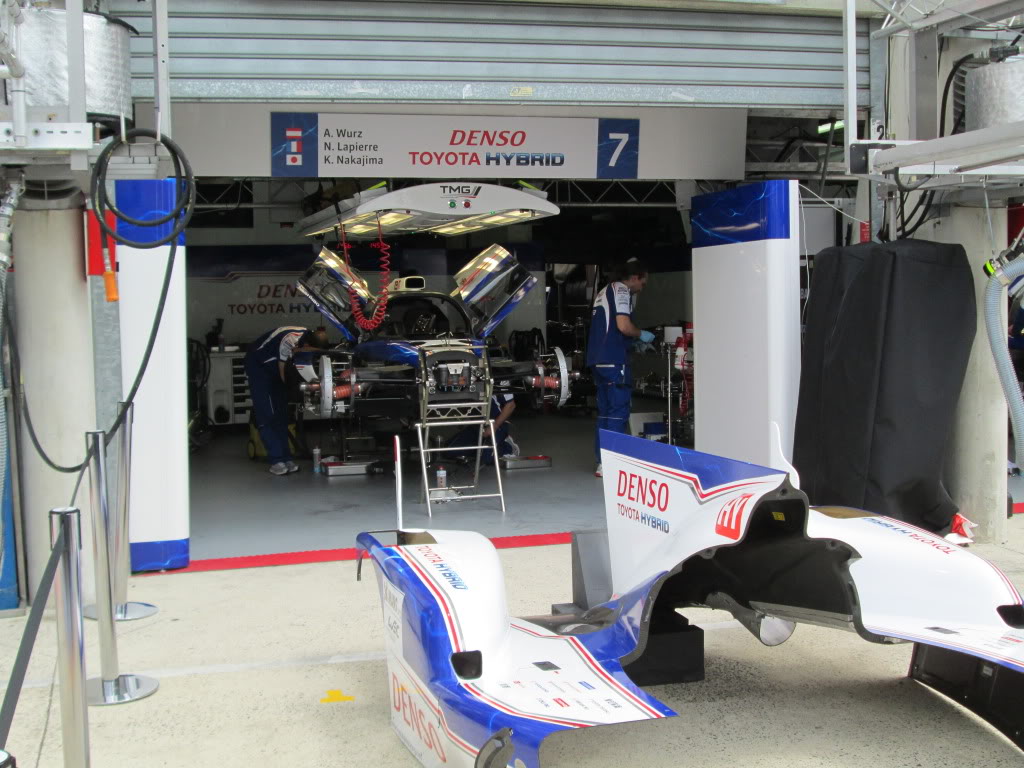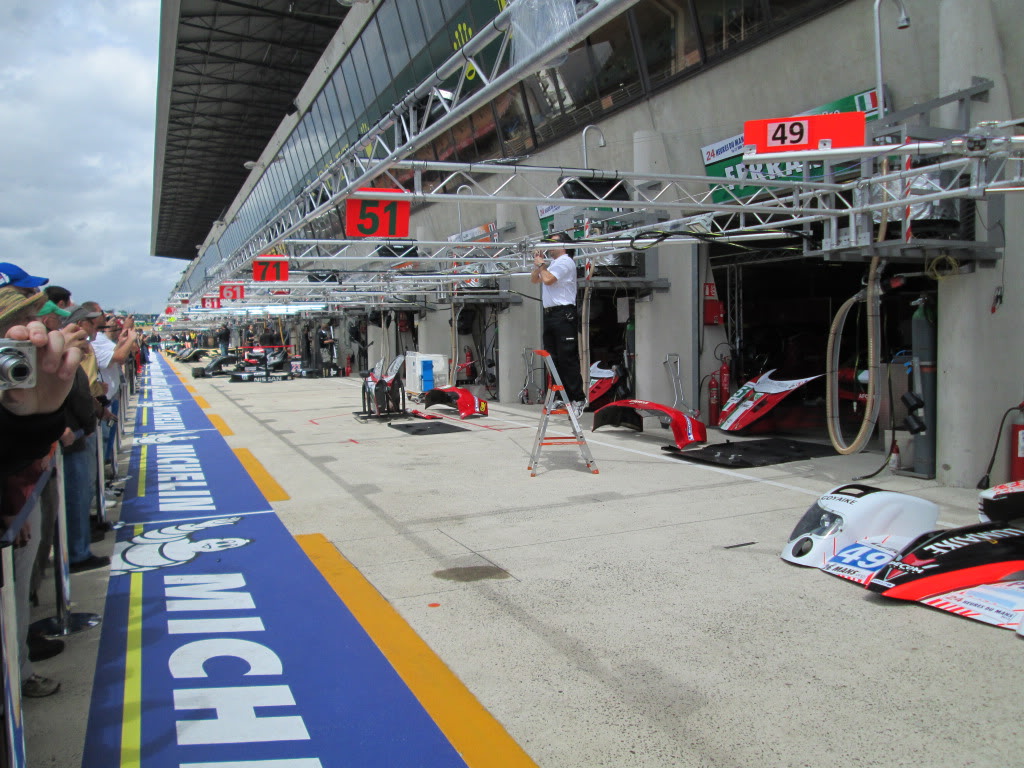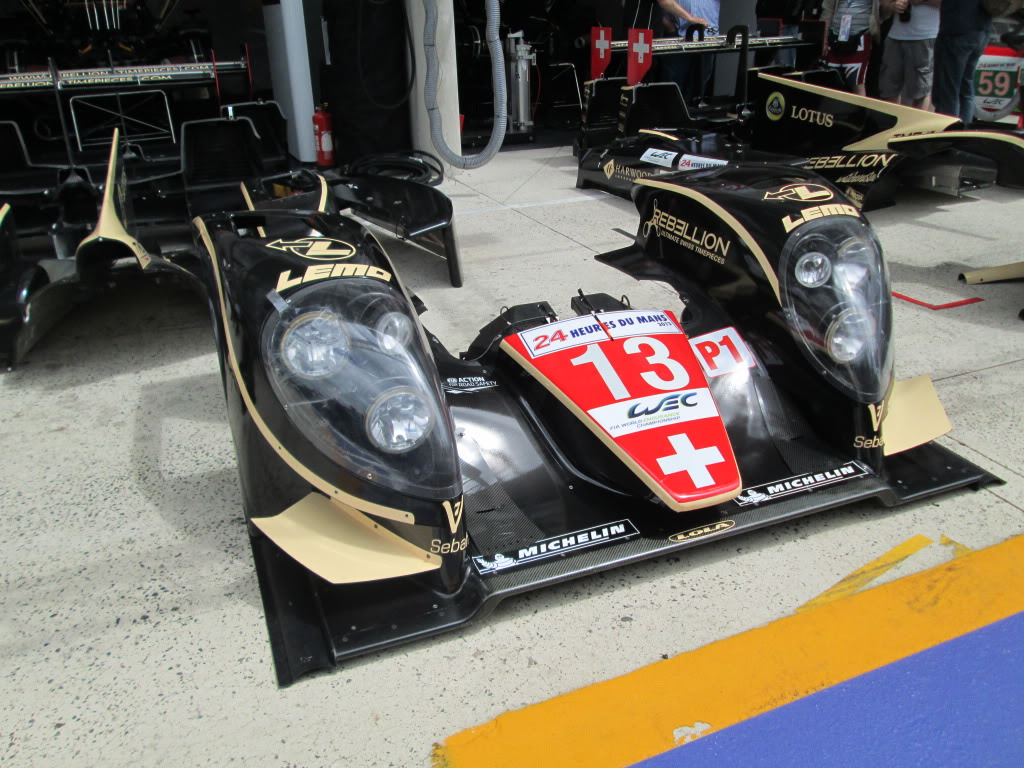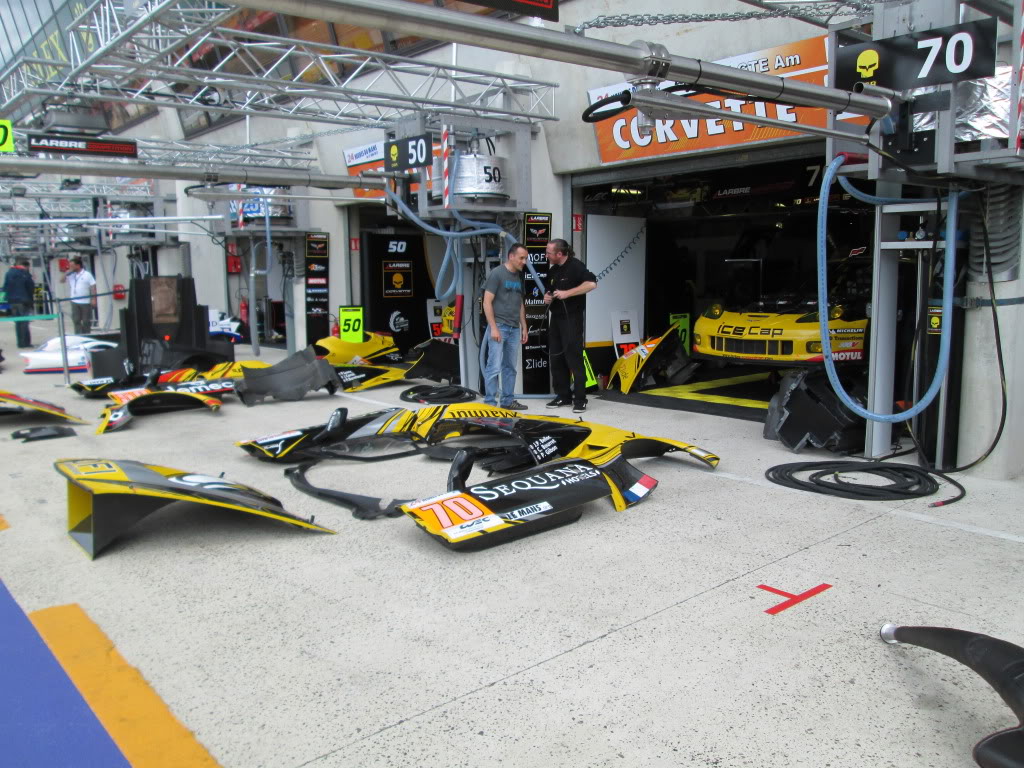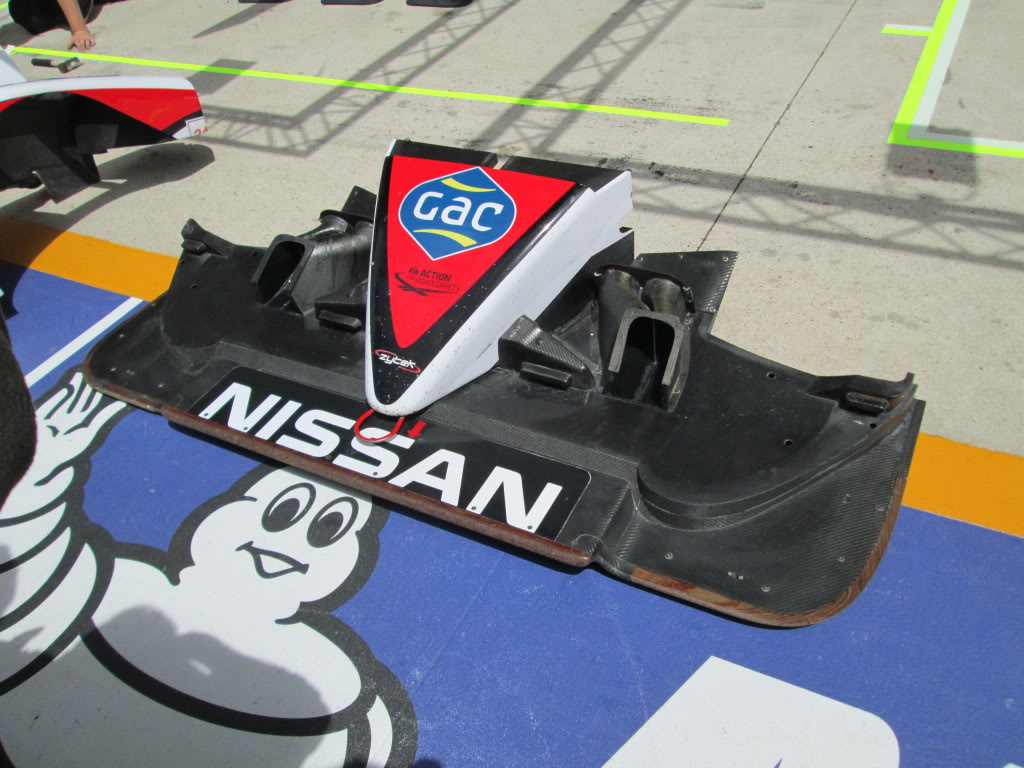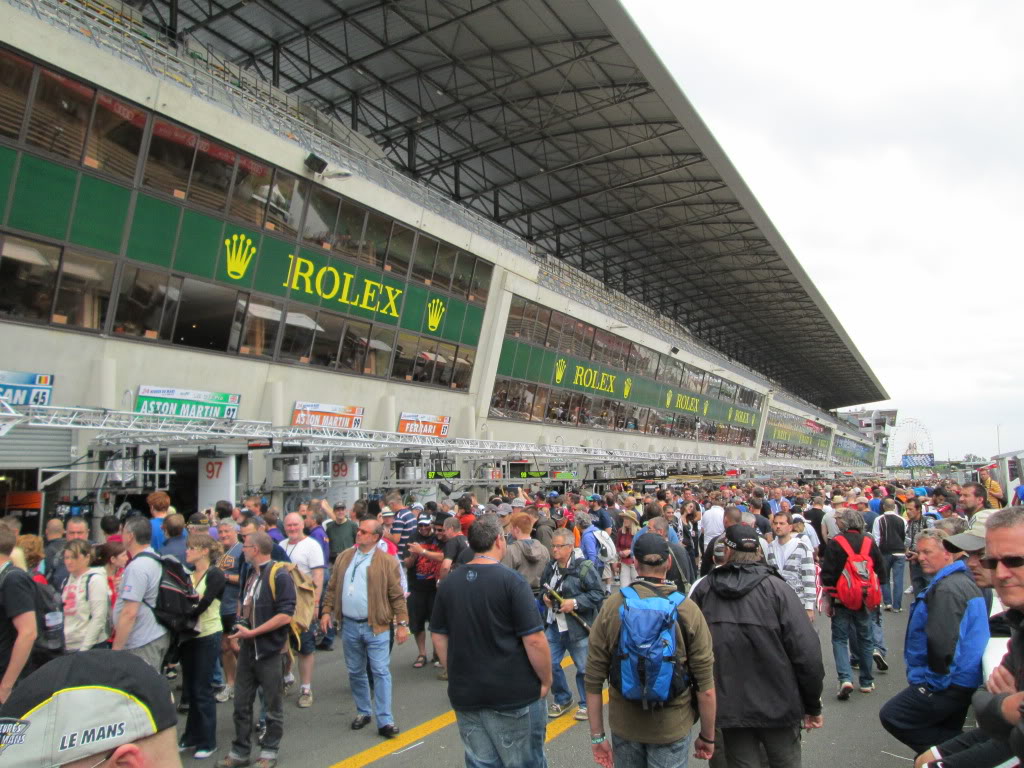 Another important part of friday @ Le Mans is the madness that takes place. We only stayed around the Bleu area as we saw police elsewhere and didn't want to go out of our way considering we had been drinking..
Got the Sky on ready for the England game..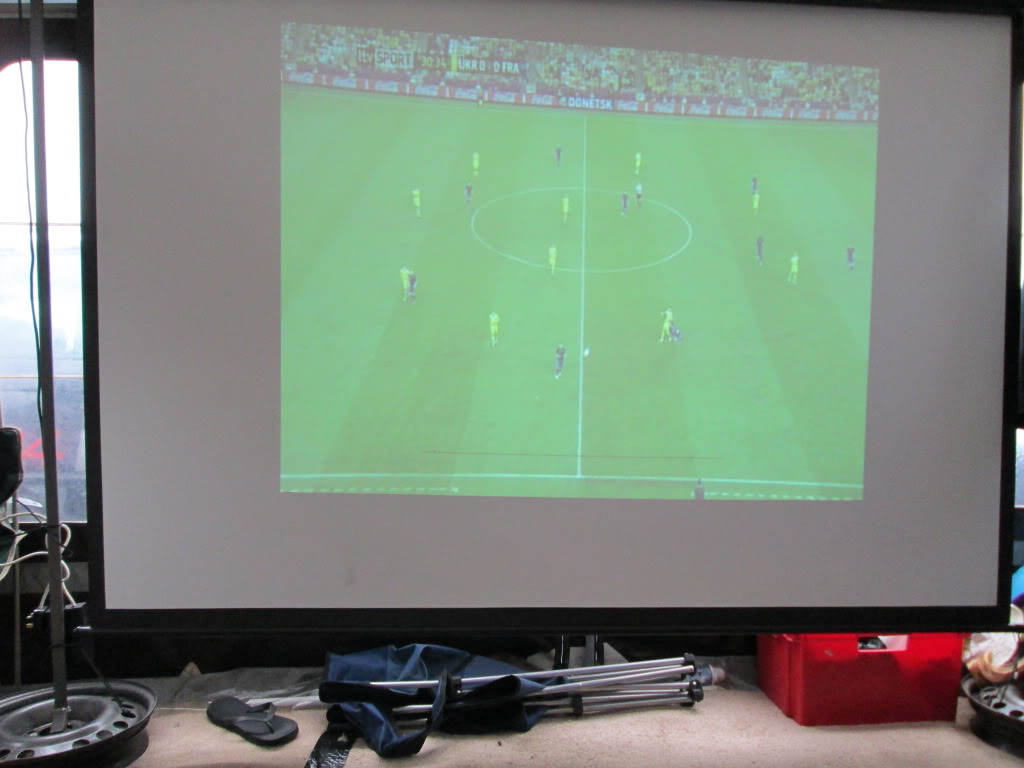 Then got round to cooking Spaghetti Bolognese for 12 people..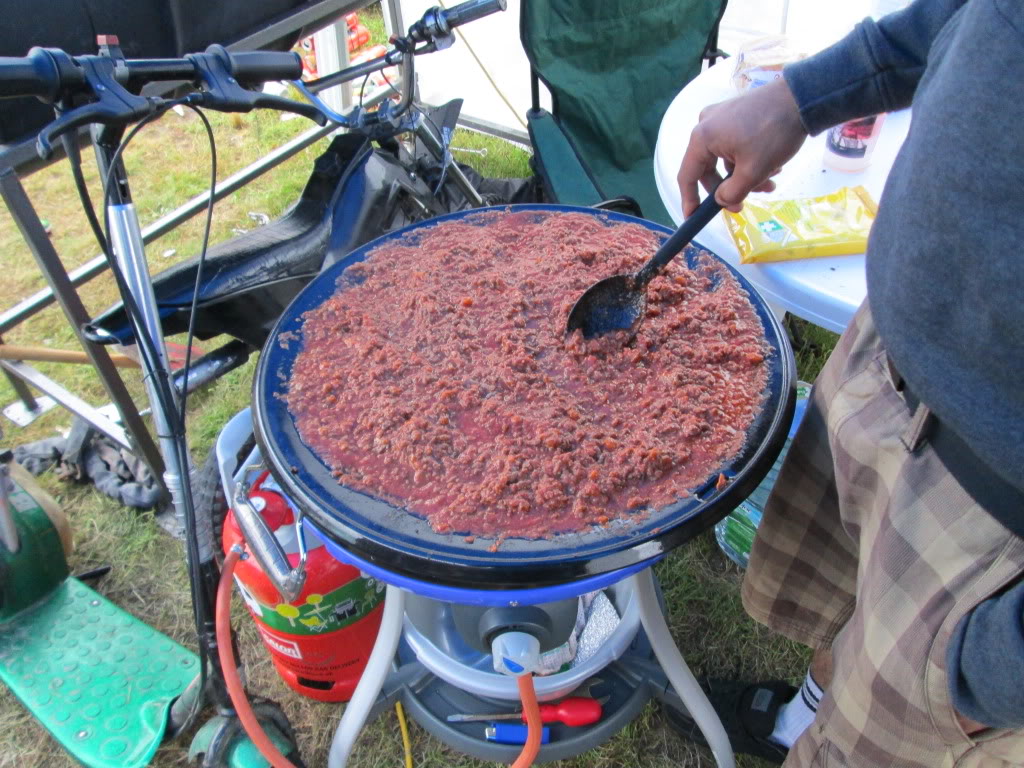 The rest of Friday night was pretty much one big blur as the people who were there will agree, even more so that it was Jams's birthday. Finished up with 172Ben coming over to 'DJ' for a few hours, but ended up going on until 5am when he blew my amplifier up.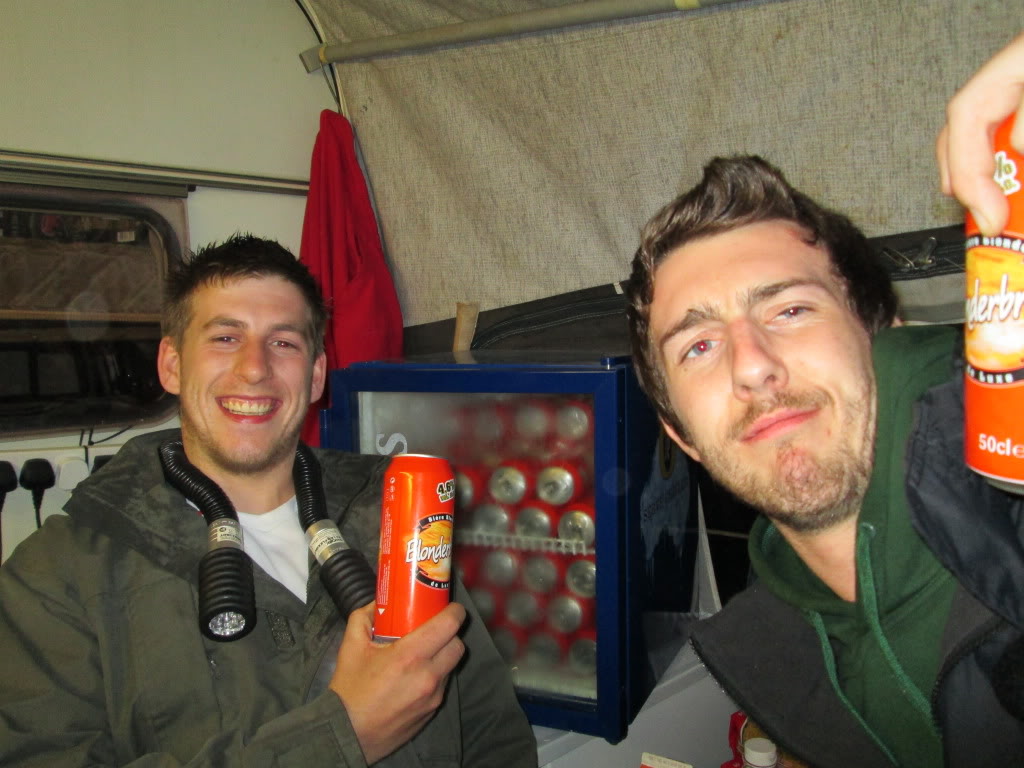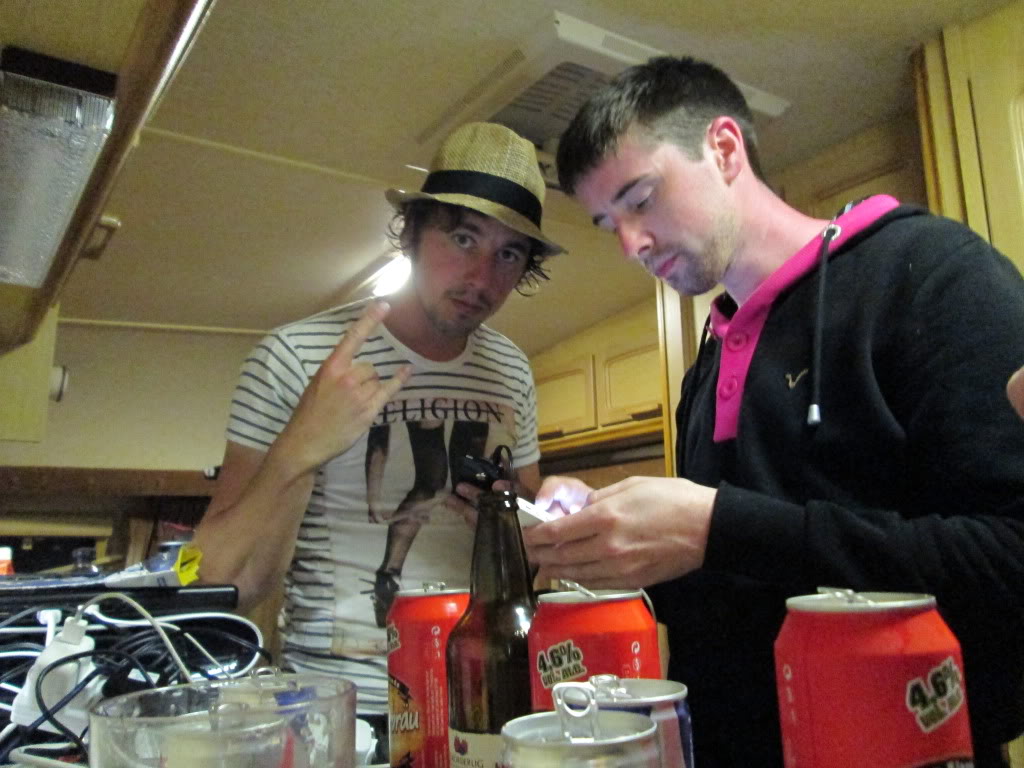 We had binned/crushed a lot of cans but made a start with what we had, until it toppled over in the wind and we couldn't be bothered rebuilding it..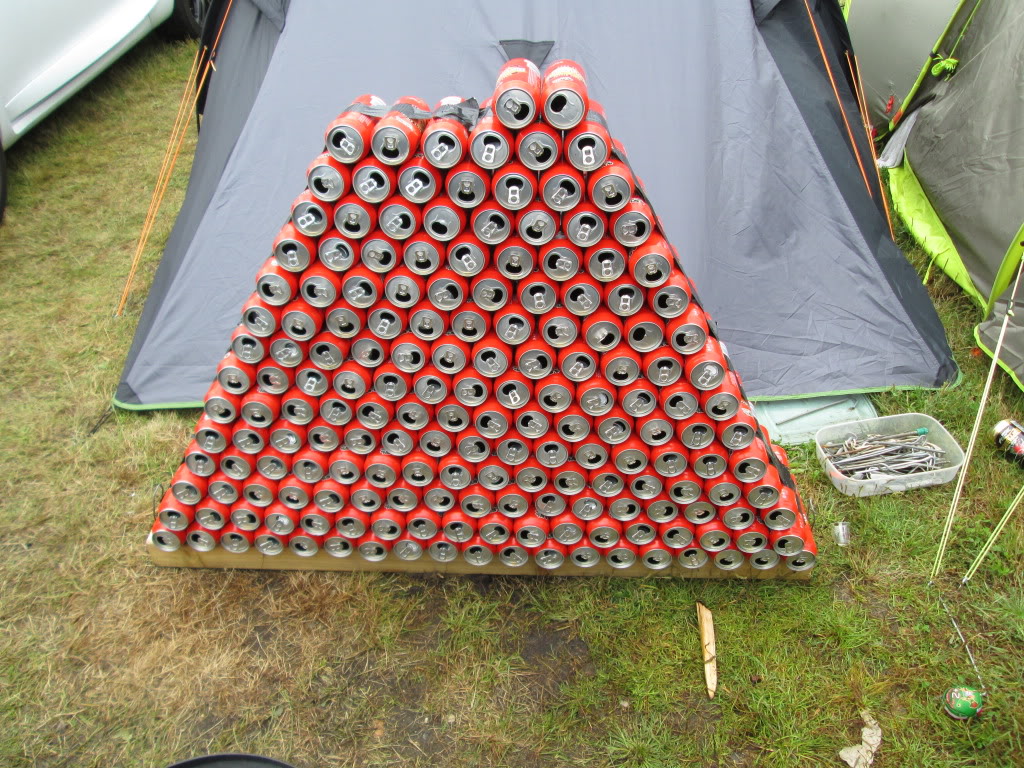 3pm on Saturday was fast approaching so we headed over to the first corner to watch the start of the race. After an hour or so we headed a bit further down and spent a bit of time there. By then it was time to head back and get the BBQ on again..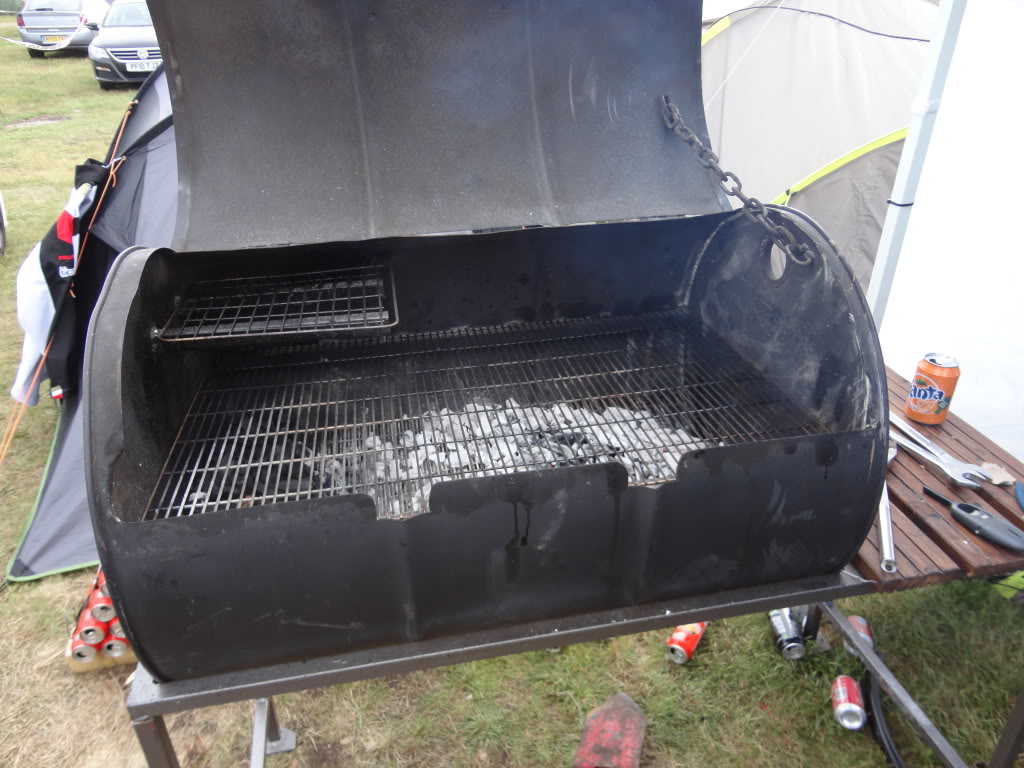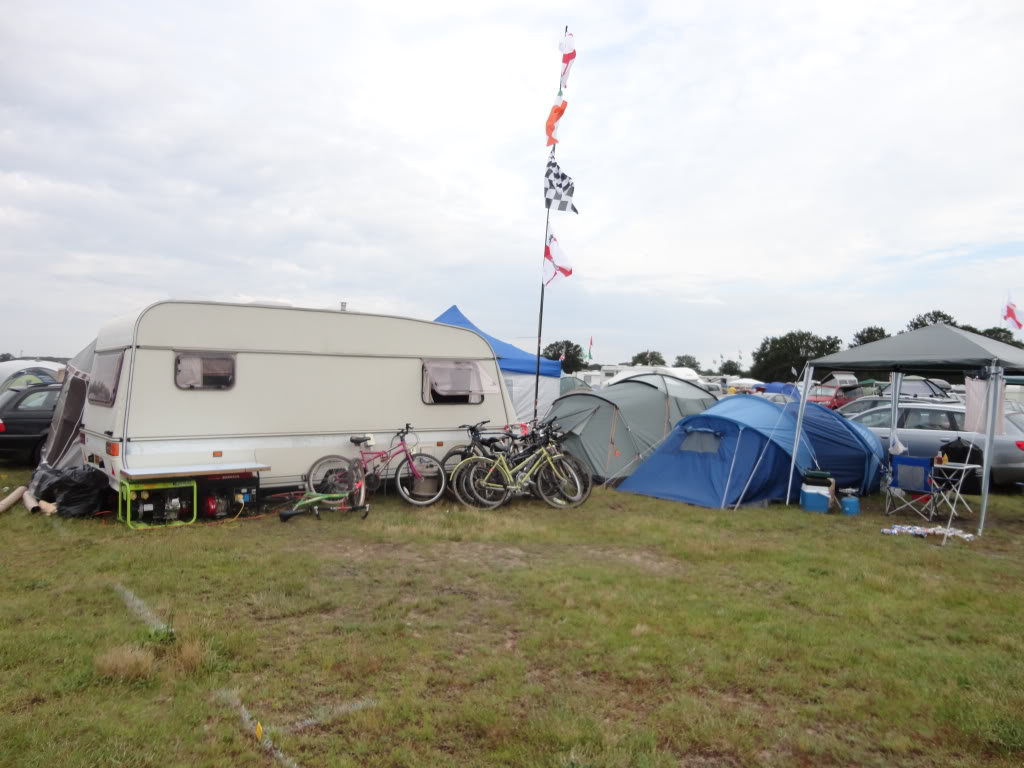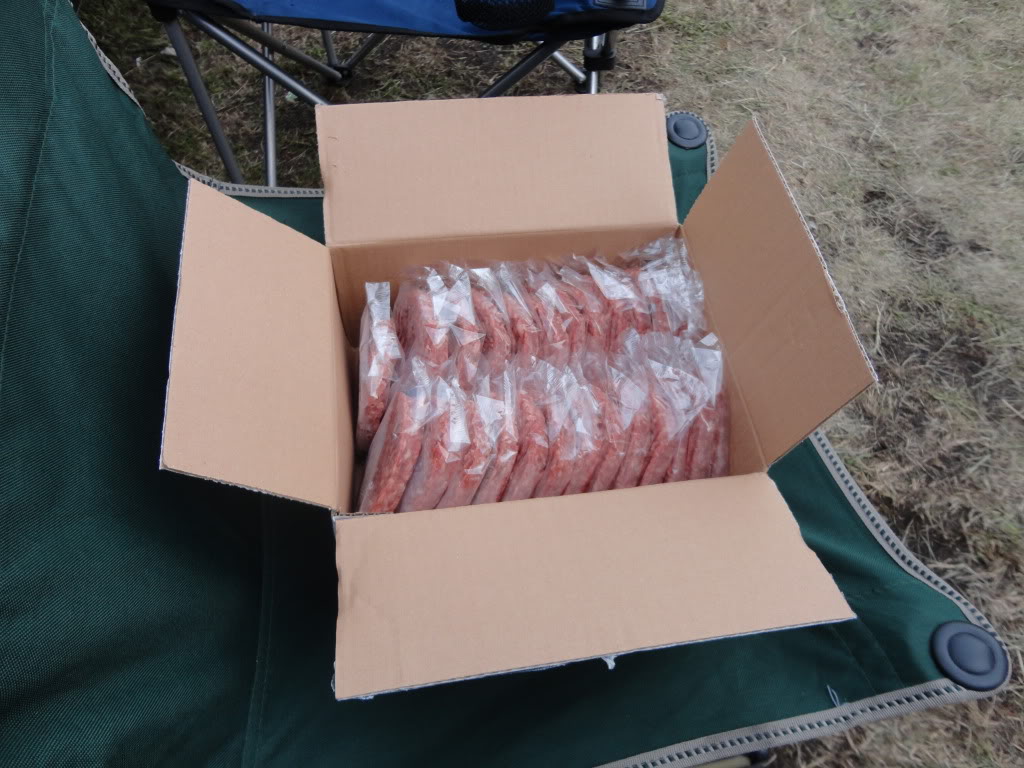 We had decided to head to the Porsche Curves for sundown... something that needs to be done just to see every car passing glow..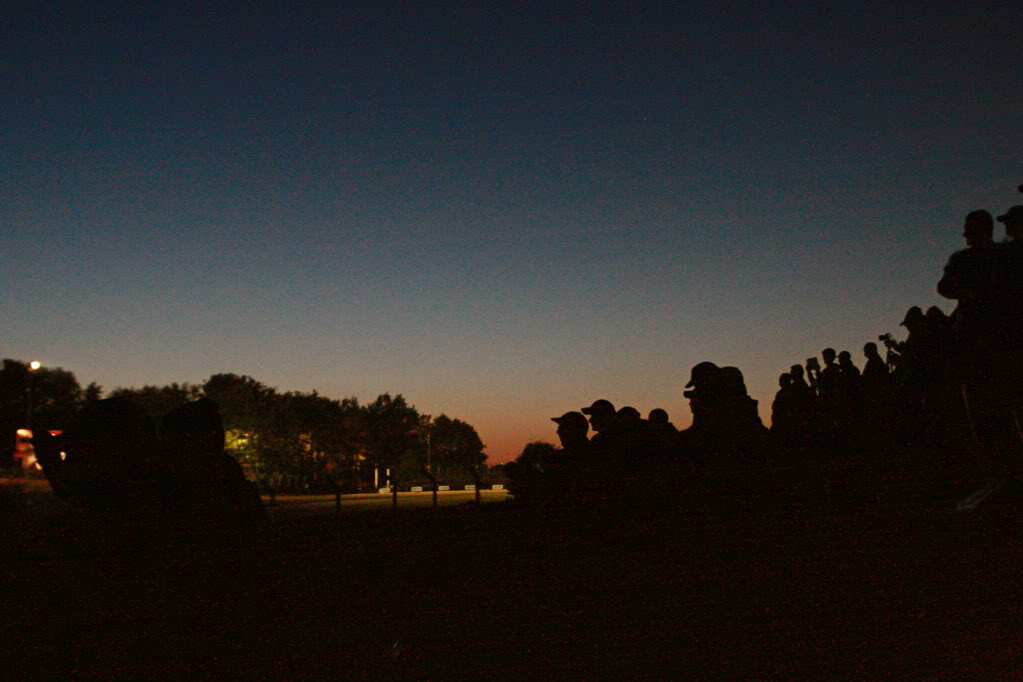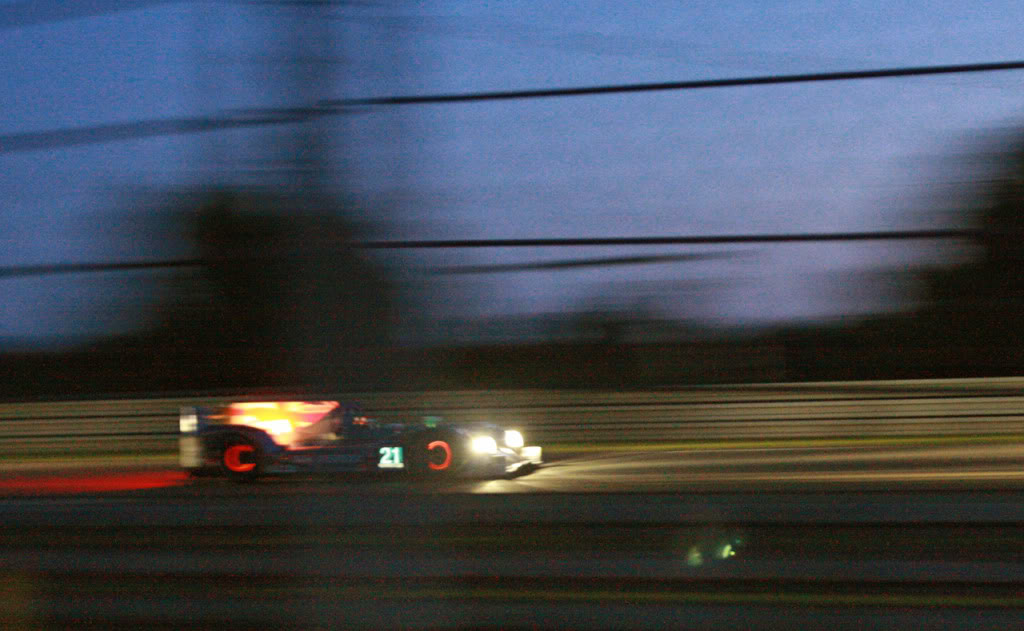 Didnt bother with any proper pictures as it was freezing and drinking was more important at the time. Others in the group fell asleep as the night went on. We ended up walking back to the campsite in the early hours to get more clothes as it was freezing, before heading down to Arnage/Indianapolis for a few hours to see the sun come up. Literally 10ft from the cars passing into Arnage corner (I took the picture below on a 50mm lens), the loudest the exhausts possibly can be... yet Whiteley still managed to fall asleep.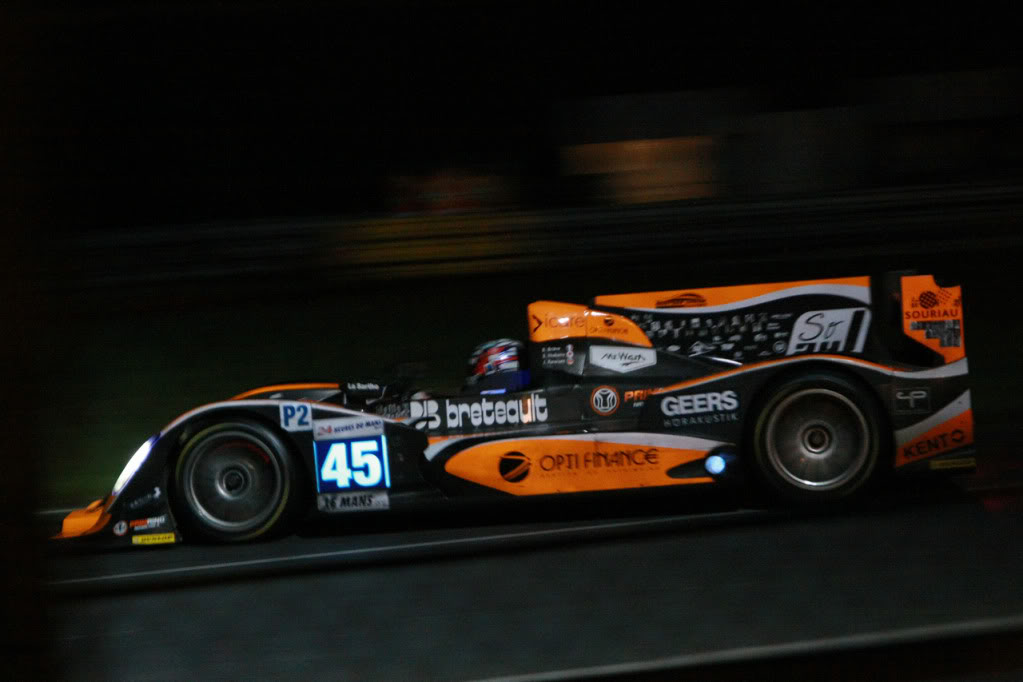 The sun came up around 5am..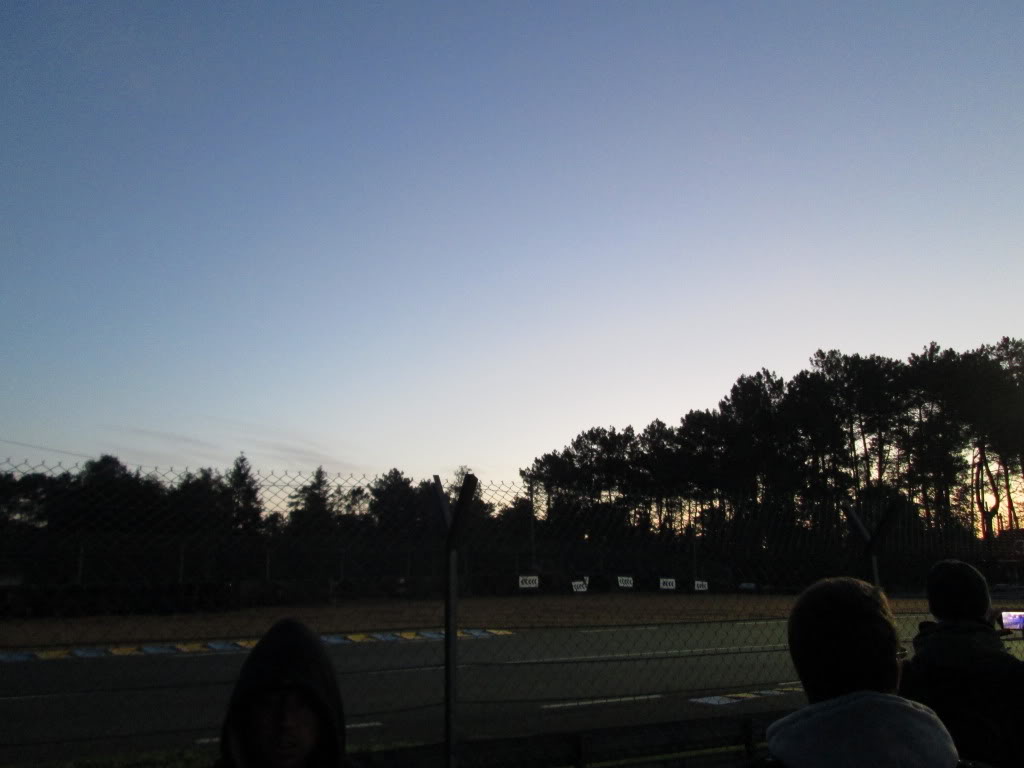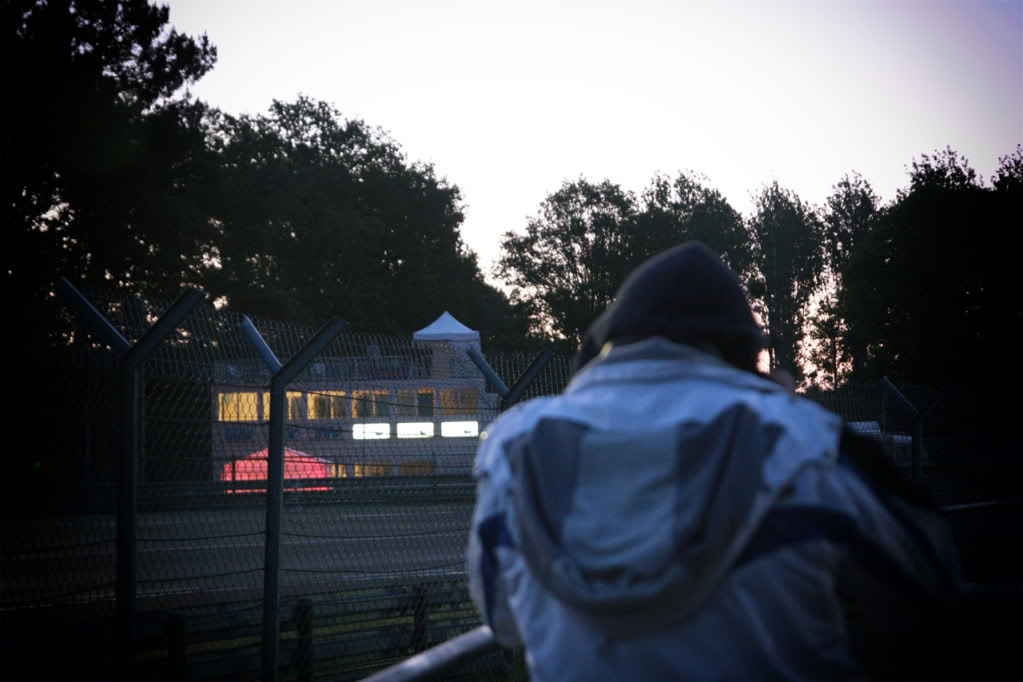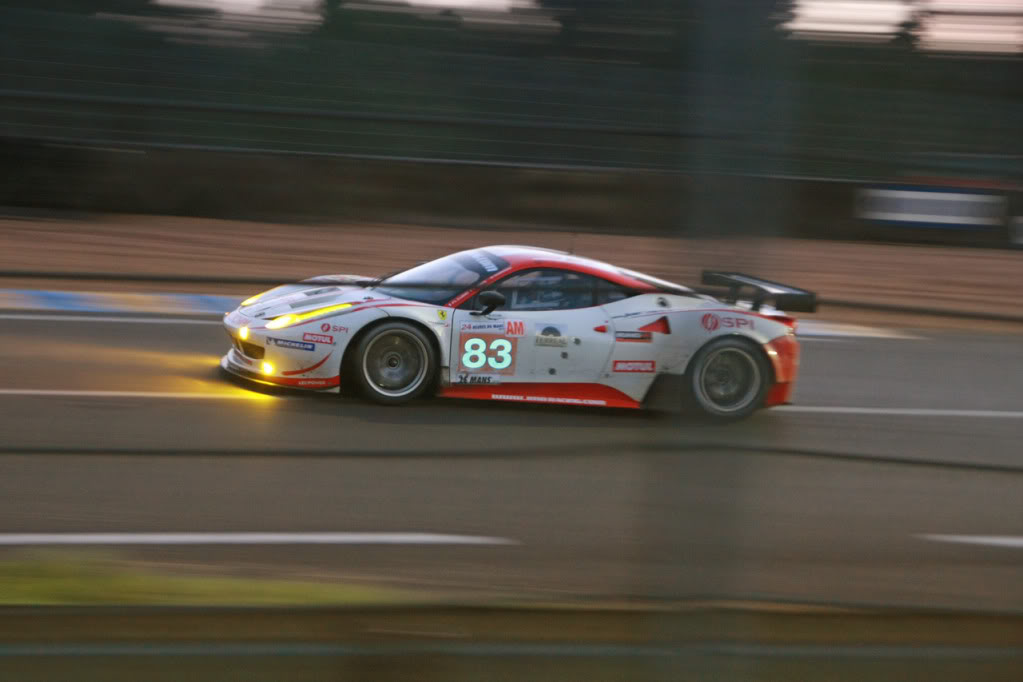 After this we headed back to the campsite to get some sleep. Once we had got up we decided to drive to the Mulsanne corner to see the end of the race. Audi finished it off...
Big mistake driving there though, as once it was over we could not get back to the campsite for hours due to diversions and road closures. Gave us an opportunity to find somewhere for a bite to eat..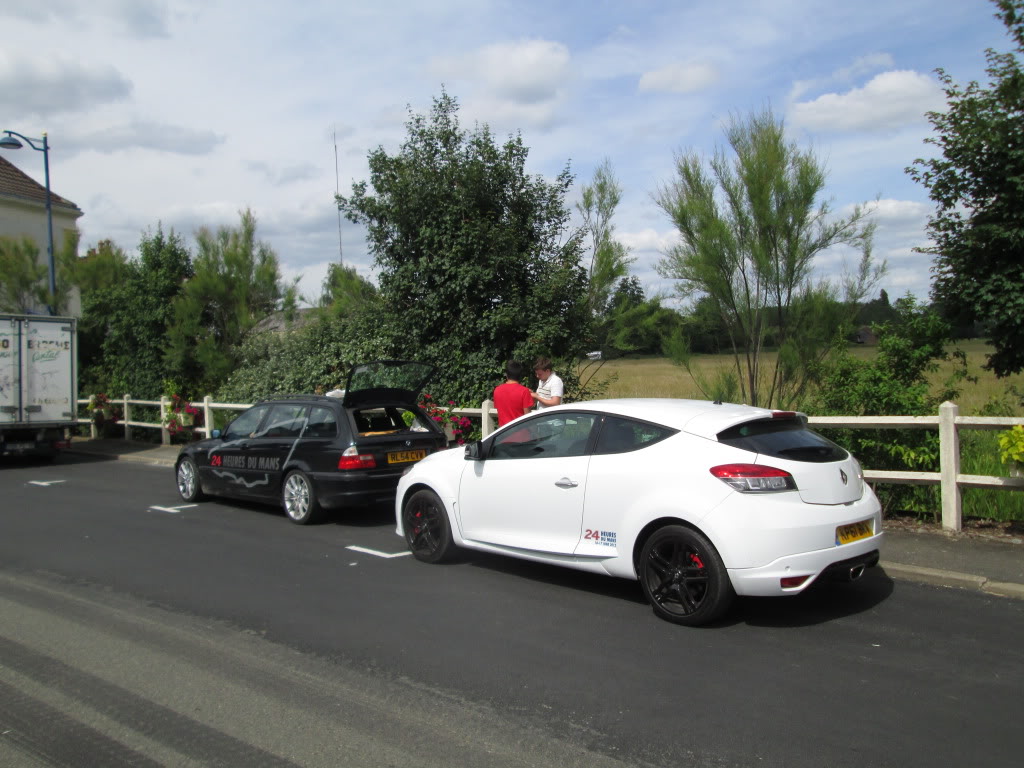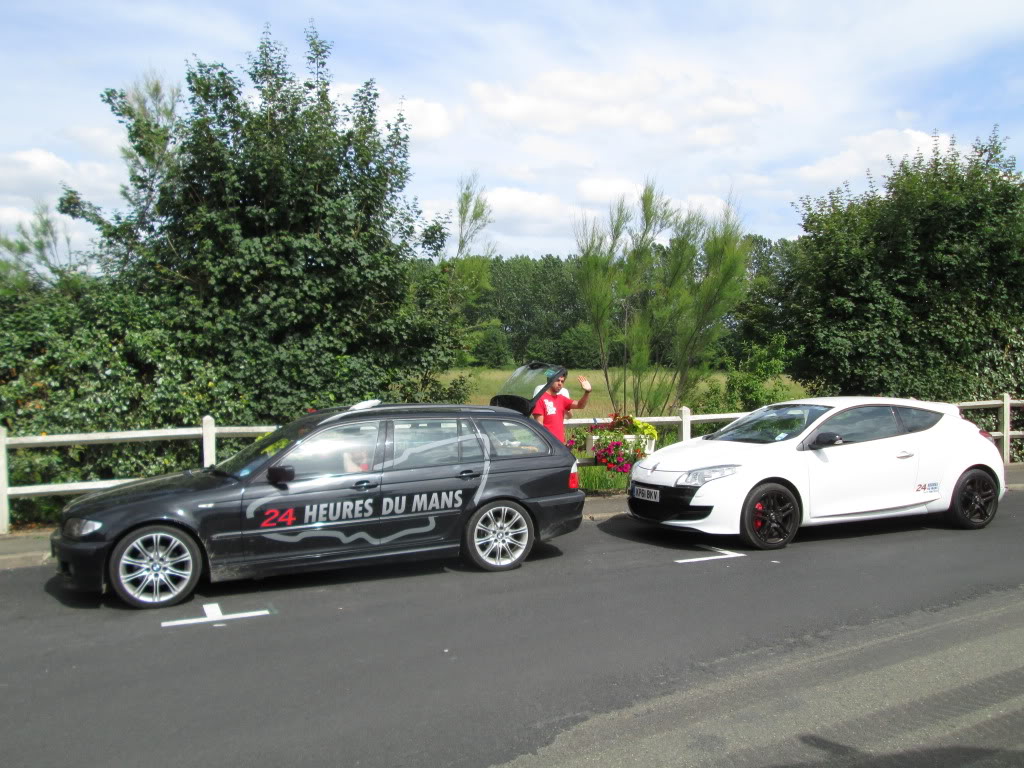 Eventually getting back onto the campsite around 6pm. We made a start at packing everything away whilst the usual gypsies were out in force taking anything that wasn't bolted down. We even had a few going through someones bags that had been left next to the car ready to be loaded in! Set off on the long haul back after filling up at around 10am Monday. Got the ferry at around 5pm and spotted the FailSport bus boarding... then eventually got home around 1am. Probably missed out loads from the above but plenty happens in a week......
In all about 4 tanks of diesel, an average of 25mpg, back tyres worn by ALOT, 1260 miles, 100L of petrol in generators, mini-quad/bike stolen, only 3 pushbikes returned, a lot of BBQ charcoal used, and loads more.
Worth it? For sure - there isn't anything like it anywhere else. Would I take a caravan again? Not a chance, lol.
Last edited by a moderator: