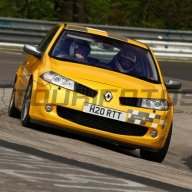 South Central- West Berks
ClioSport Area Rep
Got a really bad misfire and the speedo sometimes dances up and down when accelerating. Speedo problem started after the ABS and SERV lights briefly came on. Read that it could be ABS rings but my rears are oem and less than two months old.

No engine management lights have come on since the misfire started. Misfire seems to happen when engine is either under load or doing above 60mph. My spark plugs are two years old so is this the most likely reason for the problem?

Thanks for your help.