My first project thread on here and one that's a bit of a stretch to call it 'my project' as I did little more than agree to things being done! Anyways, a bit of back-story first…
Back in November 2018, I created the thread below and kind of sat on it for a while.
https://cliosport.net/threads/clio-182-revamp-initial-thoughts.822944/
Perhaps what didn't help was the OSF driveshaft failing right before Christmas a month later – then came Christmas itself, then life carries on and priorities change, etc.
Still, the car wouldn't magically 'fix' itself and I was in that position where I really didn't want to get rid. The replacement driveshaft wasn't doing much better as when it let go, it didn't exactly help the gearbox that it was connected to. So along came a subtle, yet clearly audible whine – at first little more than a small background noise. But as these things invariably do – it got worse. Knowing that a fixable issue might lead to a complete failure of the gearbox if not sorted, I knew it was on borrowed time – more so with the 182 being my daily.
As a side issue, Steve @ Birchdown had confirmed that the compression on one cylinder was significantly down by a 'good 40psi'. The engine by this stage had done 160k+ mileage and this in turn raised the question of an overhaul of both the engine and the gearbox together. When one unit is dropped, it makes a lot of sense to address the other at the same time.
I had a look on the forum for ideas and suggestions. Do I go for a factory fresh approach, pretty much as it rolled out of the factory back in 2004? Or do I look into tweaking it slightly while everything was in bits? The complexity and additions that go with the force-fed route, either by turbo'ing or supercharging the car put me off. Also, the ITB path would be too much compromise to continue using the car as a daily, for me personally.
I stumbled across
@Niall
's thread
https://cliosport.net/threads/nialls-bg-182.804998/
and read through it. Although he was going further with his BG182 that I would in making it more track-focused, the overall engine mechanicals had me intrigued. It was that level of tweaked additions, without going too far to mess with the fun aspect of what the Clio was all about.
The main issue I could see was that the car would be completely immobile while this work was carried out. Wherever is got to was where it was staying – unless I factored in expensive transportation costs. More so, I understand that from a garage perspective, such work carries a lot of hidden hassle that isn't purely monetary. It's in and out of the unit a lot for when parts and other bits arrive, occupying ramp space and generally just hanging around like a pain-in-the-arse that won't go away. Birchdown said as much and the unknown saga of where such a revamp would lead to, meant that I had to look elsewhere.
Enter Alex (
@AlexW
) at AWMotorworks. Niall had mentioned him during our PMs and his work from social media certainly looked good. It's worth mentioning here that I originally searched for AWMotorsport and came across a garage near Portsmouth that specialised in Porsches. I can imagine that would have been a bit of a confusing conversation if I'd phoned them out of the blue.
So, I provided Alex with a summary of the work that I was after being done and we agreed on a loose 'starting' price. By this stage it was late February 2020 and the gearbox on the Clio sounded like it was crying in pain. My wife flatly refused to drive it in such a state and we were down to using her car mainly for the commuting trips, both to and from work.
Another niggle that cropped up – Alex was 215 miles away from me. Do I risk driving the car on what would be mainly motorway driving down there? Or do I play it safe and get it transported?
25th March arrived and I got it loaded onto some Eastern European knackered flatbed. The driver could speak 3.2 words of English and seemed to be smiling far too often. Would it get there? Was he having a laugh? Should I have just risked driving it in the first place? I genuinely hadn't been as concerned about the Clio in all the years I'd had it.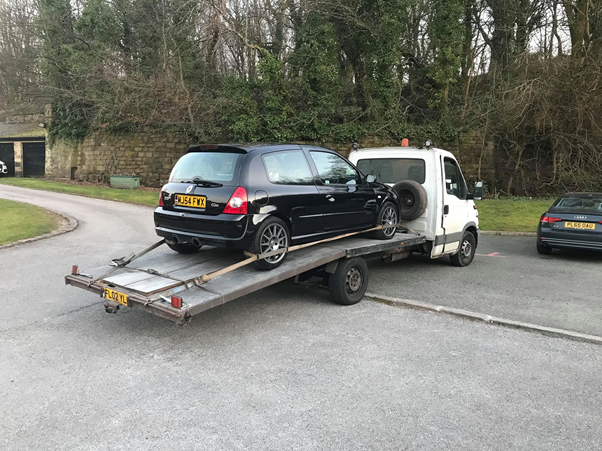 The following day, Alex messages to tell me that Clio arrived intact – relief! Not only that, but this was the time where COVID restrictions came on in force. I was set to work from home, so I didn't really need the car anyway. But I had no idea if this would affect Alex and his work practices and whether or not some parts would even get delivered?
The strip down started in earnest and alarmingly quickly. Even though you know what's going to go on, it's still a bit of a shock to see your own car in so many parts!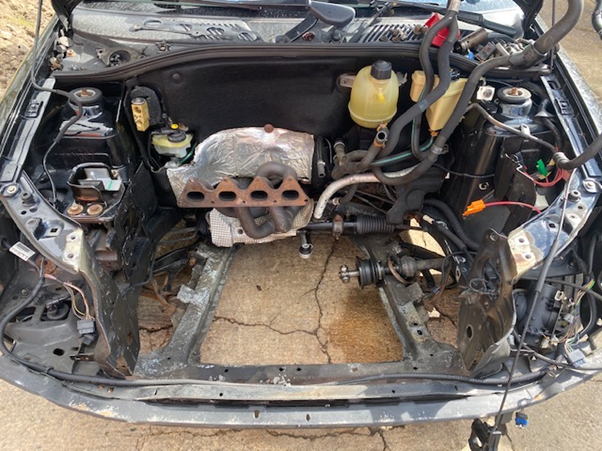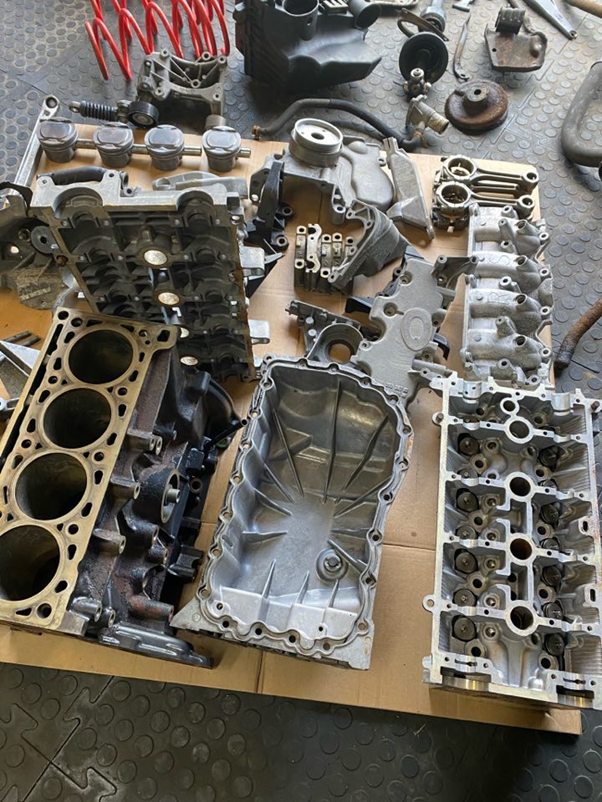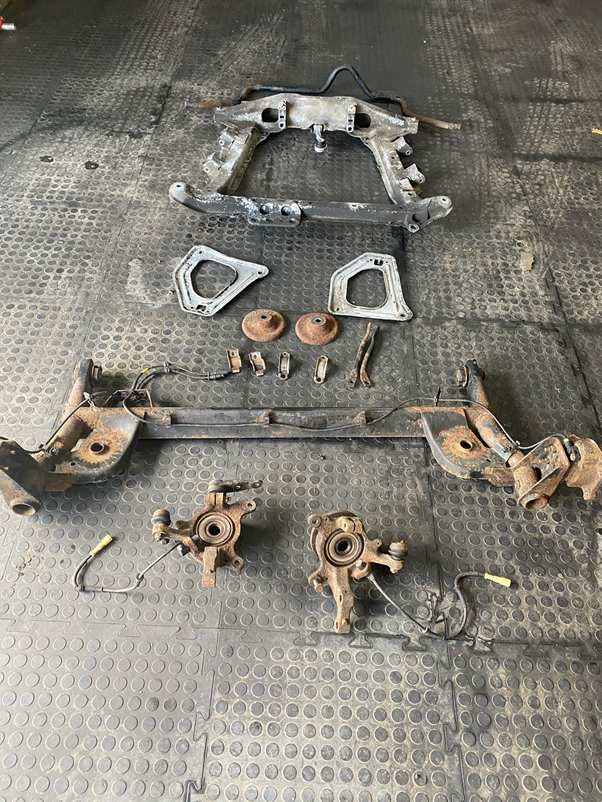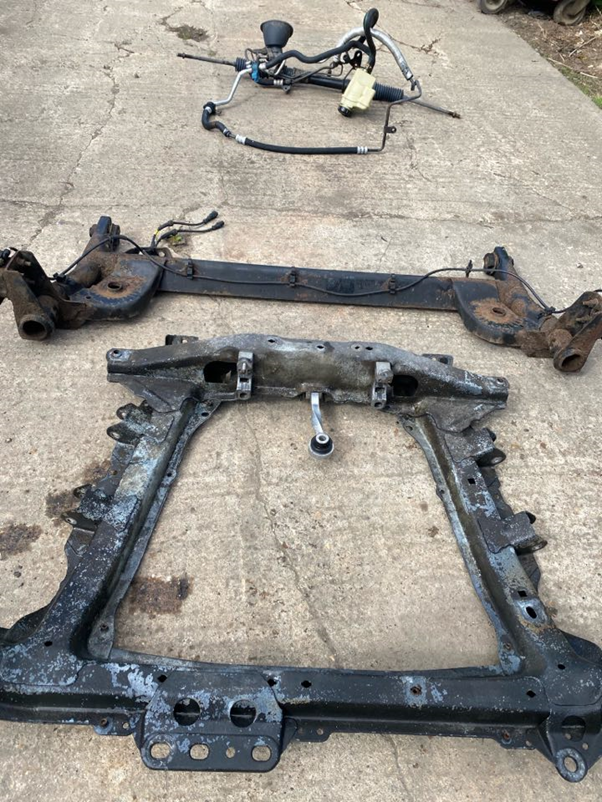 The strip down and cleaning revealed that I had very slight scoring on one cylinder lining – which matched the same cylinder that had had a failed injector on. Aside from that, Alex said that the engine was in good condition given the age and the mileage, being a good platform to do a refurb/enhanced build on.
Aesthetically, as can be seen, several bits were very tired – over 15 years of being exposed to the elements and crap thrown up by the road had taken their toll. I wasn't initially that concerned with the tarting up of such parts – but having seen their condition, I couldn't just leave them in that state. This was going to get more expensive….
So away various bits went to get refurbed and retreated, subframe, rear beam, brake callipers, etc..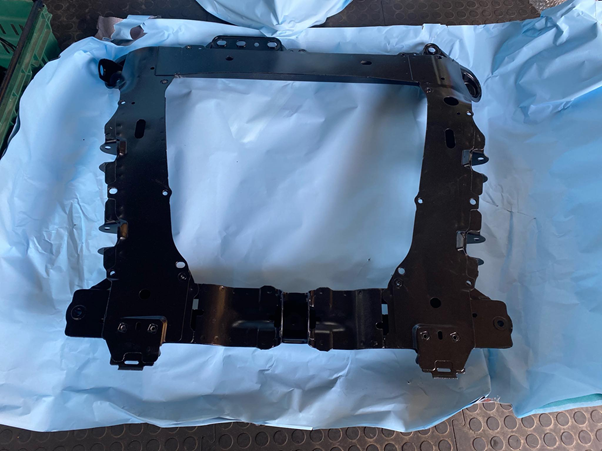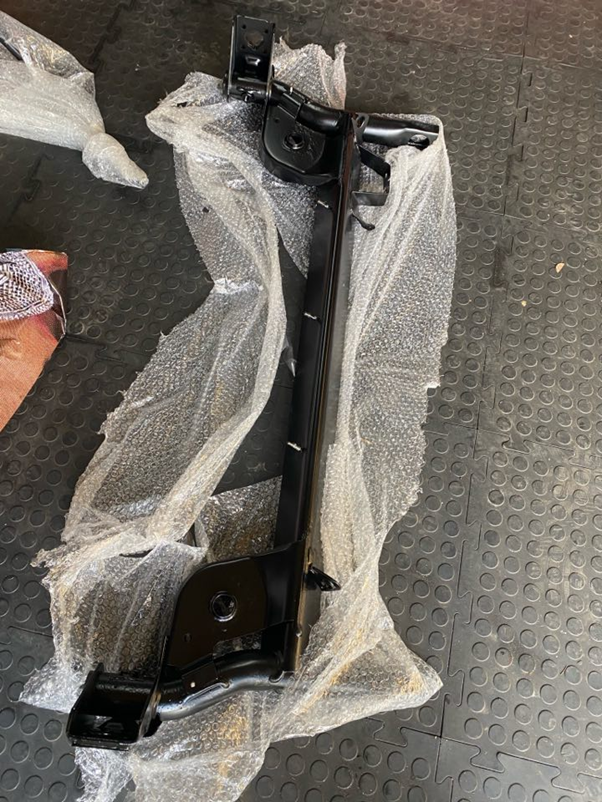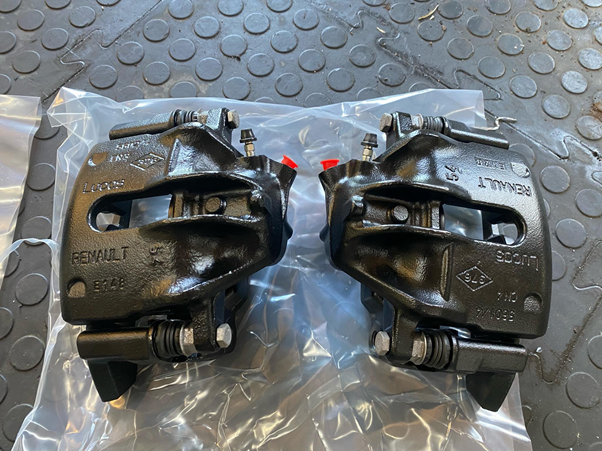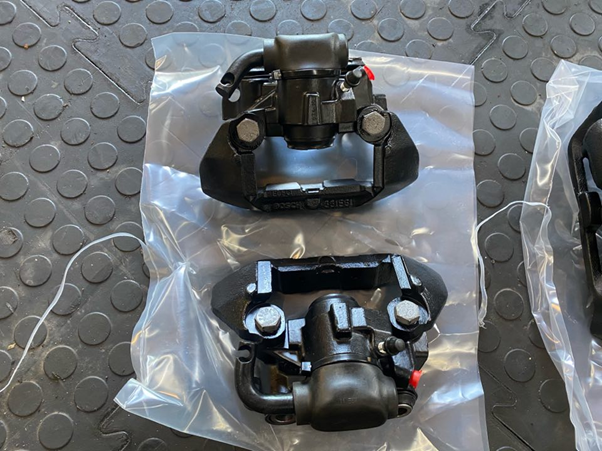 The wheels got a fresh refurb at the same time – a combination of bubbling paint in a few areas along with an ill-fitting tyre seating, meant that pressure was being lost gradually at least on one wheel.