Hi all,
Bought myself a Monaco 172 recently after finally giving in to Dan@519's constant 'buy a Clio they're awesome' comments whenever i was looking for a new fun car.
Its an 02 plate which had blown a head gasket and had a 67k engine fitted with new cam belt done by Owen:s on here and a new clutch when the garage put the engine in - all for £800. BARGAIN! or so i thought.
300 miles into my ownership and i was down at Northampton visiting friends when the brand new clutch died
Luckily Dan was there when i turned up so he had a look and on the sunday/monday swapped the clutch out for a new one :clap:
This was all that remained of the transmech clutch that had been in a mere 300 miles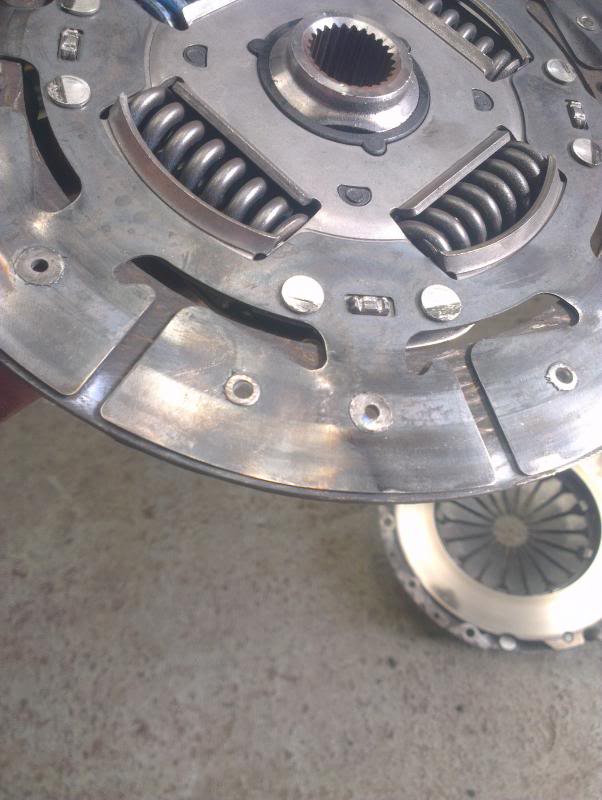 Whilst there Dan also fitted:
a new passenger side bottom ball joint
gearbox/engine mount
new discs and mintex 1155 pads up front
new gearbox fluid
polybushed the dogbone
fitted a Ktec induction kit.
The Ktec induction is awesome! really well thought out kit and the noise!
At this point i just want to say a MASSIVE thank you to Dan for staying late at work and squeezing me in around an already busy few days at work to pull me out of the s**t! Fcuking hero!!
On his recommendation i also got a 3M headlight restoration kit as mine were horrendously cloudy and this is how they came out, chuffed to say the least!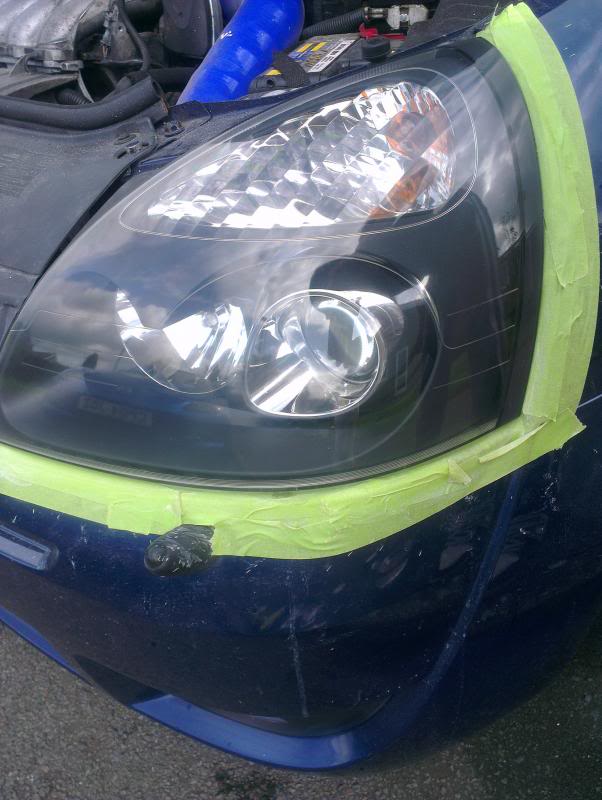 Next up was to source some new tyres for the MOT, as luck would have it I managed to find some OZ F1's in 15" flavour with for legal tyres for £100 collected from Leeds, so I snapped them up and another visit down to Dan for some PI lowering springs and the car was looking much better!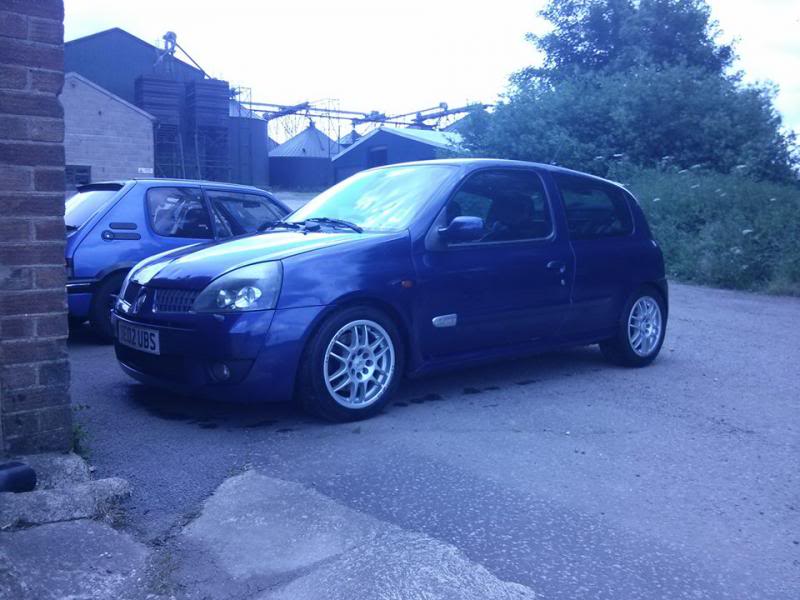 So then it was MOT time which it sailed through on its second attempt (kwik fit failed it on everything they sell when my mrs took it to them, i took it elsewhere and it sailed through
) and i thought it would be smooth driving from there so booked a trackday at Blyton for the 31st July. Only one thing the MOT tester mentioned was that it was leaking quite a lot of oil from one of the cam end seals so i bought two new ones from Ebay.
A few drunken nights on ebay and i ended up with this little lot to get done before the trackday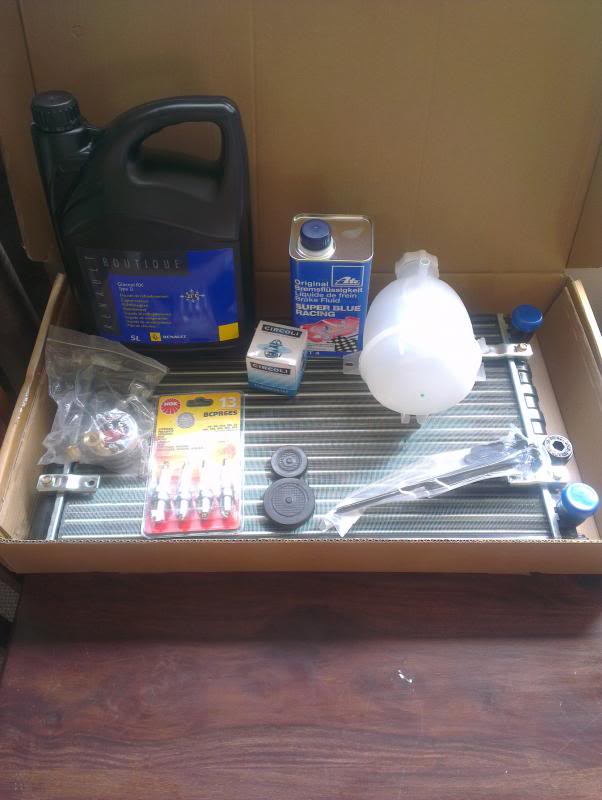 New header tank
New thermostat
New renault coolant
VW radiator (Oh yeah, i bought some ITB's more on that later)
New BCPR6ES plugs
New cam end seals
ATE superblue brake fluid
Fan fitting kit (have a kenlowe sat gathering dust from a previous project)
Yanoo stiff shift kit
Coolant system went on no problems, and bled up with no issues, New plugs went in (had bosch ones in beforehand :dead
and the new cam seals went in no problem - though the old ones were a mess and had clearly been re-used when owen:s did the cambelt. not impressed tbh as you can see on the pic, theyre shagged from having a screwdriver stuck in them to lever them out.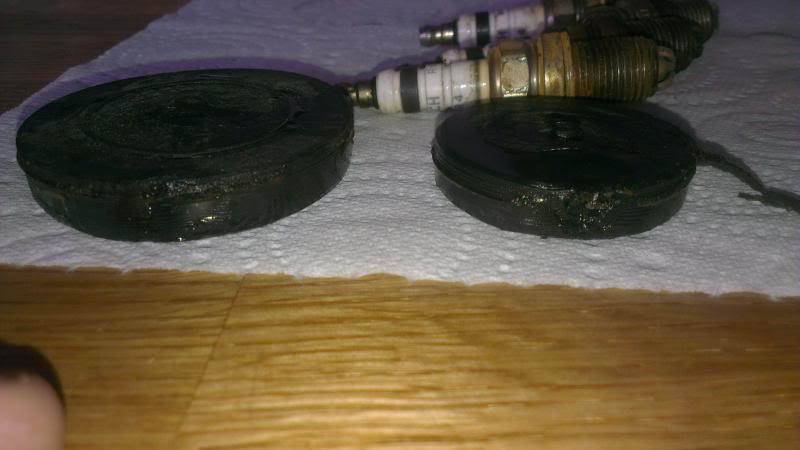 Having done all of this i took it for a spin and it started coughing and spluttering and running on 3 cylinders - lots of messaging to Dan and i had it diagnosed as a faulty injector. Again luckily Bigash on here was going to TOTB and had 4 spares. Swapped one of those in and its all running again, and fears of having to cancel the trackday abated.
And thats about where i am. All ready to see how it performs at Blyton on wednesday
Oh and during all of the above i bought these Ktec DTH ITB's off of Sharky on here - Just waiting on canems releasing their new ecu or a cheap gen90 to pop up as i dont want a xmas tree dash.