After battling my own indecisiveness for the better part of 6 months in the build up to moving away from London and into a property with actual space for a second car, I finally came to the conclusion that it was a toss-up between the Renaultsport Clio 182 or Civic Type R (EP3). I seemed to need a bit extra for what appeared to be an equivalent quality EP3, so went to view and purchase this a fortnight ago.
Initial impressions are good - it has plenty of poke for the road and handles very well. It looks to have an aftermarket backbox and induction kit, both of which I'll be changing shortly. A few knocks and rattles I want to chase down but feel like that might put me to a point of no return with a Renault!
One rubbish phone picture later, and here it is!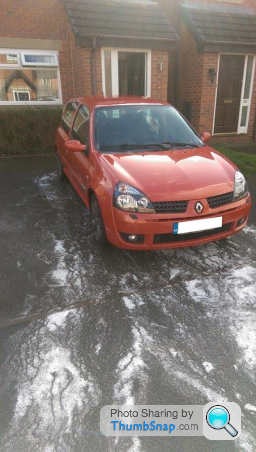 Currently, I'm planning the following and wanting sorted by the end of April where I hope to be at Cadwell Park for a track day.
- Rear discs and pads replaced for OEM.
- Front discs and pads upgraded. Any recommendations here? I've seen Brembo discs with DS2500 pads are the go-to although also heard good things about EBC pads.
- Brake fluid change
- Both front control arms and ball joints as the car seems to 'track' on uneven roads
- Cooksport springs
- Check / replace all engine mounts
- Check / replace all exhaust mounts (pretty sure these are shot!)
Once sorted here, we're getting into some more good stuff
- Scorpion RS192 de-cat system
- K-tec induction kit
- Remap
- Rear ARB
- Powerflex bushes throughout
I'm planning on attending the N. West meetup at Chester Services this Sunday, so hopefully see a few of you there.