Hi Guys
My 182 is idling pretty rough.
I've fitted a lightweight flywheel and decat etc so i'm expecting it to be harsh in all honesty, but the other day I got an error in "Knock Circuit 1 fault". Recently when cold with my foot to the floor it bogs down, feels like a two-stroke engine when cold and loses all power, partial throttle is fine.
Plugged into live data on the RS Tuner and I get this on idle: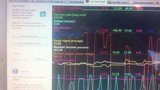 If you turn the volume right up you can just hear the rough idle in the background.
Few questions:
1)Knock correction is Zero and do the average Knock readings look OK? On initial throttle they seem to jump anywhere upto 60-100.
2)When blipping the throttle, the MAP readings quickly increase before dropping down to lower pressure (expected low pressure with throttle open?), I've tried 3 different used MAP sensors which made no difference, also re-wired the loom plug but nothing doing.
3) Does that ignition advance (aqua blue) look right?
4) The lambda sensor takes a few second to go back to its normal-fluctuating self after throttle, is this delay normal? The idle seems to be worse when the lambda returns to normal.
Any comments welcome.....