Hi All
Looking for some advice and guidance please! My 172 Cup failed its MOT on Thursday on the emissions being too high.
I bought the car last year and it had a decat pipe on. Prior to the MOT this year, As the rear box on exhaust was rattling and I had no cat, Ive just had a local exhaust fabricator make a 200 cell sports cat and stainless exhaust for it.
However it failed its MOT on Thursday, and below is the emissions test sheet.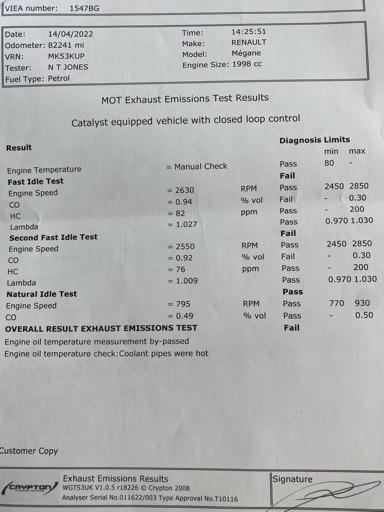 I know when the emissions were tested the car had been sat for over an hour and was not warmed up.
Would taking it back for a retest, and having the cat properly warmed up make much of a difference??
Can anyone who understand these figures advise if they all look ok?
Am I right in thinking the Lambda only just scraped a pass on the first idle test? Would changing the lambda make any difference to the emissions?
Any help gratefully received. Thanks all.
Sent from my iPhone using Tapatalk