Welcome to another 182 track car thread.
At the beginning of the year, myself and a friend decided to go halves on a track car. We both wanted to get into track days but neither had a car we were willing to use (he was worried about crashing his, mine was likely to fall apart).
We ended up buying a 182 with 125K on the clock, both bumpers pretty marked up, a smashed fog light and a pretty melted steering wheel. Good points were it drove straight, didn't have any major damage and had a set of 15" 2118's fitted. Apart from a Scorpion RS192 catback, the car was mod-free.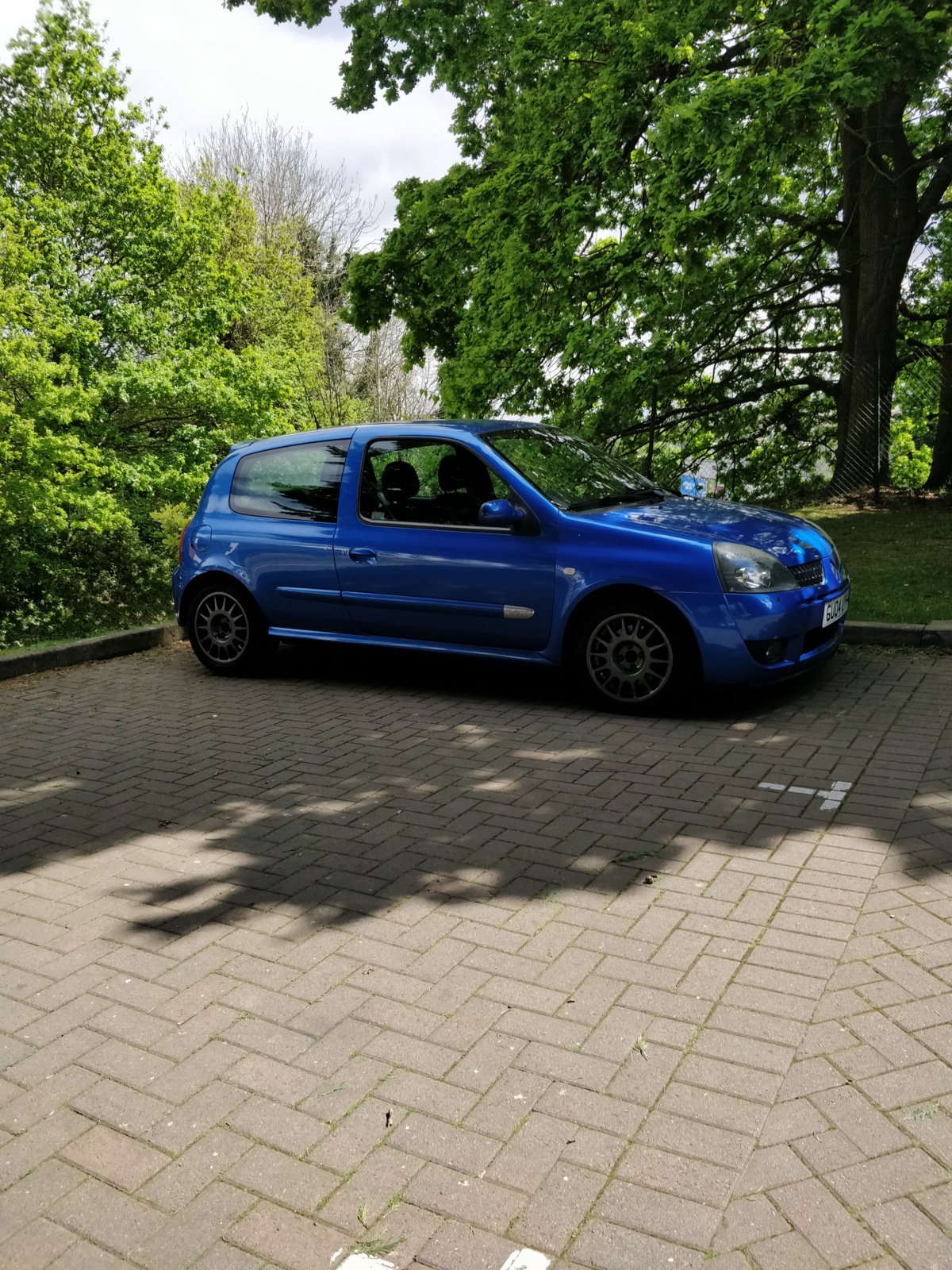 While driving the car home I noticed that when you brake or indicate the dashboard lights up. Upon investigation, there must have been aftermarket rear lights fitted at some point, as all the wires have been cut and resoldered. I suspect this is where the issue is so will cut and resolder all the wires. All the bulbs are working so it's low on the priority list.
First jobs were new discs and pads all round and get the cambelt changed. I changed the discs and pads myself, all straight forward. Pleased to confirm that the car has the cup suspension with 60mm hub bolt spacing. The cambelt was changed by Mike @ Rentech. Brilliant job, he deserves all the good praise he gets on here.
With everything seeming to be running well, having already compiled a list was mods we wanted, we decided the best thing to do was get it on the track and see what needs upgrading.
We booked Lydden Hill for the end of March for a shakedown. Sighting laps completed without issue and we went out for our first session. I was slowly growing in confidence and increasing my pace. The handling of these cars really do live up to the hype. 5 laps in however, things began to unravel. Under hard cornering there was an odd sound, initially it sounded like something scraping. I suspected a wheel arch liner had come loose so pulled into the paddock to have a look. Couldn't see anything obviously wrong so opened the bonnet. Power steering fluid everywhere. Couldn't see an obvious split in any of the pipes so no chance of patching it up. That was our day done.
After getting the car home, we decided to convert to EPAS. Main reason for this was we hadn't found the origin of the leak, and didn't want to fix the current issue, just for the next part of the system to fail. We also didn't want to run without PAS as we plan to keep the car road legal. After researching options to do this, we decided to loop and plug the original rack. The plan was to loose the AC at the same time and run the cup alternator set up but we couldn't find anyone selling the brackets and needed the car running within 3 weeks. We ended up going for the PMS AC delete bracket and power steering delete. Expensive products but the quality is fantastic. What a horrible job this was. Getting the column in was a real struggle. Ended up taking apart what seemed like half the engine bay, and still had to cut the PAS pipes out. Got it all back together and it seemed to drive fine, warning lights were on the dash though. This turned out to be the steering angle sensor not being reset, easy fix thankfully! I'm not sure EPAS is an improvement in terms of feel and feedback. I like that it's adjustable and hopefully will prove to be more reliable.
Next up was a track day at Donington Park. With the disappointment of Lydden Hill still fresh, we were a bit nervous about the car lasting the day. Only one way to find out though... Wow. What a track! This was my first time on a big track with some truly fast corners and I loved it. The car for the most part held up really well. The car came with Michelin PS3s fitted and they were actually very good. The left rear took the most punishment but they easily lasted the day. That was probably due to the brakes however, they were not up to the job. Within 5 laps of each stint, the brakes were cooked and we were forced to return to the pits to let them cool down. By 15:00 we had gone from pretty much new pads down to metal on metal. I guess we found what to do next!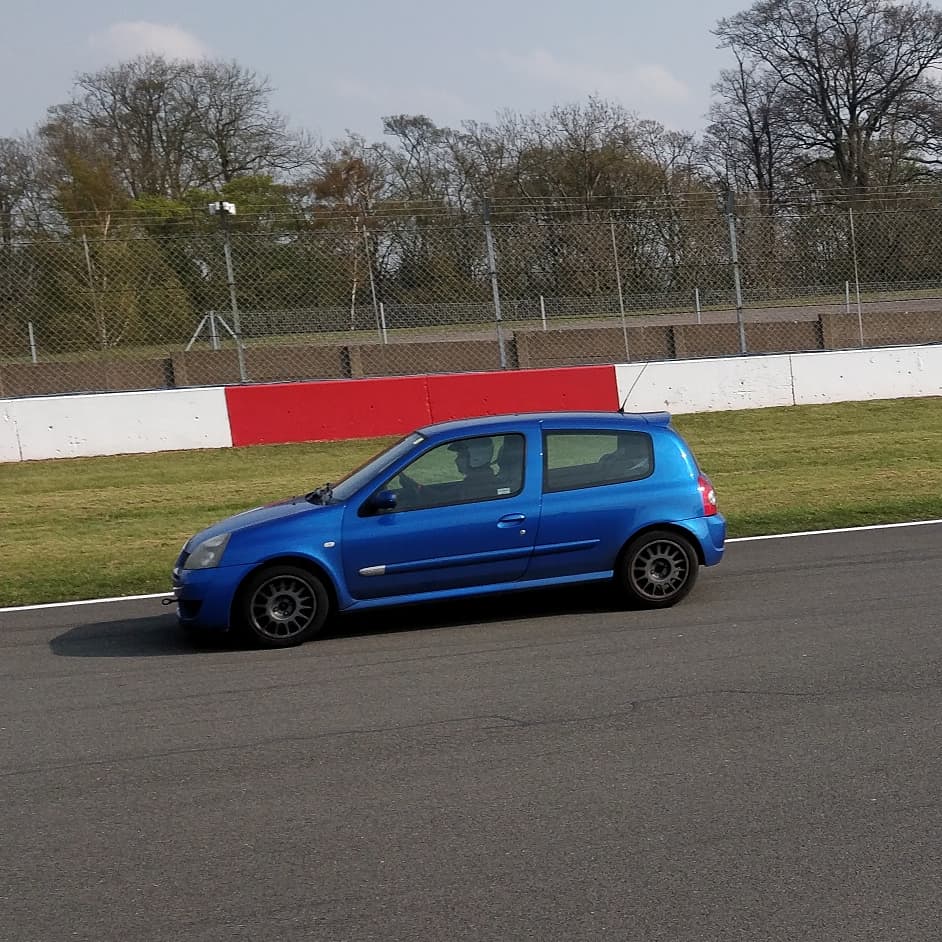 When we had originally changed the brakes, we had spent a fair amount of time researching what was recommended for track work. There seemed to be some people saying standard pads would be fine, other recommending some pretty expensive pads. We ended up going for Brembo pads with the thought that if they were suitable, it would be a good saving. In the end, it wasn't a wise move as not only did the pads last less than 1 full track day, the discs got scored too meaning they also had to be replaced. Lesson learnt, we got a new pair of Brembo HC disc and Ferodo DS1.11 pads from George @ RTR. Again, fantastic service and very worthy of all the positive feedback. I won't hesitate to order from George again. The new pads seemed very good after bedding them in, but they are very very noisy under road use. I wouldn't want these on a daily. The true test for these would be at CSF.
Prior to CSF, the car was due an MOT. The near side headlight was pretty badly fogged up so we had a go at restoring it so it wouldn't risk failing the MOT. It's far from perfect, but far better than before, it actually better than the off side now. Everything else seemed ok so we booked it in. The only thing that needed attention was a flickering LED number plate bulb. One thing that was noted as an advisory was "Power steering component modified, but not inappropriately".
We also picked up a set of standard wheel from another member to use on the road and if the track was wet. We decided to go for Rainsport3 tyres as they get such good reviews. I've not driven them in the wet, but I'm not very impressed with them on the road. Compared to the PS3s they make the steering seem so vague and the car just doesn't seem as planted. I guess this is to be expected when such deep tread and what seems a soft construction.
On to CSF. The 4 hour drive up in traffic, in fairly hot weather made me think maybe losing the AC wasn't such a good idea... I made it there however, keen to get out on the track the following day. A wet morning wasn't ideal but it cleared up quick enough. We had no moments in the damp conditions as we learnt the track. As the track dried, confidence grew and I got into a nice rhythm following the (extended) lunch break. The car took everything thrown at it and the brakes proved to be well worth the money. We did notice that the car seem to consume a fair bit of oil however (1 litre). A successful track day at the third attempt. I think it helped being on track with machinery of similar speed. Much of Donington was spent just getting out the way of much faster cars.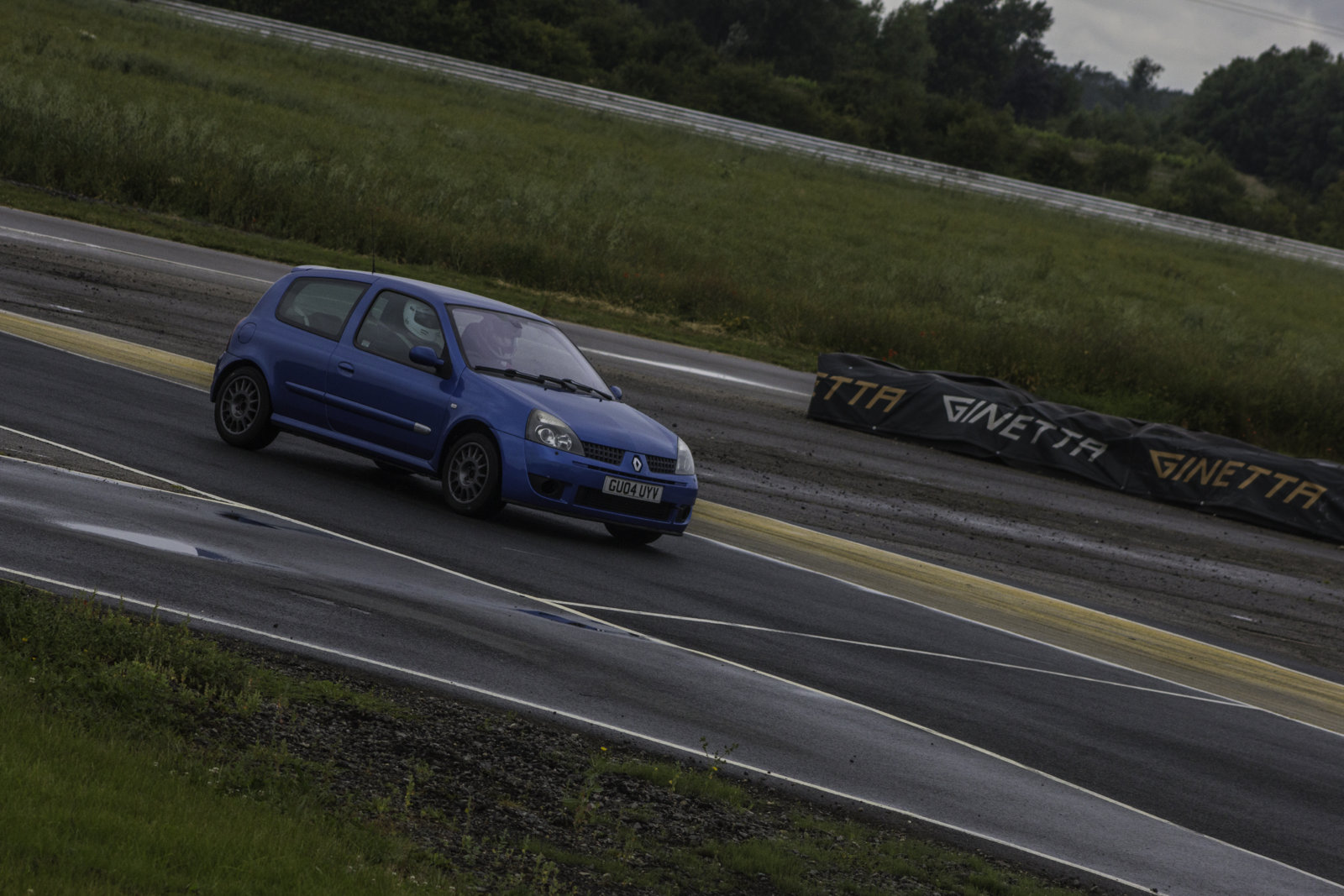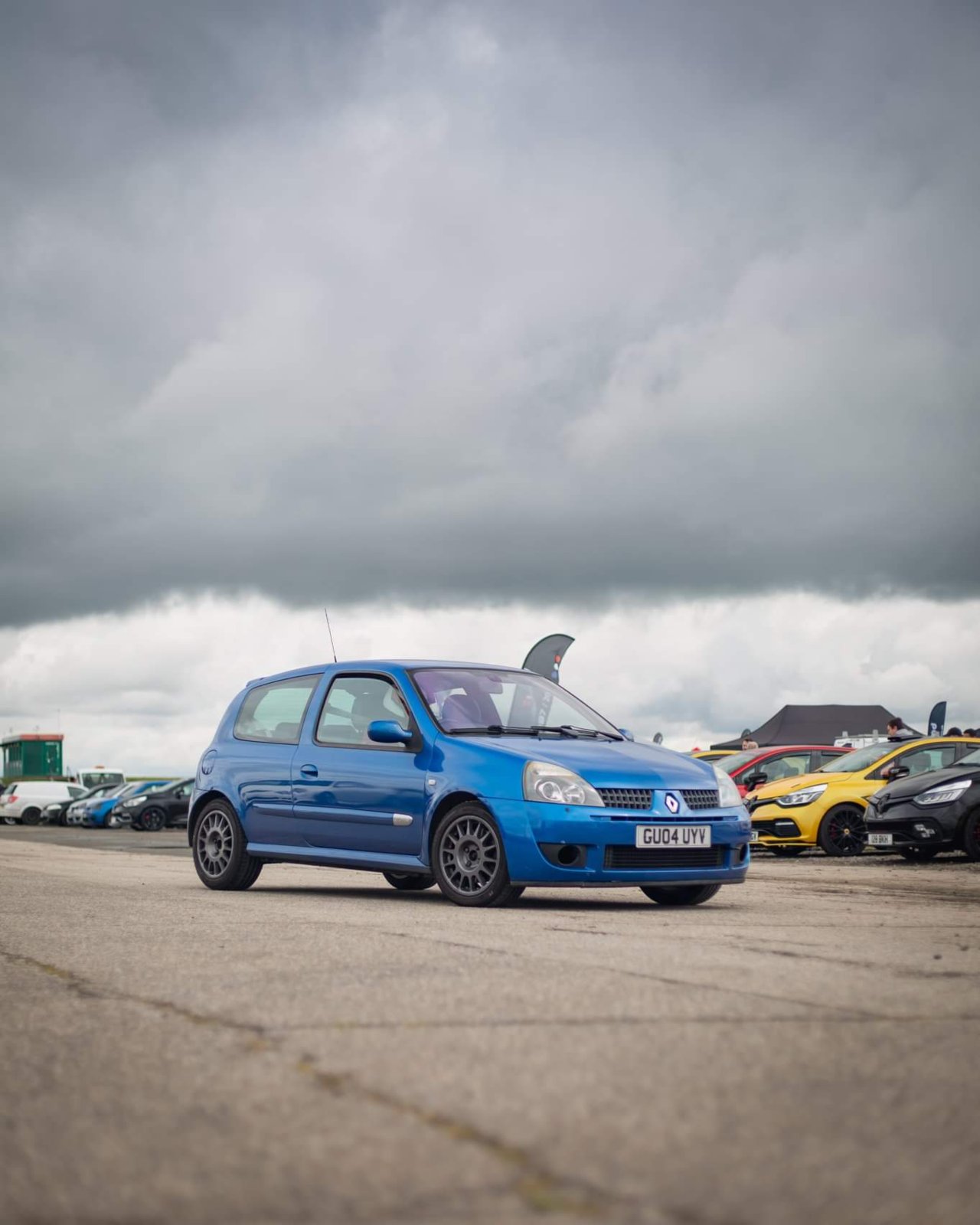 Home from CSF and give the car a check over. Everything looks okay, no obvious oil leaks so it must be being burnt. Brake pads have only worn from 13.5mm new to ~12mm. Very little else to report thankfully. We had planned to fit brake ducts so this was the next job to tackle. Nice straight forward job and should keep brake temps down. One think I would do differently next time is the material used. We used metal ducting, but this isn't ideal as it pulls apart from where it is crimped together and is very sharp where it's been cut. I'll be changing it for plastic ducting next time we need to take them apart.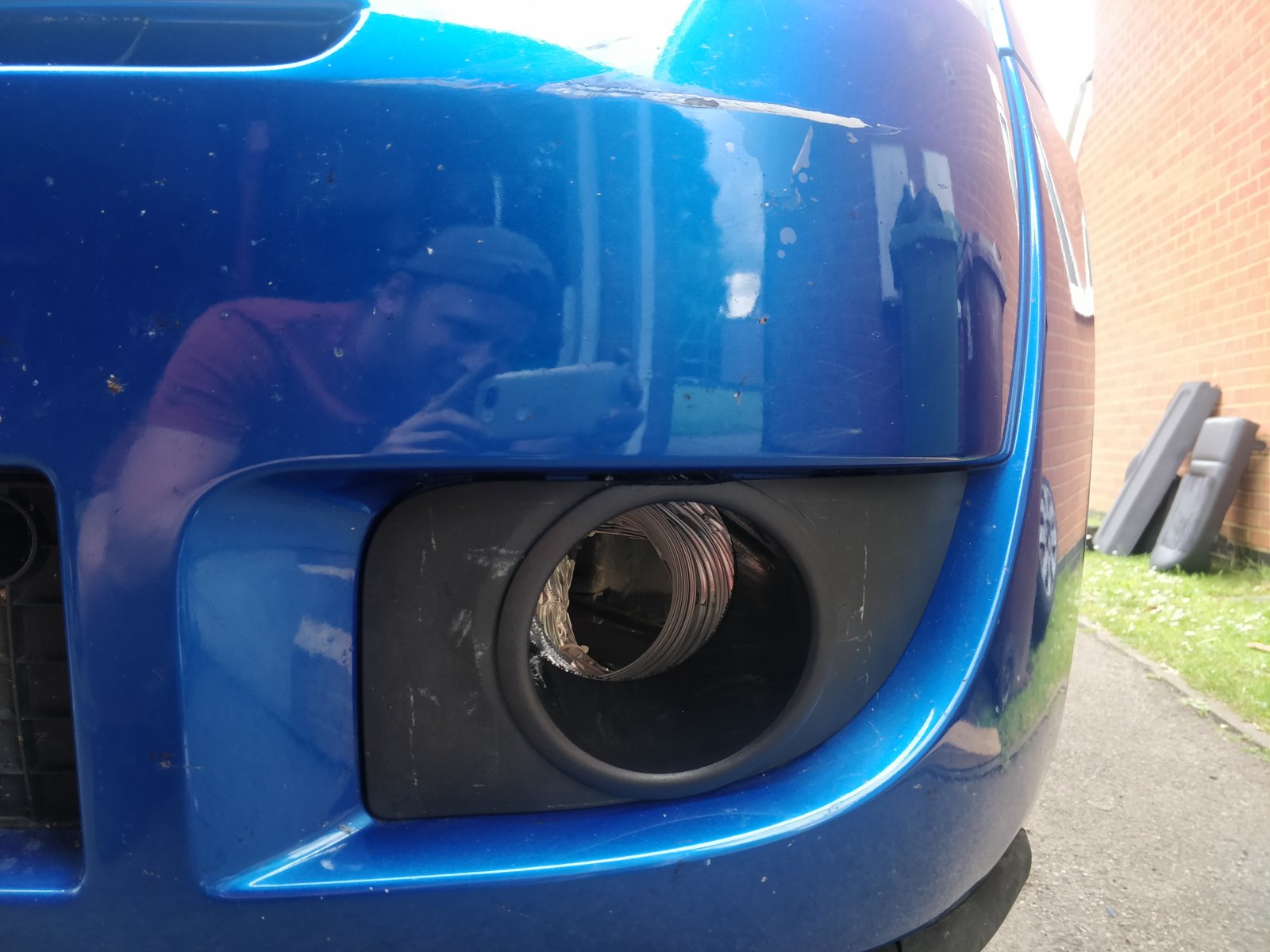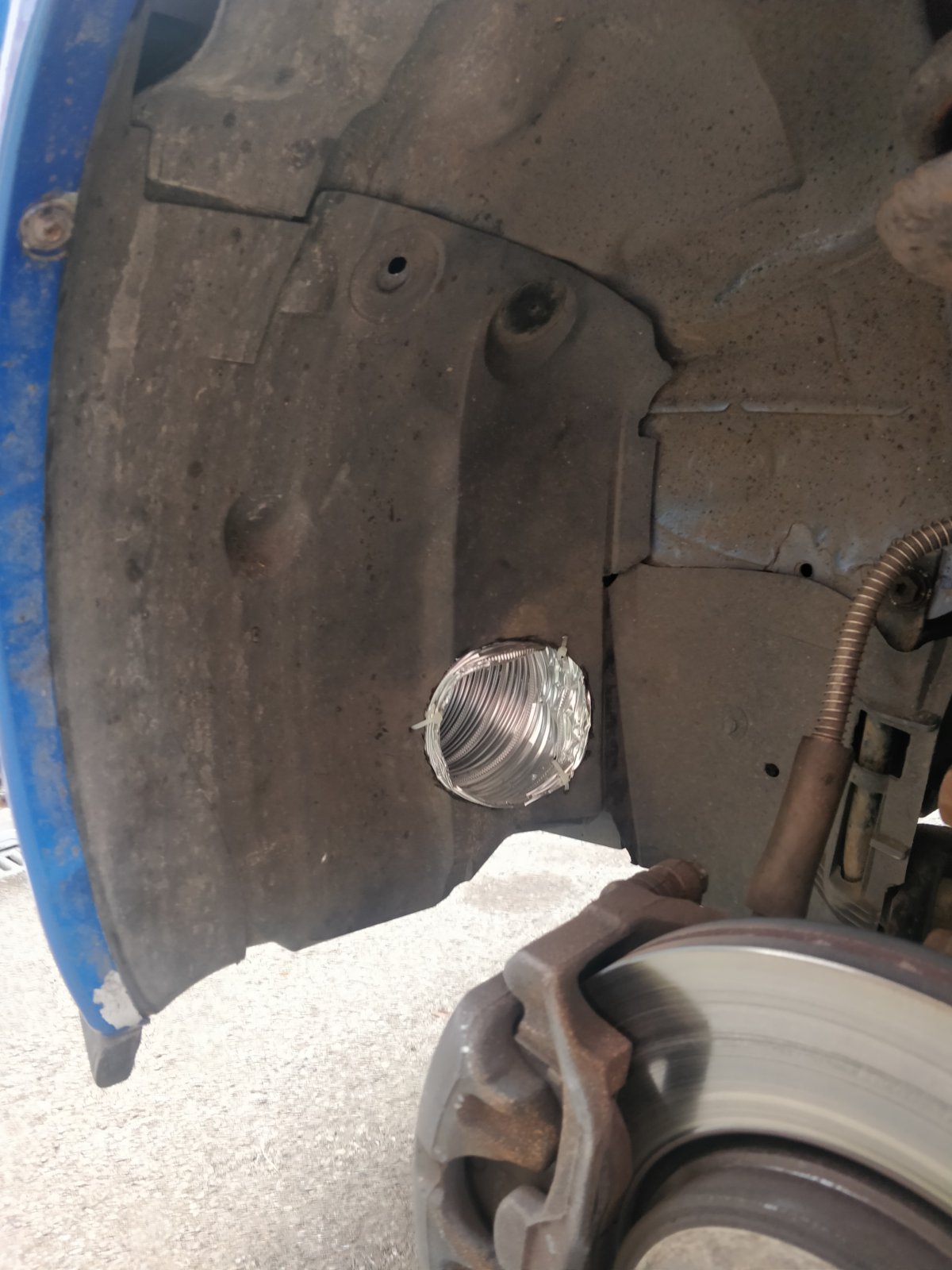 We also decided it was time to replace the tyres on the 2118's. The PS3s had a fair bit of tread left on them but we had a track day at Thruxton booked. With Thruxton's appetite for tyres, we didn't want to risk killing them part way through the day. We had a set of R888R's fitted, and that was us ready for Thruxton.
Forcast was for the hottest day of the year so far, 30°+ and sun all dayat Thruxton. Waking up on the morning, there was a lot of fog about. Thankfully this burnt off by about 09:00 so track time was not affected. One thing I had noticed at CSF was how quiet our car seemed compared to all the other Clios. Static noise test at Thruxton gave a reading on 78db! No chance of braking any noise restrictions. Onto the driving and first time on the R888R's. Really impressed with them, I was expecting to have overheating tyres with the high ambient temps but didn't have any issues. Plenty of tread left on them too, but they were brand new! They do squeal a bit when you get to the limit of grip though. The car was soild all day again, but did get through about 2 litres of oil. This is getting a bit concerning. Thruxton is a fast circuit with lots of full throttle but 2 litres seems excessive to me. We'll see how the consumption goes and see if there's anything we can do about it.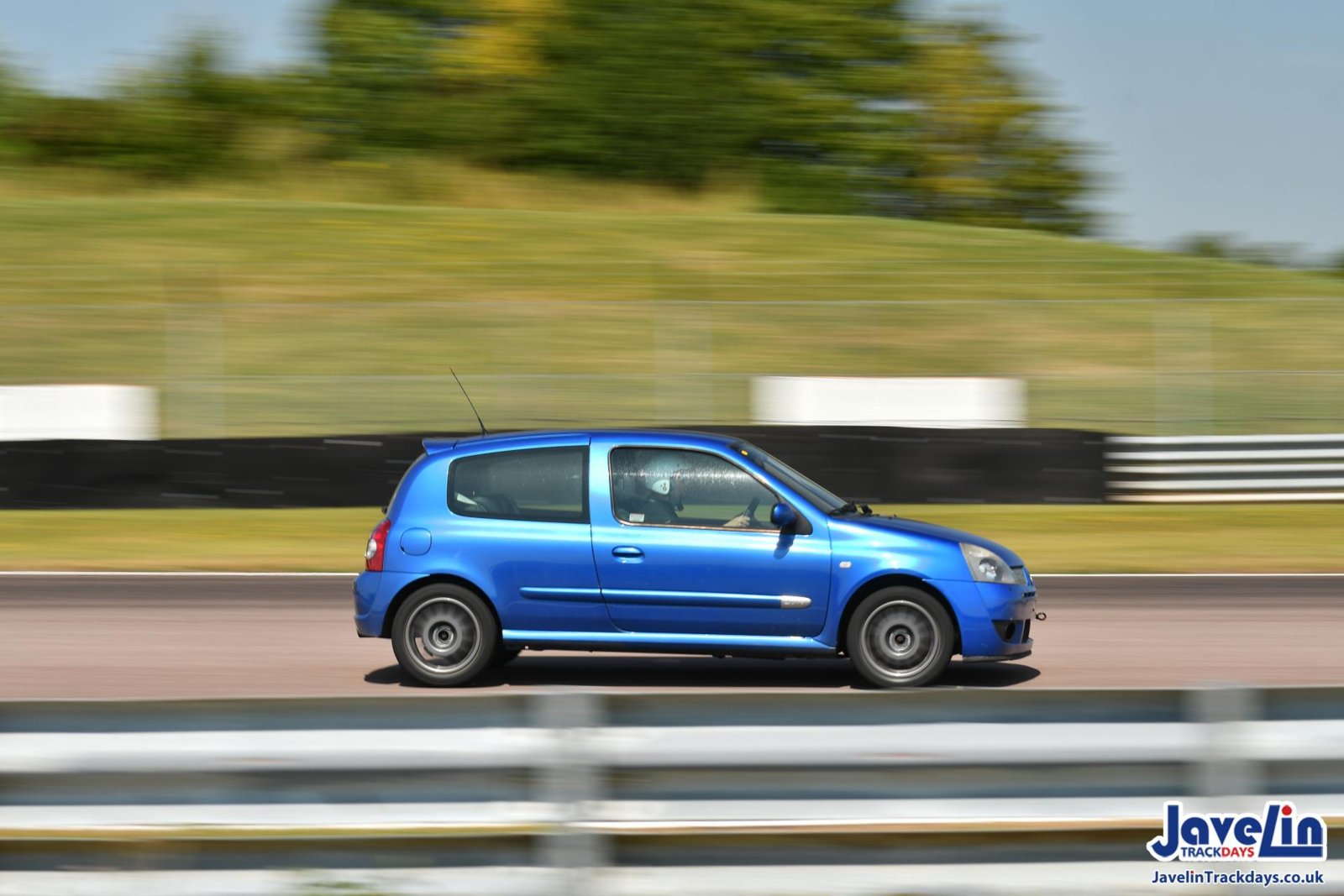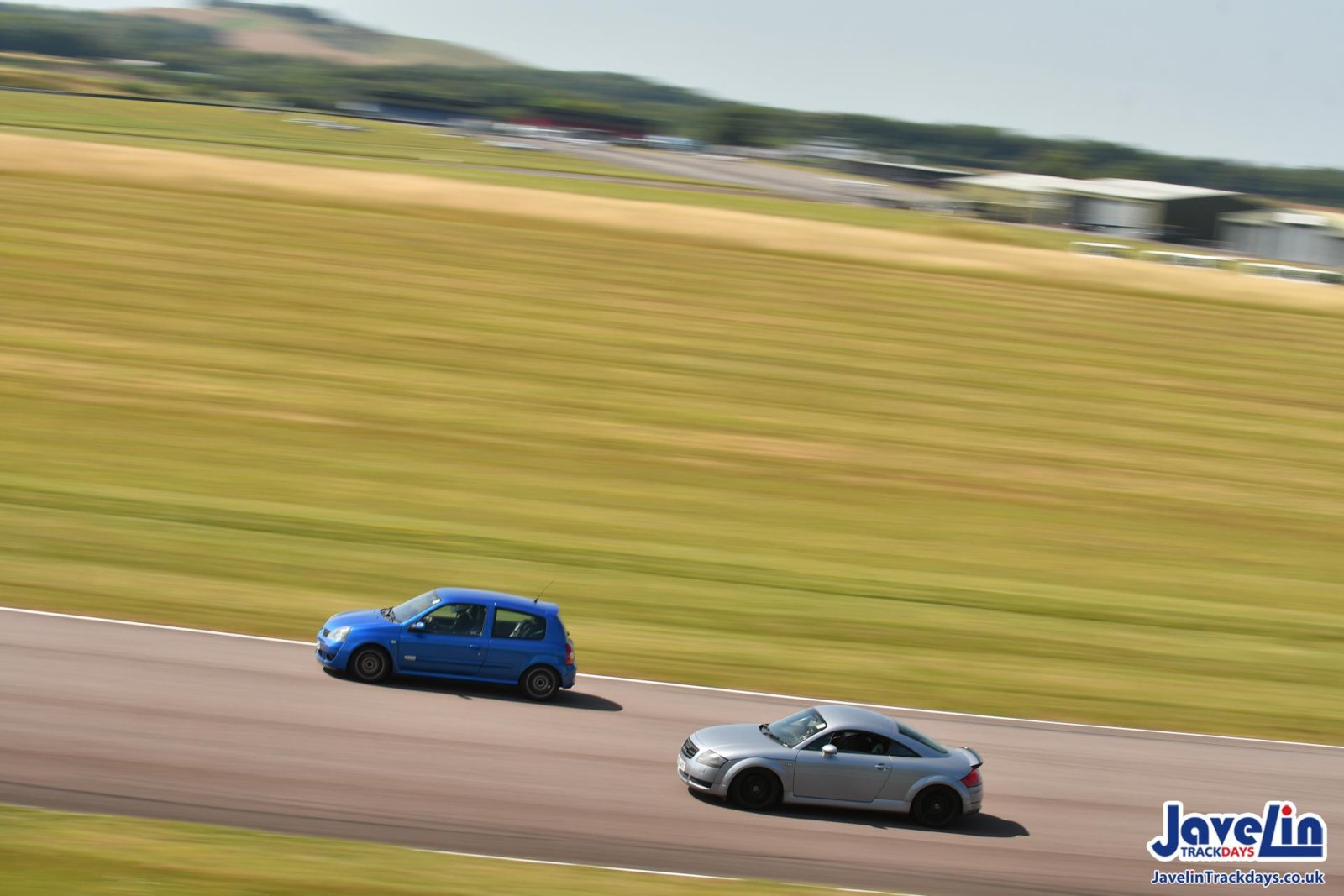 After Thruxton we have fitted an aftermarket steering wheel with a Volantech panel for the horn and cruise control buttons. Barely driven it but it feels much much better. Also, you don't end up with disgusting sticky hands after driving which is always a good thing.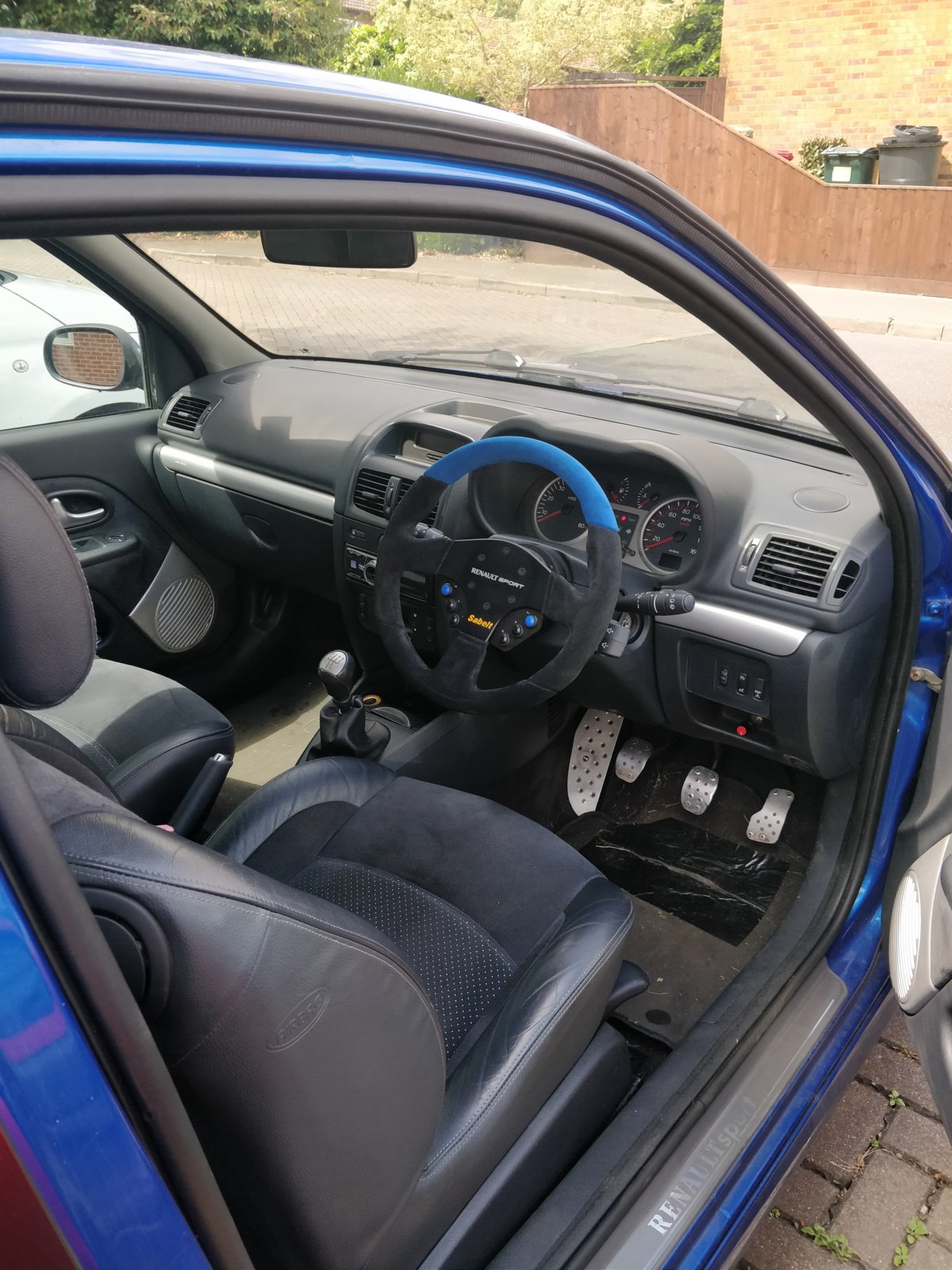 And that brings us up to date. Plans are to leave the car as is for the rest of the track day 'season' and just enjoy it. We're back at Blyton at the end of August and then eyeing up Castle Combe. Over the winter we plan to get a roll cage fitted, with buckets and harnesses. The clutch will also be changed and most likely get the gearbox refurbished. I'm keeping an eye out for a set of coilovers too. A set of second hand ASTs at a decent price is the dream but I doubt we'll find a set so will probably end up with a cheaper alternative.
We also have a slight issue of the car over fuelling, especially on cold start. I've checked the resistance of the injectors and they're all as expected. I'm thinking possibly a lambda sensor but don't particularly want to just fire the parts cannon at it. Any suggestions to narrow down what's to blame would be appreciated.
Thanks for reading!