Not really intentional, but it's happened
As some of you know, I had been running about in a Vectra wagon for the last year or so. It was pretty much the most boring car in the world, but was deeply practical, acting as a tow car and a van for carrying rally-related crap about. Sadly, in the last couple of weeks, it's decided that it is so boring that it no longer wants to be a Vectra and would rather try out being a washing machine or fridge instead. It had developed a bit of a whine from the gearbox which I was carefully ignoring, but that's now been joined by a sticking rear caliper and a suspect fuel pump issue. The sum total to fix those is much more than the car is worth, so it's being sold as spares or repairs.
That left me needing a car. My situation in terms of work/housing is a bit fluid currently, so I didn't want to commit to a big money purchase and, after a year driving a Vectra, I wanted something that raised a bit of a smile. I've driven a friend's 197 a few times in the last year or so and was quite taken with it, actually preferring it to my old 172 Cup in many ways. I was feeling far too lazy to travel miles and miles to buy a car but, with some loose criteria in Auto Trader/eBay, a few interesting cars came up, including three 197s. There was some other half-tempting stuff, including an R53 Cooper S and an ST220, but the Clios were top of the list.
One of them was a white Cup, with the optional Speedlines, spoiler, H&R springs and a Milltek exhaust. I was really interested in that, but there were no contact details in the eBay listing and the seller didn't respond to any messages, so that was out. The next was a silver 197 non-Cup, which was much closer to home, had only 57k on it and was apparently in really good condition. Sadly, when I turned up to view it, it wasn't actually in very good condition at all. I knew it was a bit of a risk, as the MOT was short, but the tyres were bald, the brakes were worn and the body wasn't in great shape.
That left option three - the RB non-Cup. This one was actually the closest to home, but also the most expensive and had the highest mileage (mid 80s). With that in mind, despite it being my favourite 197 colour other than white, I was a bit skeptical. But, with the others not working out, I thought I would go and give it a look. It was at a proper odd little dealer, run by a couple of Londoners. The guy I have been dealing with had been in the trade a lot of years, but mostly at main dealers. He decided to start up on his own with his brothers and they decided to indulge their own interests, so tend to deal in classic and oddball cars. The showroom was a funny little place - not especially tidy, with odd bits of classic cars all over the place, but there was some lovely cars there; including a '69 Dodge Charger with a massive blower on it, a mint Sierra XR4i, Ford Galaxy (not the people carrier), Maserati Quattroporte, numerous old BMWs and other random Italian cars, including a Fiat Croma. Don't remember the last time I saw one of those.
Anyway, the car was infinitely better than the silver one and, while it isn't perfect, it has loads of MOT, came with a 12 month warranty and doesn't need the belts doing for a couple of years. It's mostly standard, but has a stainless exhaust of some sort. I couldn't see what though. It has a fairly pronounced burble at idle, but isn't actually very loud when driving. I guess the black wheels aren't standard, as they look like they've been painted by Stevie Wonder. The body is good bar a small scuff on one rear wheel arch and a tiny ding in the passenger door and I really do love RB on a 197. You can keep your LYs, this is way better in my view.
Couple of pictures from the forecourt: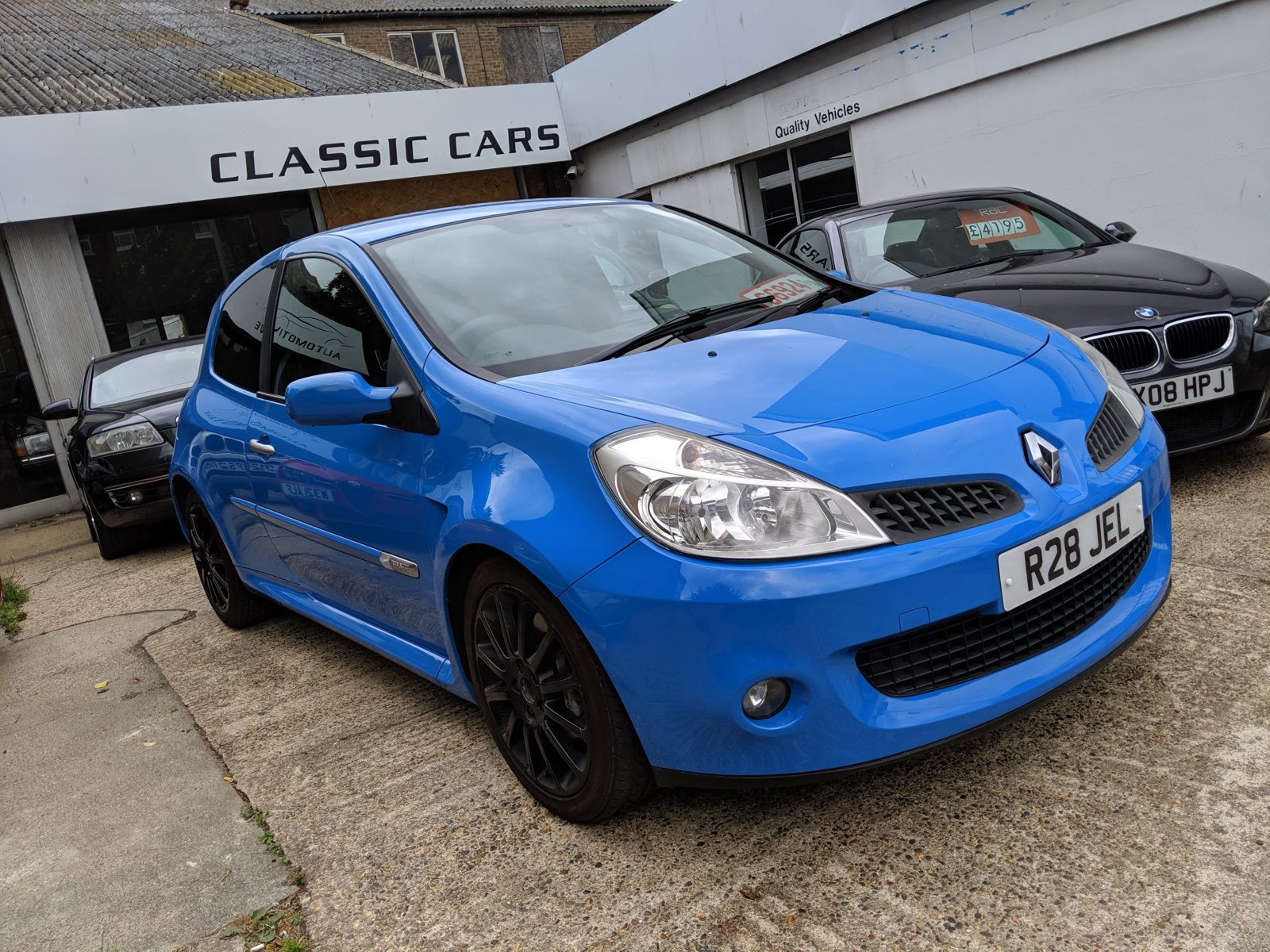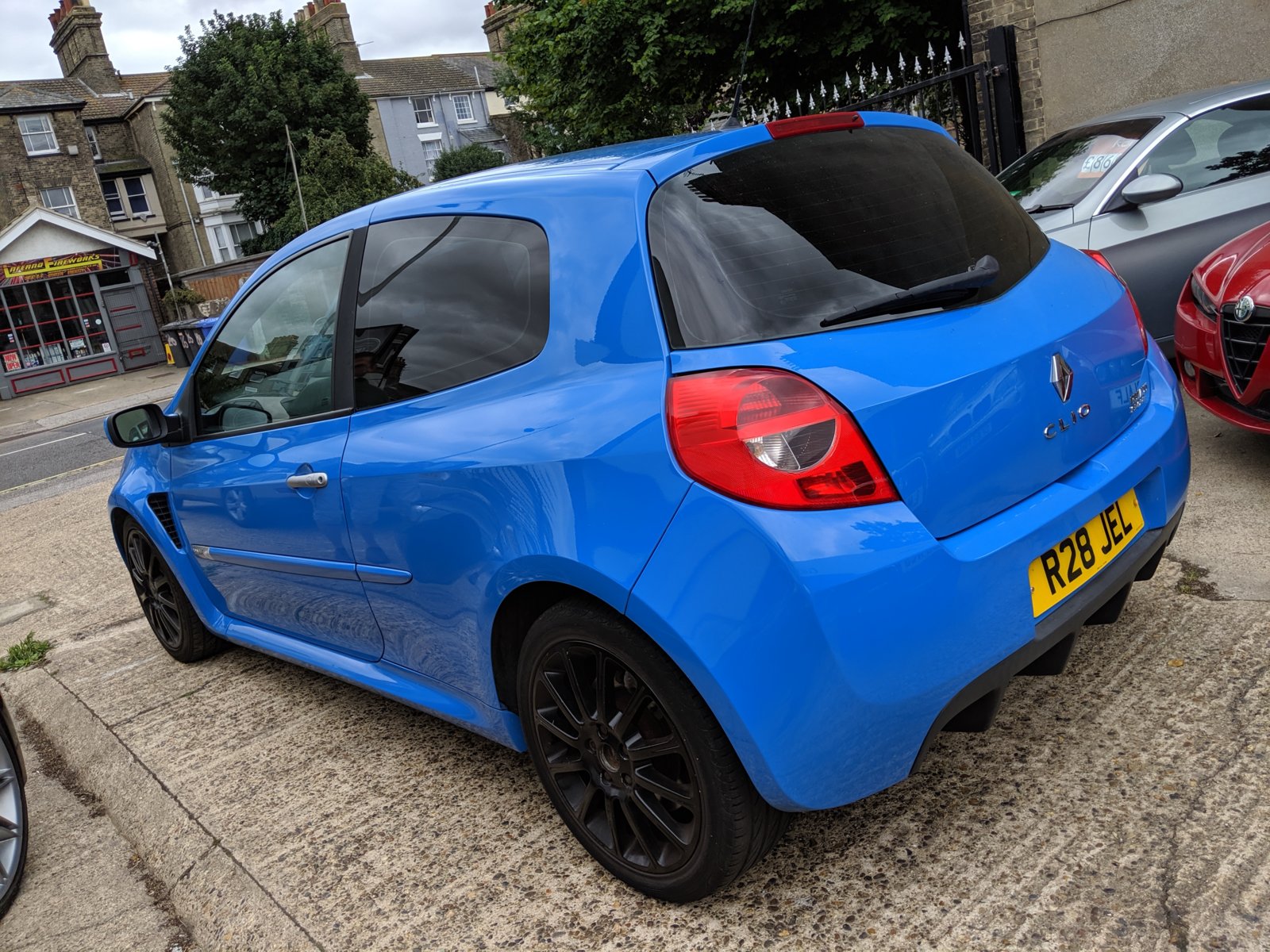 The plan for now is to just drive it, as I'm not really sure how long I'll keep it. However, if it does become a slightly more long-term fixture, I will fit some better tyres, Cup spoiler, sort the wheels and apply some kind of lowerment/spacer arrangement. Oh and I might try to replace the driver's seat, as it's worn, as Clios seem to do. Will probably try and sell the private plate too, as my name isn't Jel.