Well, as the title states this is "another track car thread" blah blah blah.
The Start.
So where did it all start? Well I've always joked about having a project, you know like restoring a car or building a track car. Anyway in December I joked to my Mum and Dad that we should get a track car, something not too expensive but good like a BMW E36 328i or a Clio 1*2. You know something that can hold its own on track and is a good base car and my Mum was the first one to jump on the idea, which took me by surprise.
I soon realised it had something to do with the fact my Dad was after another motorbike and both myself and my Mum wont let him have one (bad accident over 2 years ago). So he decided we should go halves, it gets us out the house and it's a bit of father son bonding. We then decided on a budget for buying a car and that we wouldn't go any higher than 3K so then we could get ourselves something half decent.
Cars.
So my Dad started looking at cars regardless of what I was suggesting he ignored me and instantly started looking at Subaru Impreza's, Ford Focus ST's, Fiesta's and BMW E46's. I told him to stop looking at Impreza's because they drink fuel and are turbo'd, like wise with the Focus ST. Plus I don't want to buy something with a turbo because if it goes pop its rather expensive to fix. I managed to convince him the Clio was the best thing to go for, cheap, fairly reliable, and cheap to fix and work on.
So we started trawling Piston Heads, eBay and Auto Trader. We had seen some really nice Clio's, couple of Cups and a few 172's. Then we spotted what could be our Fisher-Price in Wolverhampton, a Titanium 182 with the Cup visual pack, full Renault service history and family owned from new (2 owners) in rather good condition from the pictures. The price was good but we didn't intend on paying it, who does that especially when you know what you're doing with it.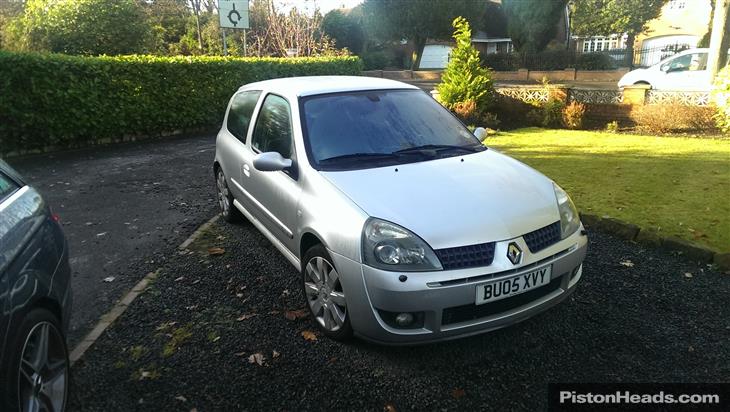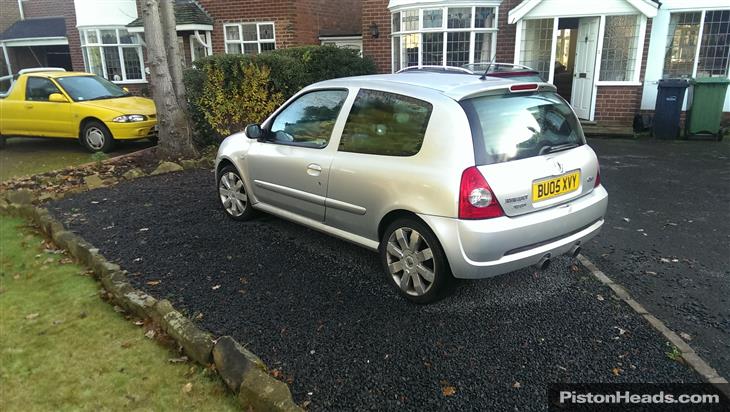 I contacted the owner Paul and arranged to go and view the car the upcoming weekend at the crack of dawn as he had "others interested". So I organised with him that we would turn up early with the intention of buying the car, I was excited all week up until the Friday before we headed down.
I received an email from Paul telling me the car had been in a bump a couple of weeks before when he last drove it but there was no visual damage apart from the fact he couldn't open the bonnet. At this point I didn't think to have the car HPI checked as PH said it was clear, so that's what I did and the only thing that concerned me was the fact it said it was a 1599cc.
The Saturday.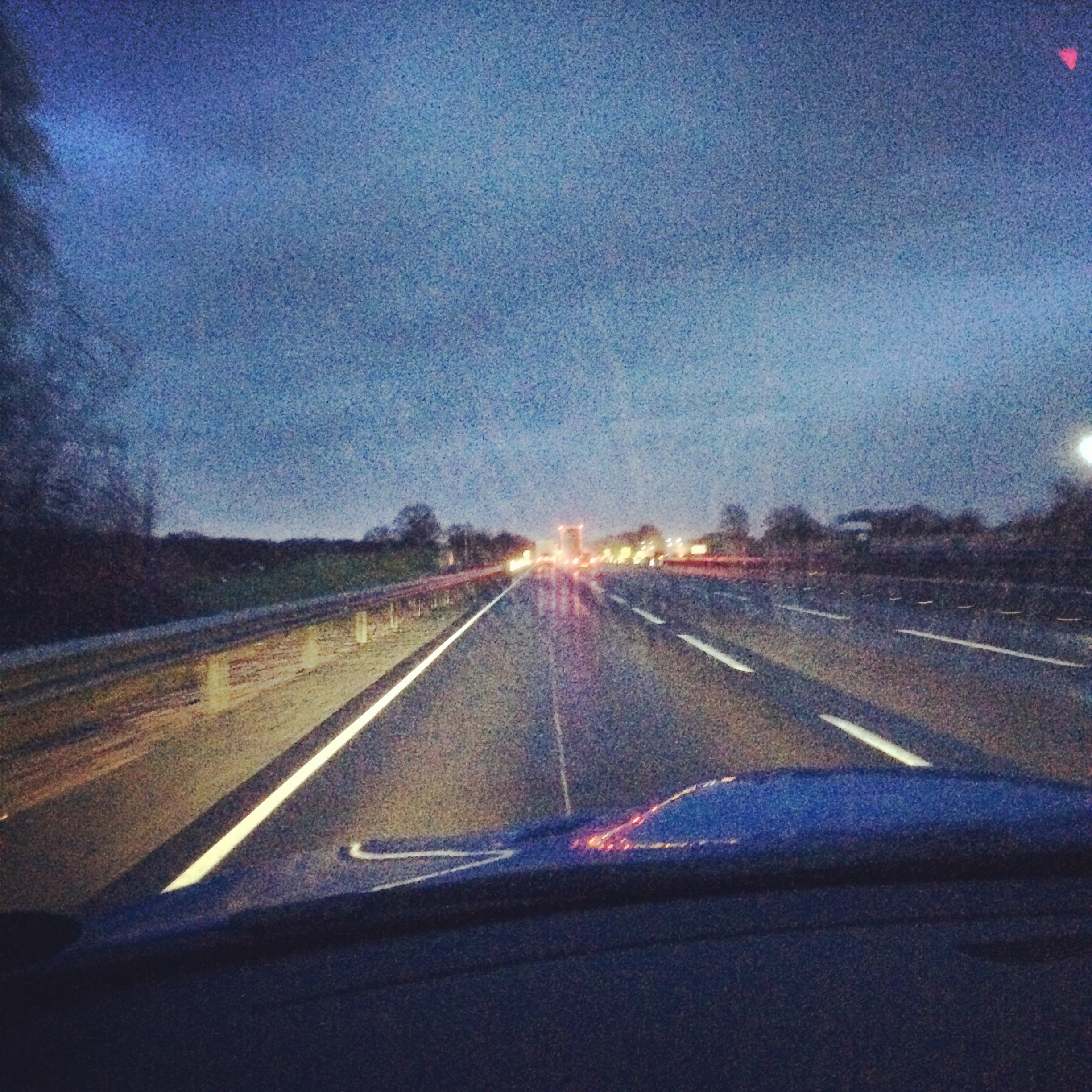 We set out from Warrington at around 6:30 to get to Wolverhampton for around 8:15 and there the car was.
She was disgusting, covered in moss, centre cap missing, Milltek exhaust hanging low, dent in the bonnet and fogs all rusty and cracked. I was disheartened by the condition even though I knew we were going to track it, but when parting with cash no matter what I'd like to think I'm getting something in good condition in exchange.
The inside was worst than the outside, minging doesn't cut it. It smelt of dog and was full of crap. We took it for a test drive, starting with me stalling it because it had been sat. Anyway, the car drove great sounded great just didn't stop so well, no knocks and no bangs. We arrived back at Pauls after the test drive and got down to brass tax, he wanted £2450 for the car but considering it was minging and it had, had a bump and we couldn't open the bonnet. I went and offered him 2k he then said 2.3 and in Mike Brewer fashion I said "meet me half way and you've got a deal", he pulled his face for a minute then said ok and I replied with "hold out your hand", the deal was done. We got the car insured and headed for home, which was eventful having to pure water on the windscreen down the motorway.
First thing we did was head for our local body shop to get the bonnet open and roughly remove the dent in the front edge of the bonnet. 10mins later bonnet was working and the bonnet was roughly dent free (I mean roughly).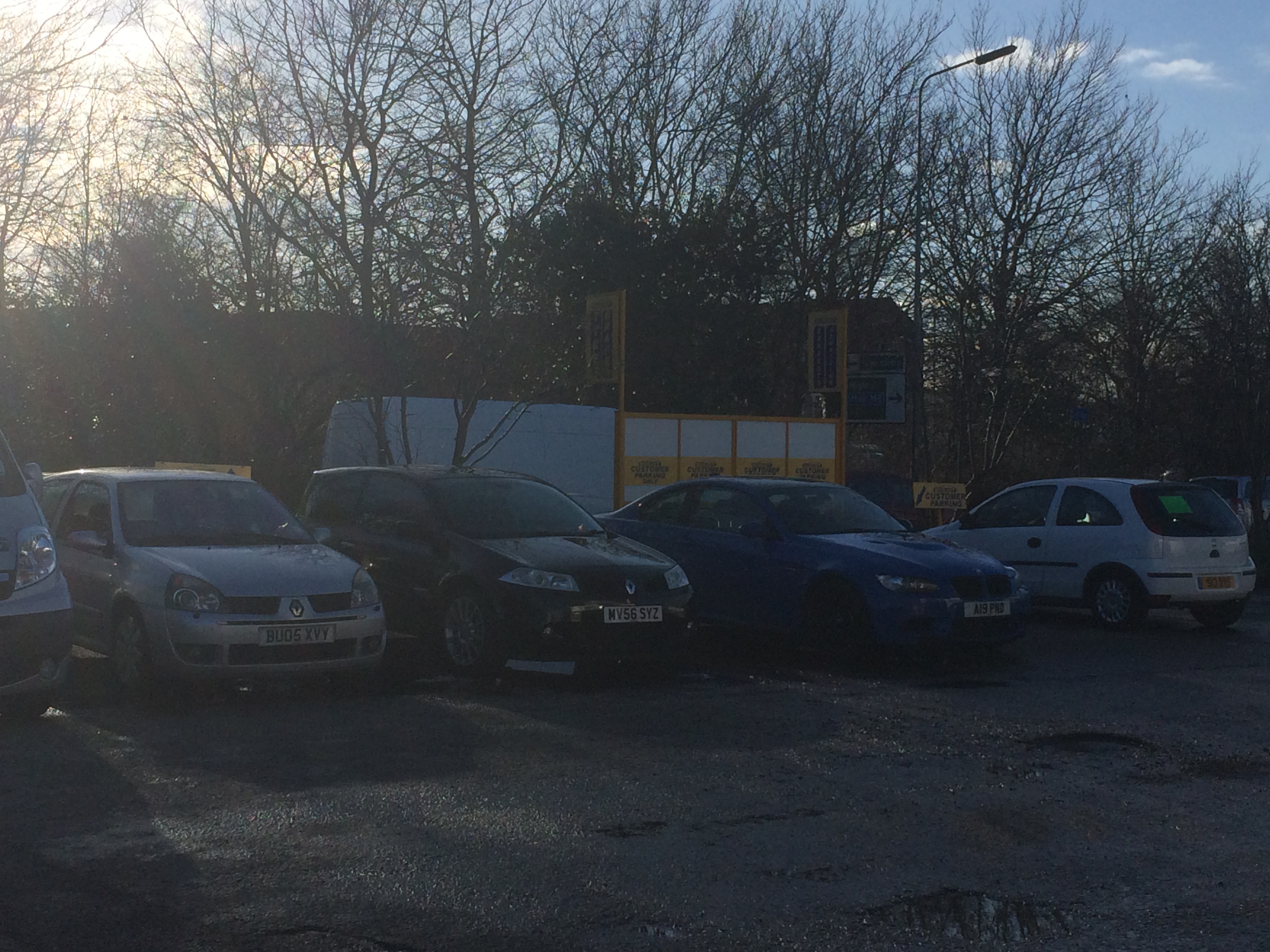 Got her home and cracked all the cleaning gear out, nothing too serious just a good scrub. After a 3 hour clean she looked like we could have solder her on without the help of Ed China for a grand profit Hahaha.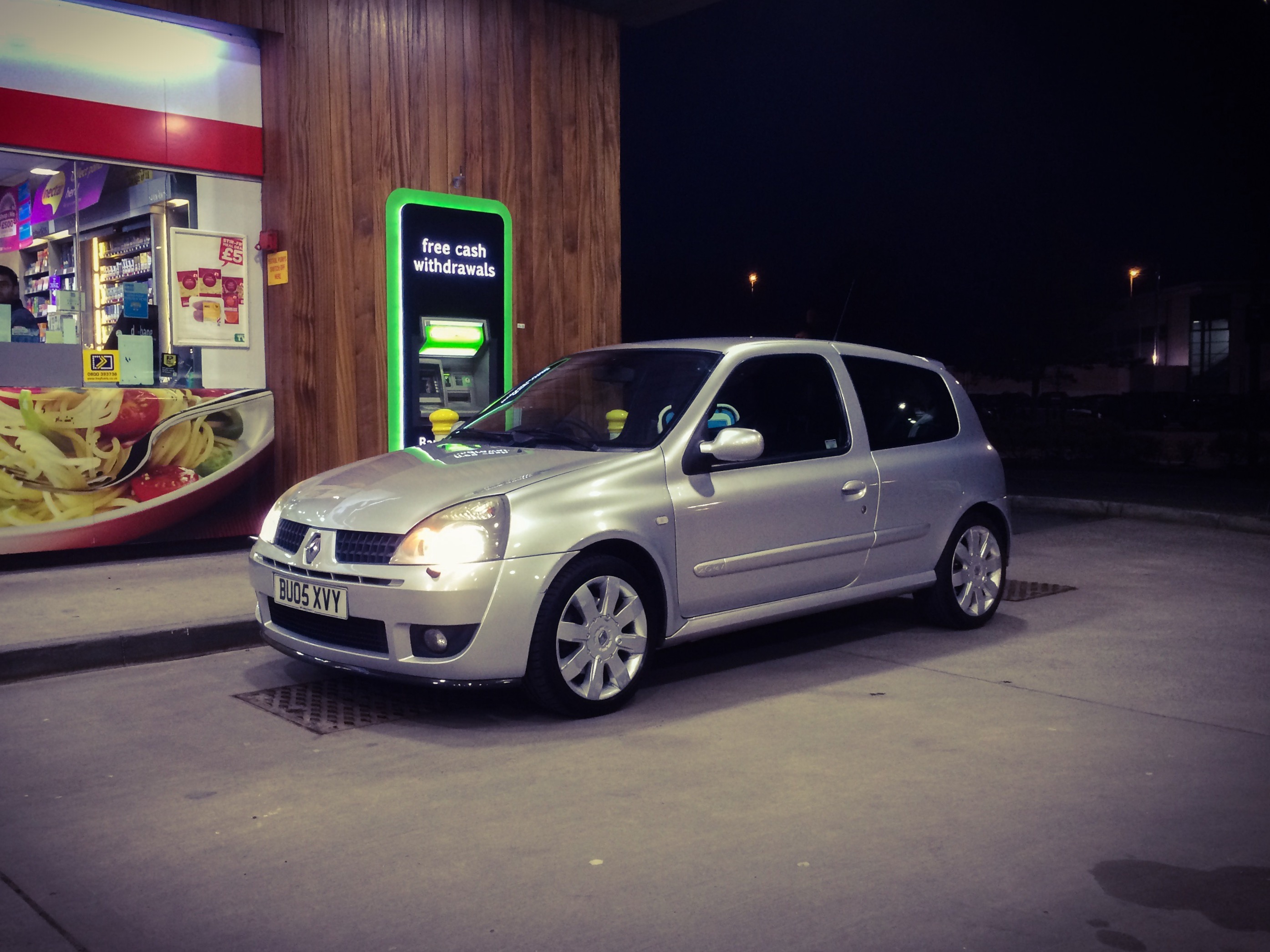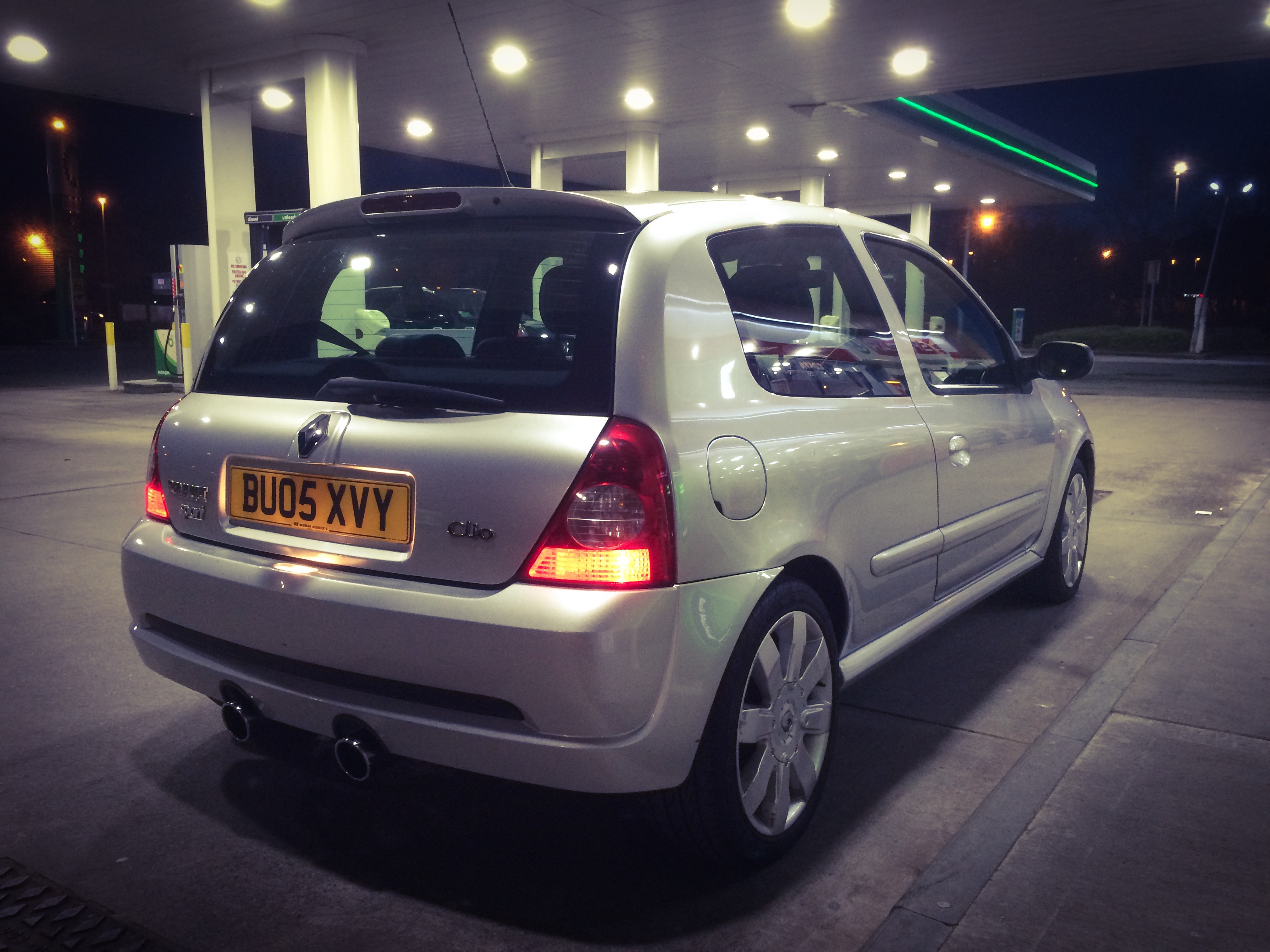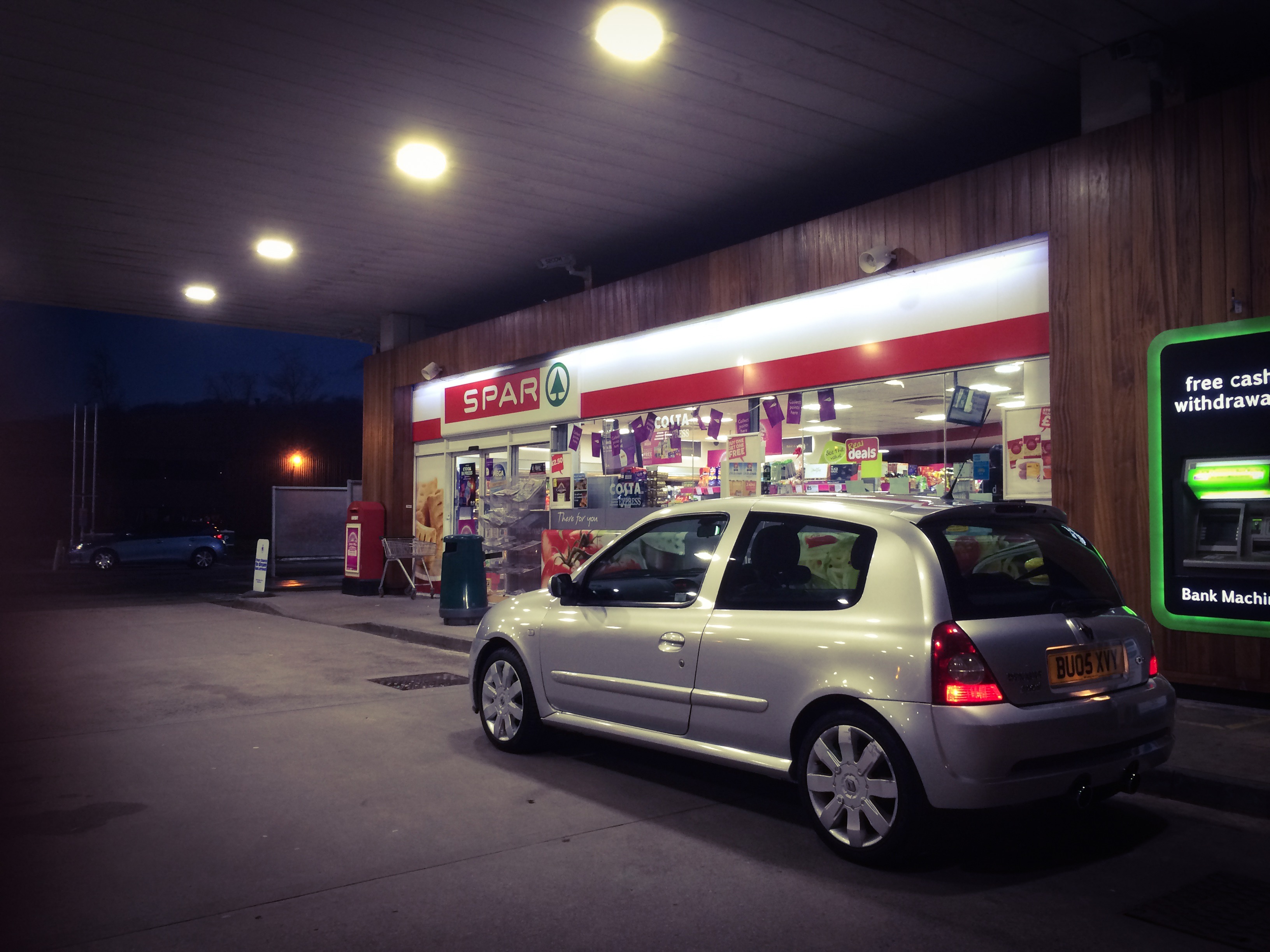 Time to check the car over and gather parts.
So first thing we did seeing as the car wasn't stopping so well was check the brakes, the fronts seemed to be working but the rears still had a rusty disc even after driving from Wolverhampton and a little bit more. We ordered new discs front and back with pads, so Brembo HC discs with pads for the front and standard Renault items from Wolverhampton Renault. While we were at it we also ordered Goodridge Braided lines (funny story about that, well I laugh now but I wasn't f**king amused at the time).
I then decided while bored off work I'd clean all the arches to some extent and give the car a minor paint correction. Everyone details track cars right? Also at this point I ordered a stud conversion kit from Driftworks £50 I think it was all in (studs and nuts), cheaper than everywhere else.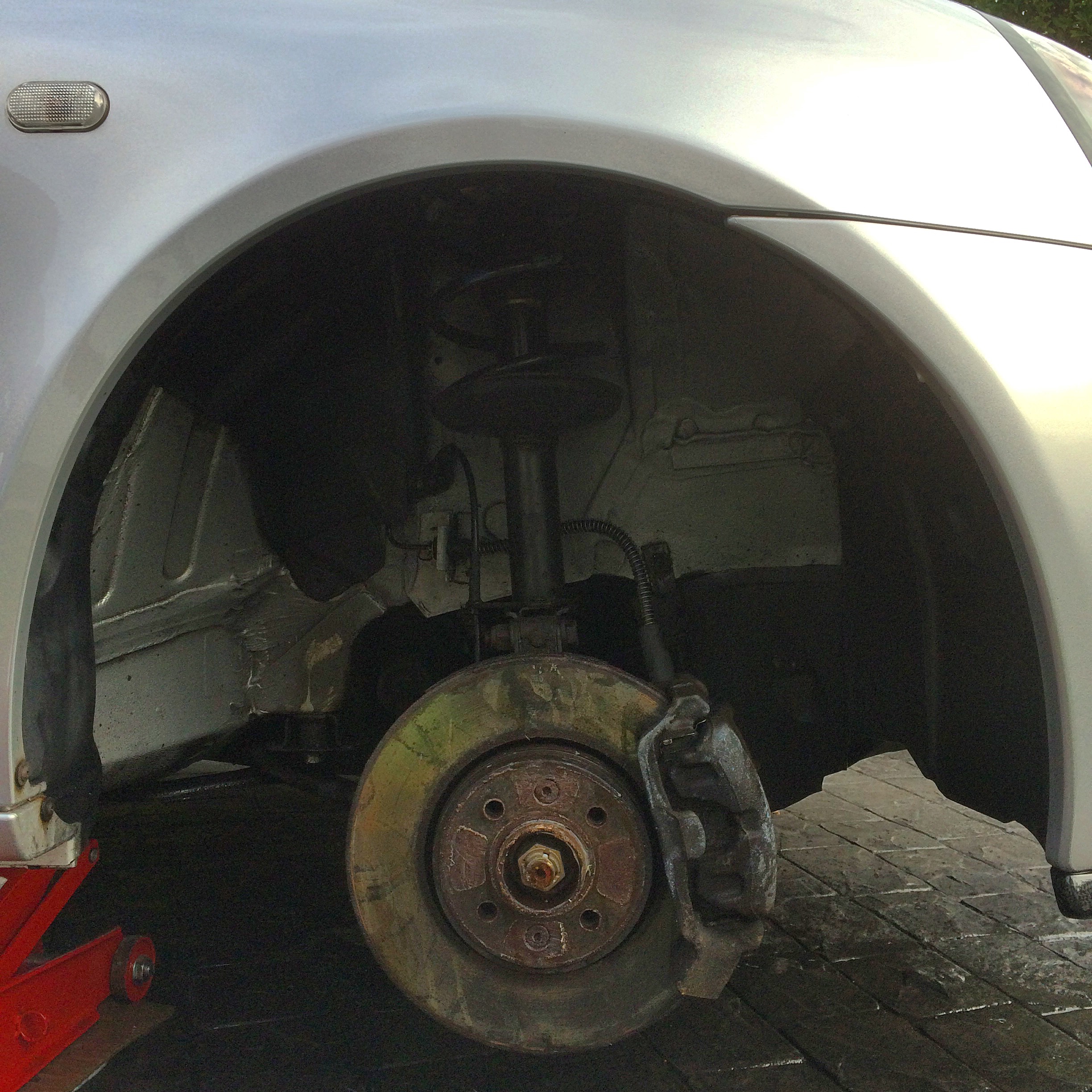 Then while the car was parked in the garage we noticed there seemed to be a leak from the rear drivers side shock, so another order went into Wolverhampton Renault for 2 front shocks and 2 rears. Now I hear you all say but why no springs or top mounts, that's a good question and come to think of it I don't know LOL. Must have been something to do with being rather excited to just get stuff done, plus I'm all new to this project stuff anyway we'll come back to the springs and top mounts later.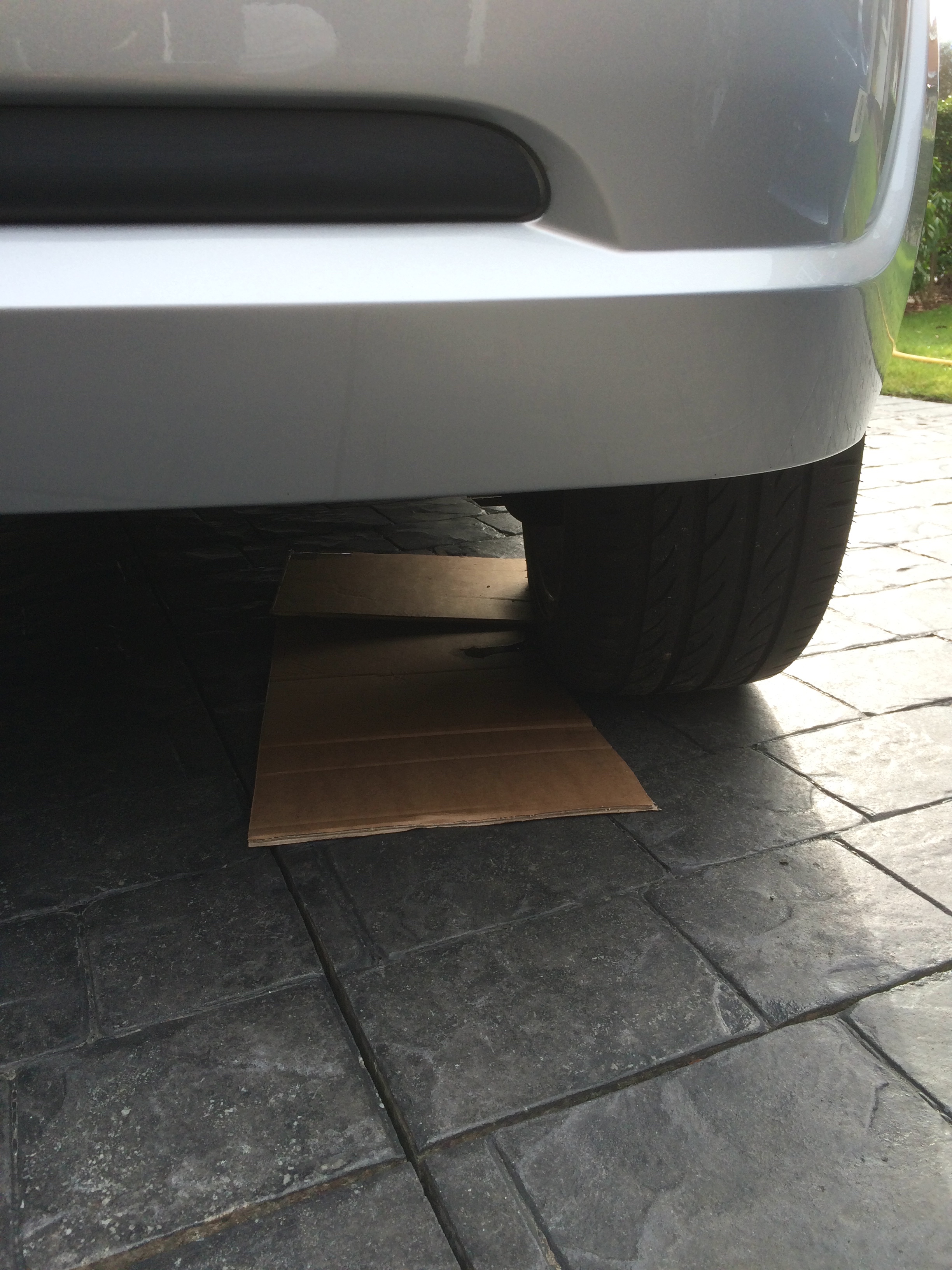 (That was after 2mins.)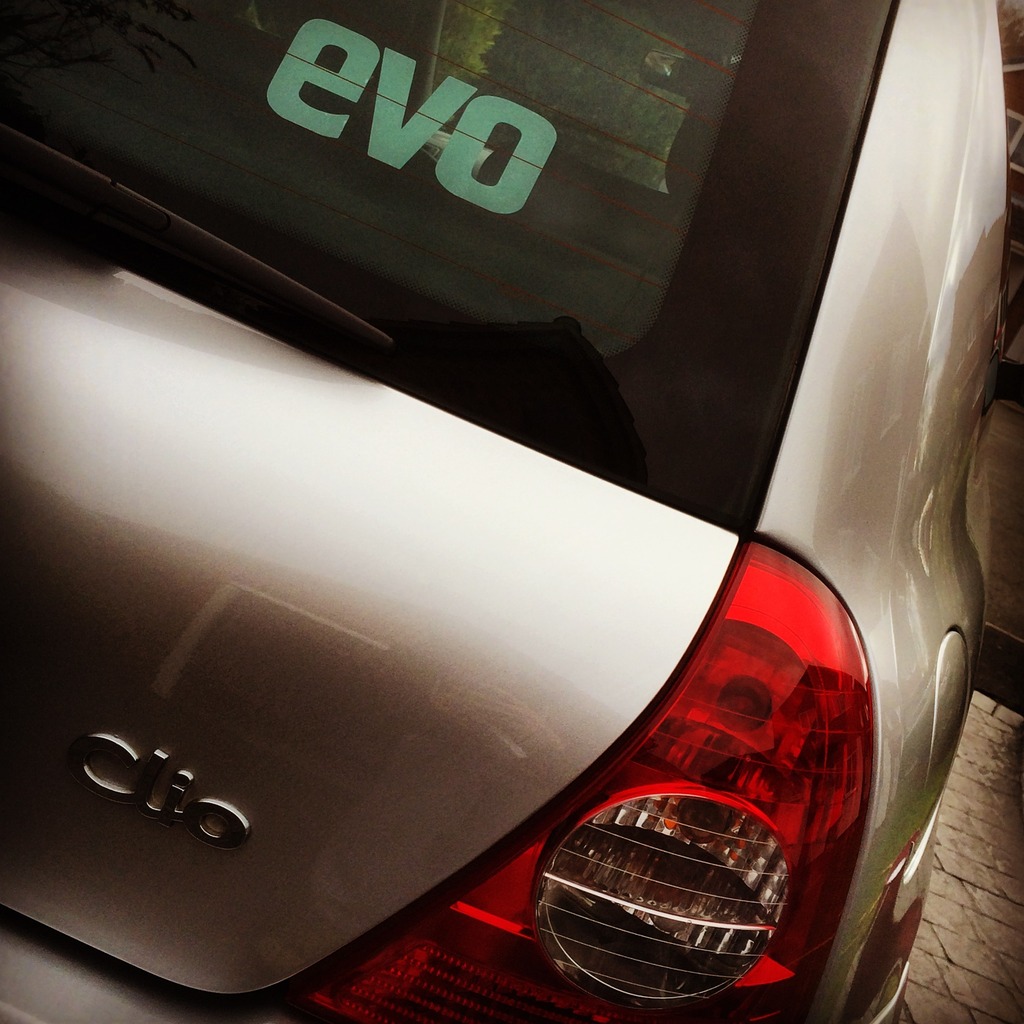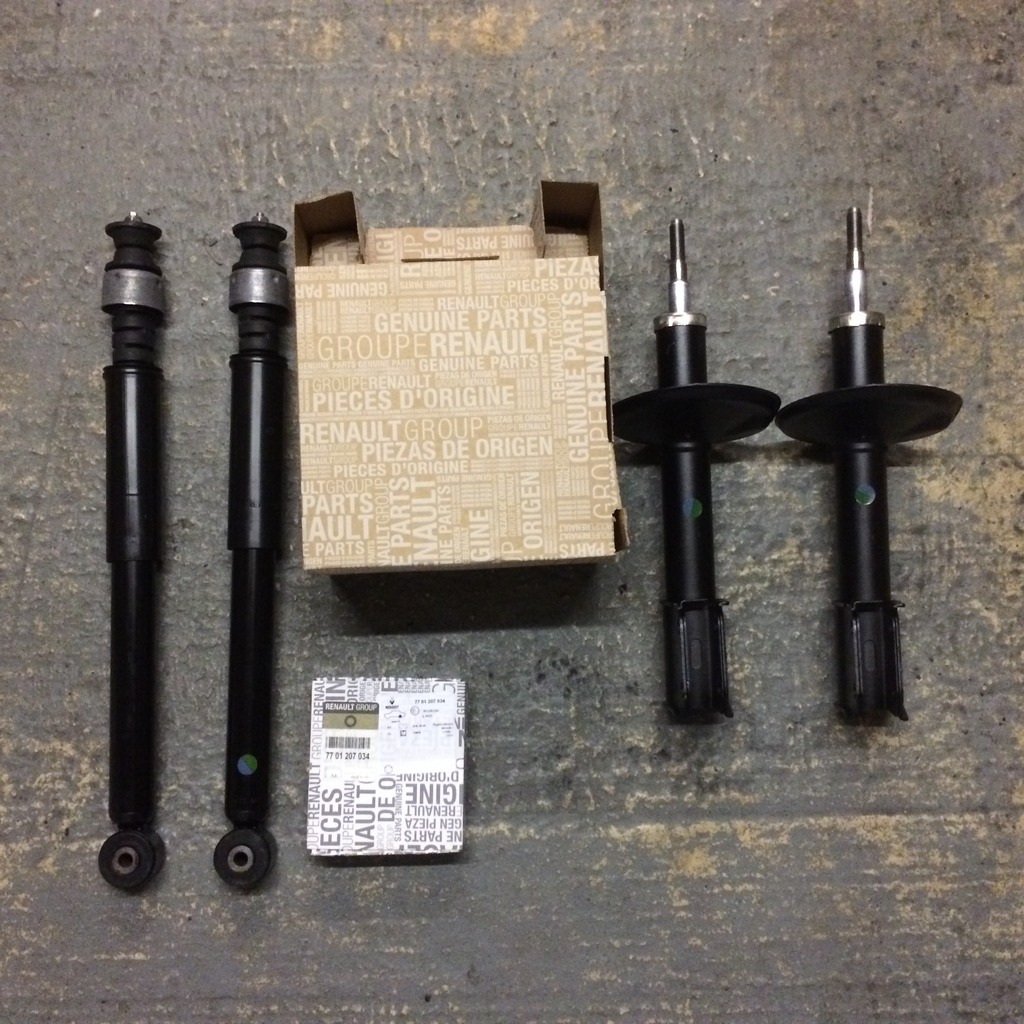 I then sourced some OZ F1's off a race car guy named Russ in Cumbria, got those for a nice price and got them off to Tilling wheel refurbishment in Preston (highly recommended). The wheels were done and dusted and looked brand new, I was so impressed with the quality and finish. I got the old Rimwax out (its crap but it will do) and gave them a quick once over with some Stardrops then gave them a coat of wax.
We decided to head off to Demon Tweaks to see what seats my Dad could get his fat arse in. I'll be honest I'm not fat but I'm stocky, so It was important to see what seats we could fit in.
As this is some what of a budget track car we wanted to ideally get something that was cheap but still good quality, because we could of easily picked up some eBay jobbies that would have probably folded once we turn in LOL. Anyway we found that my Dad and myself could fit into some Sparco Sprint seats, so once we got home we ordered two seats from JJC. Then hunted around for some harnesses, didn't realise these friggers were as dear as the bloody seats (naïve on my part). After speaking to
@f0xy
he suggested searching eBay for some TRS 4 point harnesses with 3" wide straps so I just did a general search for racing harnesses 3" straps, after scrolling for what seemed to be an hour I found some Sabelt harnesses exactly what we wanted and two pretty much brand new, I bid £100 and won them.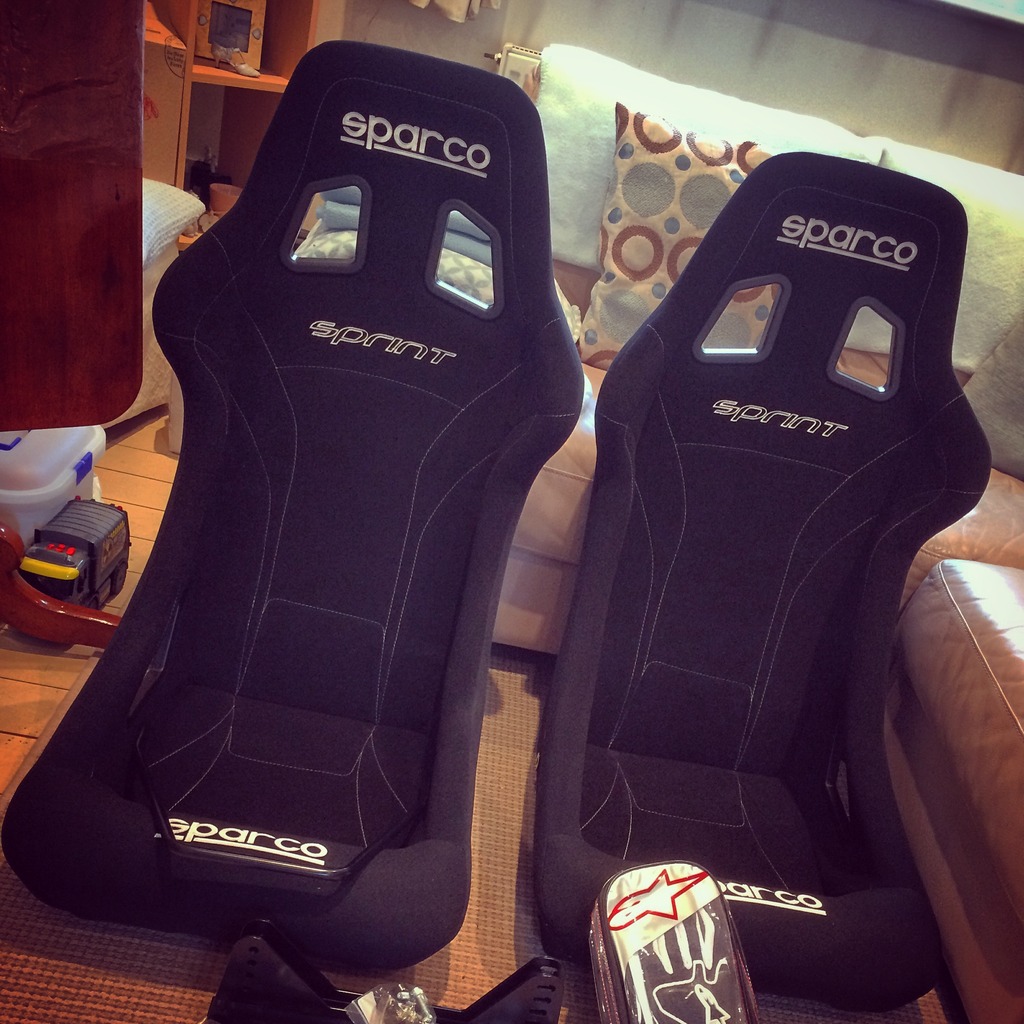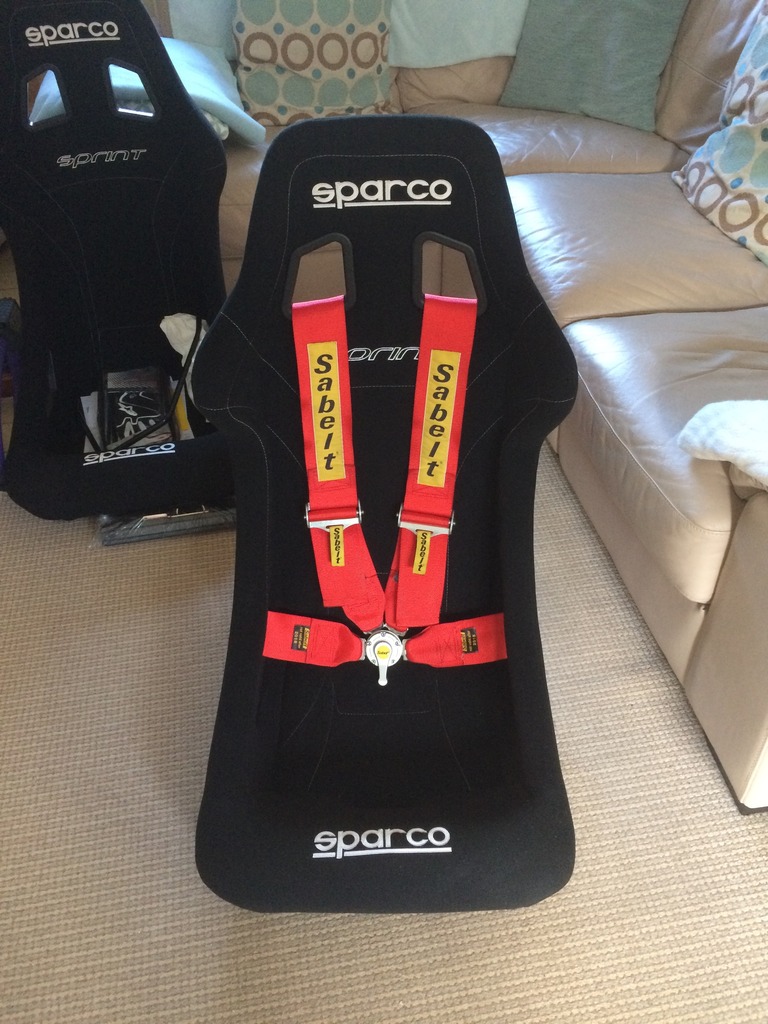 I ordered 4 Michelin PE2's and had them fitted at a local Kwik-Fit, not my idea but the lads were good with the wheels and only charged £7 a wheel. Once the tyres were fitted the lad marked two of the wheels for the rear of the car as one was slightly buckled and the other was so buckled he put a full strip of weights on it, I suppose that says a thousand words about the state of the wheel.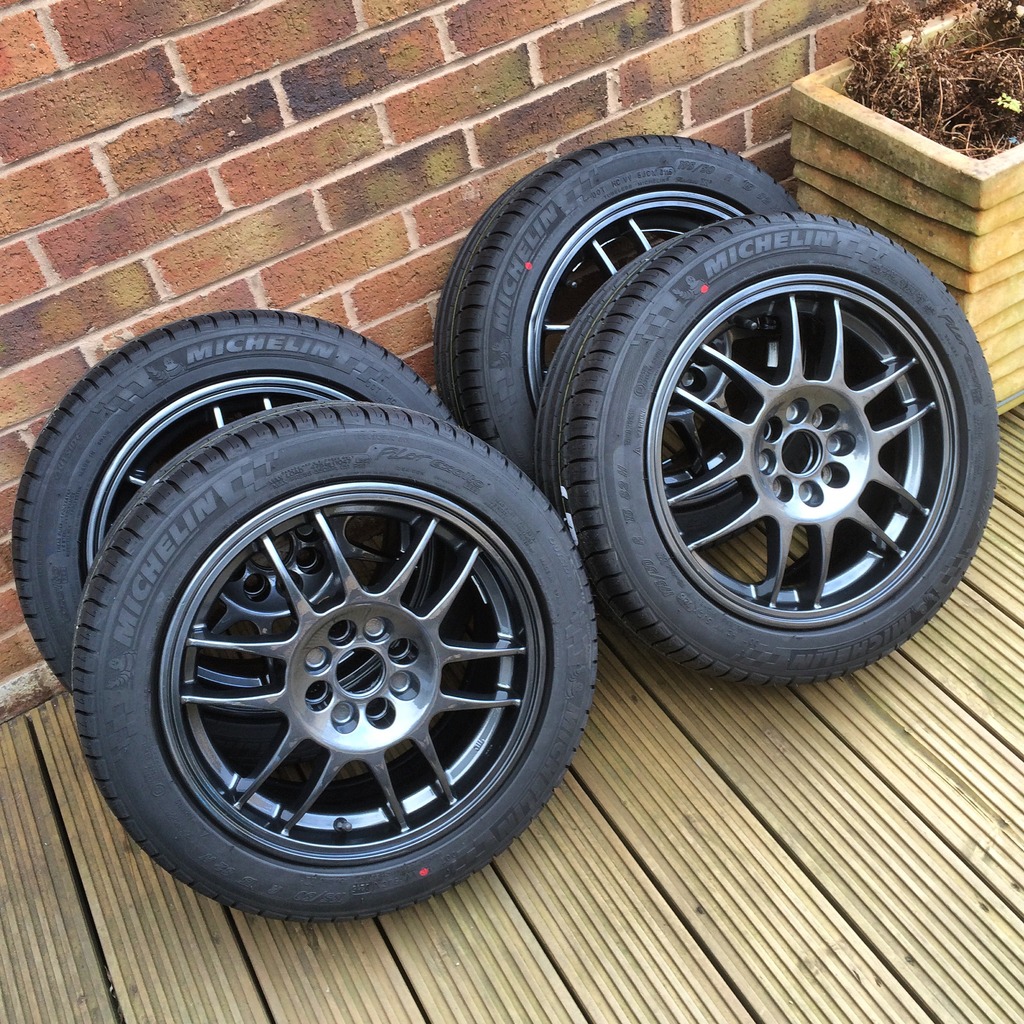 I went off on a tangent and one day just decided sod it I'm going to pull all the seats out now, so got to work in the garage removing the rear seats and seatbelts. More Dog hair, tablets, A-Z of Birmingham and about £3 in change was found result LOL. Front seats well I didn't have a clue so gave Mr Fox a call he came round a couple of days later and we got them out he gave me a hand, it was a ball ache with the exhaust in the way. Also at the same time we noticed the numpty who fitted the Milltek system put the lamber sensor in the de-cat so the engine light was on. So we whipped that out and f0xy had an old dead one so we bunged the hole up with that. That was an event on its own LOL, we had to heat the lamber sensor up to remove it but there was WD-40 (unbeknown to Jordan) on the floor, I've never seen Jordan move so fast when he lit the blow torch, he nearly lost his eye brows hahaha still laughing now.
At this point the car had no seats and no wheels on it, so we decided now would be the perfect time to change the dampers on the car, so we started with the front. We got the passenger side strut off and realised the spring was snapped at the base (remember me saying about not changing the springs and top mounts?), so that scuppered that job so I got on with finding out how much springs from Renault were… £95 a corner, Christ on a bike considering the dampers cost me £38 for the fronts and £37 for the backs I was gob smacked. So I got on with looking for alternatives you know like Cook sport's and Eibach's, Cook sport were sold out and I did email them but they never bothered getting back so put my money in Eibach's pocket instead at £155 for the set I was chuffed.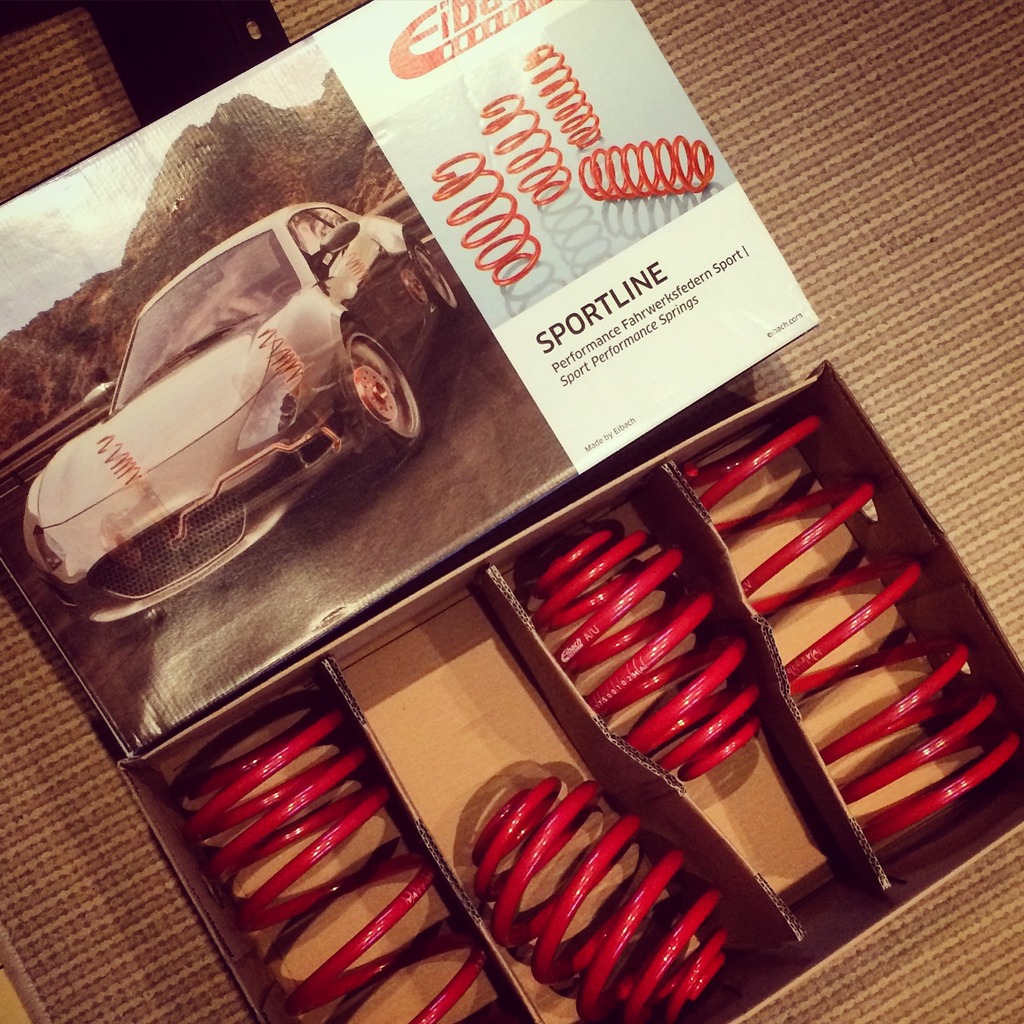 They arrived a few days later and me and my Dad cracked on with fitting the new suspension. We then went to fit the seats (are you getting the gist we make quite a lot of school boy errors yet?). We had no sub frames for the seats, FML at this point. We had everything bar the bloody sub frames, so I was straight onto the For Sale threads and as if by magic someone was selling some so I snapped his arm off and picked them up the following day. We then proceeded to fit the seats another event, lots of swearing and awkward positions.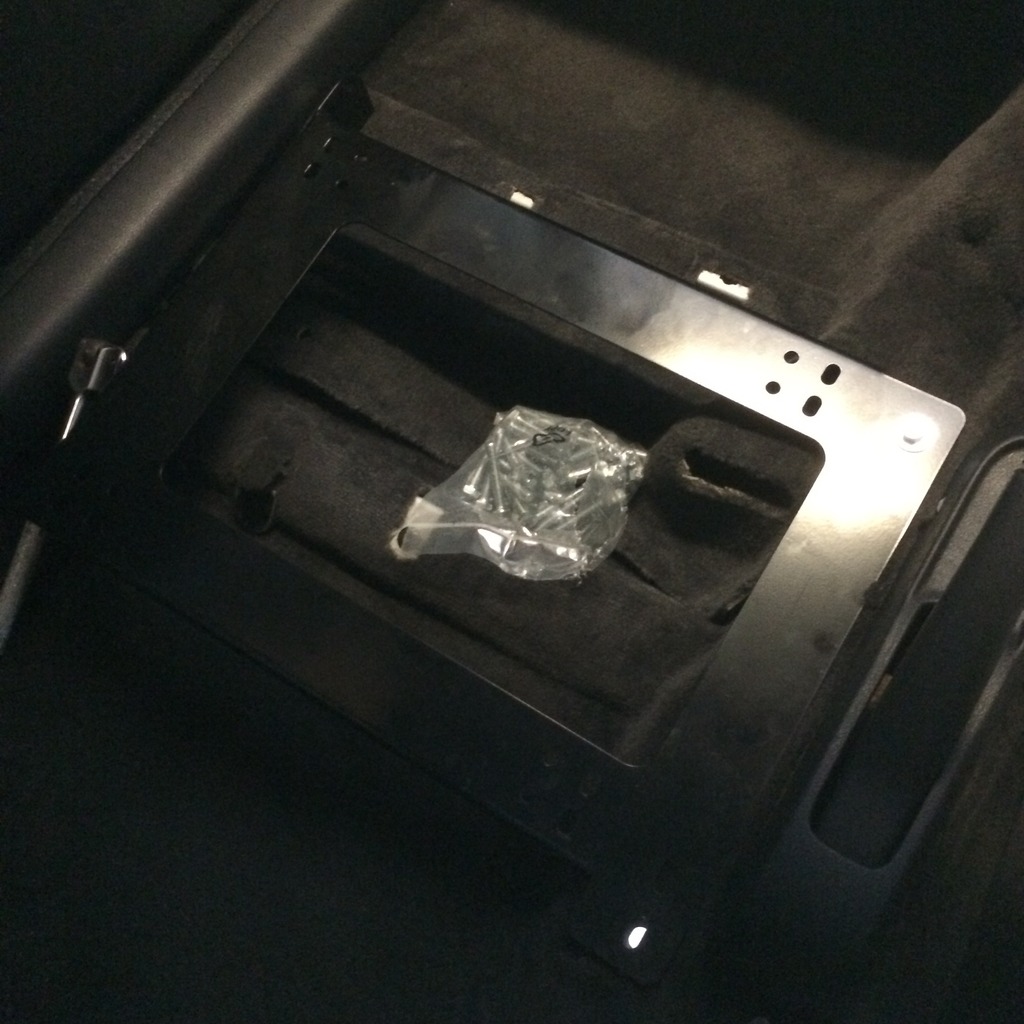 The brakes were woeful, as I've mentioned earlier, my Mums 1.2 stopped quicker so we got on with swapping those over to the new items we ordered a few weeks prior. Then we fitted the stud conversion kit and bled the brakes properly.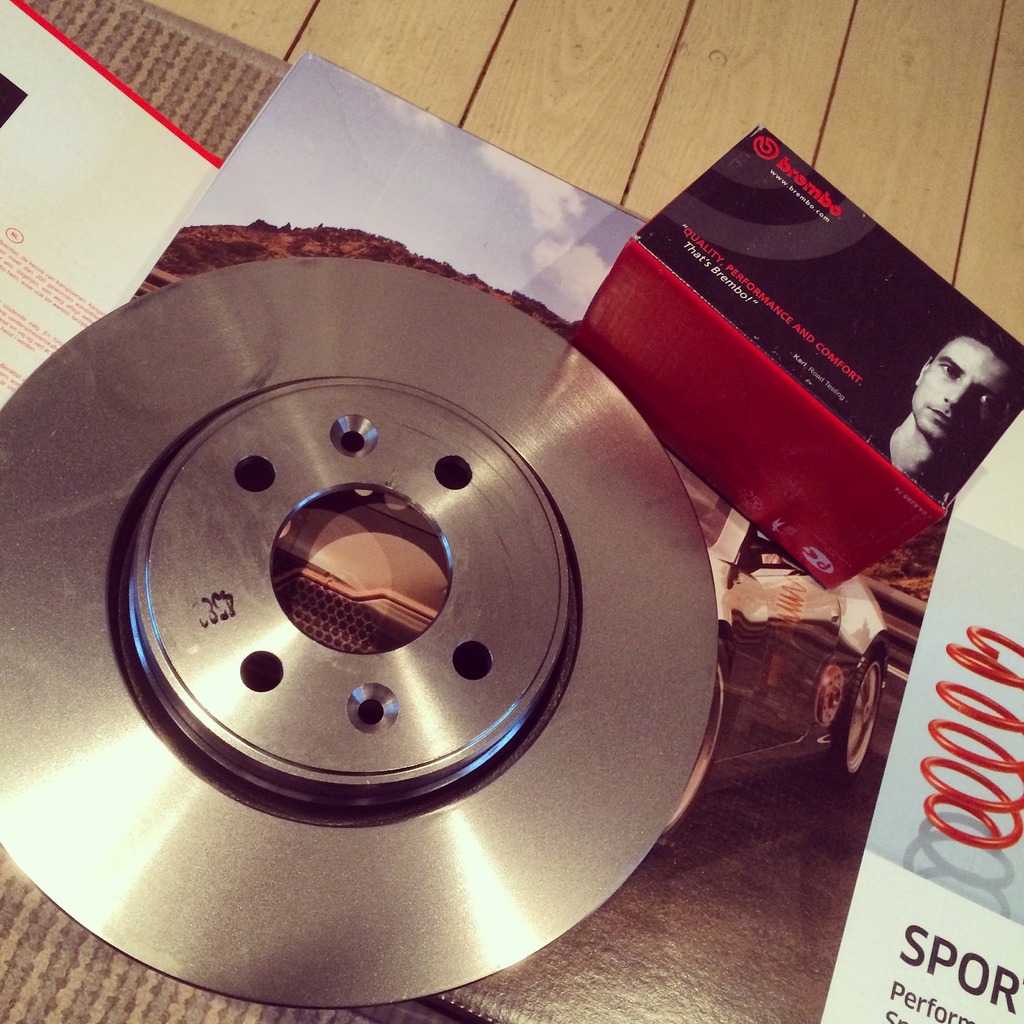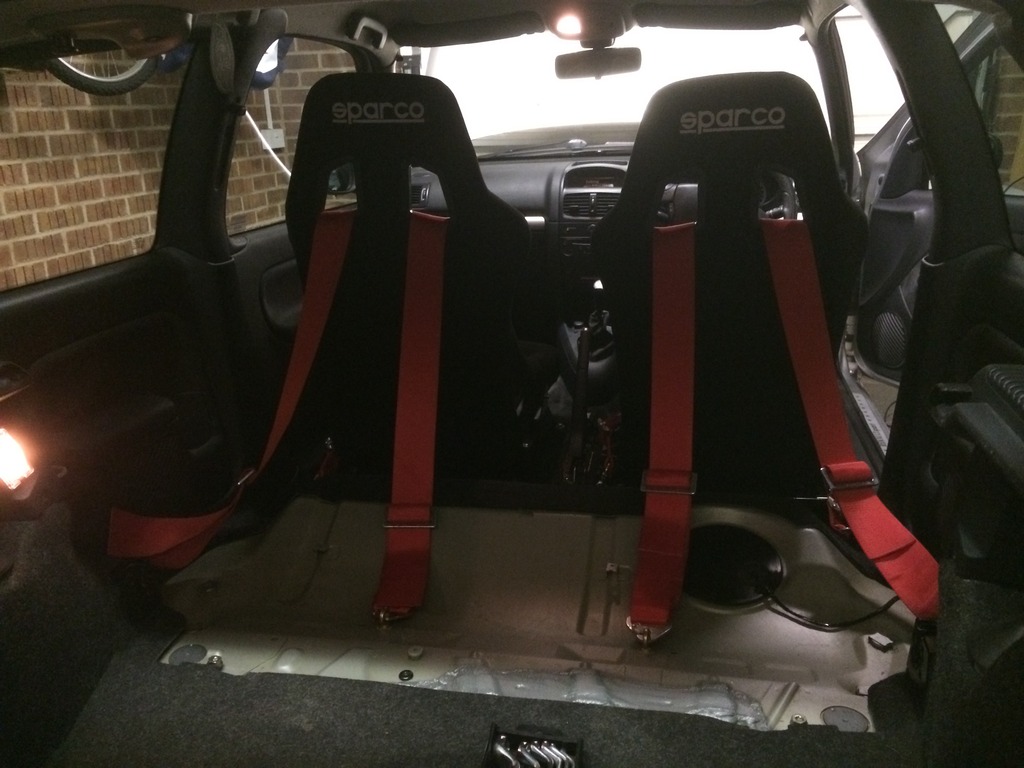 So car on the ground fitted new suspension, wheels and seats we thought right lets go for a maiden voyage. We set off out car felt great, really tight nice and new, but when turning slow you could hear like a nock/crunch from the drivers side suspension so we got back home and left it for the night. The following weekend we got the car in the garage as I had a sneaky feeling we didn't put the top mount back in, in the correct build order… no sh*t.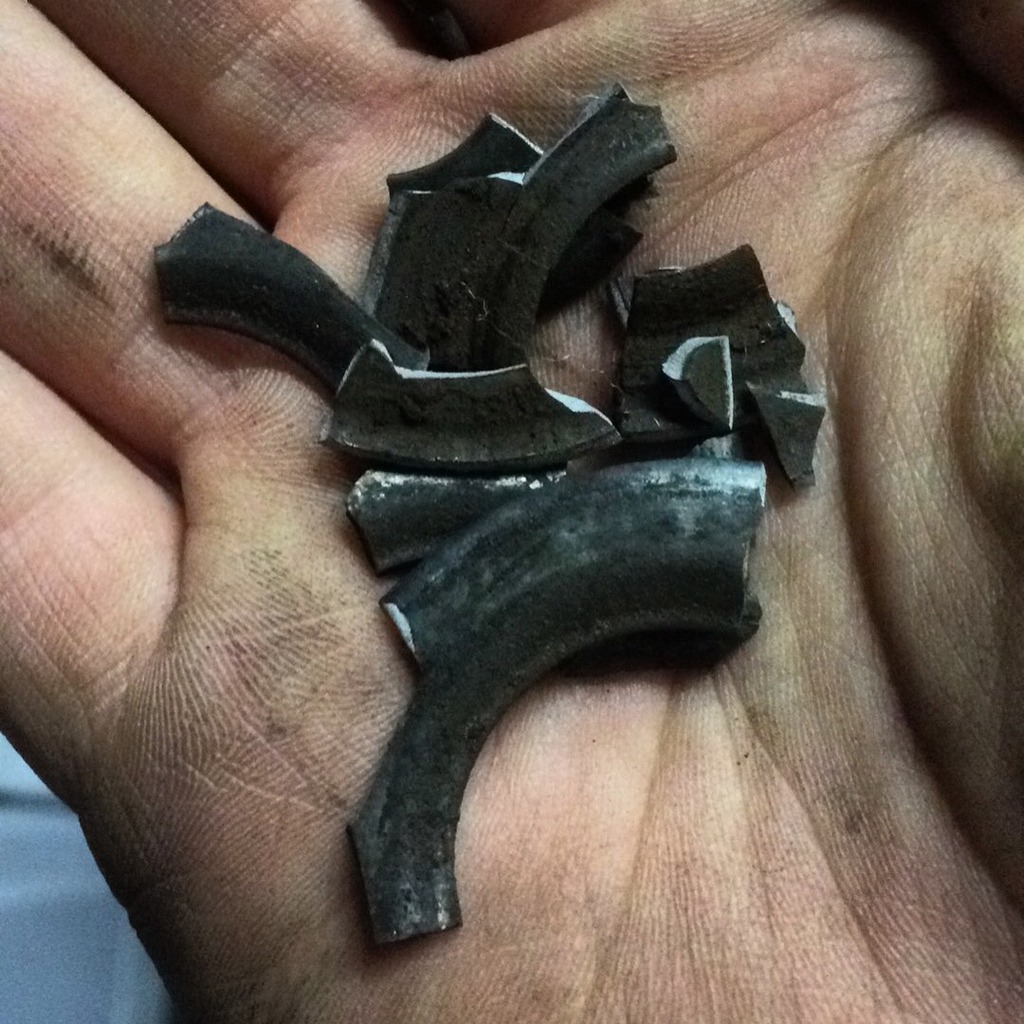 Crushed Bearing FML
So two days later Wolverhampton Renault delivered two new-style top mounts for the car (theme going on here). We got everything built back up and took the car out and it was Champion.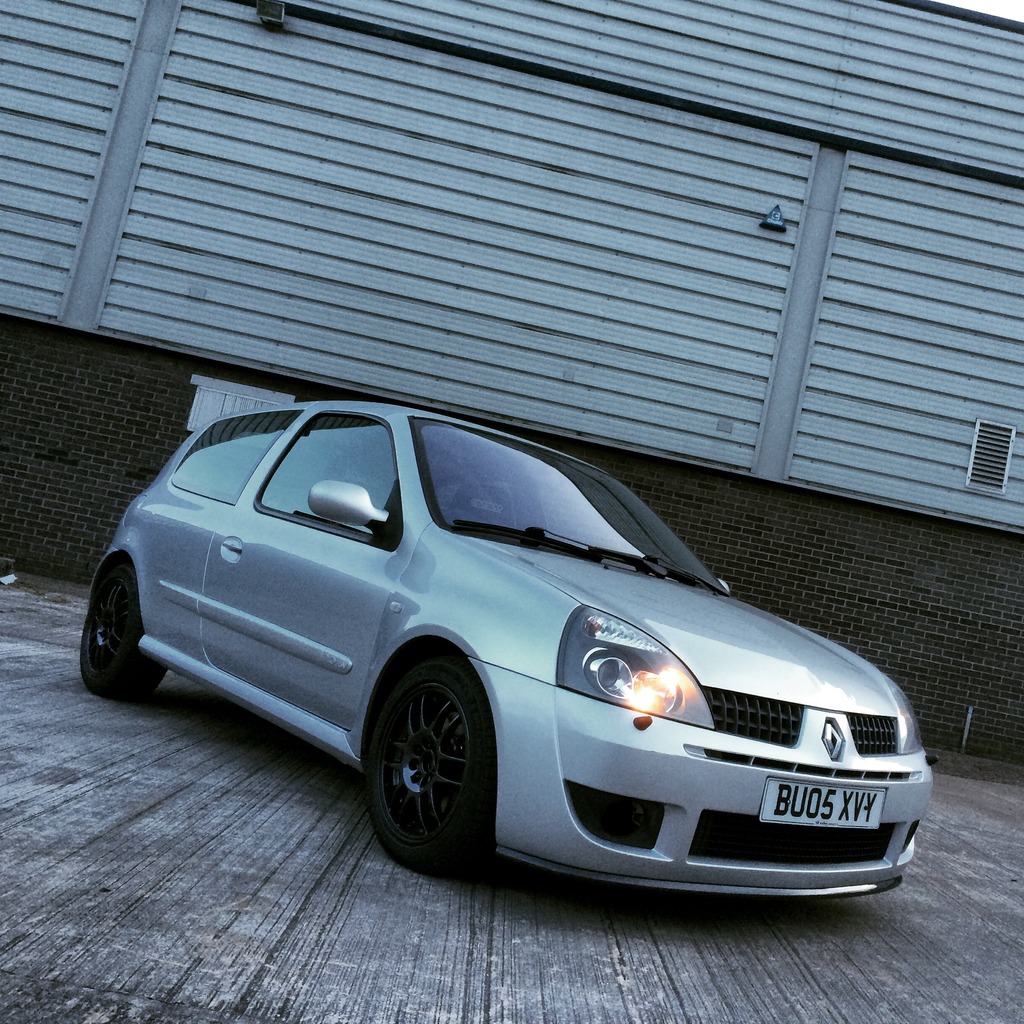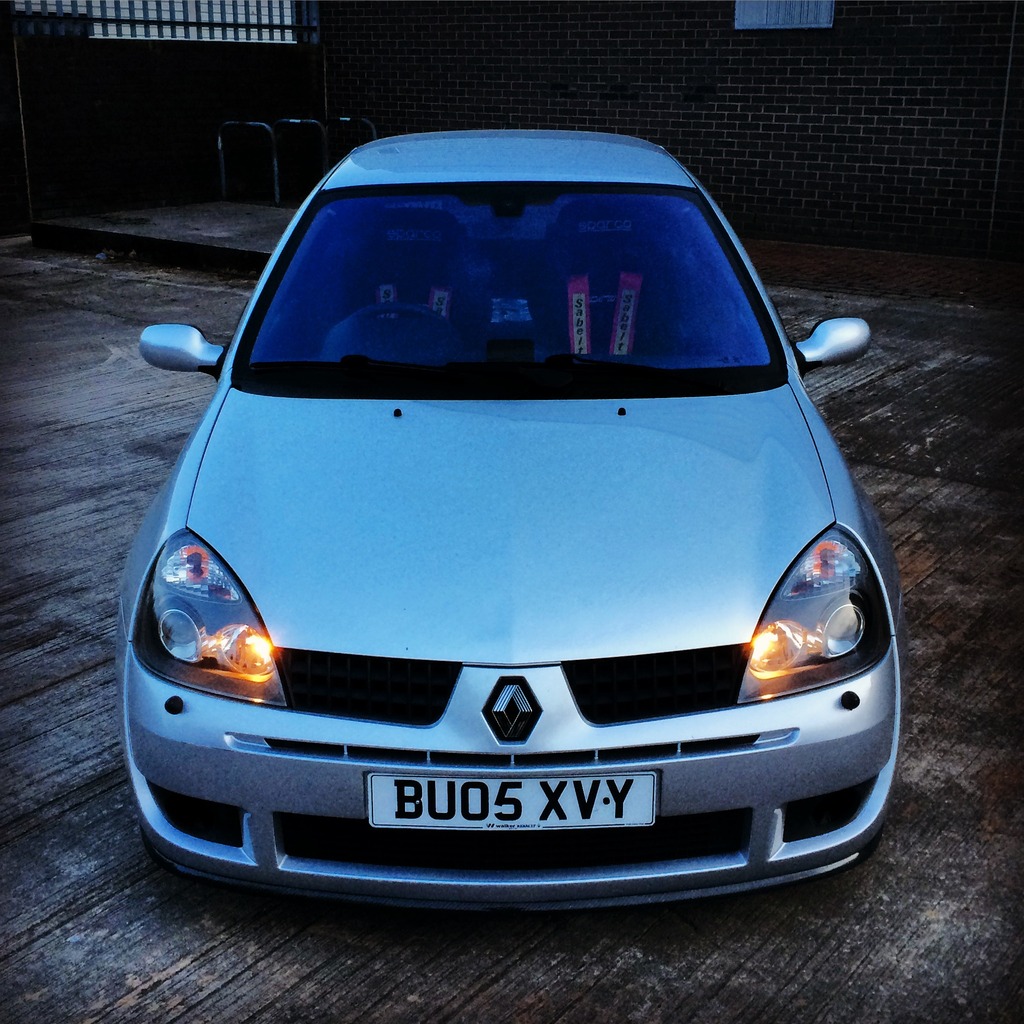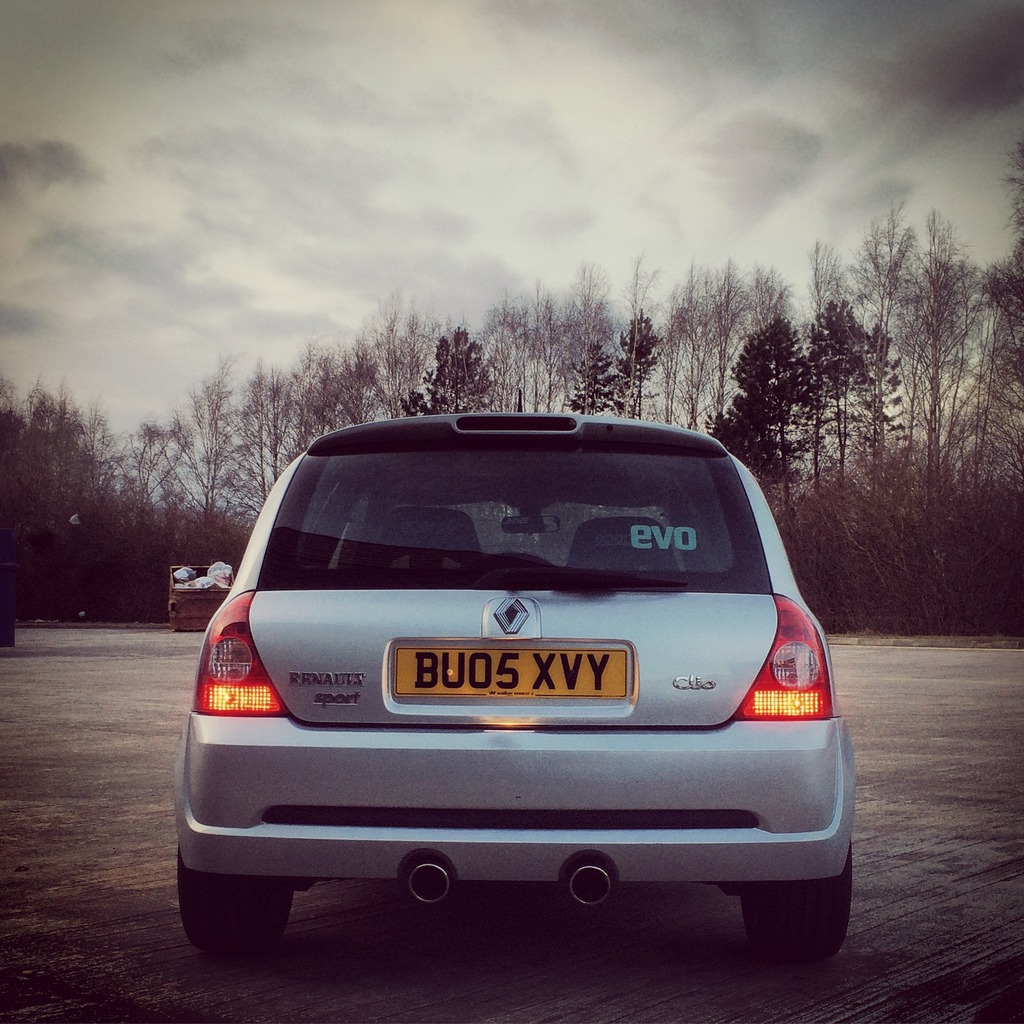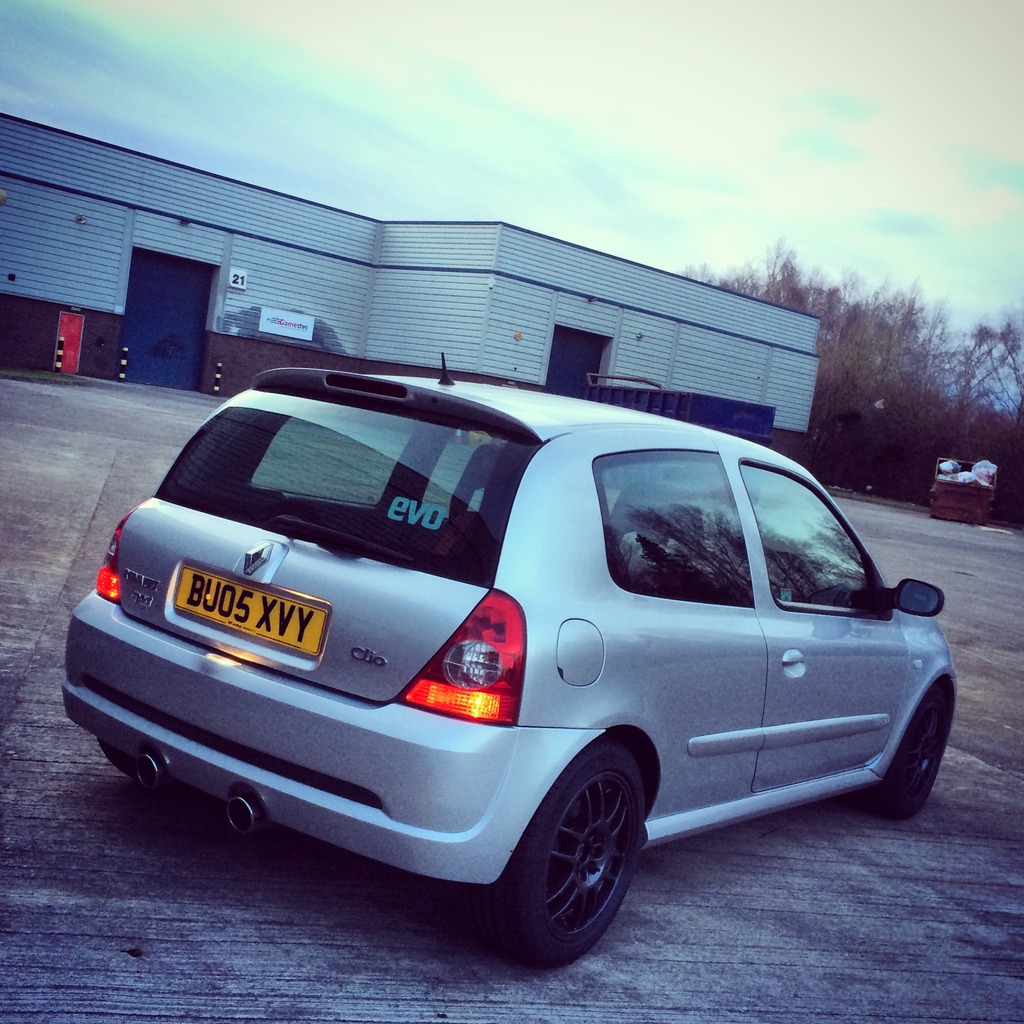 All that was left now was a few niggley jobs like air ducts for the brakes, dog bone mount that I ordered out of the blue after Jordan suggested one and fluids, not to mention the braided lines.
Air ducts were simple, ripped the carbon canister out did all the relevant stuff you need to do with it nice neat tidy job. Rather than bend the bracket for the horn I just undid and re-attached the horn in the way upside down which left me with plenty of room for our 100mm duct. While we were at that we removed the Acoustic valve that was still in there from before the Ktec filter was fitted, which afterwards the car idol'd at the correct revs after all this. (Anybody shed some light?)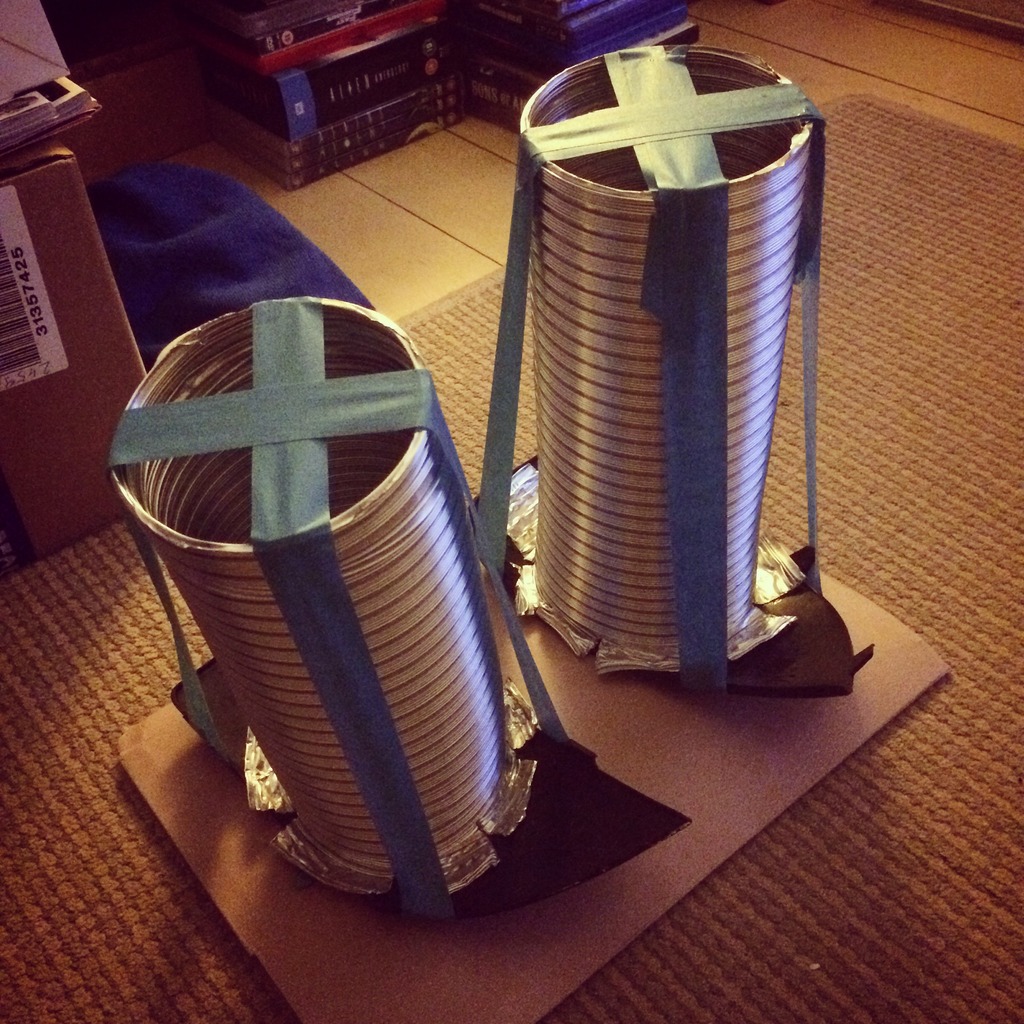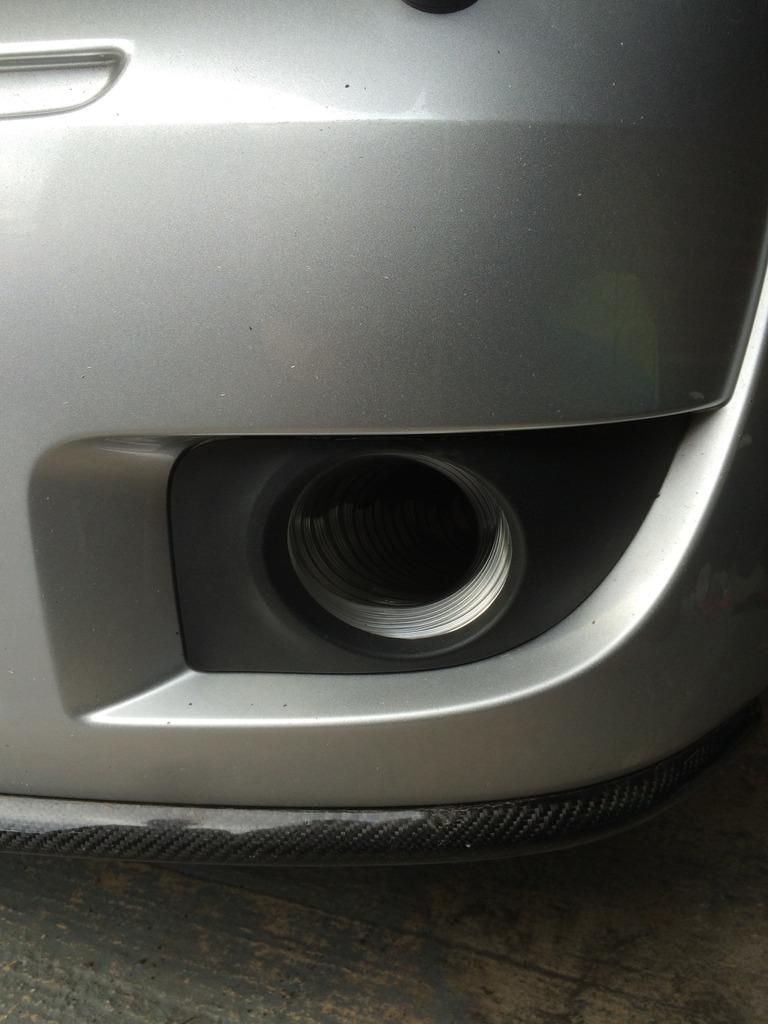 Ordered Gearbox oil and Brake fluid knowing full well the car was heading to the garage to have the braided lines fitted. Can I say for the record a job we COULD have done ourselves but my Dad couldn't be arsed, so he paid for it to go in and have work done. So we had the gearbox oil done, lines and fluid.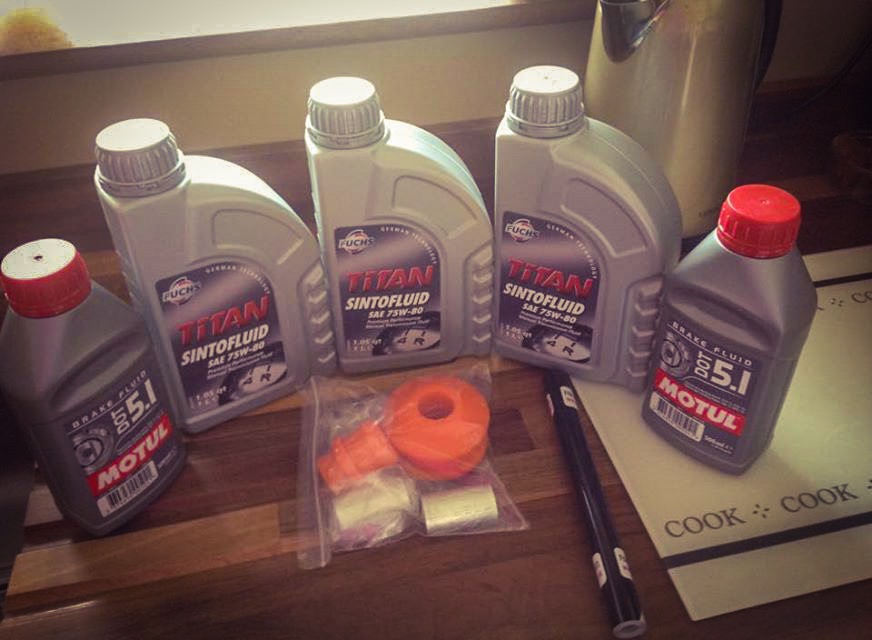 During this time Id sourced another wheel on eBay and had it powder coated to match the others. I had a call off the garage while the car was in saying that the braided lines were a little short and that they could fit them but he would have to rig something up (there's me thinking oh must be like millimetres short, learnt a lesson in the process). So I said ok as I just wanted it done. So once we got the car back from the garage I went about swapping the new wheels over only to notice something rather wrong. After the car being in for the braided lines…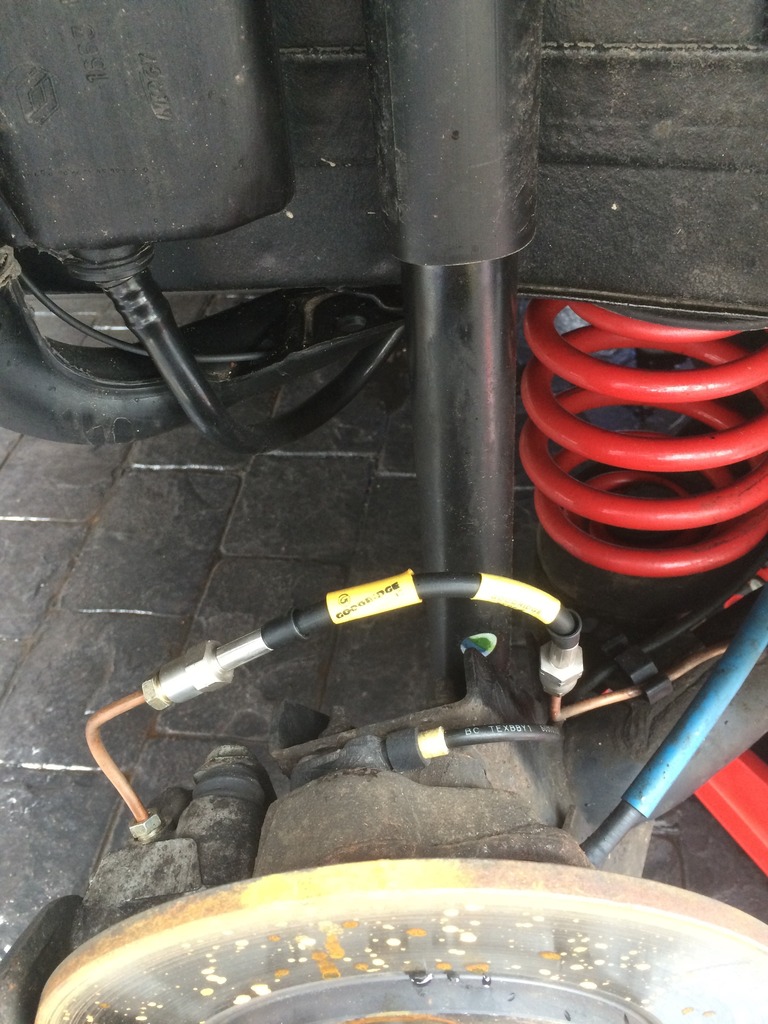 At this point I flipped my sh*t because this was a simple job that we could have done ourselves but no some f*cking clown shoe did this. No wonder they didn't fit, YOU'RE DOING IT WRONG! He said, "Well if I fitted the lines where you've just said there would be a weak point anyway". Now lets get this straight as you've probably guessed I don't really know my way round a tool box or a car but f*ck me sideways I know its wrong because it's a high pressure line that's crimped on the metal brake line attached to the beam. Only its not now, because its attached to the Copper line you've made yourself. "Well if you buy two more lines we'll fit them free of charge", now at this point this is where my Dad and me almost never spoke again. He was happy to pay for new lines and get them done but my argument was, why should we when they f*cked up a simple task even I could have done myself. We didn't speak for a week while he sorted everything out because I wanted nothing to do with him or the car, I was royally p*ssed off.
So its now the only 182 I guess with 6 braided lines (Woooo), I also fitted some heat shield for the master cylinder because I believe they get quite hot with where they are in conjunction with the manifold.
We got the Flow flex Dog bone bushes fitted, that was fun I now know why they are half the price of Power flex based solely on fitting other than that its fantastic. A 20tonne press couldn't fit it, anyway in the end we sorted it.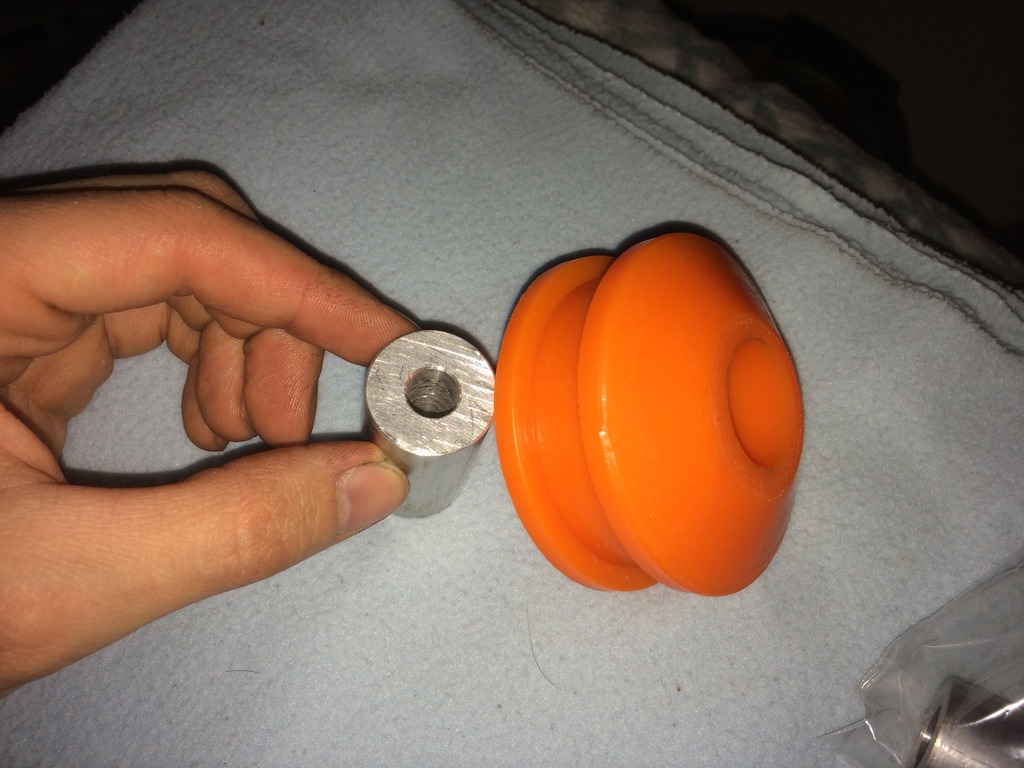 Up next was Engine oil and filter simple job we did, used Fuchs Titan and a filter you get from Opie oils, all the fluids we bought were from Opie.
Some stickers turned up from Michelin, its not what you know its who LOL. So I got about fitting them and a few other stickers I wanted for the car.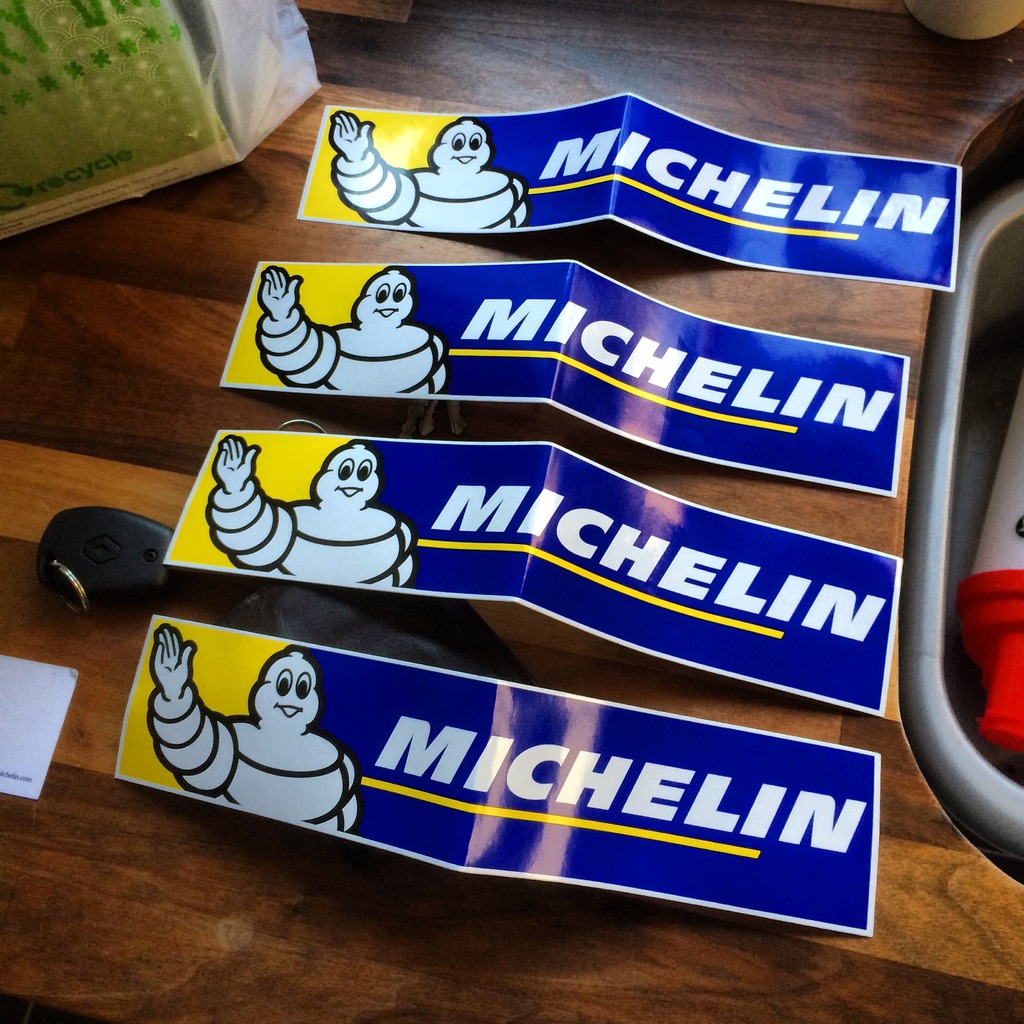 The #TALE sticker is for Adam Lewis who was a friend of mine who died last year from Adult Sudden Death Syndrome. He was also a member of the forum and knew quite a few of the guys so Its important to me to show support for a foundation his family have set up in his name called The Adam Lewis Effect. I also thought it would be funny to put a Little – Tikes sticker on the car seeing as I was calling it the Fisher price My First Track Car (behind the registration plates) LOL.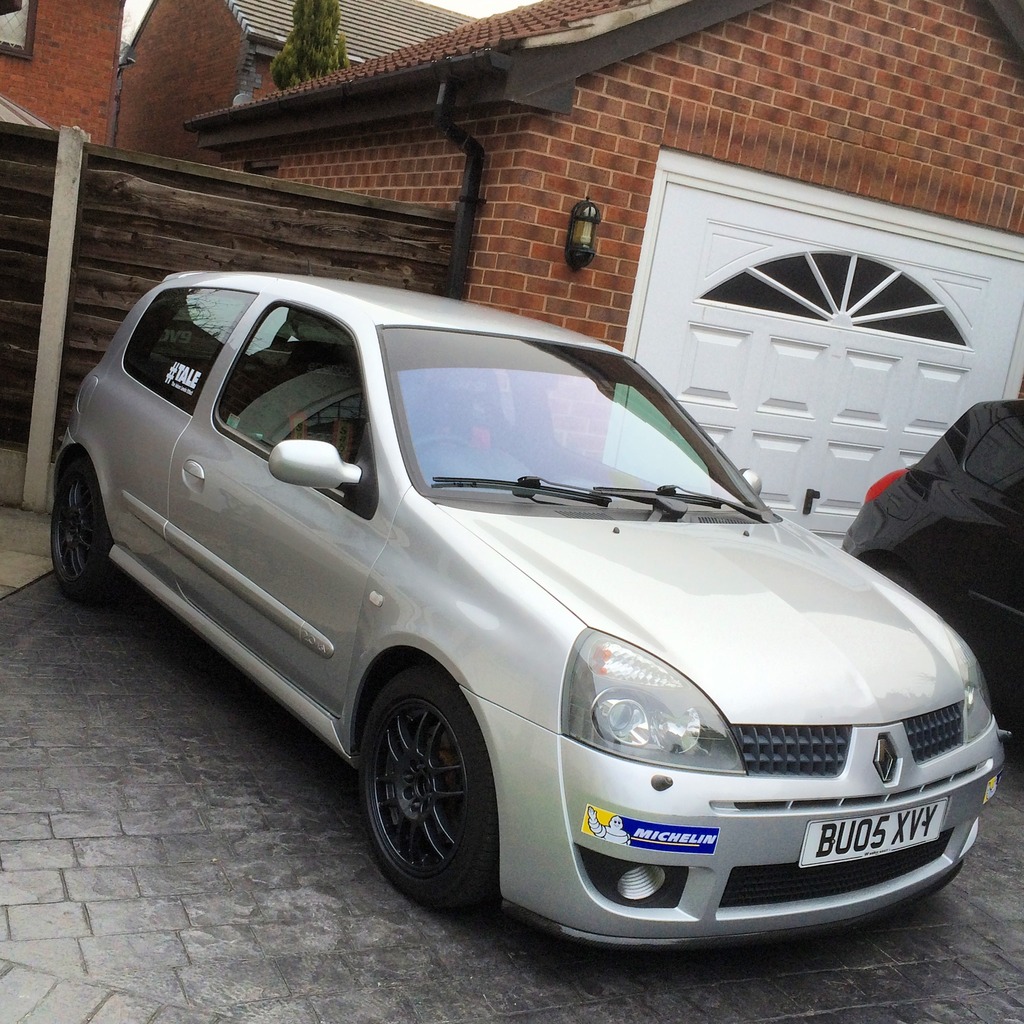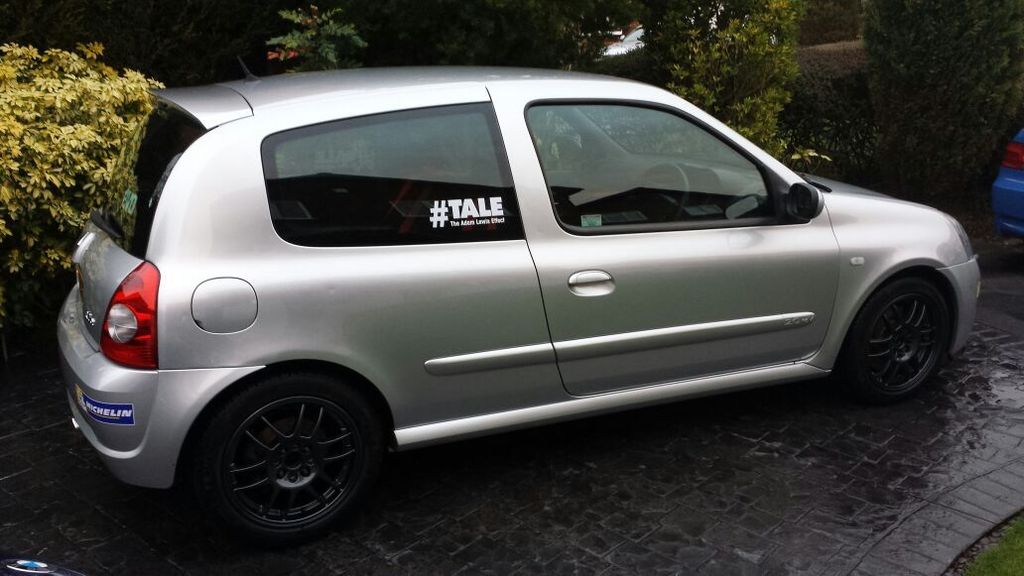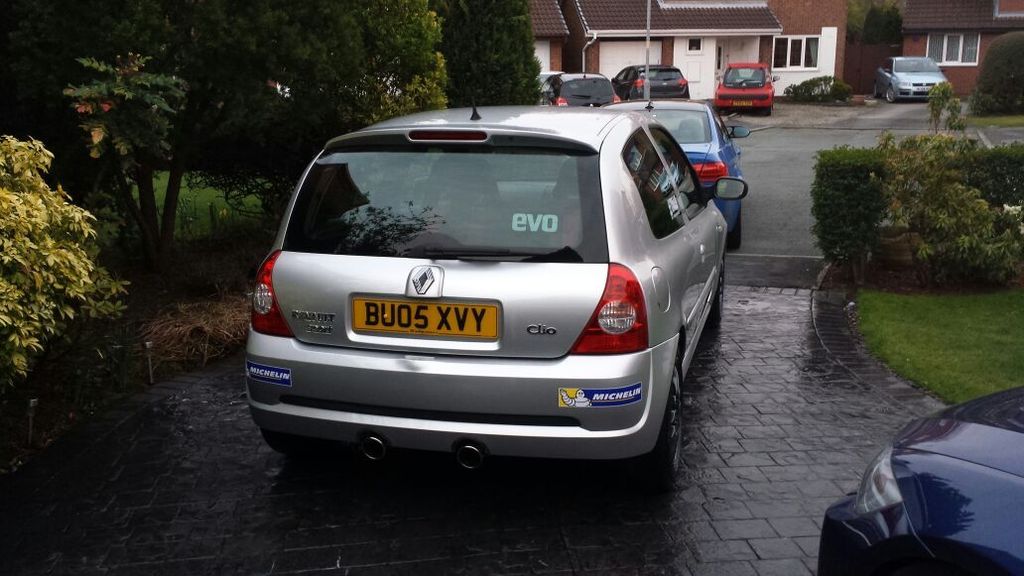 Also mounted the camera in position, with Araldite LOL.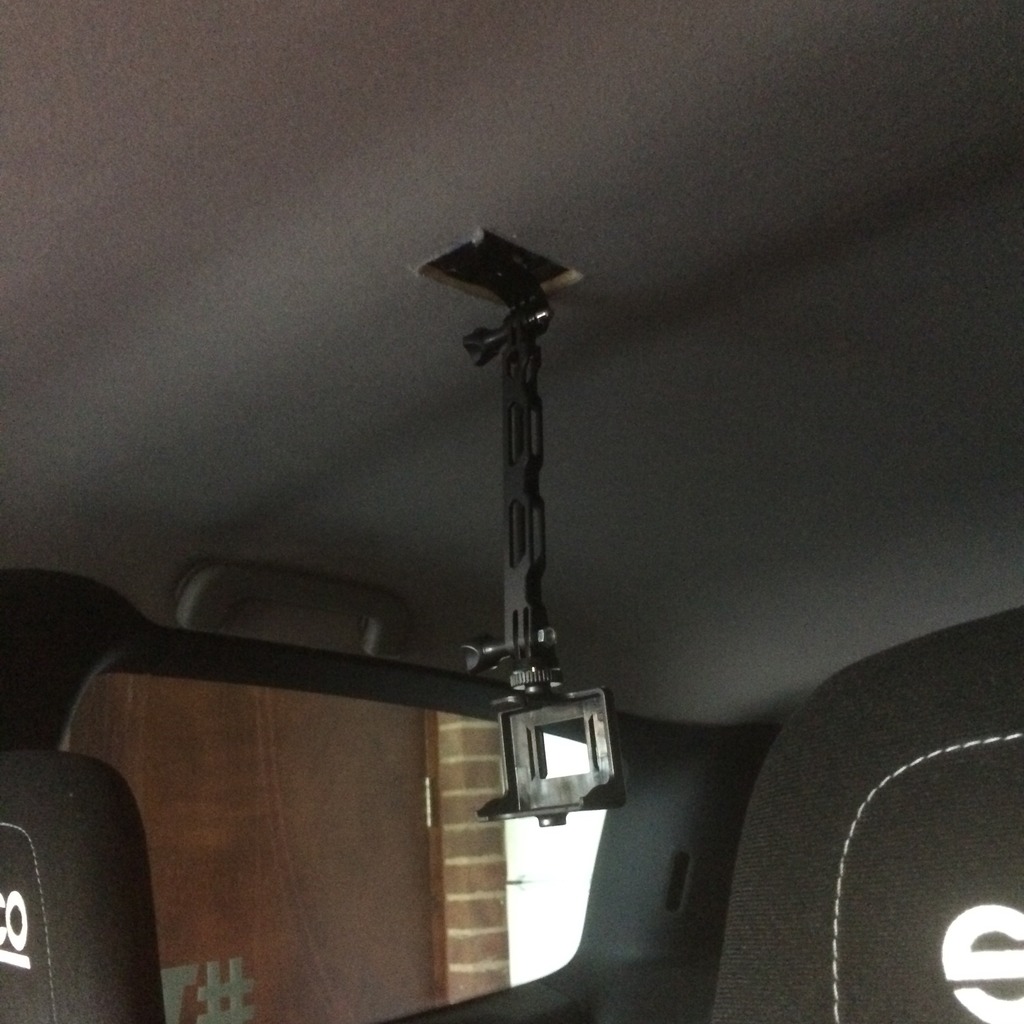 The First Track Day.
Jordan told me about a month prior to doing most of the above that he and a few other members were heading the Anglesey for a Javelin Track day on the 19th of April and that we should go. You know great day and great track, all weather dependant obviously so I though f*ck it lets go for it. So I booked my Dad and myself on it and luckily enough Rob Harrison was booked on and had hired a garage for the day so we decided to share.
Idea being, we would drive across to Anglesey on the morning and do the day and drive back all in the same day. Without knowing my Mum had booked a B&B about 20mins from the track, couldn't recommend it more.
Getting ready to go.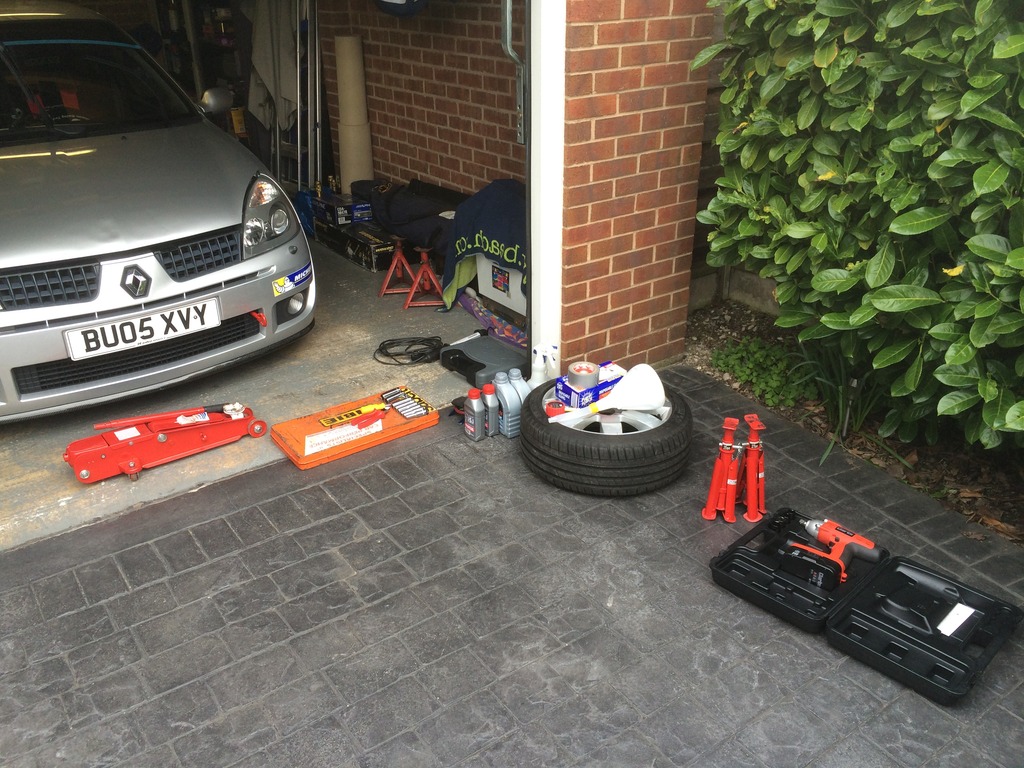 Kettle, Mugs, Biscuits, Coffee, Tea and Sugar (Best equipped garage at a track day).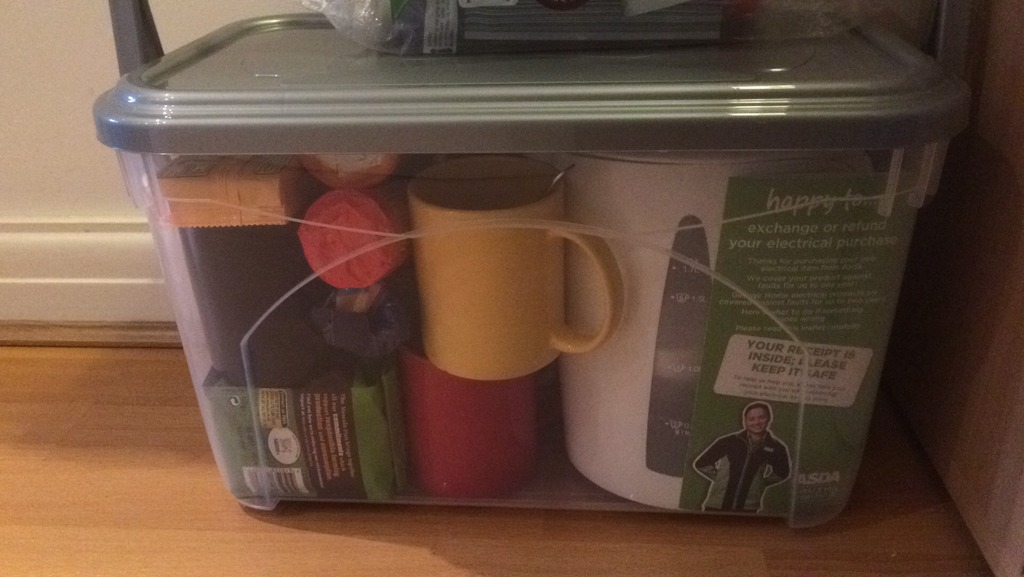 If there is 15 of you then check availability and get it booked he's happy to have a B&B full of track day chumps. The owner is a petrol head so he'd love it (Taldrwst Farm House
http://www.taldrwst.co.uk
).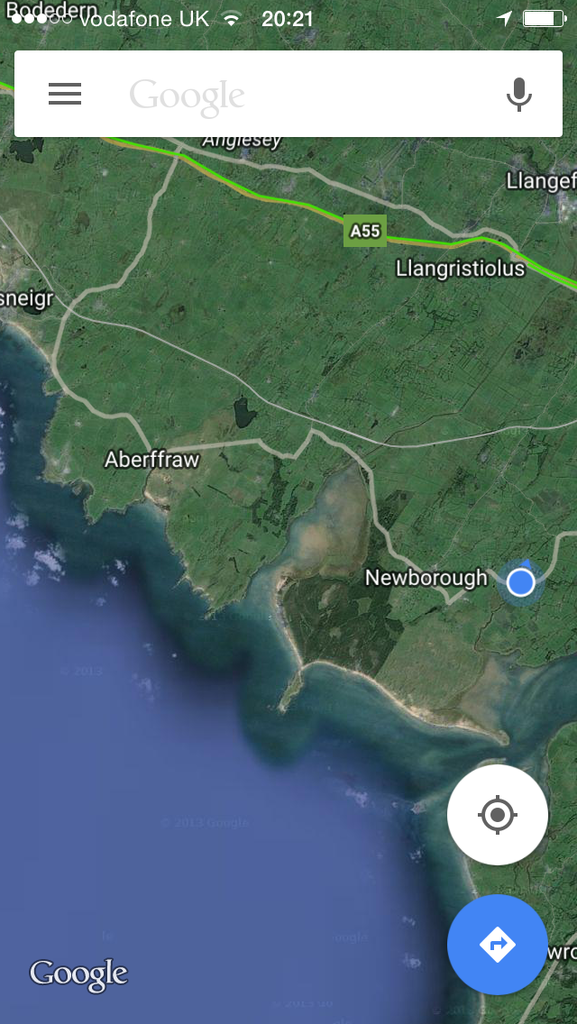 The Big Day
Woke up after a fantastic nights sleep to a beautiful morning and view, albeit a fresh one.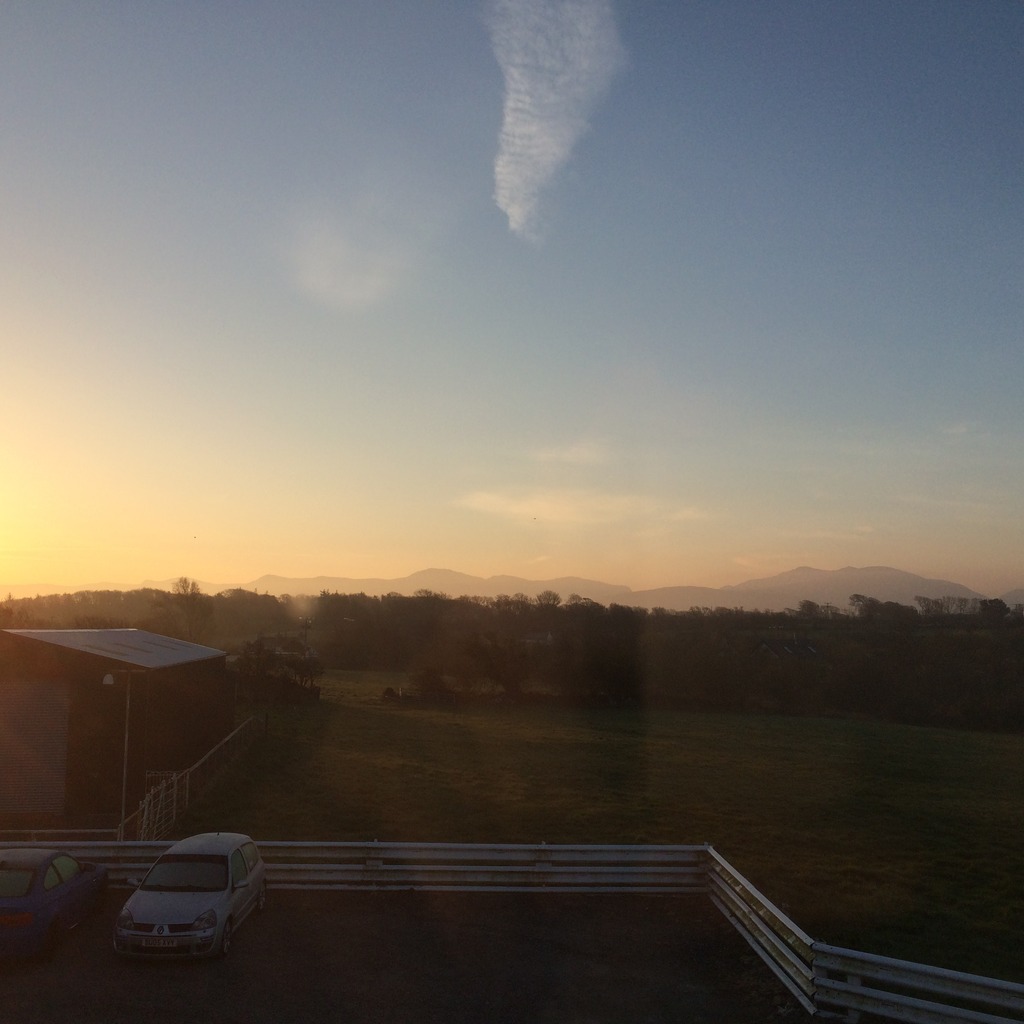 After not even a 20min drive we arrived at the circuit for about 7:15 and met all my friends who were waiting for some bugger to come and move their BMW E36 out of our garage and we milled about. We started to empty the cars into the garage and get the cars ready for the sighting laps.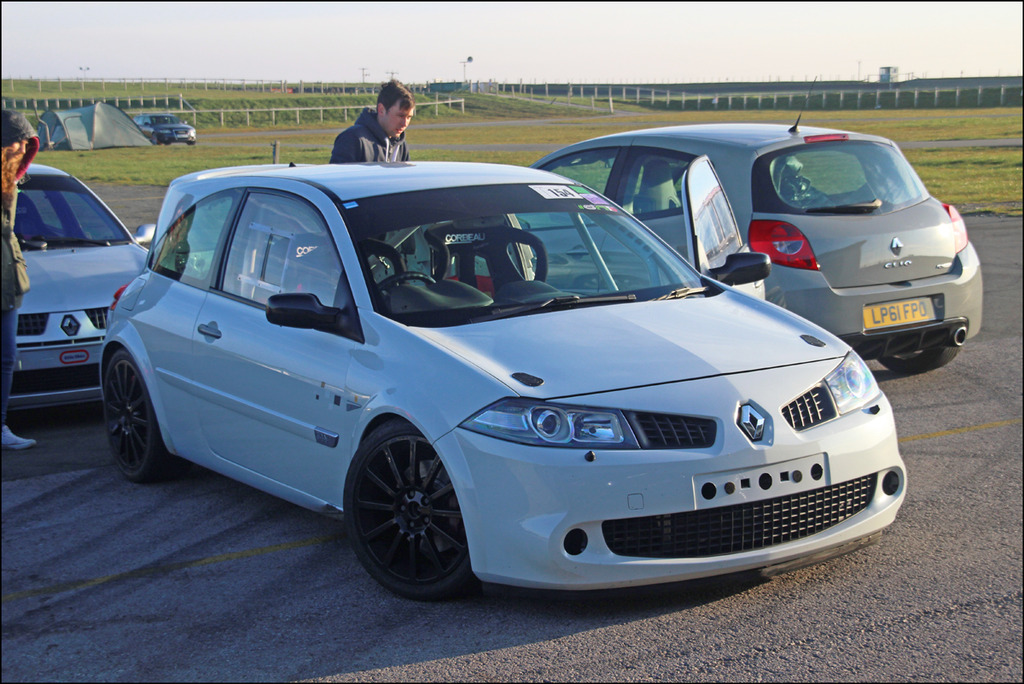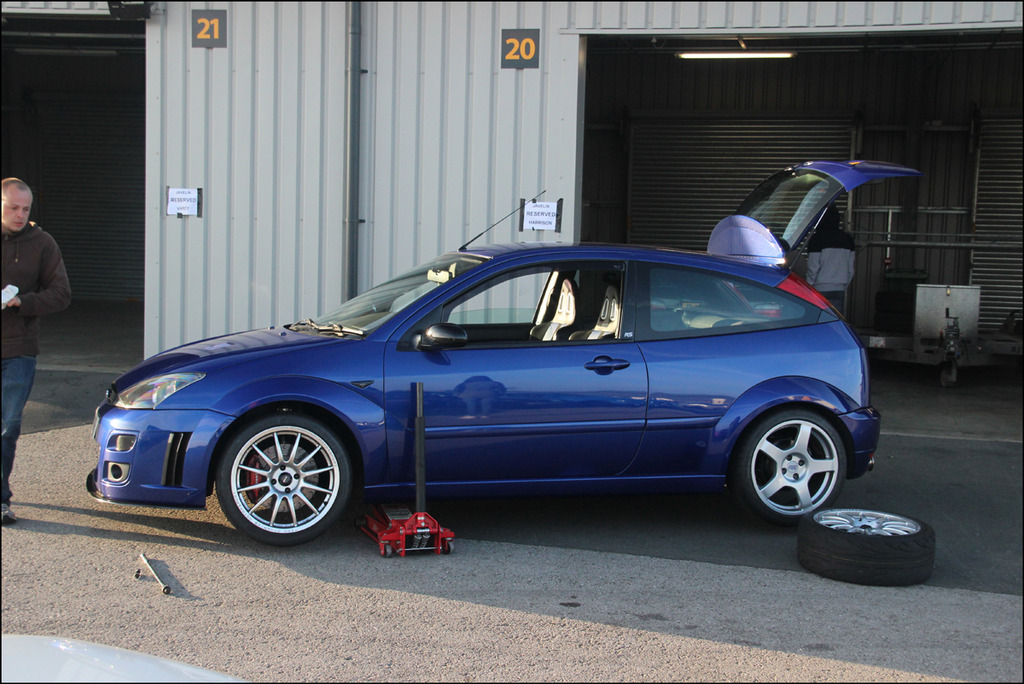 @Jonff
We went and signed on (can someone explain the whole numbering scheme when you sign on?), and booked tuition but the afternoon was the only available time so that had to do. My Dad did the sighting laps while I sat in with him, once we'd done that I was eager to get out and learn the track. My Mum decided she wanted to come out with me on my first go and it was fun, she was squealing and laughing we had a blast.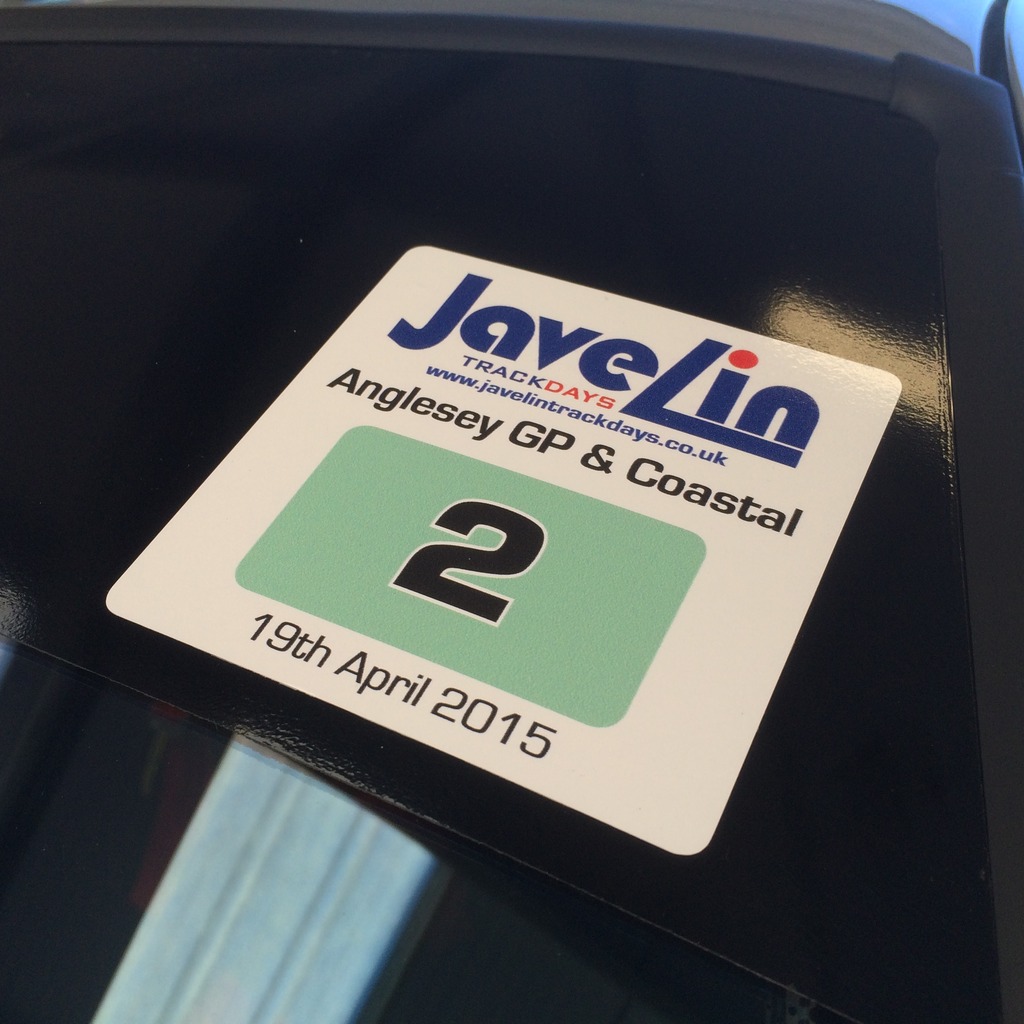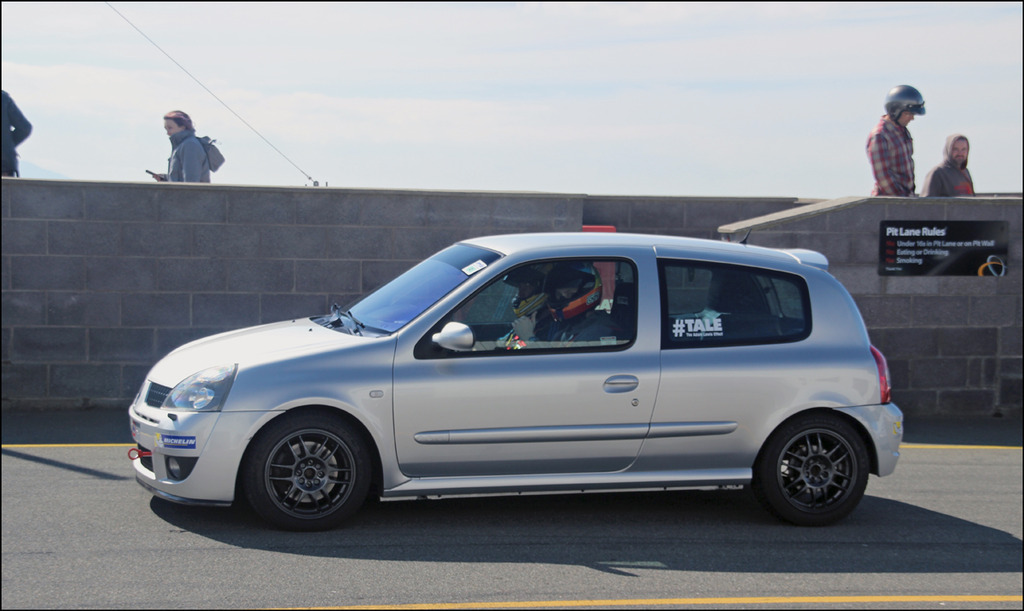 I'll be honest I didn't have a frigging clue what gear to be in or what the correct line was for each corner, I know he basics of driving a car around a track but this was a totally new track to me its not even like I could have known it off a game LOL.
Before we knew it, it was lunch. So I took a couple of photos, nothing great they were done with my iPhone.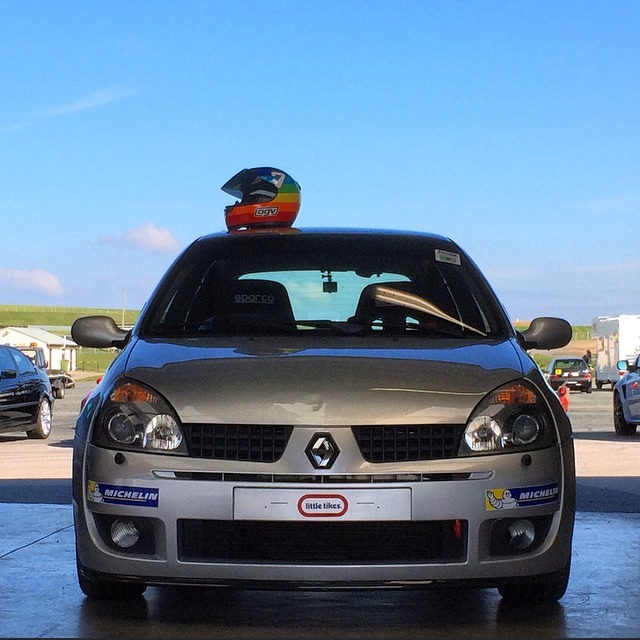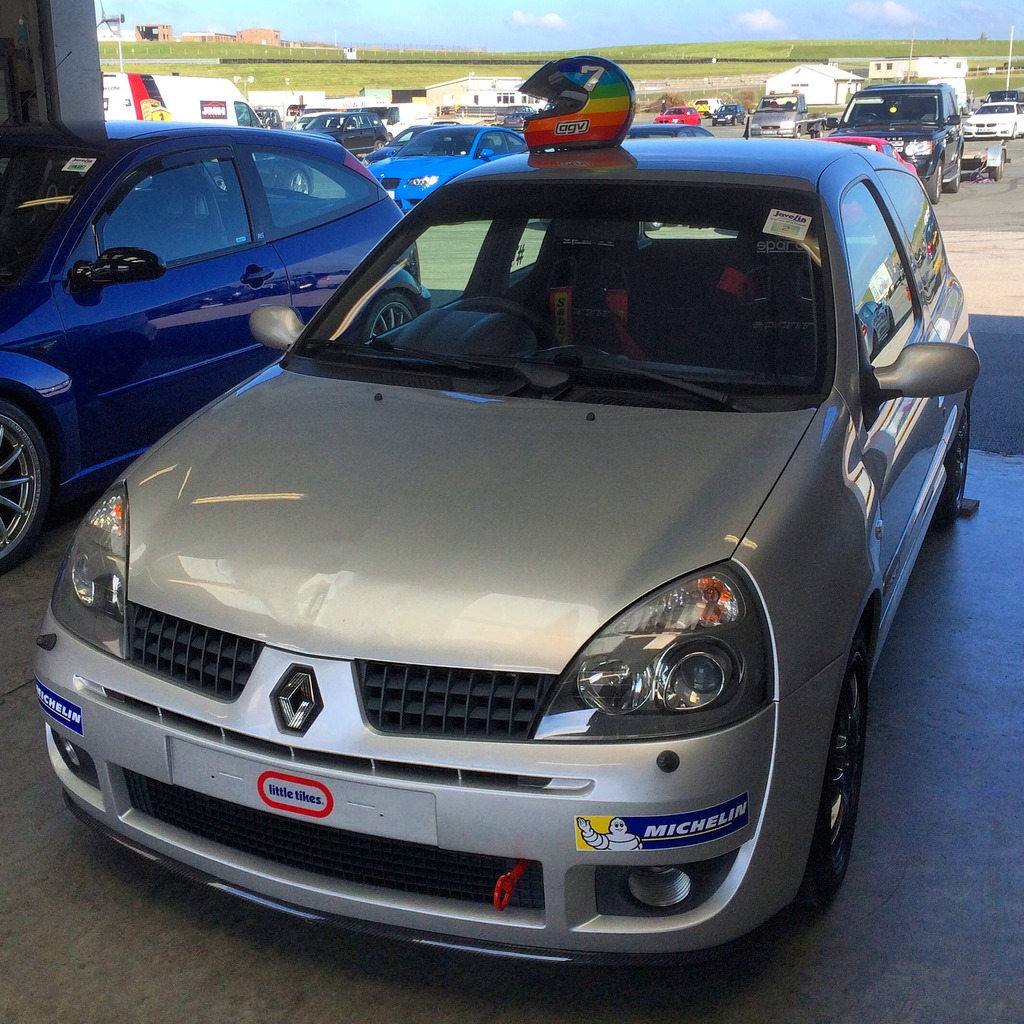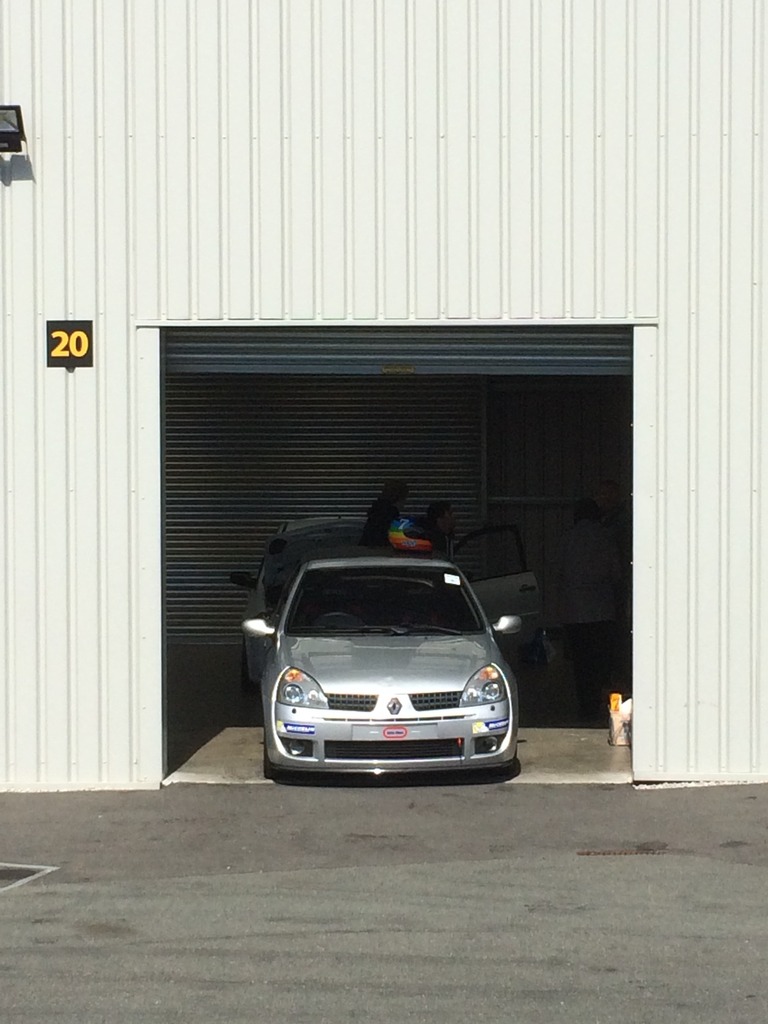 First up for instruction was my Dad, now previous to this he was slow. He had no confidence in the car and lets face it your first time on a track is intimidating, so the tuition will help solve some of this. After 3 laps you could see he was already far quicker and more confident and it was great to see the car, the very thing we've built together blasting around the track.
Then it was my turn. I get in the car and the instructor told me all about my Dad and how well he improved in such little time, said he'd got him out of turning in to early and to not be afraid of chucking the car around (within reason).
We set off down the pit lane and we're on track and he gets me to drive around for the first lap the way I have been in the morning then went about correcting my mistakes. These of which were changing gear too much and not using enough track when either entering corners or exiting so that's a massive lesson already. Then we got down to how to make me quicker as he said he was quite impressed with me already (big head I'm s**t at everything), so we did more laps and we then started to stick with cars that were quicker on the straights I loved every minute of it. Once the 20mins was up he said I was smooth and didn't do much else wrong I just needed to not try and over drive the car because he could see that's what I was doing.
About 15mins after that I went out again this time with the camera on to record it.
My Dad went out again with me as passenger and actually bullied a Stock Hatch Saxo, which made me proud because of how much he had improved over the morning LOL.
So 5 o'clock came and we all packed up and headed for home, it didn't seem to take too long driving back though my Mum insisted on driving the Clio home.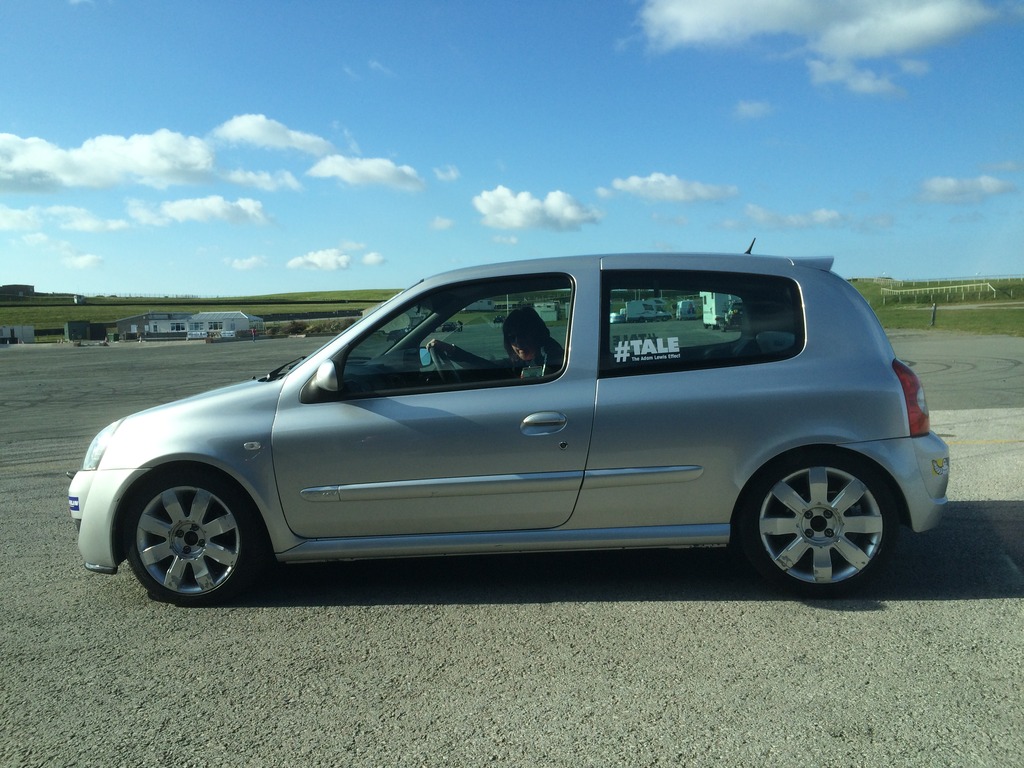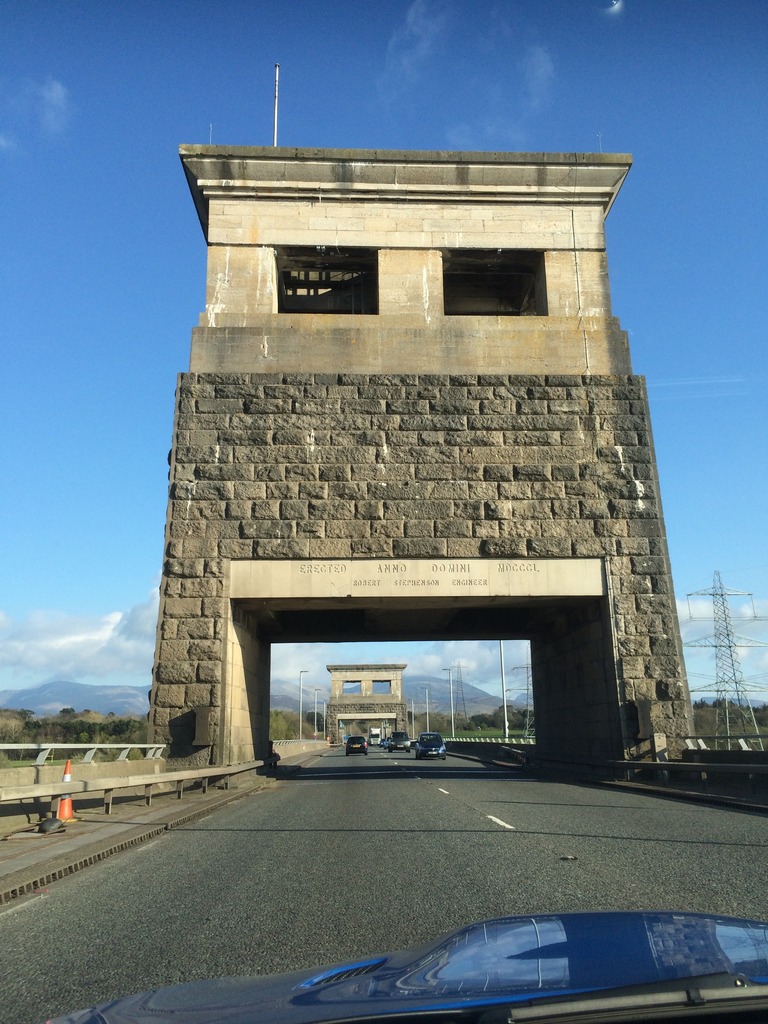 The following day I booked off work to give the car a clean and put everything away, so many rubber skids up the car and bonnet, who knew.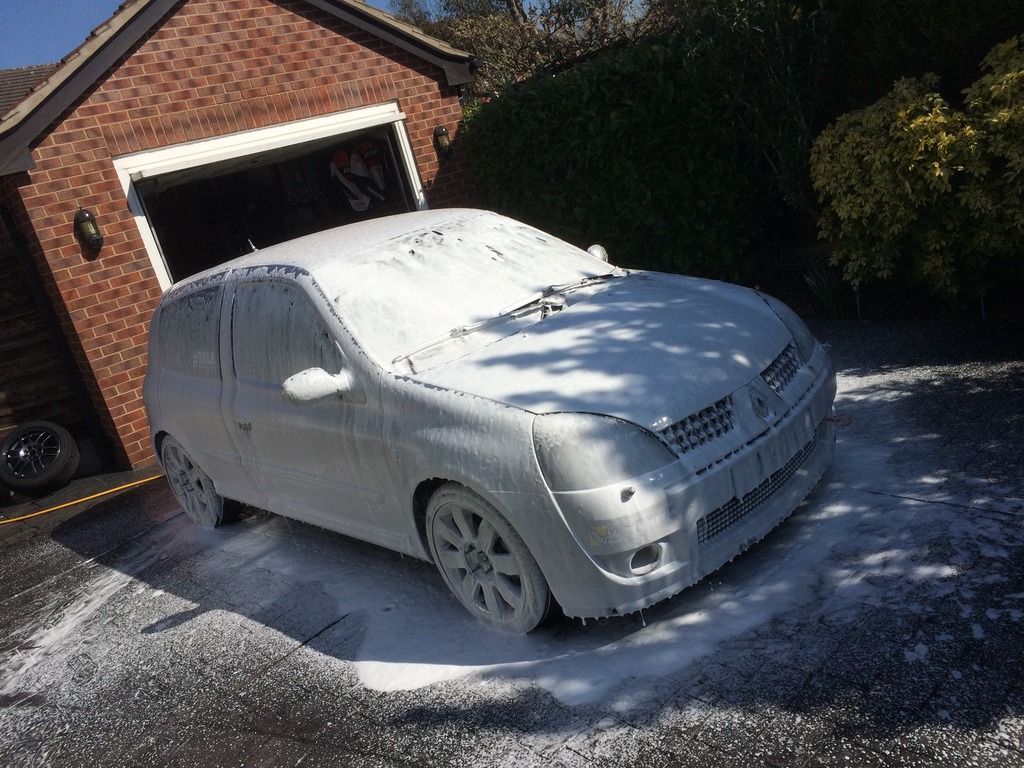 So to present day, we've booked our next day… Oulton Park 20th May and after having some more instructions on my driving and what else I can Improve on based solely on my vid we should be better off yet again.
Next on the cards is a Safety devices half cage, OMP dished steering wheel and probably replace all the bushes for Polyurethane items most likely Powerflex after the Flowflex debacle. There's nothing else to improve on, the car feels great drives perfectly can't complain.
Spec list
Renault Sport Clio 182 (2005)
Visual Cup Pack
Carbon Ktec splitter
Milltek Cat Back system
Ktec Induction kit
Flow-Flex Dog Bone bushes
Renault OZ F1 15x7"
Michelin PE2's 195/50/15
Stud Conversion kit
Eibach Sport line Springs
OEM Dampers and Top mounts
Goodridge Braided Brake lines x6
Brembo HC Discs + Pads Front
OEM Renault Discs + Pads Rear
Motul Dot 5.1 Fluid
Sparco Sprint Bucket Seats
Sabelt 4point 3" harnesses
SJCAM SJ4000 1080p camera
Mike