Welcome to the story of my Clio 172 Cup ownership.
A bit about me first, I'm a mechanical design engineer & welder by trade. I've welded & prepped many a classic car in my time & I'm not scared of getting stuck into things.
It's a long story but...
I used to have a Vauxhall Nova Stock-hatch Rallycross car, the rival car in its class at that time was the 205 GTI, so I bought one in 2005 & had some fun in it!
At the same time a local lad I used to knock about with bought a 3-year-old Clio 172 Cup. He let me have a go in it; and I was blown away with the performance over the 205. I've always craved after one since then.
Meanwhile in 2009 after working away in Holland and becoming a self-employed welder, I wanted a practical cruiser with a large boot (BMW, MERC). I came back home & earned some good money so being a petrol head I bought an Evo 8 which was a hoot! I really should've bought a diesel estate for work & after 7 years of daily driving an Evo I needed something more practical & better MPG. So, with doing literally no research at all I went to buy one.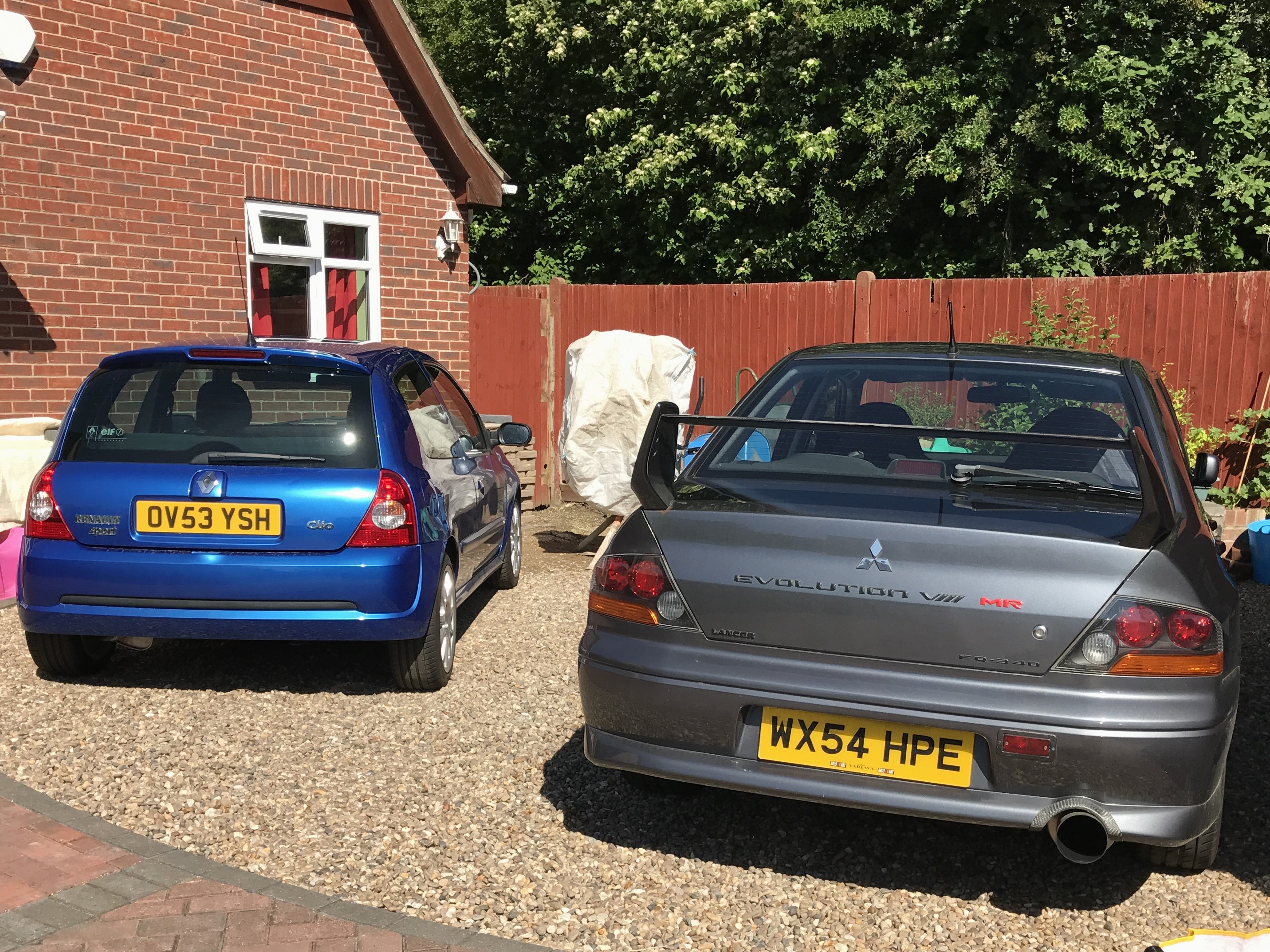 Excuse the messy drive; It was a work in progress.
People used to ask me: "what car do you buy after an Evo?"
I travelled down to London on the train, did a bit of sight-seeing: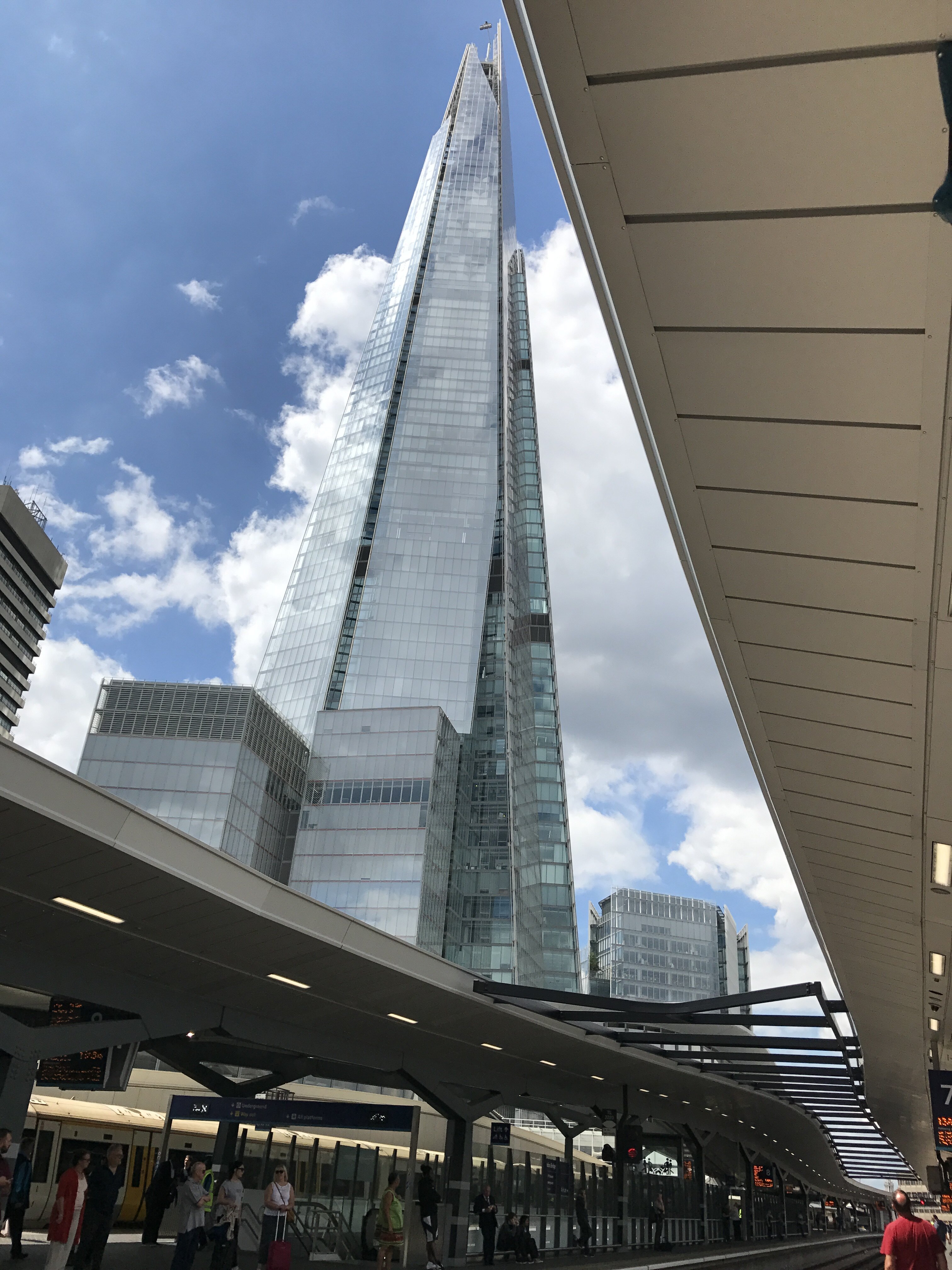 The guy who was selling it let me test drive it & mentioned; "It goes well doesn't it?" I felt a bit bad saying: "I'm used to an Evo" I found the driving position a bit funny & the steering wheel pointed toward the center of the car which reminded me of the Nova.
After a negotiation & a faff about for insurance, I came home with it.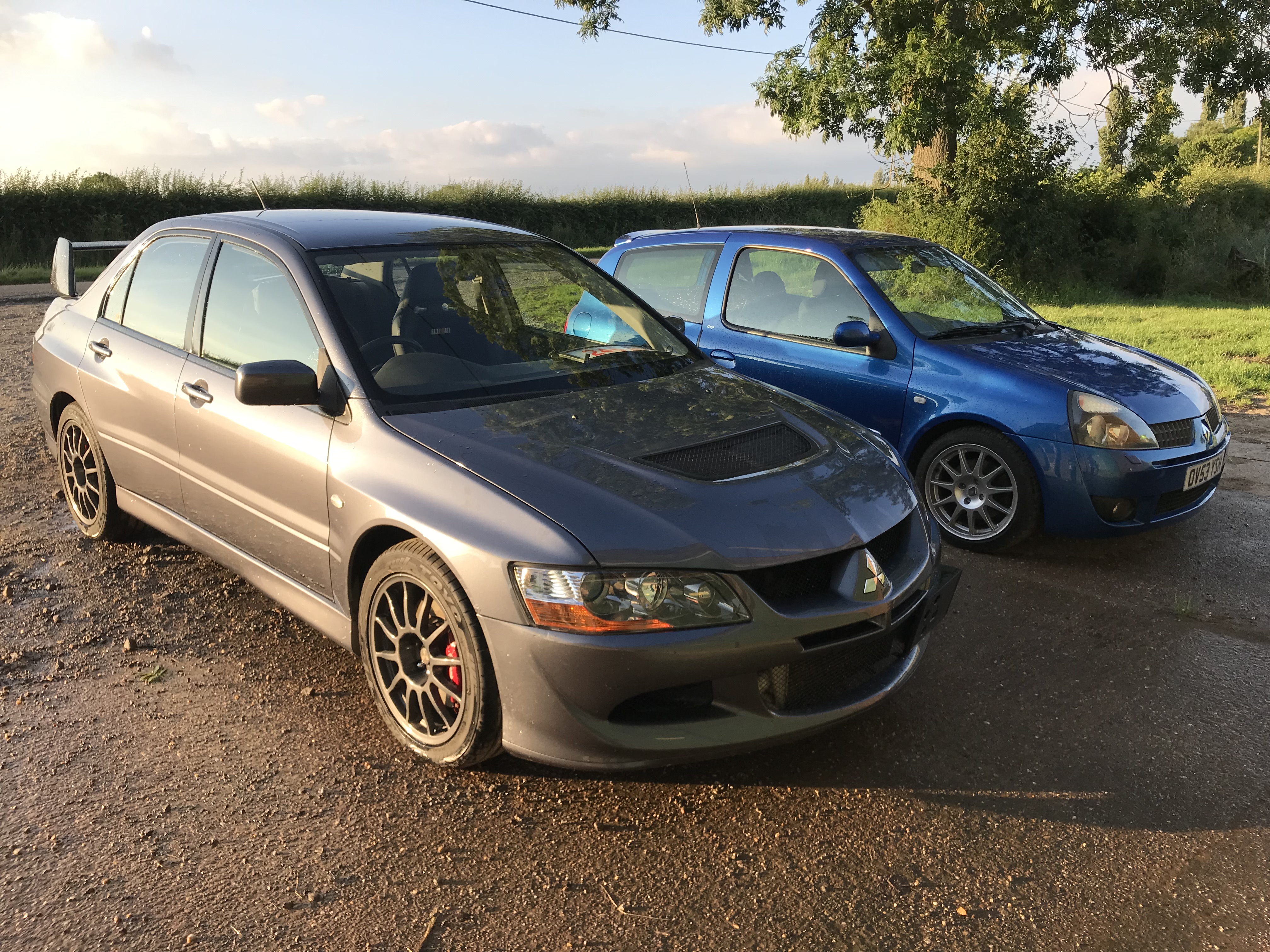 I knew the car wasn't perfect when I bought it, but I had the same feeling of apprehension when I bought the Evo & after a few years of ownership I felt that I did the right thing.
There were a few missing components (front arch liners & plastics) a suspicious earth wire & a few tell-tale signs that the car had been used as someone's toy rather than their pride & joy. But in all fairness, it looked fairly standard & capable of being an OEM standard car again.
First jobs were a new Windscreen & paintless dent removal all round.
Any way enough about other cars & me babbling, a few photos: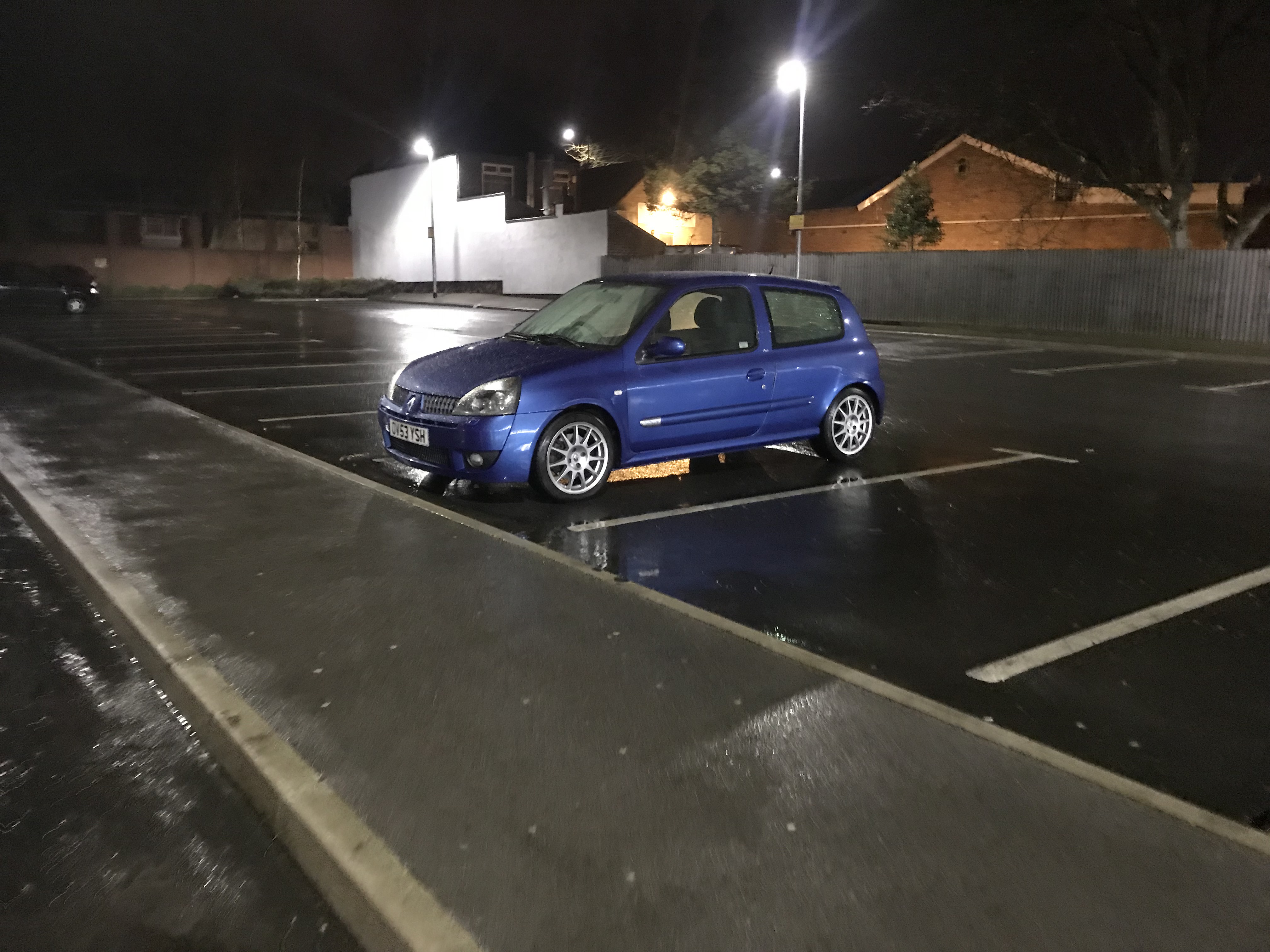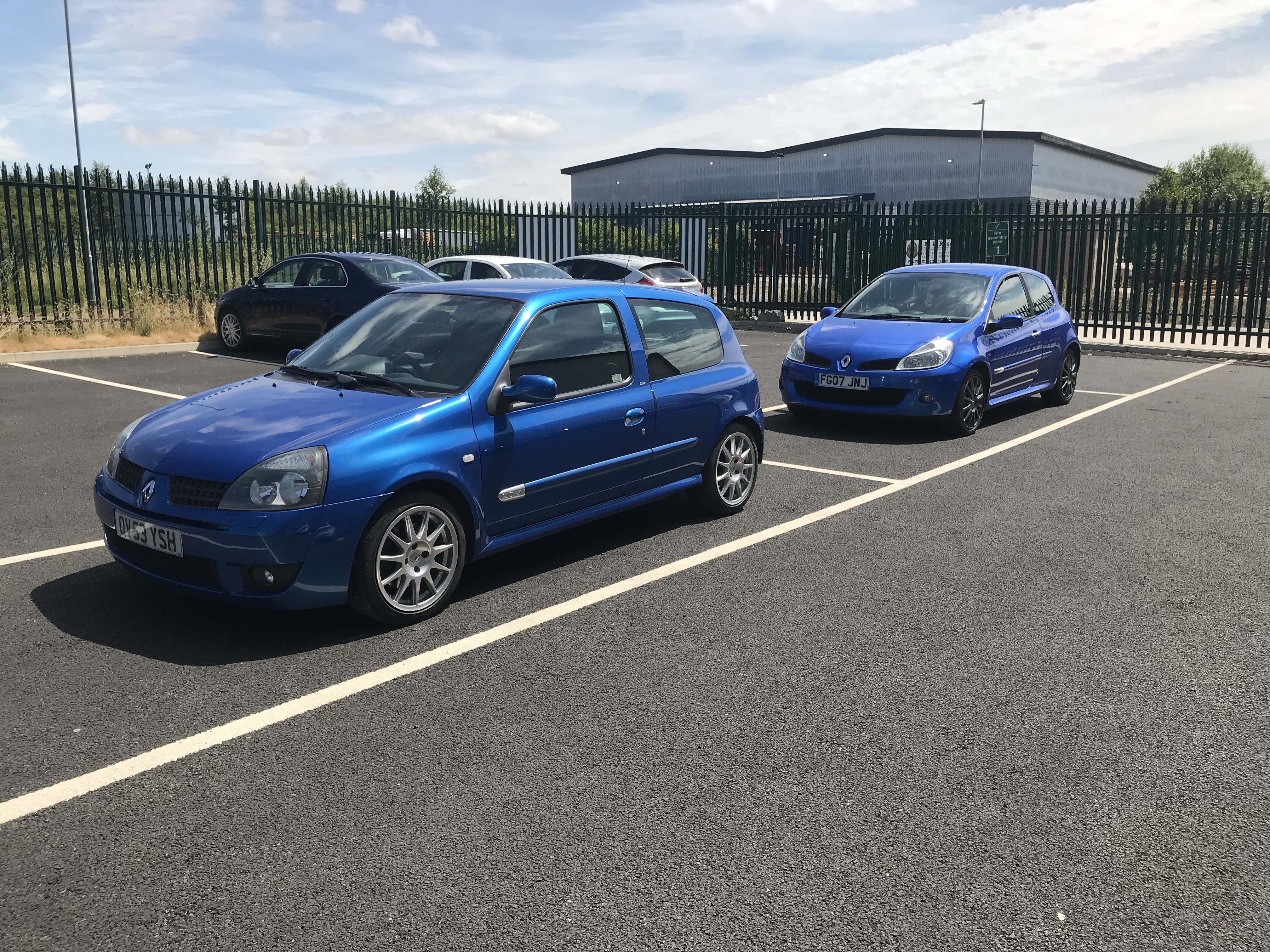 An arty shot with a mates Fiat 500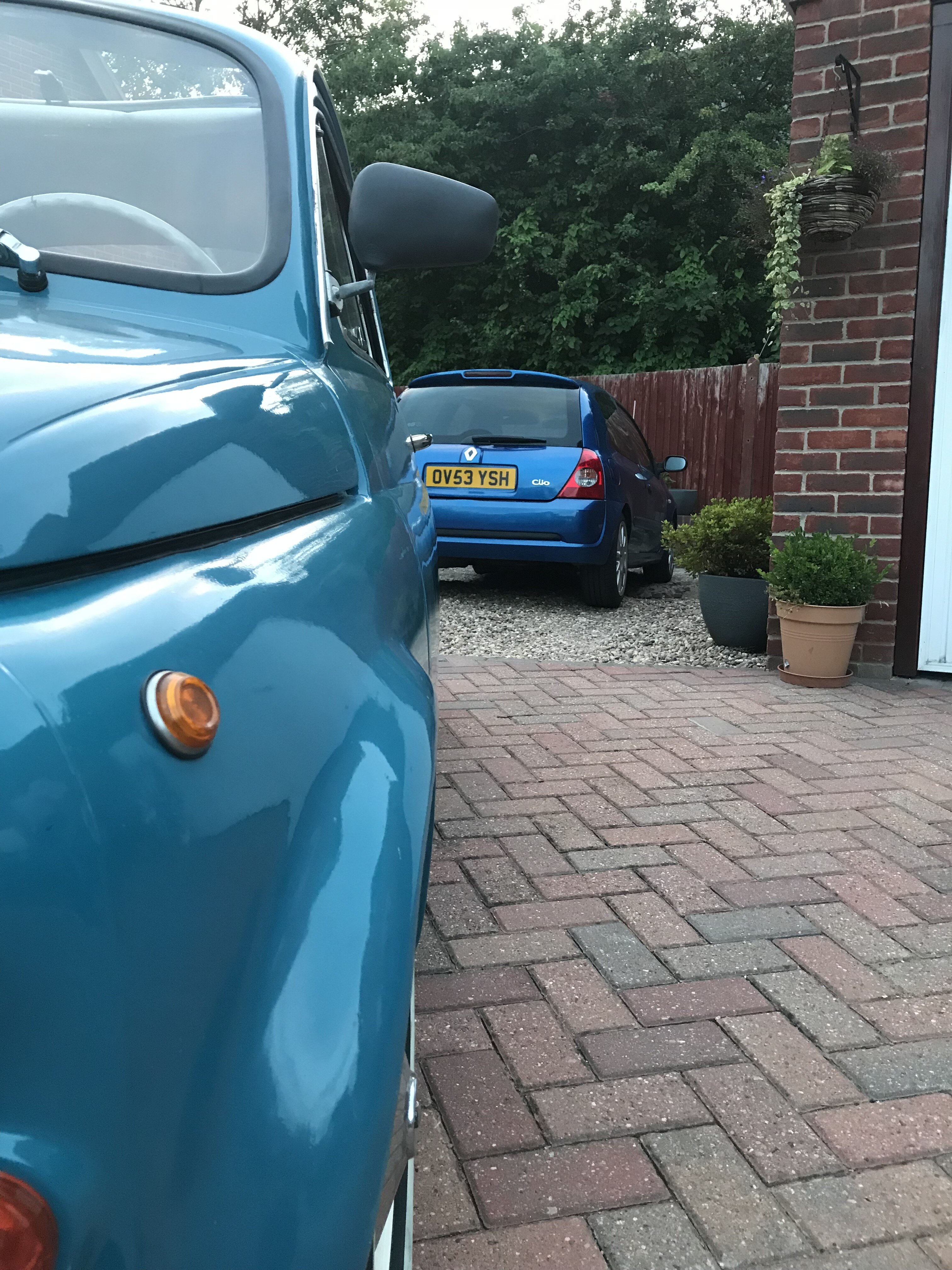 Even the missus likes it as she's insured on it unlike the Evo!
Note the plastic strip on the edge of the door, they stayed there on both doors till the underbody refurb this year. I left them on for extra anorak points!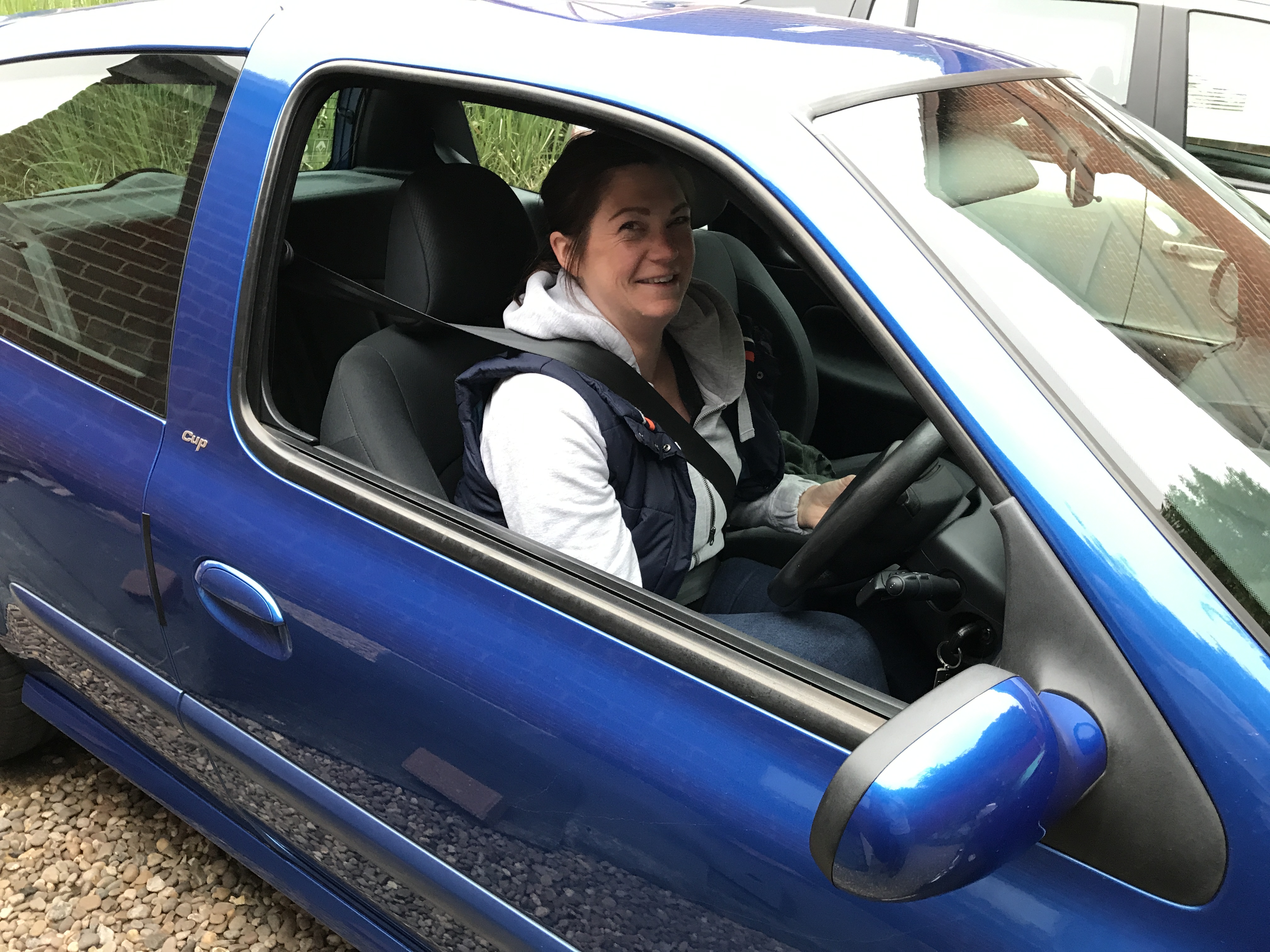 Clio's are even good trackday service barges. A fellow Clio owner did come over & compliment me on the car, which was nice.
I bought some 182 wheels as they had brand new tyres on them, but then my brother needed them for this trackday because the tyres turned out be sticky Dunlop's.
Note the lack of wing mirror & door glass! Start of the day, just met the passenger then covered him in glass 2nd lap!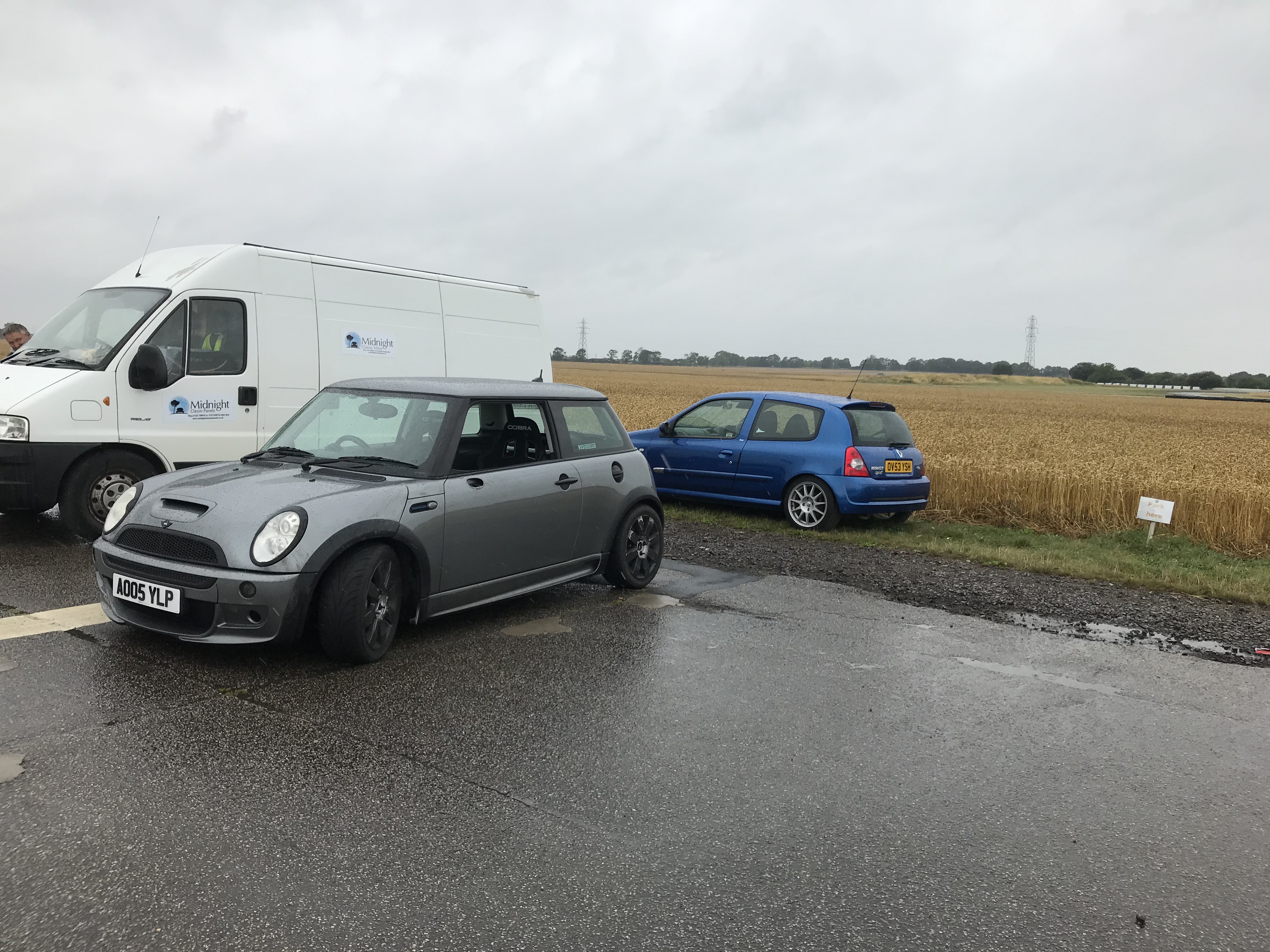 I chose the Cup model as I believed it to be simpler & use poverty spec parts, this was before I discovered the dreaded UCH module & found my car was a genuine unicorn with the Air Con option, the nostalgia of wanting one back in the day & knowing it's a bit rarer; more than makes up for those shortcomings!
Thank you for taking the time to read my first post on my Cup. Apologies for babbling but I thought I'd explain how I came to this cars ownership.
I'd appreciate constructive criticism from senior members and/ or moderators on the content as this is my second forum post!
I have many mini projects I've got to write up on in due time, some are noted here in my intro post:
Intro post with projects