Thought i might as well detail this cars rebuild on here - i certainly put all the other cars, so makes sense!
Excuse me if its a bit of an info dump from a variety of different threads, but it saves me having to re-type everything
--------------------------------------------------------------
In effect, I did the usual, bought it on eBay, late at night, after a few glasses of wine. Naturally, I did this unseen, knowing full well that the car had a fairly obvious misfire and was using a bit of oil. Previous owner apparently couldn't be bothered to fix it, so bought something else and plonked this on eBay.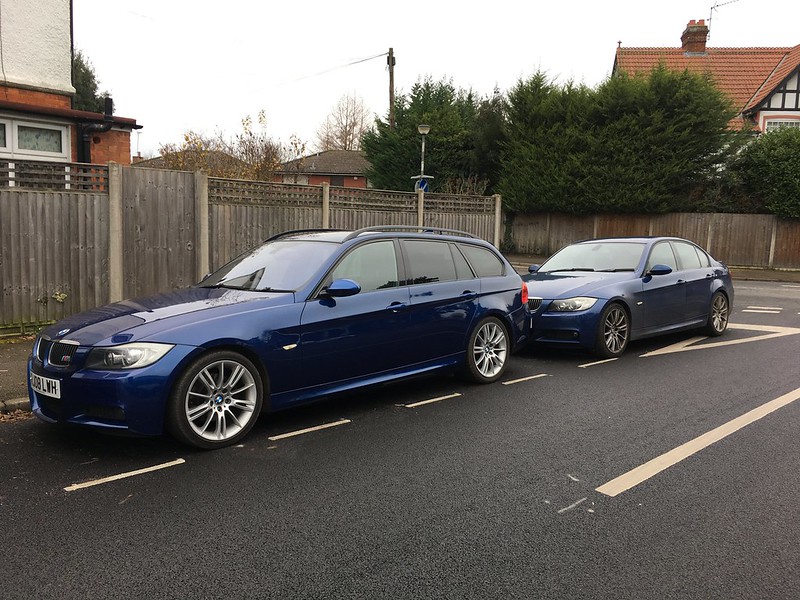 Untitled
by
Sir_Dave
, on Flickr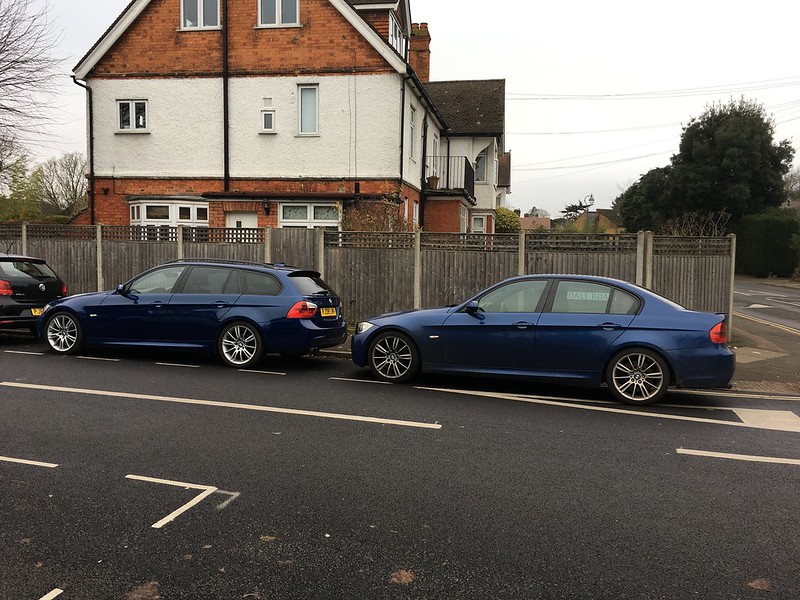 Untitled
by
Sir_Dave
, on Flickr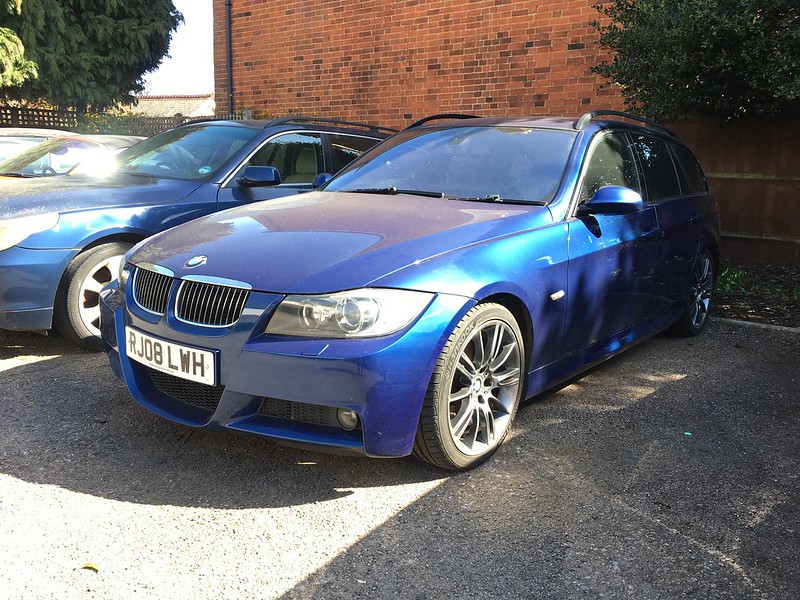 Photo 25-03-2019, 13 14 39
by
Sir_Dave
, on Flickr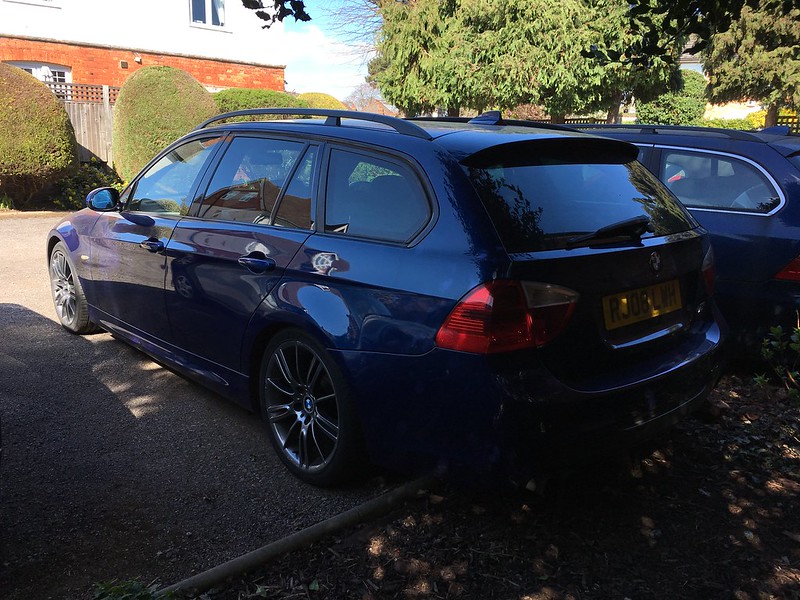 Photo 25-03-2019, 13 13 50
by
Sir_Dave
, on Flickr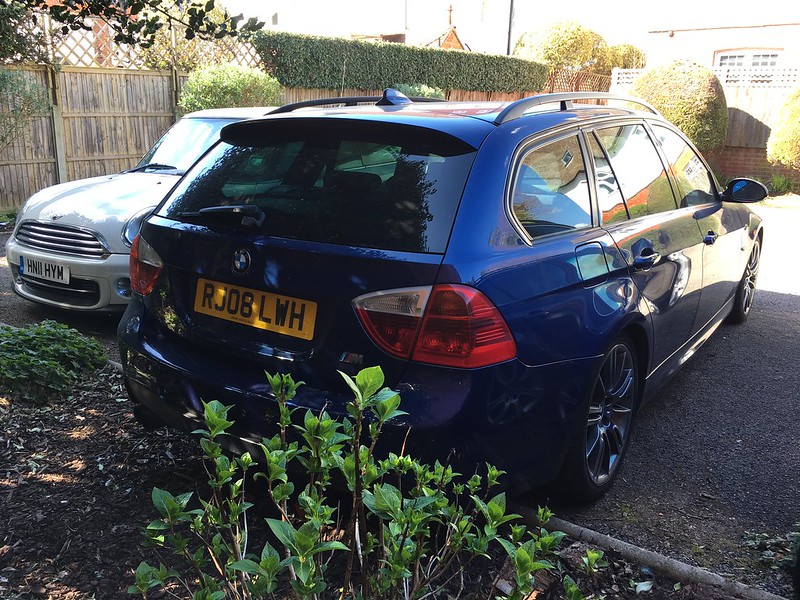 Photo 25-03-2019, 13 14 02
by
Sir_Dave
, on Flickr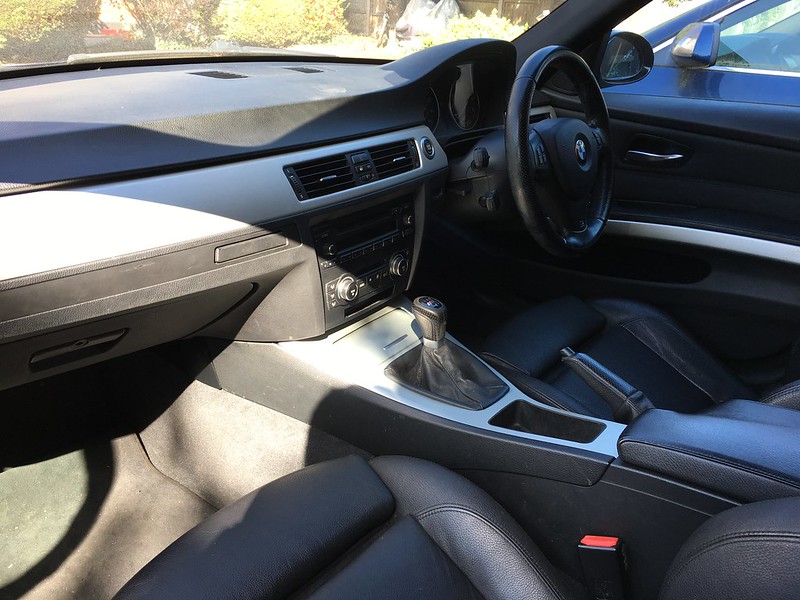 Photo 25-03-2019, 13 14 29
by
Sir_Dave
, on Flickr
Spec wise it was pretty loaded, manual and 3.0 petrol, so a rare old beast. I also knew that it was the same N53 engine as the 330i, just with a different inlet manifold and map. Fit both of them and my 218bhp 325i would be a 272bhp 330i straight away. A few hundred quid and i could LCI it as well - try and find an LCI 330i manual touring lol.
S313A Folding outside mirror
S459A Seat adjuster electric with memory
S470A Isofix system
S4AEA Armrest front retractable - now removed and put in the 335i
S418A Luggage compartment package
S609A Navigation System Professional CCC - also now in the 335i, so currently has S663A Radio System Professional
S633A Preparation mobile phone business
S677A Hifi system professional DSP (HK/Logic 7)
S6FLA USB audio interface
S507A PDC rear
S522A Xenon light
S524A Adaptive headlights
S5ACA Highbeam assistant
S761A Individual sunshade glazing
Being that N53's are renown for their issues with coil packs, spark plugs & injectors, I took a punt on it. BMW had carried out a "quality enhancement" in 2011 and replaced all the injectors with Index 9, along with new coil packs & NGK spark plugs. Being that we were now 7 years later, I simply assumed they had failed again. What's the worst that could happen … well …
--------------------------------------------------------------
Cold start it starts instantly, runs ok for 5 seconds or so, then starts to jump about (really bad), with EML lights appearing & misfires on cylinders 5 & 6. After running for a couple of minutes, it struggles to start again, starter spins for quite a while.
Initial fault finding so far has resulted in:
Cyl 1: Unknown brand coil pack, NGK spark plug – smells of fuel.
Cyl 2: Delphi coil pack, NGK spark plug – smells of, & appears damp with fuel.
Cyl 3: Unknown brand coil pack, NGK spark plug – no fuel smell.
Cyl 4: Bosch coil pack, NGK spark plug – no fuel smell.
Cyl 5: Unknown brand coil pack, NGK spark plug – no fuel smell.
Cyl 6: Unknown brand coil pack, NGK spark plug – smell of fuel, very wet tip.
I cleaned all the plugs, re-inserted, then restarted the car, Cyl6 was instantly wet with fuel, all others were fine.
Then swopped the coil packs around, misfire stayed with Cyl5/6. Did the same with the spark plugs, misfire stayed on 5/6.
If I pull the oil cap, the idle stays the same, i.e. doesn't get any/even worse.
Cylinders 6,5,4,3,2,1: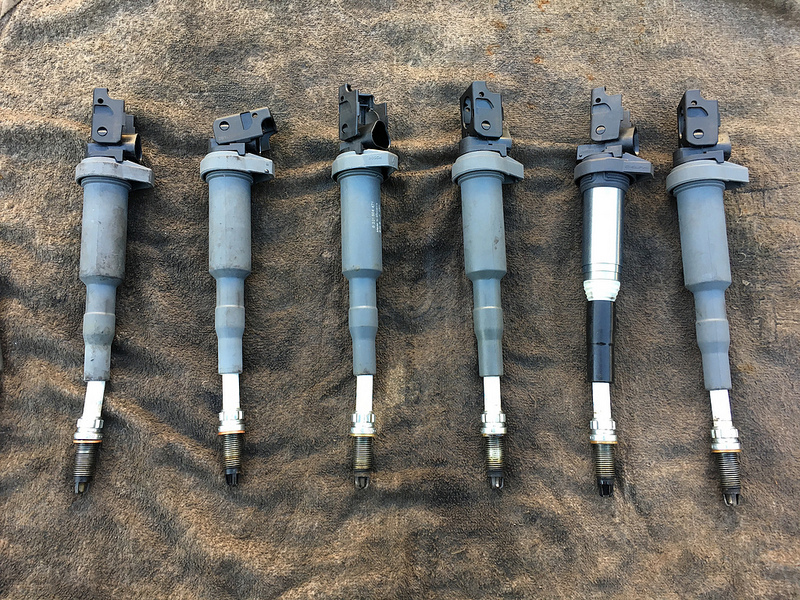 Untitled
by
Sir_Dave
, on Flickr
Cyl6 Spark Plug: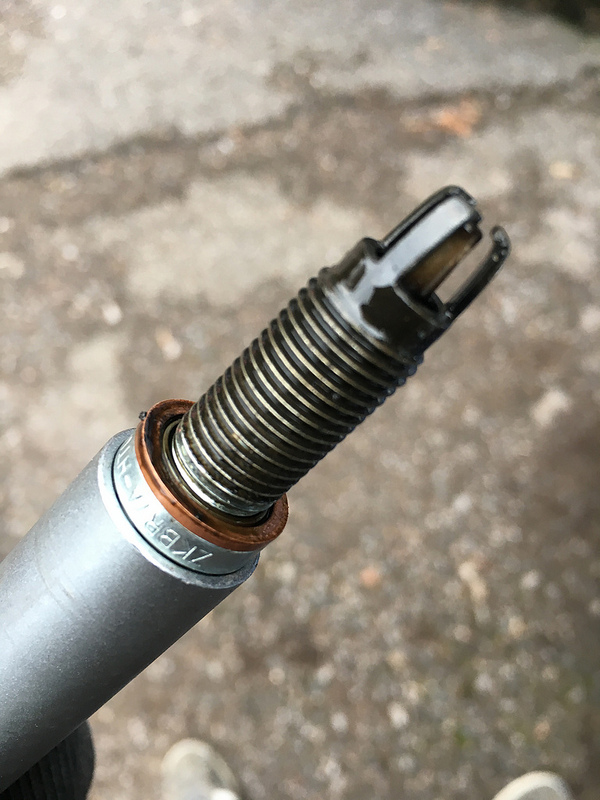 Untitled
by
Sir_Dave
, on Flickr
After buying a new 12mm adaptor, I then did a compression test (tested cold, all other plugs left in):
Cyl 1: Compression at 120
Cyl 2: Compression at 130.
Cyl 3: Compression at 130.
Cyl 4: Compression at 130.
Cyl 5: Compression at 110.
Cyl 6: Compression at 0.
At this point, after swearing a little, having read that a completely failed DI injection can occasionally cause compression pressure to bleed away giving a false reading, I bought a new Index 11 injector & de-coupler. Having removed the old one, I was faced this this, appears covered in white gunk?
Cyl6 Injector: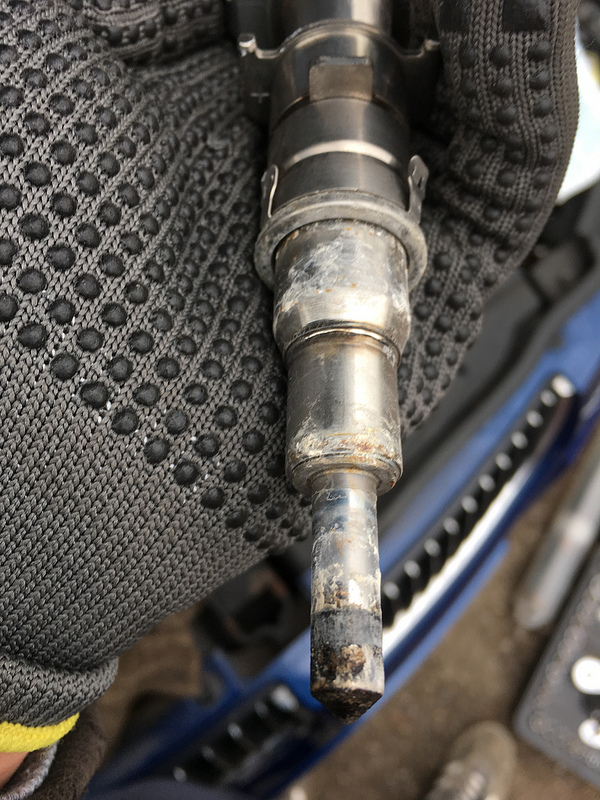 Untitled by
Sir_Dave
, on Flickr
New injector fitted and coded with INPA: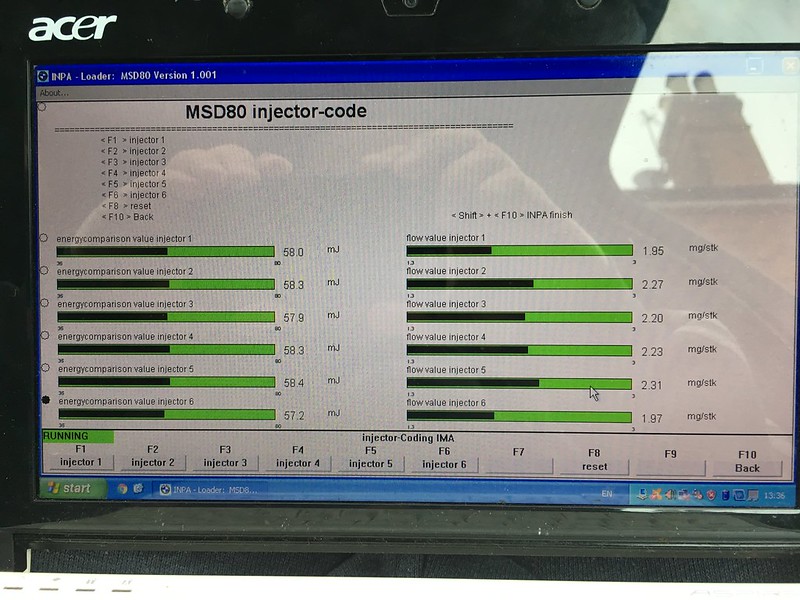 Untitled
by
Sir_Dave
, on Flickr
Re-started, still misfires. New compression test, this time done without any plugs in, all 155-165, barring cylinder 6 at 0.
Cylinder 5 sounded like this:
Cylinder 6 sounded like this:
When up to temperature, there is a decent amount of white smoke, this appears to have quite a nice smell to it. The previous owner said that since the misfire had started, it had started to burn a lot of oil
Now, ive had a head gasket go on an e46 M3 between cylinders 5&6 a few years back, but from memory, it wasn't at zero (just 5/6 comps were lower than all the others) and being that that's a closed deck block, there was no coolant usage etc as the break was between the cylinders. The last time I saw zero compression was on my R53 Mini I after a bit of a valve broke off and prior to that failing completely, it also smoked blue like a chimney on cold start. The 325i has no blue smoke, which in my mind, would be the normal indicator of valve and/or piston ring issues?
--------------------------------------------------------------
Re: the white smoke, having watched a billion N54 videos (they have the same type of injector), my initial hope was a failed injector, hence the purchase of a new Index 11. Normally, in this situation, i would replace all the injectors/coils/sparks as a matter of course, but with the injectors being so expensive, for the purposes of fault finding (the lack of compression) on CYL6 i have bought just the one.
Codes wise, ive got Carly & INPA. Not using the 2.023 loader for the MSD80 as per the Bimmerprofs websites suggestion however (no idea how to update it), so just on 1.001 for the time being. Carly/INPA are giiving me 29D1 & 29D2 for CYL 5 & 6 misfires, along with 29F3 for low pressure fuel sensor failure (the live data is also showing its stuck at 6500 hPa instead of 5k so assume its toast). Finally there is the (fairly standard on the N53) 29FE Nitric Oxide Catalyst aging.
Video of cold start. As you can see, the idle is generally ok initially, albeit rather tappy/loud, after which it starts to struggle massively:
--------------------------------------------------------------
So after a bit more tinkering, i ruled out HG failure (bought a tester), rings seemed ok (wet compression test), then stuck an endoscope down the spark plug hole and the top of the piston looked ok. At which point, i was leaning towards valves, most likely inlet, due to the excess white smoke out the exhaust (probably unburnt fuel), but before i take off the head, it made sense to get a second opinion...
--------------------------------------------------------------
Had a leakdown test done at BMS Surrey and the inlet valve on Cyl6 is stuck open slightly. Realistically, its quite difficult to tell whether the cause is bending/sticking as you can only see so much with a borescope, but he said that the top of the piston & cylinder walls seem to look ok. To speed up getting it back on the road, i've just bought a used cylinder head complete with cams/valves etc, so the idea is to simply swop them over, then strip the old head & sell the unused parts.
Currently trying to decide whether i can bothered to do it all myself, on the drive, in the cold & wet, or just pay them 12 hours labour to do it ...
--------------------------------------------------------------
Weekend of the 30th/31st April, i made a start to the 325i's strip down ...
Starting point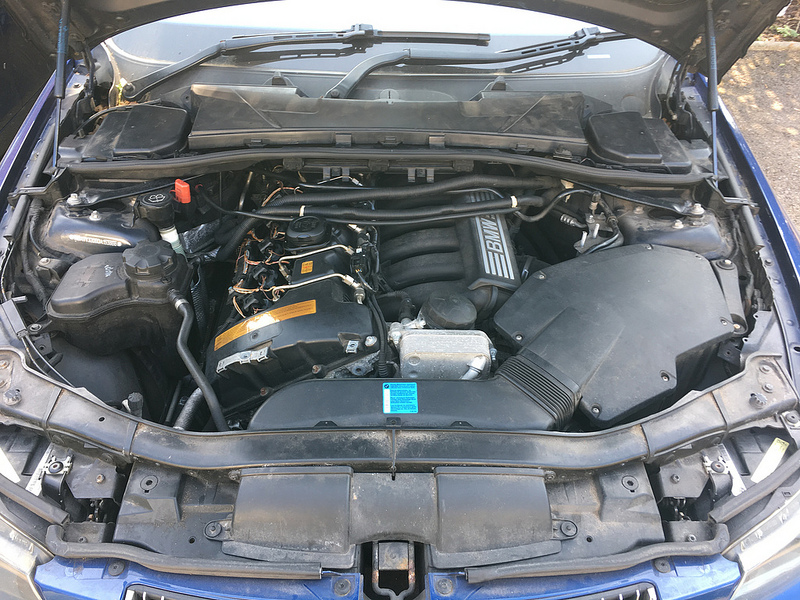 Untitled
by
Sir_Dave
, on Flickr
Inlet manifold removed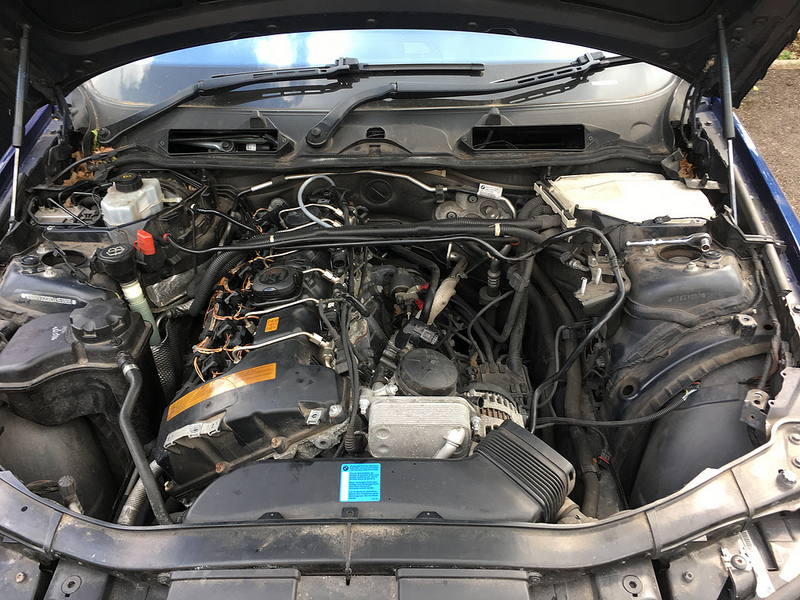 Untitled
by
Sir_Dave
, on Flickr
Valve cover removed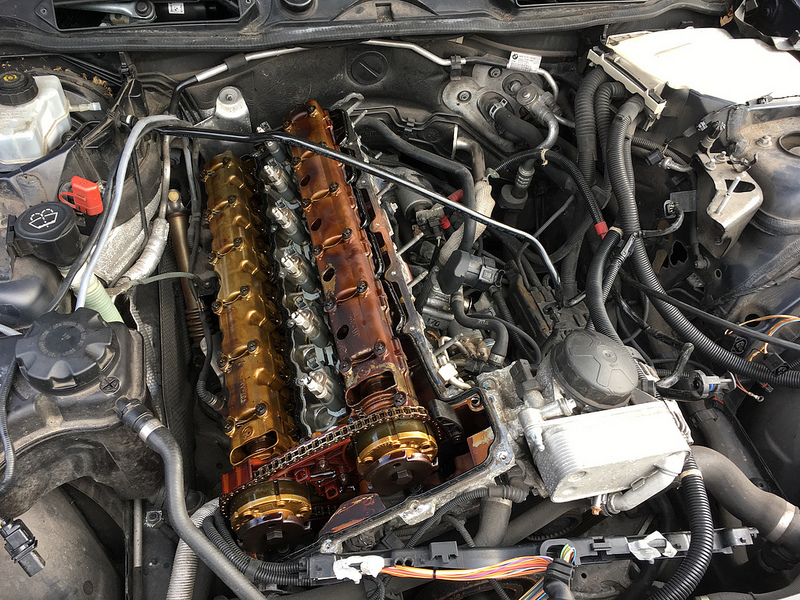 Untitled
by
Sir_Dave
, on Flickr
Organised chaos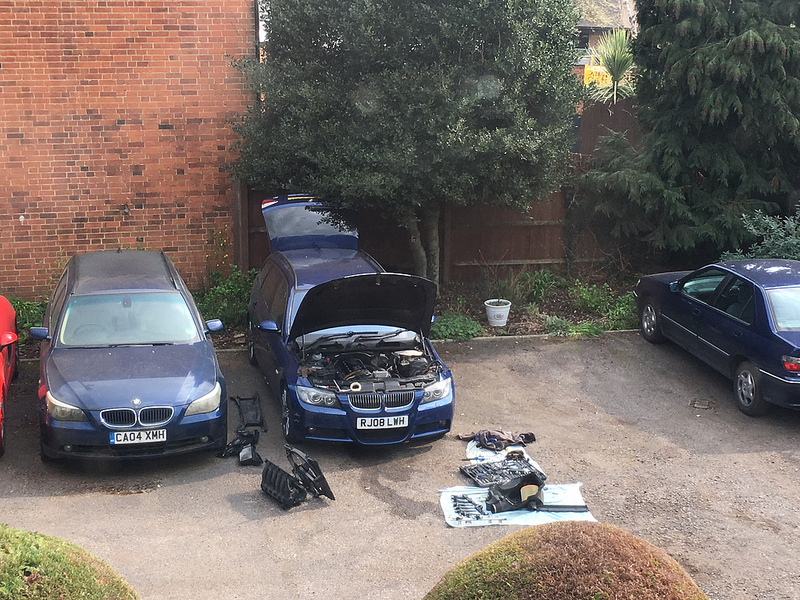 Untitled
by
Sir_Dave
, on Flickr
Turned the car over by hand a few times and by peering through the inlet opening, it does appear that the valve is still moving within its guide, but only to a certain point - meaning that the valve is still open say 5mm or so. Upon looking at the valve spring with the valve cover off, i "think" that i may have a broken spring; which would naturally stop the valve closing all way as its not being pulled all the way back out of the cylinder head. Its VERY difficult to see as its rather close to the bulkhead, but i think im going to remove the inlet cam (ordered the N53/54 timing tools today) and have a proper look before even considering pulling the head off.
With luck, itll be the valve spring and ill be able to swop it out with some overhead valve spring compressors. Normally you'd use compressed air to hold the valve up when doing the springs without taking the head off, but with their being no compression, i think, if im careful, i should be able to hold the valve up through the inlet opening with something to stop it dropping into the cylinder head. Otherwise i'll do the rope trick and feed that in through the spark plug hole, then bring the piston up to avoid the valve falling into the head - id rather not move the bottom end from TDC once its locked in place however. All in all, its a nice little project to keep me occupied through sunny days; useful to be learning on the job as well!!
--------------------------------------------------------------
Well hello there broken valve spring: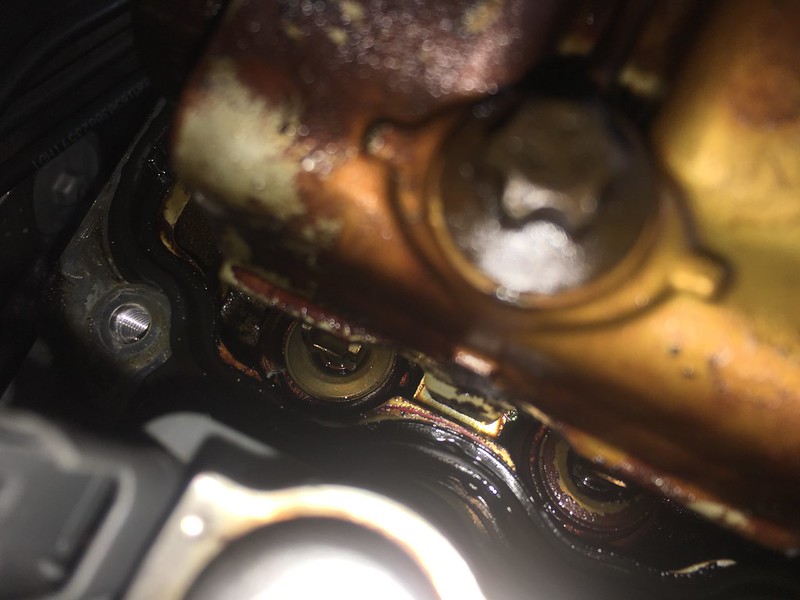 Untitled
by
Sir_Dave
, on Flickr

Untitled
by
Sir_Dave
, on Flickr
The valve seems to move freely up & down the guide, closing nicely against the block when lifted all the way up, so ive purchased an overhead valve spring compressor, N54 cam chain tensioner tool, 5-25nm torque wrench and torque angle gauge - this weekend ill hopefully be able to remove the inlet cam, then swop the offending spring with one from another cylinder head i bought. Fingers crossed that'll be sorted then!!