Well after owning my inferno for nearly 2 years and changing quite a few bits I think its about time to start a project thread!
A bit of background about me. First of all ive only ever owned 2 clios, my first one was a black 1.2 which I bought at the tender age of 17 from a garage for £3250. I had spent most of my youth messing around with push bikes and working with bikes but my mechanical car knowledge was next to nothing.
Black clio just after buying it: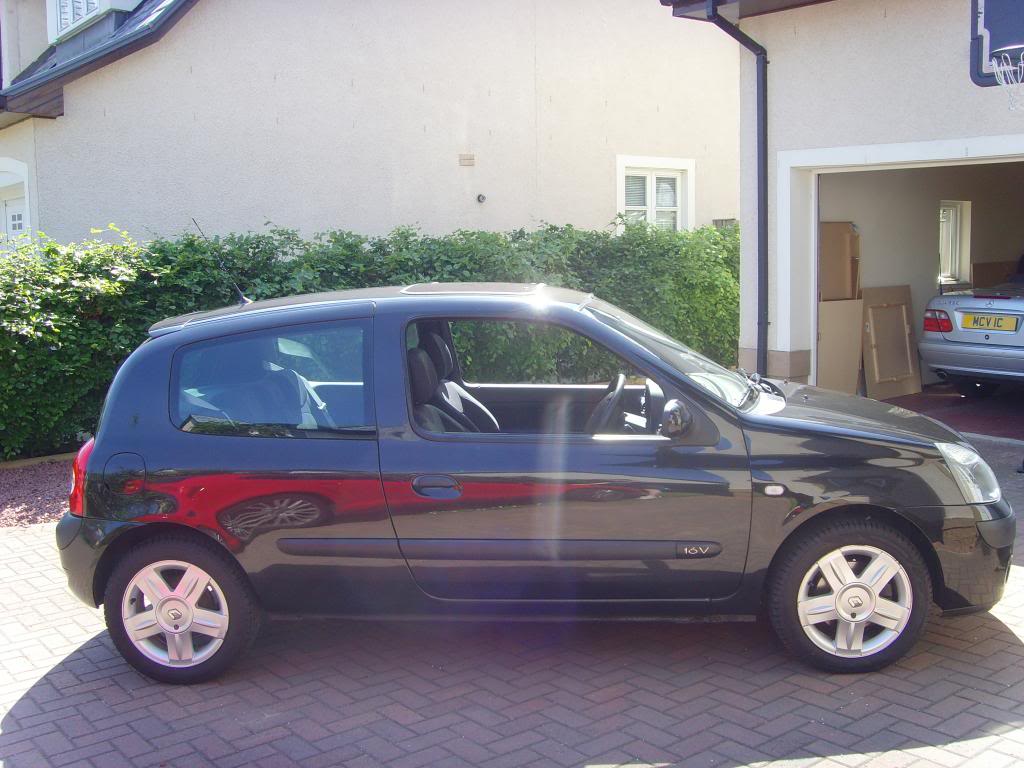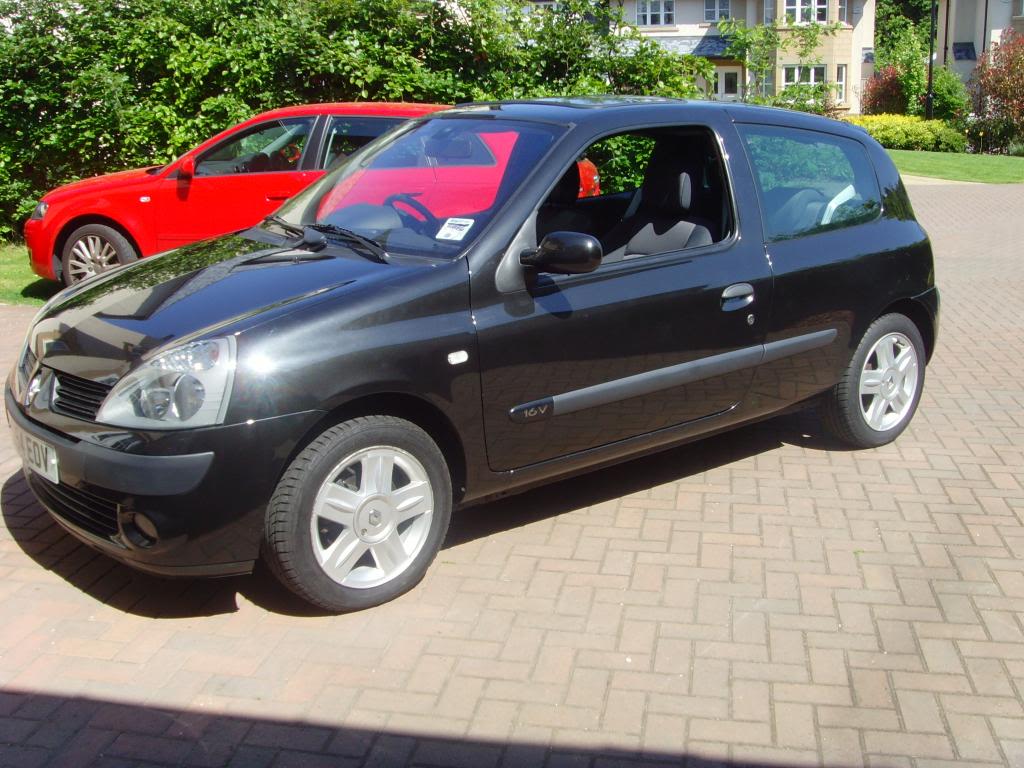 After signing up to CS one day when my window popped out the frame i decided to start fixing and doing most things to the car myself to save some money! I ended up really enjoying it and since then I hardly take my car to Rentec in Edinburgh. My knowledge and ability increased and with the help of CS I managed to do most things on the car that I wanted to do!
There are obviously things that I look back on now and ask myself why did I do it and a few things I would change now but I loved that car and took a lot of pride in it and being able to tell people that I did it myself! At the time I felt like the bees knees driving around in it when all my friends were in clapped out standard cars!
This is how it ended up 2 years later when I sold it to another forum member for £1950 after buying the inferno from a member in Aberdeen: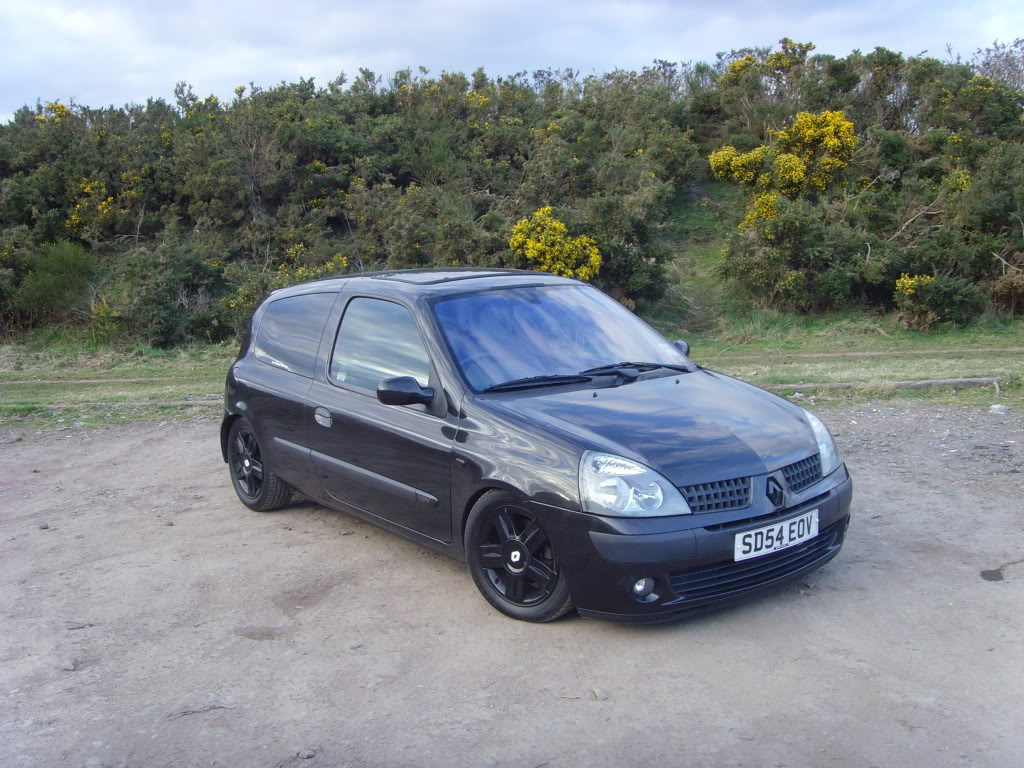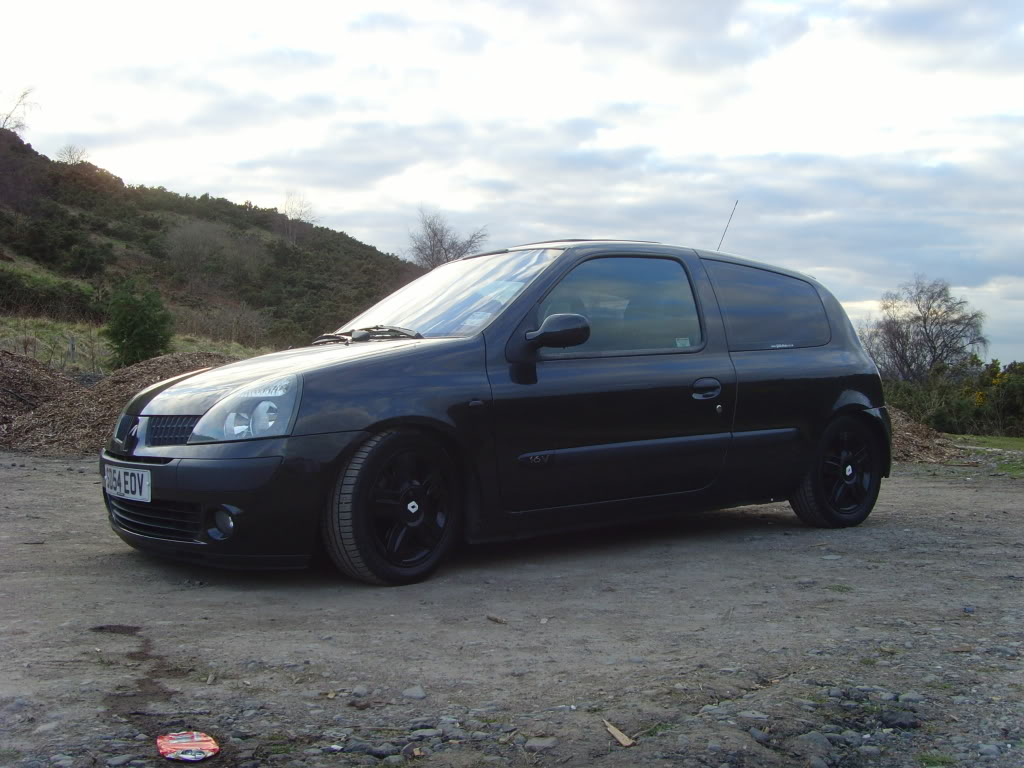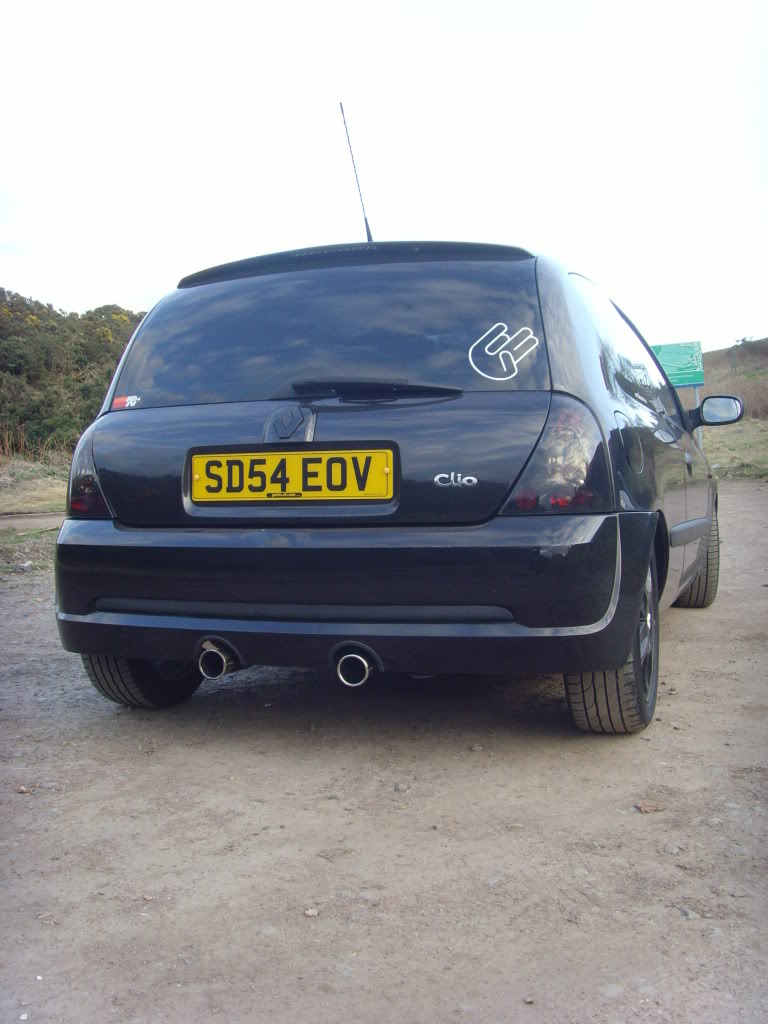 When I bought the inferno for £4400 I probably paid more than it was worth but it didn't matter, I was so happy! It was fairly standard with only a scorpion RS192 exhaust, ITG panel filter, Eibach prolines and an RsTuner remap.
This is the very first picture I have of it after my dad drove it home from Aberdeen. It had to sit in the garage for a month whilst I sold the black Clio as I had to use the money from the sale of the black one to insure the 182 - LONGEST MONTH EVER!!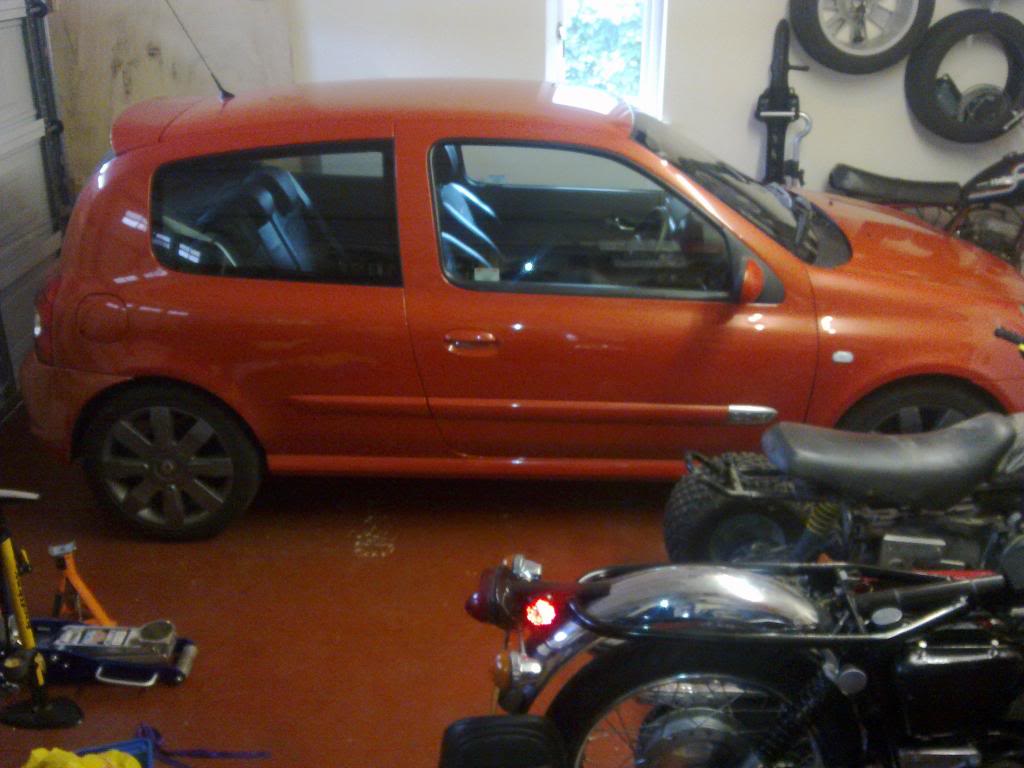 It stayed as it was for a while after that as I was skint from the rise in petrol and insurance costs and I was just enjoying driving and owning it! Only a few small things were done like LED sidelights and number plate light, painted my inlet manifold black, engine cover Inferno orange (then a mate stood on it and broke it!) and dash strips black with orange stickers.
So after a few months of owning it I just enjoyed keeping it clean and driving it.
After a while the centre section of the exhaust cracked, I got in touch with Scorpion and they sent out a new centre section - no questions asked. They wanted me to send the original centre section back first but I explained to them that I couldn't as I used the car daily, so they said they would send a new one out and then a week later arrange collection of the old piece, well 2 years later and they never collected the old piece so it gets used occasionally as an extension on the breaker bar!!
I enjoyed the RS192 for a while but wanted a bit more noise, looking through the numerous exhaust threads on hear I decided a Yozza was the one for me. I bought one including a decat from a member on here from aberdeen, fitted it and decided the decat was too loud so I sold it. I managed to sell the RS192 to a member from Edinburgh on here which was a bonus! You don't need pictures of a Yozza, im sure you all know what they look like!
I bought some reclining bucket seats from "blown another engine supercharged sunflower Stu" and fitted them and then went for a road trip around Europe with my mate James (Heez on here). Car was flawless for the 2500 miles that we covered, the roads over there were amazing and I was so happy to be driving them in the Bean!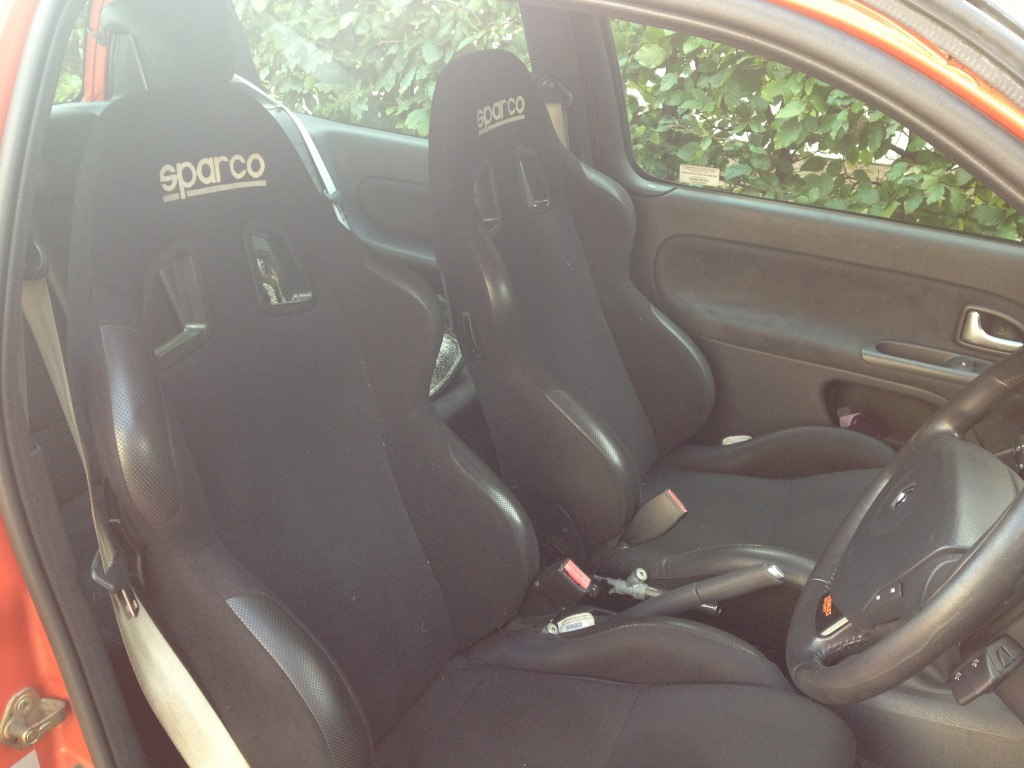 A couple of my favourite shots from Europe!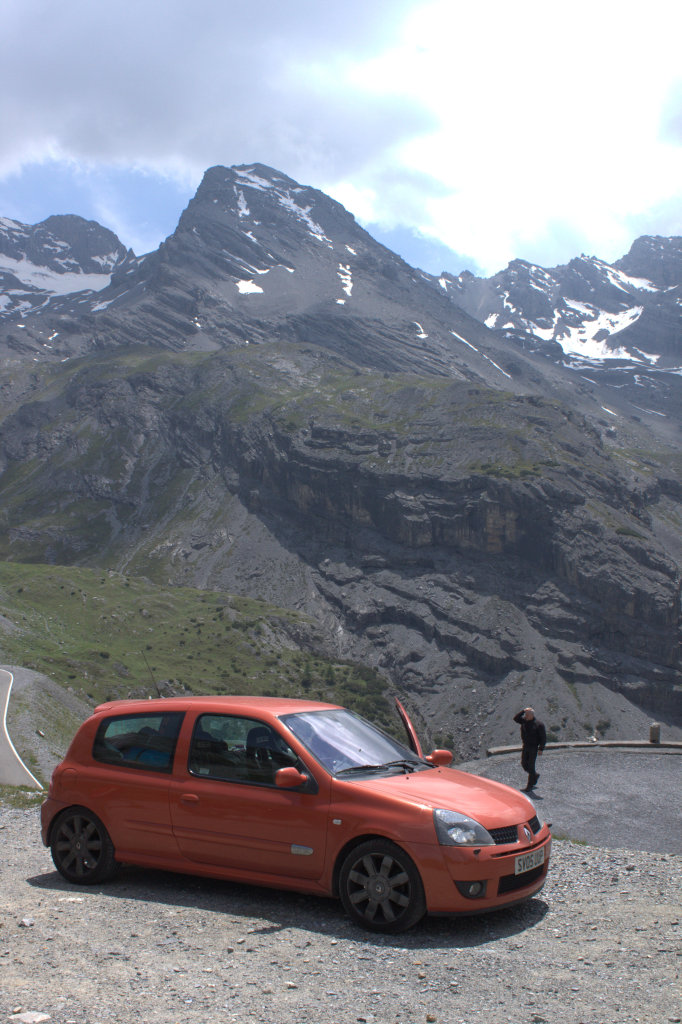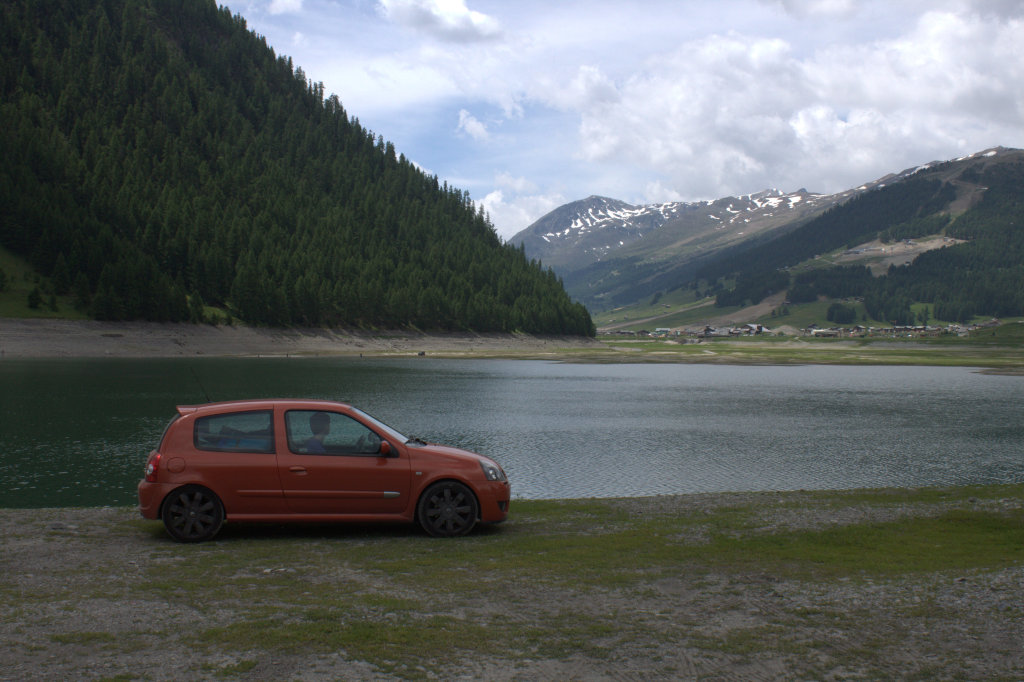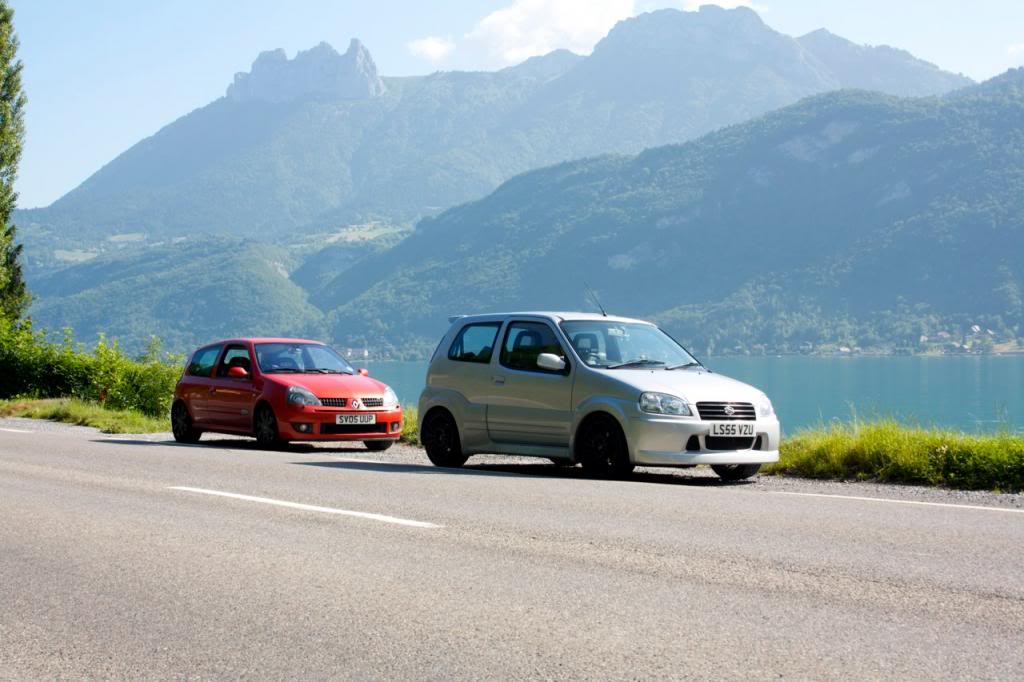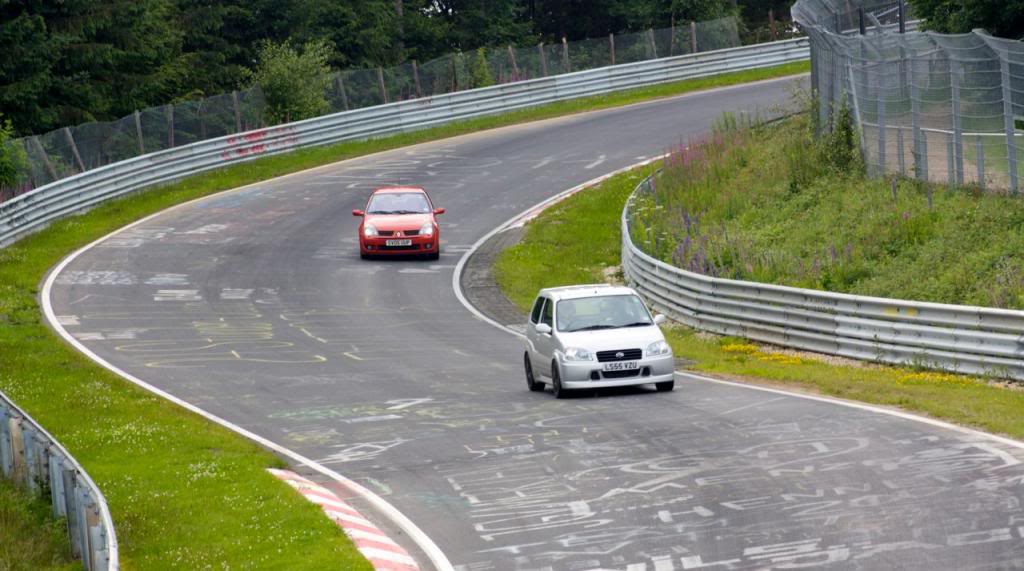 Long story short - Ive always likes black OZ Superturismos, the exact ones on James' ignis. One day I saw some OZ superlegerra wheels on CS that I new James liked. So a deal was struck, I bought the Superlegs and gave them the James and he gave me the SuperT's, everyone was a winner!
After putting these wheels on with the smaller profile tyres that before it made it even more obvious that it needed lowered! Coming into winter I decided to buy a 4wd so me and my dad made the 280 mile, 3 train journey down to Nottingham to pick up a Vitara for £750!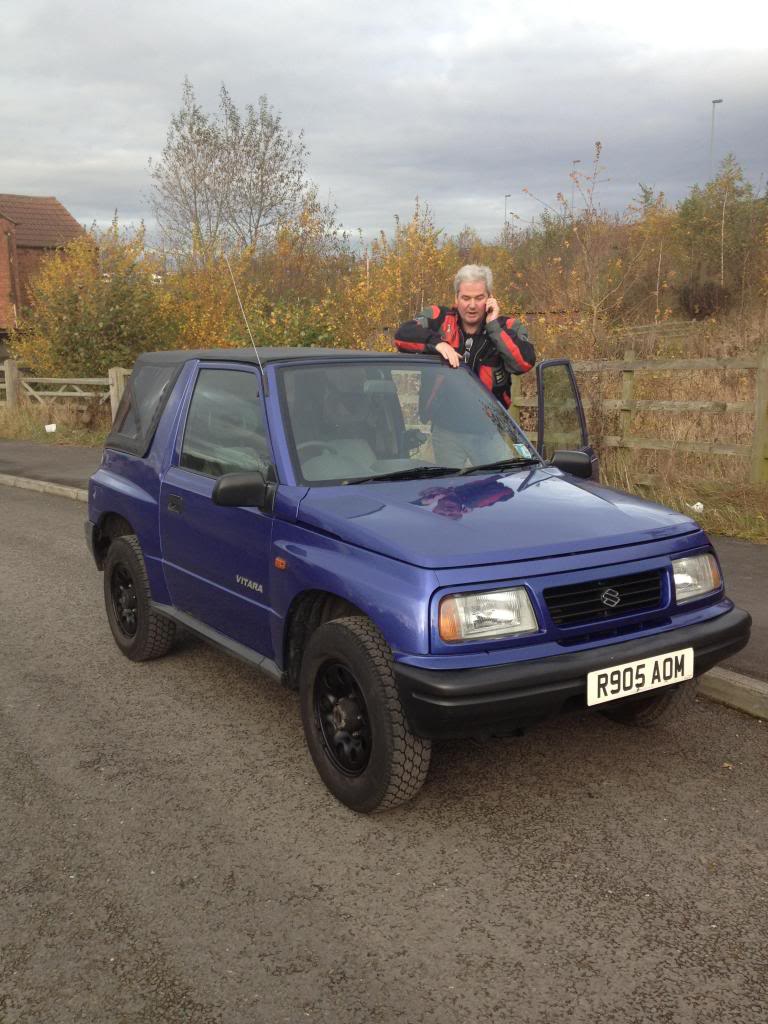 So with the Clio off the road for the winter and some time to work on it, some changes were made! I bought some Spax RSX full coilovers, PM solid top mounts and poweflex anti-roll bar and wishbone bushes as well as some new ball joints as mine were looking pretty past it, I also bought some 10mm rear spacers with -1 degree camber, however these caused a bit of rubbing on big bumps so I took them off, i'm going to get them machined down a couple of MM at some point!! So at the end of February this is how the Clio emerged: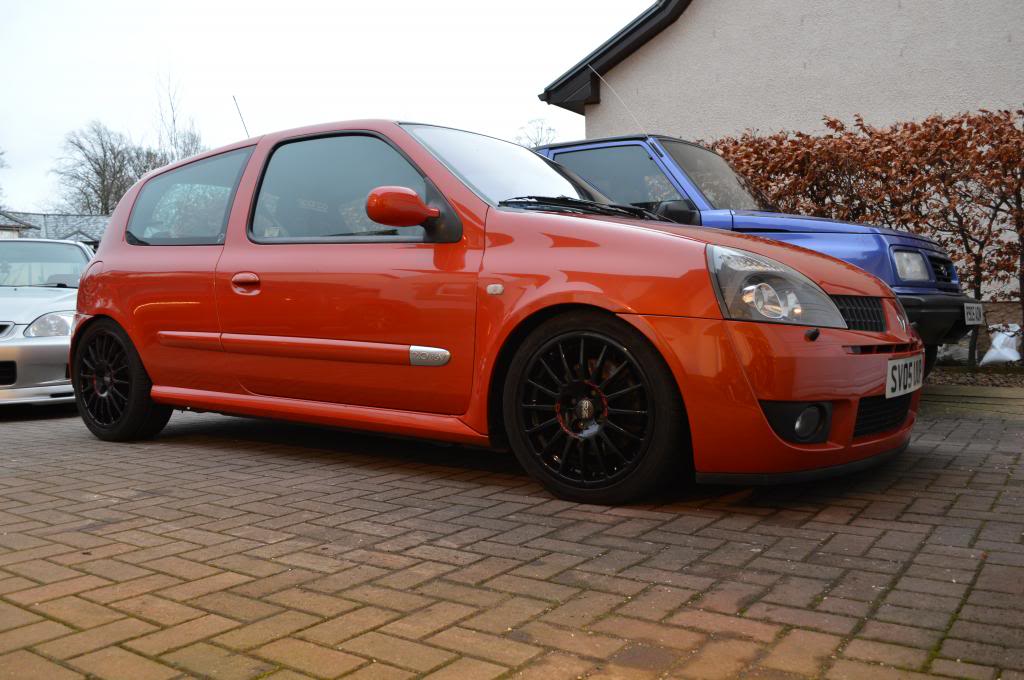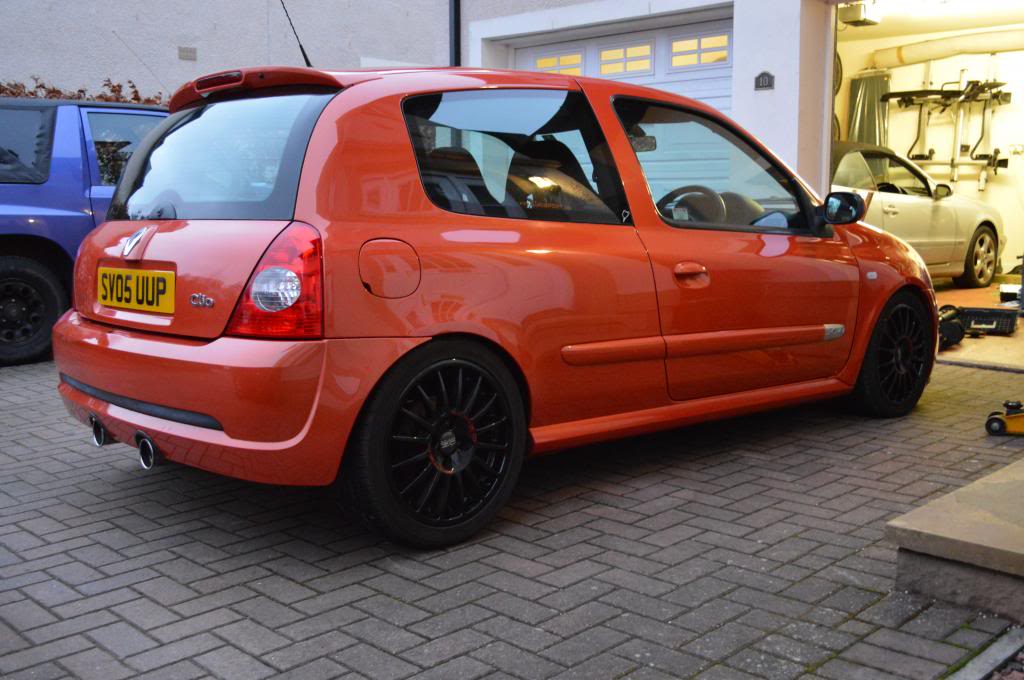 Harnesses were also bought....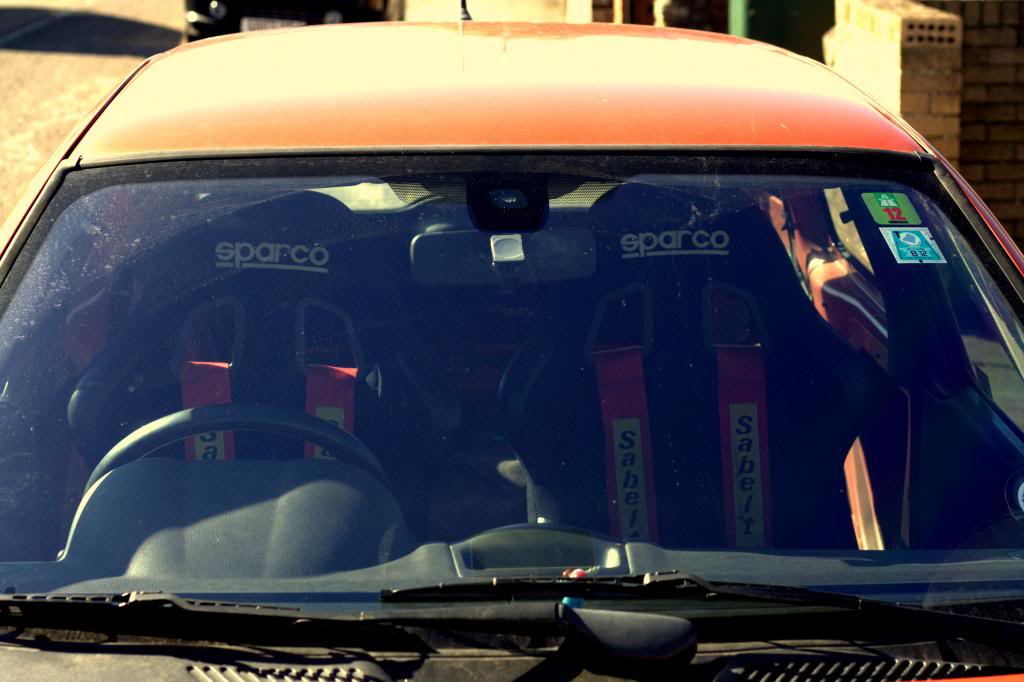 I also bought a cage over winter but never got around to getting it powdercoated untill the last few months. I fitted the cage with my mate, it was easy enough to do but nerve wracking at the same time drilling 10 holes in the body of the car! I had been on the look out for some fixed bucket seats for a while and conveniently just after payday some Sparco Rev's popped up in Newcastle 130 miles away so I drove down and picked them up on Friday and then fitted them on Saturday! Also pinched the Audi boot net from my mums car!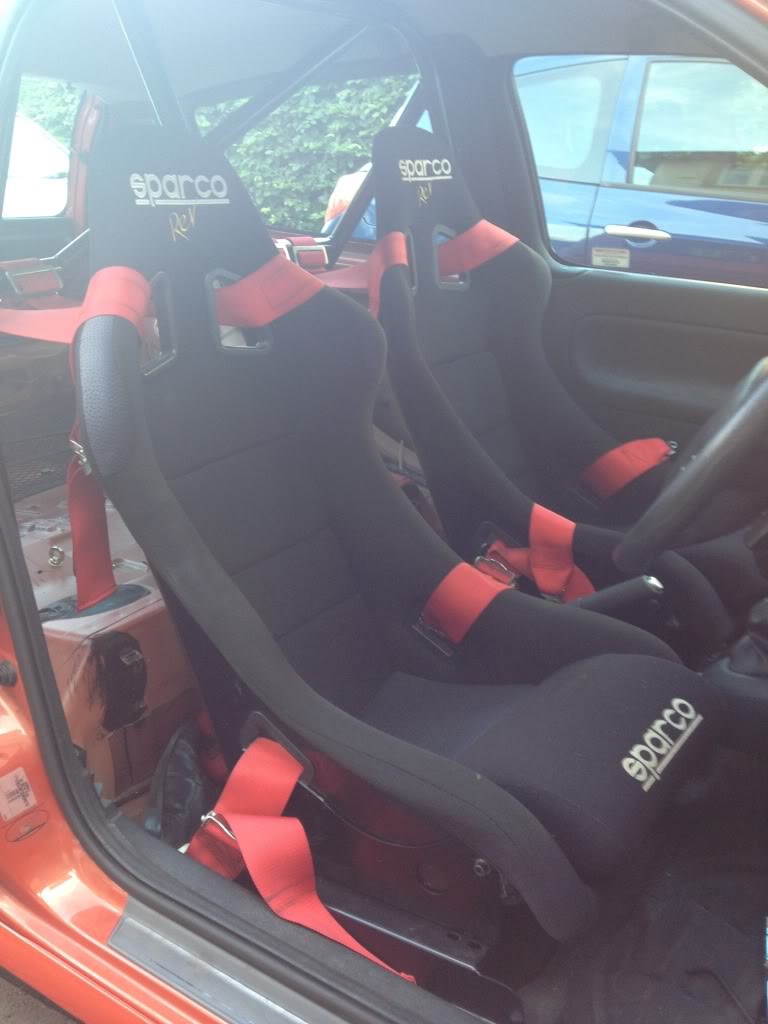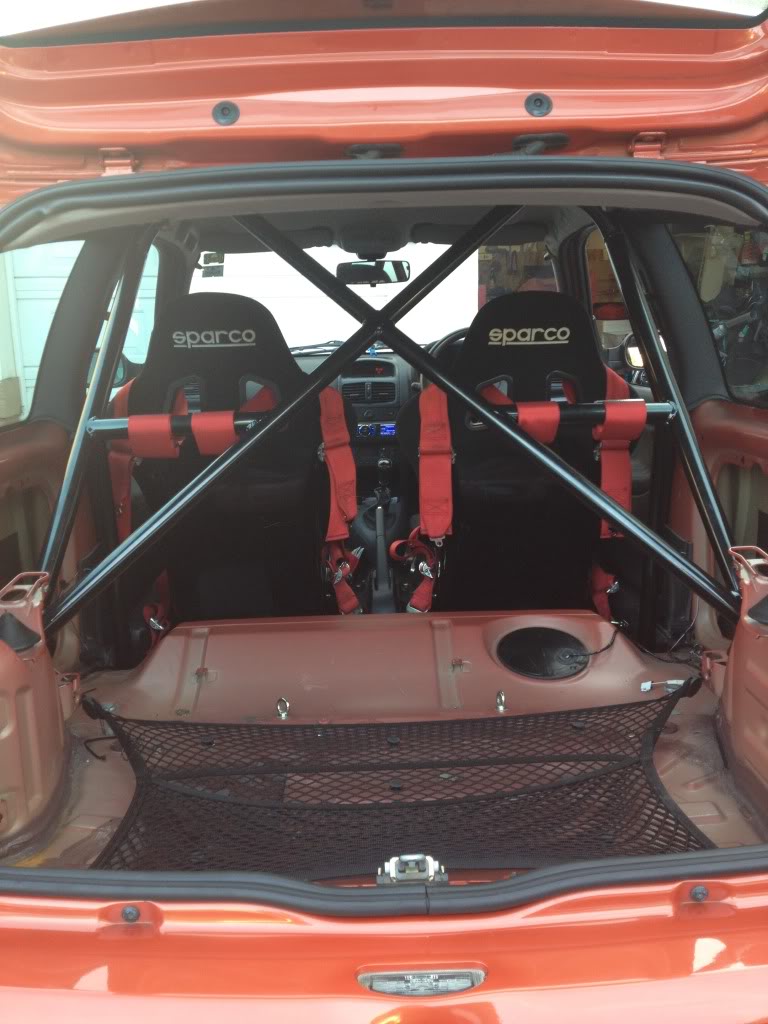 So that's how the car stands just now, sorry its such a long first post but I had 2 years of catching up to do! If anyone has actually read the whole post and not just looked at all the pictures then I will be amazed - I know I would read about 1/3rd of it, get bored and just look at the pictures!
Cheers
​Jamie