TLDR: I bought a new car.
So the Porsche has gone and im left with an e90 335i and an e91 335d. Sarah, after nearly 12 years, still has the TT. I am on car no. 38.
Parking where i live is about to become permit only and im not allowed one (we have a carpark), so after running (at least) 2 cars for the past 10 years, i need to go back to one car really
Cue the search for a do it all car, i dont want massive tax/depreciation as i work from home, so paying out ££££'s each month for it just to sit there is annoying. Dont want something that could monumentally sh1t itself and scatter bits of engine down the street if i dont change the rod bearings every other oil change (thats the M3/M5 out then) and i just cant be bothered with the mpg of a C63. Living near Heathrow, an e63 is out as well, im self-employed, but not as a taxi driver
I also bought an X5 35d for a mate, thought i could perhaps have a 4.8i one over winter for a laugh. For a 4x4 it was pretty good to drive if im honest, but compared to a 3 series, it drove like a boat. I think i'll scratch that itch in another few years!
With that in mind, having really liked my RS3, i tried to find a Golf R or S3 privately for less than 16 grand. No word of a lie, they are all Cat C/D/N/S, stolen recovered or both. The cheap ones are ALL in the West Midlands or West Yorkshire and even when they are standard/hpi clear, all look a little "bent". The ones at dealers at just too expensive. £16-17k for a boggo manual 14 plate Golf R. F*ck no. So i looked at Golf Gti's instead. They were cheaper, but still mostly a bit unloved in the £12k bracket. Yes i could have spent more on one, but then you are in sheddy Golf R territory and well, budget creep is kicking in again ... I also wanted a Performance Pack one, rareish it would seem. So yeah, anyways, i tried to buy something other than a BMW.
A few years ago, i leased a brand new M135i. It was supposed to be the best car on the planet, Chris Harris, Evo, Pistonheads and pretty much everyone else raved about it constantly, but coming out of a Mini GP1 and highly tuned R53 MCS, personally i found it a bit average. More importantly, my utterly incompetent local BMW dealer annoyed me so much with their levels of uselessness, that i ended up buying myself out of the car 6 months early:
https://cliosport.net/threads/m135i-estoril-blue-loveliness.736149/
5 Years Later, i perhaps have different requirements. And i cant find a VAG hot hatch that isnt f*cked for love nor money.
So i started browsing for M135i's. When i had my first M135i, as it was a lease, i had to be fairly povvo with the spec, so black panel, heated seats & comfort pack was it. The stereo was sh1t, the suspension was woeful & it had cr4ppy iPhone/Music integration, so if i was having another, it would have to have at least Pro Nav and Adaptive suspension. The ar5e has pretty much fallen out of their values, so finding one for 12 grand seemed fairly easy.
Initially i thought id just buy a lowish spec one and retrofit a few bits & bobs (pronav basically), then fit some Bilsteins and be done with it. I nearly bought a grey 5dr manual with a Quaife/Birds suspension for £12.5, but when the photos of the "small scratch" turned into about £2k of paintwork, i passed. An estoril with adaptive suspension then appeared at similar money, but i missed putting a deposit on it by about 3 minutes FFS. Then a black one appeared on Autotrader late on Sunday night, fairly poor description from the dealer, no numberplates shown (so i couldnt check the spec) but 1 owner, full BMW history etc for mid £13's.. Rather strangely, id noticed it as it didnt have tinted windows, which i dont really like on the 1er, so i dropped them an email to get the reg number ... Reg number came in at 9:30 am, spec was checked by 9:35, vcheck/hpi was done by 9:40, i was in the car by 10 and at 12:30 i was at the garage having put a deposit on it
'13 plate with 61k miles, 1 previous owner, just serviced & decent Super Sports all round. Sapphire Black with Black leather.
The spec is very much an excercise in "tick everything" ...
NBT Professional Media
Extended Bluetooth
Harman Kardon
PDC front/rear
Park Assistant & Reversing Camera
Adaptive Xenons
Electric Memory Seats with Lumbar Support & Heating
Throughloading System (40/20/40 rear seat with armrest)
Extended Storage
Folding External Mirrors with Auto-Dip
Adaptive Suspension
Sport Auto
NO tints
De-Badged
Not gonna lie, with different wheels it could quite easily pass as a 116d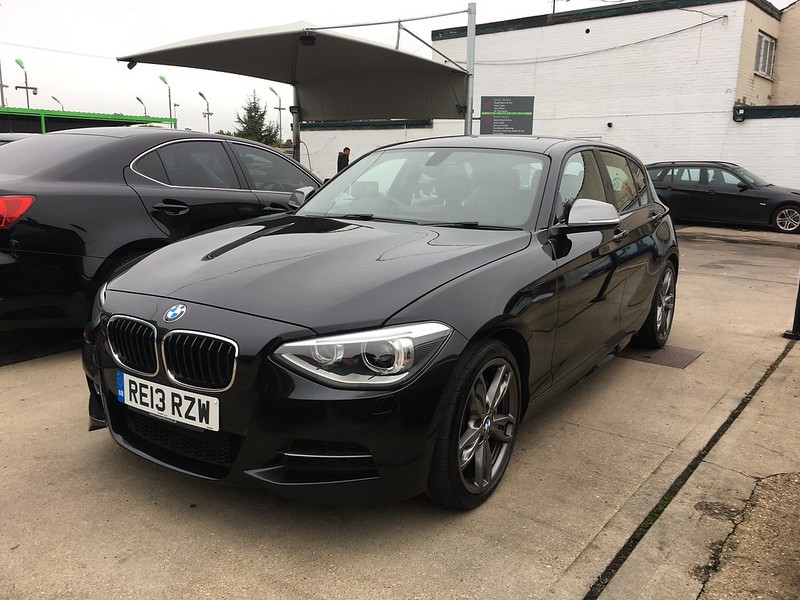 Untitled
by
Sir_Dave
, on Flickr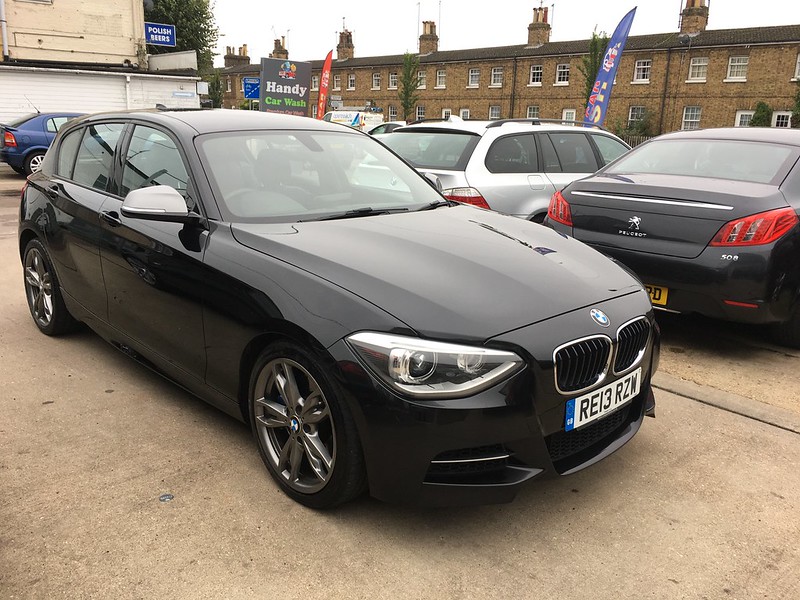 Untitled
by
Sir_Dave
, on Flickr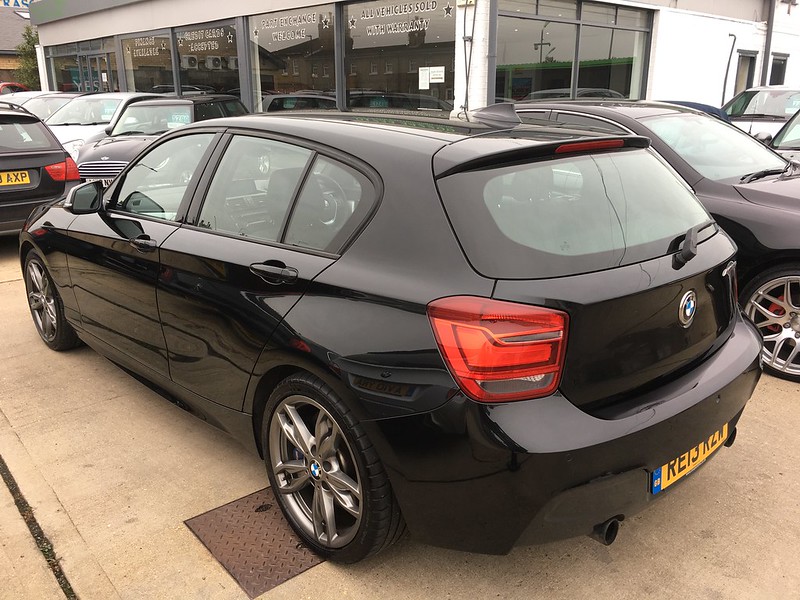 Untitled
by
Sir_Dave
, on Flickr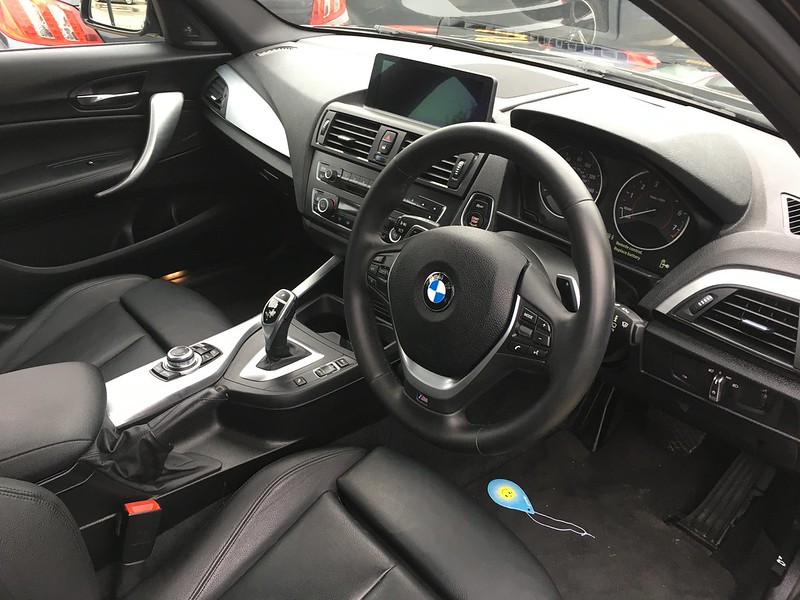 Untitled
by
Sir_Dave
, on Flickr
I pick it up on Monday and have no plans whatsoever for it.
Well, barring an upgrade to the Touch Controller for the iDrive and maybe a Quaife/Drexler if one comes up 2nd hand ...
Its a PWG rather than EWG so wont map as high as the later cars, but being honest, with the autobox, it goes pretty well as it is!