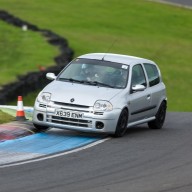 Scotland - South
ClioSport Area Rep
Firstly bear with me here. Due to a frosty morning and short days, I only got halfway through and just started to get polishing, but will be finishing this next weekend (weather permitting) and get this thread updated. Also, all photos have been taken from my phone unfortunately as I never really planned on doing a write-up on this.
So, what started today as me giving my own car a going over with snowfoam, quickly turned into (the first half of) a full detail on my mum's Mercedes C320, because I couldn't bear with the contamination that was left on it after giving it a quick clean!
Couple of before pictures. The car was only washed last weekend, so the majority of the dirt on it is salt from the dry roads at the moment.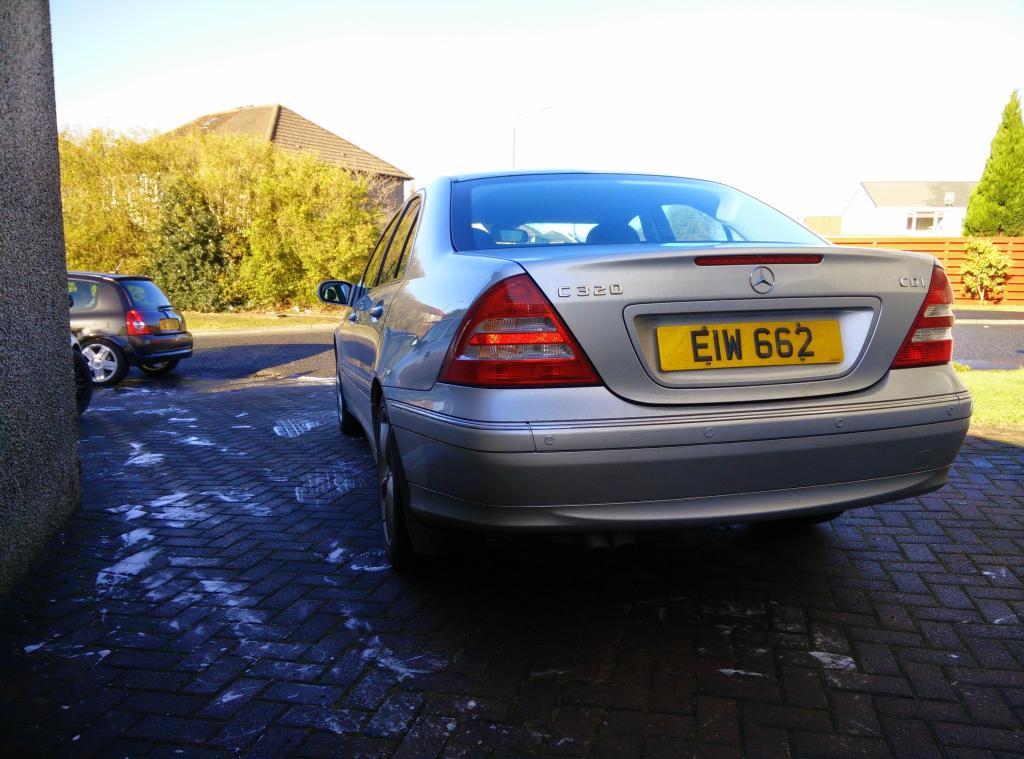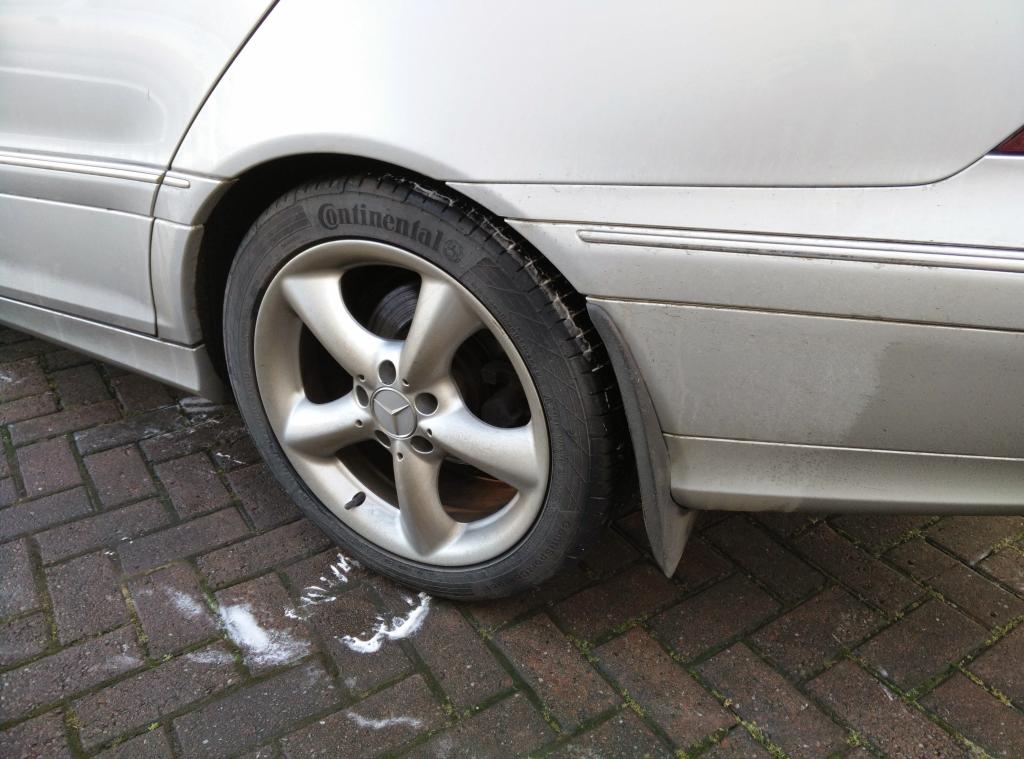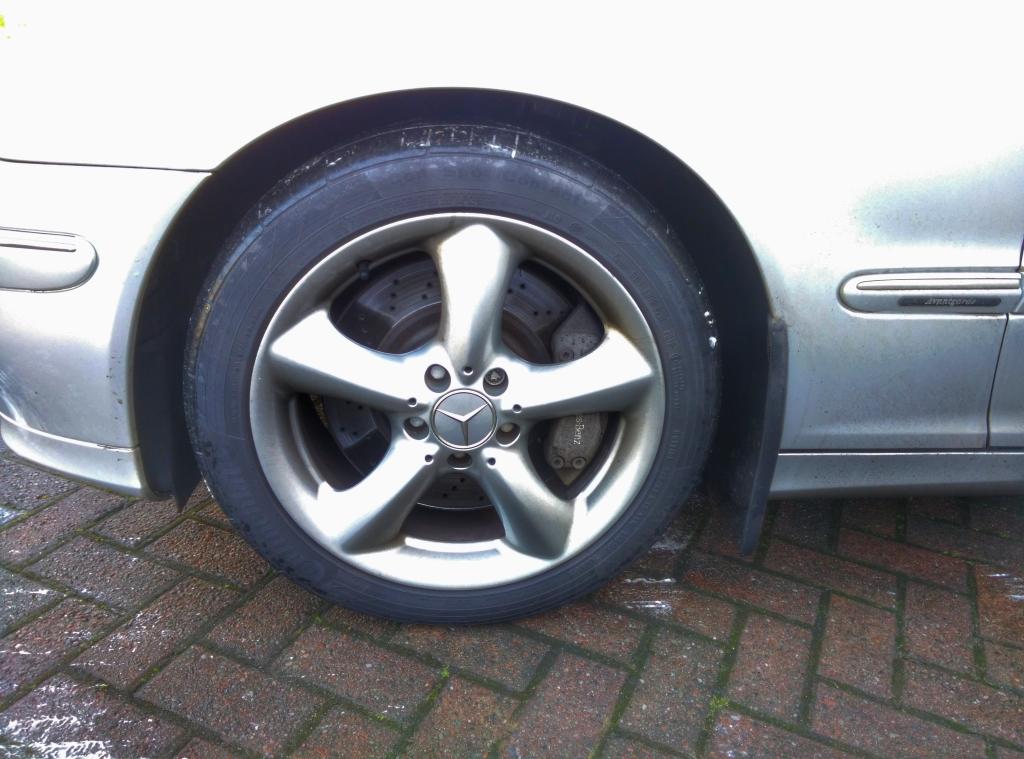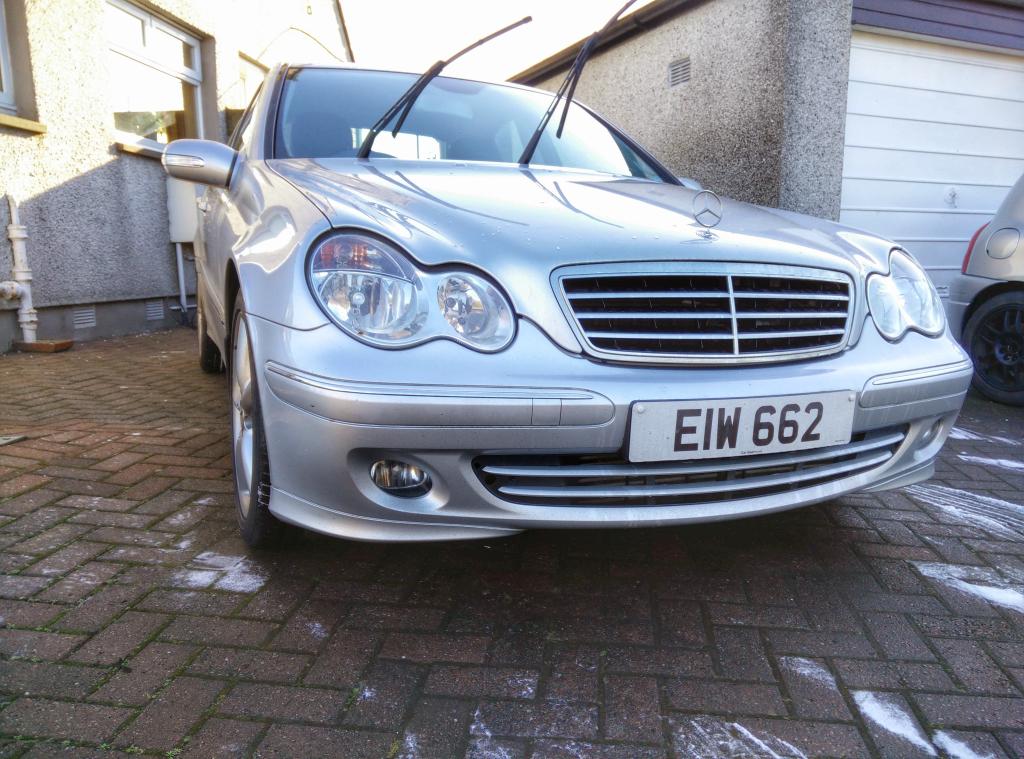 First things first, gave it a nice thick coating with Autobrite Magifoam. Makes such a mess but it's still the best snowfoam I've tried so far with regards to cleaning power. Never had it strip an LSP either (not that there's actually any wax/sealant on this lol!)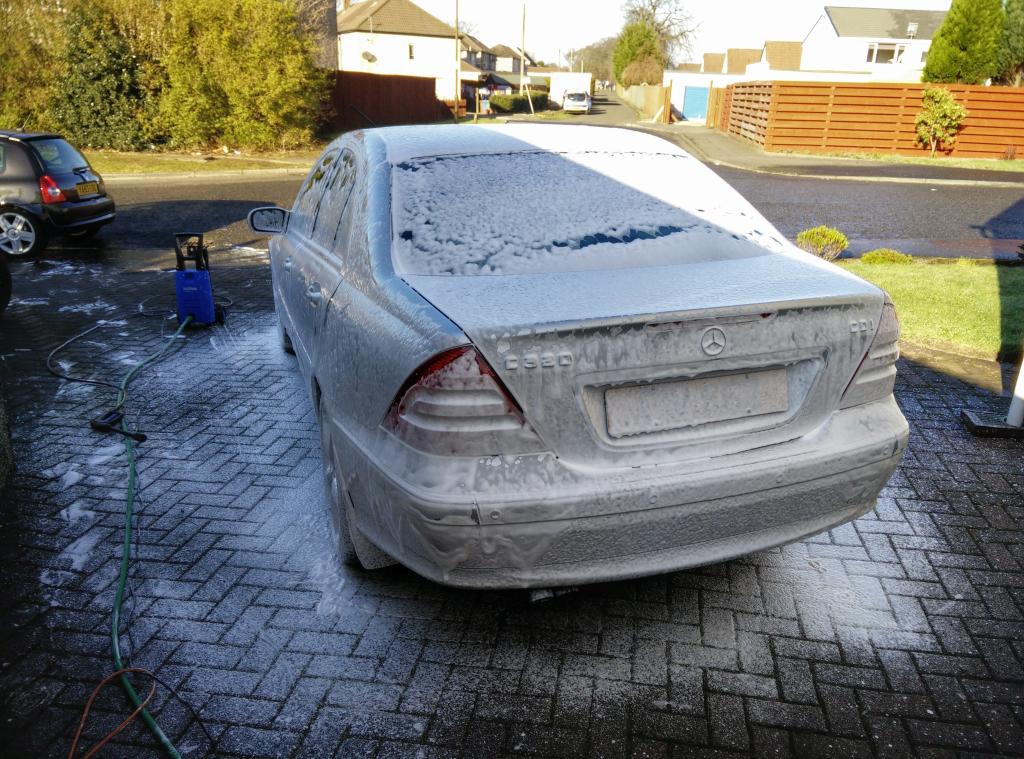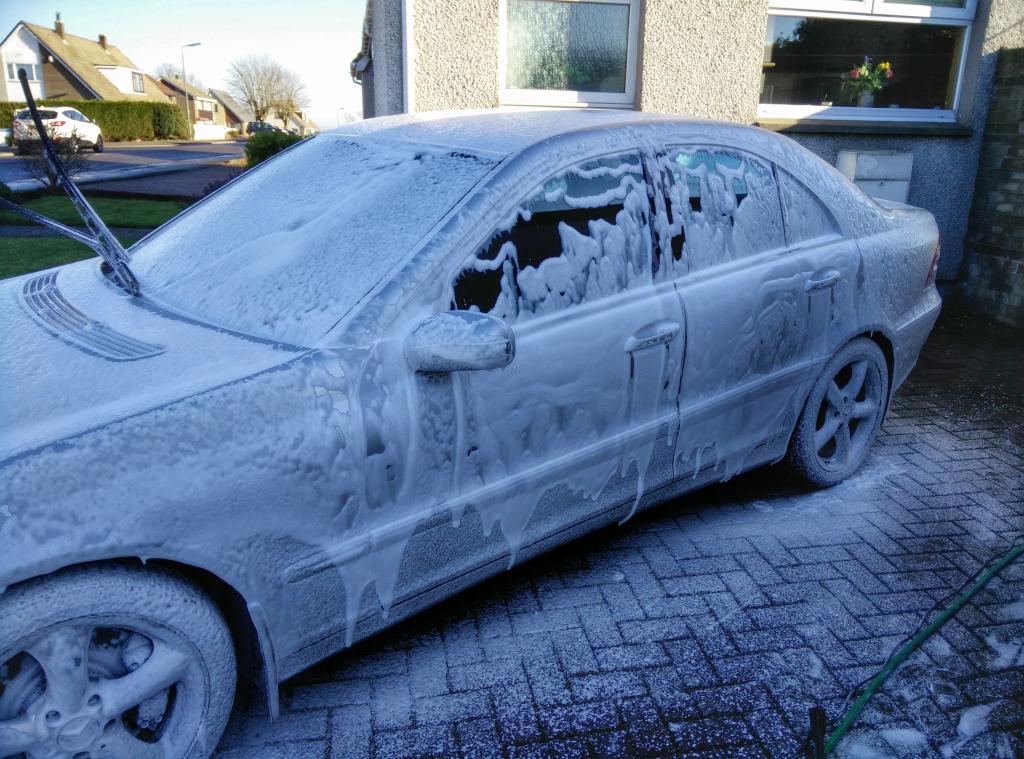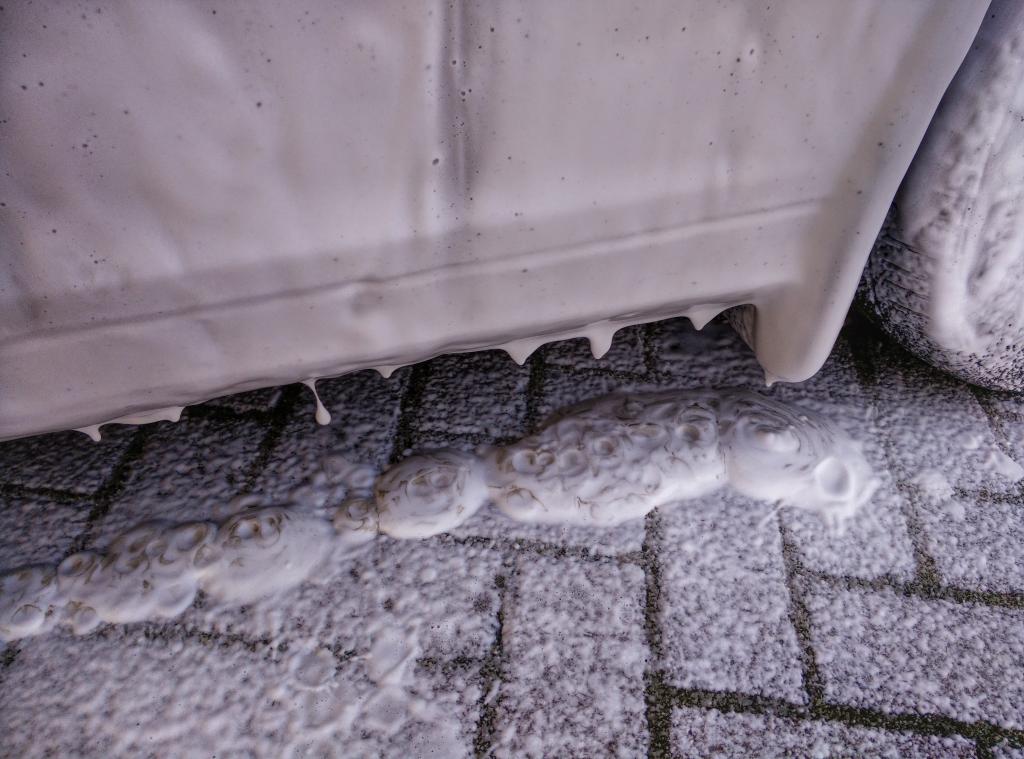 Pulling the dirt off well!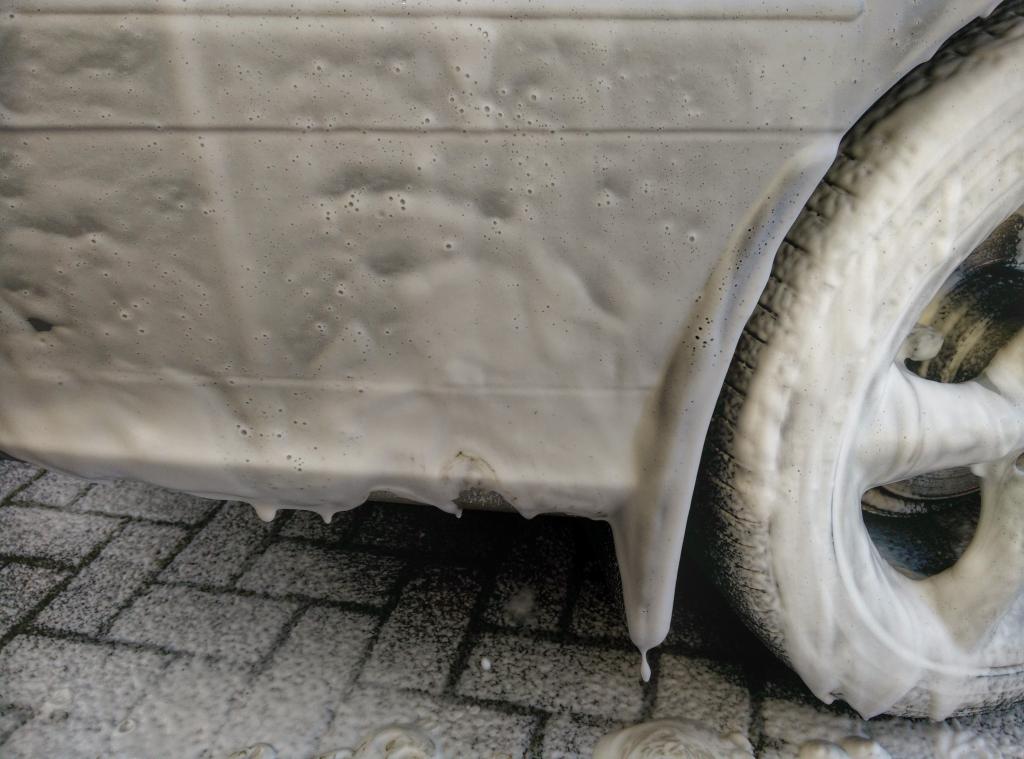 And rinsed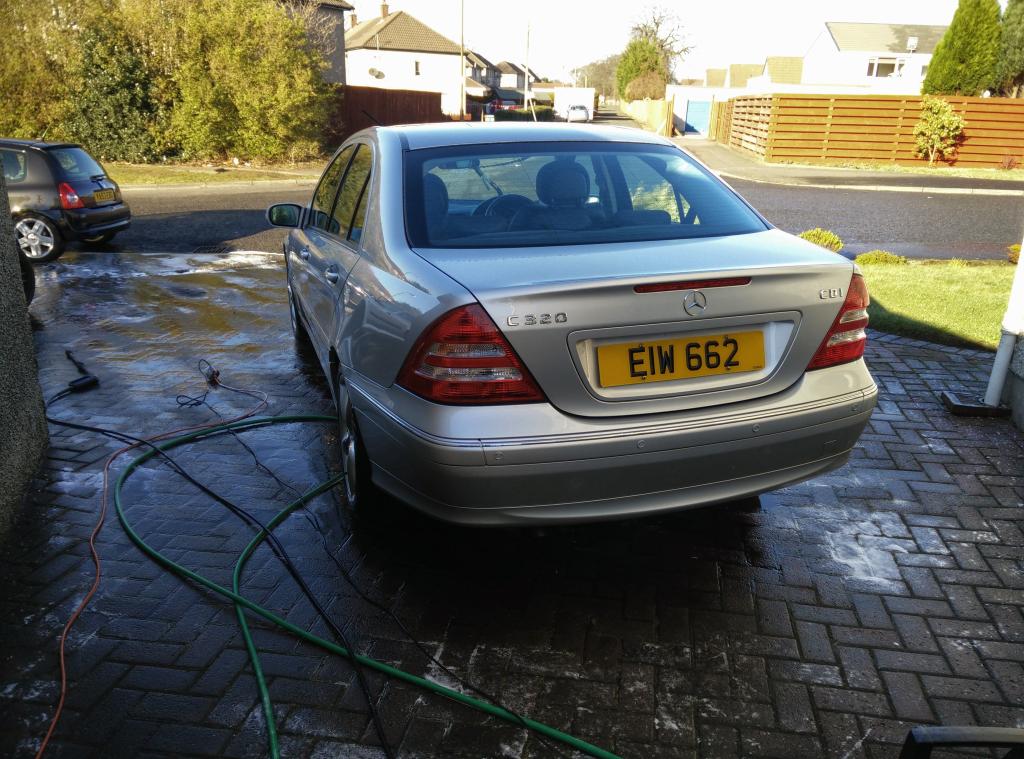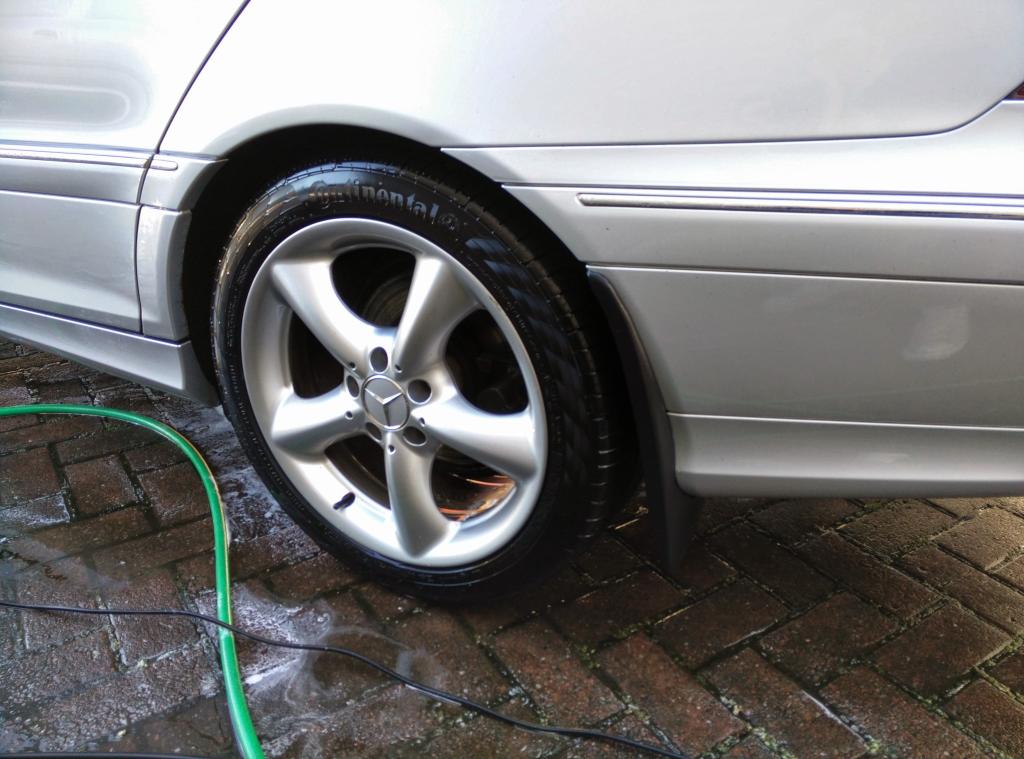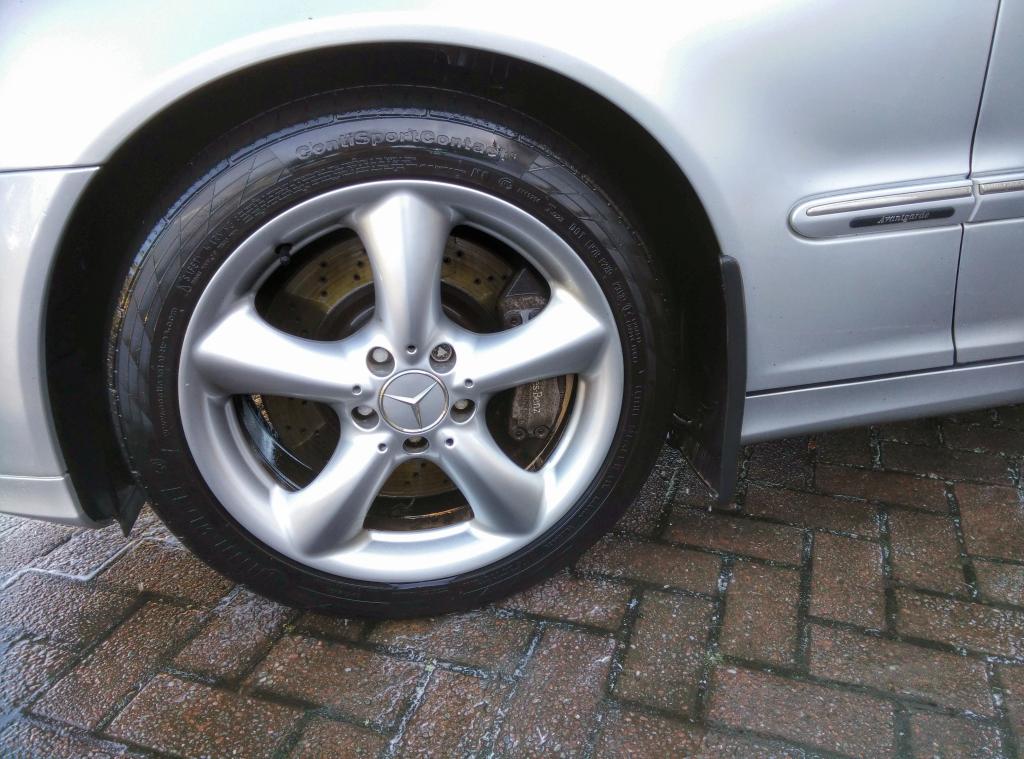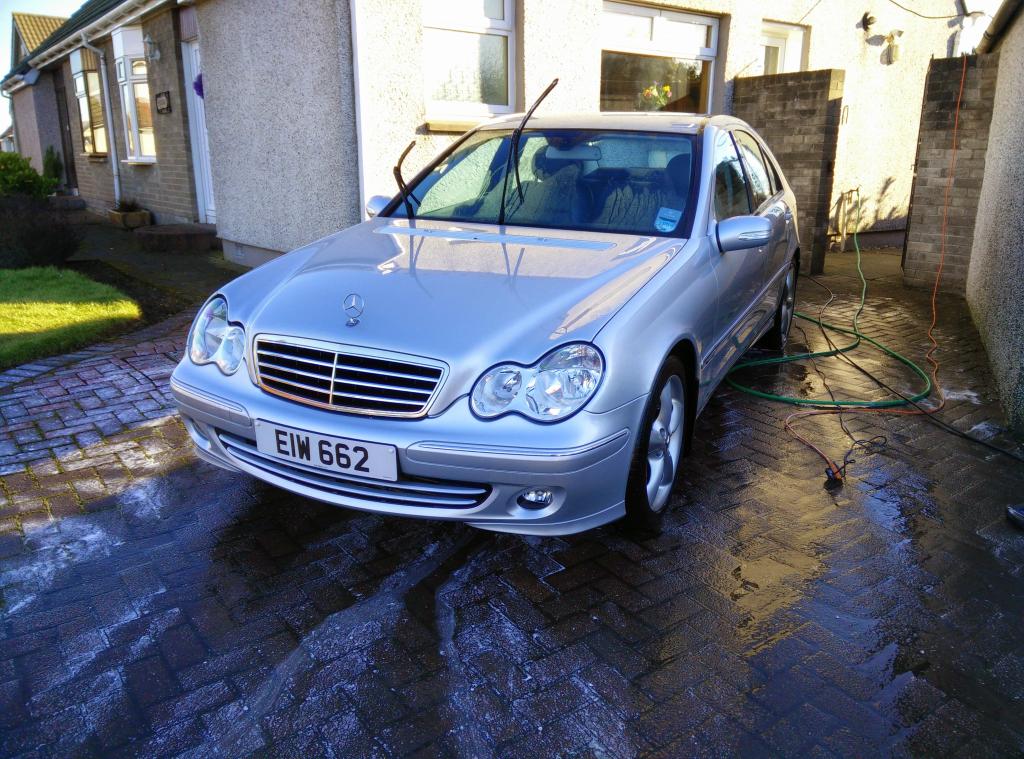 Now. All you detailing guys may want to skip this bit...I washed it with, wait for it, ONE bucket (Autobrite Banana Gloss shampoo) and a sponge!!! :fearscream: I personally didn't want to, but my wash mitt was at my mates house and the car has been washed its whole life with a sponge anyway, and there's hardly a swirl on it (I'm assuming it's down to Mercedes' having hard paint).
Wheels were then given a final clean up with
@Auto Finesse
Imperial. Ideally should have done this before washing the car but I completely forgot.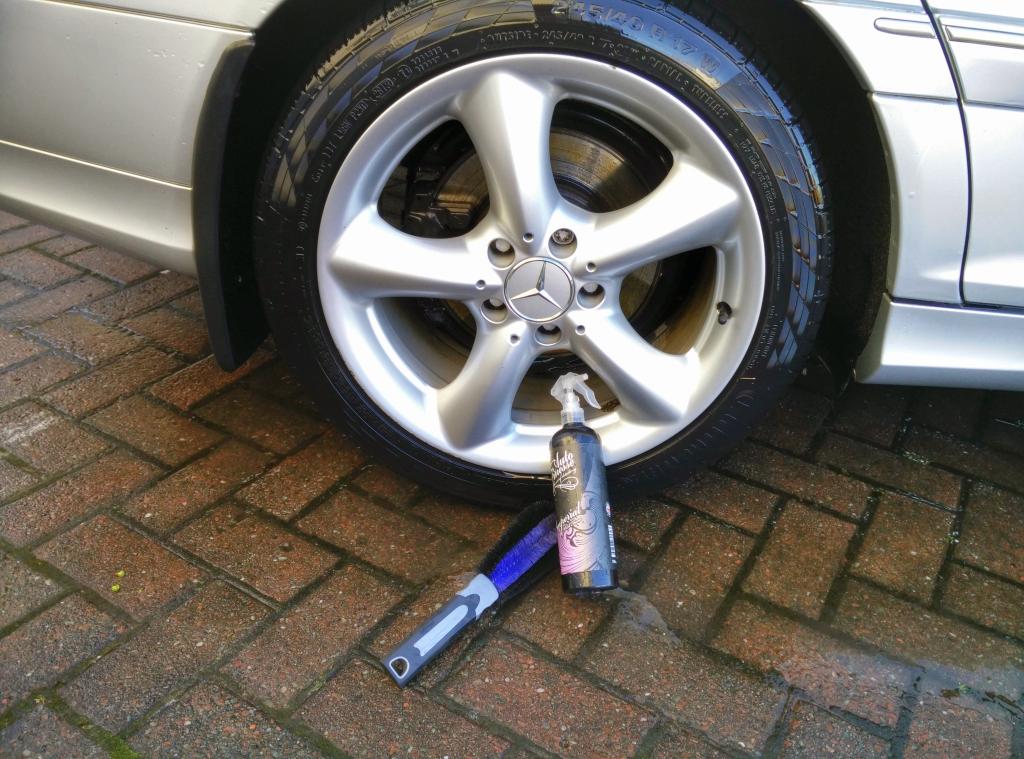 With the car clean, I started on the decontamination. First, an all over hit of CarPro Iron X, followed by a quick rinse. Fairly heavy iron deposits in certain areas, others not so much.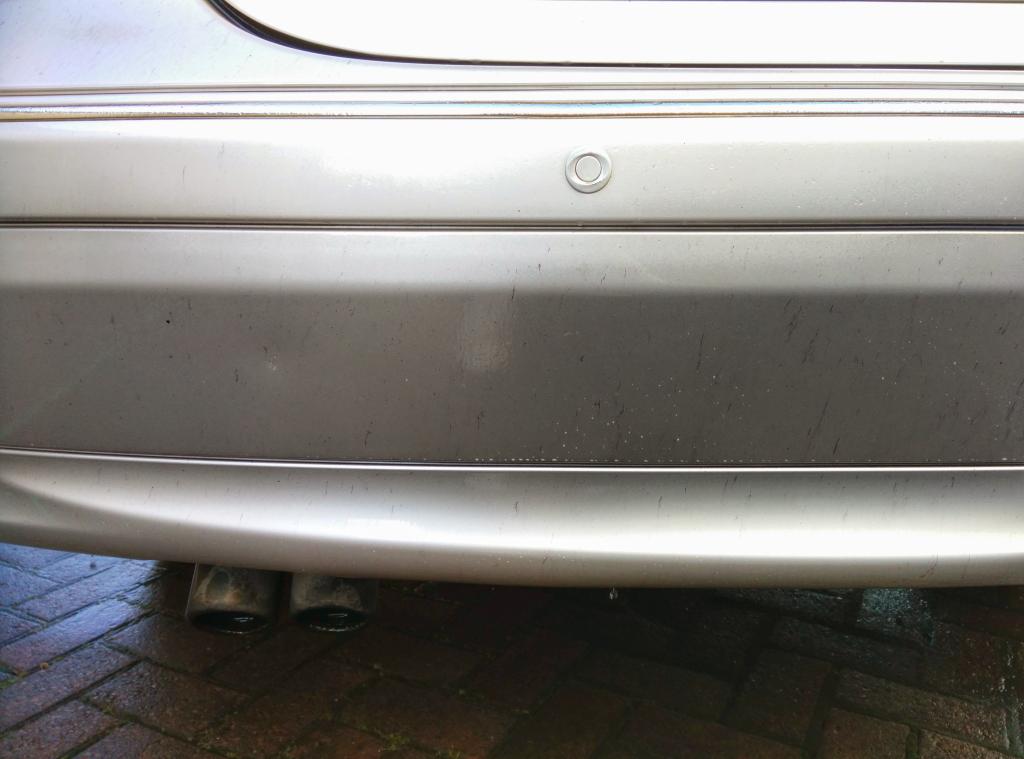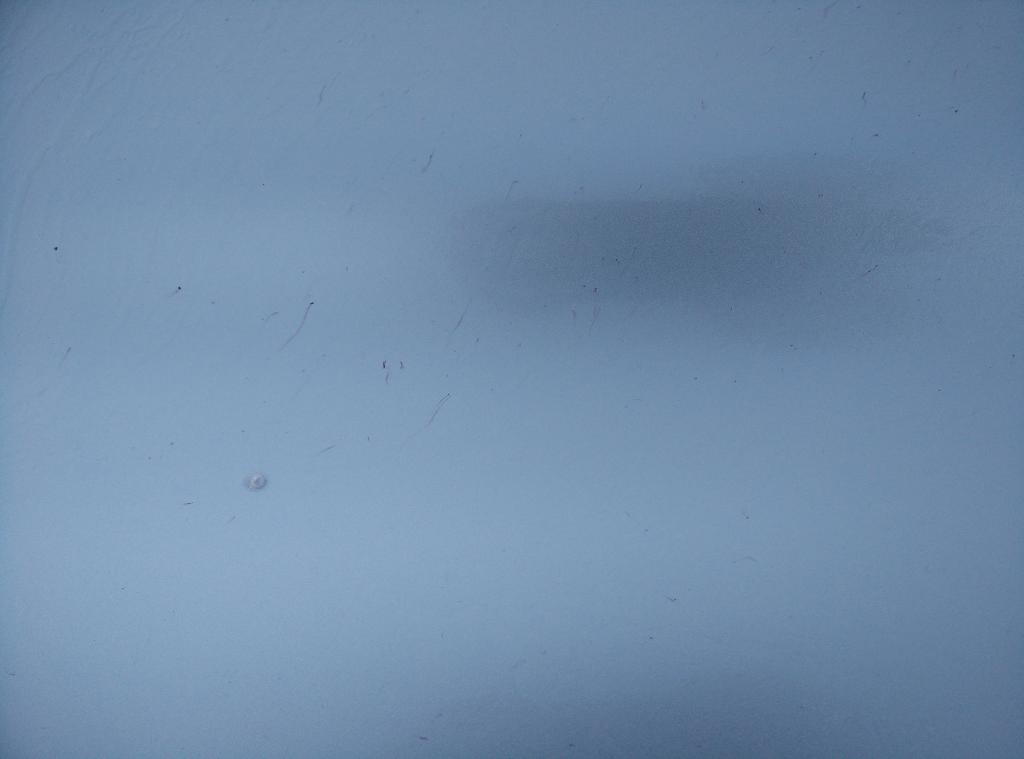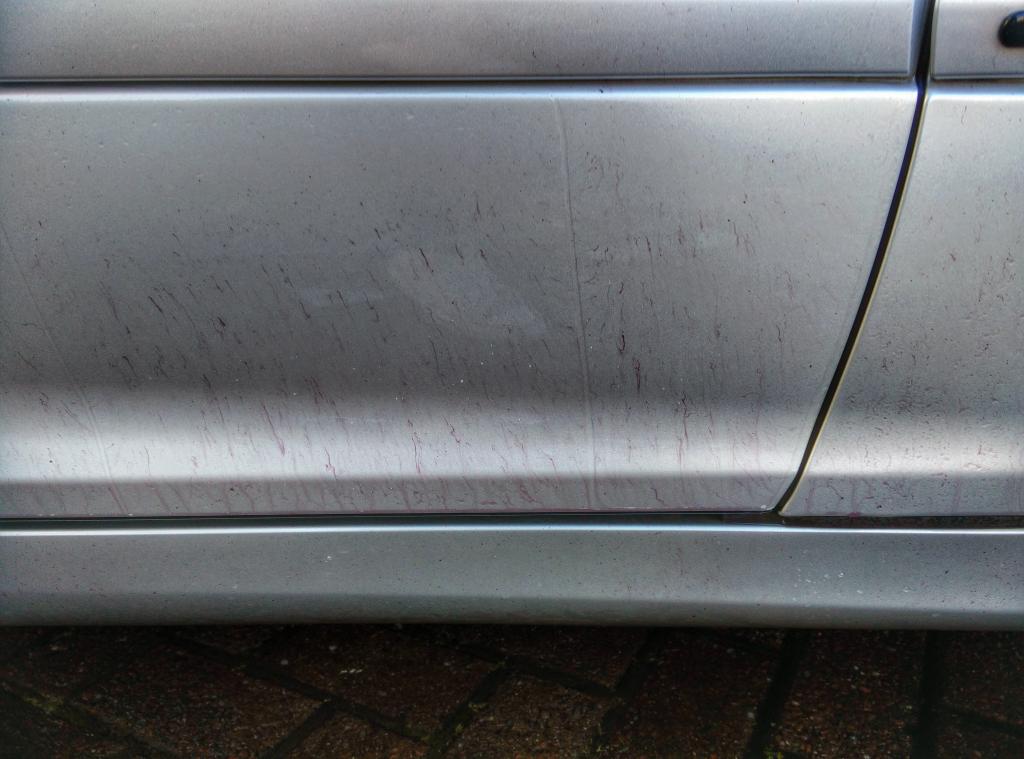 Front wheels had a fair bit of bleeding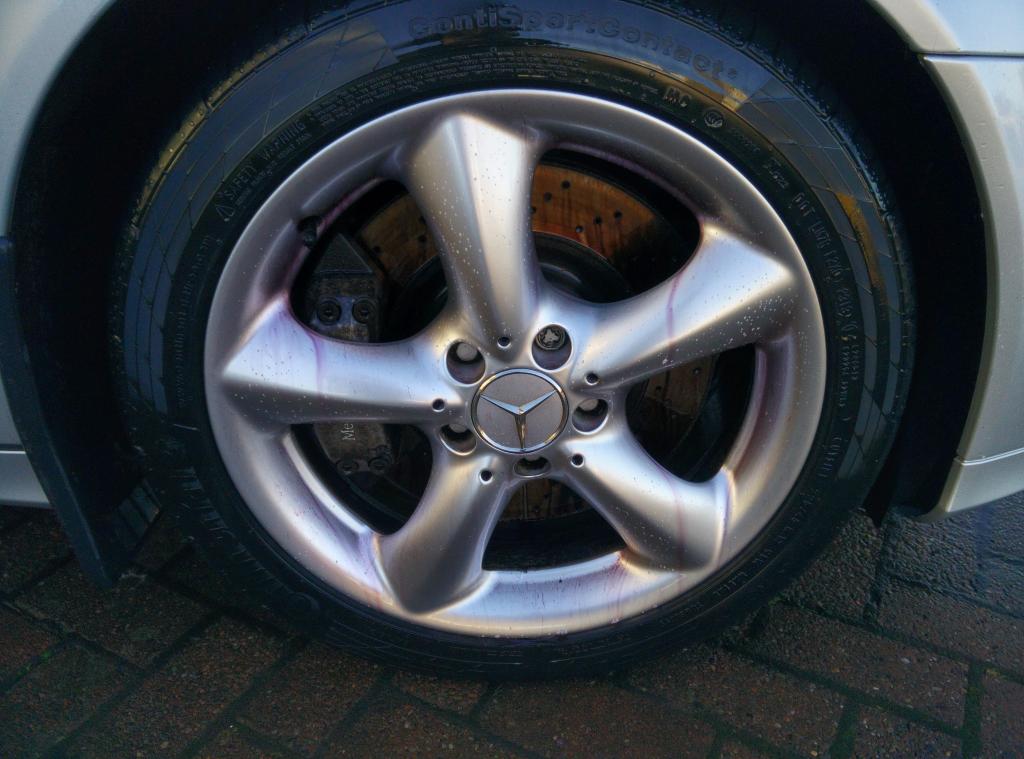 Rear wheels not as much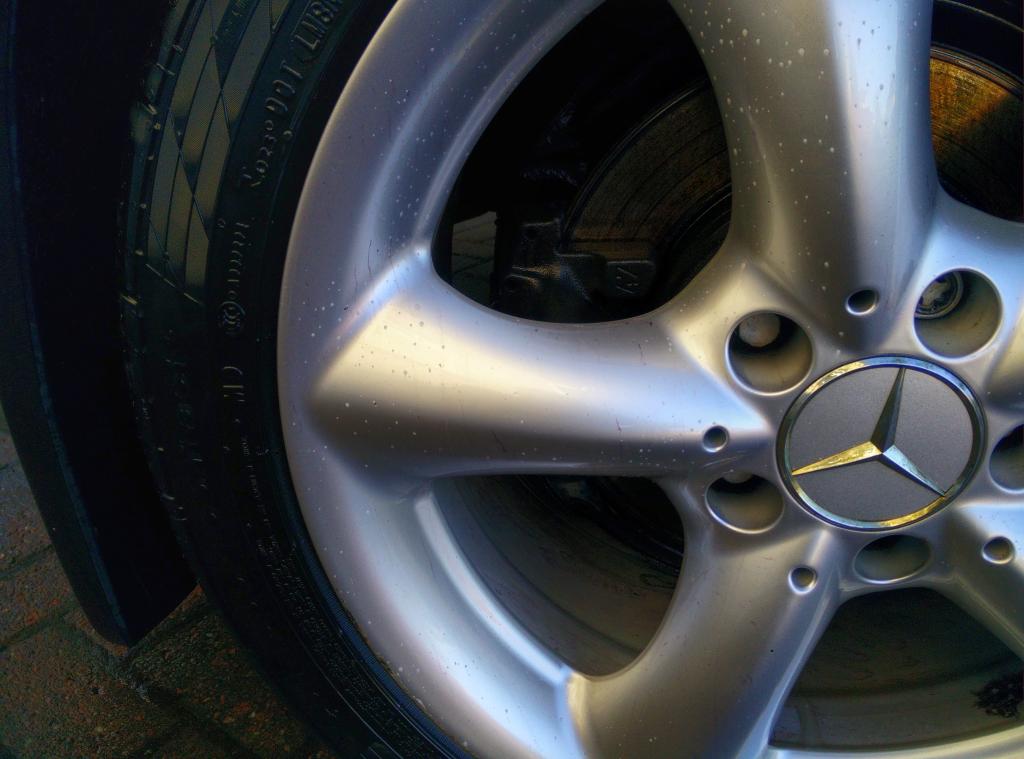 Rinsed all that off, which left me with the tar. There was a ridiculous amount of tar on the lower half of the car. Couldn't get photos of it all, but round the wheel arches were particularly bad as to be expected.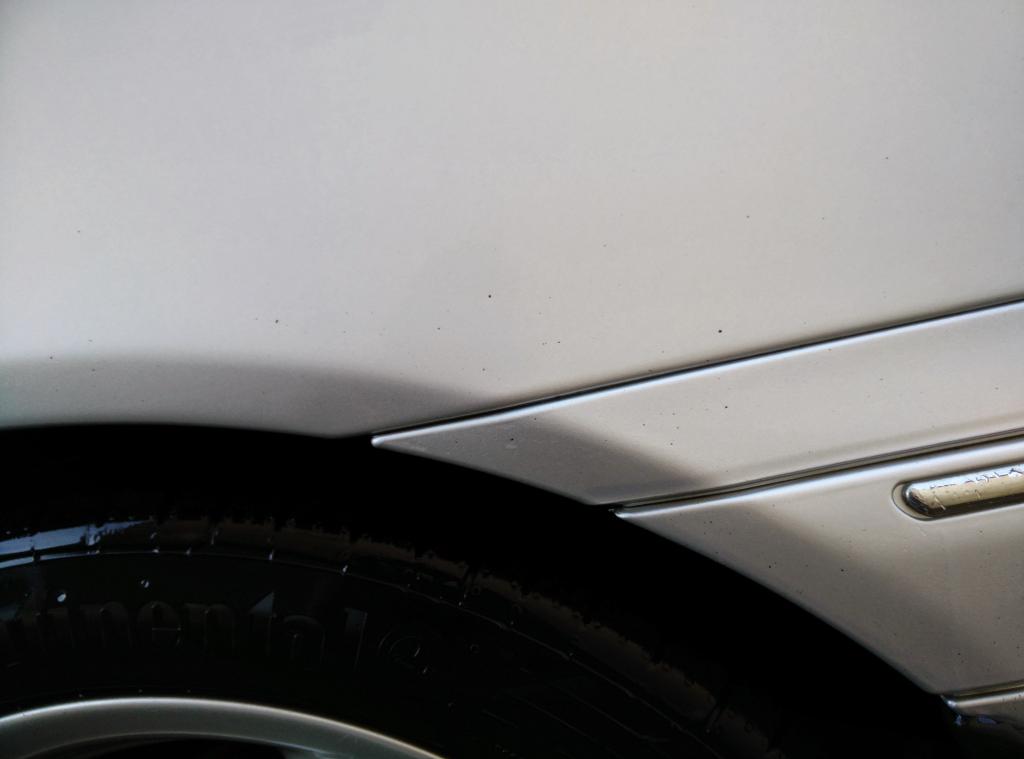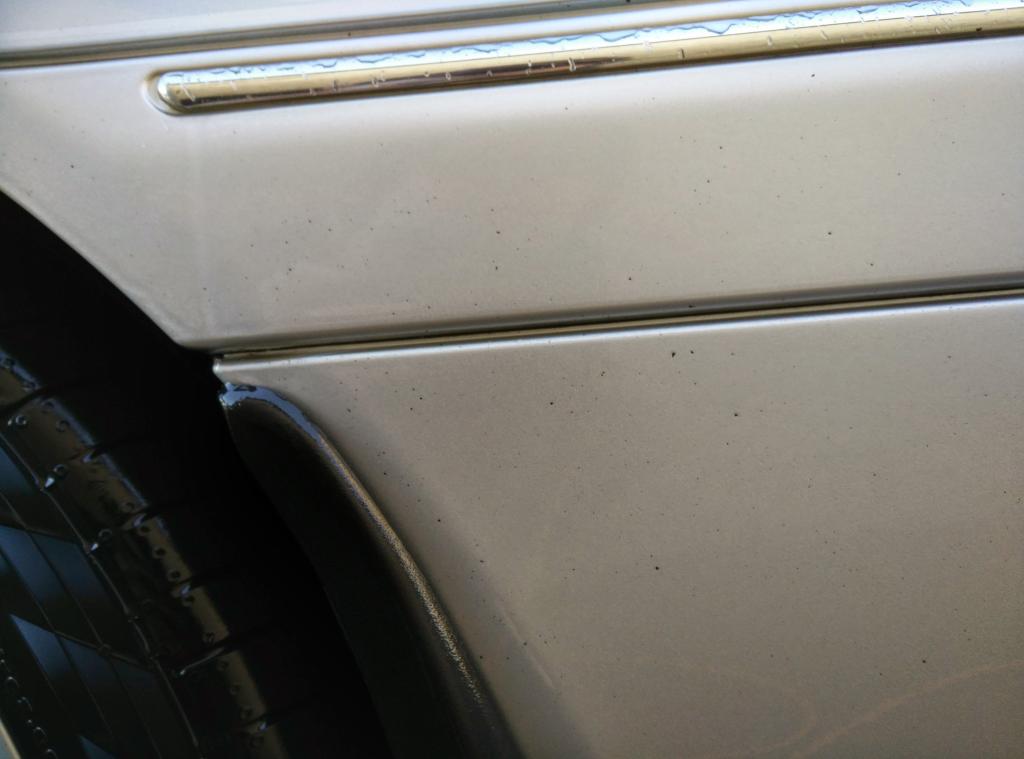 Autobrite's Just The Tonic was my weapon of choice for this. Made short work of most of the spots, only a few of them needed a couple more hits and a bit of agitation to remove.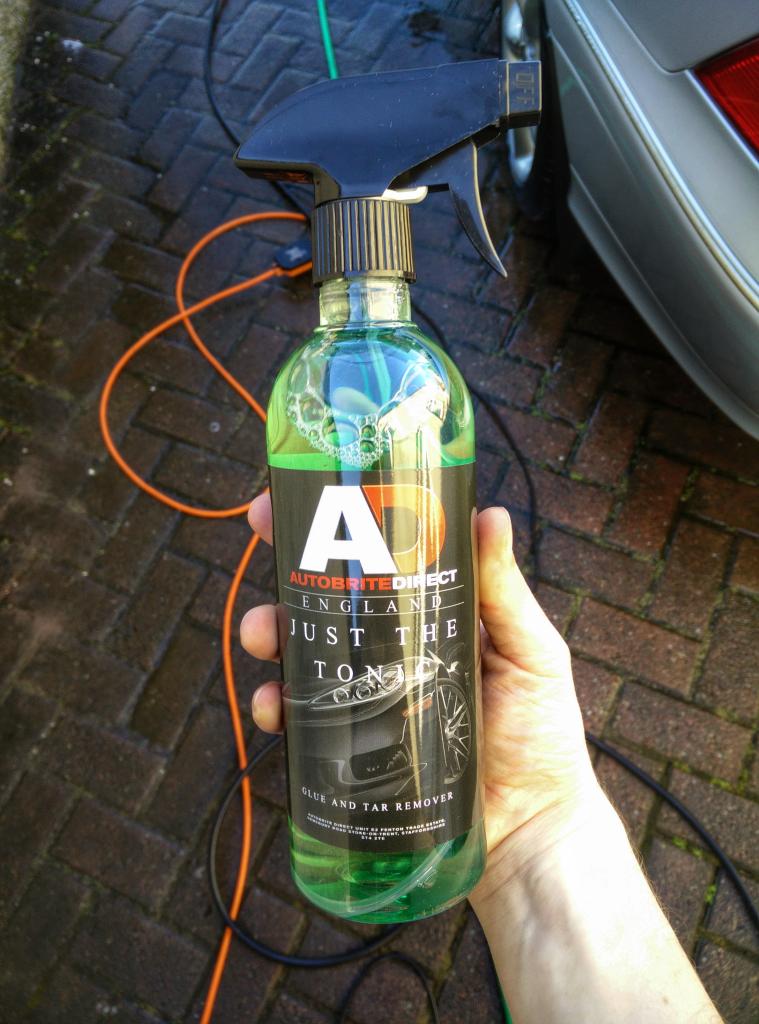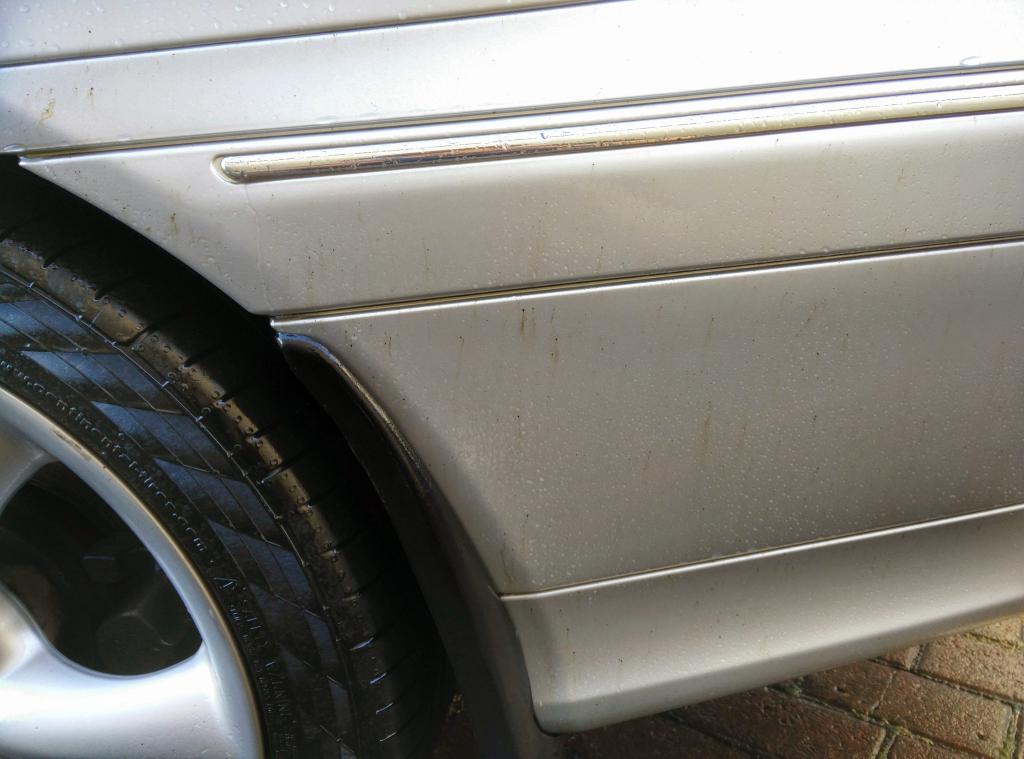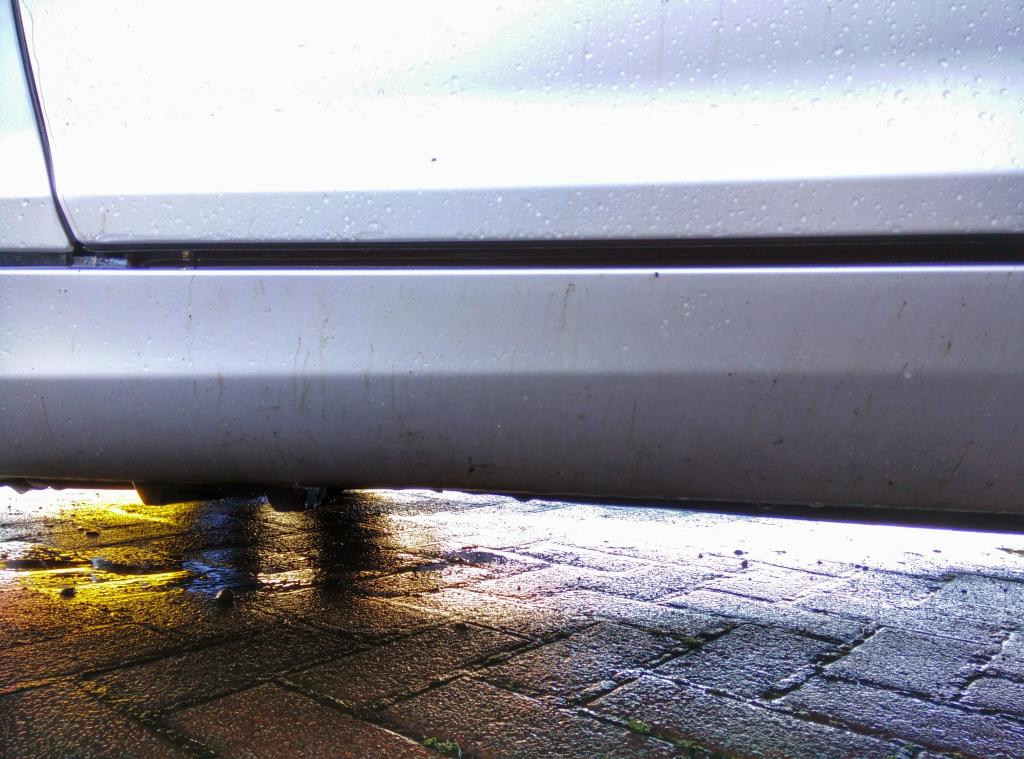 Once I'd rinsed all the tar and glue remover off, I went over it with a clay mitt. I know not everyone agrees with these, but knew it certainly wasn't soft paint on the car so was happy it wasn't about to destroy it with marring. Used the remainder of my bucket of shampoo as lube for the claying process, then gave the car a final rinse and dried it off, leaving a lovely smooth, rather shiny looking decontaminated base to start polishing with.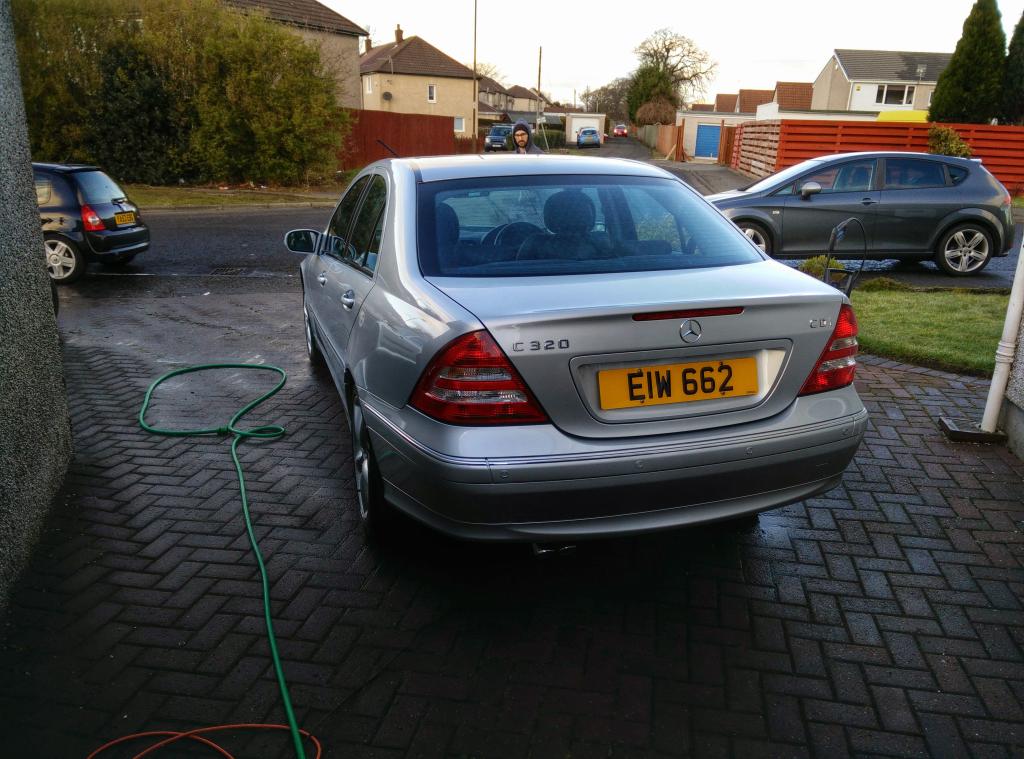 Wheel arches completely clean again!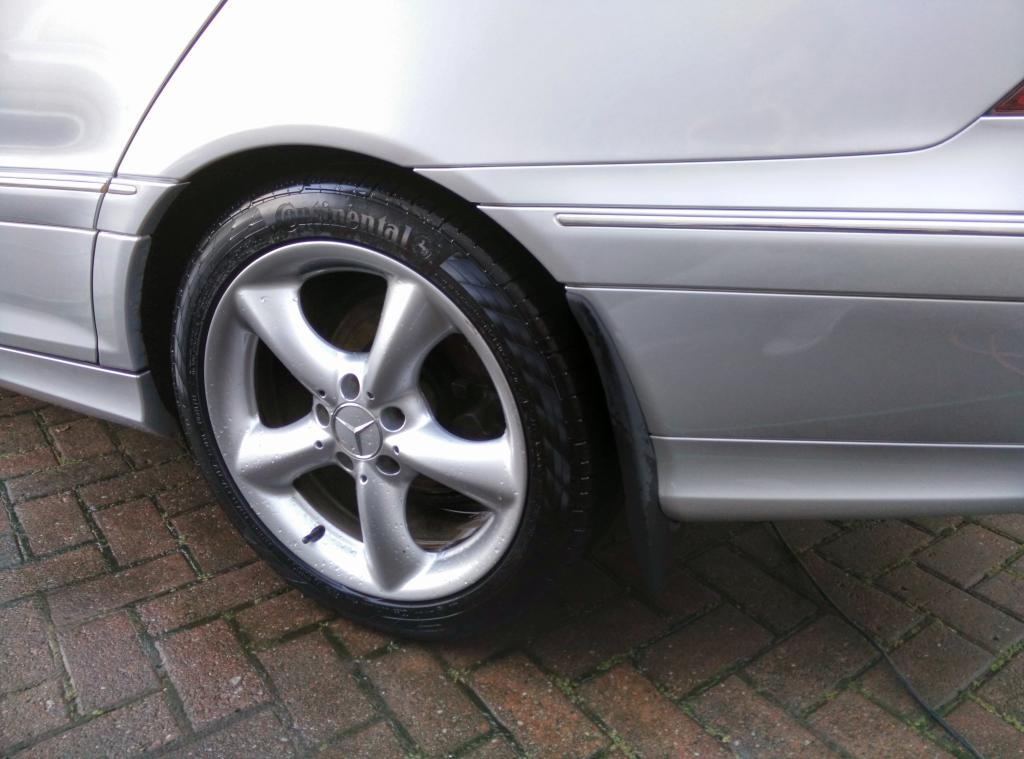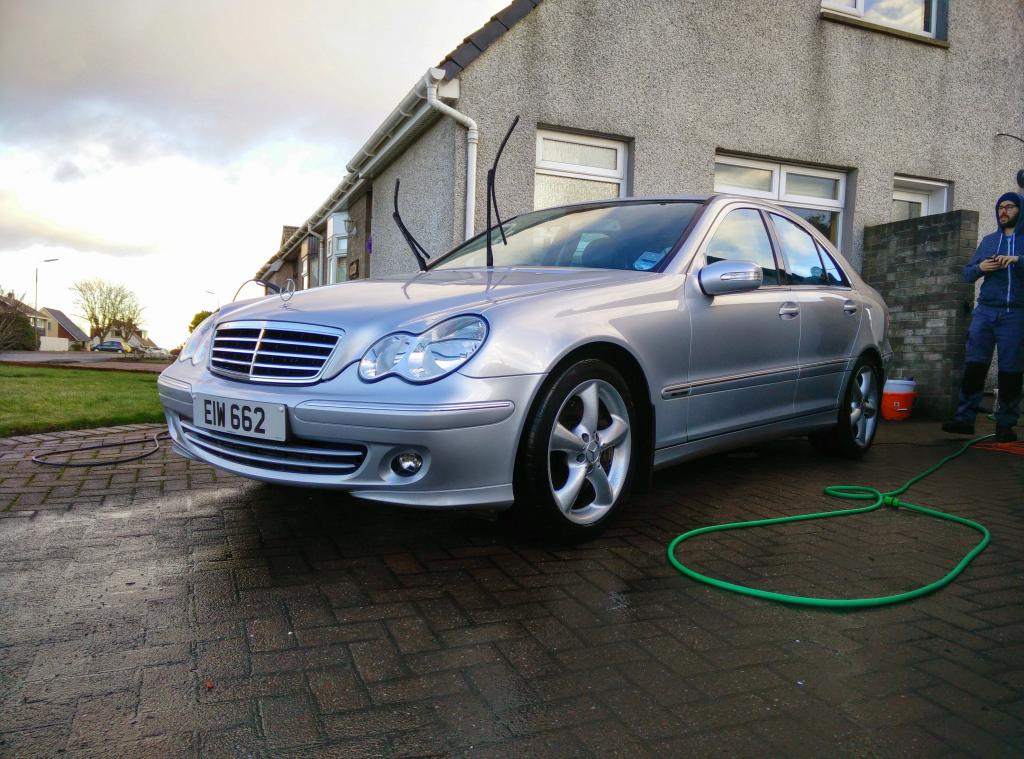 This is where the photos started to go a bit pear shaped. They just wouldn't pick up marks in the paint. Anyway...
I grabbed my trusty eBay special LED torch to have a look at the paint condition. As I mentioned above, the lack of swirl marks in it was surprising considering it spent the first 4 or 5 years of it's life never being washed, and since then it's only ever been washed with a sponge. What I could see though, was a slightly dull looking finish, with just very small swirls around the torch beam reflection.
To begin with, I masked an area off, then got polishing, using a DAS6-Pro, white Hex pad, and Menzerna 203s (PF2400). Used this combo twice, as I felt I went a bit quick with it first time and probably didn't give enough time to break the polish down. Second time round I went with about 4 or 5 passes which seemed to do the trick. Following this, I grabbed a black Hex finishing pad and some Dodo Juice Lime Prime to fill in any remaining imperfections, as well as a couple of larger scratches that had come from a cat deciding to use the car as a stepping stone up to our garage roof a while back!
Now, to the few photos I got. They don't show the marks too well but they're still sort of visible.
This was the paint before hand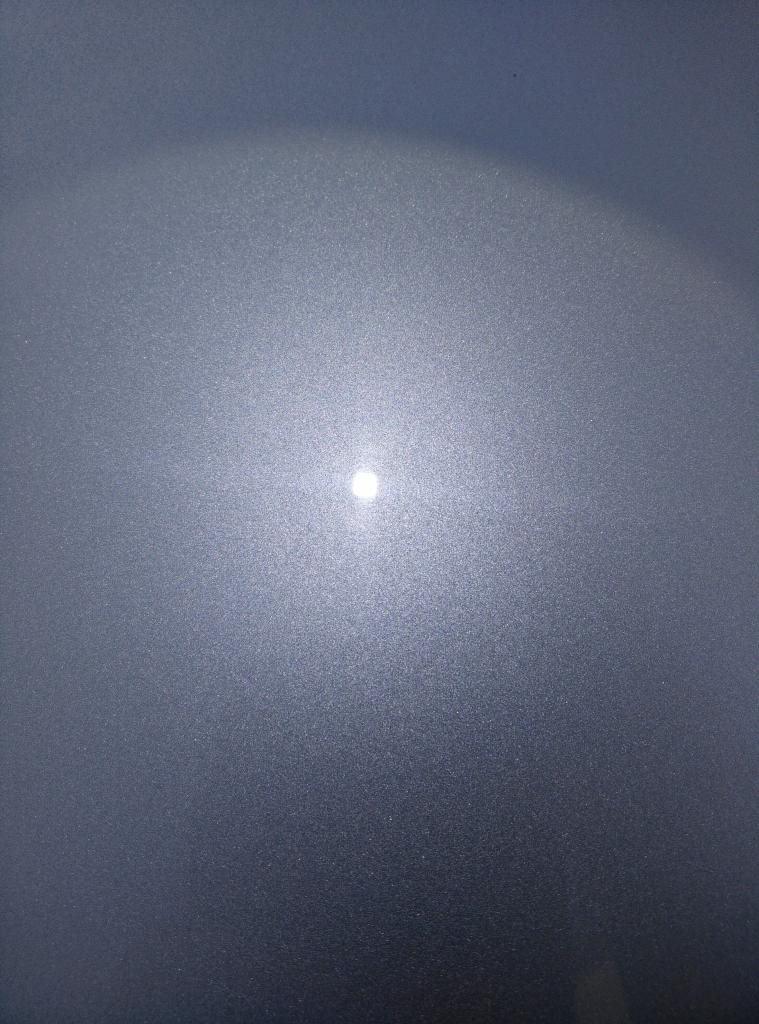 And after my passes with the Menz polish and Lime Prime, I was left with this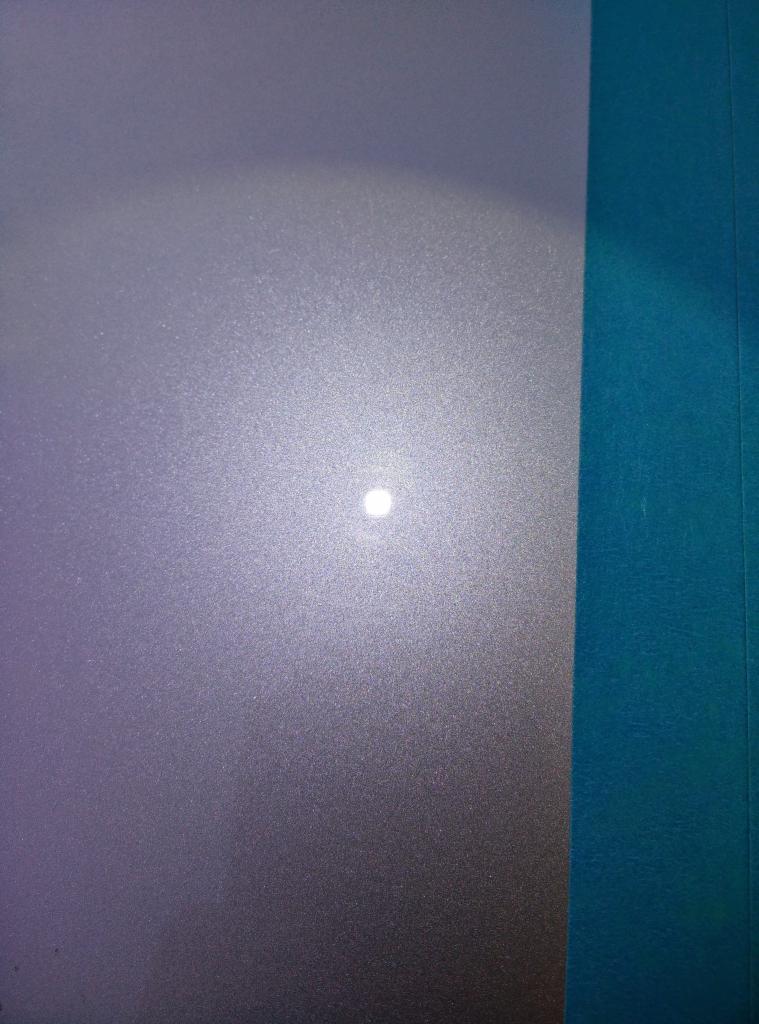 That's all the paint polishing I dared attempt today as I was running out of light quickly, but I managed to squeeze in a bit of exhaust tip polishing with steel wool and Autosol. Not quite perfect, but sadly they've never been polished in their life so I think it's about as good as they'll get.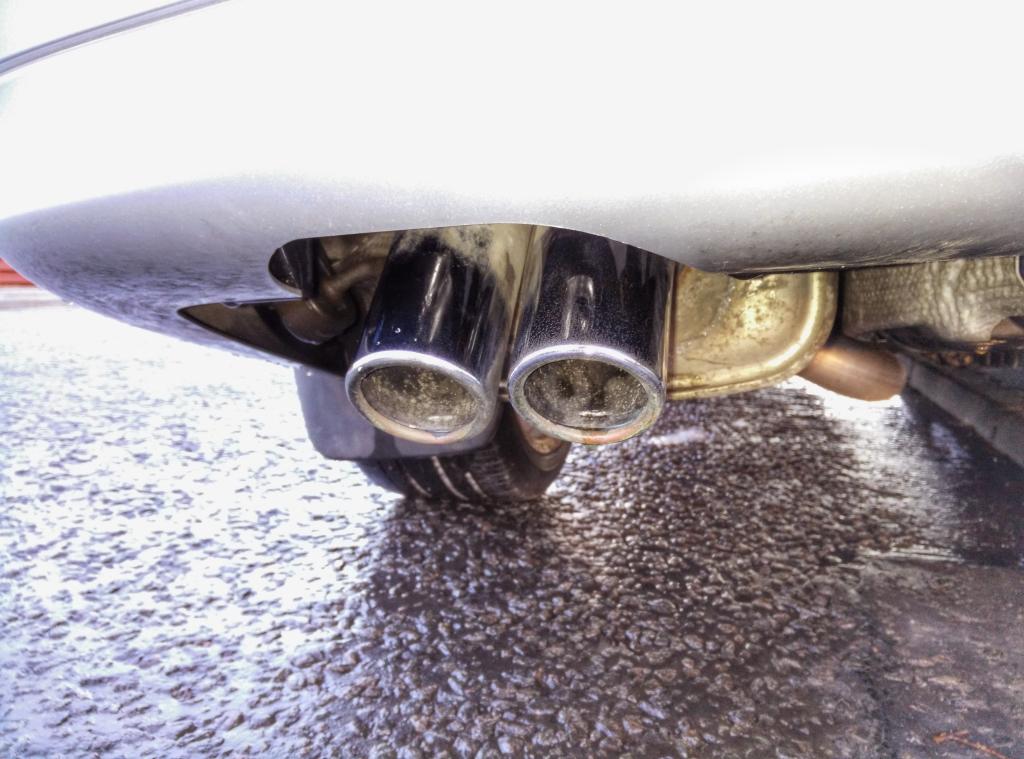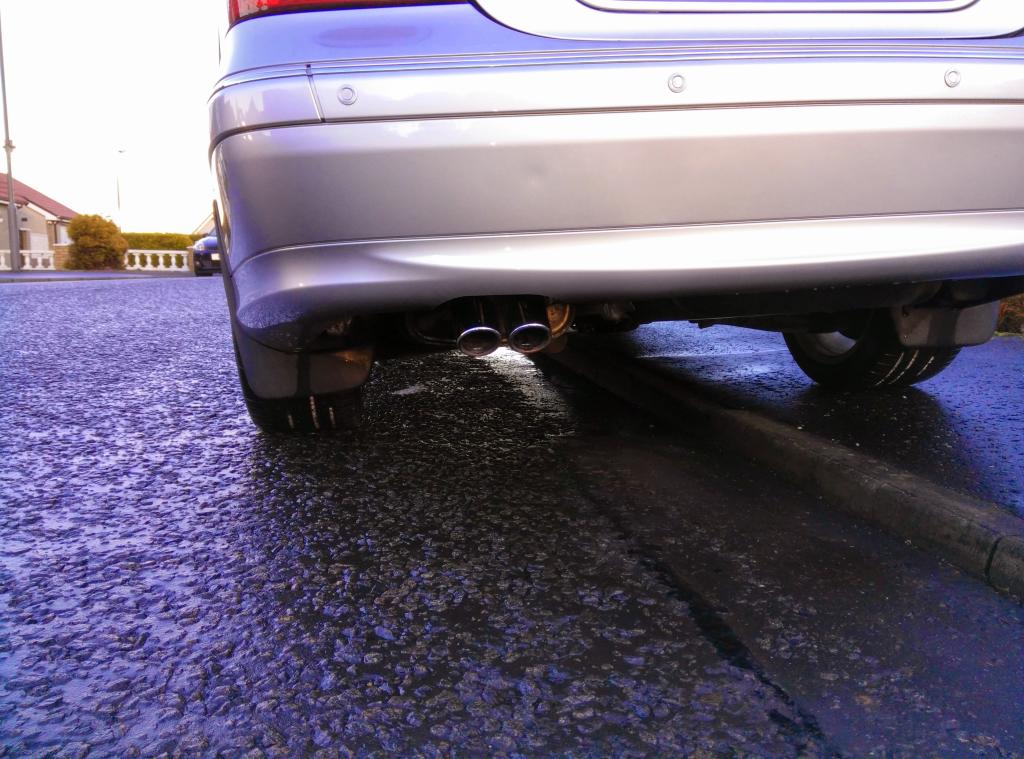 So that's as far as I got today with it. Quite pleased with the improvements so far, but there's a long way to go with polishing. My plan for next week is:
Give the whole car a quick one stage correction
Go over with Lime Prime, and maybe a Glaze (although I only have CG Black Hole so not ideal for a silver car)
Considered using Auto Finesse Tripple too, would I need to if I've used Lime Prime?
A coating of Auto Finesse Tough Coat, or GTechniq C2V3
Fully clean up the wheels, ideally want them off to clean the backs of them
Clean and seal the glass
Go round the plastics with Auto Finesse Dressle
Blacken tyres
Wipe down engine bay
Admire results!
First time I've done anything as in depth as this, so comments, advice, questions, criticisms all welcome! Just go easy on the criticisms :wink:
Cheers for looking!