Hello, you may remember my last thread about this, similar but its been so long since it did it, im confused.
Turn the key, normal sounds, like fuel pump getting ready. Turn key again and it starts up, runs fine, could do this many times no problem.
This week its started pretty much with the odd one now and again. Turn the key, normal sounds, like fuel pump priming, turn key again and it starts turning over but not firing then cuts out. Turn key again and it does the same thing. Try again and it may turn over once. Try again and it may not turn over at all.
Wait a few minutes, it may do the same thing, it may start and eventually it will start and run fine, no problems at all. I can turn it off, it may start back up more often than not but then again it may not.
Here is a video, i know i am turning the key a little fast from second to third position but..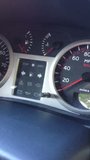 It did it again after i finished work today, sat there a while, tried again and nothing, pushed the car 1m, tried to start it and it started up. However, i have also tried to bump start it down a hill the other day(may not have been a good hill though as i didn't get much momentum going) and it wouldn't start up after either although did after a few attempts and waiting.
Its going in for the belts doing with Mick @ Diamond motors a week on monday, although i can't think it has anything at all to do with the belts.
Any advice.
Thanks.