So thought I would put up a little thread on the car. Seen them get recommended to people as an oddball choice, but thought I would lend my view on actually owning one for the last 18 months. An it's minor changes an future planes.
I know Daniel loves these so here we go.
Always had a thing for muscle cars and V8's just never really had the chance to drive one. However, I went to Vegas on a stag do. An myself an another friend decided we would do the time in Vegas with the rest of the lads but when they left to go home we would stay. Idea being we would hire a car an just hit the roads. Ended up doing the usual touristy things Gran Canyon etc. So the guys left we went with them to the airport an we had both basically decided if we were doing a road trip on the west coast. We needed a cool car, an it absolutely needed a V8. So in came this car it was a bit beaten up, some bits were broken. It was scratched to buggery, bits were missing...However, it didn't cost much to rent an it had a V8 under the bonnet.
Little pic of my mate posing on our first stop,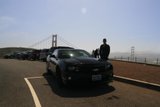 San Francisco around 700 miles for the first day with me doing the vast majority of it. We left Vegas at 8am an we arrived in San Francisco around 2am the following day, at which point neither of us had thought ahead as we were unsure where we were going. So we had to drive around trying to find somewhere to sleep.
Anyway the week went on an we toured all over California, LA, San Diego. Drove down the coast from San Francisco to LA which is a lovely drive. Suffice to say at this point I had somewhat fallen in love with the V8 grunt. Got home an the little French 4 pot just wasn't doing it for me no more. I had a large insurance pay out due soon so I started looking at cars. Checked Mustangs and just didn't want to blow the entire insurance payout on a car. So tried the usual Camaro's, Corvettes etc. Then remembered the Monaro.
They were in the price range I was happy to pay an there were a few about. So I started learning about them, what to look for, what models are what. Suffice to for a car that was only on sale for 3 years, there are a few variations. There are 5 models ranging from 330-500hp. I wanted a VXR however I wanted the big boot. With that in mind it was simple I needed a 5.7 VXR an I wanted it in red. Here in lies the problem, they only brought 22 of those into the country.
So I checked around an a lad in Leeds had one for sale, came up shortly after I had started looking. So immediately emailed him an said I wanted to come view it. He had said it had a few marks in the ad paint blemishes etc, an a mark on the leather. Thinking the worst it would be horrible I thought I can at least get an idea of what to look for seeing on in person.
Pulled up, got out an it was sparkling! The paint issues he was talking about 95% of them would be sorted with a detail an the one minor dent wouldn't be much to sort. The AC had a broken pipe (Common on these) an the oil pressure sensor wasn't working so no oil pressure gauge. Got there an he basically straight away said he would knock some money off.
The plus points, low miles just under 40k. 2004 5.7 VXR model, (387hp, an comes with some extras the 6.0's don't get. 3.73:1 rear diff ratio, proper tubular headers, different interior, an a big boot. It's basically the model Vauxhall used to launch the VXR brand so it came with goodies the later cars didn't get. Being only 16hp down on the 6.0 but lighter an with different gearing makes them pretty much identical pace wise.
So being desperate I walked away with a low mile, good condition Monaro. The ad had made it sound worse than it was. An I paid £8000 for it, here in is where things get a little sad. Guy really understanding about my insurance payment taking it's time to come through. So went to collect it a few weeks later. Got my Friend to give me a lift to Leeds and here she is.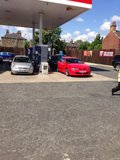 Back at my friends flat, dropped his off an he wanted to see what it was like. So being the nice friend I am chucked him the keys an said go for it.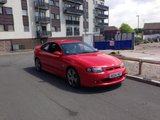 Now is where it gets a little sad. About 3 weeks into ownership I came round a corner to turn into a side street to go for dinner. The car started to turn and then it just started sliding. Not being a dick I had people in the car at the time, an it was dry out. It also was under steer. Unfortunately just when I thought I had saved it it hit the kerb at roughly 20 mph.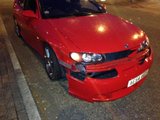 This is where I got to find out about Monaro parts especially anything with a HSV badge on it. The car is a HSV in Australia, it's basically the Holden equivalent of AMG, M badge etc. As a result parts are somewhat more expensive. Regular CV8 Monaro bumper £300, VXR Front bumper.... £1,242. + new fog lights, an fixings etc. Basically it works out at around £2000 for the front bumper sprayed and fitted. Total cost of repair....
£6,300!
It was close to being wrote off anyway, hitting the kerb had cracked steering rack, bent the struts, damaged the hub. Needed a new wheel an tyre (Wheel and tyre alone is £900 again HSV only part). So it was gone for 3 months while parts trickled in. At first the Insurance tried to go through their supplier. Then when Vauxhall said we can't get parts they finally got in touch with me to ask where to go. Sent them to Monkfish who helped me out in a big way getting everything sorted.
So got the car back, a few months later. An first thing first, I had picked up a private plate for it, as I hated how the standard 7 digit plate didn't fit the recess on the bumper.
Think it suits it quite well personally.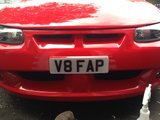 The car was pretty much completely standard when I picked it up. Including the broken radio, not an issue it sounds a bit pish anyway and I needed sat nav etc. So in went an at the time brand new Pioneer Avic F50BT.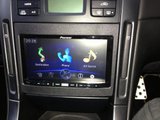 Along with some new rubber, it was on Falken 452's an they were honestly god awful!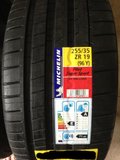 It stayed like this for a while an I went to my first V8UK meet. Big mistake, I came back home wanting an exhaust but just didn't have the cash at the time. So left it for a bit. Ended up at another V8UK meet shortly after. This time it was a Dyno day at Tuning Developments in Warrington. With this coming up I had decided it leave the car completely standard an just get a good base line of what it was producing.
Quick photo turning up.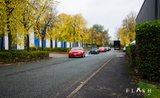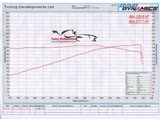 So 299RWHP and roughly 371 BHP. It was within what was expected. Previous owner changing exhaust had got rid of the crossover pipe which was likely robbing it of a few horses.
Also got pressured into doing my first ever burnout, yes I bounced it off the limiter like a dick. This was the 3rd attempt after failing and stalling when hitting brakes etc the first two times. Hey we all have to start driving like a hooligan somewhere!
Sorry quality is s**t, came through whats app.
So with the baseline done next was a cat back, into JP Exhaust in Macclesfield it went.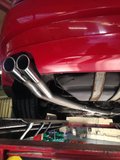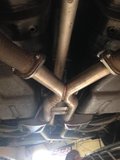 Back box removed completely, X pipe and 2 mid mounted silencers. It definitely sounded better. It was civilized though. It stayed like this for a good few months with no real changes. Video below of the exhaust.
It's got a bit more V8 growl to it at this point.
Few months went by an nothing really changed. Then I basically decided I needed more on the exhaust. So off came the mid mounted boxes. An on went these. Dynomax bullets, they are basically a straight through resonator. I also installed a set of line locks an went to the UK Power tour.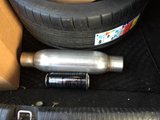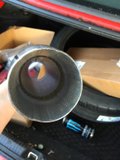 Obligatory line lock picture at the drag strip. Where in I proceeded to lose more and more of my "power tour" vinyl as the week went on. I lost the E on my way to Rye, an then while at Rye a seagull decided I didn't need half the W anymore.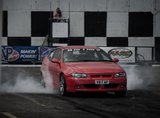 It then came up for another Dyno day at Tuning Developments. I had only had the cat back at this stage and sight change with the stock airbox and filter. So wasn't expecting much.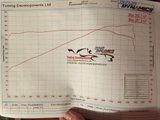 Dyno run video. ignore the red wire running across the firewall, that's just something I threw in on the day an wasn't properly finished.
https://www.youtube.com/watch?v=SREJXWazOKY
Nearly 9RWHP gained, not to be sniffed at for minor mods. Especially on this dyno where standard M3's never make their power. It's now a bit of a running joke at dyno days if people moan it's reading low the Monaro gets mentioned. As it always runs exactly what it should. Car was booked into the guys at Tuning developments a few days later to have this box of bits fitted.
Basically virtually every bush is now changed to a Pedders polybush.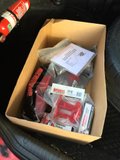 Once the geometry was sorted it's amazing how big of a difference the bushes made. The car now felt tight, it just seemed to be so much nicer to drive. I also fitted a Ripshifter myself on the drive. Which totally transforms the gearshift. It's gone from bloody awful, to being damn near impossible to miss shift. I will say though, these are called muscle cars for a reason. You need some muscle just to change gear it's absolutely lovely the shift... Just heavy as hell.
Another video a little while later, demoing the new MSD 2 step (Launch control). An the newer exhaust.
Then today I received this. Ignore the filthy carpets etc, house is currently being redecorated and I have just stopped caring about it. As it's all getting ripped up in the next week or two. There's paint, old wall paper paste etc on it etc, so the hoover hasn't really been a major priority.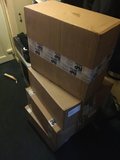 Took it out of the brown boxes to find this.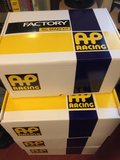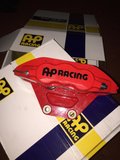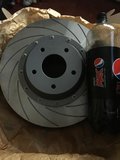 These are hopefully being installed after Christmas. It's going into K&M acoustics tomorrow to have my JL Audio gear installed. As it is my everyday car, it's not really possible to listen to exhaust noise in Manchester city centre traffic. So I want to get my sub an speakers etc installed.
I should also be picking up my new headers in January. Currently making their way over from Australia. Gone for a set of "chrome" ceramic coated 1 an 7/8th long tubes into a 3.5" collector, little big for the current level of the car. Once the cam an heads are done though it should be better. An the cats are coming out as well. The above clips are with the standard massive cats which are actually double the size of the silencers. I think it will end up being rather. LOUD!
So future short terms plans before power tour 2015 in July.
Exhaust headers fitted and cats taken out, remap an a Duspeed OTRCAI. Should be enough to put me at around 330-340RWHP. Possibly more an decent torque gains.
This is the DuSpeed induction setup at the front. Little prettier than your typical induction kit. An proven to gain 10-20RWHP.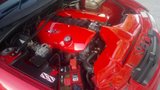 So with that all done, what is it like to actually own? Quite simply, lovely. It's comfortable, will cover ground at a great pace. Seats four 6 foot+ adults in comfort. Has a boot big enough to go away for a weekend camping with 4 people. Which is great as I do festivals etc.
Insurance really isn't bad at all, it's actually cheaper to insure this than it was a 2.0 180hp Citroen C4 VTS. By about £150! It's cheapish to tax at £285 a year. An MPG wise, not nearly as bad as people would imagine. Yes city centre traffic is hell, as is driving it like you stole it. However, I average between 18-23mpg day to day. An on a motorway run, it'll do 35mpg+.
It's just a nice car to cruise along in, the seats are lovely. It's basically an armchair on wheels, that will go sideways on command. An is able to out pace 95% of the cars on British roads at the same time. It's big, it's lazy an it's loud. Personally I love the thing. It's not a razor sharp sports car that'll corner like it's on rails. It has flaws, but honestly those are what make it fun to own. Even sitting pootling around in traffic, the V8 burbling away sends vibrations through the entire car. It literally rocks with the engine. An then when you stand on the accelerator the front end pitches up while it squats its arse down, rocks sideways an it just takes off. It's the drama of it all.
It's just got character, I will say for anyone interested in one. Don't drive a standard one an judge it on that. Take one out with modifications as these are basically a blank canvas to build your own car. Standard they aren't great. A few minor mods an it totally changed the car though. Yes the interior is a bit dated, but it's not badly put together. It's all about that engine though, it might seem old fashioned but it's great fun. Most people I take out in it end up loving the thing.