Shortly after I got my car I noticed the handbrake cable had broken on one side because the calier mech had seized. I bought a pair of new calipers on eBay for £100 which were obviously China crap. The calipers share fitment with a few other cars but the pistons on the 1*2 seem to be smaller 30mm while the pug ones are 32mm.
I rebuilt them a few months back and some genius used 31mm pistons - I'm guessing as a half way house. Since then the pedal has been a little spongy, not terrible but not as good as it was.
Because I wasn't happy with them I fitted cheap ECP pads just t get through an MOT and on with life - last night one of the pads broke up, ripping the backing plate and fitting kit out with it grrrr. So its time to sort the issue properly.
Has anyone bought these before?
RENAULT CLIO SPORT 182. 2.0 16V 2000-2003. AIR OF HIGH QUALITY REMANUFACTURED REAR BRAKE CALIPERS. Our Garage - We have our own purpose built garage & a 10,000 Sq Ft Factory with onsite fitting available.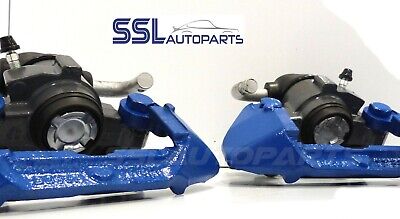 RENAULT CLIO 172. AIR OF HIGH QUALITY REMANUFACTURED REAR BRAKE CALIPERS. Fitting available at our factory in Wakefield, West Yorkshire. 18 MONTH WARRANTY.
Or have any good recommendations on how to not buy Chinese calipers?
Last edited: