I've been meaning to start a project thread for this car for some time now. I bought the car in March 2018, and it's changed a few times since then in terms of usage as it was originally my only car, replacing a Z4 3.0i. It was then a second car when I bought a MR2 Roadster, but that only last 6 months, before the Clio was my daily again. And now it's a second car, as a change in jobs, meant commuting from Nottingham to Derby, I figured a more comfortable quieter car would be better to bought an e46 320cd.
I've owned 4 Clio 182's since buying my first in 2013, and actually owned one twice. I basically want to try something different, realise i preferred the Clio overall, and how much cheaper the Clio is compared to anything else of similar performance, and sell up my purchase within 6-8 months and buy another Clio.
I've not got many pictures at the minute but, when i bought the car it already had a decent list of parts i'd have wanted to fit straight away, which is why this car stood out so much over many others, and why i paid more than i had previously for any of my other 182's. So it had:
Evo 6/7 recaro seats of Jon Foz lower mounts
330mm omp wheel with crusie buttons
15 inch team dynamic 1.2 with AD08R
Rear seats removed and carpet added
Also supplied with the car was a set of cooksport springs and black insert headlights.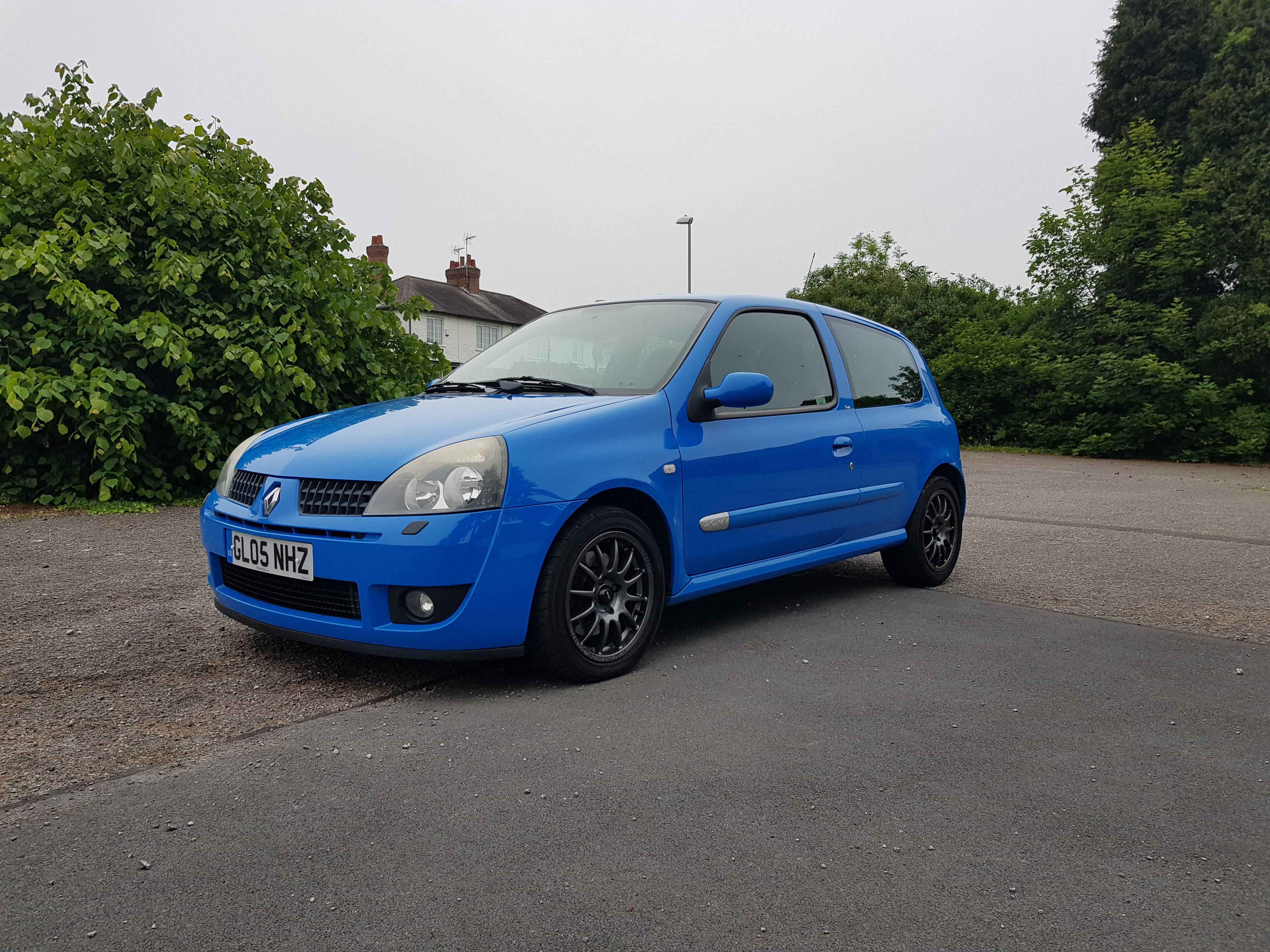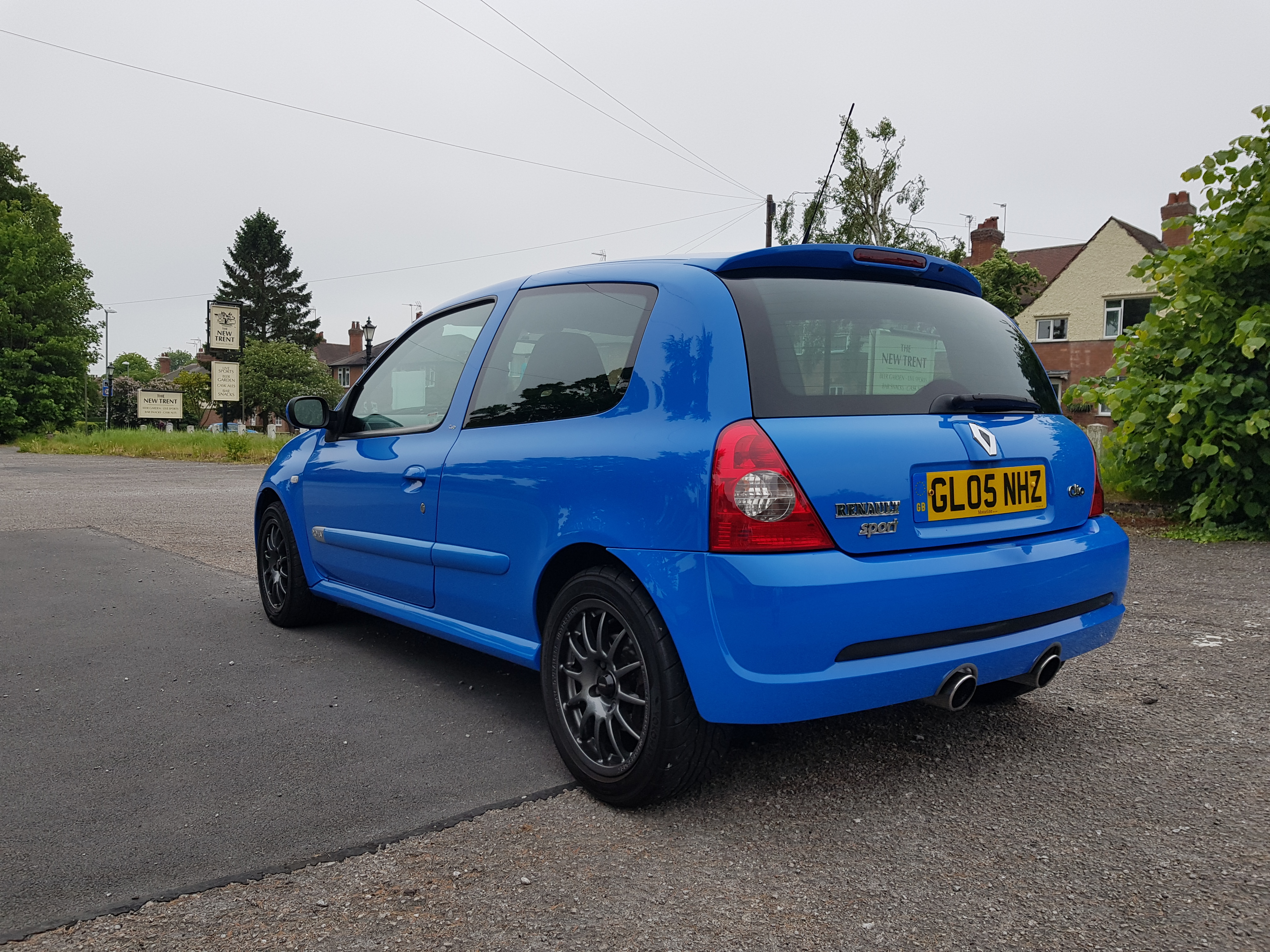 I then purchased a Scenic shifter that had been modified, a ktec Janspeed non res exhaust system, powerflex dog bone mount, yellow engine mount insert and exhaust mount inserts, and fitted the cooksport springs, and pretty much kept it like that for a while.
Then i decided i fancied another convertible, so bought a MR2 roadster with a broken gearbox cheap, and this car then became my weekend car, though i'd still drive it to work once or twice a week depending on the weather.
So I decided to add a PMS shifter, the added vibration from the shifter was both awesome when thrashing the car, but annoying as hell when driving at a constant speed. So when the car became my daily again i sold it and replaced it with another Scenic shifter.
In that time i'd also fitted a 2.25 inch decat pipe, which made the car quite a bit louder and raspy.
When i sold the MR2, i also bought a cup rear bench and parcel shelf, fitted a sleeved centre resonator and kept the decat, to try and quieten the noise inside the car. But it lost a little of the enjoyment out of driving it whilst driving it for fun.
At this point, i was also getting pretty annoyed with the seating position, even on the jon foz lower recaro mounts, i felt the seat needed to be a good 2 to 3 inches lower for my preferred position. So started looking at my options. I didn't want to fit bucket seats again like i did to one of my previous 182's, as it was still a daily driver and the actual seats i found pretty comfy.
I started by fitting a pair of mk1 mx5 seats directly to a set of jon foz X-Low bucket seat subframes. This worked pretty well in terms of position as i'd probably dropped over 3 inches easily. but the set just didn't have the support i needed. So started measuring up the Recaros again, and figured that it was possible to mount them, so that the base of the seat was level with the exhaust tunnel top. Thus approx 30mm off the X-Low subframe, as the Recaro seats where just a few mm's too wide to sit to the side of the step in the mount. This allowed my to drop the seat approx 75mm over the lower recaro mounts. The pictures below show the difference between the lower mount position of the passenger seat and my new mounted position.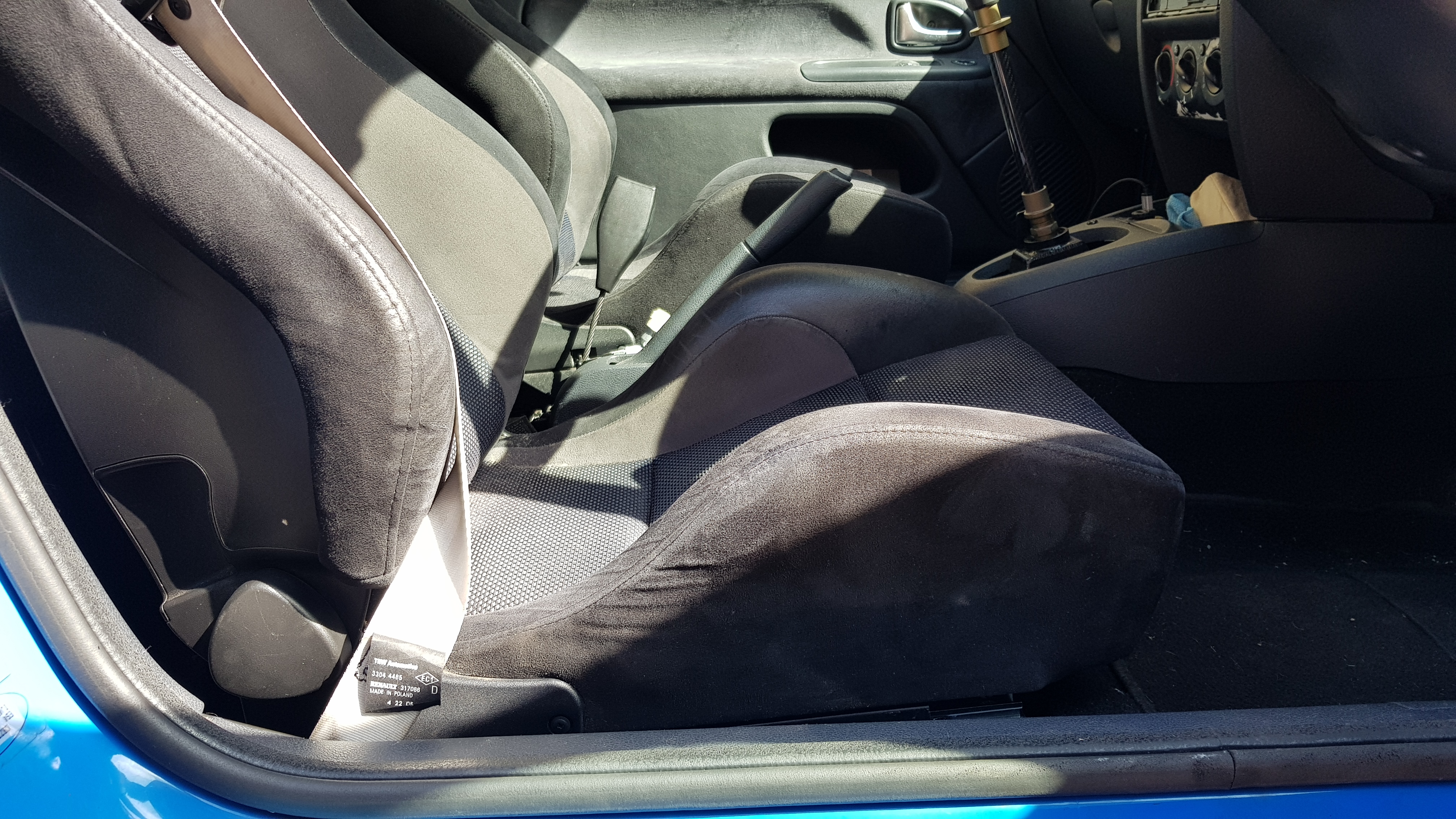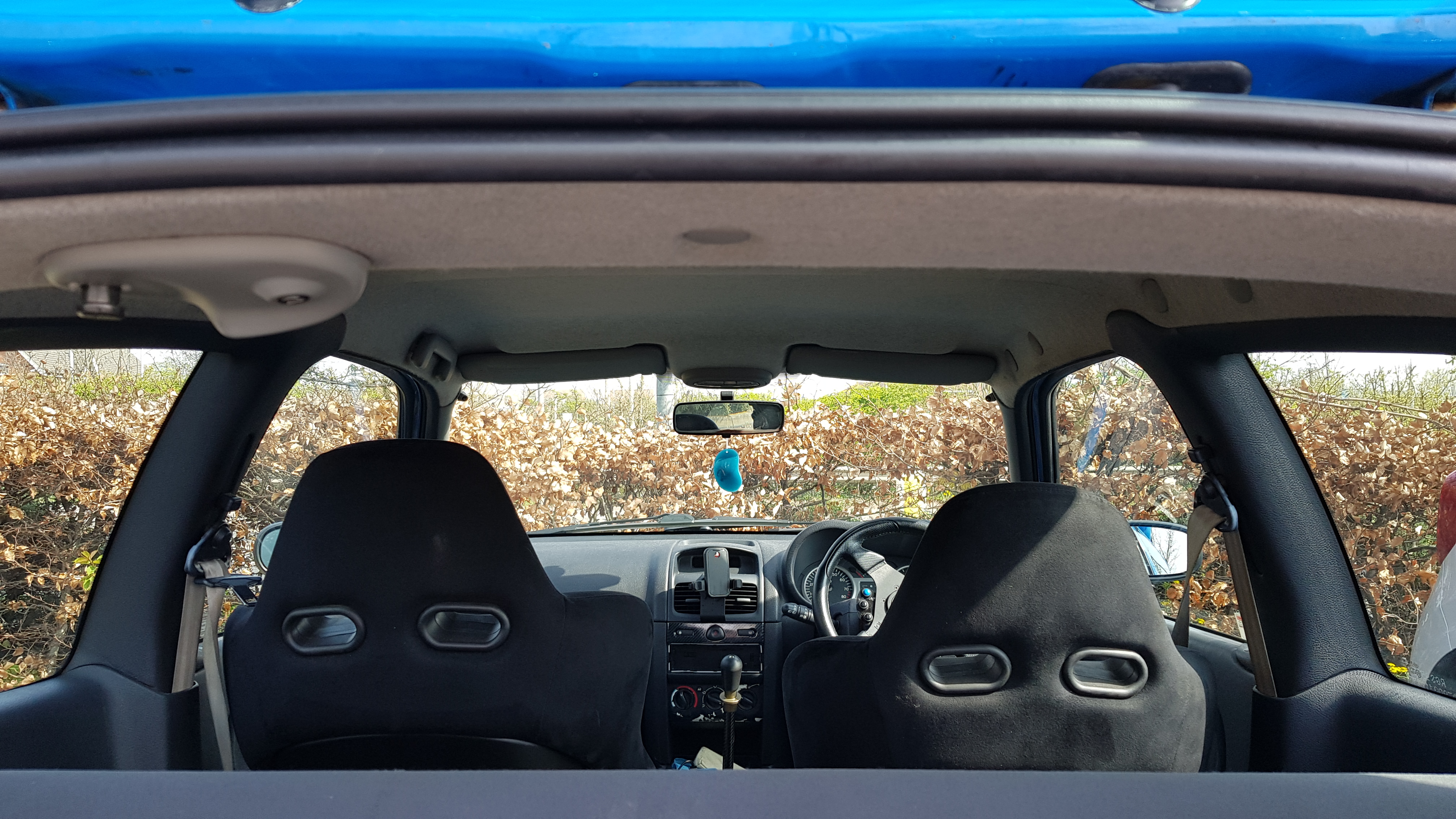 So, when i decided to move for work in september this year, during my 3 month notice period, i started looking at options for my new drive from Nottingham to Derby and the large percentage of motorway speed roads i'd be driving. I really didn't want to replace this car, as i knew i'd regret it and buy another one. Most likely expensive, or not to this specification and i'd need to end up buying all the parts again, so again expensive. Plus nice ones seem to be getting harder to find.
So after looking at various options i ended up buying a e46 320cd.
Since then, i've had to get a sports Cat made up, as the original Cat material is loose inside the Cat, so rather than risk loosing that precious material inside, i figured i could either buy a cheapo cat of ebay for like £60 for mot times and run a decat the rest of the time, or just fit a decat and forget about all the hassle of switching it back and forth once a year. So went with the sports cat. I managed to purchase a miltek decat using a 20% off code on ebay, so that cost me about £35, then went for a Magnaflow 200 cell cat over the cheaper non branded stuff, this was about £75 at the time. Then got Dann to weld it up for me being fairly local.
Fitted the cat and it went straight through the mot, well once i'd changed the rear brake hard line. and surprisingly, the noise didn't really change too much. I also remember the car being much quieter with the standard cat on. But as it wasn't daily anymore, i decided to fit a sleeved exhaust straight through section to remove the centre resonator i'd previously fitted. The exhaust looks a little messy now. but sounds awesome, just a little on the loud side, which is what i wanted really.
Going forwards i've not fully decided on what i'm going to do with it. I'd like to do a few track days next year but not sure how far i'd like to go in terms of modifying this into a track car. as it's still mainly going to be a road car for weekend blast with the occasional commute to work.
So i'm thinking these will be definites:
Braided brake line kit, with ATE Typ200 fluid (used previously and in the car now from the hardline change)
Updated pads - thinking PBS pads at the minute
Coilovers - Leaning towards Bilsteins due to the mainly road usage, but will consider BC Racing and MeisterR (assume these are due for release soon?)
Remove fog lights
Fit black insert headlights finally
Thinks i'm not sure about yet:
Completely stripping out the remaining interior, keeping the dash
Fitting bucket seats
Rear bolt in cage with harness bar to allow harnesses to be used.
PMS shifter again
Roll centre correction kit
lower steering wheel kit (bucket seats in lower position would mean the wheel would be a little too high)
Trophy/V6 rep spoiler
Track tyres instead of the usual AD08RS, NS2R, RS/R, etc
Not sure if some of the above options may be a little too far for the road and might push it too much into a track focused car, thus spoil the experience on the road
Any these photos are from early 2019 i believe, so similar to how it sits now: