With a recent set of events, I thought it was about time that I put a thread together to chart the history of our little clio 182, which is actually my wife's car - but has now been with us so long that it's part of the family!
So, we start by winding back to Autumn 2004 - my brother had just bought his other half a 172, and having been initially sceptical about this little french thing, had a go, and was hooked but the combination of a turn of speed, lovely handling and also lots of kit for such a small car! My then wife-to-be at the time was driving a bog-basic 2000 1.0 Corsa which had been a great reliable little car, but the clio was proving very appealing. So I started with the man-maths, and by late October, were the proud owners of a black gold clio 182 with the cup suspension and spoiler packs. This was bought right when the car supermarkets were getting a foothold with their parallel imports, and we ended up buying from Motorpoint at £11,699, compared to a Renault list of just under £15k - and the local dealership weren't willing to knock a penny off, despite motorpoint being only 1/2 mile away!
So, when it turned up, it looked like this, all shiny and new (it was, I believe, sourced through Cyprus, but brand new with 17 miles on, and we were the first owners).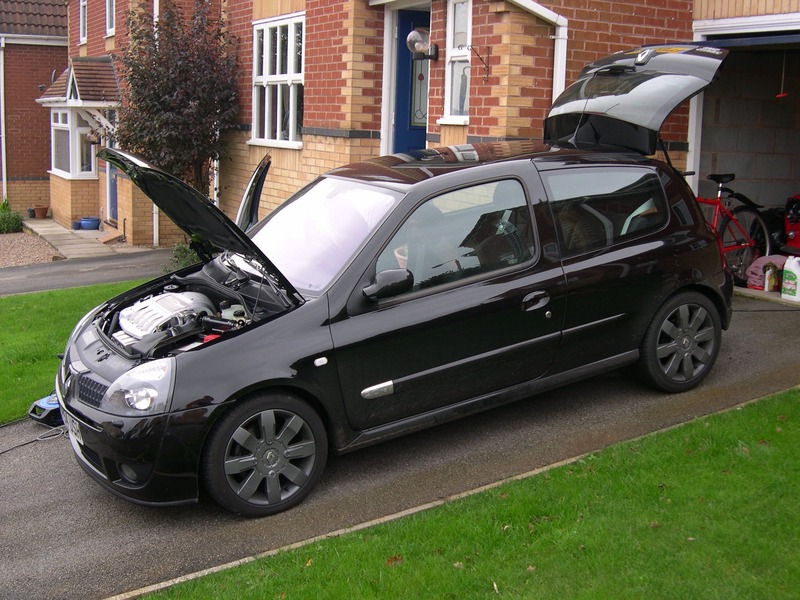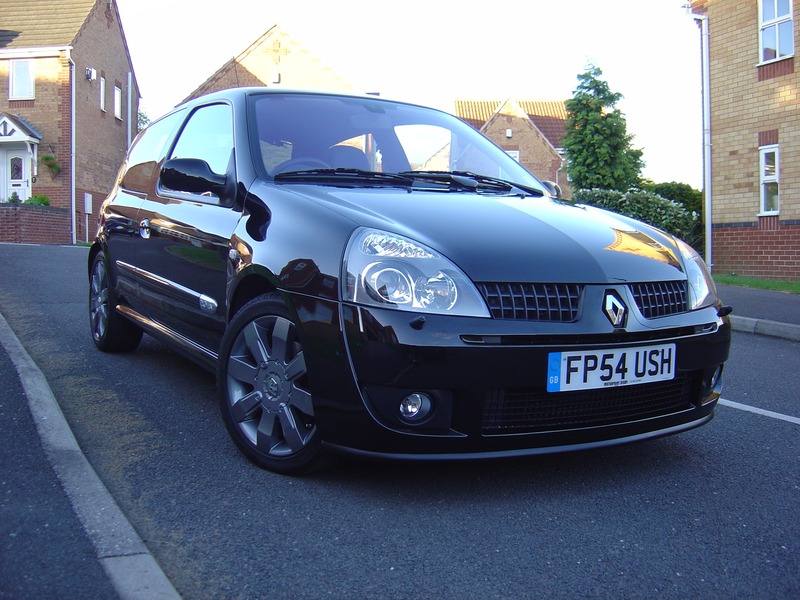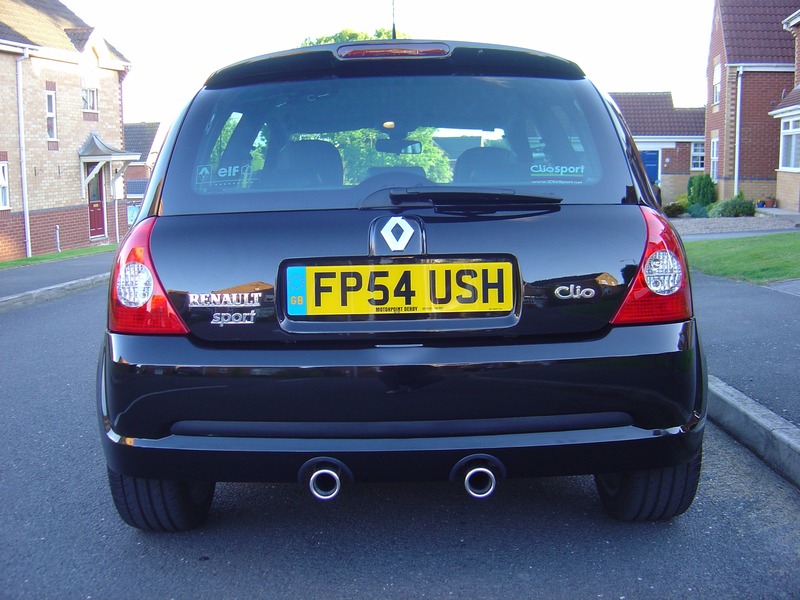 My wife was a bit unsure about her new car at first (which I was quite happy about - I had an escort estate at the time, so was loving the clio!), but soon got used to it, and then really started to bond with it. I then added a pro-speed exhaust which I bought from cliosport, and then went to a few shows..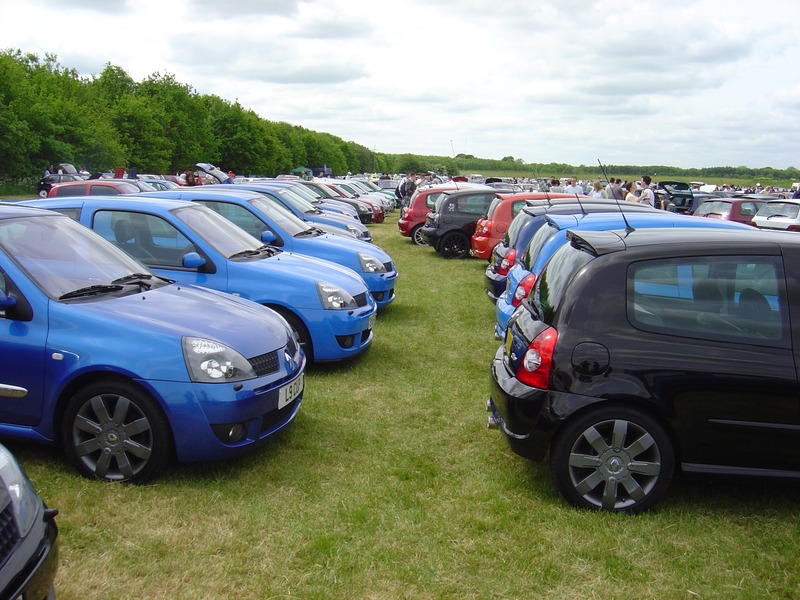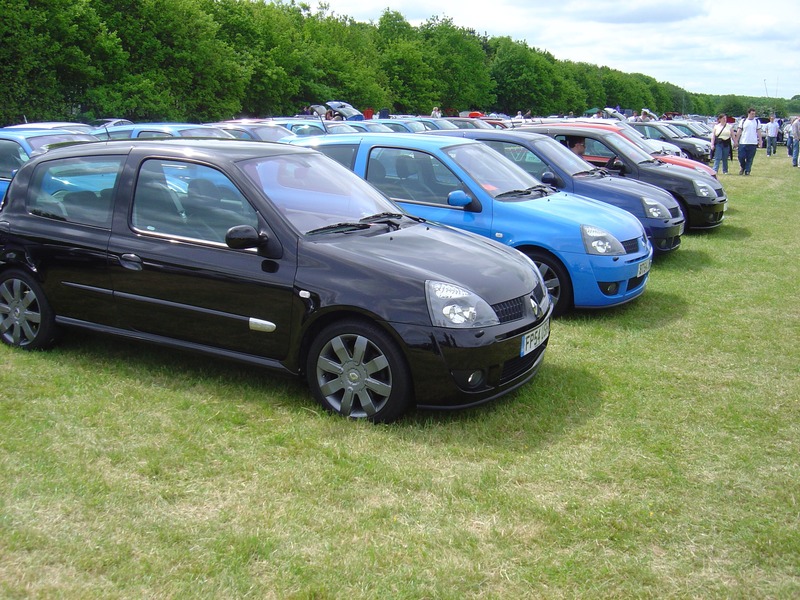 French Car Show 2005 at Bruntingthorpe with Cliosport
All was going well, and it was being well used, and then by spring 2006, I had bought myself a Cupra R to keep it company on the drive!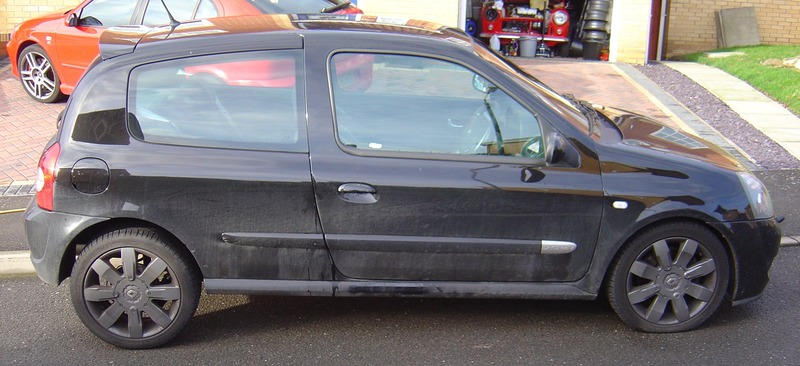 And thought I'd get a plate for the clio to make a decent (but not mega-bucks!) pair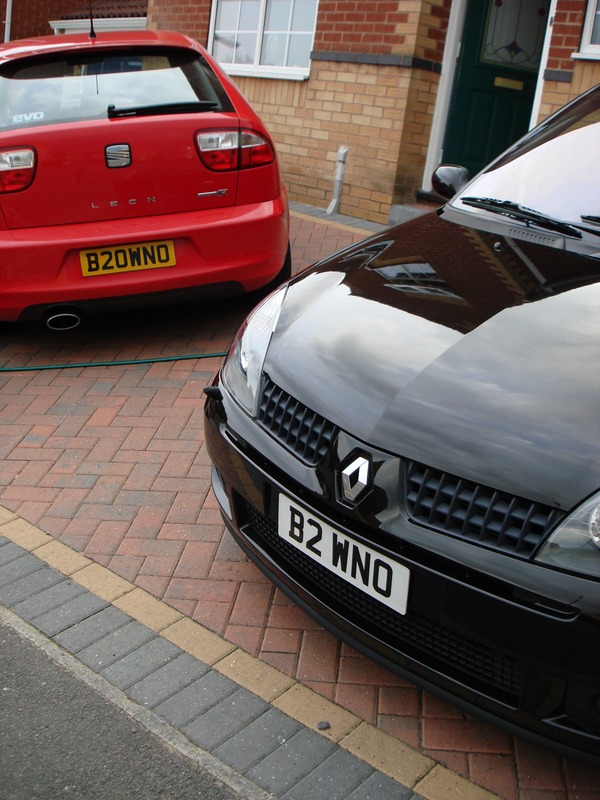 The Leon lasted for a year or so until I decided I wanted a Defender... and came home with something a little less interesting after my wife had decided that a roll cage wasn't a sensible replacement for rear seats!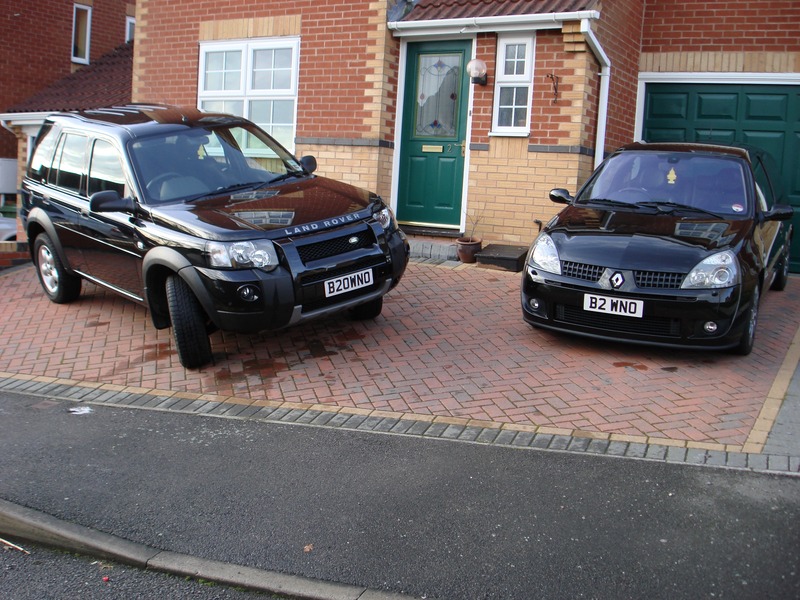 Then I decided I needed something fun too, so in Feb 2009, I added myself a toy (and we had put the house up for sale!)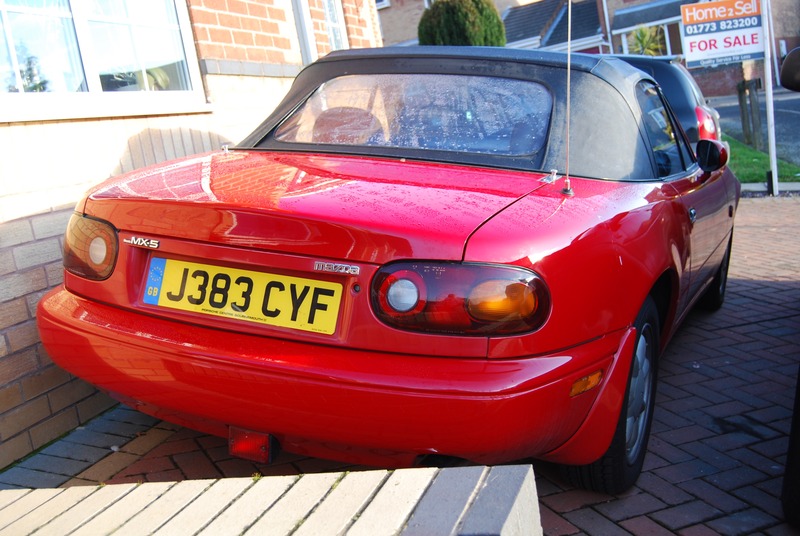 And then 3 months later, as my wife was pregnant, I decided I needed a sensible family wagon... so bought a slightly unusual one with a bit of performance...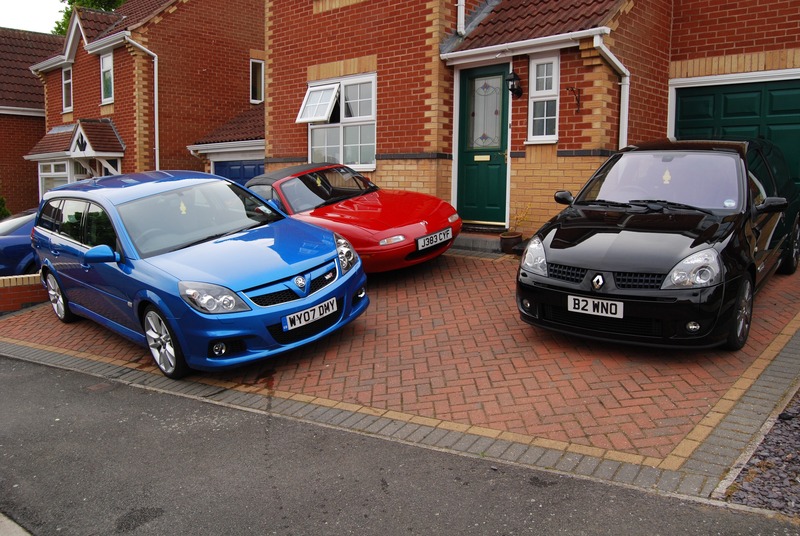 All this time, the clio is still running along nicely and still looking good - but then it was still under 30,000 miles - but still got it's first cambelt service at 5 years old, which was done at a mate's garage, with him ensuring all was well - and was a festival of swearing at the lack of space and access!
All was still good, then until Summer 2011 when I got itchy feet again, and decided to upgrade the Mazda...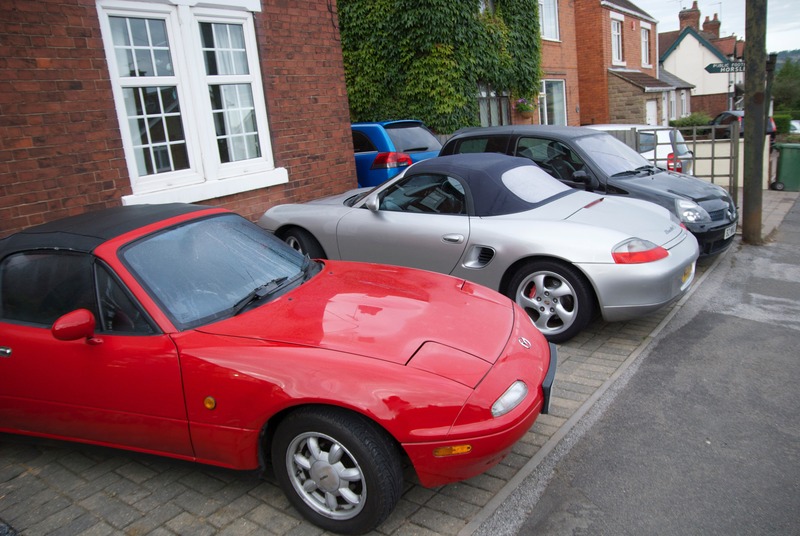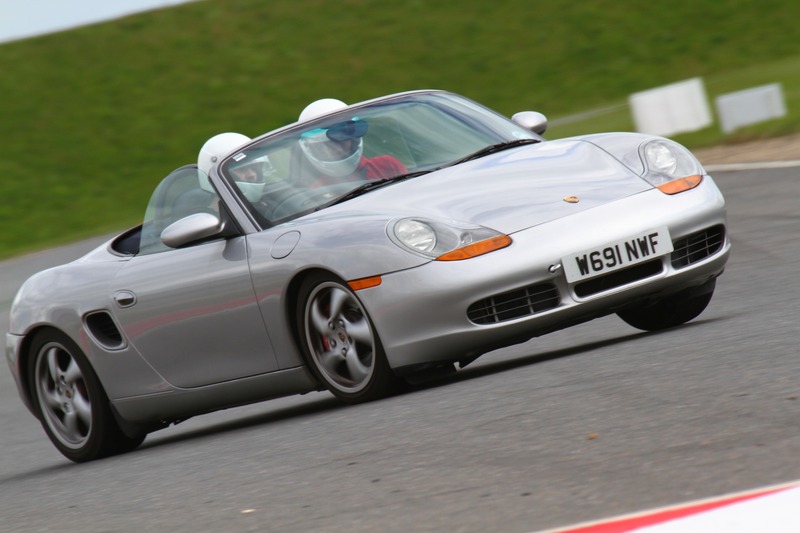 which was all good, until I decided I fancied doing some more trackdays decided that the boxster was ok, but I wanted something a little more playful, and also cheaper on consumables!
so it was back to what I knew, and in summer 2012, the Boxster was replaced, with the Clio hitting the dizzy heights of 40,000 miles by this stage, and still going fine!: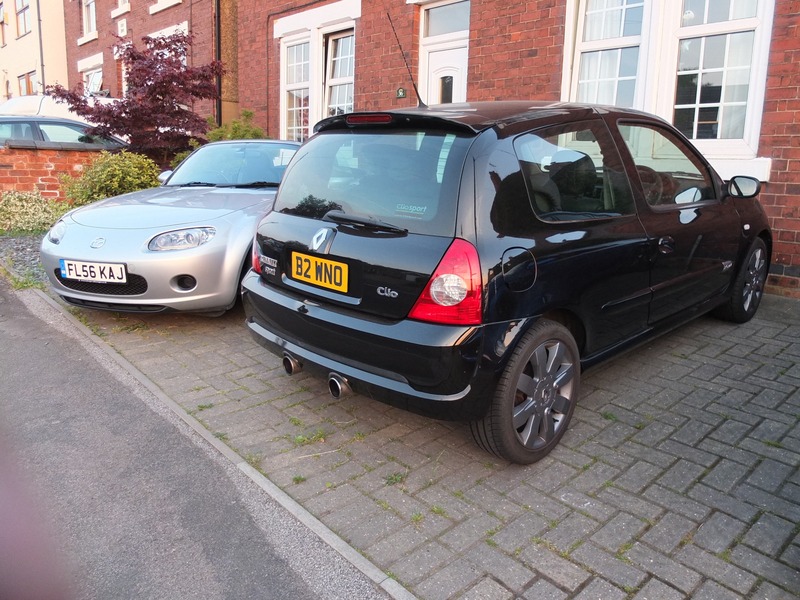 So, I decided to treat the clio to a bit of a makeover in 2013 before MOT (at 43000 miles!), and replaced the Pro-speed exhaust that had frequently had issues with blowing on one of the silencer joints with a Milltek system, and also a new cat (it had killed on early in it's life due to a temperature sensor overfuelling, which had been replaced by a real cheapy - which was always marginal on emissions). Shortly after that lot was done it then had it's one and only failure to date - when the alternator went, meaning it need jumping to get it sorted and back for repair, but a couple of days later (and more swearing to the gods of french engineering!) it was all sorted.
Then roll on last year and at just 46,000 miles it was time for it's second cambelt change at 10 years old, and the dephaser was also starting to get a bit noisy, so that was added to the list. By this time, I was starting to wonder if we should swap it (or at least, buy another car and keep the Clio as a toy!), but my wife is now very attached to her little car, so we decided it is definitely staying for now! The cambelts on these are well known as a big job, and all of the guides will advise you to make sure that it is done on any 172/182 you might buy, and they are right - it is a big job, mainly hampered by the fact that the engine is installed hard-up to the inner wing, and that the engine uses floating cams, so it is essential to use the right tools to lock the cam and crank positions. Once again, I went over to my mate Dave's place for a day of tea and swearing...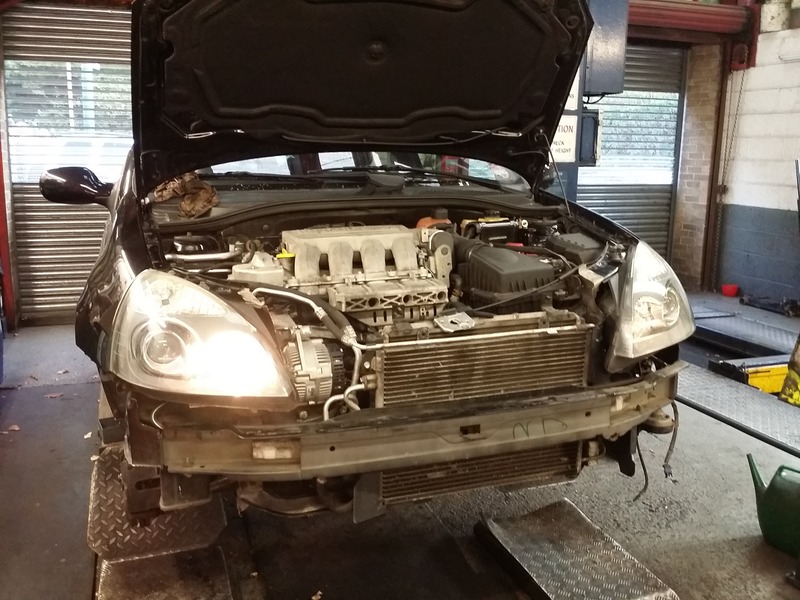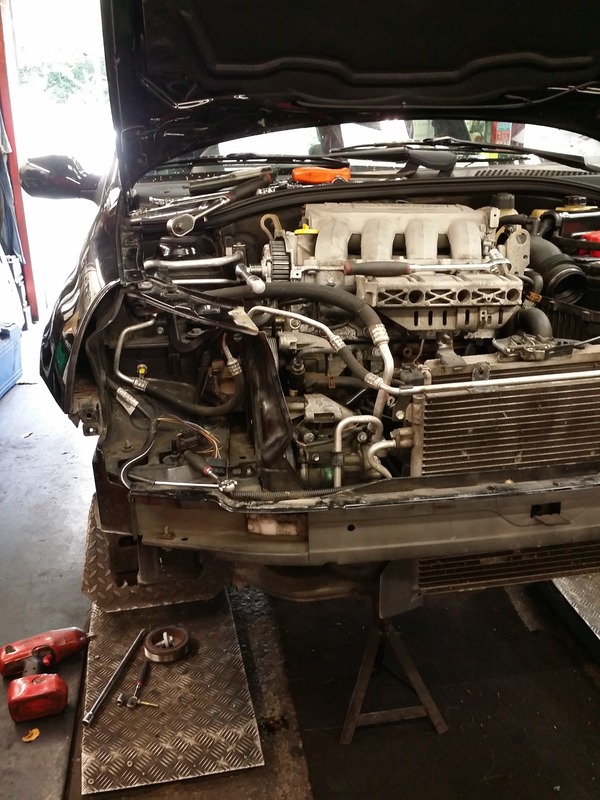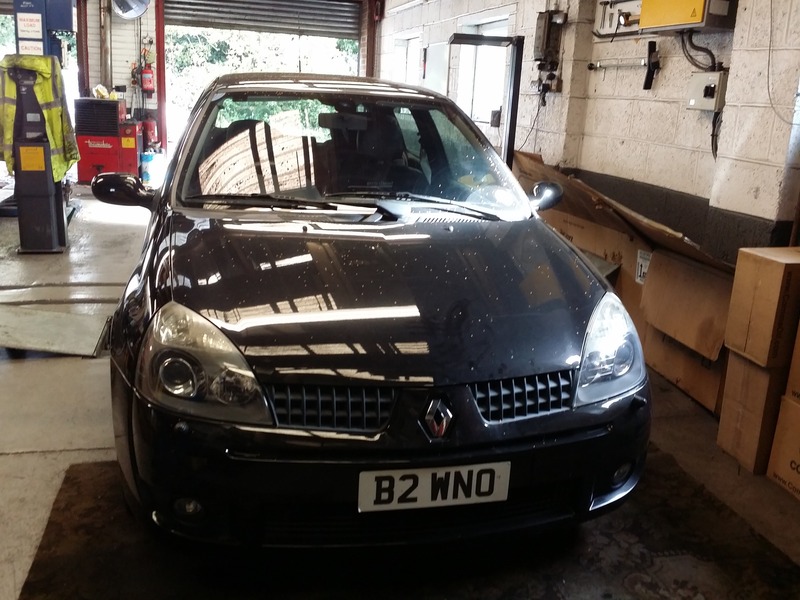 So, all was good for another year of motoring, and this year I have built myself a nice new garage with lift, so pre-MOT this year gave it a good service and replaced all the discs and pads at home...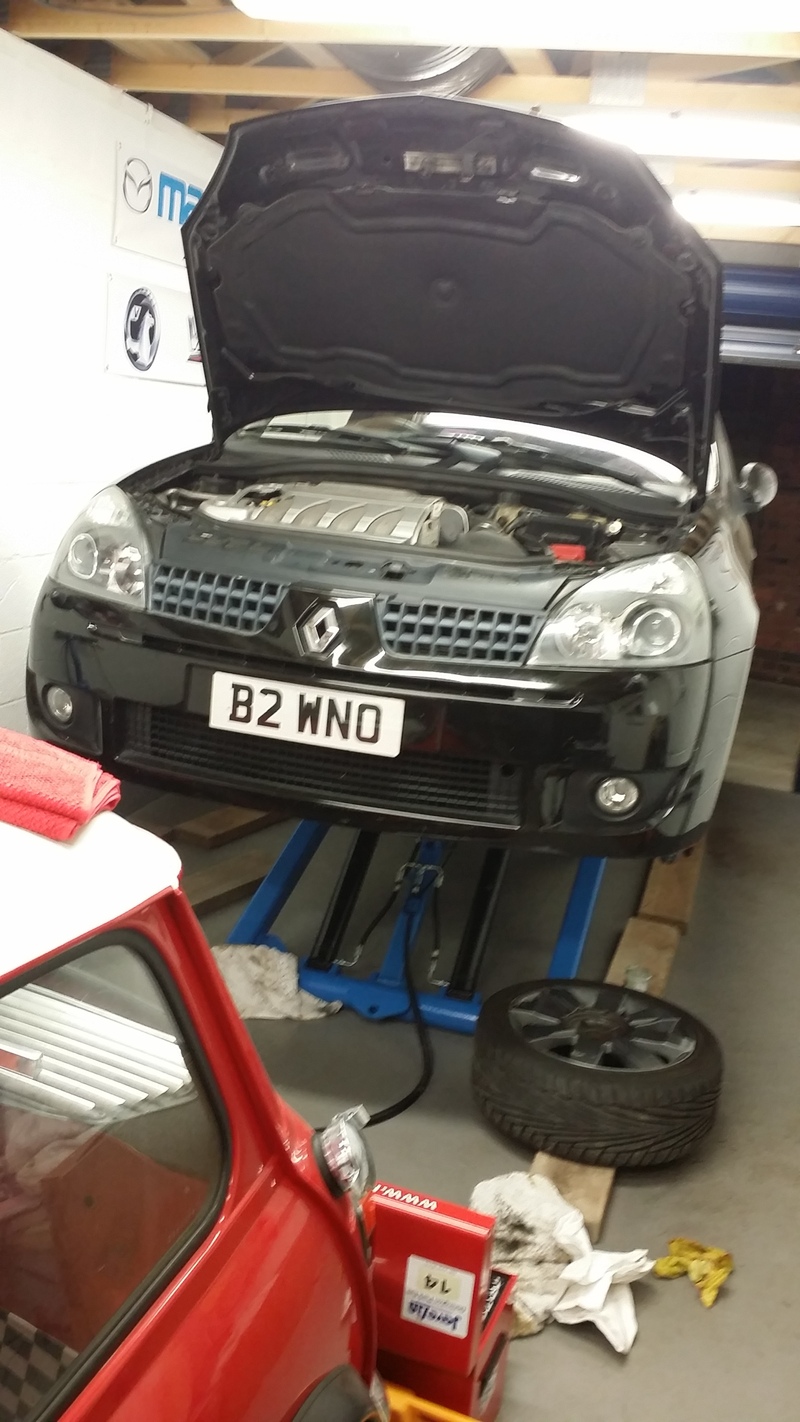 It went through the MOT, having just ticked over to 50,044 miles with no issues, and all was good - so I went off for a business trip to Asia happy that all was well with the world... until I got a phonecall on week 1 of a 3 week trip that my wife had been out and about, and had been bumped from behind in the Clio! My wife was all ok, and the other guy (in a Kia Sorrento) was all insured, and happy to let the claim go through his insurers, so that was ok, but what about the car? My wife sent me pictures, and got it checked at the garage, and it looked like just a light and a cracked bumper, so that's all ok...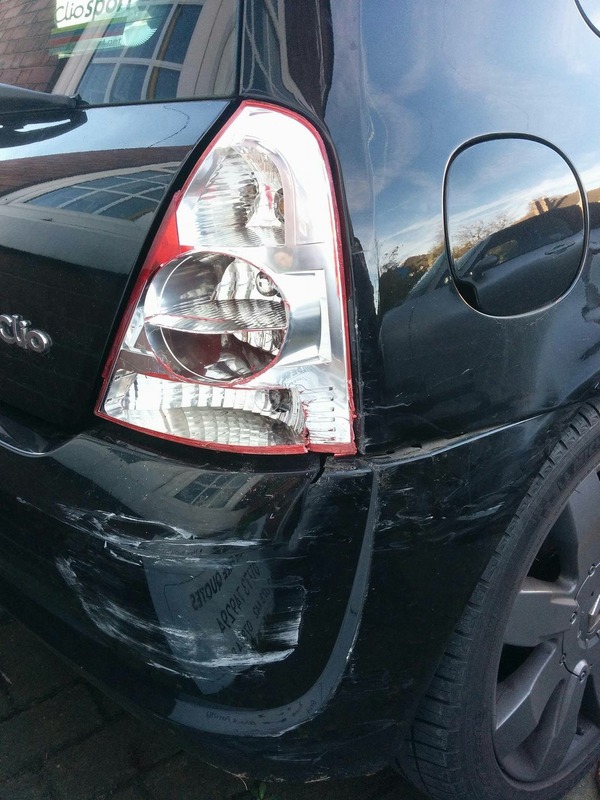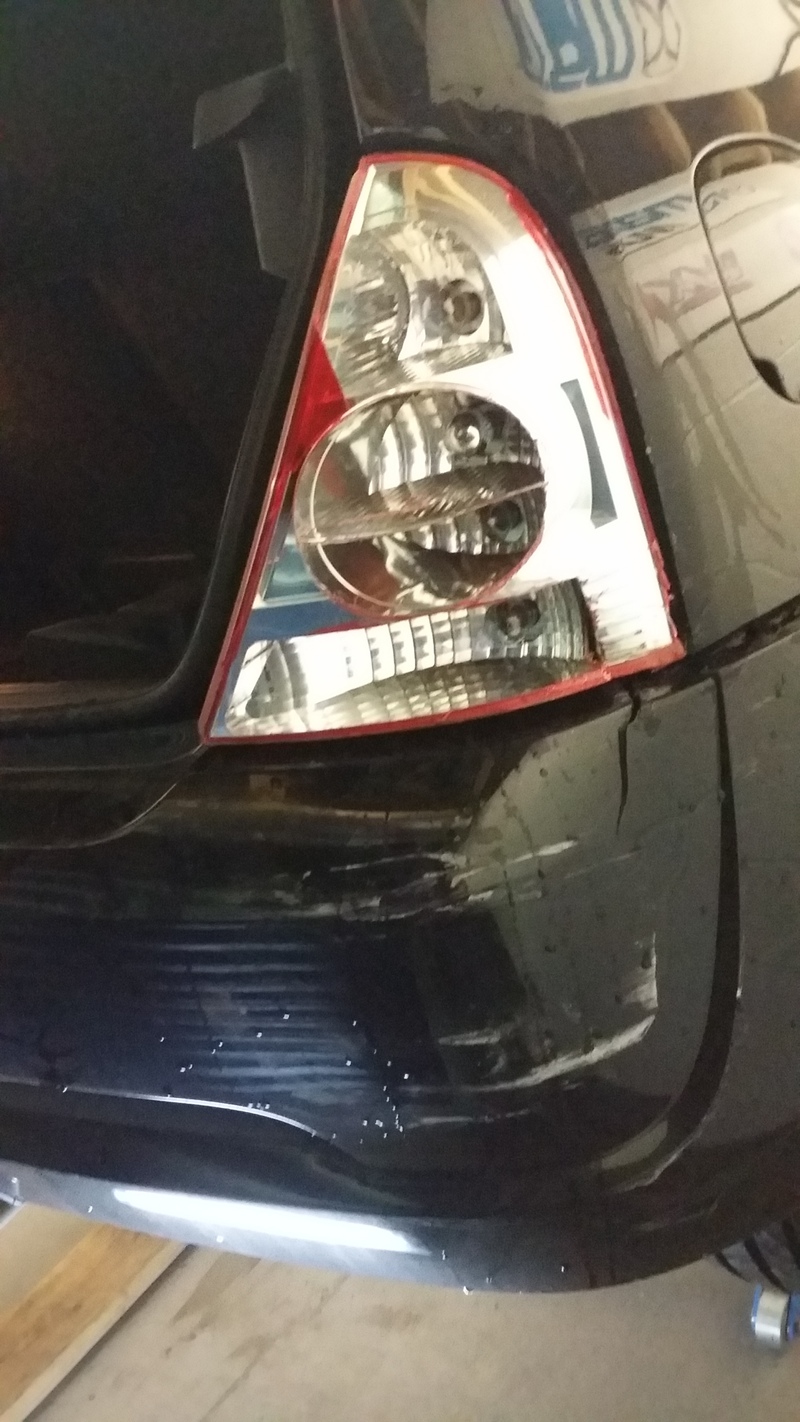 So, our insurance company were called, and the car taken away to be assessed and repaired... until a couple of days later the call came, that it had been assessed that it was an uneconomical repair. So obviously, we were a little surprised at this, and did wonder if there was hidden damage, but accepted the verdict, but immediately asked for the car to be returned as we would like to buy it back (if nothing else, I was thinking of a new track car!). So with the car back to us, we then waited for discussions on values. I assumed that we would be in for a fight, due to the relatively minor damage, but actually the first offer that came back was actually very reasonable, and pretty much what I would have been looking to argue them up to. So we agreed a settlement, and the car was ours for a charge of just under 20% of the settlement (and classed as a Cat D) - now what to do next! I would say thought that insurance company have been good through the whole process, and handled everything smoothly throughout - I know we see varying reviews of the "nautical" insurers sometimes, but I can't fault them.
Obviously, before we had even settled, I was off to Ebay looking for the bits I might need and had pre-emptively ordered a pair of tail lights and managed to snag a bumper in the right colour - so I thought that would get us started and I would see what lay beneath the surface. So, with the settlement agreed, it was time to get it in the garage and get it stripped down...
Stripping off the bumper and light revealed that actually all was pretty much fine beneath the surface - there was one locating tab on the light that had got slightly bent and needed straightening, and a plastic bracket on the bumper had snapped, but other than that it all looked structurally sound - Result!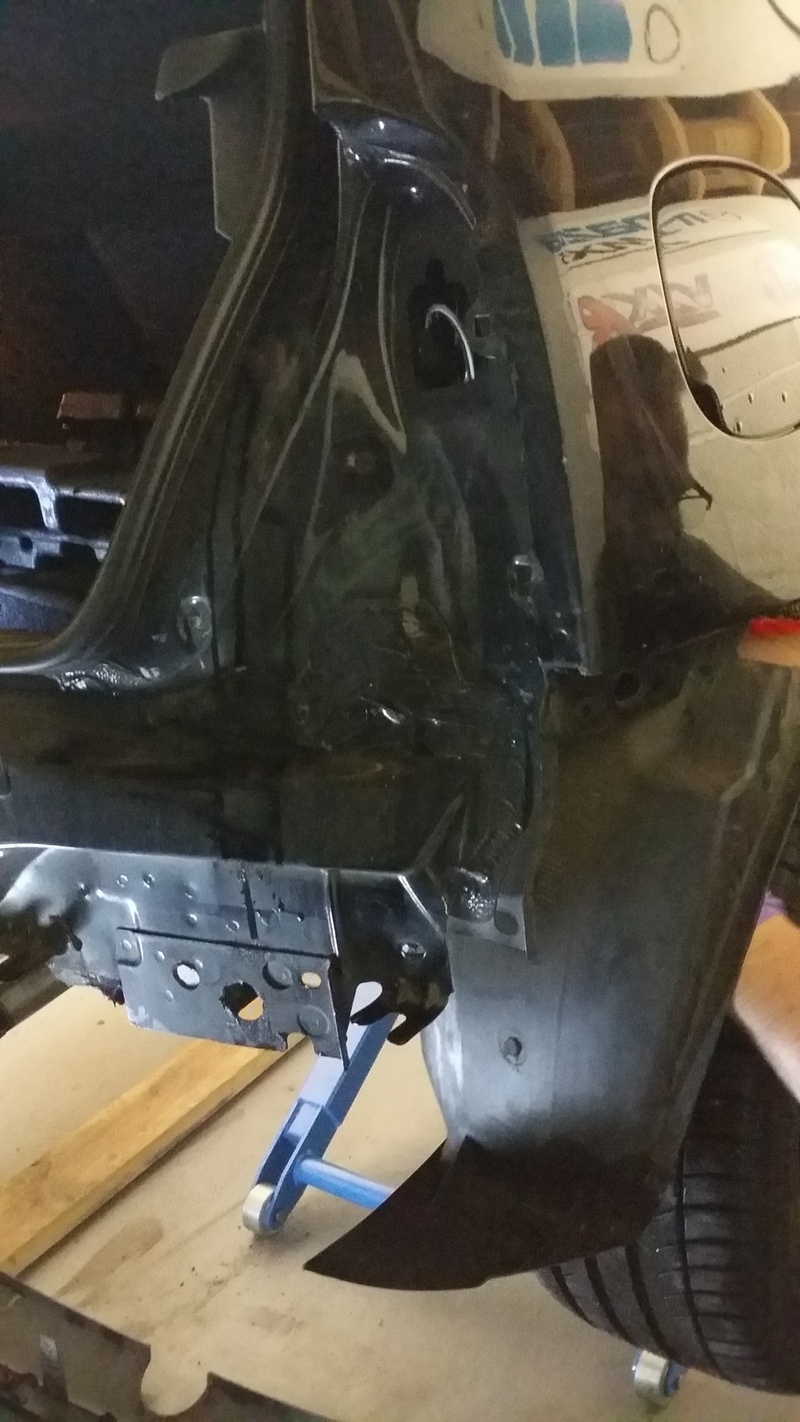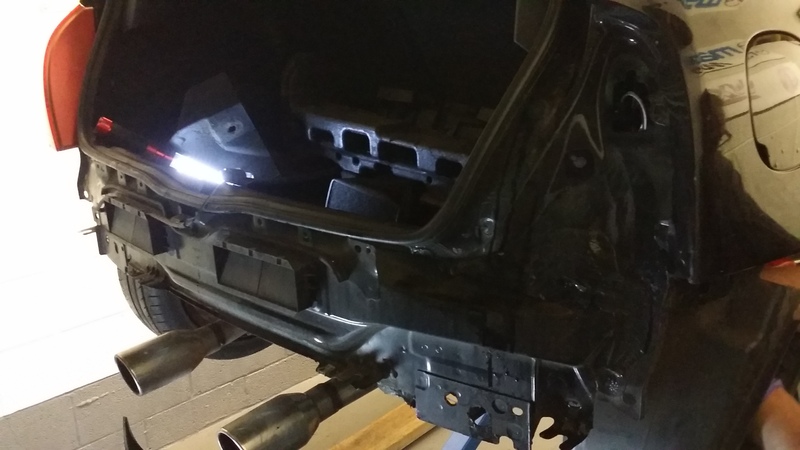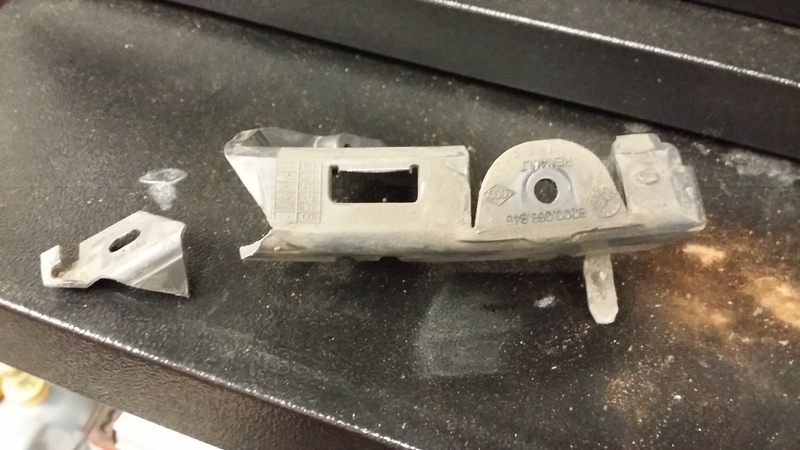 Unfortunately, the new bumper was missing the bracket, so I plastic welded that for now until I can get a new one, but then started building it up to see if everything would line up ok...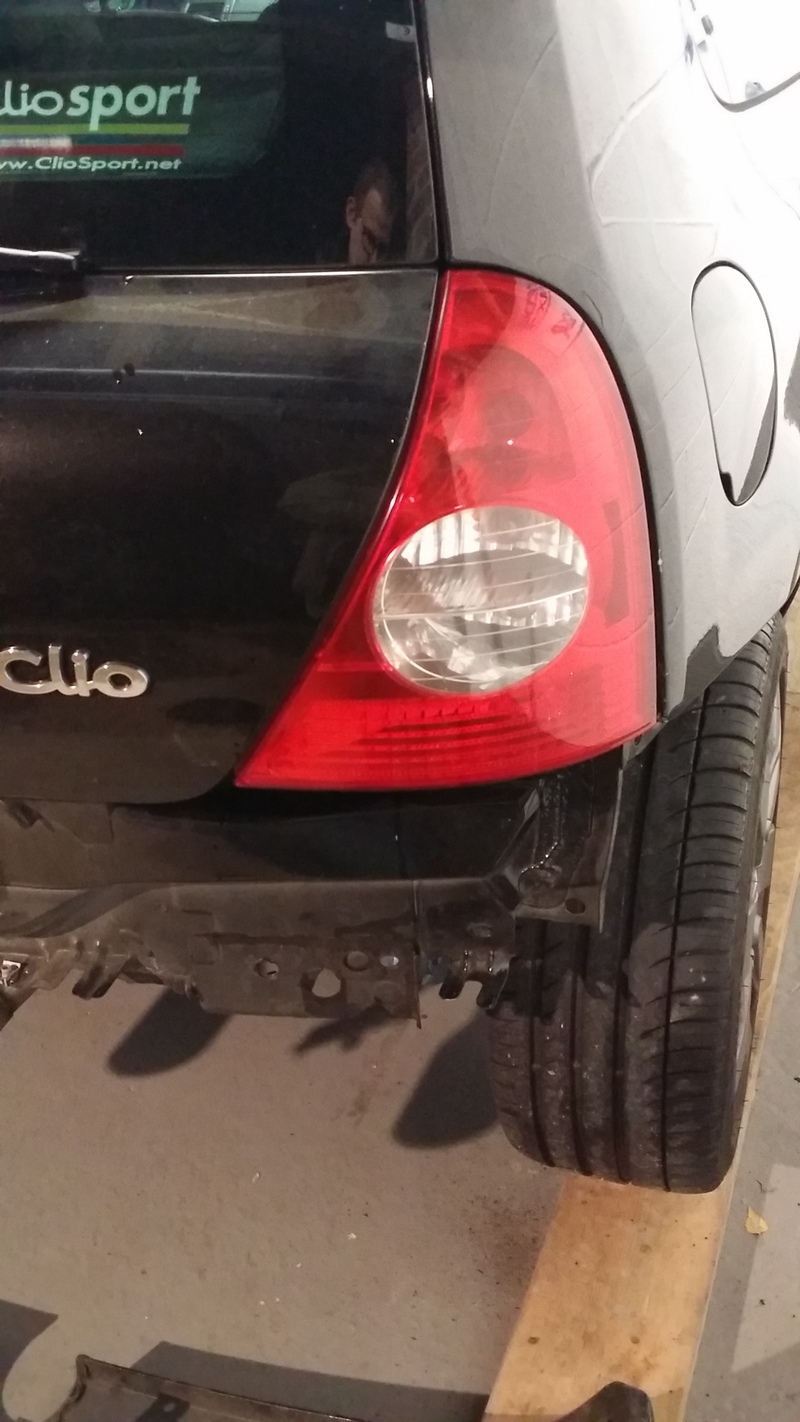 Light all went on ok... how about the bumper?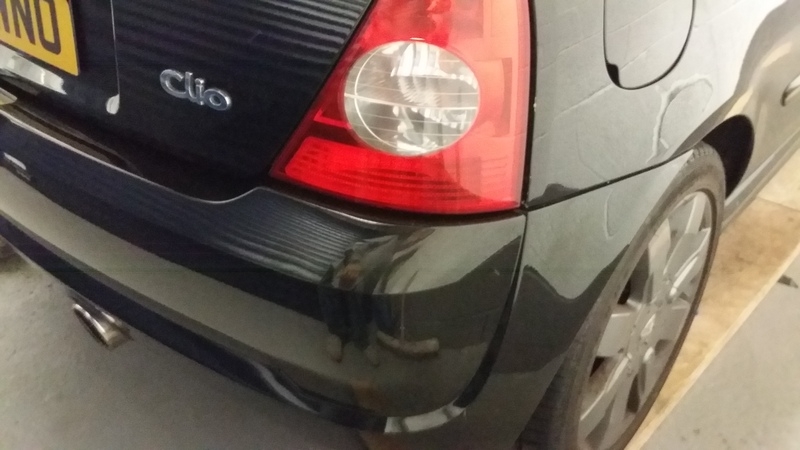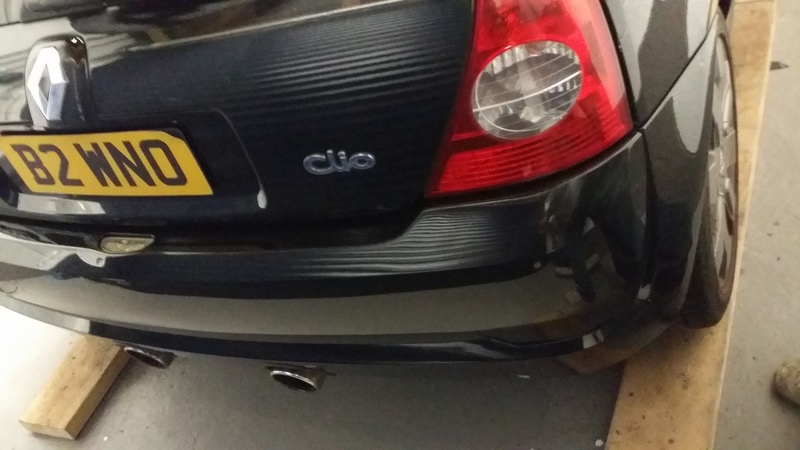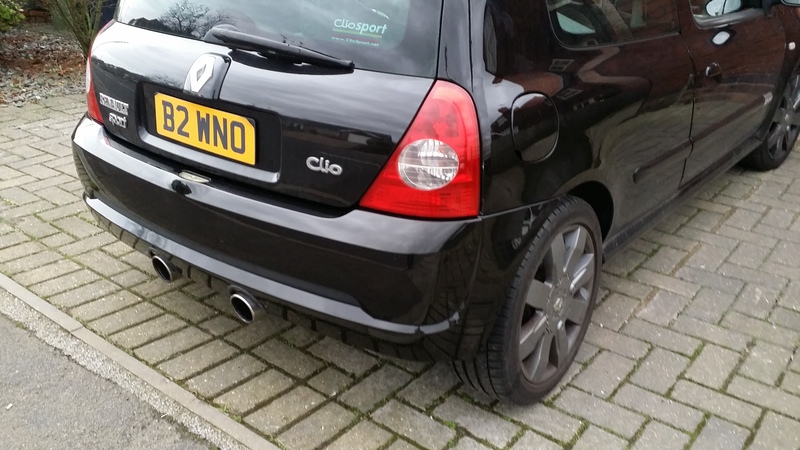 I would call that a result - all fixed for £85 of used parts, so then to satisfy the insurance company that it had been repaired it went off for it's second MOT in 6 weeks, having only covered 138 miles since the last one, and funnily enough passed without any issues.
So now it is all back in action, and ready to keep going for a bit longer - I might even treat it to a mini-makeover once Christmas is done with, so give the wheels a refurb and give it a good detail to get it looking back to its best - ready for the next 11 years, as it's definitely here to stay for good now!