So I feel I should commence this thread with a bit of an introduction. Having only amounted a feeble post count thus far I would guess that most of you are totally oblivious to who I am. Forgive me if that sounds like I am some ego-spoilt celebrity, that certainly isn't the case, I just think it is interesting to know a persons back story. So how exactly have I come to be driving about in a bright blue French hatchback, rather than one of the other tens of thousands of vehicles available?
As is the case with, I would assume, every single one of you reading this now, I like cars. Simple as that. Where exactly it stemmed from I am not totally sure, but for as long as I can remember I have been infatuated with anything sporting 4 wheels and an internal combustion engine. Obviously this escalated hugely when I got that little pink card from the DVLA, almost exactly a decade ago.
The first car I put my name to was a silver Phase1 Peugeot 306 XT. I really wanted a 205 GTi but the bank manager said no on every conceivable level, so this would have to suffice. I put a flashy-lighted Kenwood CD player in the front, some ludicrously powerful 6x9's in the back, and drove it about at sixteen times the speed limit assuming I was just a few weeks away from signing a deal with McLaren. Of course this ended up being written off. Sadly (but not really) I have no photos of this car, though I'm sure you can use your imagination.
Although I had only been able to legally drive for a few months, I felt physically unable to operate without something on the drive. Therefore my next car choice was dictated by local availability rather than specific desire – it was a Mk1 Fiat Punto 75 SX. This hung around for a couple of years, during which I treated it to a pair of GT Turbo bumpers, some Team Dynamics, a set of springs and dampers, an antisocial bean can exhaust and an even more antisocial audio install. It was surprisingly fun to drive, and pretty reliable during my ownership. But still a bit pants.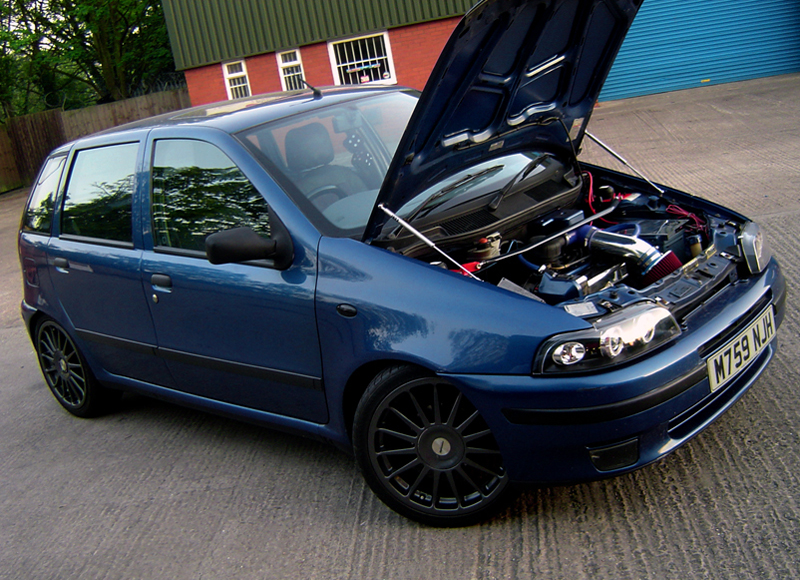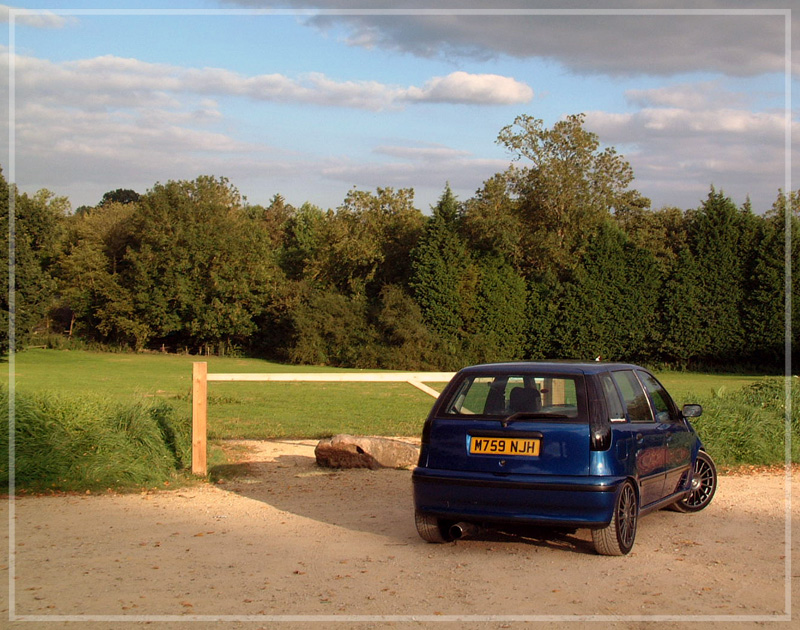 This made way for what I would class as my first "proper" car, a Schwartz Blue MK2 VW Golf Gti 16v. I purchased this from a close friend who had already partially modified it, bolting on some coileys, Ronal Turbo's and an exhaust. I then added some buckets, harnesses and some fancy number plates, among other things. A short while later it spectacularly failed the MOT, leaving my friend red-faced in embarrassment, and me a similar shade in anger. I sucked it up though, and threw copious amounts of money and sweat at it to sort the abundance of issues, eventually scoring a fresh 12 months ticket. Then I blew it up at Castle Combe. My Mum's partner helped me tear the broken lump out, replacing it with a 2.0l 9A out of a similarly aged Passat. All was well for a while, until I blew it up again, chucked my toys out the pram, and broke it for parts. Sounds like a reasonably unsuccessful ownership really, but when it did work, damn was it fun!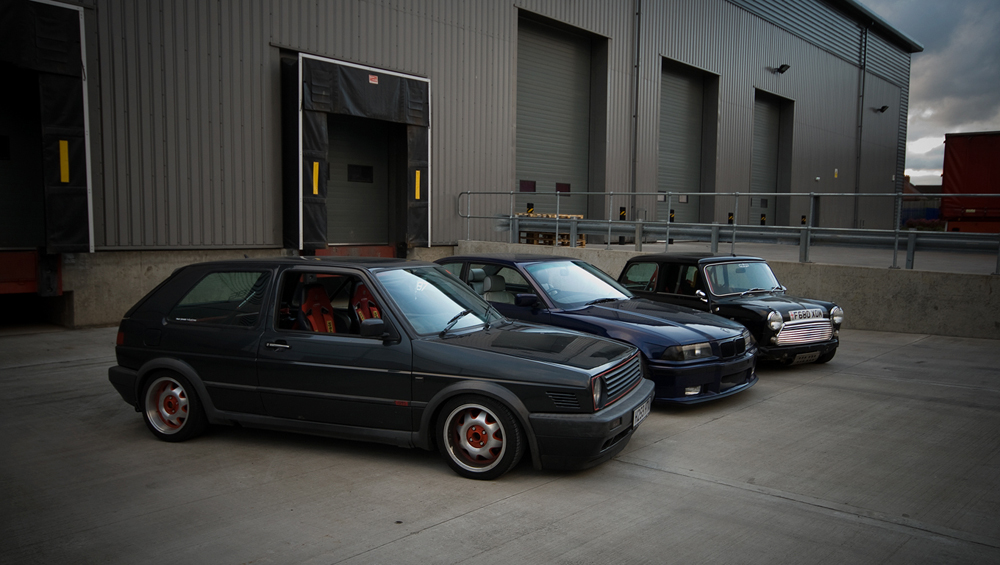 Whilst dismantling the Golf I found myself bussing about in a Mk1 Clio. Unfortunately not a hot one as you may be hoping, but a 1.4 RT in chain-smokers-lung brown. I have little to say about this car, other than it worked. Mostly.
Once my bank balance was looking a touch healthier, thanks to the component parts of the little VDub being distributed around the country, it was time to start shopping for a new toy. This arrived in the form of a MK1 Eunos Roadster, a 1.6 S-Special to be precise, and here it is next to the sorry remains of its predecessor.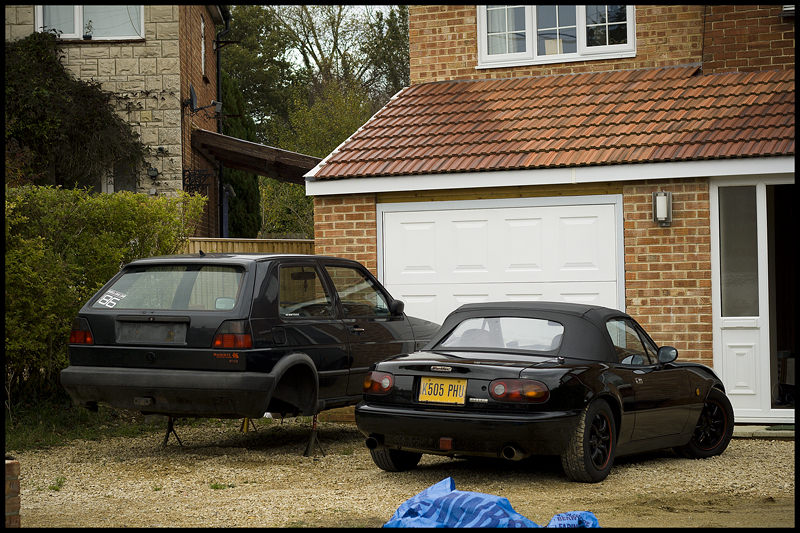 This stayed in my ownership for quite a while, and it all got a bit out of hand. You can read all about it here:
MX5Nutz Build Thread
but to summarise… turbo power, 250 ponies, big arches, even bigger aero, three magazine features, one Speedhunters feature, and a whole load of awesome. This car taught me a hell of a lot, and was the key through many doors which have helped develop my life into its current state. I am very proud of what I managed to achieve, given that it was built predominately by myself, in a garage, on a pretty limited budget. There are many, many photos of it flying around the interwebs, but here are a couple of very late ones to get you going.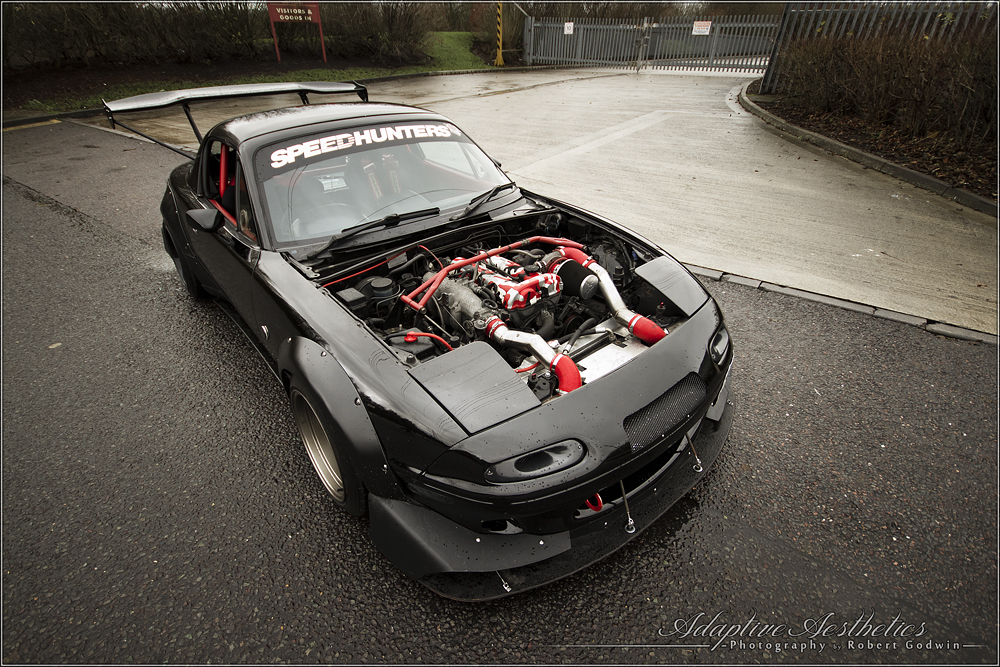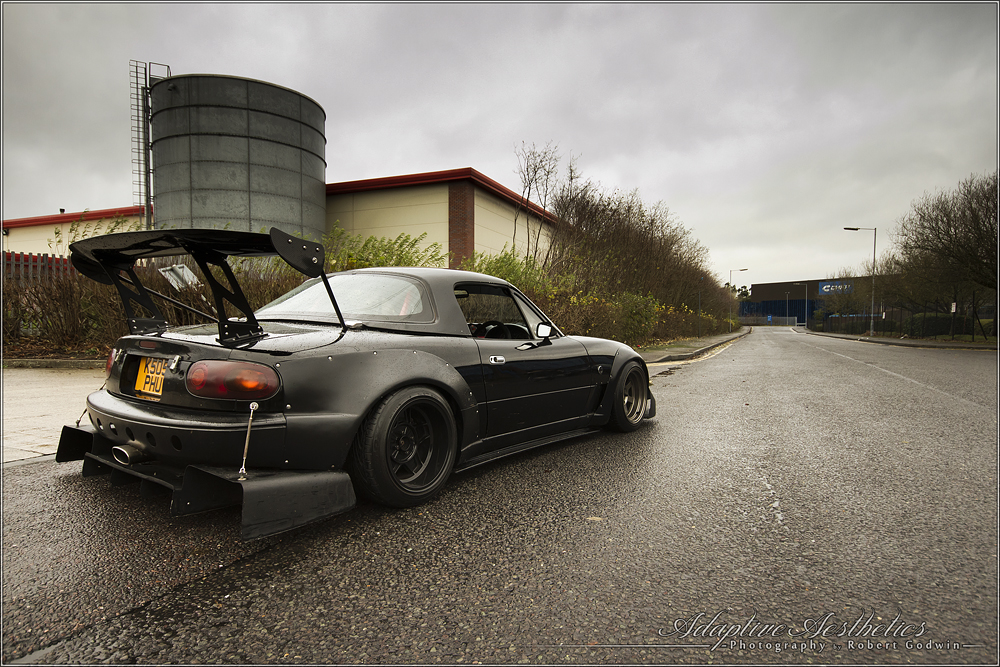 As you can see it all got very silly, which spawned the decision to get a slightly more sensible daily driver part way through the build. A 6K (that is the chassis code, not how much I paid for it!) VW Polo TDI Estate. I went all the way to Bradford to pick it up, a 7 hour round trip, but to be honest it was more than worth it. It was a phenomenal car that didn't put a foot wrong in the 13 months that I had it. I didn't do a great deal to it in terms of modification, mainly swapping on a set of Porsche D90's and winding the already present coilovers down a few threads.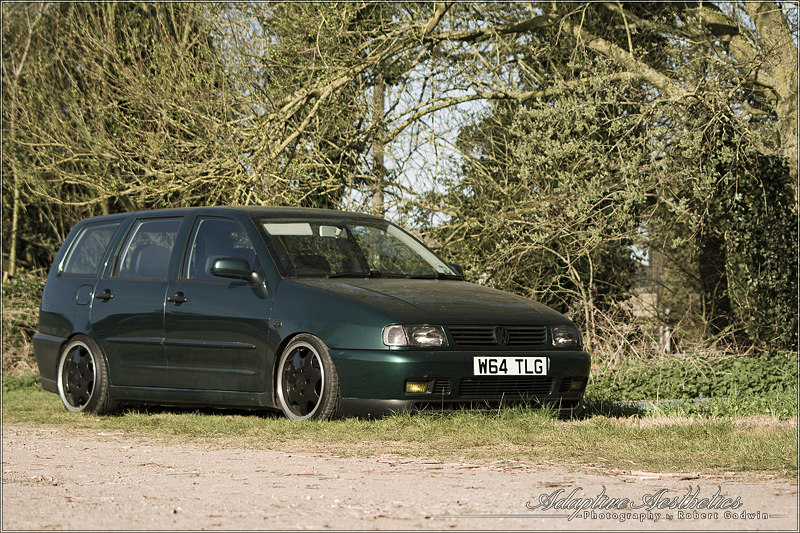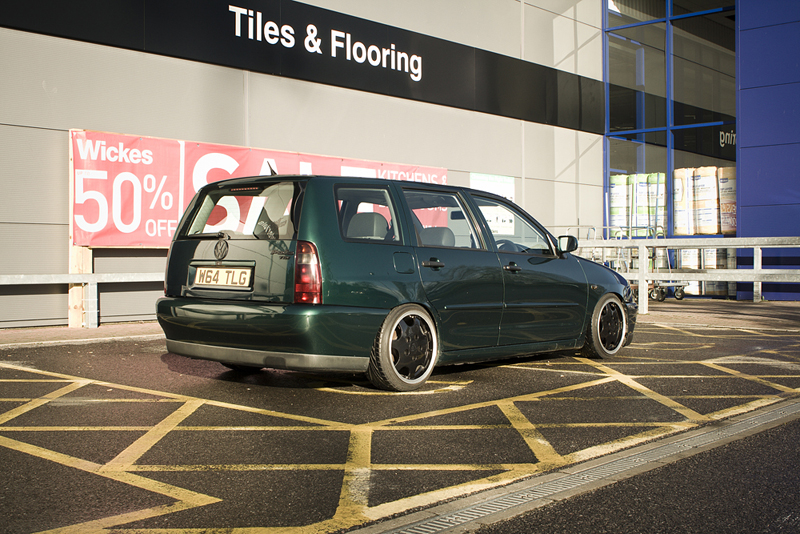 It was an ideal daily barge, and I should probably never have sold it. However, during a period of having the Mazda off the road for some serious tweaking, I got bored and wanted something a bit more driver-oriented again. And so arrived my second 306, this one rather more special than the first; a 1999 Cherry Red Rallye. For those less educated on the subject the Rallye was basically a slightly de-spec'd (aka lighter) GTi-6, think keep-fit windows, no air-con, minimal sound deadening, and so forth, but with the same 2.0l 16v 167bhp four-banger up front. This was another superb car, far thirstier than the Polo but comparatively reliable, save for a burnt out coil causing a break down on the first journey home… but we'll gloss over that. What it lacked in MPG's it made up for in smiles per mile. To this day it is regarded by many as one of the best chassis' ever slung underneath a hot-hatchback, and I cannot disagree.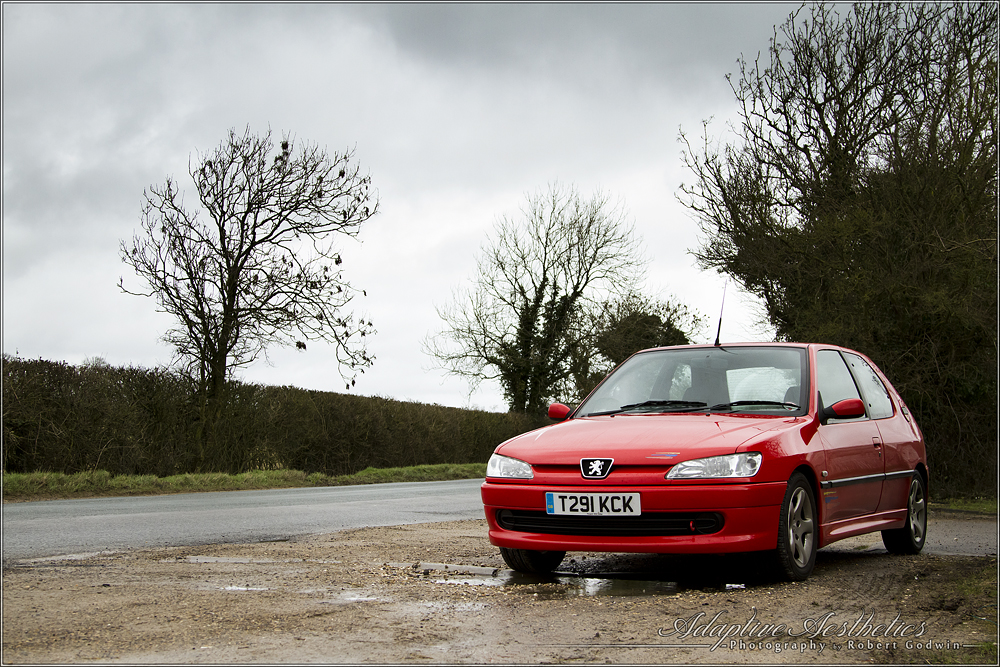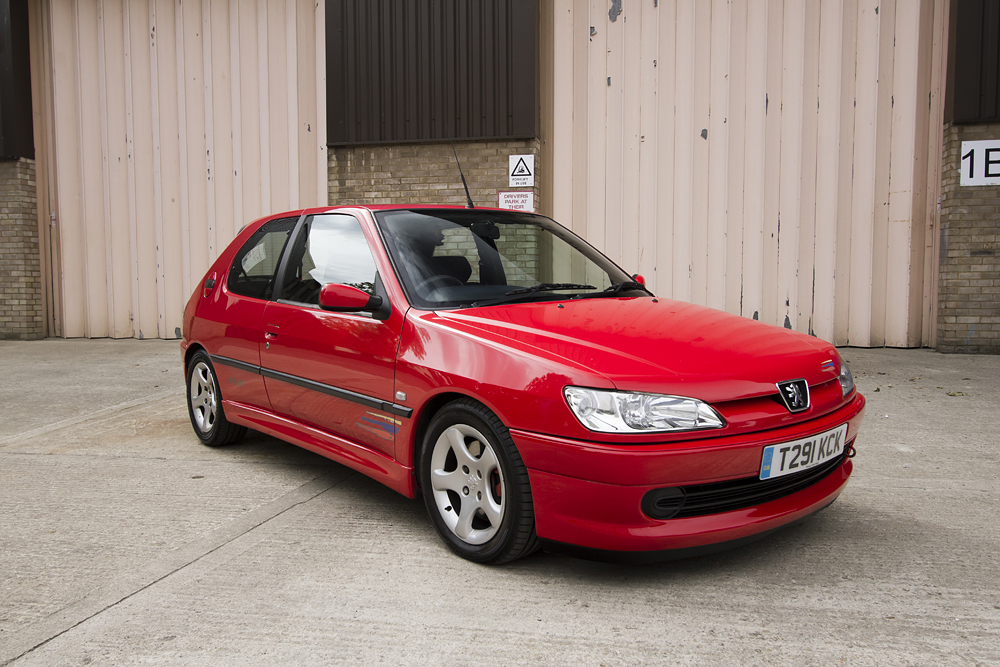 Back to the MX5 though, as much as I loved that car, and so deeply connected were we that it would undoubtedly be like hacking off a limb, the time had come to put it up for sale. I had taken it almost as far as I wished, far further than I had ever envisioned at the start, and as the saying goes; good things always have to come to an end. Mostly though I wanted to experience different things, expand my automotive CV, and, having made the Mazda so wannabe racecar that it was unusable 95% of the time, I craved something somewhat more practical. I became irritated at the fact I had spent all this money, hard earned over several years, to have it sat in the garage for days and weeks on end, whilst I minced around in something that, as much as I just praised it, was ultimately an old, rattly and relatively uncomfortable hatchback that cost me £900.
So the plan was to move the Mazda on first, use the money from that to buy myself a nice daily, then sell the Peugeot and use the money from that to buy another project car. This wasn't exactly how it panned out though! The MX5 did eventually sell, not especially rapidly as you'd probably expect (the market for such a vehicle could be described as niche at best), which left me with an empty garage and a fist full of notes. I was still not 100% sure what I wanted as a new daily, although there was a fairly concise shortlist which I'll expand on in a bit, but as far as projects go I had literally no clue what I would end up with. It had to be cheap and interesting, but beyond that it was an anything-goes kind of situation. Slowly with nothing to play with, and the power tools lying dormant in their roller-bearing drawers, my fingers started itching. It soon became uncontrollable, I was so bored! Quite unexpectedly, particularly to myself, I found myself on the ever-treacherous Ebay, with very little research and next to no logical reasoning, entering into a bidding war on this: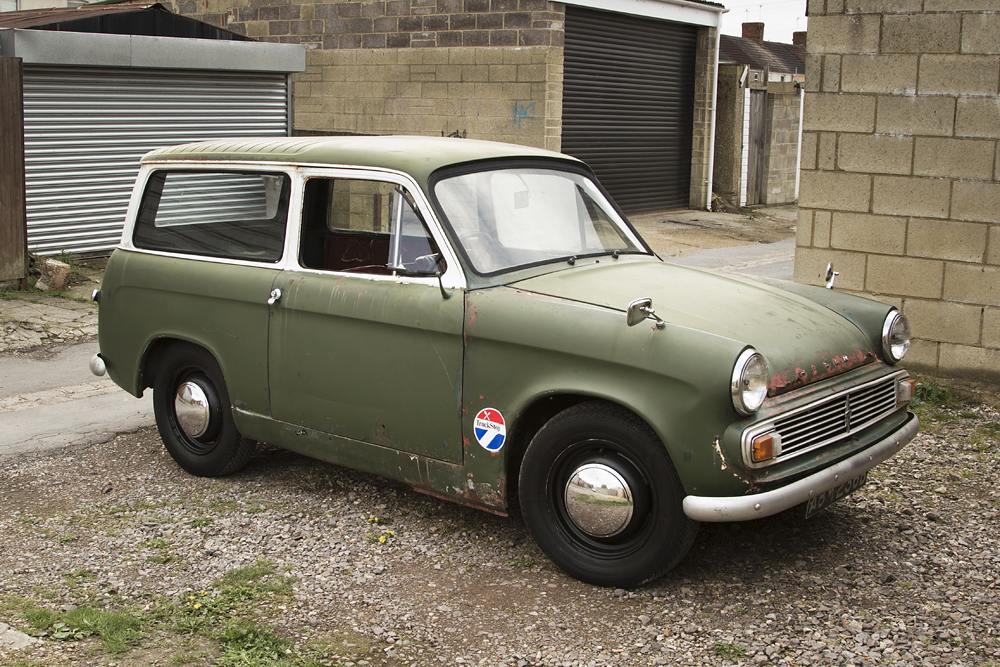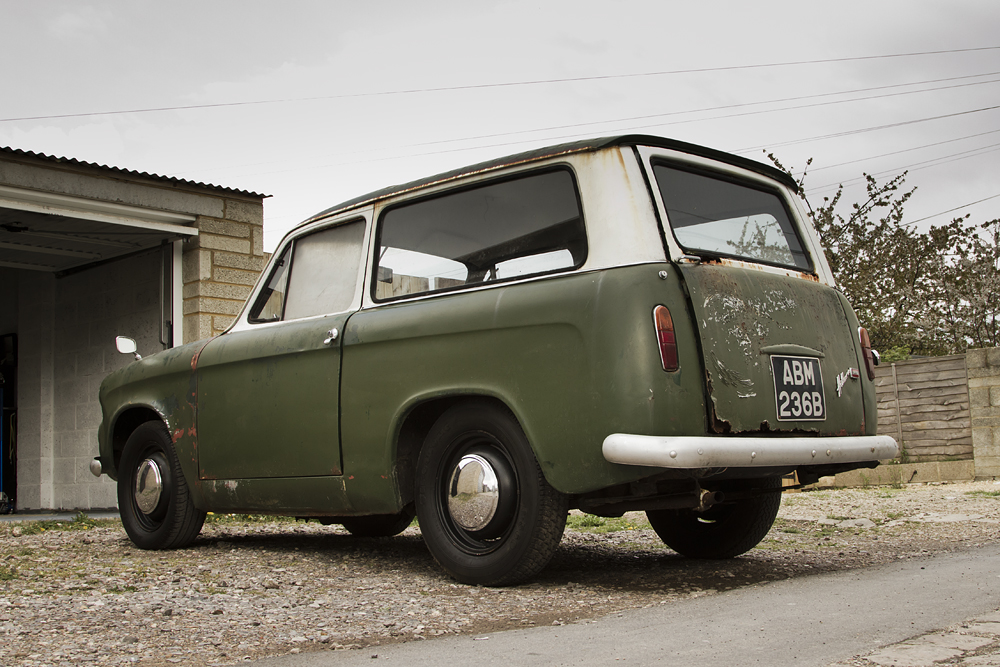 Don't worry I don't expect you to know what it is, in fact not even I did when I first set eyes on it! What it transpired to be was a 1964 Hillman Husky, a late Series III model on an Audax chassis, also found under the identically fronted Minx, both of which marginally predated the more popular rear-engine'd Imp. Anyway for some reason it tugged strongly enough at the heart strings for me to become all misty eyed and senseless, paying what was probably way over the odds for a pretty ropey example, with zero history, that hadn't seen the road in over a decade. Anyway, that's the beginning of another build thread altogether! We are here to talk about my next purchase…
Back to that shortlist then, I wanted something well spec'd and comfortable enough to cruise up and down the dual carriage way to work and back seeing as I was now working 14miles away from home. I wanted something practical that could seat four if needed, with a decent load space, to allow for trips out with friends and family. Yet above all it had to be fun, and ideally competent enough to be used on track now and again, seeing as I no longer had anything to scratch that itch in, and the Husky wasn't likely to be usable for a while! Originally I had every intention of buying a Mk2 Seat Leon FR TDi, having test driven one a while ago I thought it was a lovely car, lots of toys, fantastically built, economical and oodles of torque on tap. However the engine, like most modern diesels, just lacked character and I imagine it would have been way out of its depth on a track. So that idea went out the window. I toyed with a few other eclectic options, Mk1 Leon Cupra R's, EK9 Civic Type R's, 350z's, Z4's, E39 530/535 M-Sport's… but I kept coming back to the same one, a Megane R26. It ticked all the boxes and then some. Oh and I did go through a phase of looking at R26R's, but quickly decided that was a ridiculous idea!
So I was more or less decided then, at least until I found myself at MCR in Bristol looking at a couple of examples they had in stock. Neither of these were particularly captivating to be honest, with some poor bodywork and a few mechanical issues between them, but I did spot something else at the back of the show room… A stunning little Clio 200, fully loaded and covered in the infamous Liquid Yellow paint. My heart had a little flutter. Having spent the last few minutes poking in and around the Megane's private parts I slipped my bum through the door of the Clio and into the high bolstered Recaro. It just felt… special. Right then and there I was sold, I now wanted a Clio! In fact I very nearly bought that exact car, having originally decided it was more than I wanted to spend, I later persuaded myself to stop being a tight arse and booked myself in for a test drive the following weekend, with every intention of leaving a deposit. Unfortunately it sold to somebody else before this happened. Boo hiss.
I spent the next couple of weeks trying to find something similar but without a great deal of luck. I did go and look at a fantastic Storm Grey 200, again a fully loaded example, but it was a little overpriced and they were having issues getting the V5 back after a reg transfer and wouldn't let me test drive it. This ultimately cost them a sale. I also looked at another Liquid Yellow one at a Renault main dealer, but this pretty much had every common fault going!
I gave up looking for a bit and instead amused myself by ripping the Husky apart and playing "spot the solid metal". I started looking again in June, as I had sorted a few niggles on the 306 which was now pretty much ready to go. I had re-evaluated my budget and was now aiming for an R27 F1 Team. These seemed to be going for a fair bit less than an equivalent 200, with more exclusivity, and without the stupid hippo face which I was never fully sold on. This would also have the added benefit of leaving a bit of cash left over to spend on upgrades and frilly bits, which was inevitably going to happen anyway.
I looked at a Nimbus one in Coventry, which was well priced and decent enough, but I was sceptical about the service history, which may as well have been written on the back of a fag packet. I reasoned that if I was spending that much on a car, I would like the peace of mind that it had been looked after properly, so I gave it a miss. There were two others that looked promising, both in the London area, albeit completely opposite ends. So one Saturday in early July I enlisted a friend to keep me company and headed east to look at both of them in the same day. The first, a black one at a small dealer near Harlow, was most disappointing. The bodywork was very tired, and the service history again was unsubstantial. Feeling a little disheartened we left and set off towards the next one, all the way around the M25 in Reigate. This one was far, far better. Good enough, in fact, for me to leave a deposit on, and await the return of the V5 to complete the sale. Goddamn fancy pancy personal plates!
Thankfully this only took a week, which coincidentally meant I picked it up just in time to take on a three day jaunt to Wales, which you can read all about here:
Wales Thread
. It was awesome. The roads, the scenery, the car, all of it awesome. So go read it.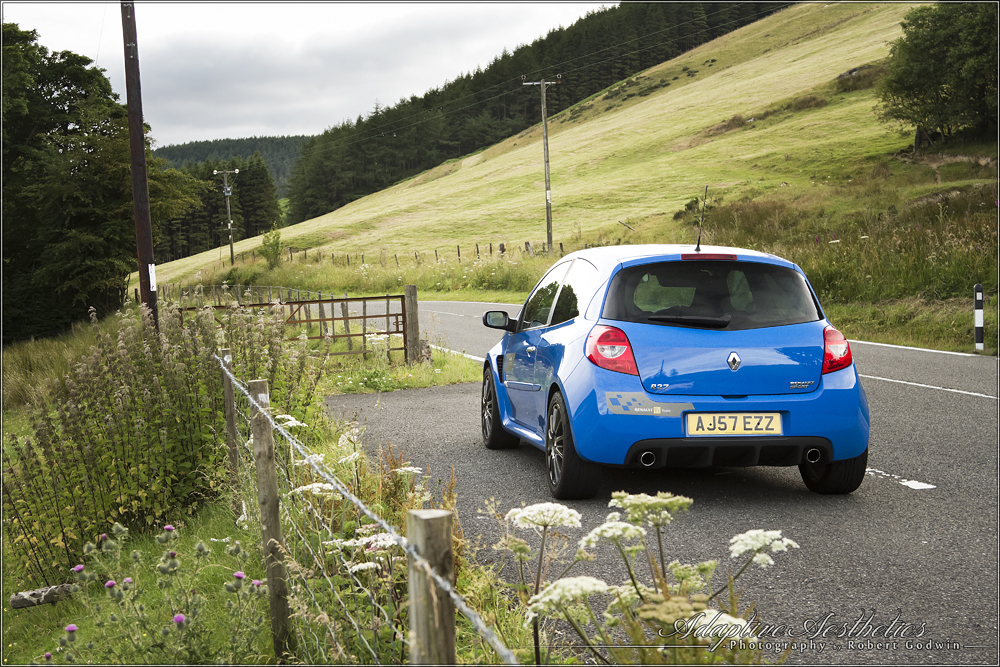 Since then there have been quite a few exciting looking packages arrive at my place of work, which were swiftly unwrapped and mated to the car… but more on that later. This post has gone on long enough, besides I have to give you guys a reason to revisit my thread soon!
Until then thank you very much for reading, I hope you found it a worthwhile waste of a few minutes.
Rob