I've owned the car since December 2018. After returning a company lease car, I wanted something fun for occasional commuting and weekends. Decided I wanted a Cup and found this very original RB Cup from
@Mbeau
just before Christmas 2018 with 76k miles. Only non-standard items were a Scorpion resonated cat back exhaust, Skoda front splitter and Ph1 style gear knob. The body work is OK, a few small marks and the originally fitted stripes have been removed. Everything works and the car has been completely reliable since purchase. I've just put fuel in and driven it in all conditions since then.
I've been permanently working from home since February and lockdown (no furlough for me) but stupid busy. Work has now calmed down, I had some time and holiday to use. As I'm not using the car much at present decided it was time for some TLC as unsurprisingly, 15 years of use has taken it's toll.
Front seat spacers removed – I'm 6'4" so a slight improvement, but need a better solution at some point in the future to properly lower the seating position and get some more support
New footwell and boot mats
Replace alloy pedals and rest, including wide accelerator pedal
Service in November 2019 by the Clio Man (Gary Spooner). All fluids, filters and plugs service, fitted HEL braided brake lines & 19mm PMS rear ARB
New Scorpion resonated centre exhaust section as the old one had several cracks around the muffler, welding would only be a temporary fix
MOT passed December 2019, advisory for minor dent (compression) of rear hard brake line
Fitted Brembo HC discs, Mintex 1144 front pads, March 2020
Remove and clean drivers side door trims
Current mileage is 84,xxx
Earlier in the year whilst I had the wheels off for cleaning, I noticed the front springs had corrosion. I snapped up some lightly used Eibach Sportlines and also new Febi top mounts, the plan was to fit these over the August Bank holiday, along with giving the wheel arches a clean.
So, onto the planned August Bank holiday job to replace the springs and clean the arches.
Naturally, things didn't go to plan.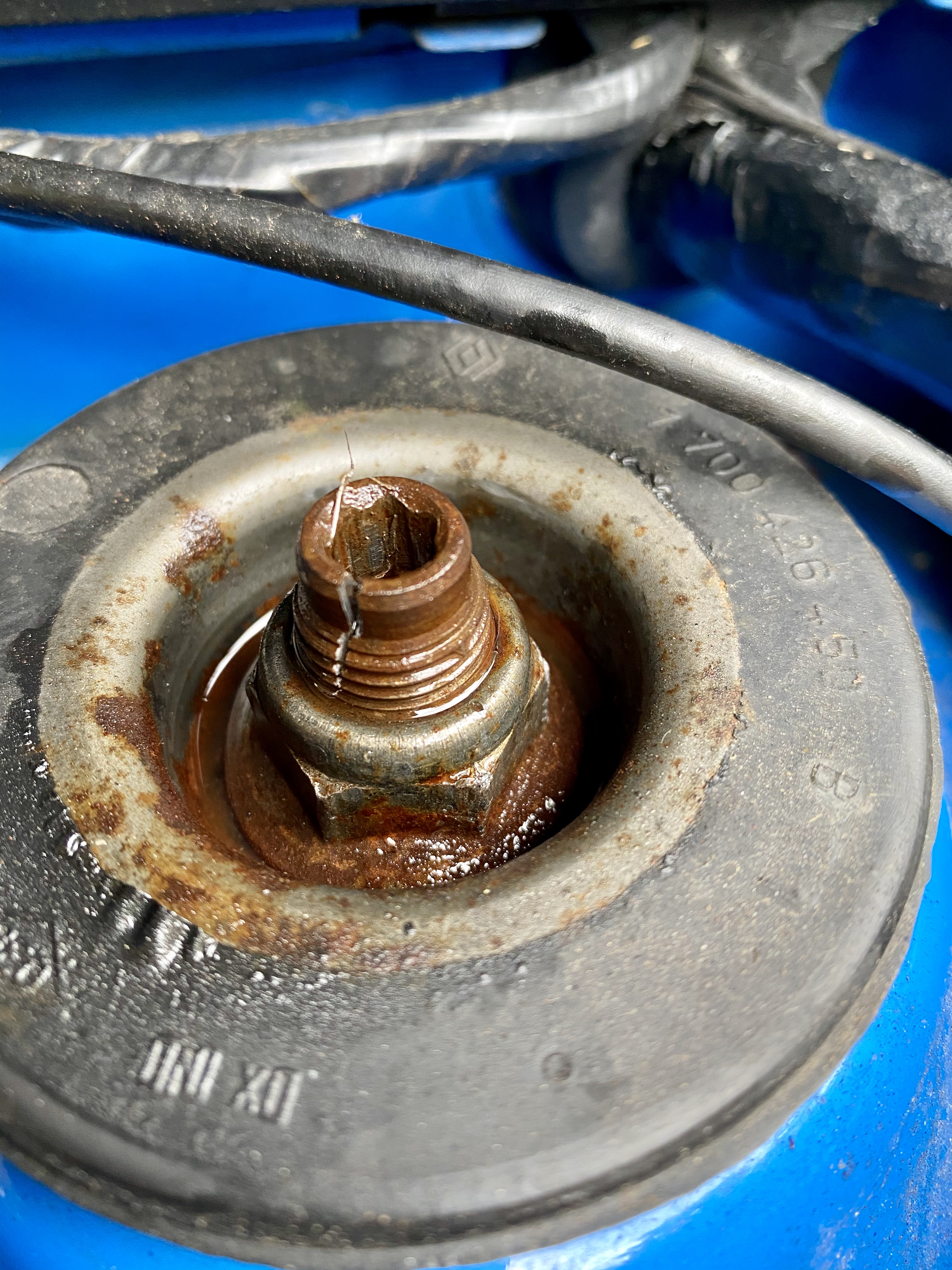 Despite soaking the top mount nuts in penetrating fluid a couple of days earlier, the passenger side shock shaft split whilst counter holding. The rear shocks were mismatched - 1x Renault, 1x Boge and the rear chassis had some corrosion along the rails/seams and spring seats on the beam.
Queue scope creep….