Where do i start, i have owned the car for 2 and a half years now and been driving it for 2 years. Its been through alot as you will see, chav, sport, low, high, ugly, stunning and at points just damn right wrong !!!! I look back and think wtf was i thinking, but its all about growing up and trying different things out and finally ive got to a point of which i am V happy with how she is. Anyway ill let the pics do the speaking. ( i apologise for some of the picture quailty, most pics are taken with phone.)
How she started off.
1.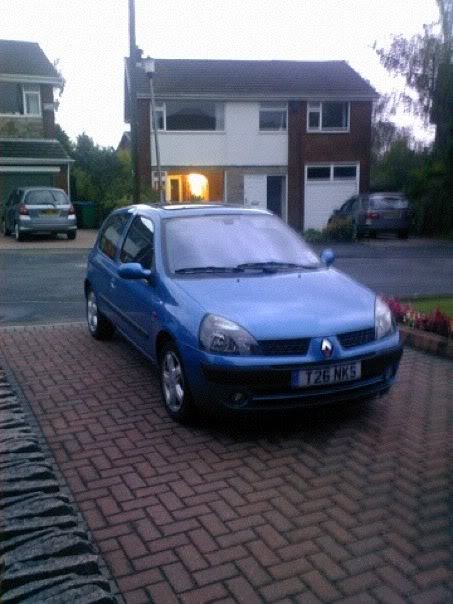 2.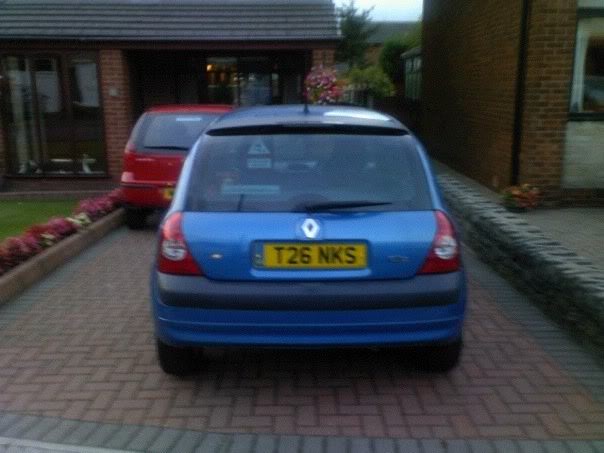 I then started with colour coding both bumpers side strips, spoiler and door handles. ( o and spot the wipers y0)
3.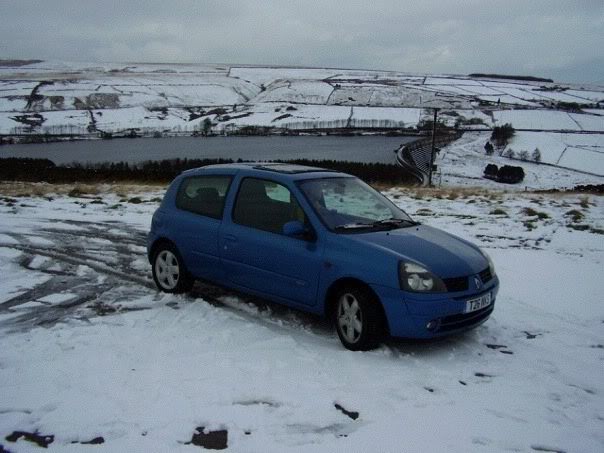 4. Next came the blue side lights, wicked aint they :| also a spoiler grille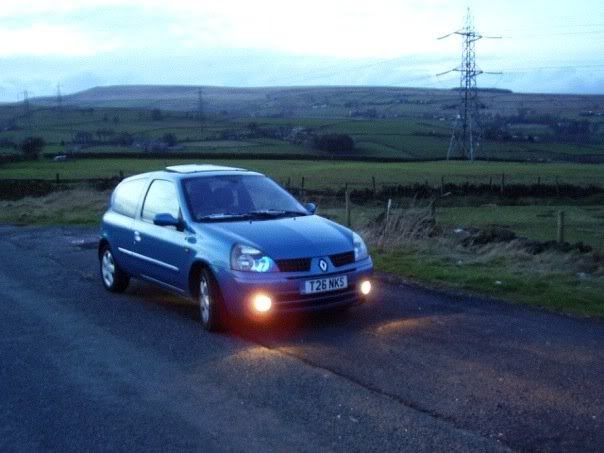 5. Next onto the chavmobile was some nice chromes, so this i did.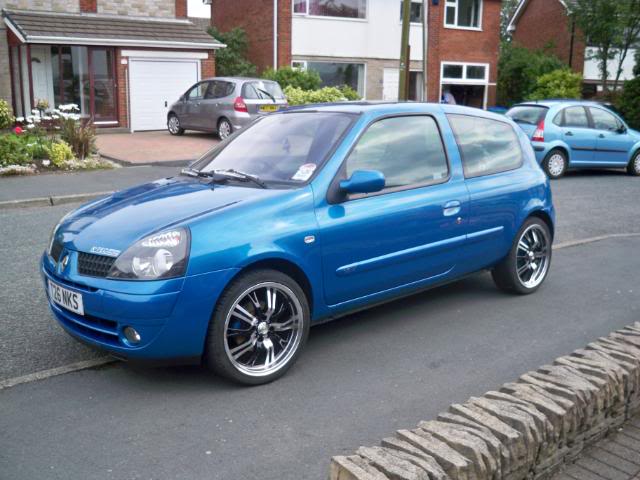 6. I decided i wanted a boot build and saw a nice setup on here so started to work in early 2008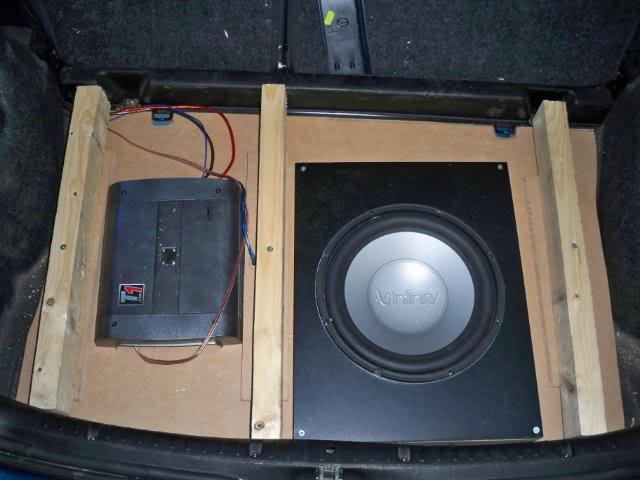 7.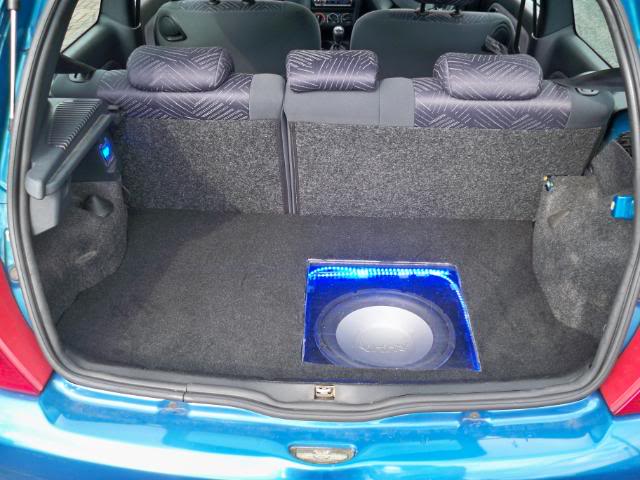 8. Next move was to make it more chavtastic, so on came the blue undercar neons. In my defence i never had the bulbs showing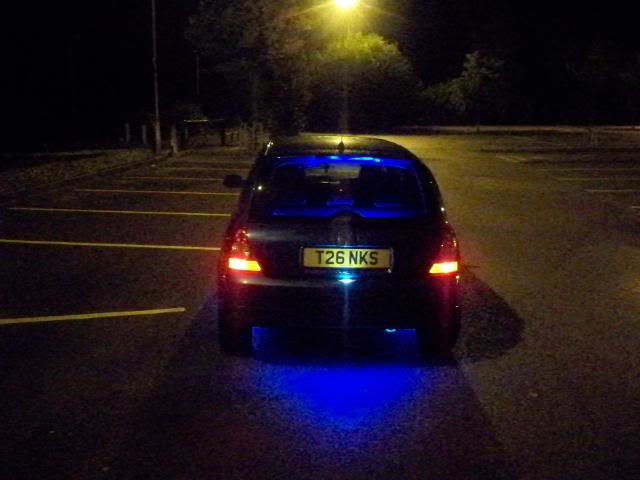 9.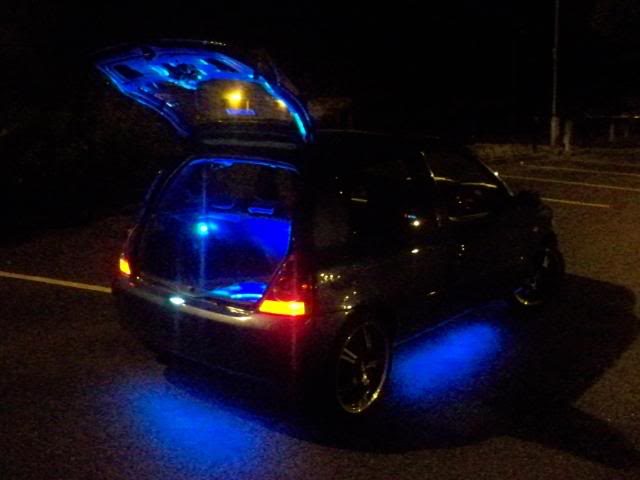 10. I realised WTFFF AM I DOING TO MY CARRR !!! So i brought some nice 16" white pro 1.2s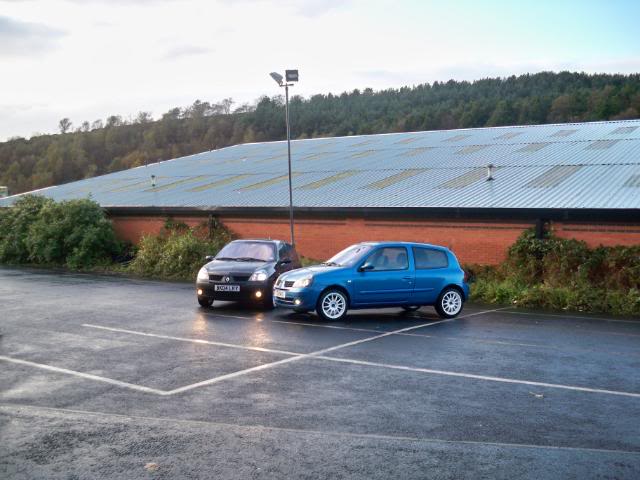 11. Next came a couple of stickers, a new number plate, white bullets and a white front diamond. Note the wipers have now gone.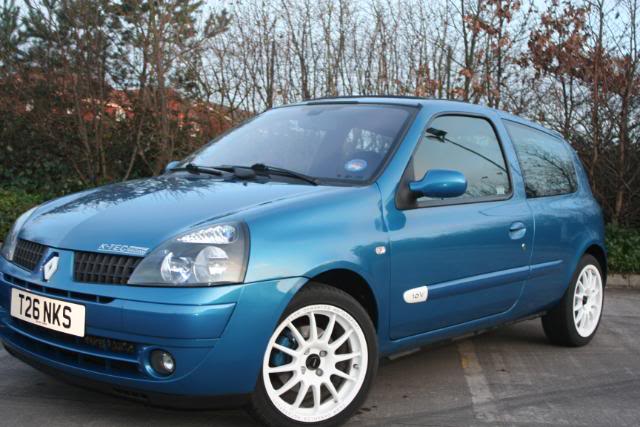 12. Next came some angel eyes, Not to everyones taste but i quite like them tbh. Also fitted 8k HIDS.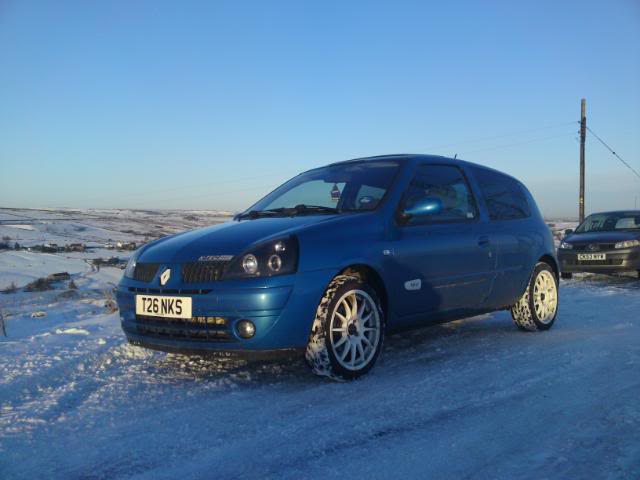 13. Next came much needing v maxx coilovers and got slammed on its arse. Also got a slight window tint on the back windows.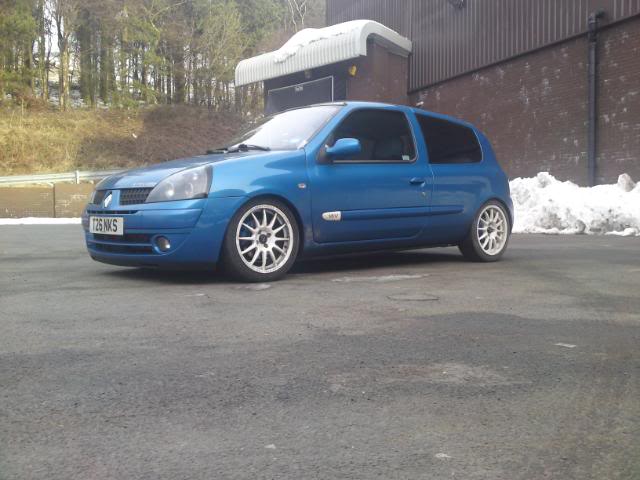 14.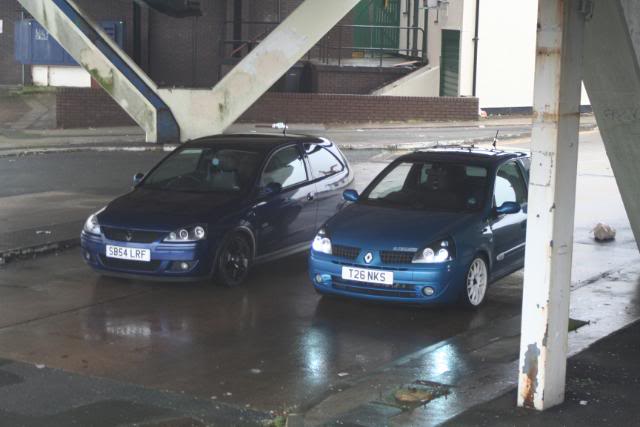 15.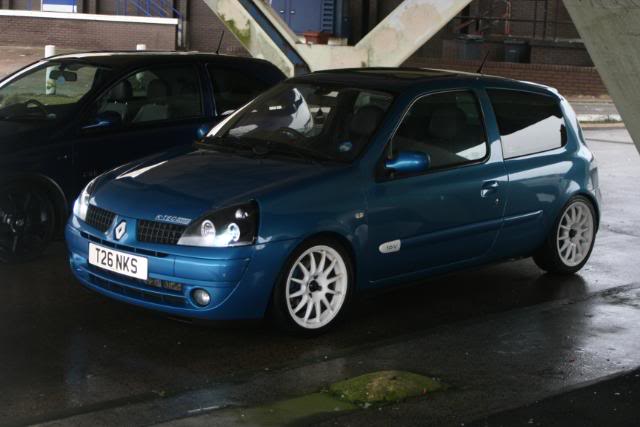 16. Next came my first cliosport meet, which was just round the corner from where i live.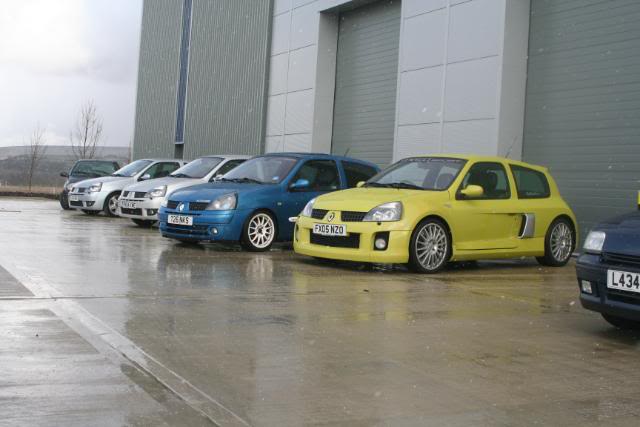 17. My number plate then fell off and i cudnt be bothered to stick it back on so it stayed off for abit lol was even toying with the idea of smoothing the recess out. Also added a tow eye to the front.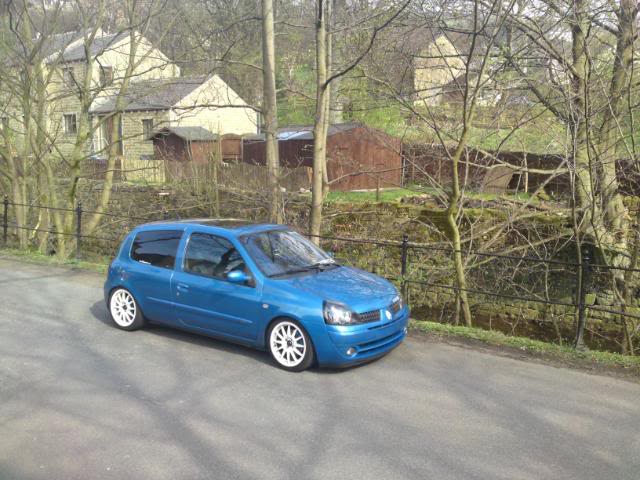 18. I thought it gave it an aggressive look, but again not to everyones taste.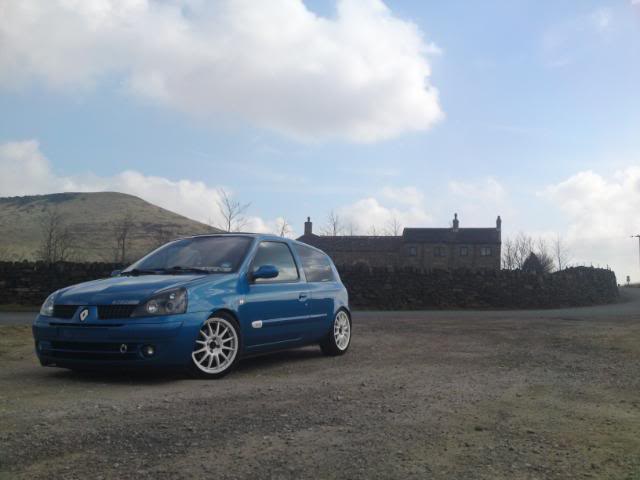 19. Again i liked toying with different ideas so thought as i had a blue and white theme going on i would put the front plate on the back, i took a few pics and then decided against the idea lol. Also added a couple more funny little stickers that i just couldnt resist lol.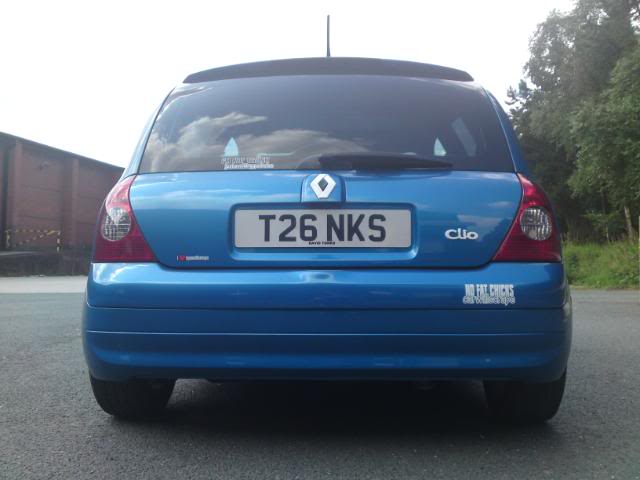 20. I also put my standards back on as i was in the process of buying some new 15" white pro race 1.2s.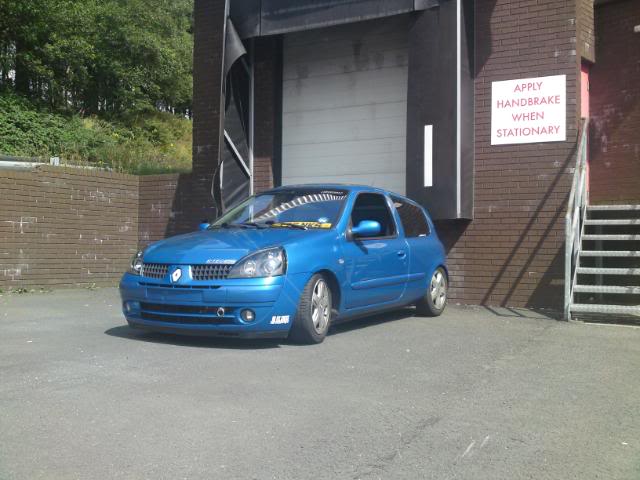 21. I finally got some 15"' wheels so i could go lower lol so here was my new ride height.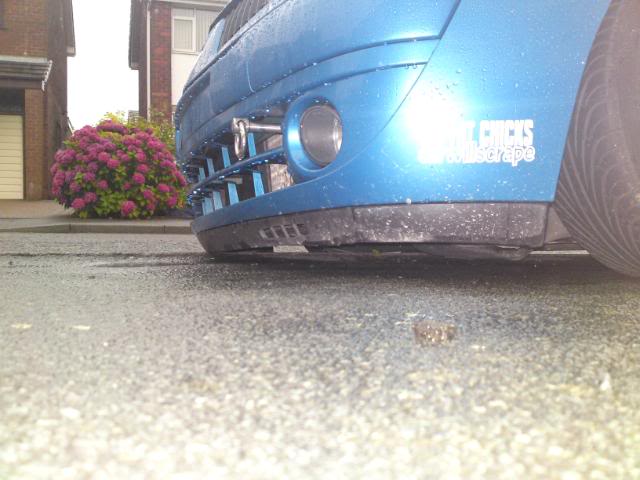 21. LOWWWWWWWWW
23. Next event came up and that was FCS so i brought a ticket and stuck myself with all the renault sports. I then realised AFTER the event that the CS stand was for sports only and that i was the only non sport their :|
24. Next i bit the bullet and travelled all the way down to cardiff to pay a visit to prospeed and got myself a 182 bumper and a 182 exhaust.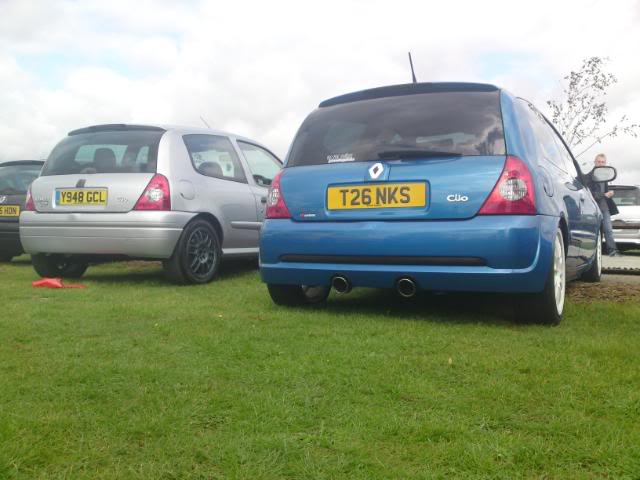 25. Next came event was trax so i got myself on the CS stand again and then struggled grately gettin off the damn grass.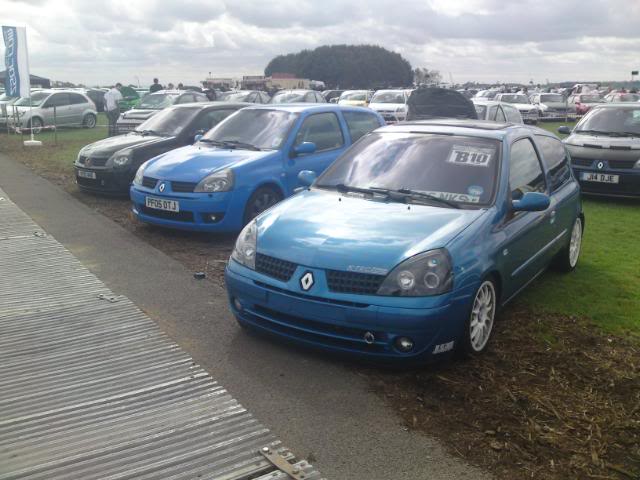 26. I brought myself a new front number plate and finally stuck it back on again. + custom made center caps for my alloys.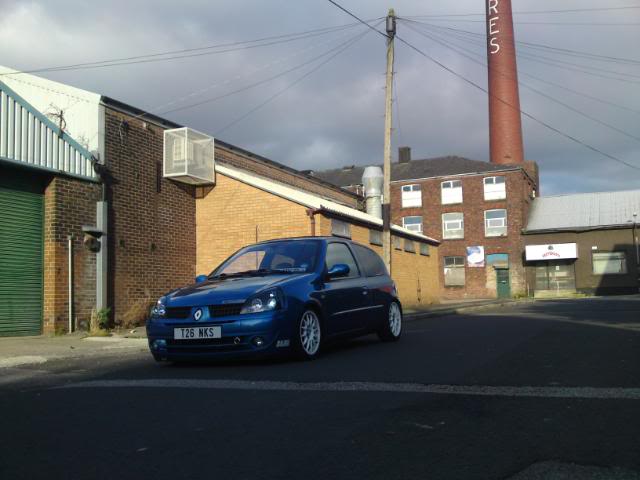 27.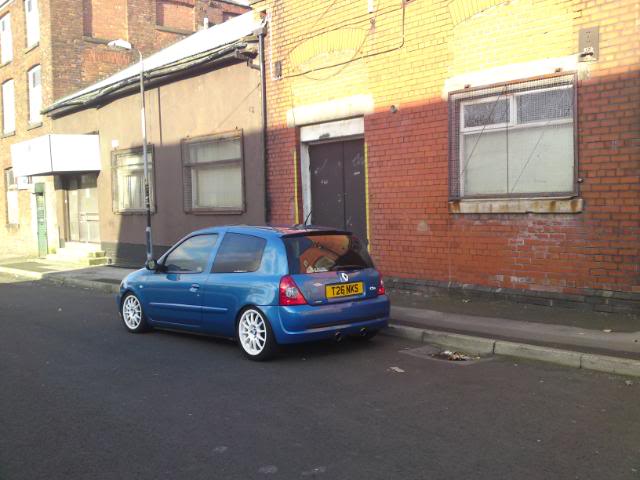 28. And this is fianally how she is looking to this current day.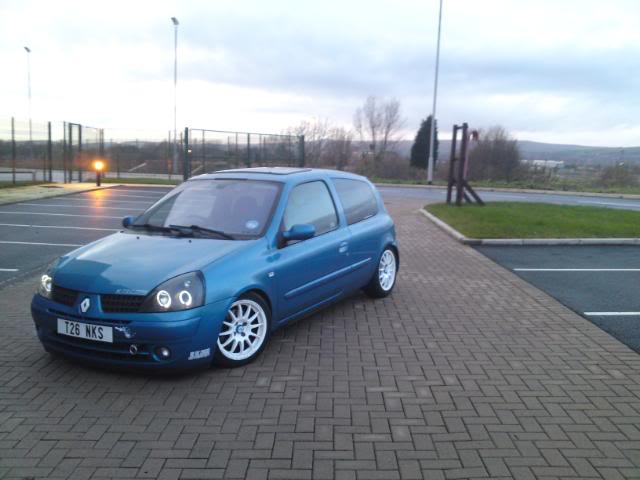 29.
O and i finally finally finally finished off my boot build a month or so ago after it bein unfinished for over a year lol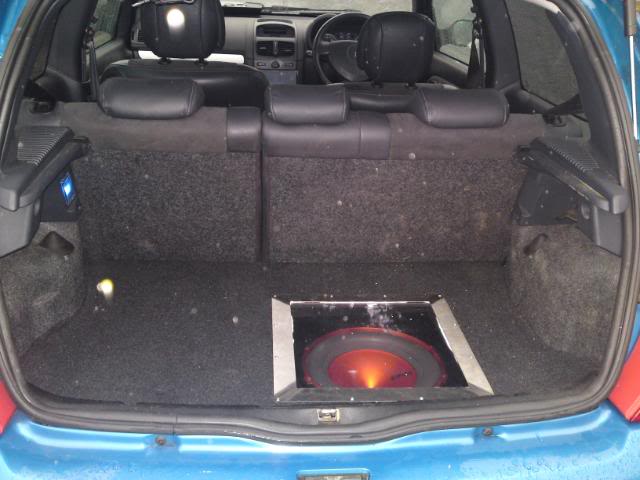 30. TIME FOR A NEW PROJECT !!!!!!!!! I thought long and hard and last sat 21st November i brought my second car. I went down to london ( from manchester) and towed her back up.
31. However the car had been wrote off from behind before i purchased the car so this is how she looked from behind when i purchesed her.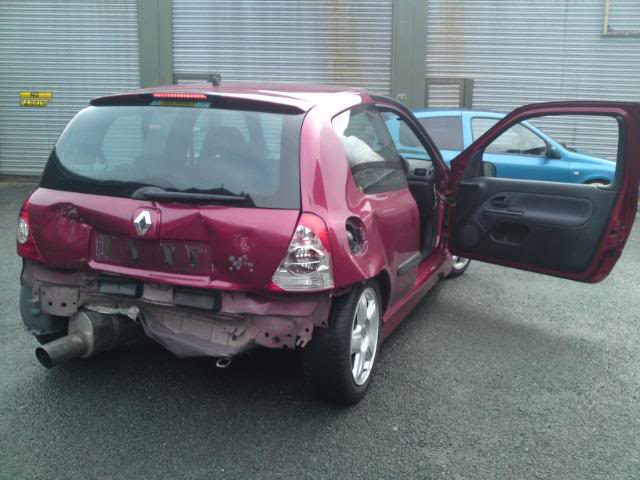 33. MY PLANS.... start stripping out it completely so this week i have very busy going down to a mates garage after work and doing this.
34. Now this point i bet your thinking WTFFF has he got that for... well ill let the pics do the talking as in the front this baby had been sleeping totally undamaged.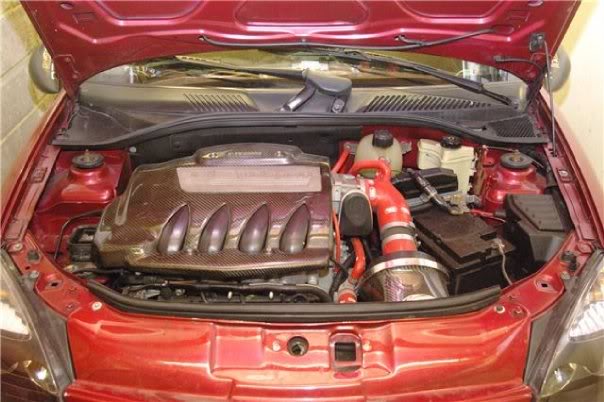 34. So i got to work on stripping her out ready to be put into the blue clio.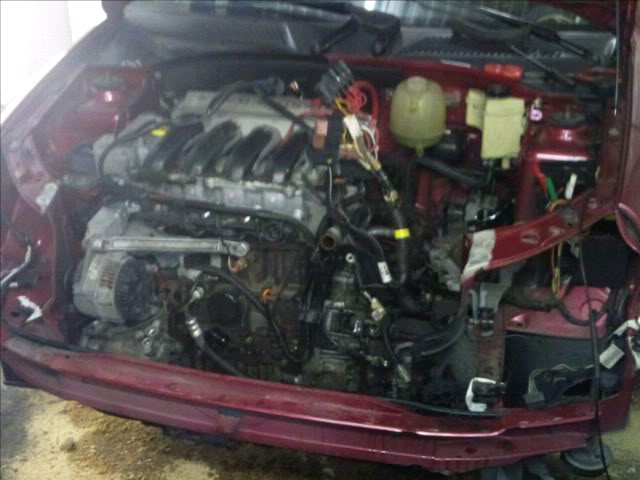 35. And here she stands.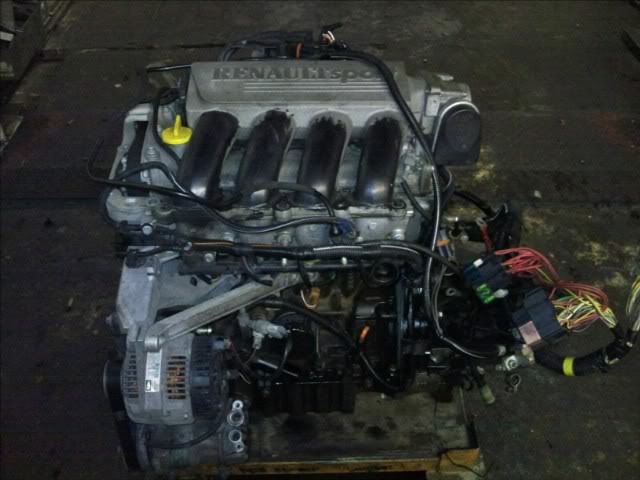 Hopfully it will be going in over christmas whilst i get time off work.
Its a 182 engine, done 28,000 miles, been remapped and came with gaz coilovers, simota induction kit and cobra buckets with harnesses, all which shall be going into the blue clio to finish her off. Im also going to buy myself some new racing tyres, new brakes and possible new cams.
As you can see, my little clio has been through alot lol and ive had alot of different thoughts and ideas about the car so all c+c welcome.
Btw all this at the grand age of 19 lol my life is my car !!!! lol
Thank you for reading haha