Hi all,
I'm new to the forum and i bought a Pearl Black phase 1 172 last Wednesday.
It's going to be my daily driver, will be covering upto 18k a year and doing the odd trackday and trips to the Nurburgring - so i'm hoping it proves to be reliable!
I went for this particular 172 because it was one of my favourite colours - black and had already been subject to modifications i would have planned to make...
Mod's so far include,
Blue flame stainless exhaust system (cat back)
Lowered 40mm on Apex Springs
16" phase 2 alloys in black
De-badged bonnet
Green filter induction kit - cold air feed fitted in place of driving light and accompanied by stainless heat shield in the engine bay
How i'm finding it so far?
Well to be honest i'm really impressed, its by far one of the best handling cars i've owned and to be honest i've had a few over the years ranging from an Astra SRI Turbo to a modified Mk2 Golf Gti but nothing has come close to the handling of the 172. Performance wise i'm also shocked, feels as quick my old Astra which was a 2ltr Turbo pushing out around 190bhp but obviously weighed a fair bit more than the clio!!
Problems identified so far in the first 5 days ownership clicking sound from the front driverside wheel - possible cv joint/driveshaft issue and the air bag light came on - but this was an easy fix by fiddling around with wires under the p/seat! (encountered this problem before on a pug 306!)
Future plans - trip to germany to do the nurburgring on the 27th of next month which i'm really looking forward to as it should go round a fair bit better than my old mk2 golf gti i took earlier this year! then after this i'm going to treat it to a respray to get rid of all the stonechips and parking dings..
A quick pic,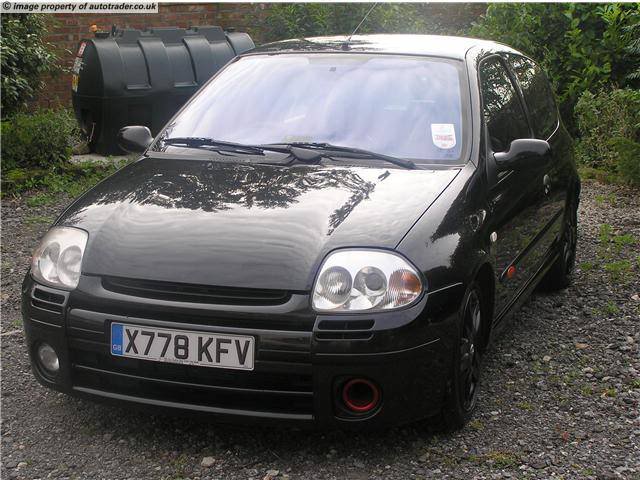 Sorry if i've gone on a bit but i thought i'd try and make it a bit more interesting than a quick 'hello'!
Oh and i'm From the West Mid's and would love to come to some meets along with my bro who owns a 172 phase 2 cup.....
Cheers
Gav
Last edited: