I thought I would do a quick writeup of our recent trip to the ring for some tourist days, followed by a closed circuit trackday at the ring, and then a trackday at spa.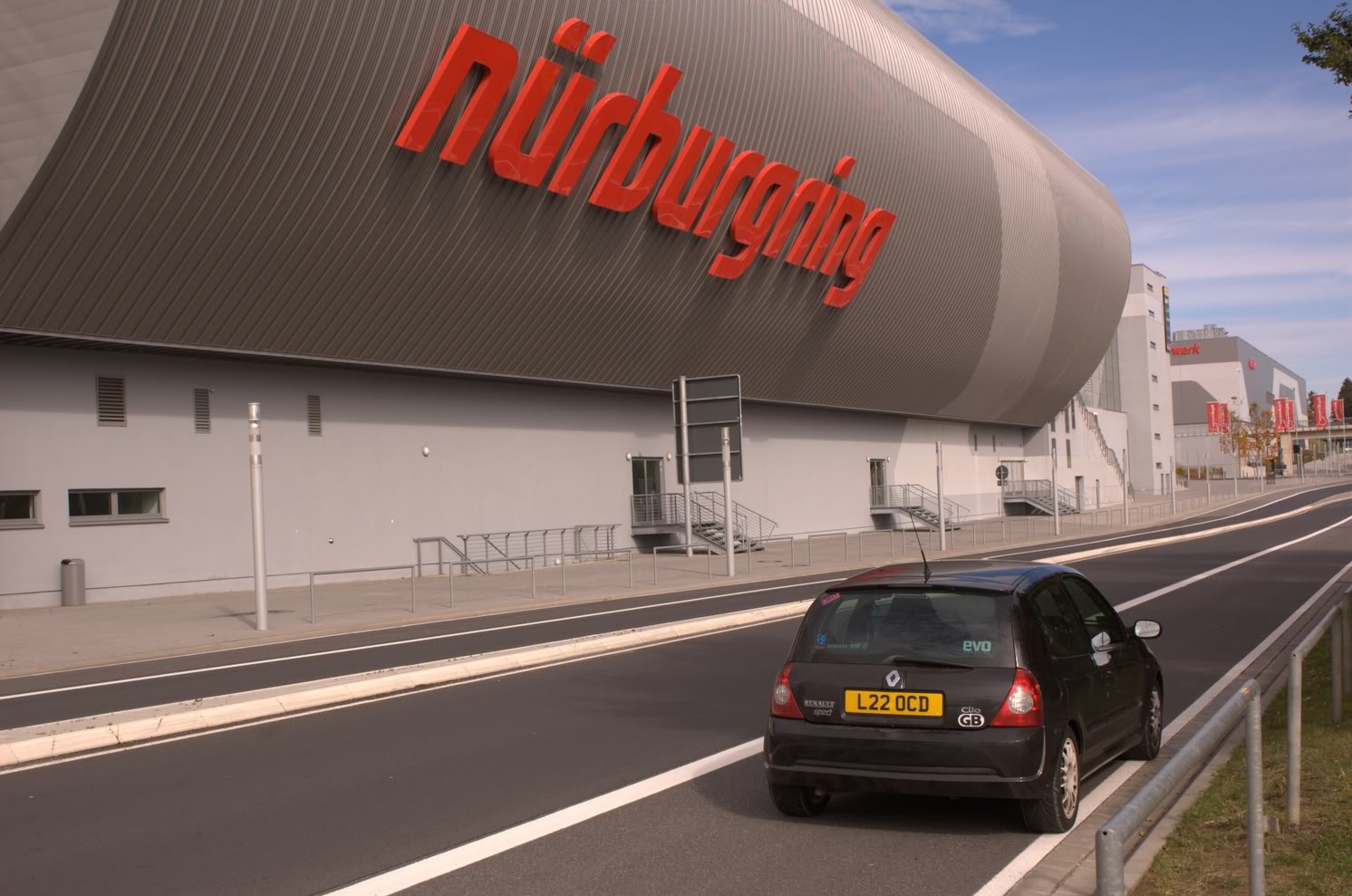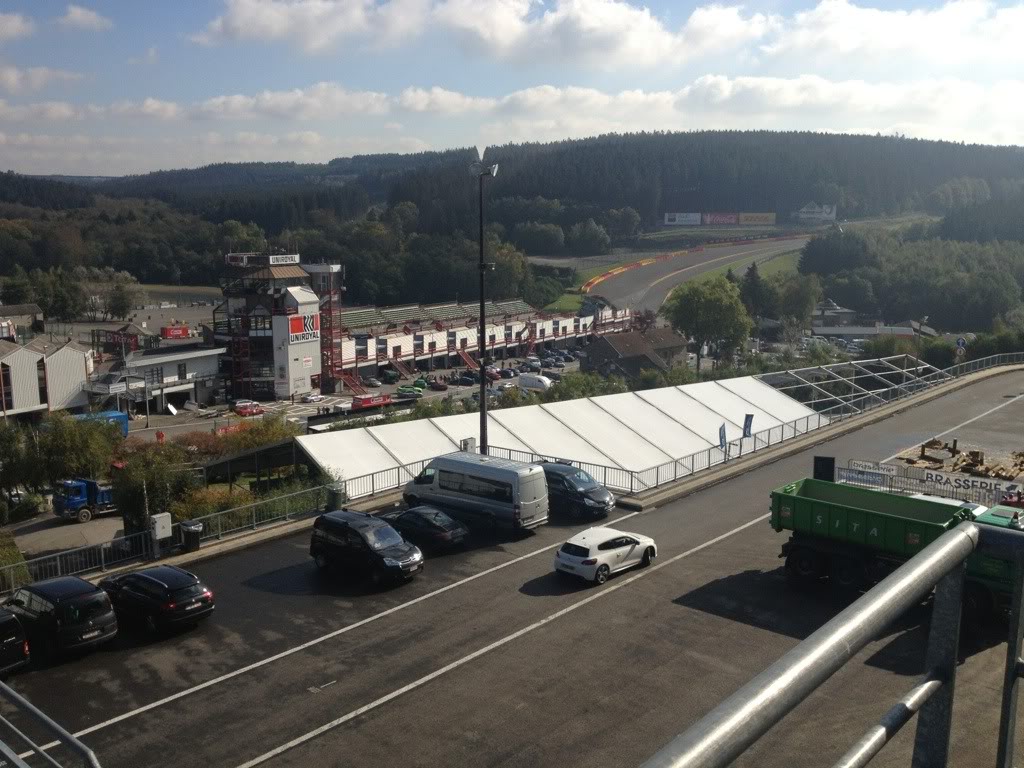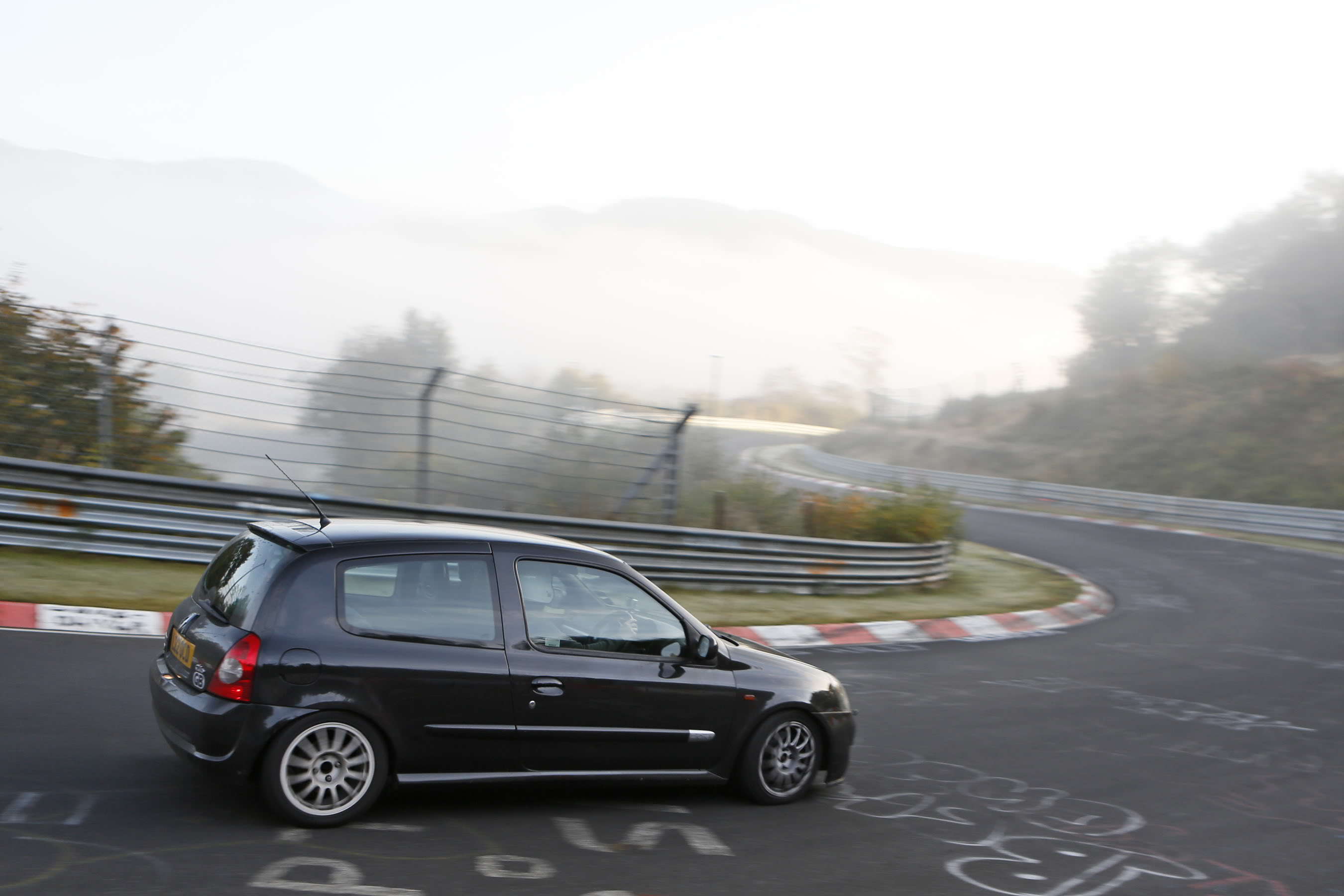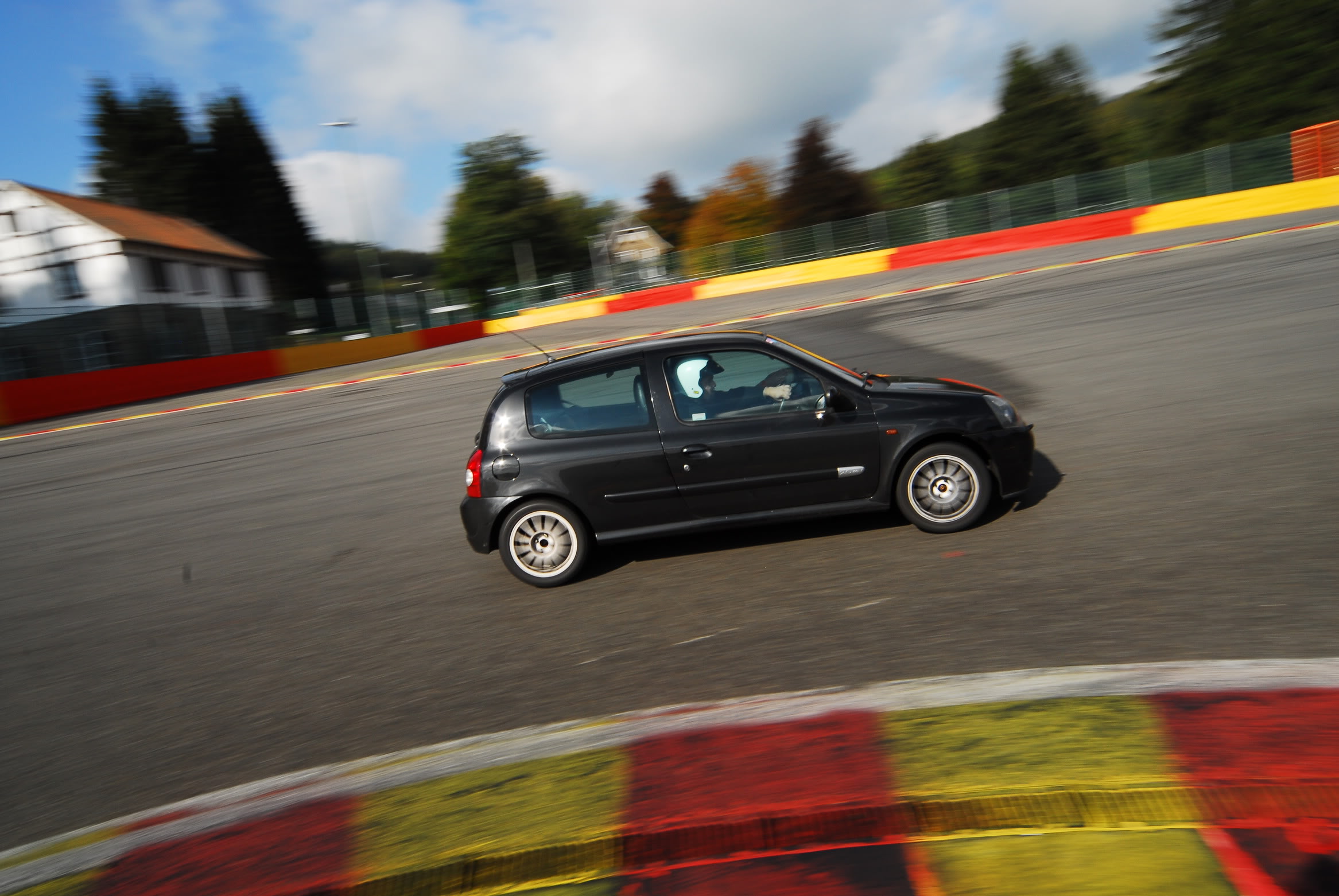 Me and the mrs went over on our own, Mike Woodford was meant to be in convoy with us but he was unable to make it in the end, so we cruised over alone instead, we got to dover the night before and stayed locally, then headed to the ferry port in the morning.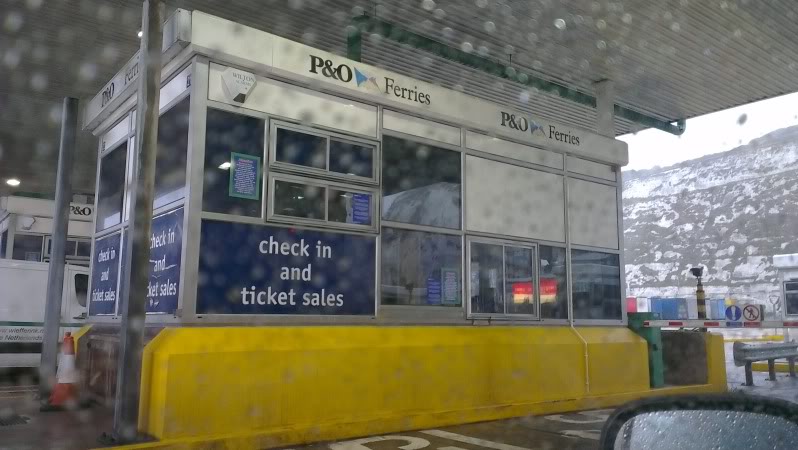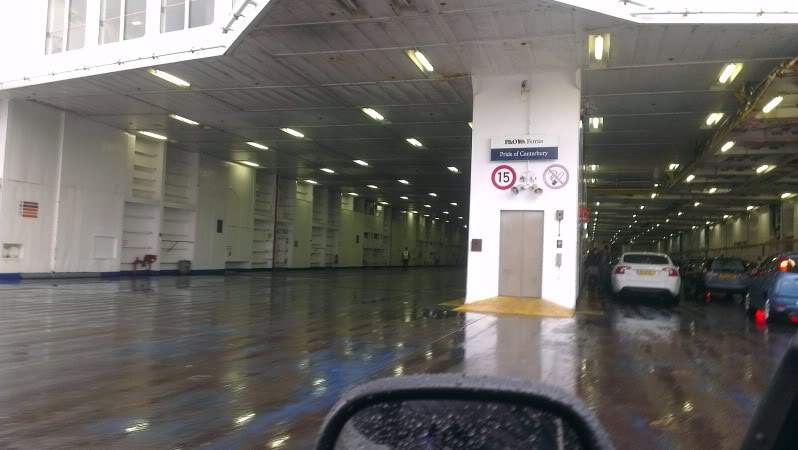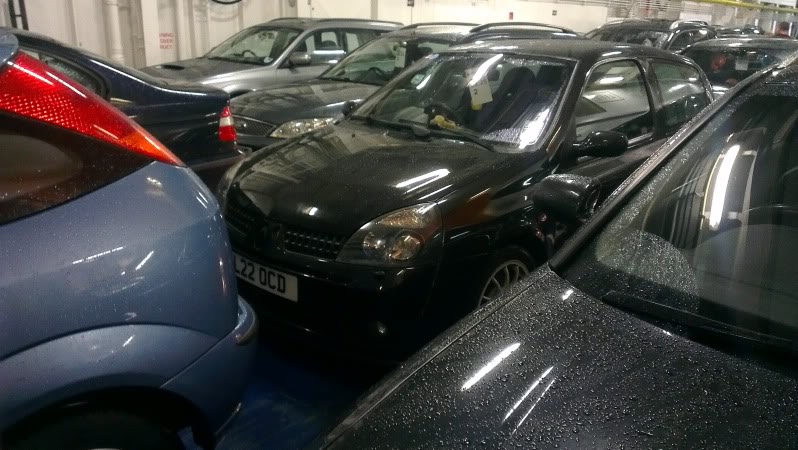 The car was a total pleasure to drive, it might look a bit tatty as its a bit of a leggy car now (145K on the clock!) but everything underneath is new suspension wise etc, and it is just a total pleasure for this sort of motorway munching, and the trophy seats are great for long distances too, when I first sat in some I didnt find them comfy but if you sit in there with your arse back so you have decent posture you can just do epic amounts of miles and get out fresh as a daisy the other end.
However the journey still wasnt without drama, as we went through belgium I was cruising up a hill at about 100mph or so and just put my foot down to accelerate a bit more and felt there wasnt the sort of urgency to accelerate there normally is, we pulled over onto the hard shoulder and the car sounded like a bloody scooby, it was clearly running on 3 cylinders and I was obviously a bit concerned there might be something serious up with it.
We limped it off into a side road where it was a bit safer to be playing with and I got out the diagnostics and identified the fault as injector 3. When I looked at it, was an actual physical failure, the eletrical connection on it had broken away from the injector body, Ive peeled it up a bit here for the photo to show what I mean.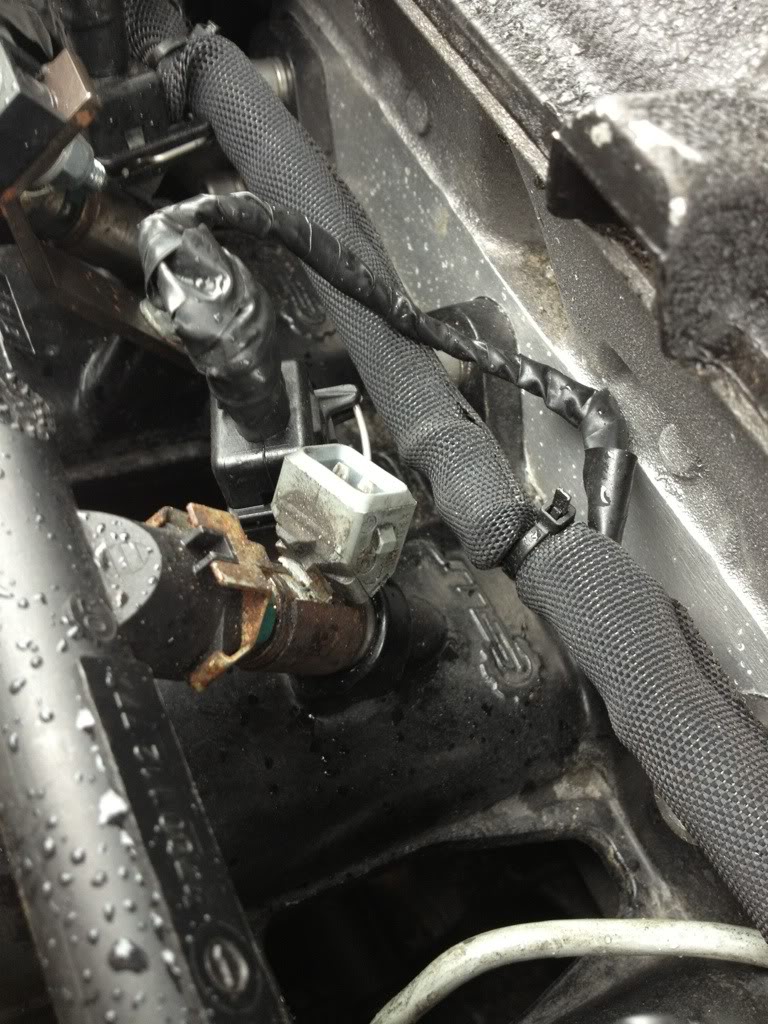 We exacted a temporary repair with some eletrical tape and a cable tie, and carried on our way, it behaved a bit intermittantly after that, with it working for a few miles the not working for a few miles etc but even on 3 it still made reasonable progress.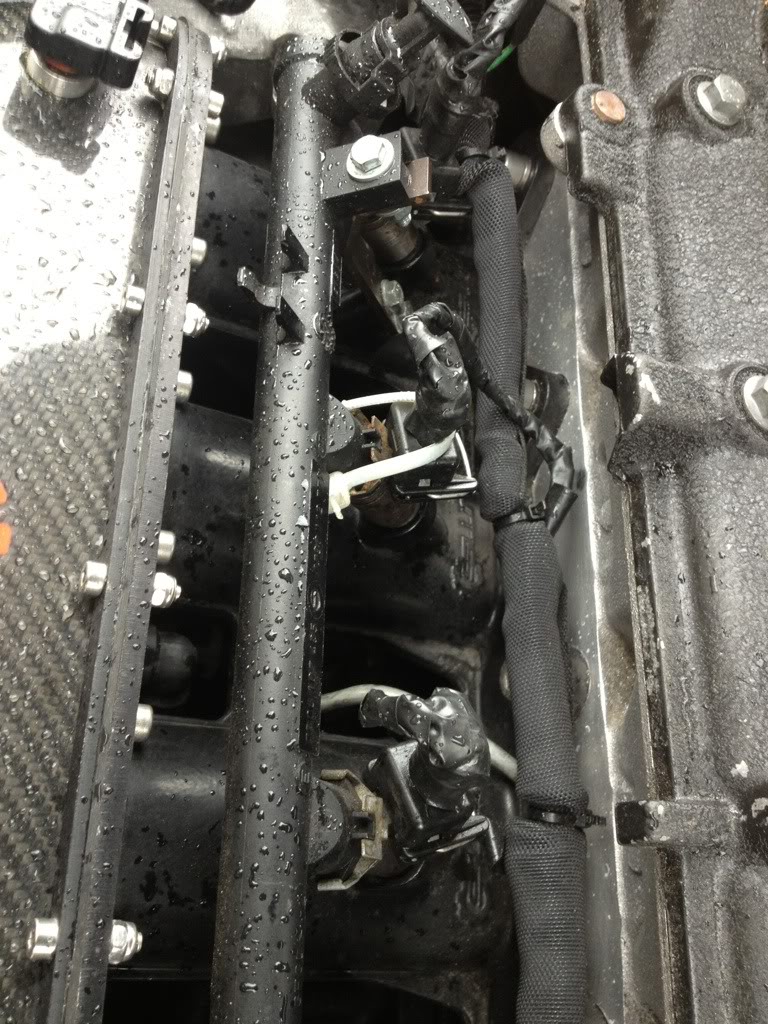 It seemed a good excuse to stay off the big roads now though as we knew we didnt need to be there in time to do laps that day anyway now, so we changed route and had a really enjoyable trip through the mountains instead, there are some epic roads up there and I wish we had got some pictres of some of the views.
As Mike hadnt come along I asked him to take some injectors over to porkie's place as he was heading over the next day.
We got to our hotel, unloaded all the gear into the room and went out for food with some friends we had arranged to meet over there.
The next day we went and did a bit of go karting up at the new track complex while we waited for our new injector to arrive.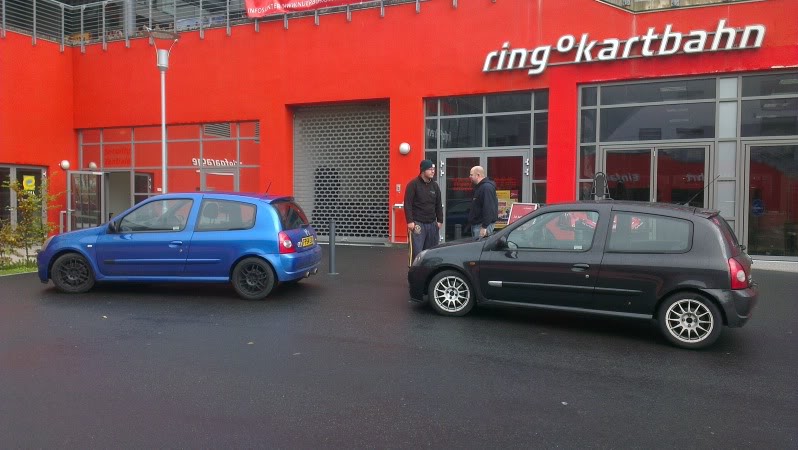 Porkie's mate Stu was driving Porkie's lotus over and was given the injectors to go on ahead with as they were trailering the westy so were making slow progress.
I fitted the injector and straigth out onto the track, it was absolutely epic as it was properly soaking wet, I love the ring in the rain as its such a challenge and daft as it sounds it was the perfect way for Lesley to start learning it, it gave me more time to talk her through the lines as the pace was slower, and there was far less traffic out there, so we just spent as long as we could out there getting her plenty of practice.
By the time we finished the others were already a few beers ahead of us so we headed to Pistonklaus to join them for steak on a stone.
Sunday the weather started wet again, and there was a bit of track closure as a result of accidents, we got a call from Porkie to say there was someone in his hotel carpark with a problem with his car (who turned out to be fellow cliosporter "weird japenese name") and he informed me that he had volenteered me to fix it, which was nice of him, LOL
Grabbed the laptop and diagnostics etc and headed over. It was running lumpy as hell and big loss of power, and one of the lads with Porkie (Renton who some of you might know as former editor of Redline magazine) had already decided it was probably injector number 4 at fault.
I got the guy to take his air filter off so I could see the injectors (was on bodies) and it was very apparent that was the case, I informed him he literally must be the luckiest person Im ever likely to meet as I happened to have a spare 172 injector with me as we had just had one fail and got a set brought over. We refitted that and it was running mint, he asked me what he owed me for the labour and injector and I told him it was the standard ring price of a beer, but in the end he paid us back instead by helping us push James' car back through the garage from the mentally steep pitlane which was far more useful than a beer would have been anyway, lol. Its great when people all much in and help each other on these sort of trips, in fact its what makes them possible really for those of us on too much of a budget to take 2 spare cars like Porkie does, lol (he took his exige S and his westfield cosworth too)
By the time Bigash got over just before the end of the day it had dried out. Lesley drove our car round with me in the passenger seat to instruct her a bit as she was still very much only starting to learn the circuit and he followed us around in his BMW tow car just to get a feel for the place, towards the end of the lap we had a bit more exhaust noise and James pointed out the silencer hanging down, it was a bit rusty on the joint to the silencer anyway and I think lap after lap boucning around the caroussell and up down all those kerbs etc had taken its toll, no way to fix that evening so I just removed it and then I took him out for a lap in our car as there was just enough time before the ring shut for the day. Then it was time for more steak on a stone (2 in his and porkies case) and some beers again.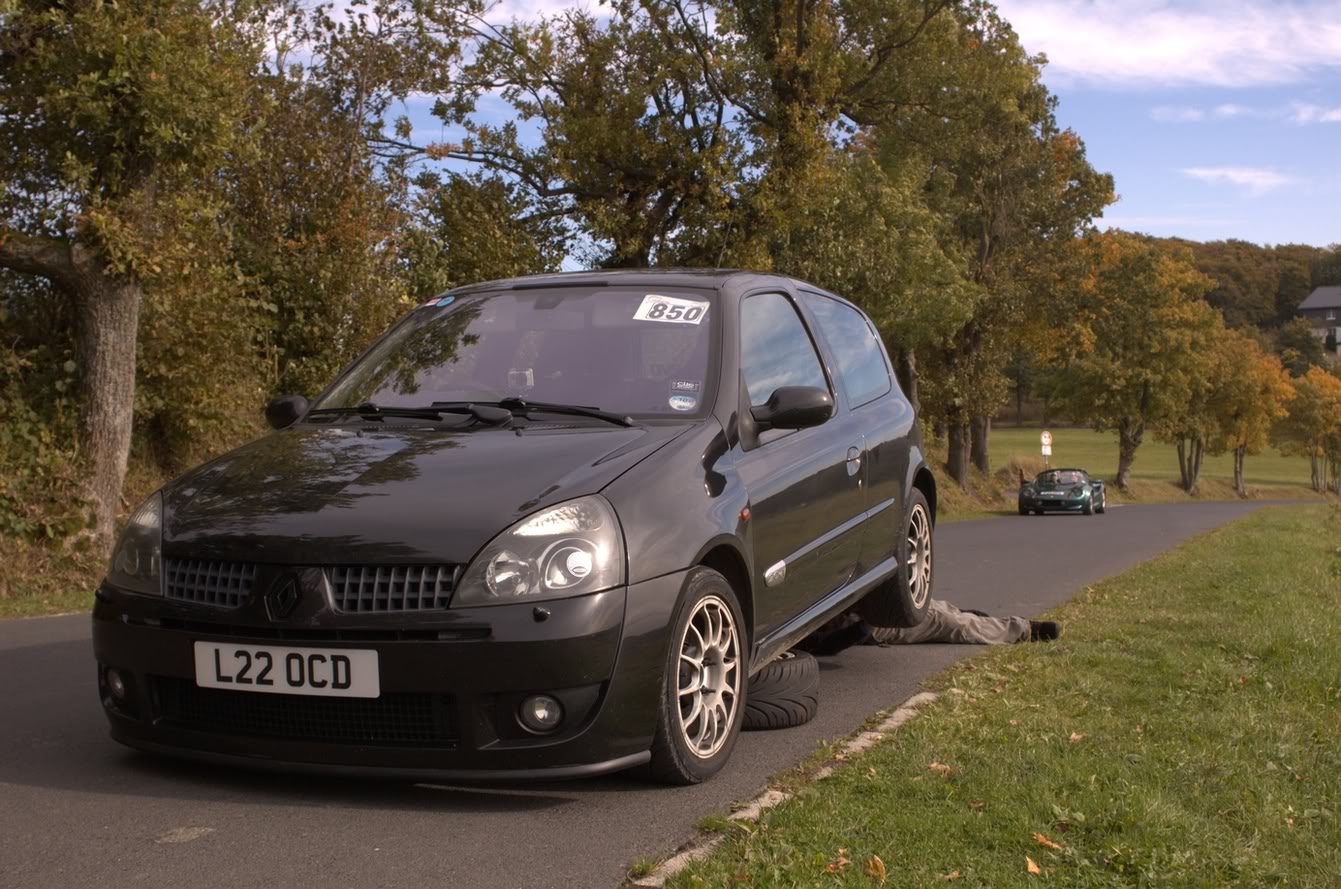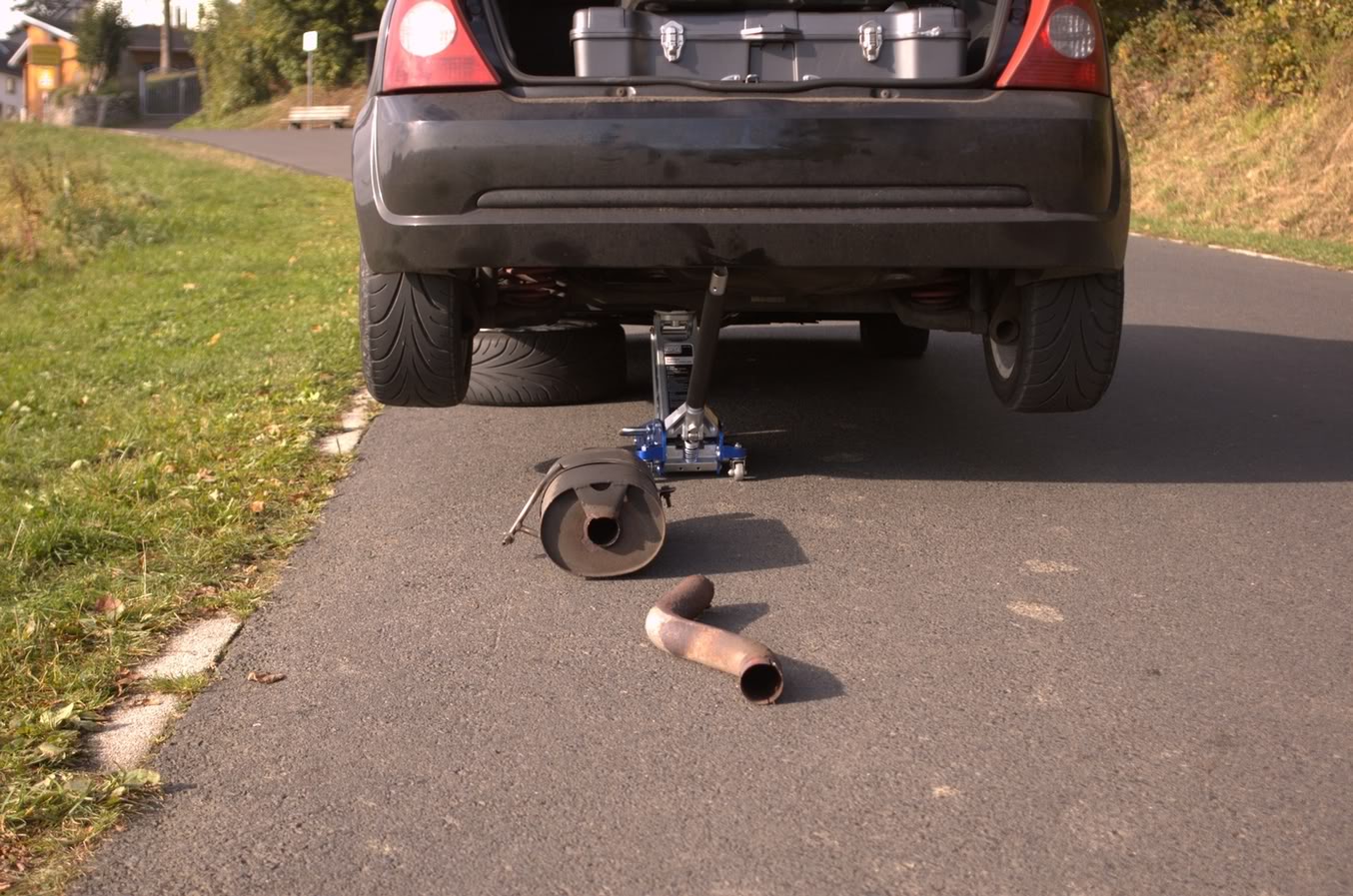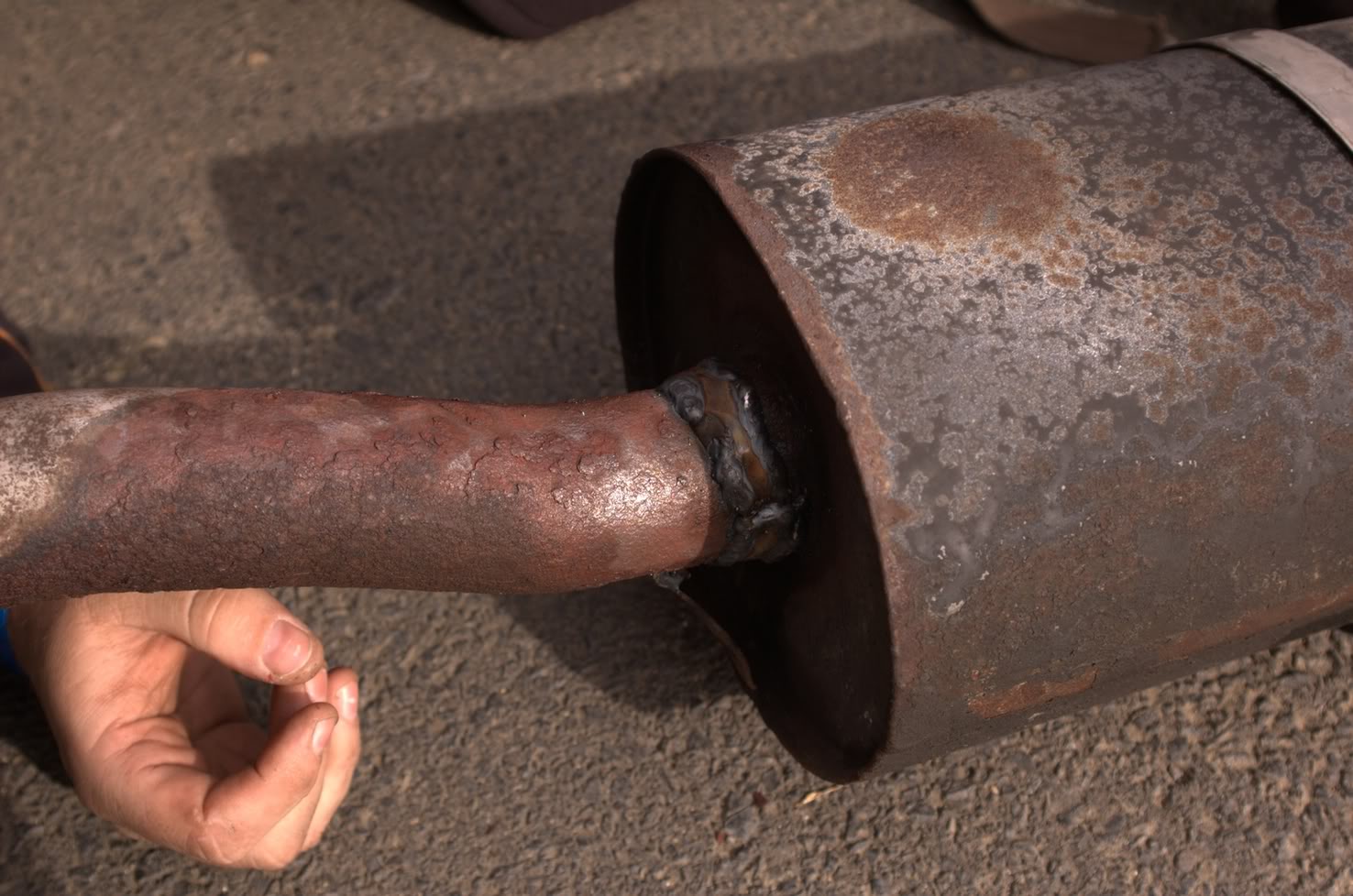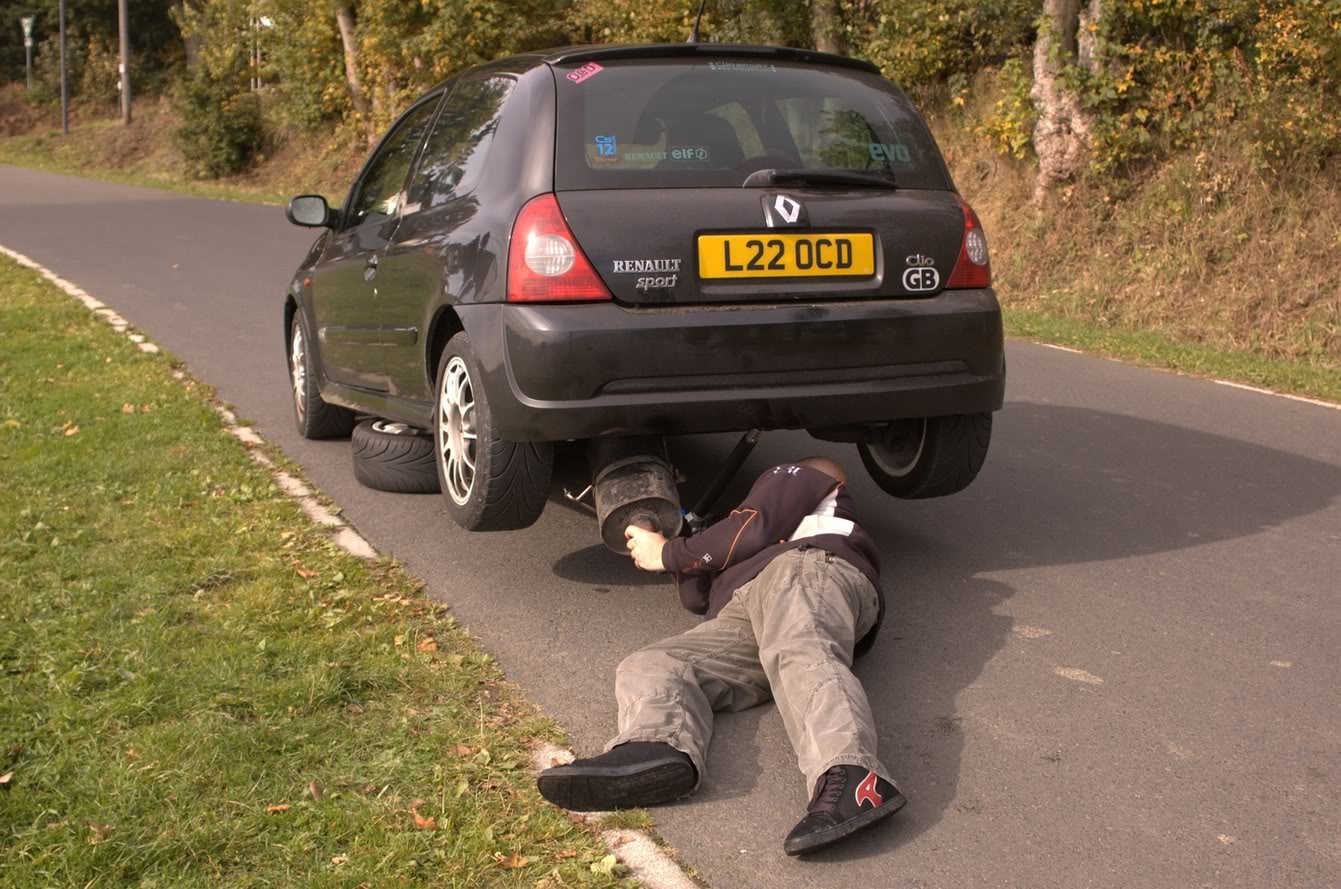 Here is the only video we got of the trip, which is me with James in the passenger seat out for a tentative first dry lap, sorry about all the mindless talking nonsense etc but we werent out to set a lap record (good job, it was nearly 10 minutes long, lol) just for a cruise around to enjoy the circuit, the ring is the only track ive been to where I actually enjoy driving it at 8/10ths.
http://youtu.be/mkx-hYNSDsI
Pictures of us out on the same lap: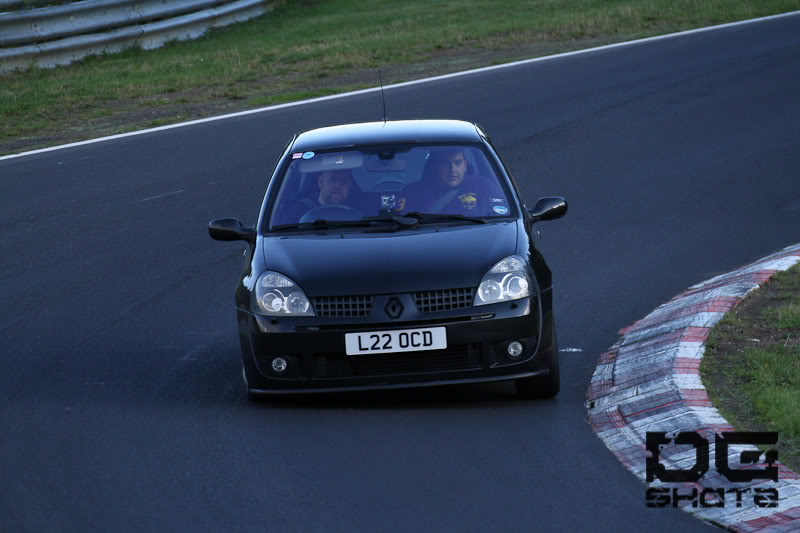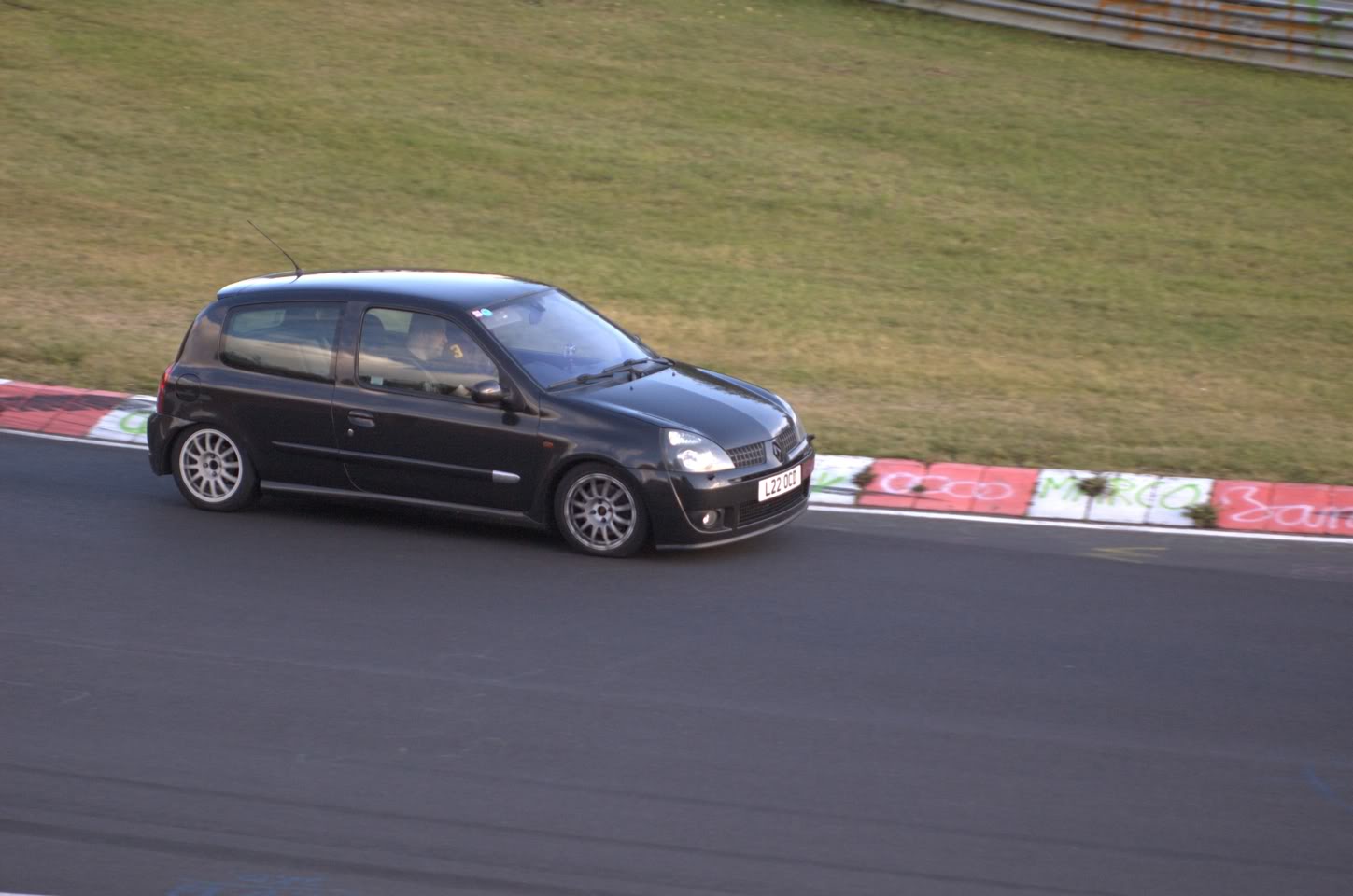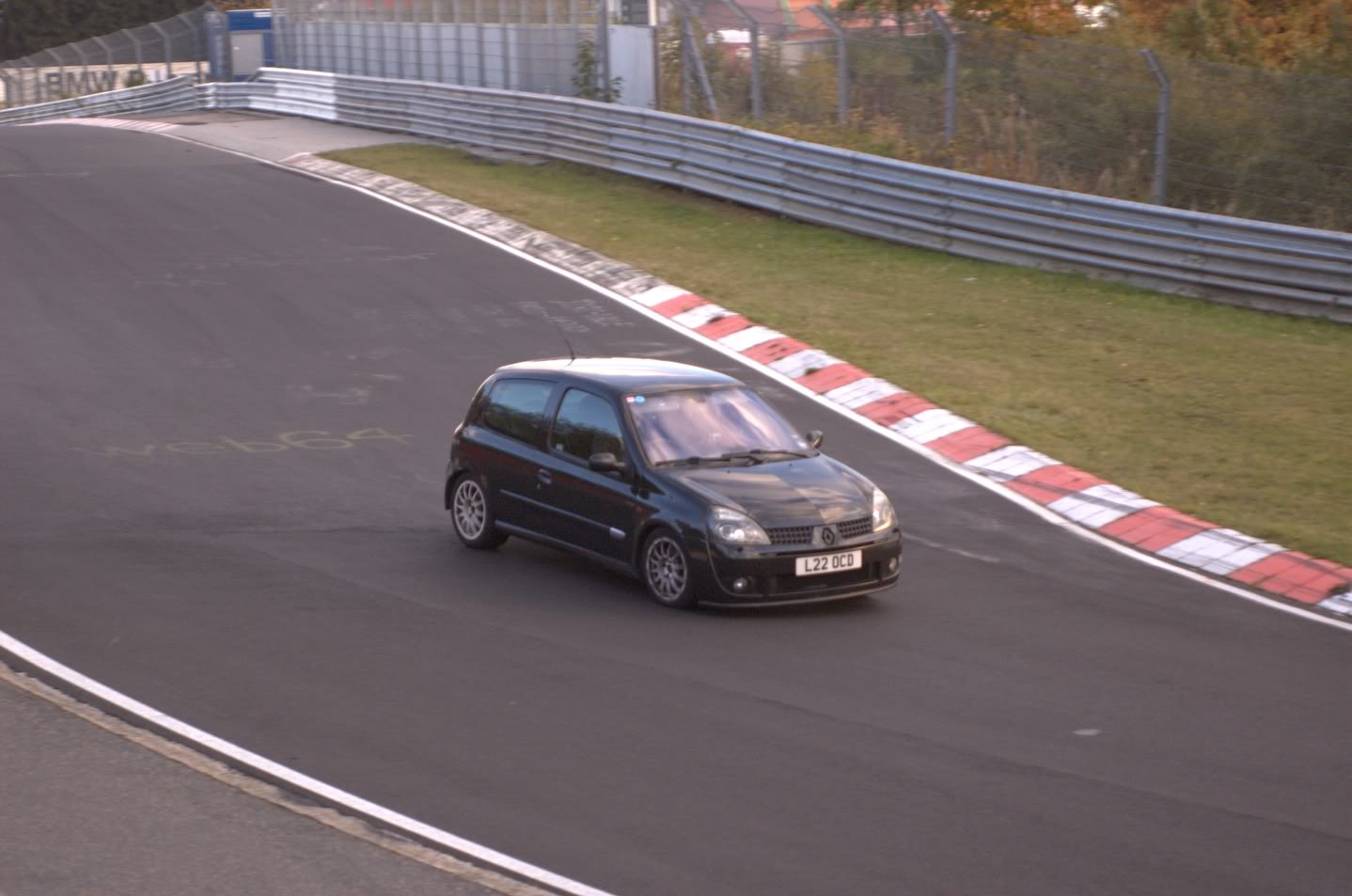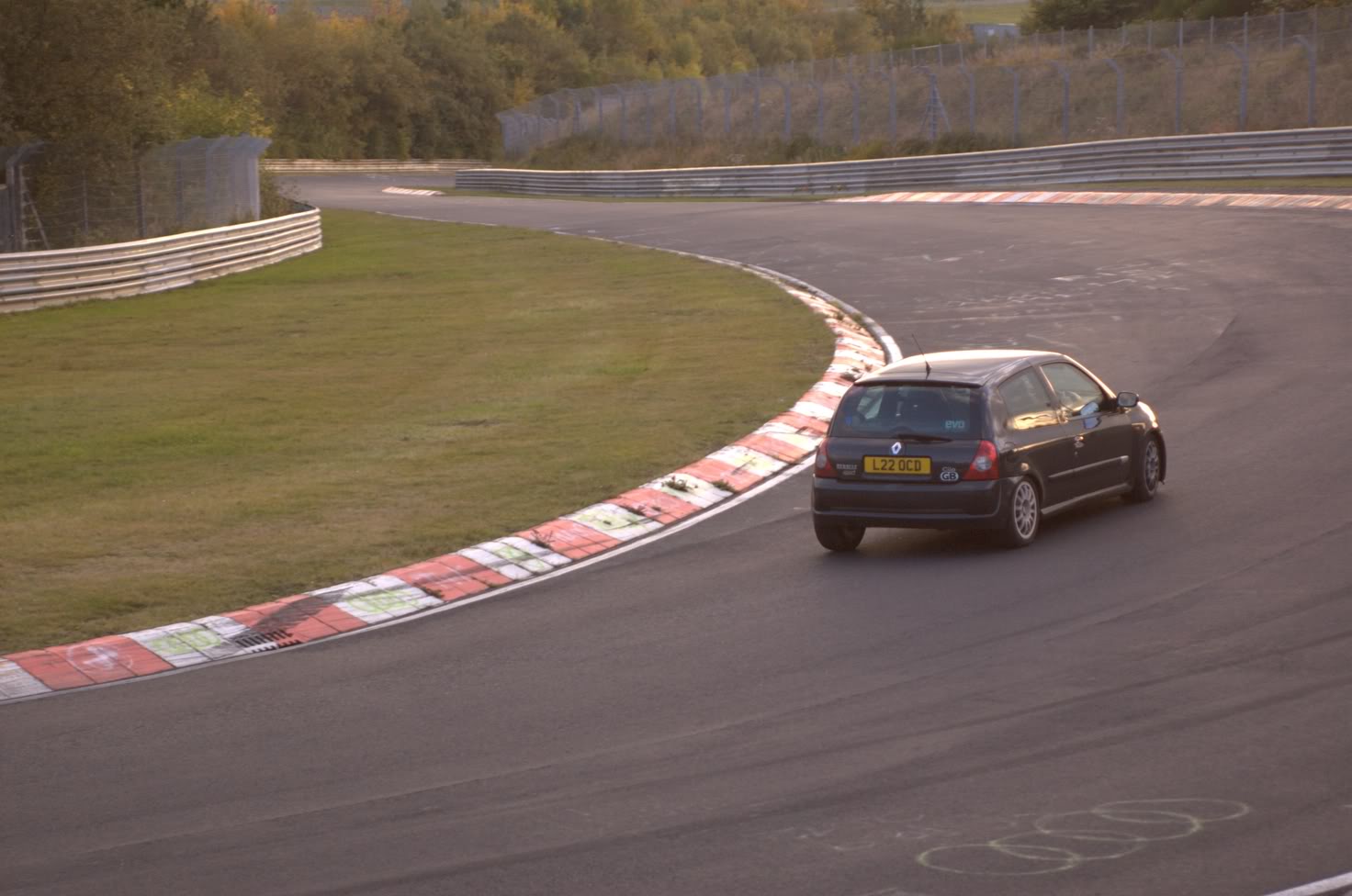 Monday morning was the closed circuit trackday, but I needed to get the exhaust fixed first as although noise isnt an issue at the ring, I thought it might be at spa, so I whipped off the section that it had broken off from at the side of the ring and went off in search of a welder to borrow, in the end we had to pay rent4ring to weld it up for us as I couldnt find anyone who wanted to lend some random english person a welder, we then quickly refitted it and managed to squeeze in a few laps before lunch with Les driving which meant it was her that the official photographer snapped: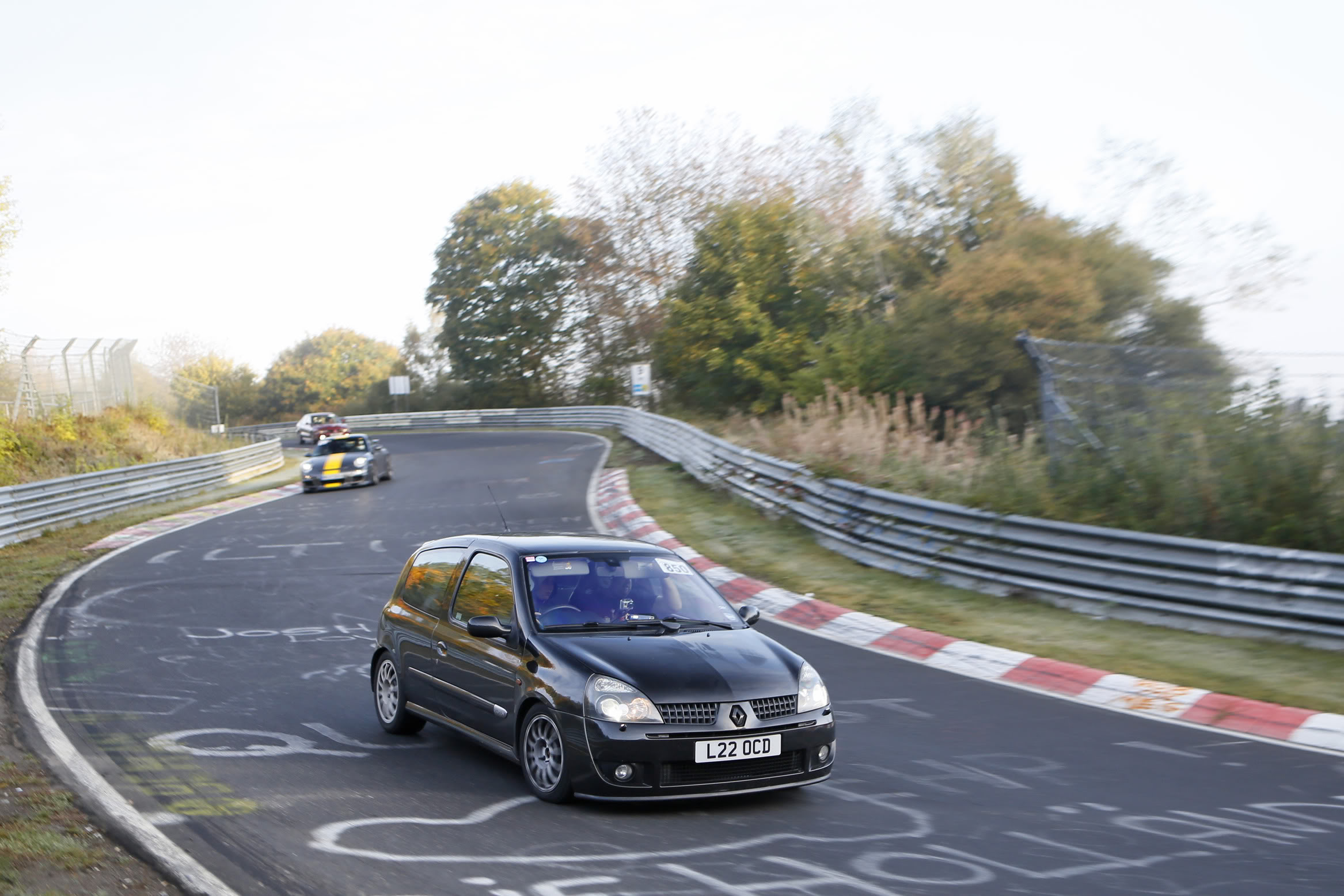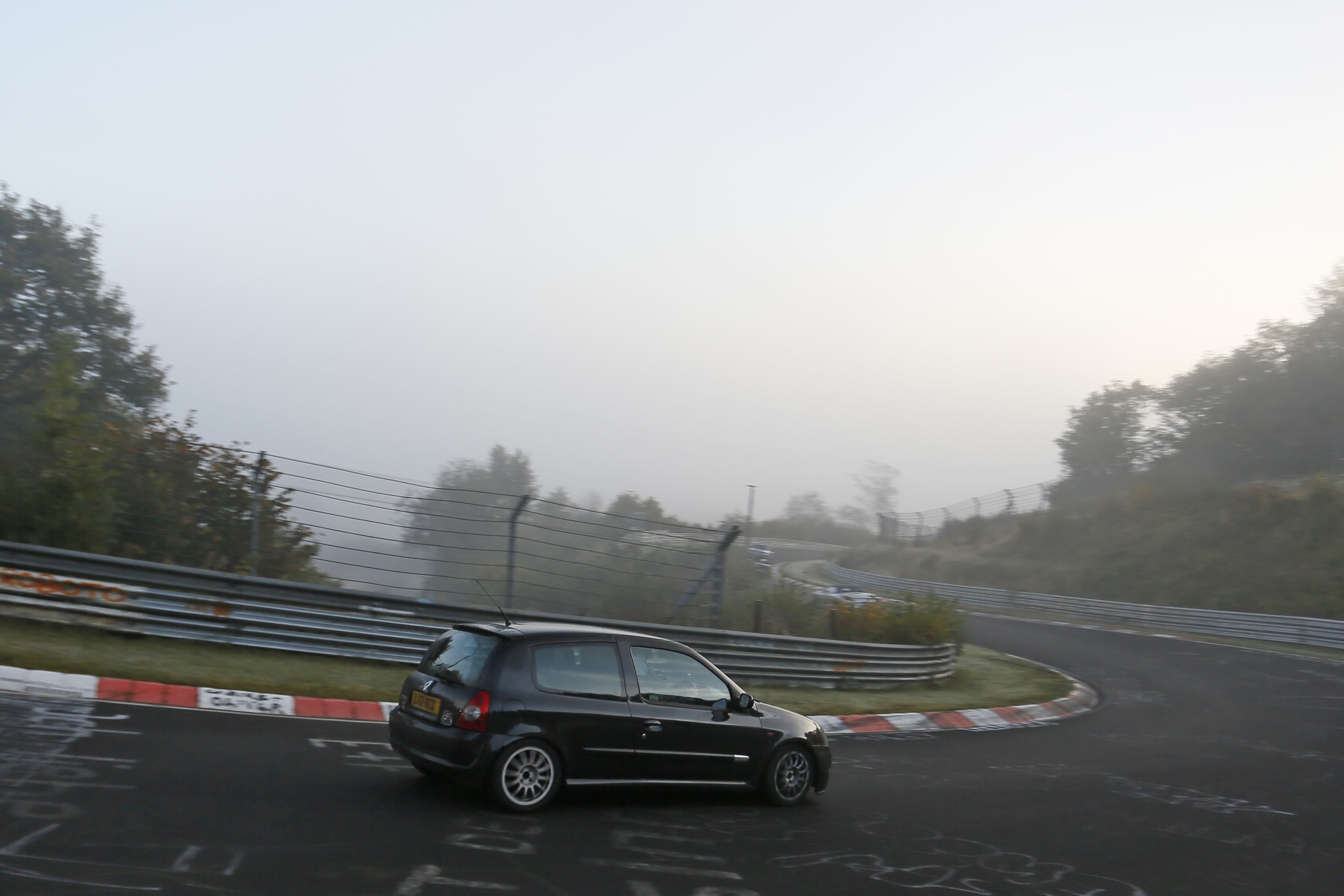 The standard of cars out that day was mental, gt3rs was literally a common car, and for the first time I can remember I think I was actually getting overtaken by more cars than I was getting past, which was a bit of a weird feeling! TBH I think I prefer the tourist days, if you wanted to really push yourself for the perfect laptime etc then the closed circuit day was far better as there were so few cars on track and the general pace was so quick, but I think I actually enjoy the getting through traffic as much as I enjoy the driving the track so for me TF days are still my favourite, not sure if I will do more closed circuit days or not, I guess I will if others are, but its not something high on my list of priorities like the TF days are.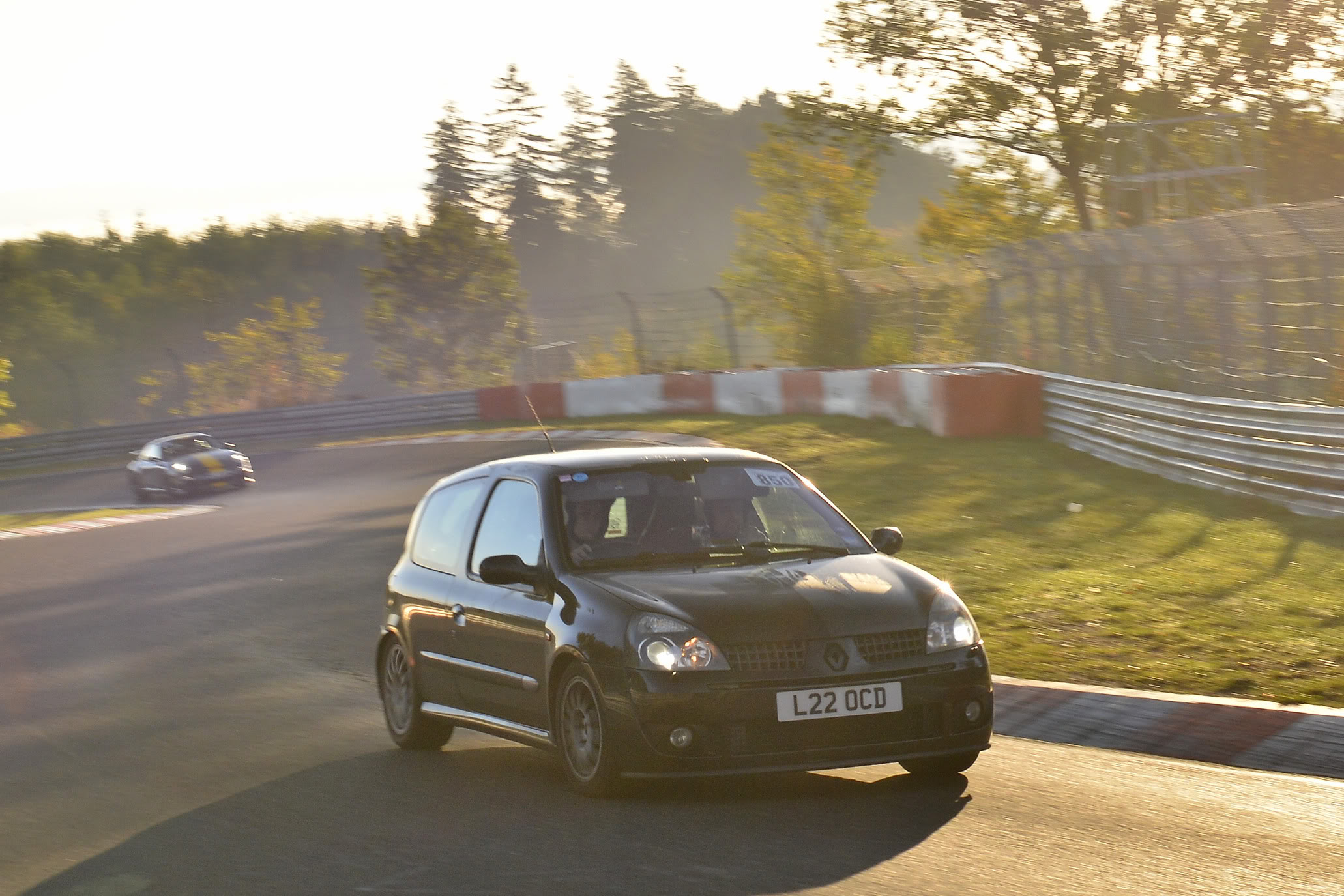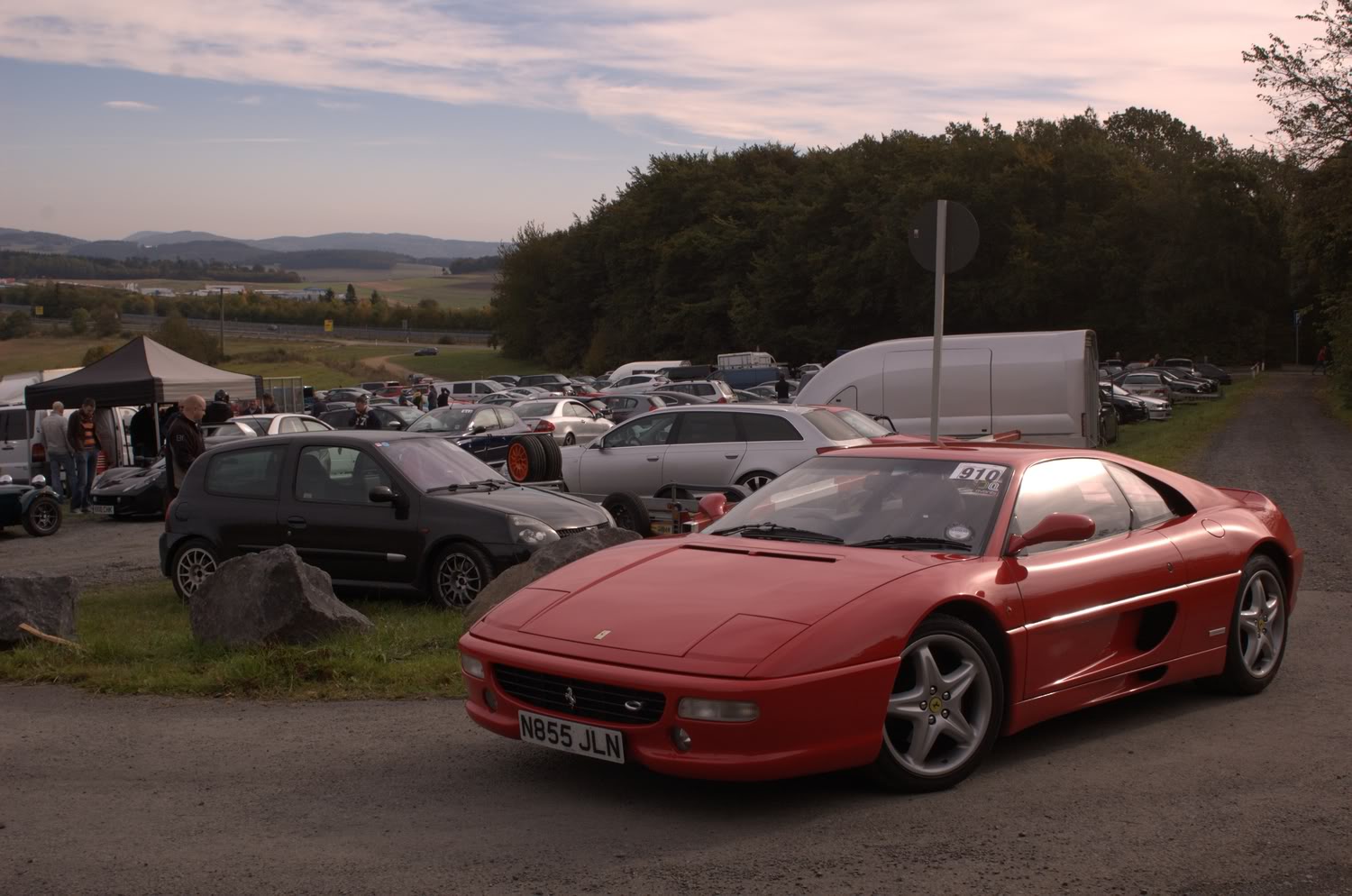 After the ring had shut we headed off to Spa, booked into out hotel and then headed over to Porkies "baller spec" hotel at the circuit for some of the most dissapointing waiter service and distinctly average steak Ive had in a long time, but at least the company was good and by this time we were getting pretty excited about Spa the next day as none of us had been there before.
It was damp initially at spa but quickly dried out.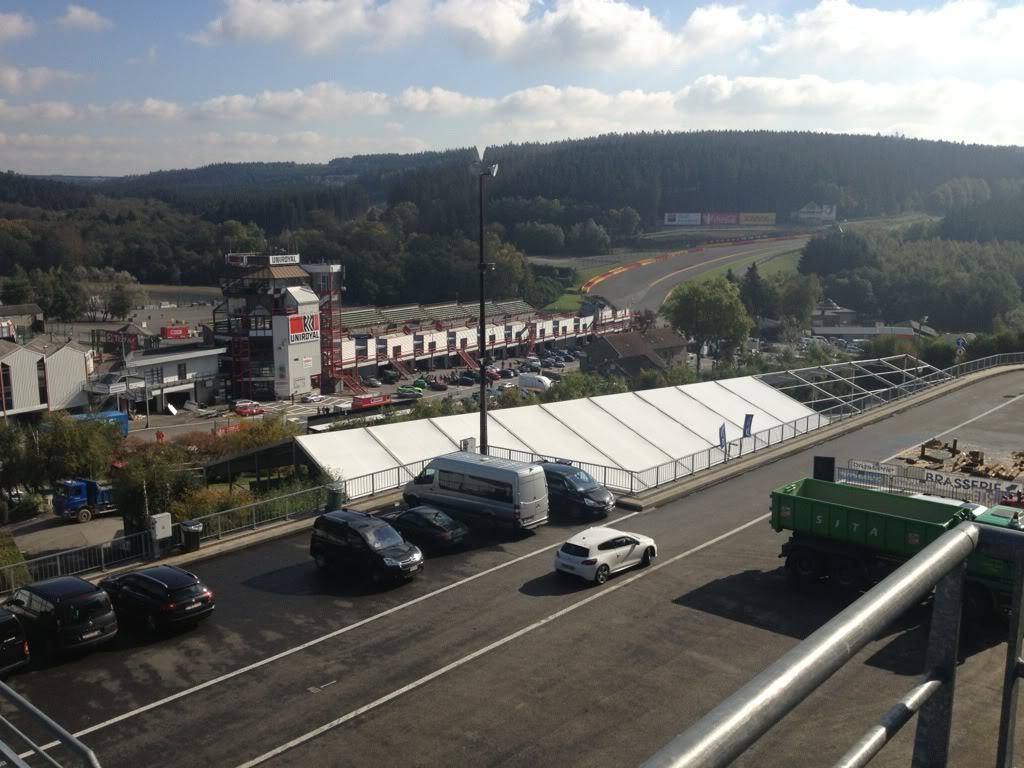 We went out for sighting laps first of all, and James had problems with his car not starting (turned out just to be a flat battery so my jump pack got it going) and I suggested he did his sighting laps in our car instead, so he jumped in the drivers seat, and I got in the passenger seat and we joined the queue, by the time we got to the front we were informed the circuit had gone green though, so instead of sighting laps for him we just had to head out on our own and work it out, lol.
At this stage (ie with us still learning the track) it didnt seem to matter what car we were in, so James actually stayed out for quite a few laps and was starting to get pretty reasonable in it by the time we came in, he seemed to love the fact there is such a good spread of torque all over the rev range and he didnt have to keep it in a very narrow rev range to work well like his car, so it was probably better for these initial laps anyway.
I got quite a few laps in after that and was starting to really get the hang of it after a bit on instruction. Ultimately though our car was out of place here, the suspension wasnt firm enough and we werent running enough camber on the car for all those off camber downhill bends which really lean you over, we had a good time and it was fine for learning the circuit in, but next time I go there I think I will probably try and take on of our other cars instead thats a bit more track focussed, this car was epic as a road car on the journey and at the ring, but spa is a place for racing cars really!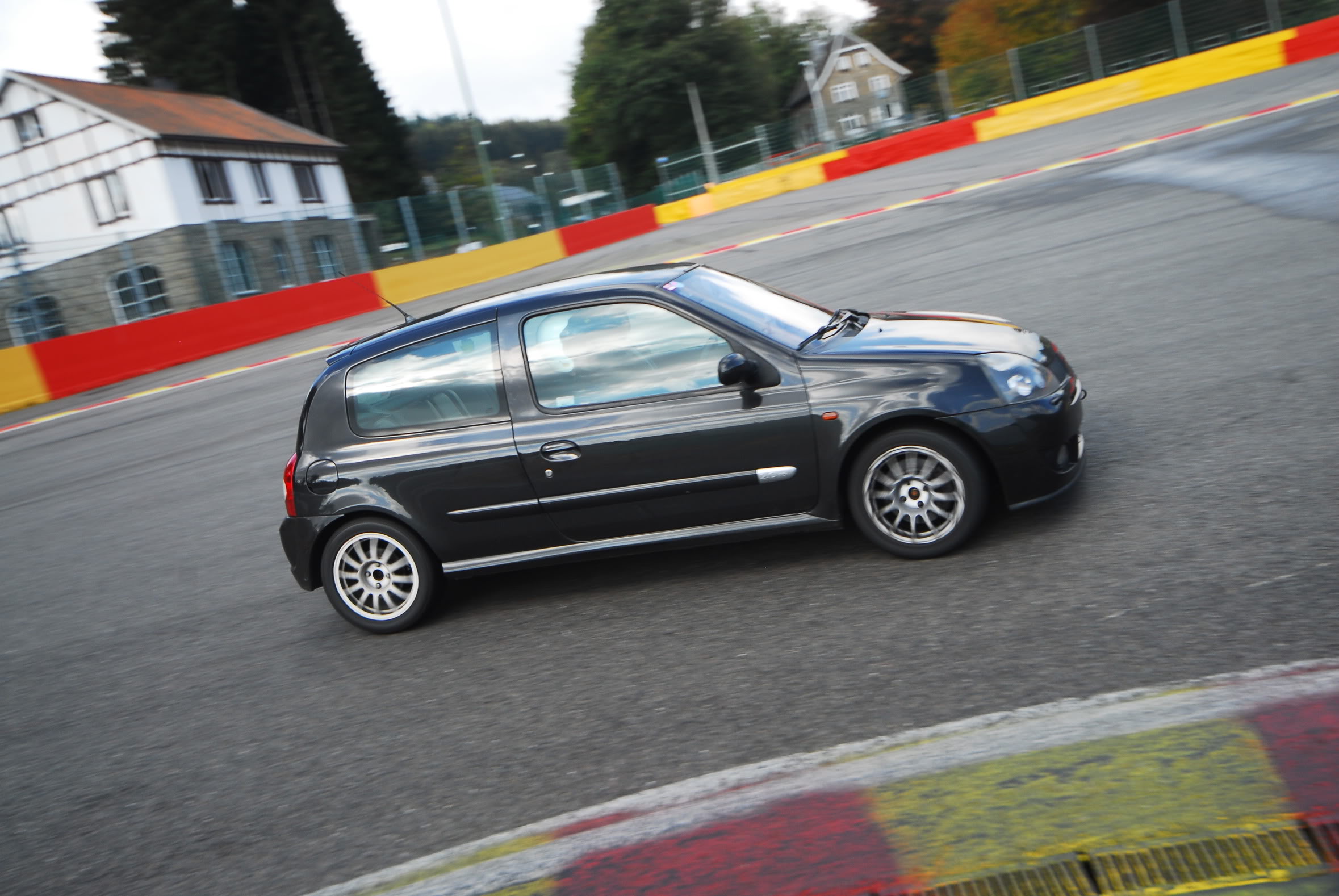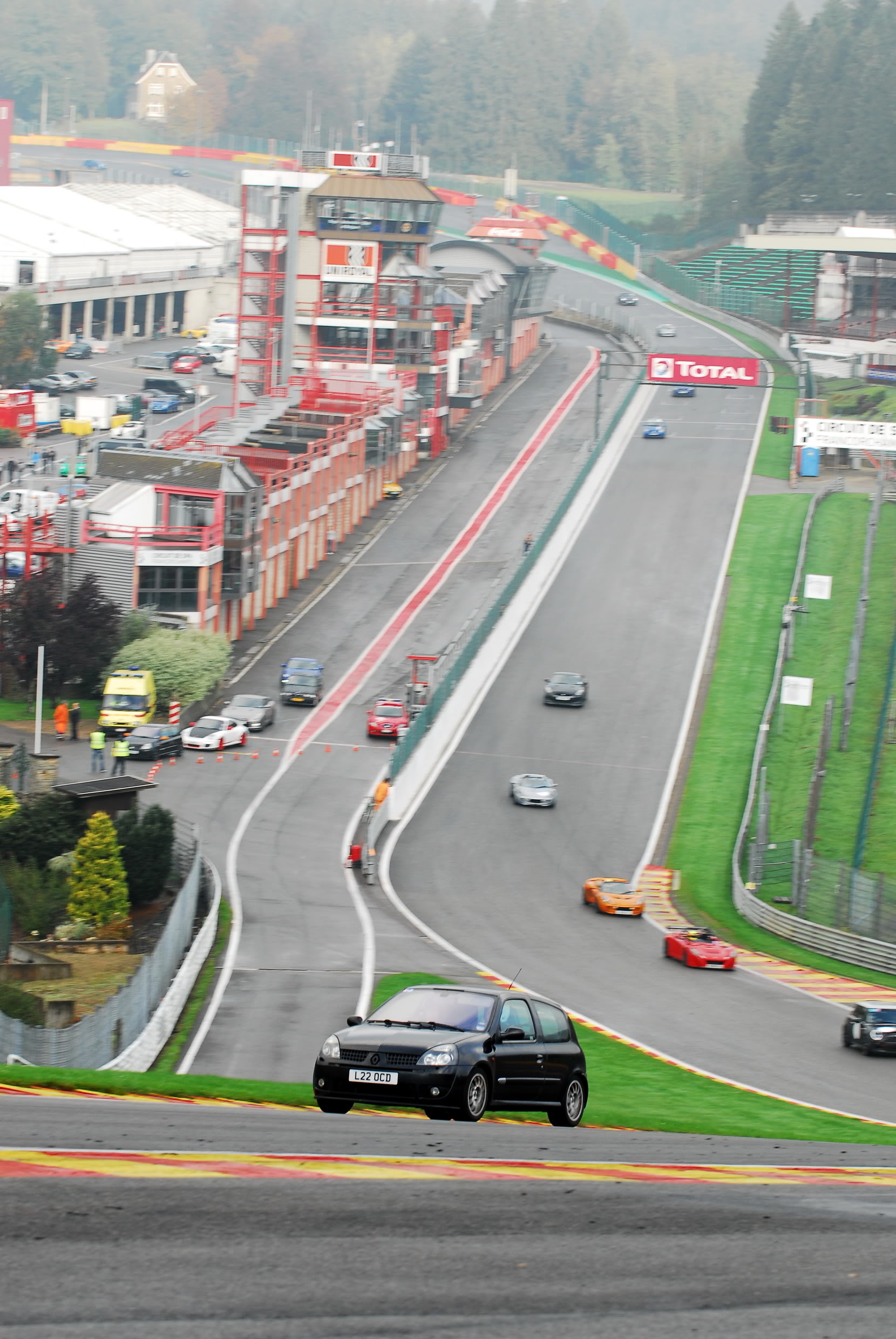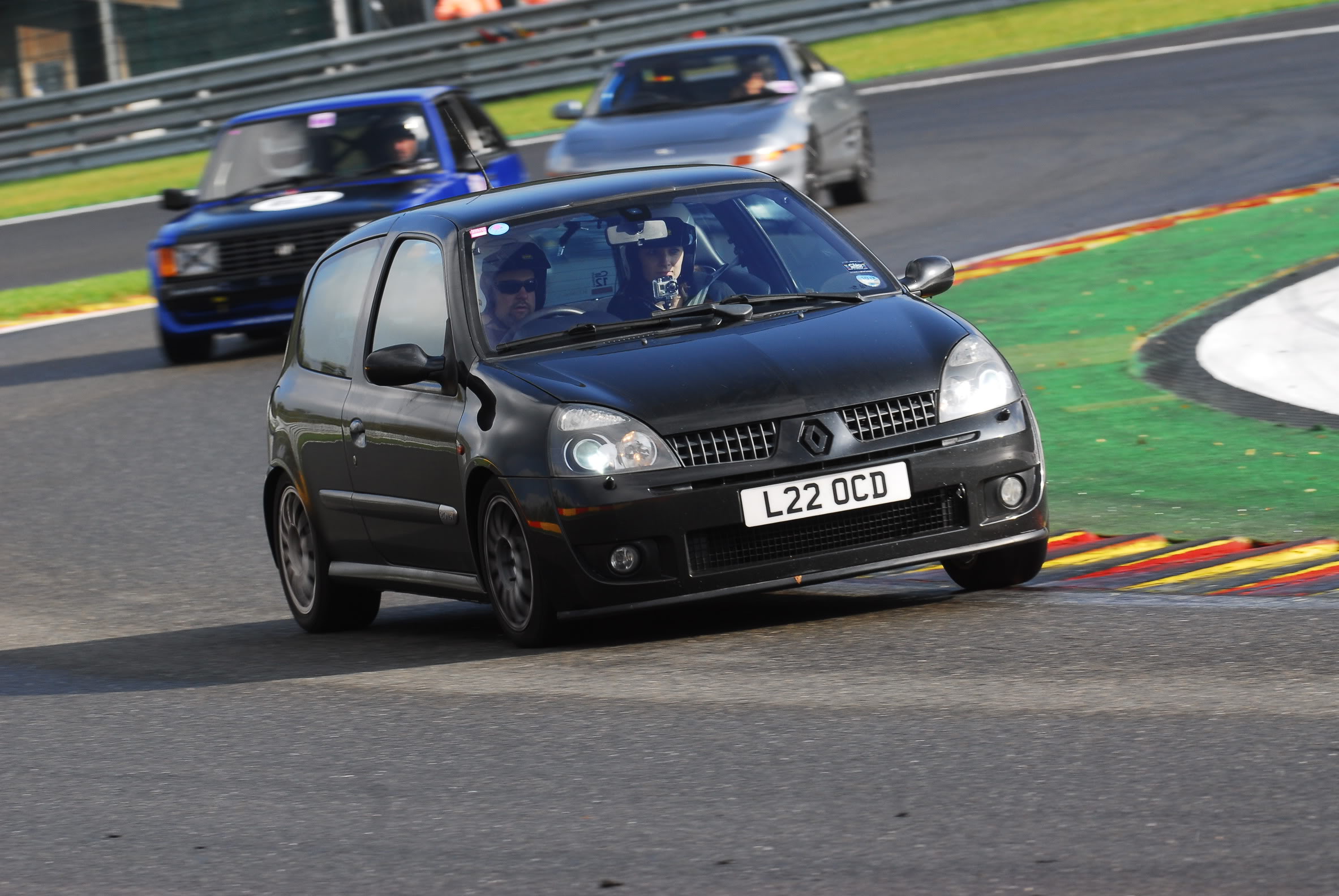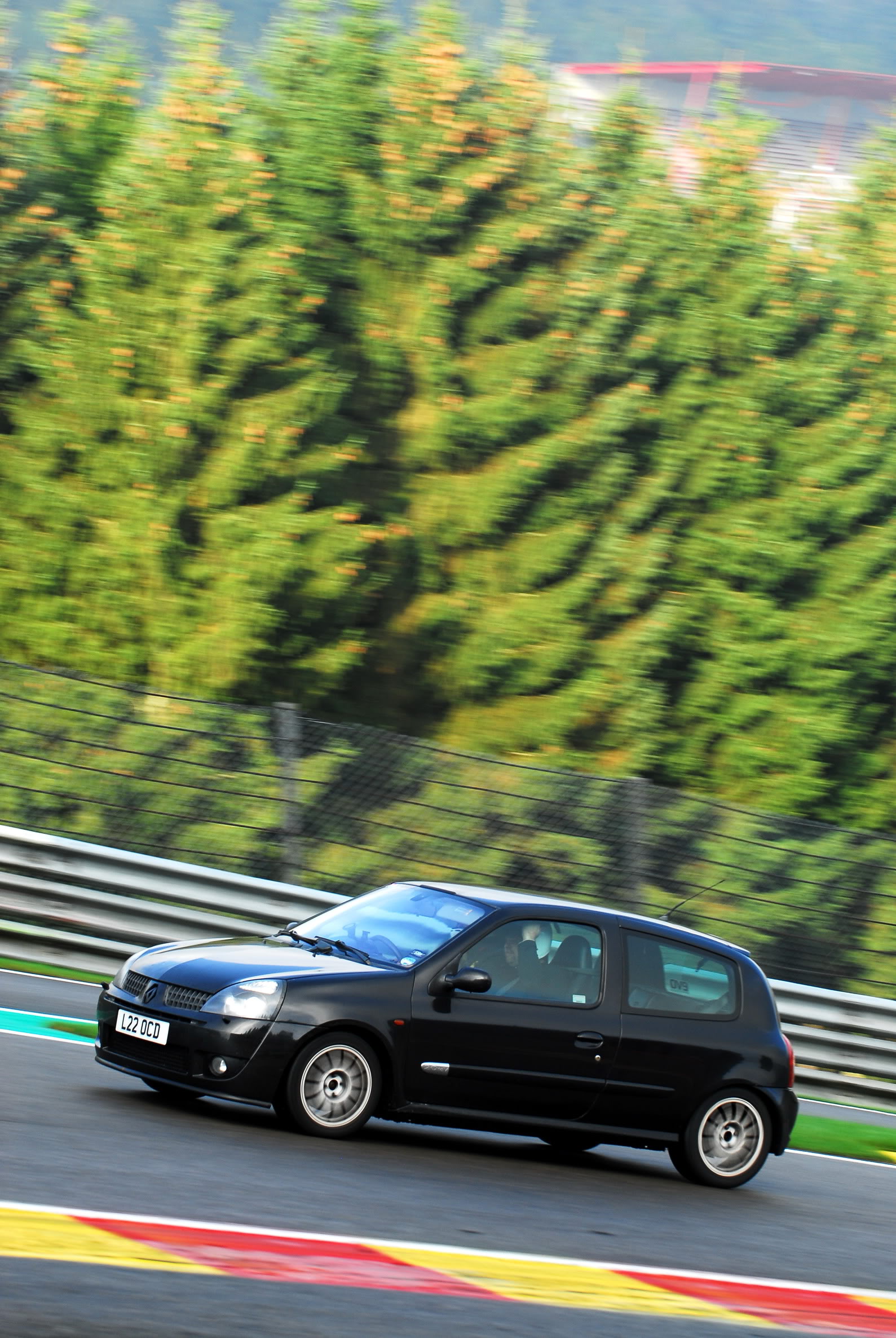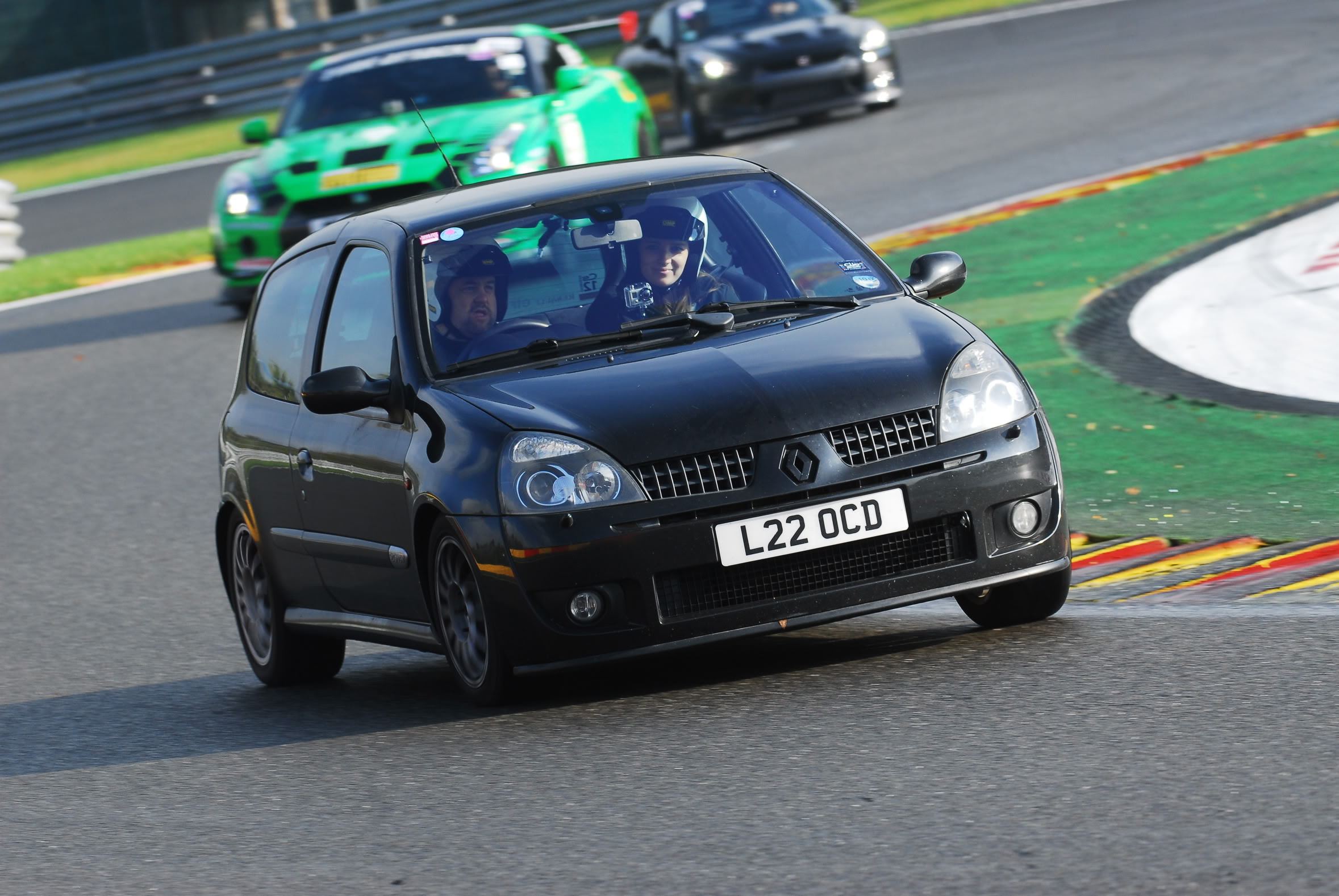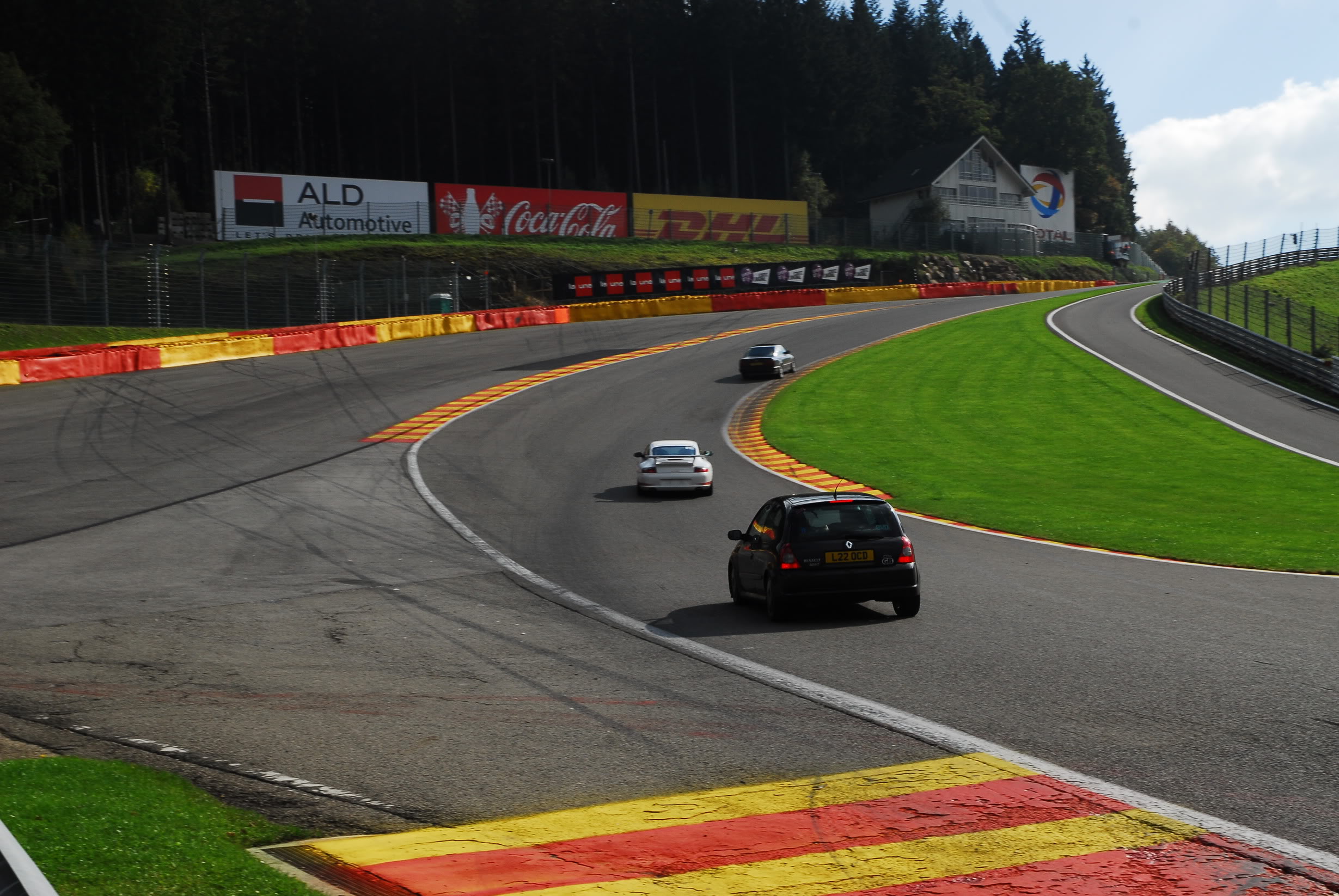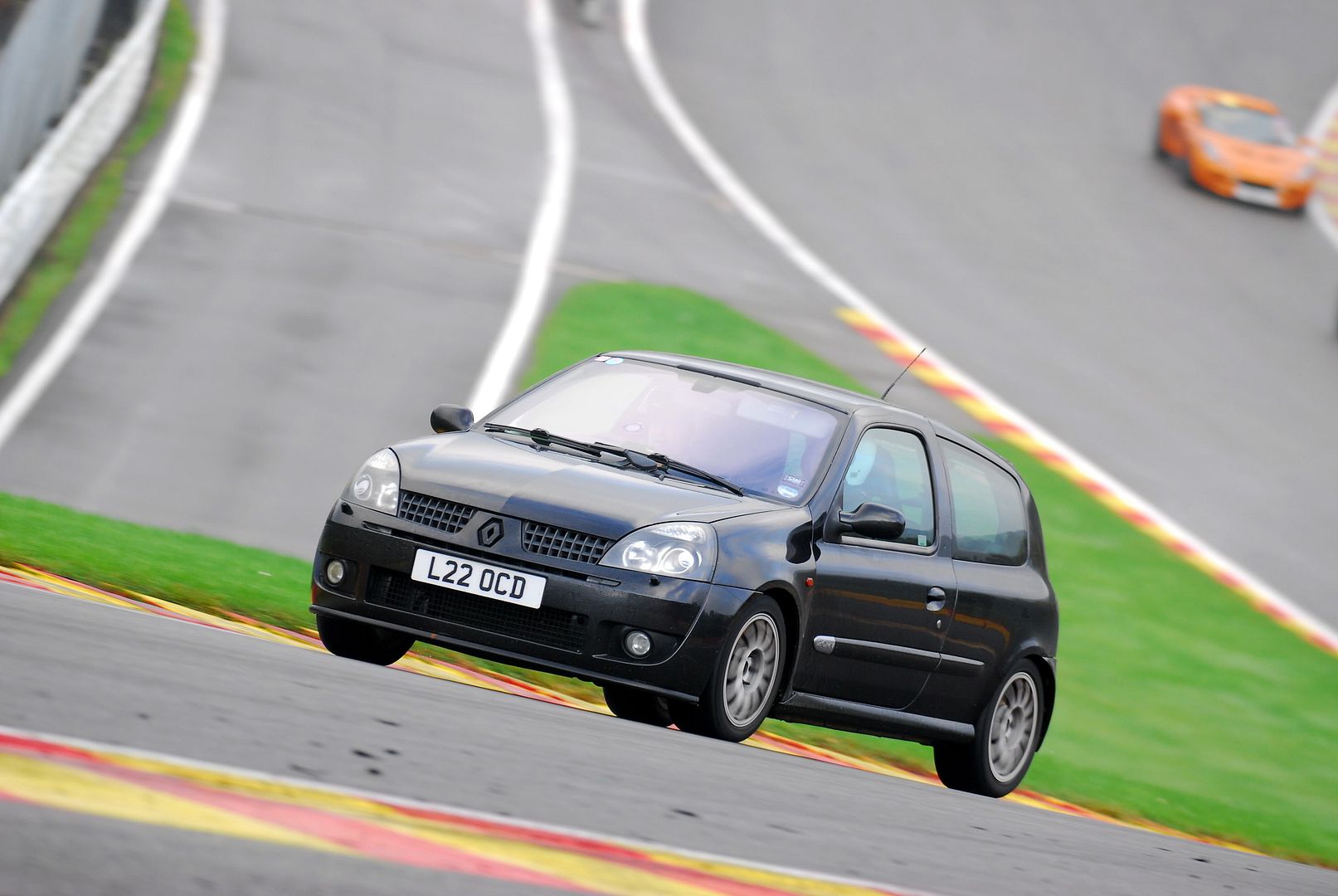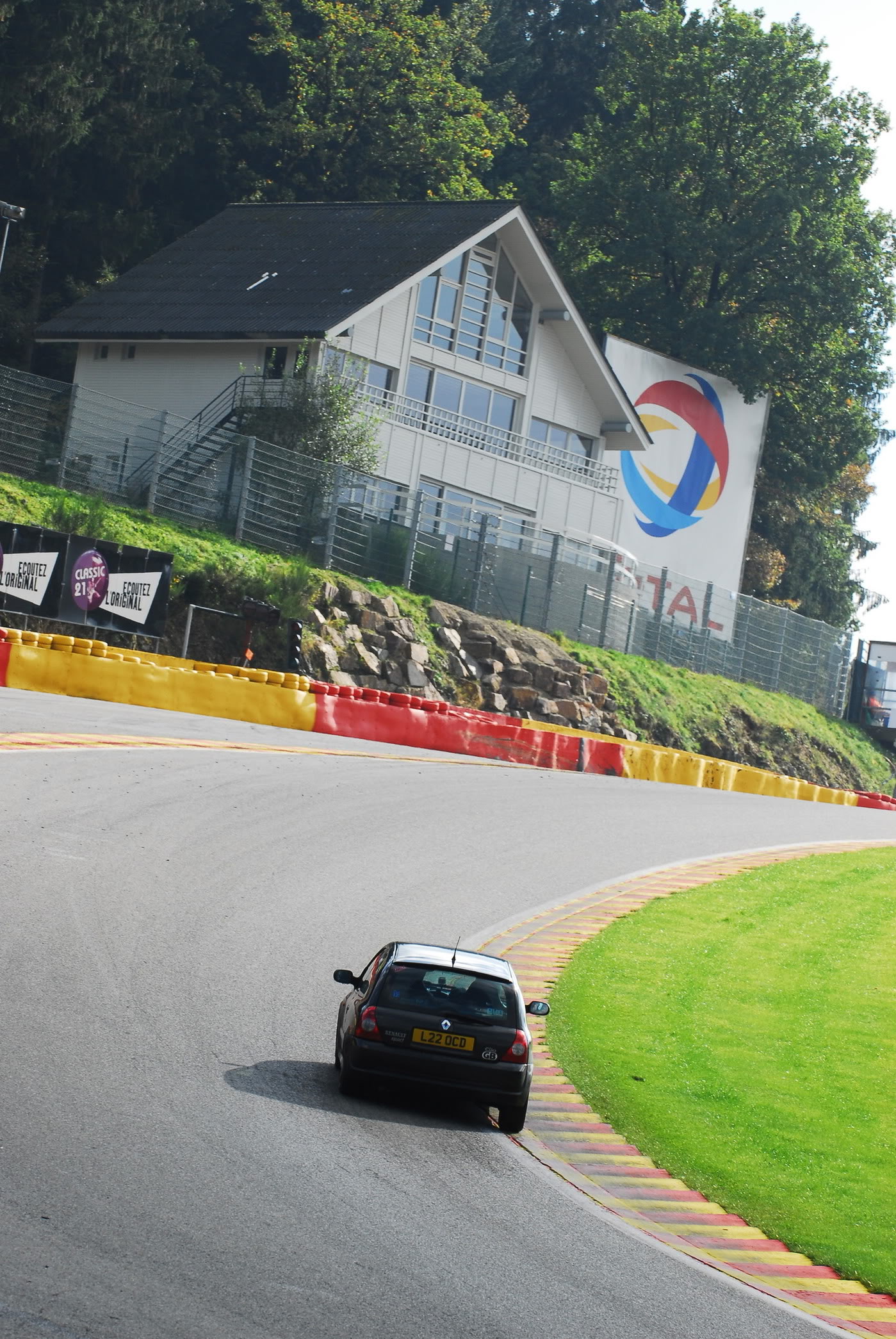 I jumped into James's car for a few laps of passengering with him and he was really starting to get on the pace after a few, we were literally passing everything on the way down the steeper sections, and he was using his "racing drivers special skill" of sitting 18 inches of peoples bumpers to get a bit of a tow off them to help keep up even when his engine power alone wouldnt havecut it, lol.
Sadly though at this point the car decided it had lasted long enough and decided to expire with a massive bang. I commented that was either the box totally gone or the engine had put a leg out of bed, he raised the clutch as we coasted and the box felt normal so that narrowed it down to being the latter.
There was smoke coming from it and I wanted to get the bonnet up and get an extinguisher on it but he wouldnt let me and told me to get over the barrier instead as it was "only a car", my argument that decent cars are hard to find but people dont matter as there is 7 billion of them on the planet anyway so lots of spares feel on death ears and we retreated over the barrier (seeing someone ashes size climing a 5 foot high tyre wall was piss funny, lol) and waited for the marshal.
As this point it was obvious we had made the right decision as a lambo lost it and started heading towards us, although luckily there was no contact it did show that James was right about getting over the barrier.
It was just before lunch anyway at this stage so we stayed there for about 15 mins watching Porkies exige go round with Lesley waving at us from the passenger seat grinning everytime she went past, she now wants an Exige S I think, and TBH I cant blame her, that thing is epic, I really fell in love with it when I took it out at bedford recently, but TBH its just too much money for me to be throwing around a track, I cant afford to be binning cars of that value and the golden rule on track is if you cant afford to crash it then dont take it out of course!
XXXXXXXXXXXXXXX pictures of james car on track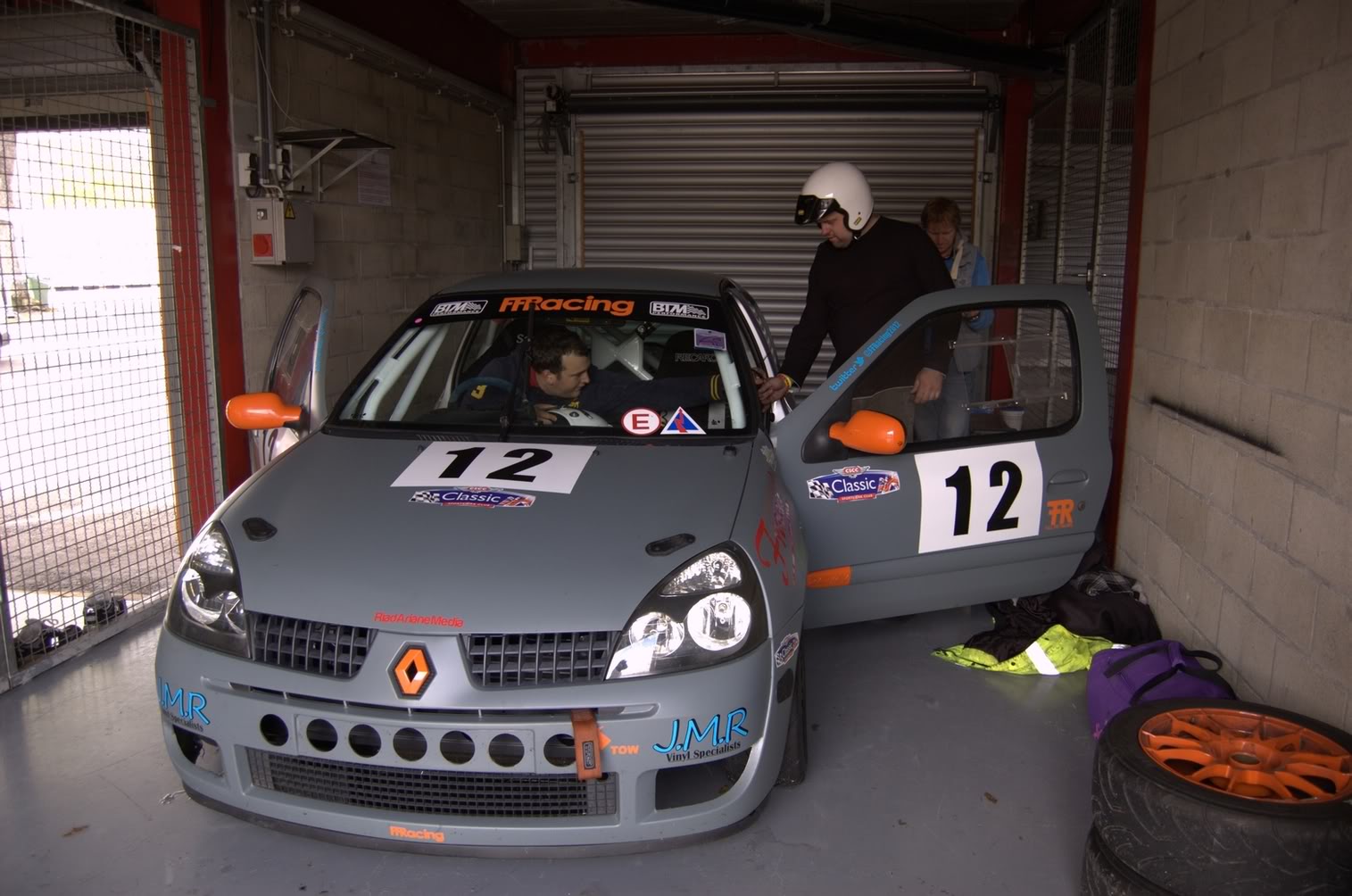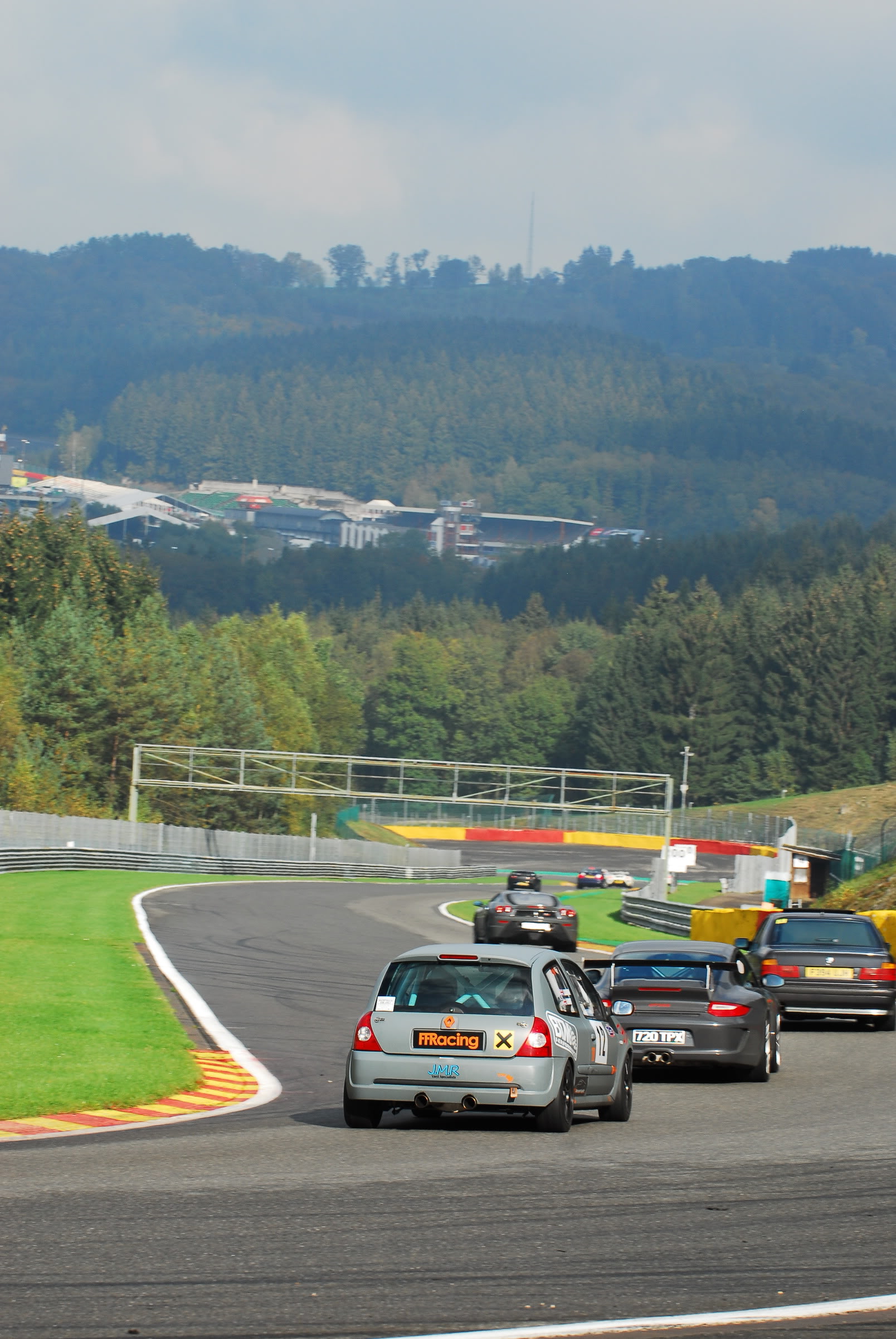 (he made short work of getting though that queue of epic cars, he is VERY quick in that thing!)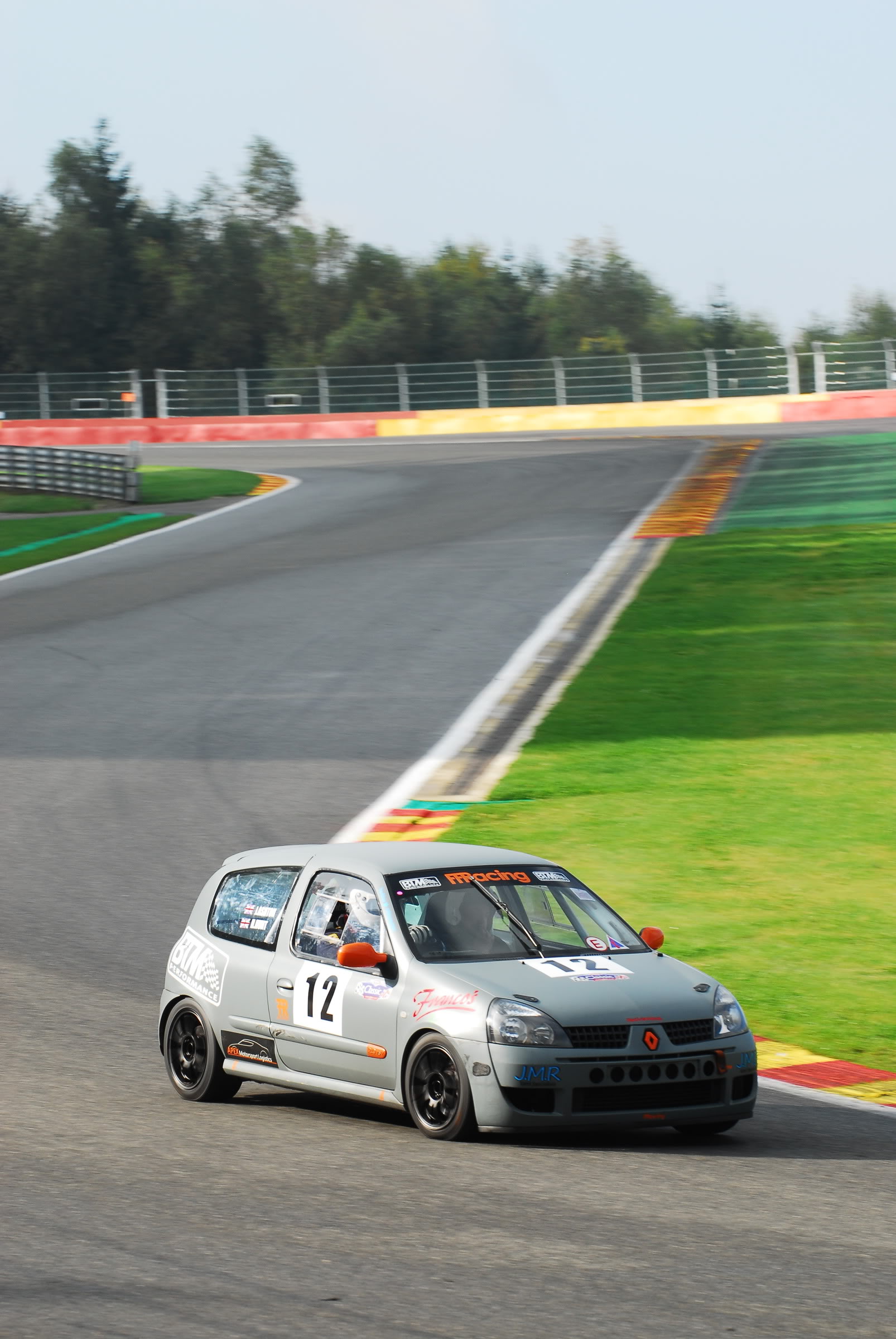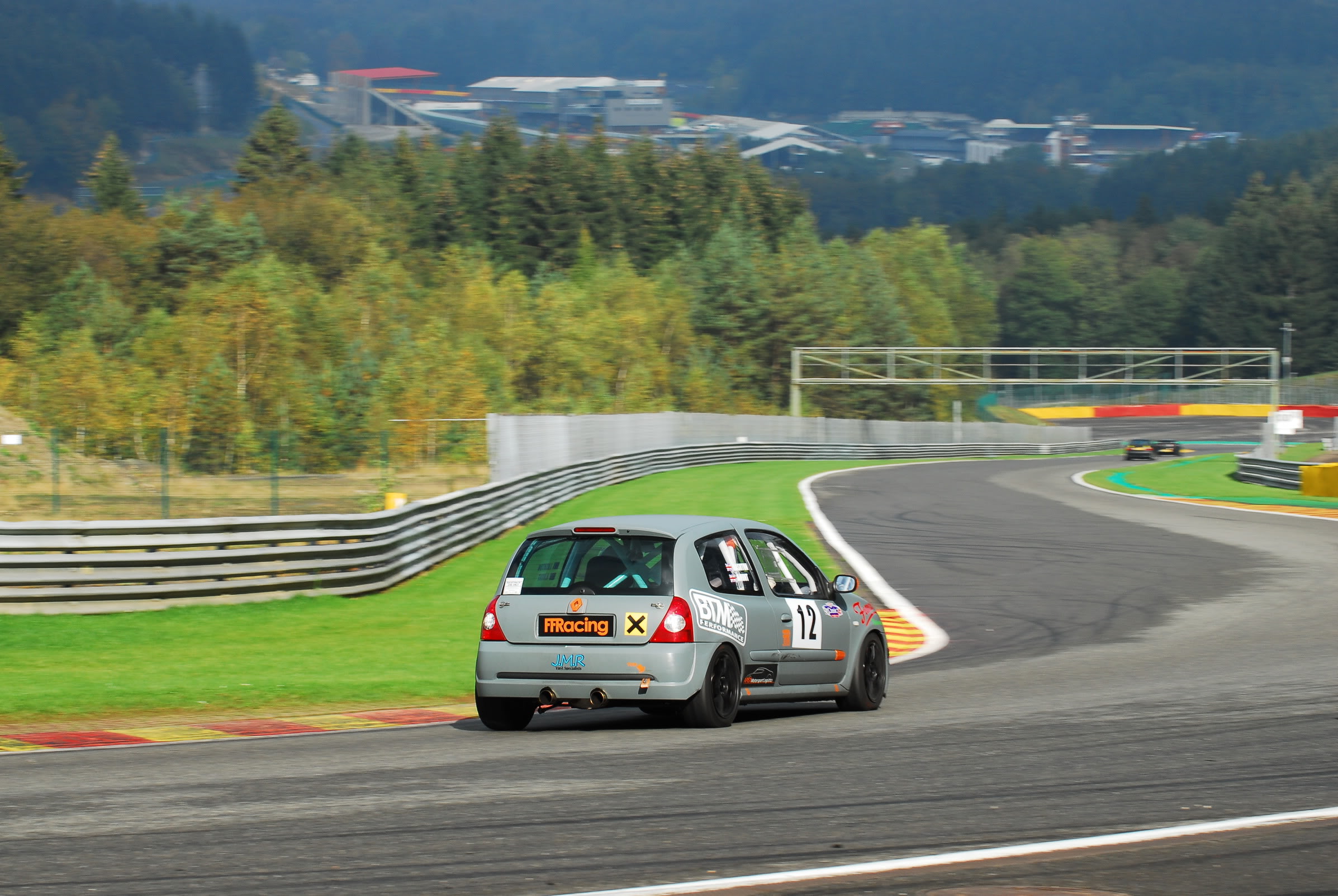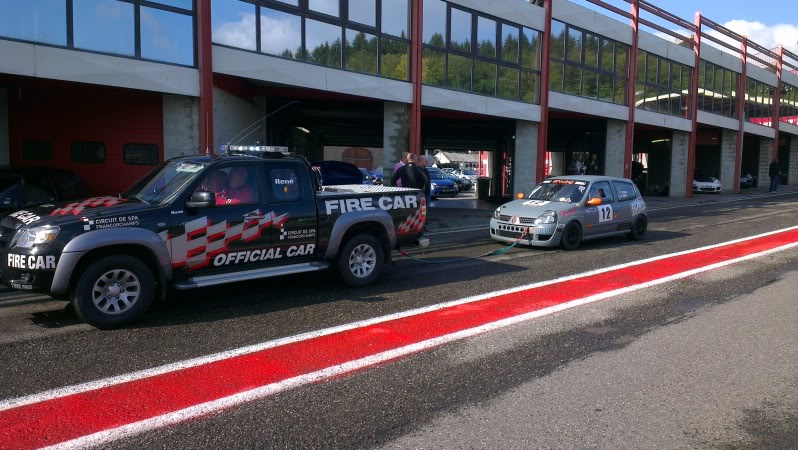 Once the circuit was quiet I had a look for damage while we waited for the tow truck and promptly found a hole in the block which pretty much sealed my diagnosis of it putting a leg out of bed, number 2 conrod had obviously decided to make a break for freedom as there was a hole visible!
I got in a few more laps, and then got a passenger ride out with Renton in the westfield (I didnt fancy driving it for the reason I just gave about binning cars you cant afford on track, lol) and then stayed in the passenger seat while porkie jumped in the drivers seat and proceeded to really have it, we stayed out for ages, and I can honestly say that was one of the best passenger rides I have ever had at any circuit in any car, it was just a total pleasure, the westy was just perfect for spa, the grip and power combined with Porkie's fearless ability really came together to put in some fantastic laps, hopefully some of which he managed to catch on camera.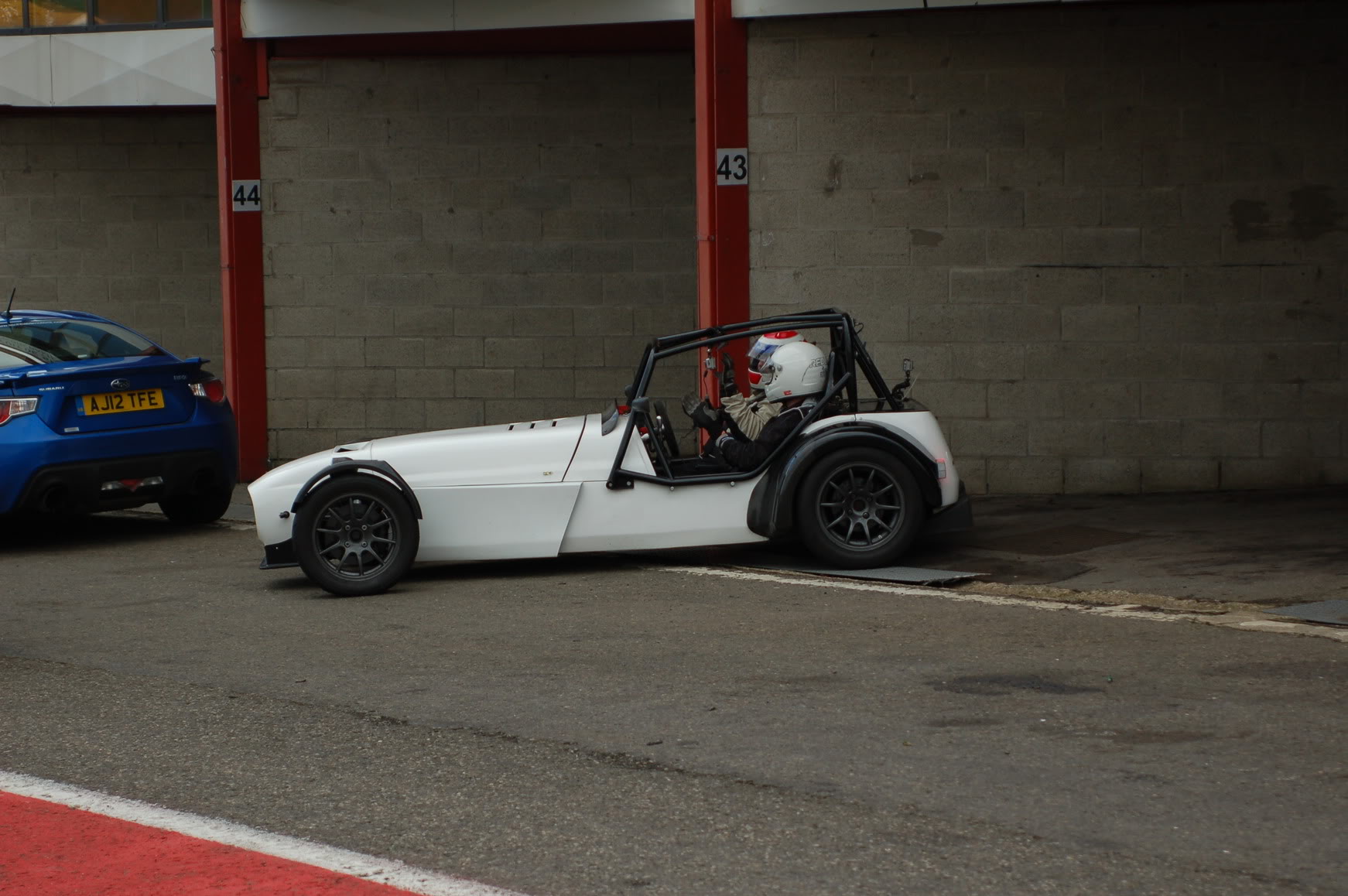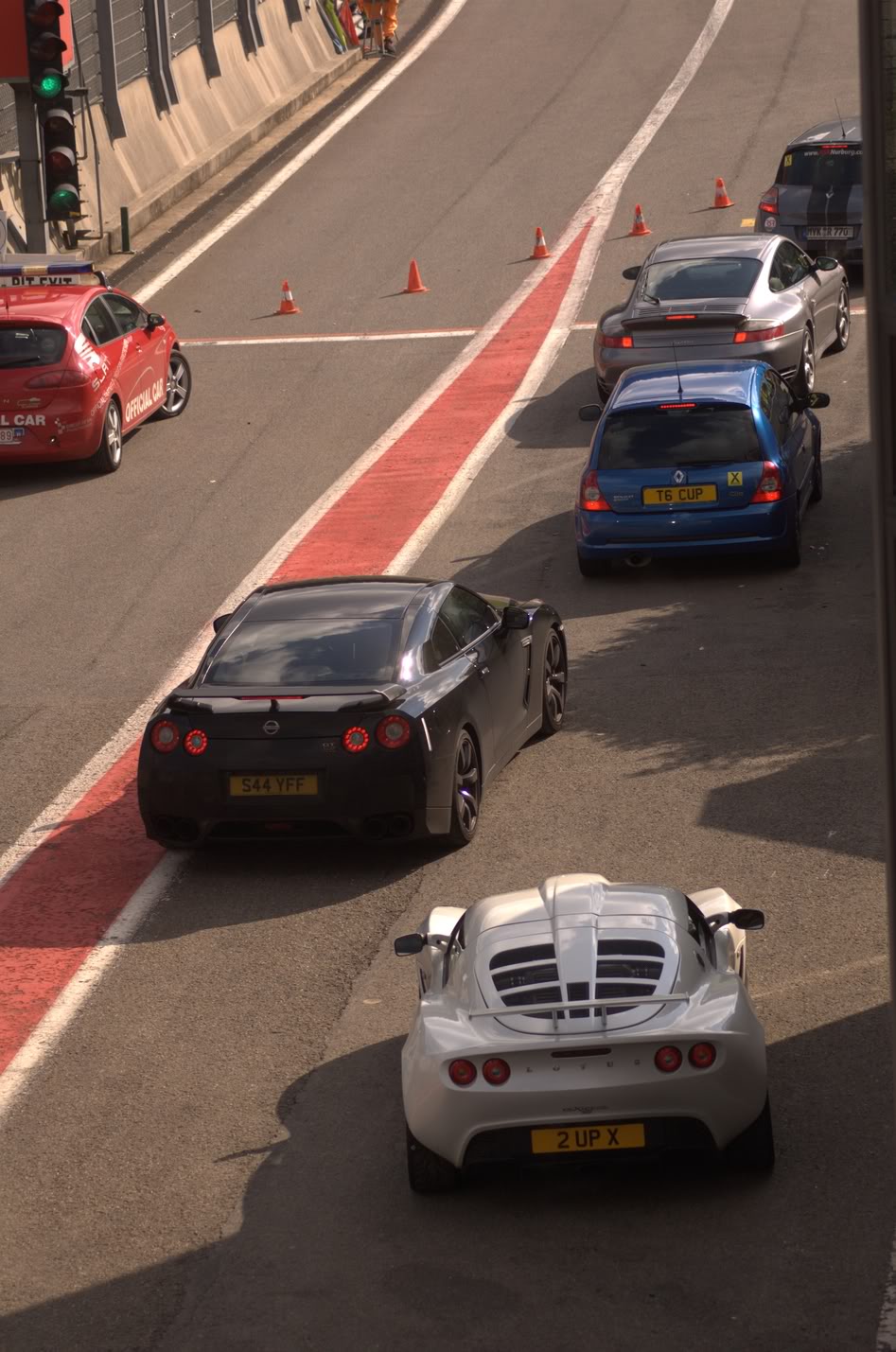 Then it was time to head off home, after a truely epic holiday with some fantastic people.
A bit of a satnav messup (or my not paying enough attention problably, lol) saw us lose a load of time and we were in a situation of having just under 200 miles left to do in just under 2 hours, but luckily we arrived still with a good 10 mins to spare, god I love that car so much, it sounds silly when talking about the clio like its a GT car or something, but it really does just effortlessly and comfortably soak up distance at high speeds and you always now that if you do need to swerve or anything there is not going to be a problem doing so with such a sorted chassis underneath you.
Here are a few extra pictures from the journey as well if anyone is bored enough to have managed to make it this far without clicking off onto another thread by now!