Hi everyone!
So this is the start of my 'thread'. I won't call it a build thread for now as I won't actually be building much (I don't think so anyway), but rather just a collection of my two RenaultSports. My very first post was a review for Steve @RSportsCars, so I shall lift some of that across as a means of a good introduction:
I had always liked the RenaultSports, my first car was a Mk2 1.4 Clio and my third car (and current car at the time of purchasing the 197) a Mk3 1.4 Clio (with a Micra in-between- don't ask!). I had always looked at 172/182s along with the 197/200s. I would often browse the classifieds on PistonHeads and see what was available. I had been browsing 1*2/197/200s waiting until I was old enough to get an insurance quote the wasn't half ridiculous. I always had in my mind that my 'dream' Clio was a Full Fat 200, with the Recaros and probably not the Cup Spoiler/LY (I didn't want to draw tooooo much attention to myself).
Cue September last year, completely not in the market for a new car having bought a 1996 Mazda MX5 9 months or so previously and I stumbled across this car that I could not believe. A 2007 Nimbus Silver 197 F1 Edition with 1 previous owner and 6,000 miles. I sent the link to my Dad as I always did when I stumbled across great cars and thought that would be the end of it. I am still not quite sure how we ended up there, but the next thing I knew my Dad had told me it was a great find and at least worth investigating and called the advertising dealer 'R Sport Cars'. We turned up and met Steve to find the Clio sitting outside, gleaming away in the sun. It was at this point I knew I was buying that car. We met Steve, had a little chat, got showed through the car and then Steve offered to take me out for a drive. All seemed well, I mean, the car had only done 6,000 miles!! We returned from the drive, a deal was done and Steve delivered the car the following weekend.
As soon as the car arrived, I cleaned it, put on a coat of wax and tucked it away in the garage (don't worry, the bike you can see is very, very securely attached to the wall):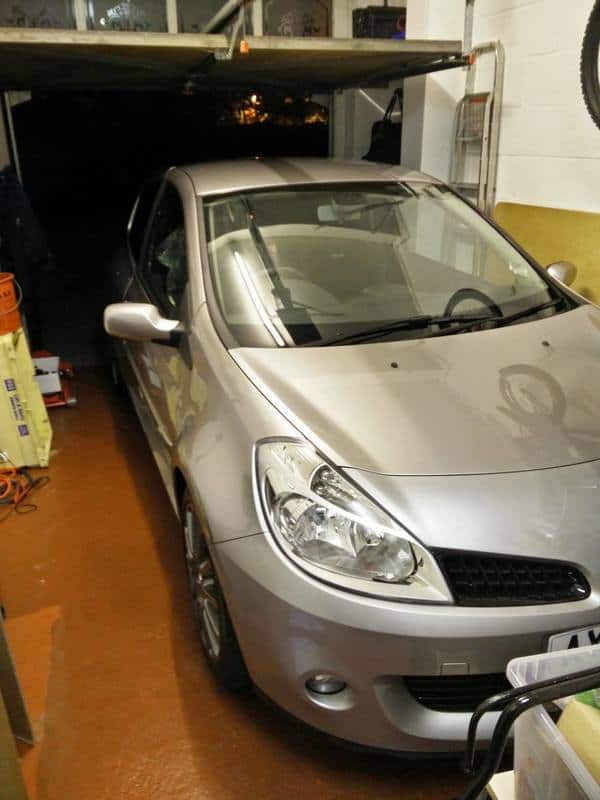 Then I got it connected up to a Smart Trickle Charger and put a Classic Additions cover on top: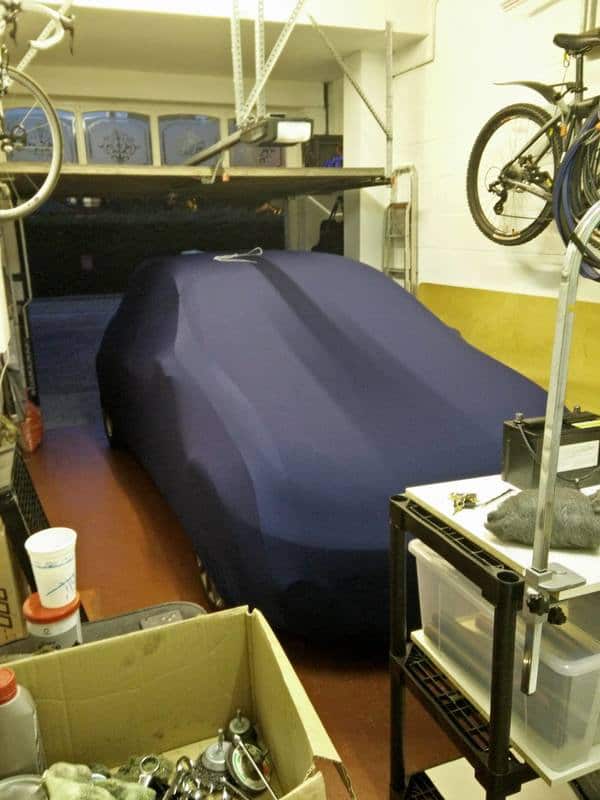 Happy Days.
This was in September 2015. The car has only ever been used during the summer, on dry days, averaging around 800 miles per 'year' (summer) by the gentlemen who bought the car from new. As such, I was not going to even consider driving it through the winter and was lucky enough to have a few other cars to use instead. The car didn't come out until April 2016- thats right, it sat in my garage for nearly 8 months and I still hadn't been for a drive! I used to run the engine up to operating temperate once a month and let it idle for a while, just to make sure everything stayed fresh and the smart trickle charger keep the battery in good health.
More to follow!