Was never much of a story teller so will keep this short and to the point. Started off my driving life in a 1.2, yeah was pretty awful. Having to pretty much drive flat out to get anywhere. Decided ones insurance on a sport become more of a viable financial option that would be my next step. After someone nicely writing my 1.2 off, I took my insurance money and got my self a Black Gold 182.
My 1.2...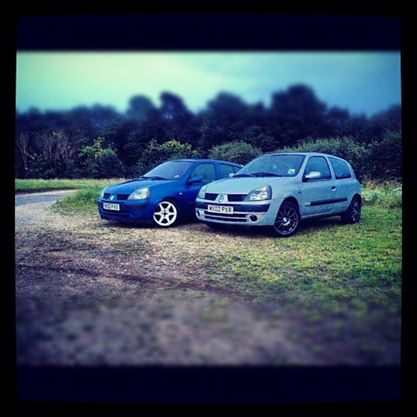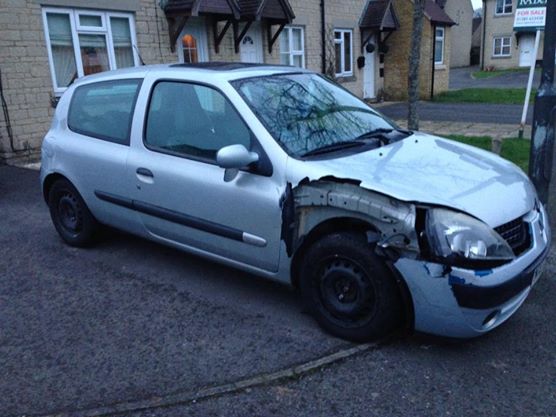 My first 182....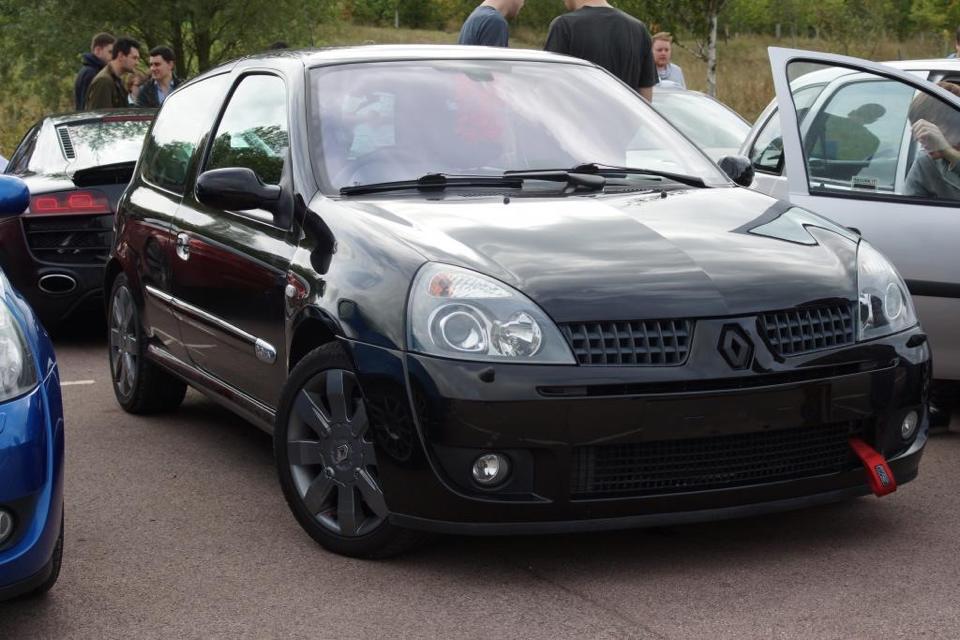 ADDED 3/2/15
I got a clean, low mileage example and was only just down the road. Purchased it for the grand sum of 3k, paid my insurance of 1k and I was well away. The list of mods In wanted to do began to grow rapidly... Unfortunately it was not a fair tale ending. about a month after purchasing it, on return from Tesco the car decided it had had enough, dash lit up like a Christmas tree combined with a metal on metal screeching and a horrendous knocking. Car was still driving fine but I knew something was seriously wrong. Checked the oil level and that was OK, seems best thing to check first in these situation. Come to the conclusion the engine had spun a big end bearing, come to this decision after consulting Dan Potter at SJM even though the engine only had 54k on the clock. Coincidentally Dan had a little run in with a BMW on a track day so had an engine going from a 172 CUP. Got the car recovered down to him..... Decided seen as the engine was on the table, had Dan fit brand new Cambelt kit, Aux kit, Dephaser and Clutch just to be sure. Left the car wit Dan now being a couple quid lighter and awaited him to do his thing.
Week passed and received a call from him to say car was done. Got a lift down and collected the car, fired her up and she purred beautifully. Couple little issued needed addressing that was sorted but I carried on my Clio story.
Everything pretty much went of fine until December 2013. Coming home from seeing a friend, wasn't really driving to the conditions. Tried entering a roundabout a bit more aggressively than my Toyo T1Rs could handle. The roads were wet and greasy and I had savage under steer, ended up going through a sign and 2 trees. The second tree was to much for the Clio and stopped me and ended up spinning me around. Police arrived and took me to the local hospital and was given the all clear from the doctor. Remember the police officer looking at the car and looking at me and saying how lucky I was as he was surprised I has no injuries. The only thing that haunts me to this day is straight after the impact and I had come round, I could see smoke from the bonnet and could feel my leg pinned. Personally I felt like that was the end of me. I know it sounds a little stupid now but when you have just hit something head on at 60mph and had a face full of airbag you think of things like that. Typical me before trying to get out, I had to climb our the window, I sat there looking for my phone hoping it wasn't broken, just wrote of a 3k car and I am worry about a damn iPhone.
The Crash....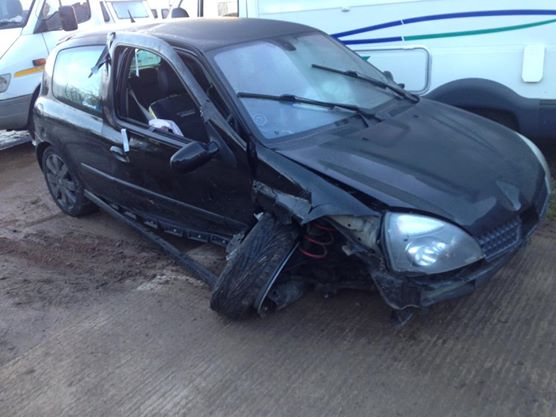 The Curse...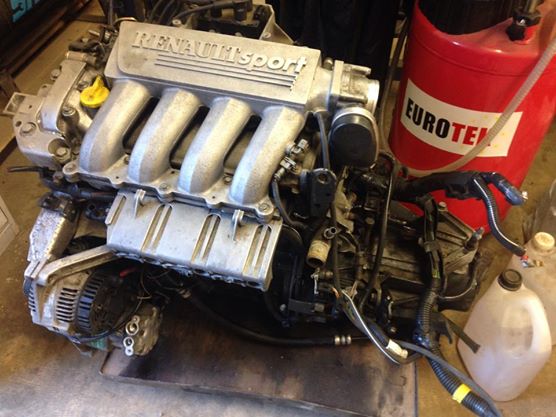 Anyways enough of my little sob story. Seen as I was the only one involved, the Police didn't charge me and I decided to not bother going through the insurance as it was my own fault. Didn't fancy losing my 2 years no claims so took it as a life lesson. A lesson that cost me a lot of money, so I decided to break the car for bits. Engine I got from Dan was still good so I sold that on. Seems a bit of a cursed engine that. Went for about 3 month without a car in the end.
March 2014 I was offered a Black Gold 182 down in Plymouth at a price I couldn't really refuse. Took the 3 hour drive to have a look, took it out for a little test drive and all seemed good. Signed over the paper work and all was done. Went out to start the car up for the long journey home and nothing. Car wouldn't crank at all. just test drove it now it wont start. Went back to the guys door and knocked and told him it wont start. He had a little go and seemed perplexed as I did, in the end we got it started. Put it down the a duff battery what wasn't to much of an issue as I had a Bosch S3 one off my old 182 sat at home. Got the car back and gave it a little wash and all was good. Oh it needed a rear tyre as it was like a racing click but for the money I was happy. to cut an already long story short since then i have been to a couple meets and met some great people.
After a good clean....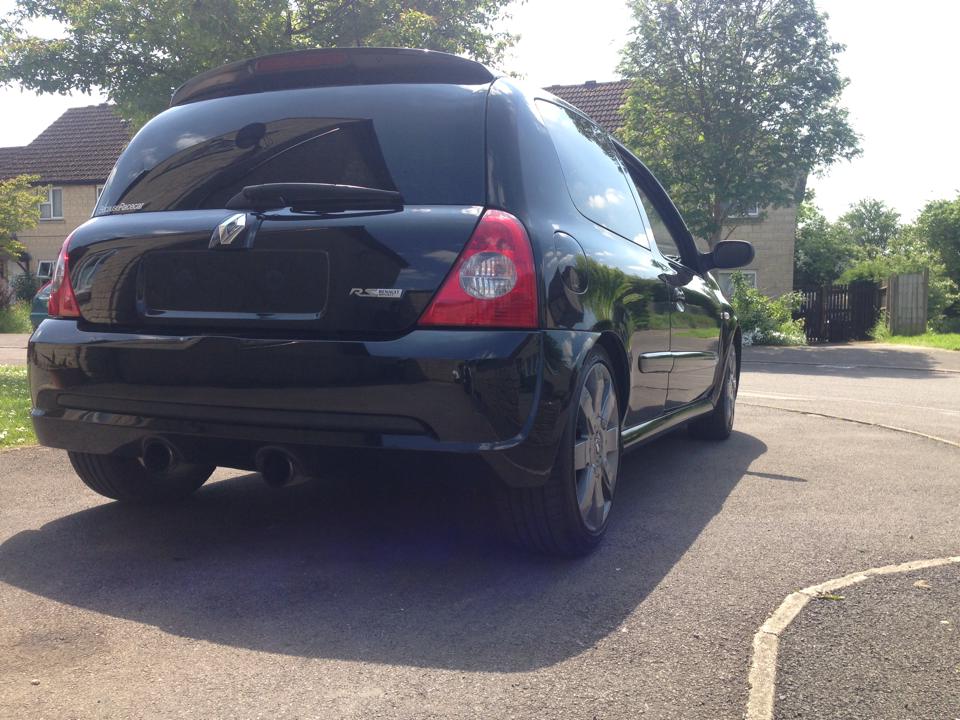 God I miss summer...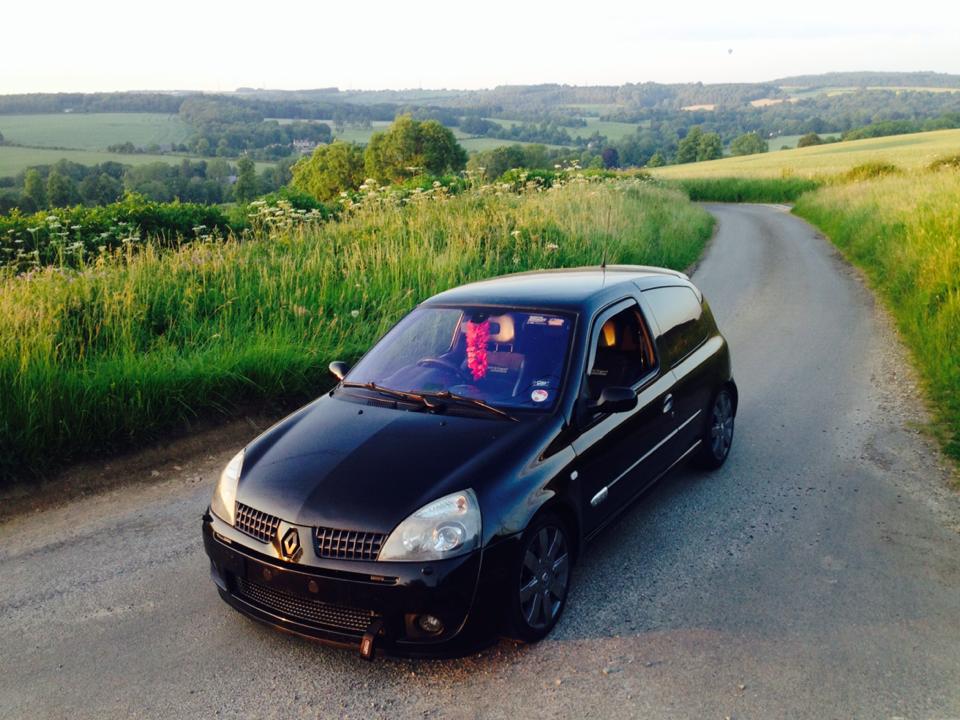 Current list of mods are;
Parrot in Car Bluetooth
Cooksport springs
V6 Airbox
Straight through exhaust
Carbon interior inserts
3D printed Washer blanks
Full service including Plugs, filter and some Fuchs Titan oil
Painted inlets
Battery cover
Kept the mods pretty simple so far, I had alot of money problems last year so couldn't spend as much as I would have liked. I have a couple bits awaiting to go onto the car. These are
FK 20mm Bolt to Hub Spacers
10mm PMS rear stub spacers
MAPS Conversion Kit.
Spacers and studs...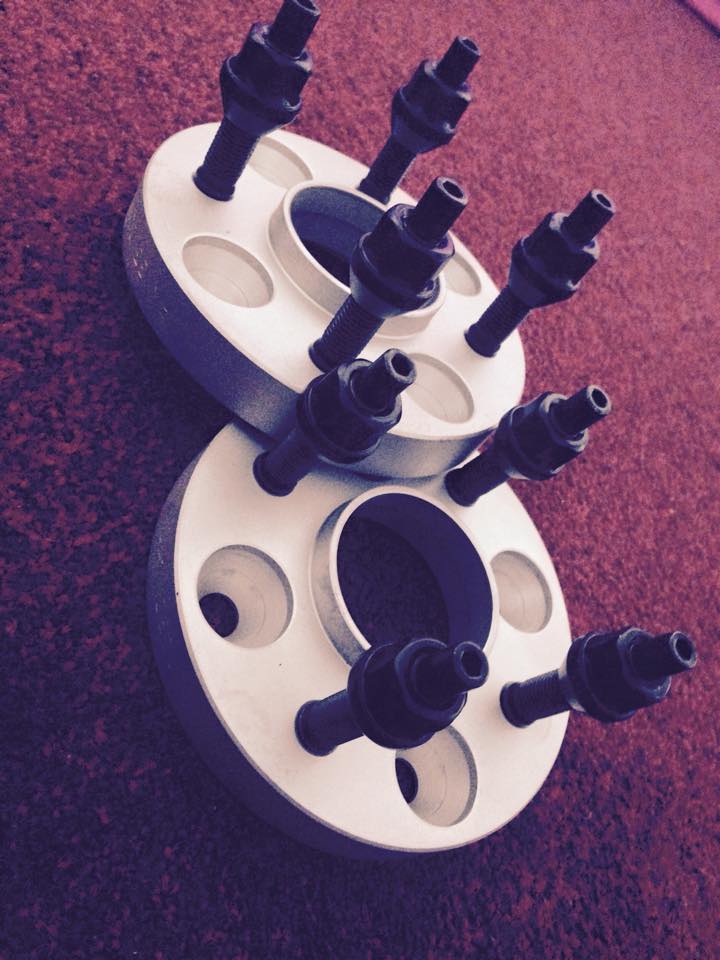 Thrust bearing decided to die about 5 days before the big CSOC meet at TRAX so was a bit of a mad rushing trying to source parts. Me and a mate fitted it on the Friday night before the event. Whilst we were at it I changed the lower ball joints as they were knocking and the steering rack bushings for some Powerflex ones
I think it is broken...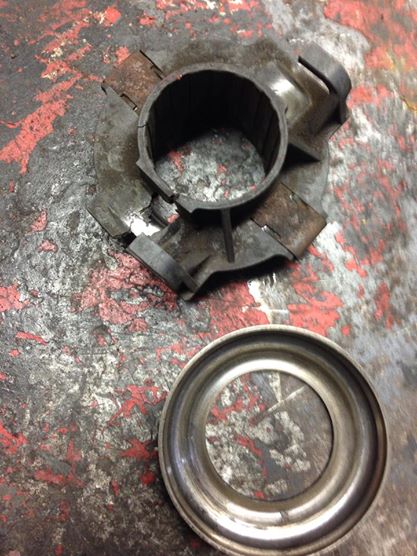 Picked up a set of Megane 225 Brembos for 80 at the local scrap yard so a bit of a bargain. They are currently getting dipped to remove all the grime and paint so they can be rebuilt and repainted and fitted to the 182. I will update more on that as it happens.
On the list at the moment is to fit the parts I have, finish the Brembos, Replace inner and outer track rods and hopefully get my hands on some 15 inch 1.2 Team Dynamics.
So that's pretty much if until now, been a bit of along opener but just trying to get you up to speed. A lot of bits I missed but not really worth telling....
Last edited: