So a long time lurker and ex poster but since joeyd dropped some gratuitous pictures in his thread I thought Id copy and paste the rubbish I wrote on MX5Nutz, so some of this wont make sense.
So THE update.
Friday morning at 5am me and my mate set off from Manchester down to some place called "Romford". It was very far away and when we got there everybody spoke funny. Kind of like their words had more A's in them, I digress.
We Did all the paperwork as quickly as possible as we had an appointment to make somewhere a little further North, but not before we stopped at the watering hole.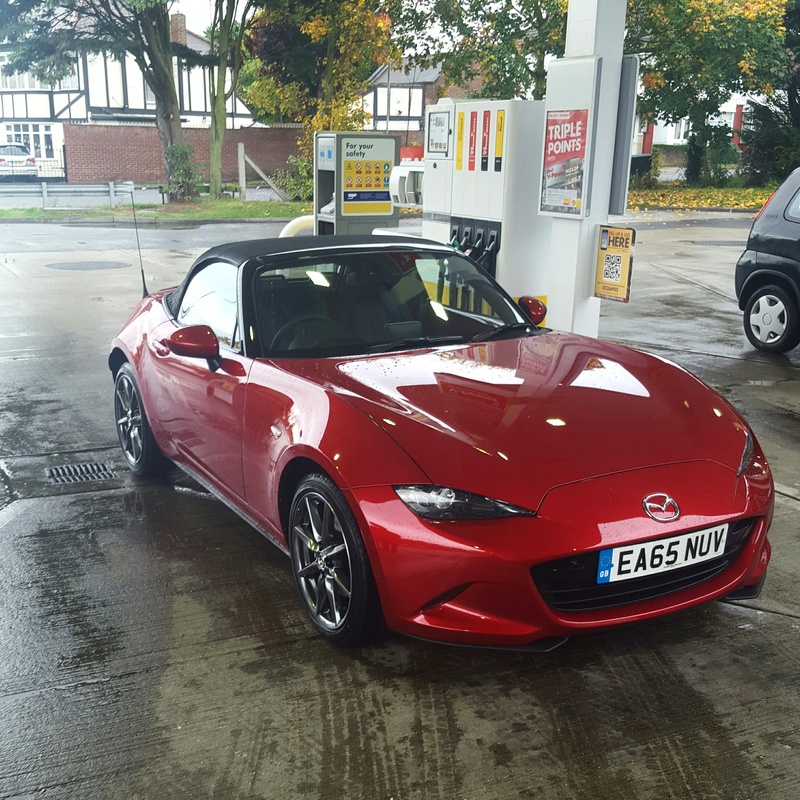 A super small fuel tank in this thing!! 99 Ron only the finest for the new car. The next stint was mainly spent playing with the Mazda MZD connect screen, a really easy to use system that allows you to poke away when sat still or use the i-drive style joystick currently trying to avoid using the touch element because I hate fingerprints all over screen.
The First thing that's really noticeable is the Torque, now this isn't a big V8, nor a small capacity turbo but it does genuinely feel like the latter. This makes it far far easier to drive around town then the S2000 that proceeded it, the trade off is as you rev it out it does run out of puff at the top and the top really isn't very high. It is quite tough coming from a car where peak power is 7000 RPM to a car that redlines at 6800. The other car I have some access too is the car the Mazda is compared to, and that's the Toyota GT86 as shown below.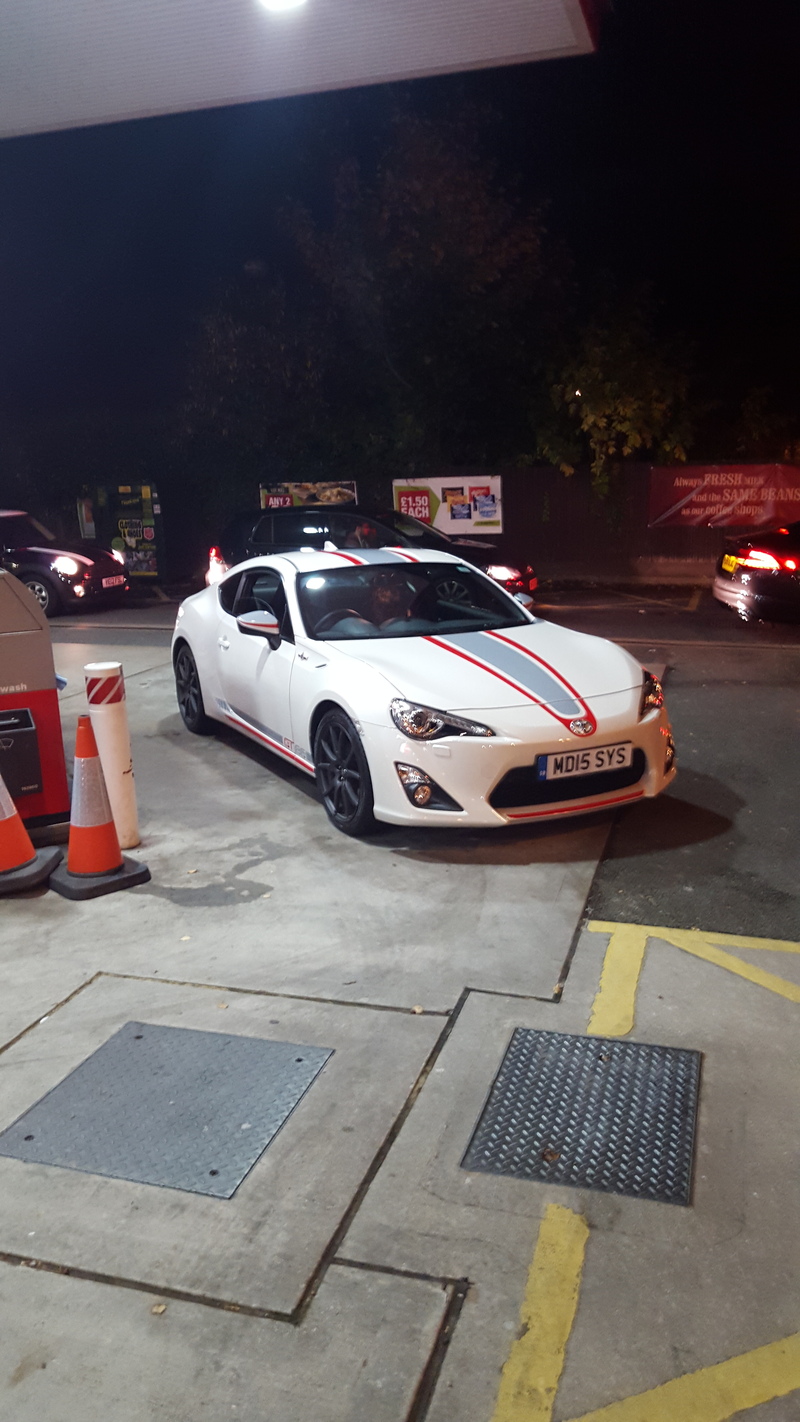 Coming from the GT into the MX5 the Mazda feels peppier and torquier, I don't know the torque figures for the Toyota so not quite sure If it's the Weight or genuine torque that does this. Both have really good quality gearboxes but neither match the (and I hate this term) Bolt Action feel of the Honda. The Mazda feels a LOT lighter then both cars, in steering feel but also in the way it feels just a bit nervous on he road. Either way I was suitably happy with the car as we got stuck in more and more traffic pondering life and whether my 6 foot frame would fit in the car with a helmet on... hmm..
2 hours later we were at our next destination, just in time for me to stand in a whopping great big dog turd.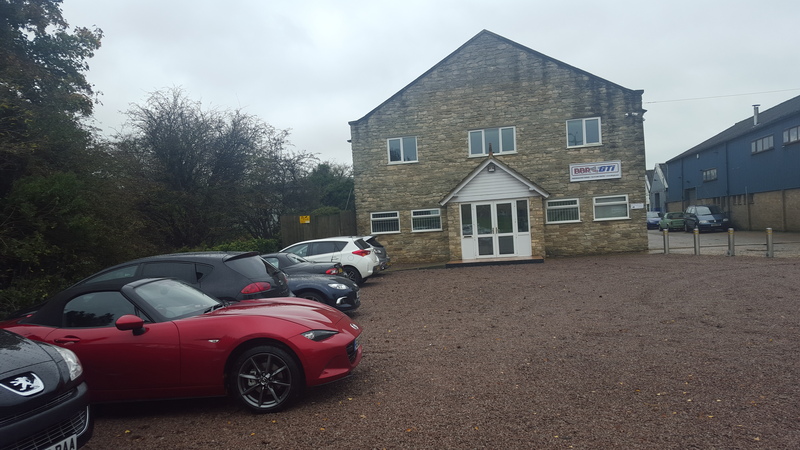 Initially I was waiting for the Ecutek software to be available and go see Clive at Autotronix, but from speaking to him and him being months away and knowing I would miss the pace of the S2000 I felt I needed to snap the offer up made by Neil and Sam, without much hesitation I was booked in.
With just 100 miles on the clock the car was rolled onto the dyno.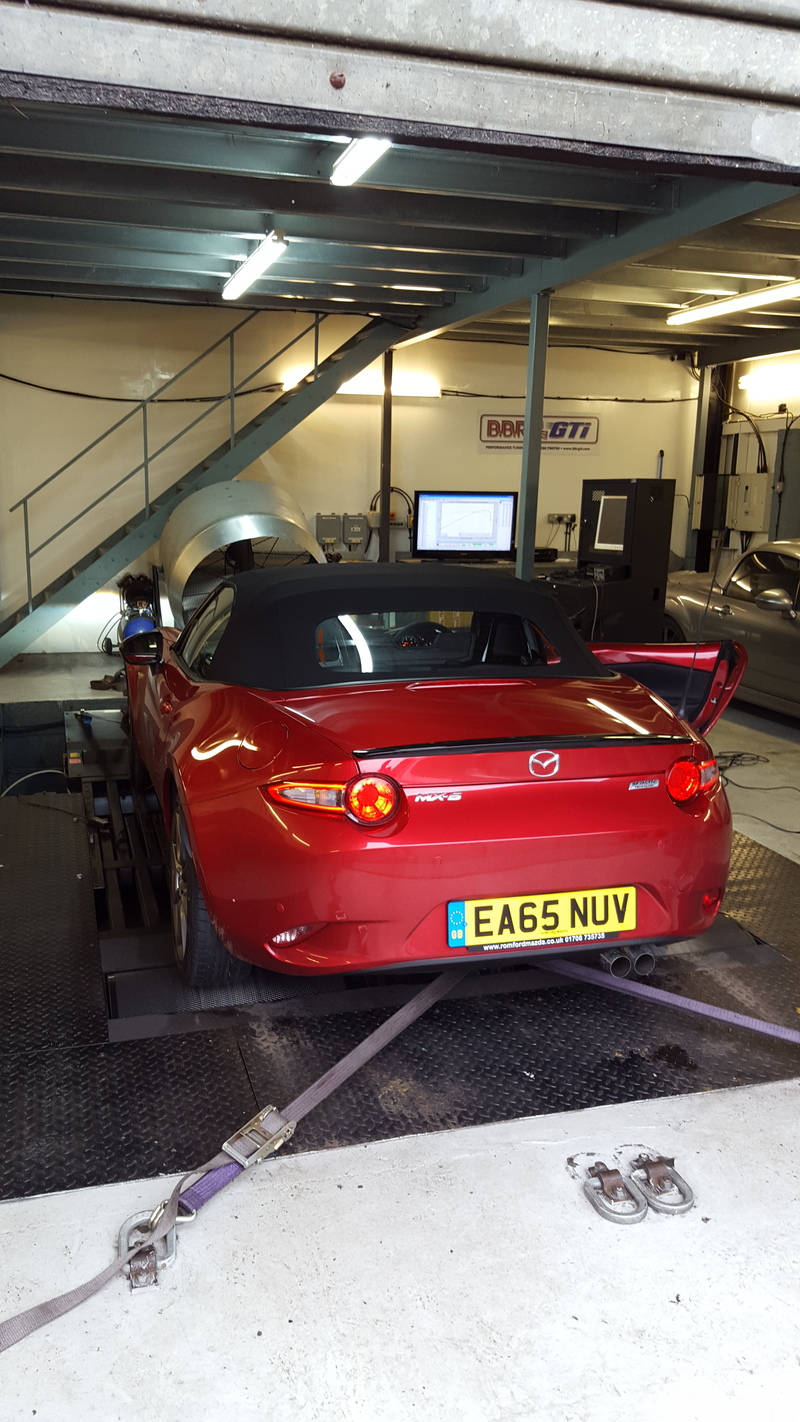 A base figure was put down 159.2bhp and 151.6ft/lb which for a car with 100 miles on I felt was very good, now I know cars don't really have a running in period but I'm sure it will loosen up with time however day 1 figures are satisfactory. Two hours passed as we waited for joeyd on here to turn up in the rig up ITB Eunos, Joe lives in Manchester like us but was at a training course in Nottingham and was due to show up at 1.... 2 o'clock came and the Map on the ND was done, yet no sign of young Joseph.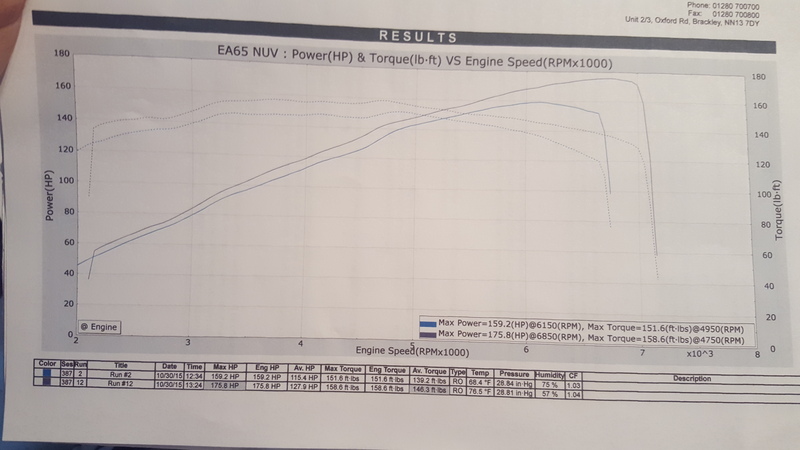 175.8bhp @ 6850 rpm and 158.6 ft/lb @ 4750 rpm.
The gains were impressive, again remembering the car had done 123 miles at the end of the session. The graphs show more then just peak gains though, this is what transforms the car, Torque is gained but not only at that peak 4750 but across the board, the same with horsepower gains but the most important bit of the latter is that the power no longer tails off quite as much, it still produces power all the way to the now higher redline.
What I will say is the little skyactiv engine is very very linear, again shown by graphs. There's no kick or vtec kicking in yo feel, both the two cars mentioned earlier give this more obviously the Honda more so. This makes the Mazda feel slower then it actually is, its such a good pull from down low all the way up, it's still no S2000 but actually, on a country road the "Miada" should be the more flexible and ultimately quicker car. On Track maybe the opposite Time will tell.
As we were Leaving BBR I noticed my phone was on 22% and I had forgot my lead, so we pootled up to Tesco, well, we thought we were going to Tesco then as we got to a roundabout we saw a familiar blue Eunos coming the other way, so we caught up then proceeded to get lost, in the end the Mazdas sat nav became handy and we went pretty much back to BBR... Tesco was pretty much next door.
I challenge anyone to find the Cigarette lighter on a MK4 without having done A) research

reading the hand book or C) having watch me or a friend climb under the dashboard. The reason for using the cigarette lighter as opposed to one of the two USB ports was I've noticed all cars with USB ports don't charge phones quickly, and when being used, as I was with the bluetooth sharing spotify over to the MZD system the phone actually doesn't charge at all. Never mind.
So now we had a remapped MX5, a slightly haggard looking Joseph (bucket seats, loud Exhaust and ITBS will do that to a man) and my daily Auris which looked like it had been driven through a building site we headed to our next stop, which much to Joeys delight was Nottingham.. the exact place he had been not 3 hours ago.
Now its become a bit of a tradition for us to stop at a rather famous eatery that rhymes with Scooters, famous for it's staff that could breast feed a creche. Upon arriving we are all pretty damn ruined... Except my Friend in the Auris Hybrid but being greeted by a chubby lad in full Hooters uniform very nearly pushed me and Joe over the edge. Inside though business was as usual, heavily endowed ladies (no pictures.. sorry) however something was a miss, as the late shift staff came in we noticed they were dressed up for halloween.
For any guy in touch with their feminine side think of the scene from Mean girls, most were dressed... well barely dressed with slight face paint, also cat woman is not scary but is damn saucy, however there were 2 or 3 girls who were actually genuinely creepy looking and not all enticing... In fact that combined with Thriller on repeat were enough for us to pay and not be arsed about change.
We ran out to the cars and concluded a very long drive home to Manchester, sitting in more genuinely shitty traffic.
The other two guys decided a detour via The cat and Fiddle which is one of our favourite roads and far trumps and exceeds the EVO triangle. However the Auris sat nav which was leading took the oddest route ever there. Seriously unexplainable, but what we did get was some very narrow but well sighted roads which combined with the night time and being able to see there was nothing coming meant I could start to feel out the handling.
On that note.. The Handling. Now I know car is meant to be soft.. but come on Mazda, seriously, so much roll. I felt sea sick. yawing and pitching, left to right, nose bombing on the brakes and then the car squatting like a dog with worms, the other thing that became clear is that the Bilsteins are so similar to the NB and NC (probably the NA as well but I haven't driven a standard MK1 in a longgggg time) The car was both soft, yet somehow harsh over small imperfections, this feeling compared to the Honda on Kw V3's was less surgical scalpel and more indecisive female.
Now the photos stopped a long time ago as we were so knackered but as we approached the cat and fiddle there was genuine excitement because I genuinely felt not far from home. Once we had started ascending it became foggy, very very very foggy. The LED headlights on the Mazda are exceptional, but I was blown away by the way they 'turn" around corners, really very good! no fog lights sucked balls though. Unfortunately the road was very greasy, this combined with very limited sight and 3 very tired people meant pushing it wasn't possible. but a totally exceptional day, very good car and I can't thank mk1sam! for the brilliant deal on the car much recommended.
If anyones actually gone to the effort of reading this, thank you and sorry its not journalist quality but just my feedback on the day.