With the current Covid lock down I've finally got some spare time to actually start a thread to cover the ownership of my Ph1 172 Sunflower, albeit rather late on and make some progress on the car too. The car isn't a stranger to the South Central region and has also appeared in many of the Auto Finesse product test reviews on here a few years back.
Starting at the beginning, X38FTP was 1st registered on 18th September 2000, and with reference to the Sunflower Register thread, this is the earliest example of the 31 UK registered Sunflower Yellow 172's. Yes X39 was also registered on the same day, but hey 38 comes first right, so whilst not a limited edition or numbered vehicle this would in some lights be the first registered Sunflower.
I bought the Clio after a run of larger cars and suffering the fate of falling into the people mover trap of a new family. Well that didn't last long and the urge for a drivers car grew too strong. Having never looked at or driven a Clio 172 before I kept being drawn to the Ph1 version over the Ph2 and a certain Sunflower kept drawing my attention. A trip to Swindon in December 2010 and a short test drive later I was gripped and knew I was buying this.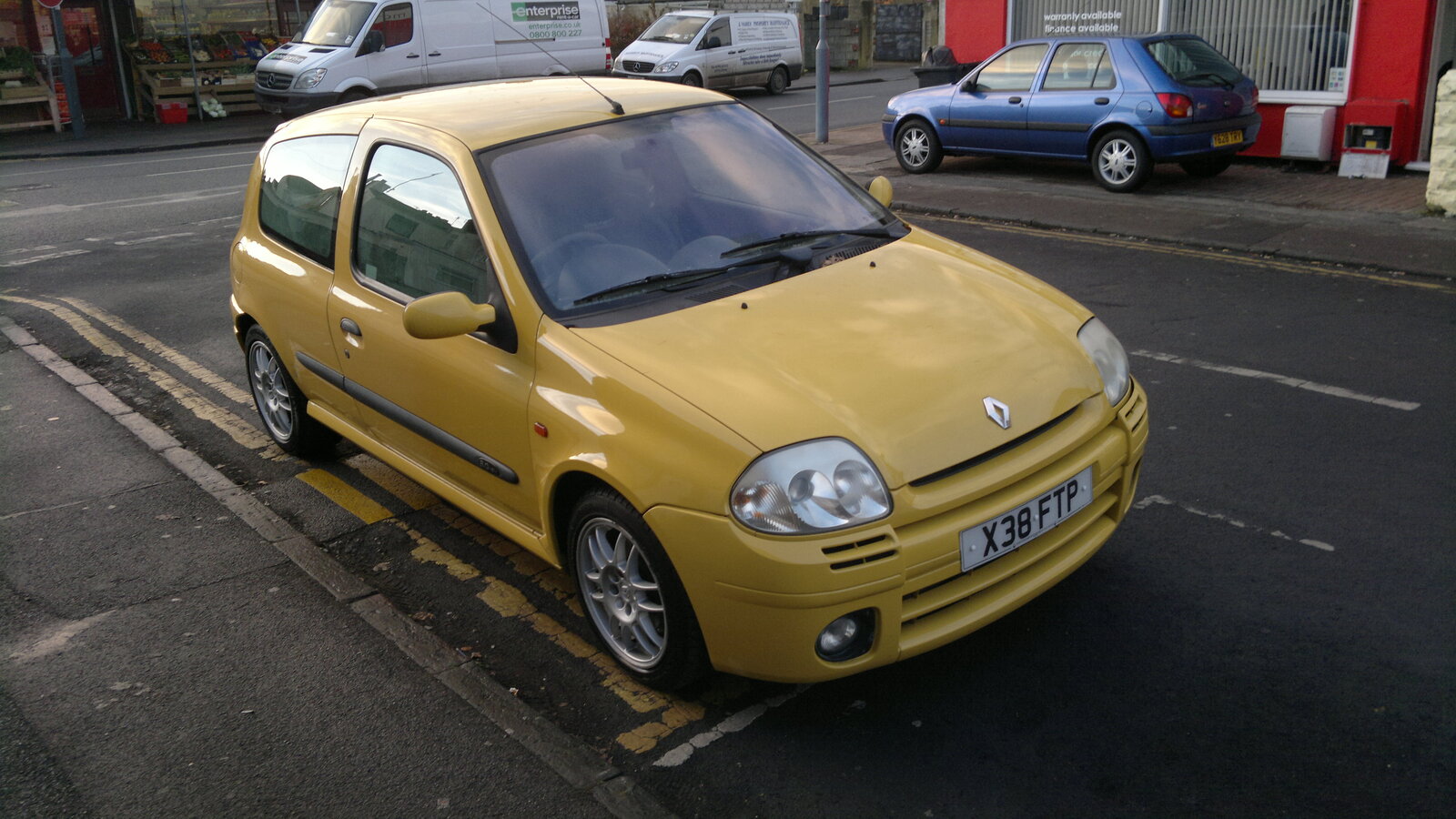 So a little more about the history of it,
Being a Ph1 172, this started life in the Dieppe Renault Factory, before being exported into the UK via the Cat UK Services Teesport depot. It clearly didn't stay here long as on 13th September it had the UK spec alarm fitted and the registered a few days later. Now what is also interesting (and I'd welcome any assistance here) is that in the Warranty Servicing book it has the below 'Company Car' stamp. Is there anyway of tracing which dealership or Renault department had this or has anyone else seen this before?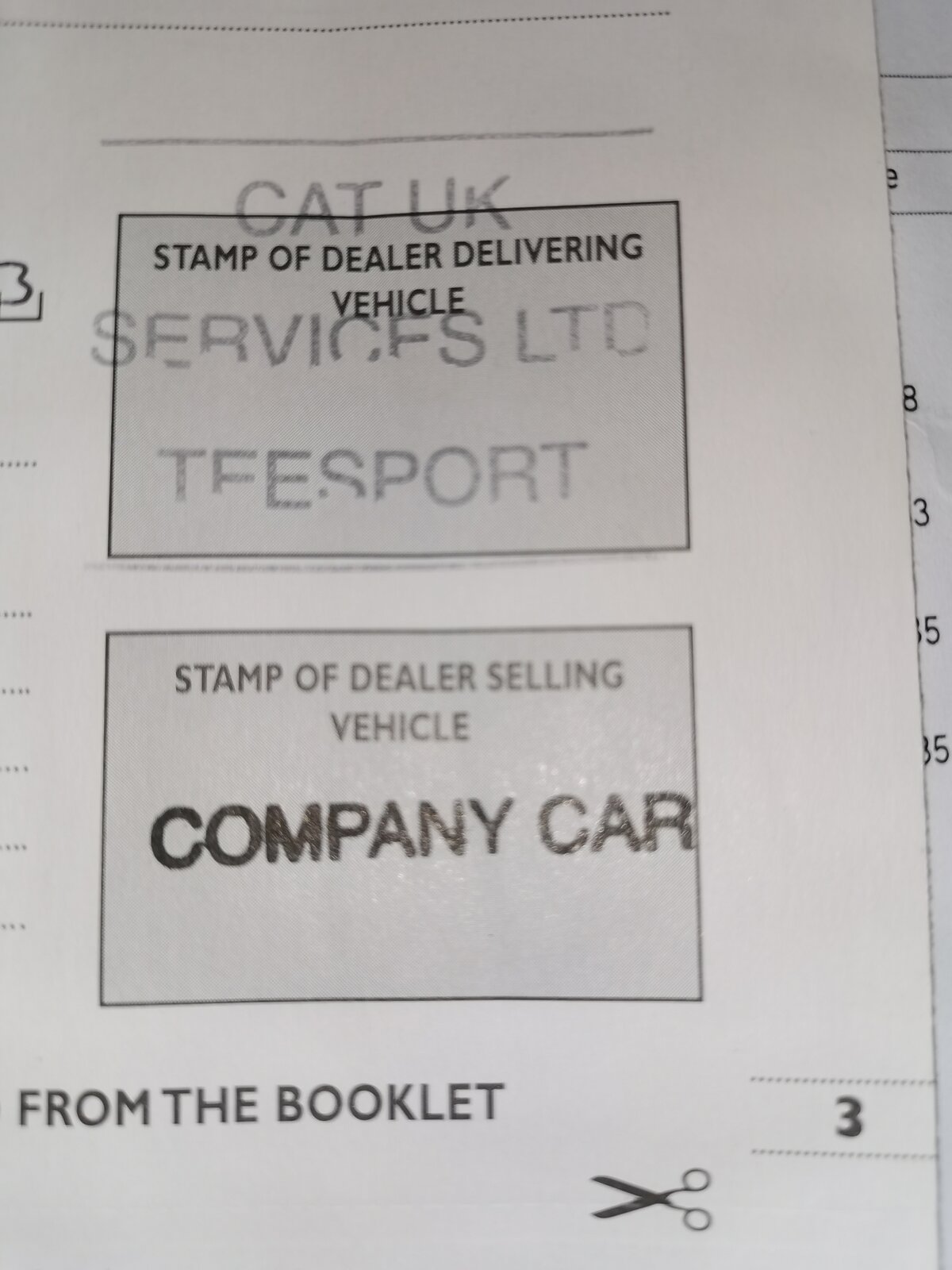 The 1st owner had ownership for 18mths up to 27/03/2002 at which point it appears to have been a summertime purchase as the 2nd keeper only held onto this for 6months upto 28/09/2002 however covered 10k miles in it.
Cornerhouse Garage in Nuneaton undertook 2 services in 2002, in April & again September. The vehicle however bears number plates from Goscote Services Renault, in Leicester, so I assume they have an early interest in the car however have been unable to retrieve any record of it given the time past.
The 3rd owner, who we will call SW had custody between Sept 02 and May 05 having purchased this from Cornerhouse Garage themselves. SW then took the car South and into the Aylesbury area where NMC Sportif took over servicing.
The Clio then moved onto its 4th owner PW and has its first but very brief introduction to Cliosport.net and
@wedders
. Again only a brief ownership about 10mths, however again NMC Sportif continued servicing duties.
The 5th keeper LT was a longer term owner of the Clio and took ownership of it in March 06 up to December 2010. During this period the car was in the Swindon area and maintained by a small independent garage
If anyone has any association with any of the above companies and able to provide any information about my car then any assistance will be appreciated.
This then brings the ownership history to me and since December 2010 to date I remain the current custodian and do not see this changing for a long time yet. I purchased the car with 63,000 and it settled into daily driver duties upto October 2016 when it was joined by my other current car an Octavia VRS and became a 2nd car.
This then lead to the Clio being taken off the road at the end of 2017 and alas there she remains, Sorned and showing an impressive 112,631 miles, thus 50K in my hands so far. During this time
@Mike@Rentech
has looked after it along with some home maintance. Hopefully Mike will be back to his servicing duties as & when it returns to the road.
This next image is one that keeps the passion for the car going and I cant wait to get back to the Welsh roads, this was either on or around the Evo triangle following a Snowdon climb.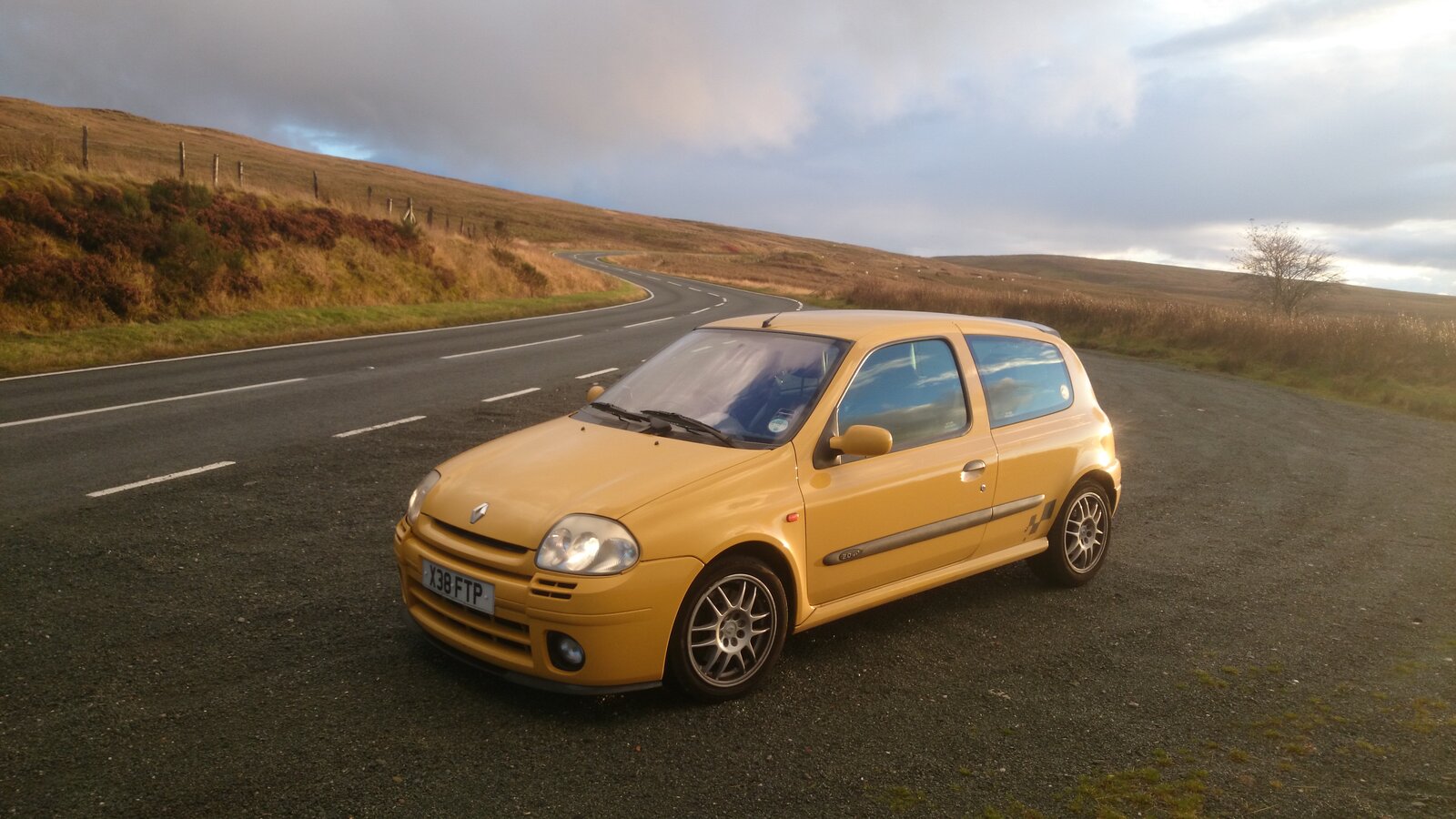 Plans for the Clio have changed over the last 9 years of ownership as my personal life has had ups and downs which have limited either time or money or often both. Assuming the economy doesn't suffer to catastrophically from this current pandemic then my plans at present are to continue to undertake a reasonable resto of the Clio and try and bring this back to an OEM or in places OEM+ level.
Over the years of ownership I have really just maintained and kept up on servicing, including Brembo brakes via
@George@RTR_Parts
, Mike has undertaken lots including the cambelt and later aux belt change as well as new radiator and the usual temp & tdc sensors.
The plan is to undertake a refresh project, starting initially with the suspension and then moving onto brakes, wheels, interior and potentially a respray.
Work will be a slow pace sadly as funds will remain the greatest limiting factor, especially with a family, kids needs come first. However I have been collecting parts and when sufficient in place another stage of the project will commence.
Recently I have made a decent start of the refresh and started work on the rear suspension. Removal of the rear beam allowed me to clean and paint this, along with installation of the PMS rear shim spacers, new Cup rear shocks in addition to Powerflex rear beam bushes and rear shock upper mounts. I already had Eibach Sportline springs in place and these looked in good condition so were reinstalled.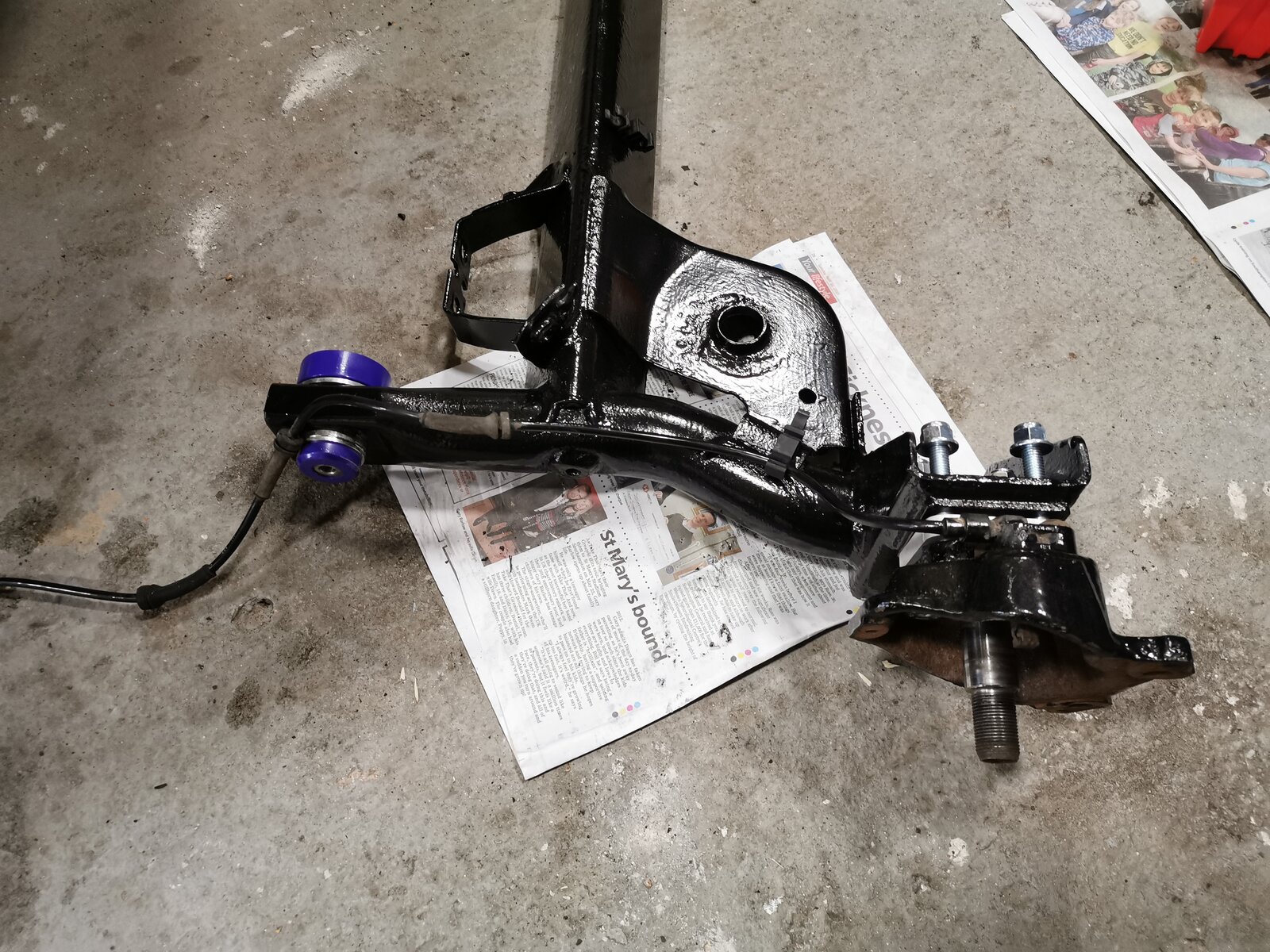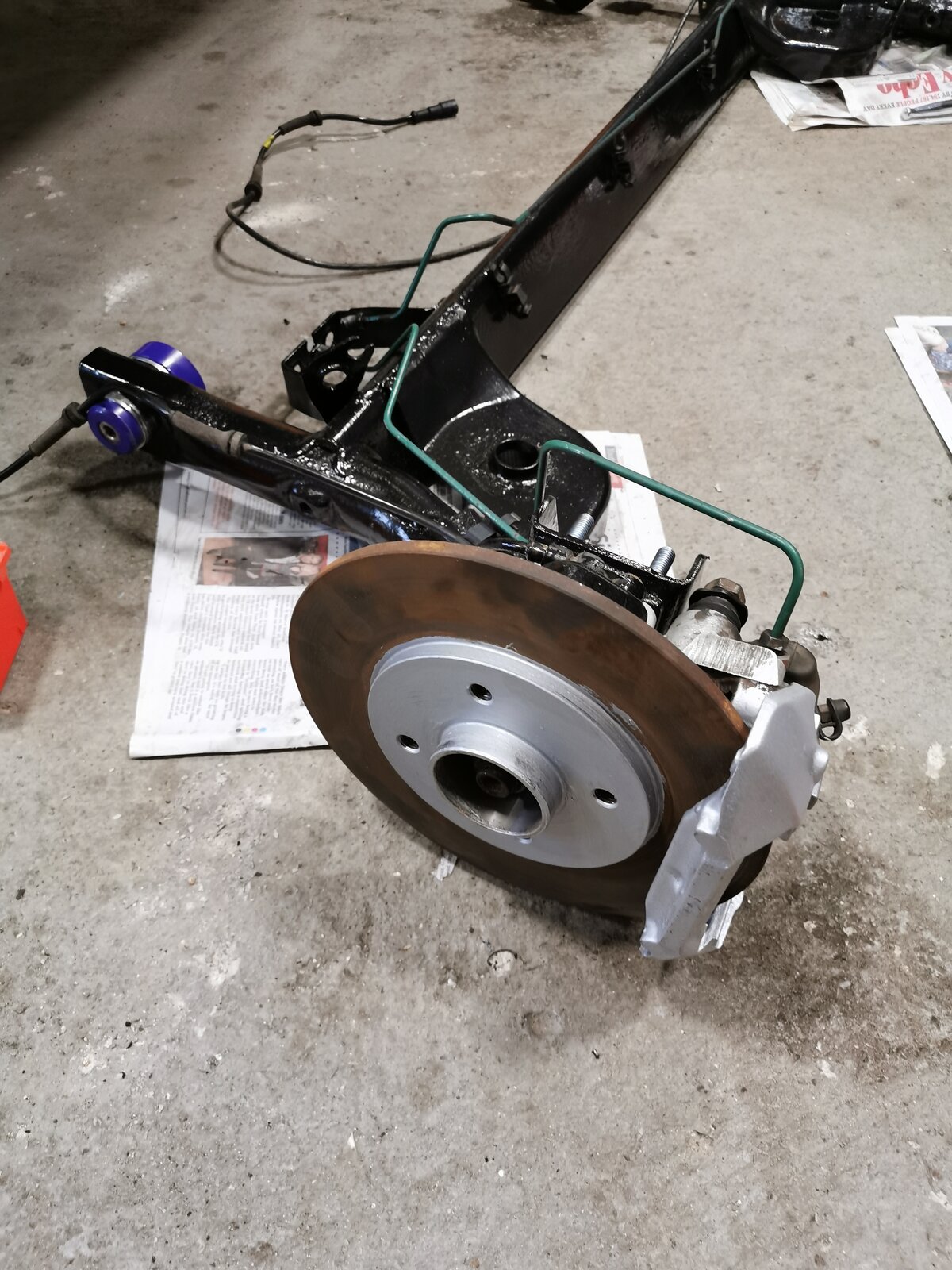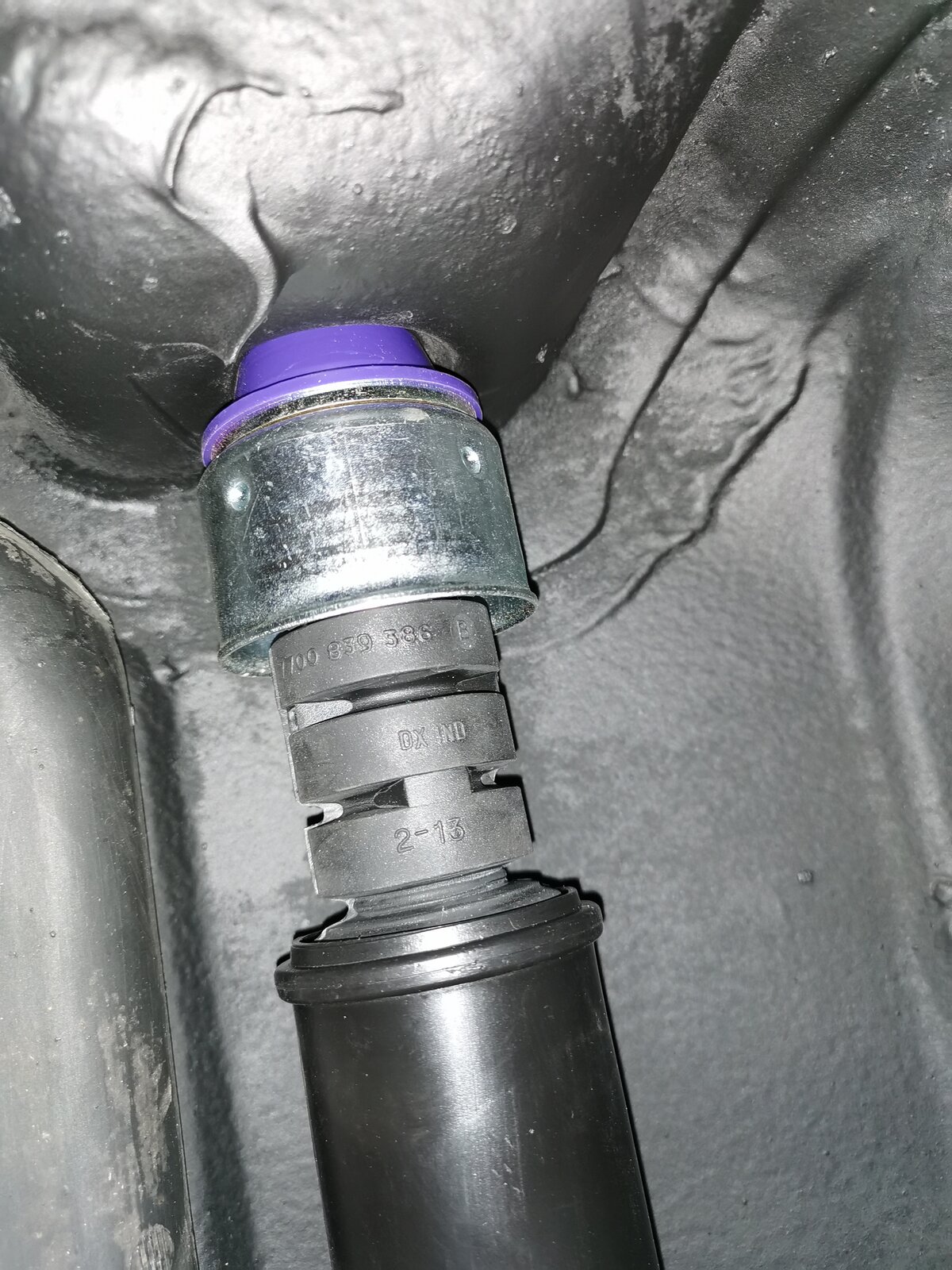 Whilst the beam was out, I also took the opportunity to clean inside the inner arches and apply a protective coat of stone chip. I had intended to fit a set of braided brakes lines too, however these were supplied too long and I am presently awaiting the correct set. Overall the bushes were an ok job and I am pleased with the overall look of the rear of the car now and the spacers have increased the track just enough.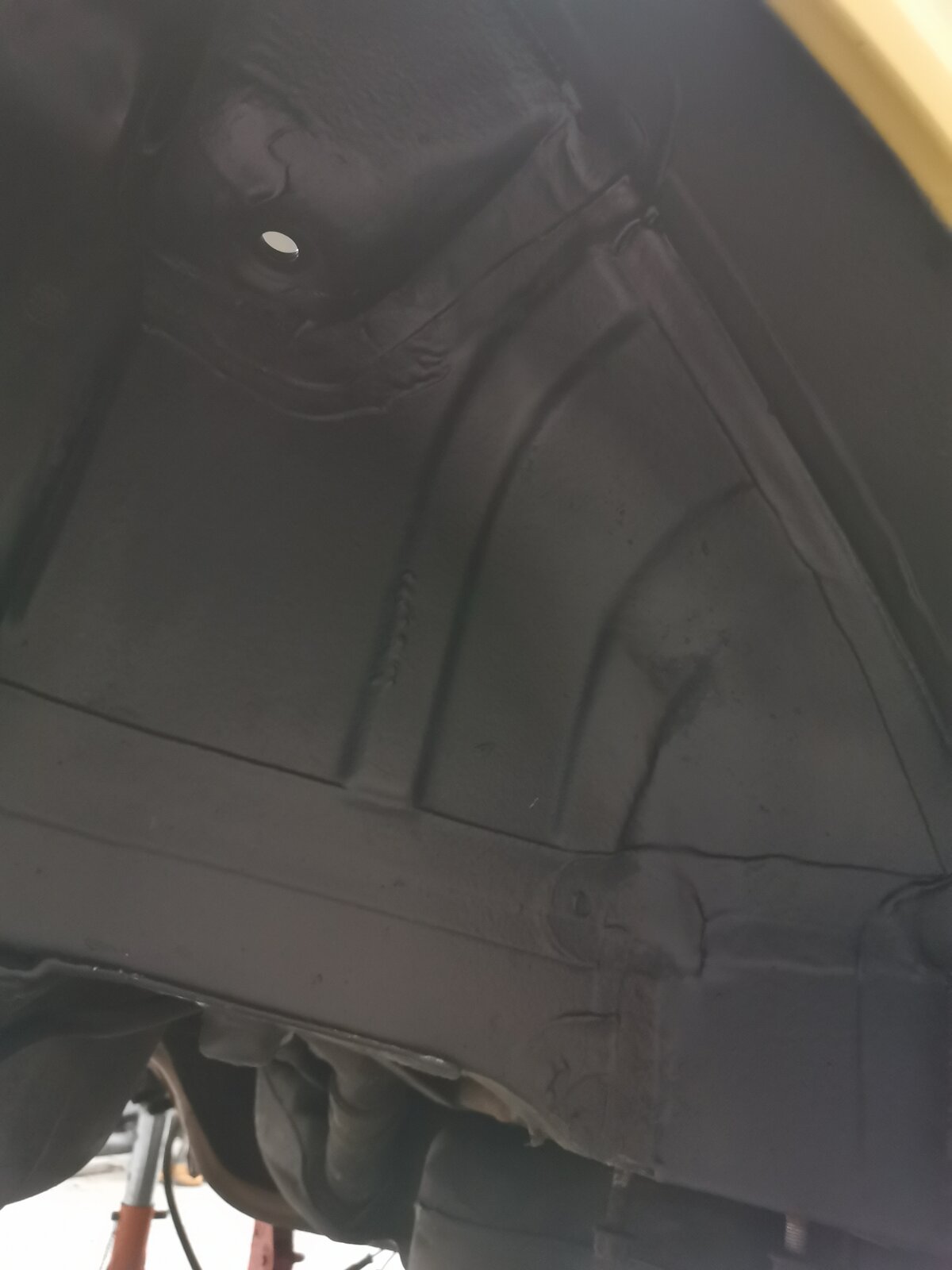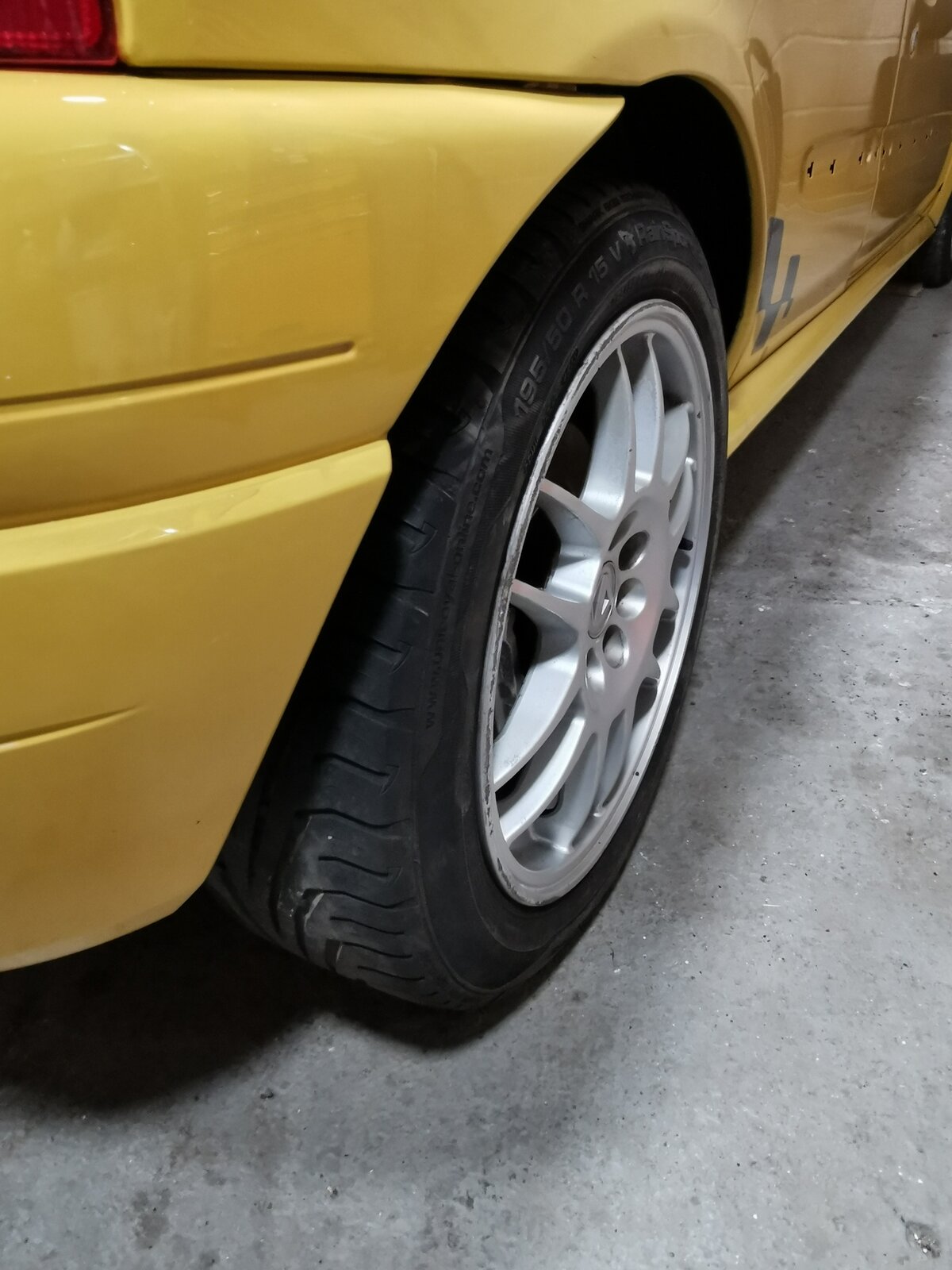 Focus will soon shift to the front suspension, I already have new ball joints, track rods & ends and when back to work looking to order new powerflex wishbone & ARB bushes. What's the opinion on the power steering rack bushes, OEM or polybush also?
Other new parts in the boot, include a new pair of headlights, rear number plate light and battery terminal cover along with replacement engine bay stickers and rear badges.
Current task that is underway is the interior and il update the thread further in the coming days to cover this work.
well done if you've made it this far, bit of a long post, but 10 years to catch up on. Sadly this will be a slow project but its a special car to me and im looking forward to many more miles in it.