Ok bare with me, I'll try get this all in one go.. But probably won't manage!
17/10/08 – 21/10/08
Well the date was set, myself and Ali were heading over for the 1000+ miles round trip to the Ring. Insurance and the highest RAC cover in place, just incase
and we were set.
The TVR has recently been serviced (big service) so was quietly confident on it making it there.. But never wanted to say anything incase I jinxed it! I'm sure you have all heard the horror stories.
We met on a freezing Friday morning ready to head over, iPod's loaded, GB sticker on and both cars cleaned and filled. Time to set off!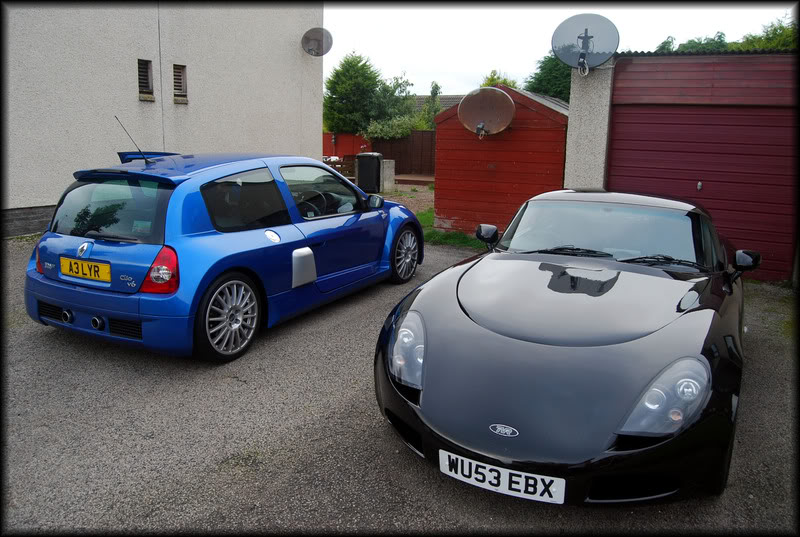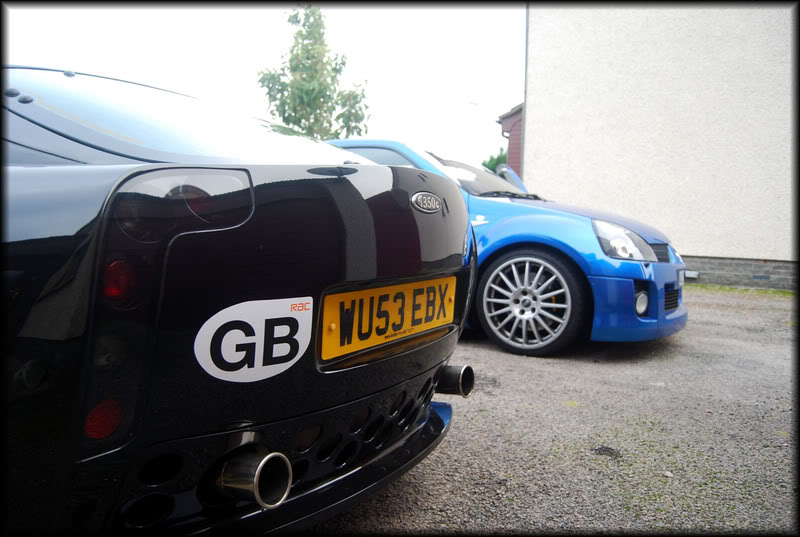 Plan was as follows –
Friday – Aberdeen to Newcastle to catch the ferry overnight to Amsterdam. Few Beers.
Saturday – Amsterdam to the Nurburgring, check in to hotel and get a lap under our belts.
Sunday – Full day at the ring, few more beers at night time
Monday – Head back up to Amsterdam for the return ferry. Beers again!
The drive from Aberdeen to Newcastle was fairly uneventful, rain was on and off, though a Gallardo did pass us and waved
We also stopped twice for air/petrol/food.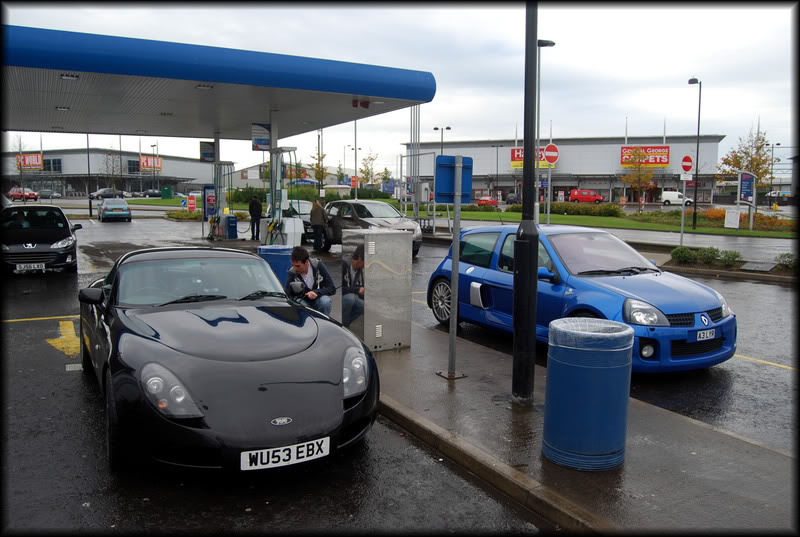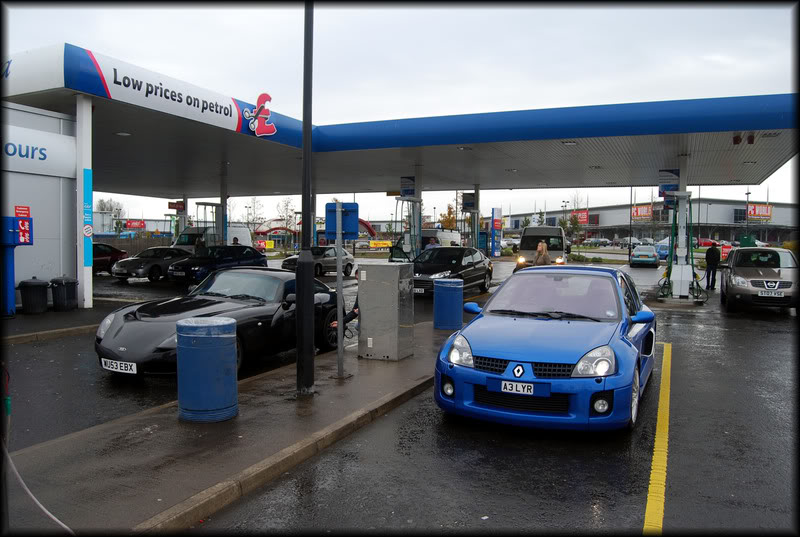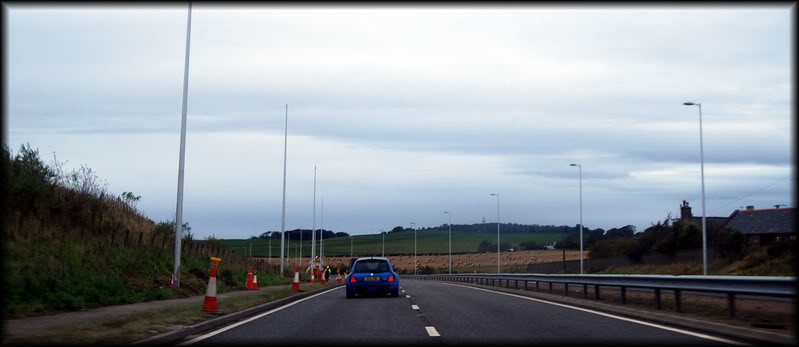 My best friend joined us..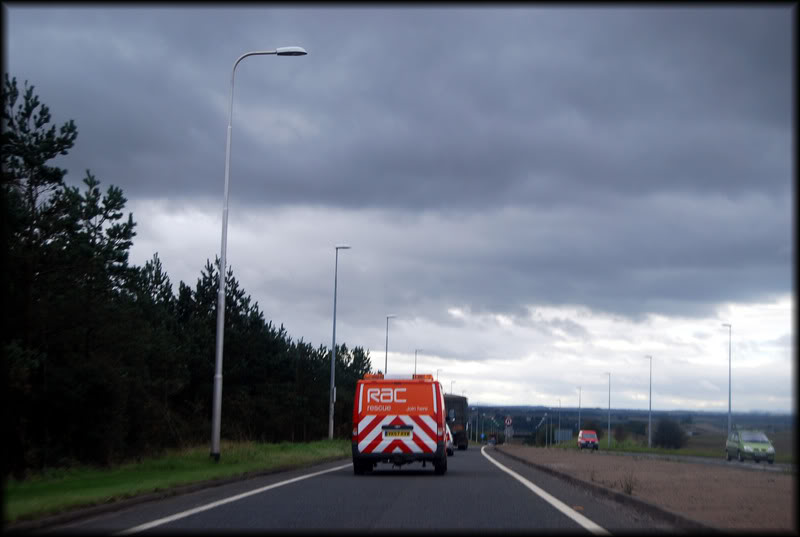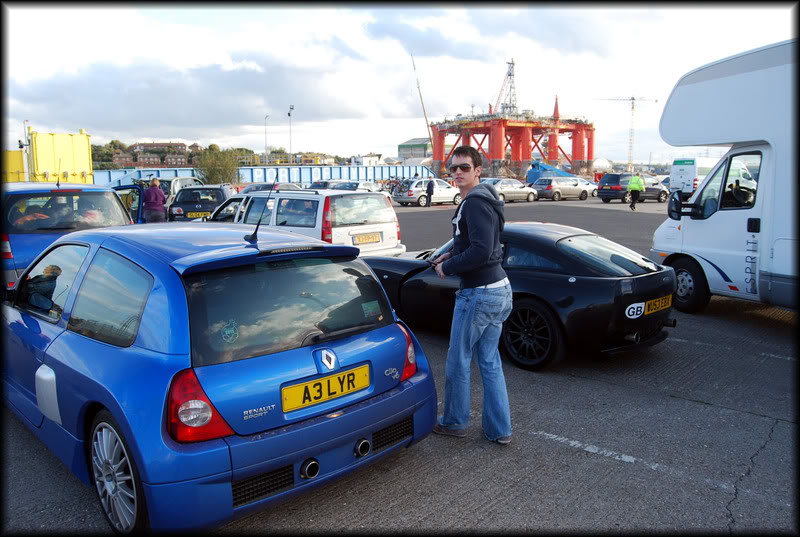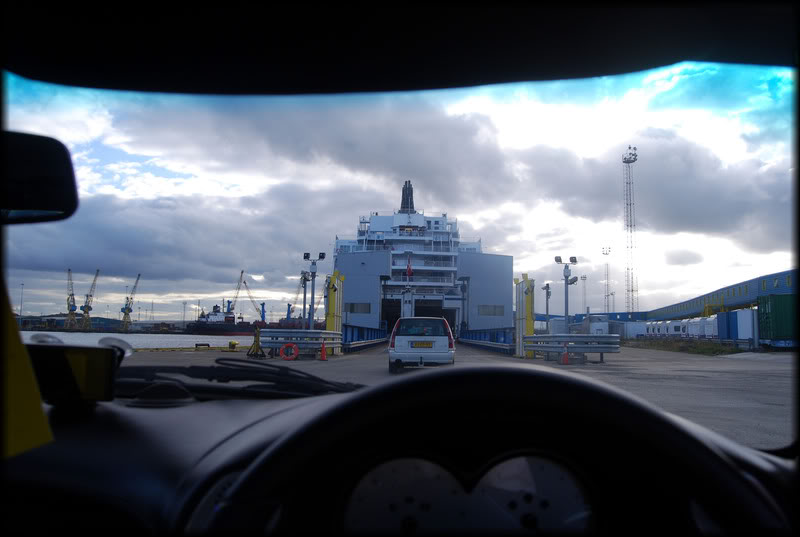 Some German asked me – 'Iz Zit Ze Triumph?!' Em, no mate.
Onto the ferry, £250 each return including a cabin. Took ages to board but finally got on and there was plenty to do. Cinema/Casino/Bars/Restaurants etc.
Saturday morning was the drive down.. Driving on the other side took about 5 minutes to get used to, only dodgy bit I found was roundabouts, and giving right of way.
Quick petrol stop.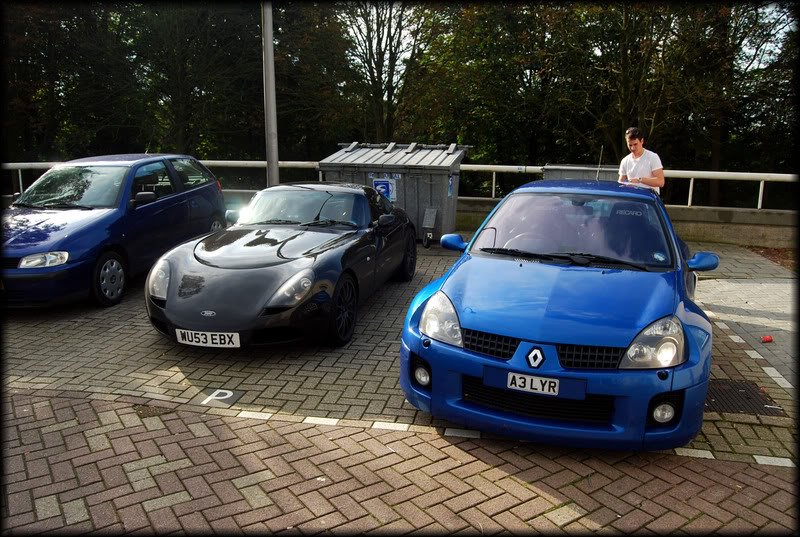 Quick wipe down.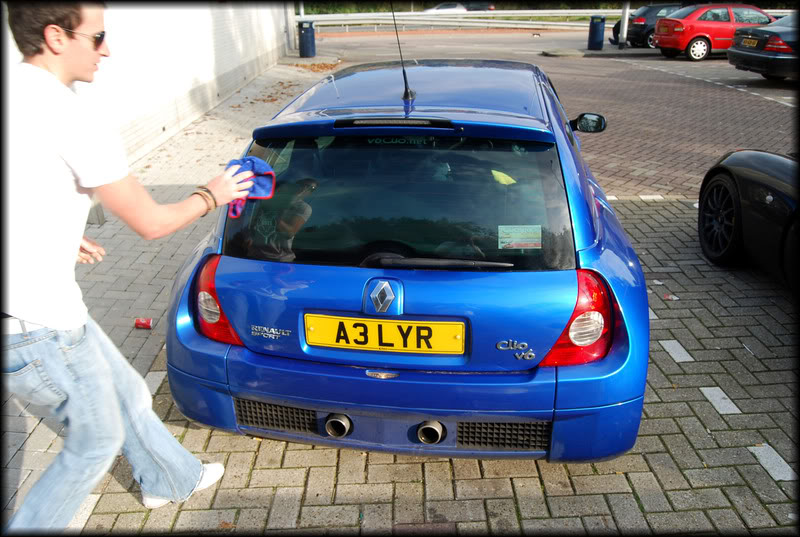 Back on the road.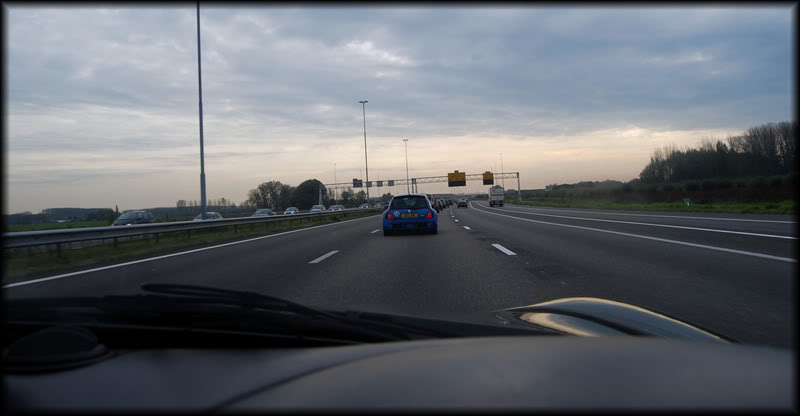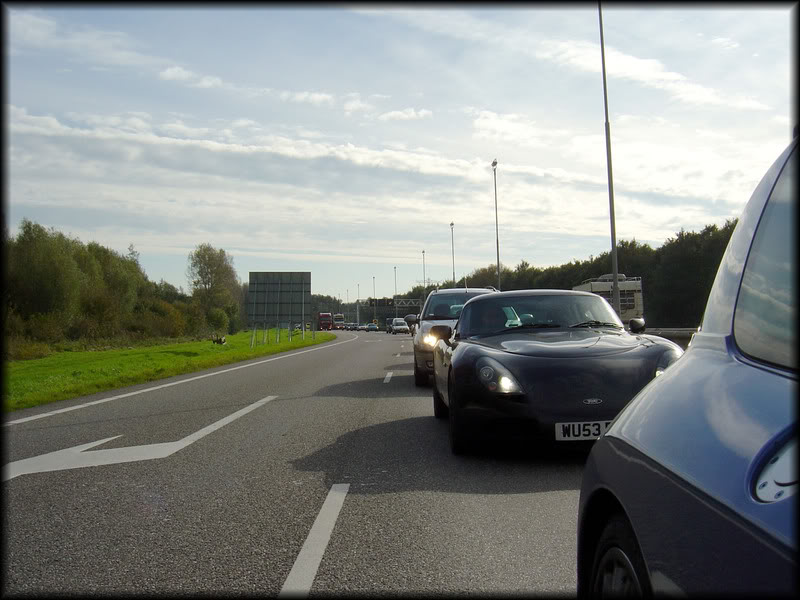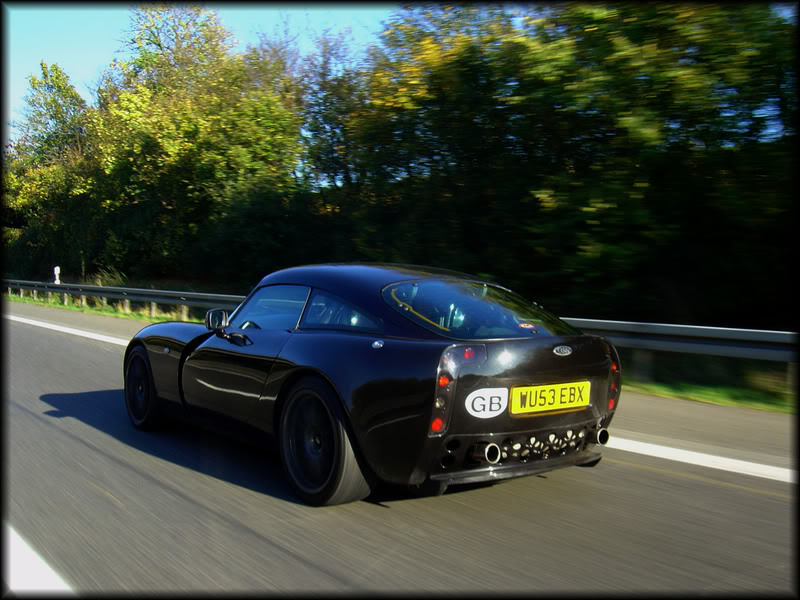 [YOUTUBE]lnx8h0owpqQ[/YOUTUBE]
Soon we got some Autobahn action
TVR pulled easily up to just under 180 on the speedo and the road angel was at 165mph. Pretty impressed, until my speedo dropped off to zero, and thought it would be wise to back off the throttle. The drive down was relatively stress free aswell. Once we pulled off the motorway, we saw our first 'Nurburgring' sign and the pulse started to race! Went down some brilliant winding roads through three tunnels, so plenty of windows down action! Most of the time coming towards us was so me of the locals Ring Toy's, M3's, 911's, stripped golfs. Magic.
Tunnel Run in the Vee –
[YOUTUBE]rDemtv_lQlo[/YOUTUBE]
Then pulled up at the hotel.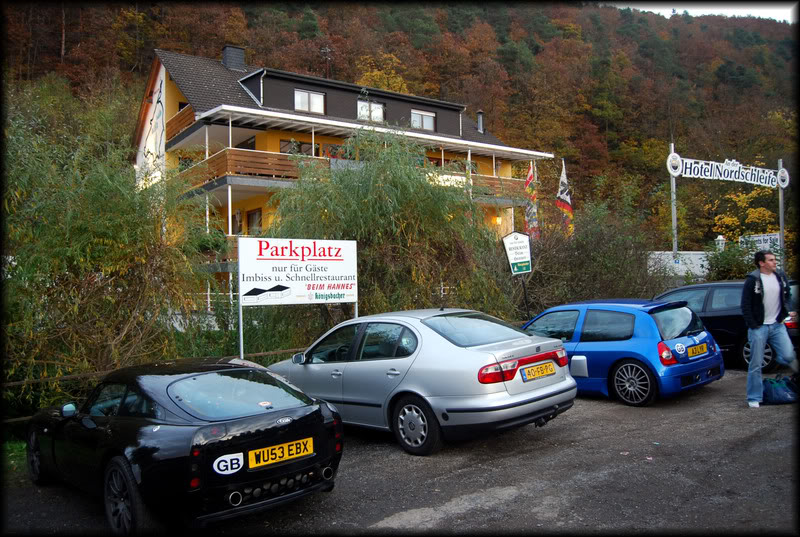 The whole place just buzzed with petrol heads. Cars and people everywhere, from Nissan GTR's right through to Gallardo's, GT3RS', F430's. Loads. Exhausts popping and banging all over the place. Really is a Car nut's heaven! Weather was looking good for a quick lap too. Met a few other guys in the car park who helped us out with a phone number etc. So we checked into the hotel and snapped a quick of the view from the room. This was the track going over Ardnau Bridge. Hotel was basic, but thats all you need really.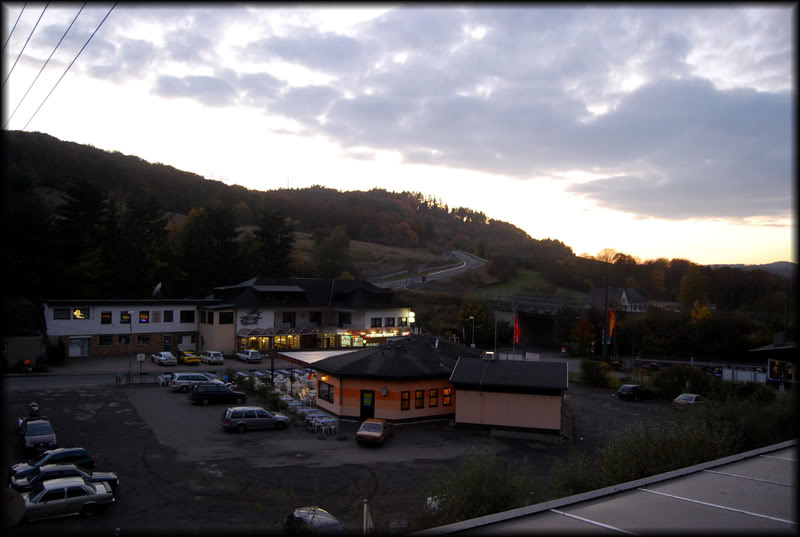 Went for a quick drive about and met Weeman and Adespec from Cliosport. Good to put the face to the name. Weeman's mate also got us onto the track which was much appreciated 
On track, there is nothing like it, I am a massive track day novice and was shitting myself! There is so many quicker cars there you spend alot of time looking in the rear view mirror. For the first half of the lap, I was passed by just about everything, but I wasn't bothered. My first full lap I picked up the pace a wee bit and really enjoyed it. Still got passed by all the locals! Ha!
The track closed around 18:30 and we headed for the local Italian.. Hmm sexy waitress
Food was good yet cheap, though the beers were mainly froth! Ah well. Back to hotel to watch German MTV and sleep!
Sunday Morning, there is something special to be said when you get woken up by a Ferarri 360 CS flying passed your window. Awesome. Downstairs for a quick breakfast (where's the sausage and bacon!?) and out to the track for day 2. Decided to take both cars up to the track and head out in the TVR first. TVR has a strict warm up so didnt want to stop then start it and go out on track.
Heading up to the track.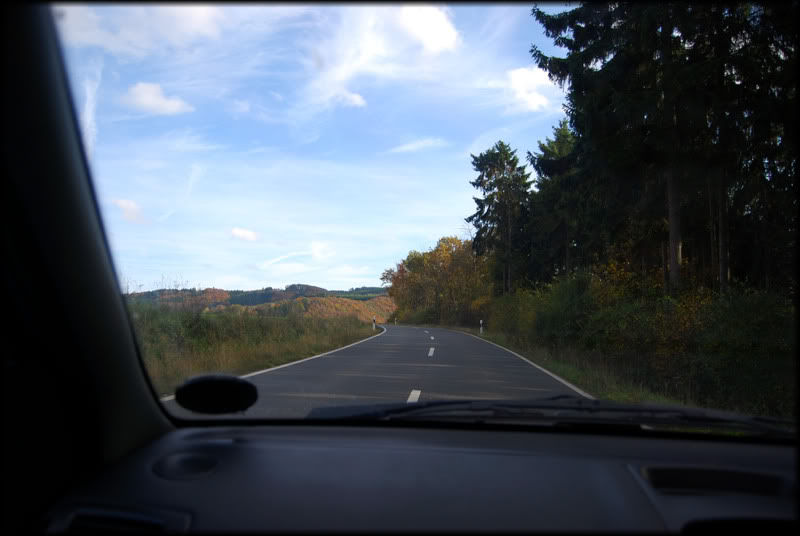 So ticket in, through the barrier and get a knock at the window. Damn. Noise test. Pretty much knew instantly I would fail. Quick check on the rev counter and asked to rev to 4k RPM. Took it to 3k and the reading was already at 102dB. He asked 'Do you have Noise Eater?!' – Nope. 
The limit is now 95dB, so end of the road for Trevor. Back to the car park to get the Vee. Quick lap with Ali and decided to let him go solo, and went for a wonder about to get some pics. 2 bad crashes happened right on front of me, one was the beemer, and the other I never had my camera. Think there must have been about 10-15 cars pulled off the track on the tow truck during the weekend. Aswell as a few bikes.
Busy Day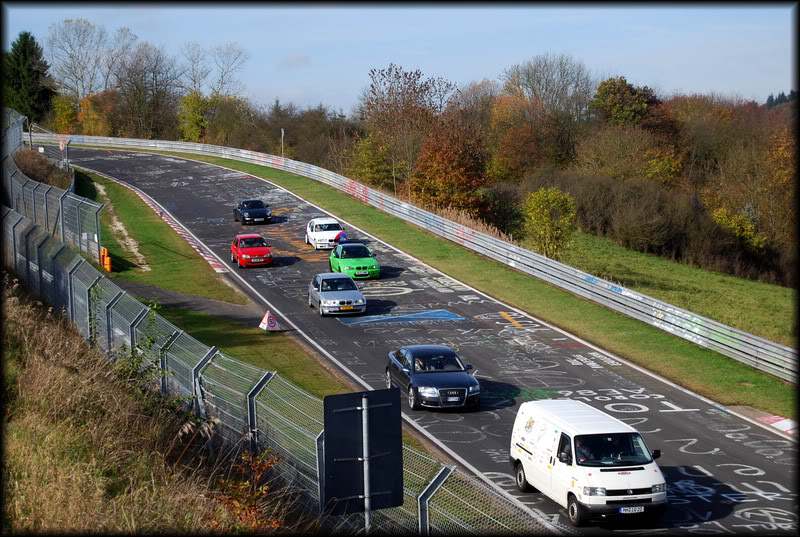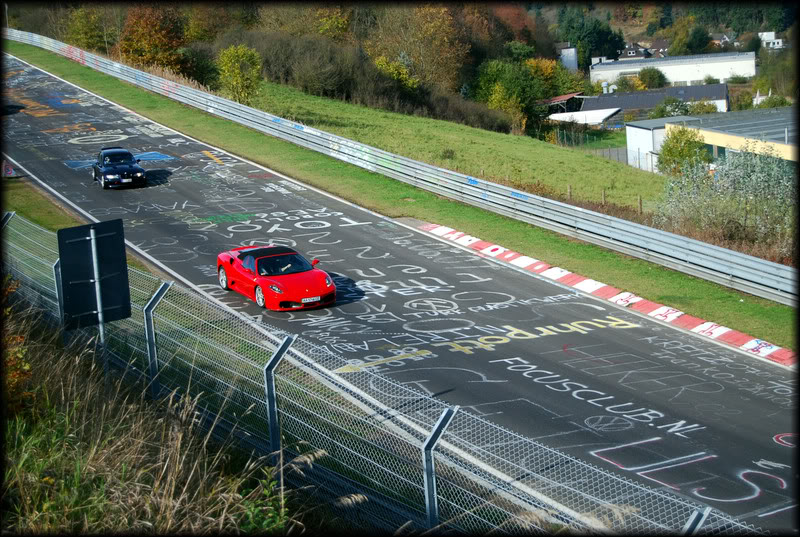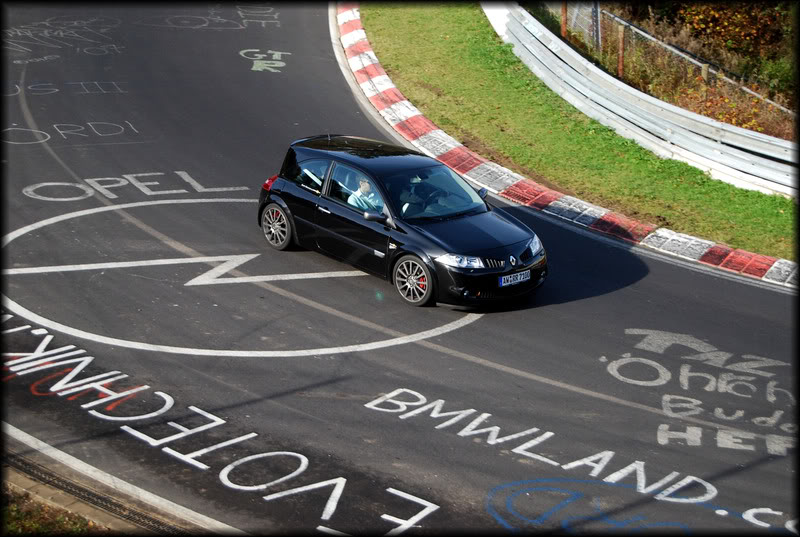 Inferno – RIP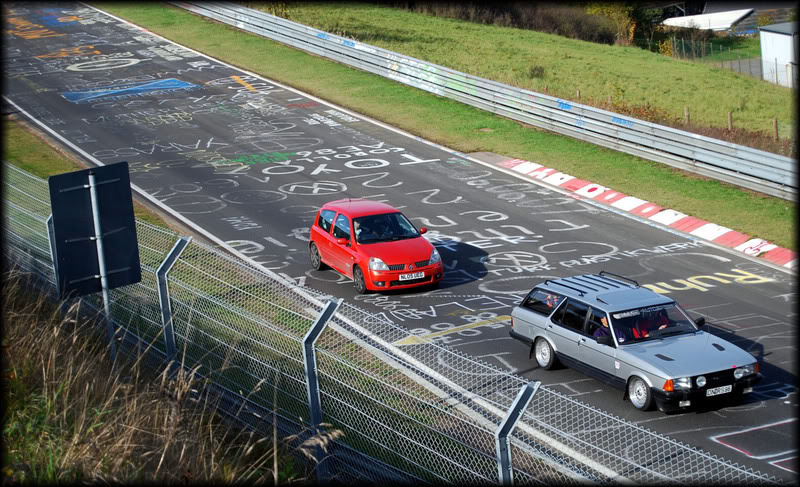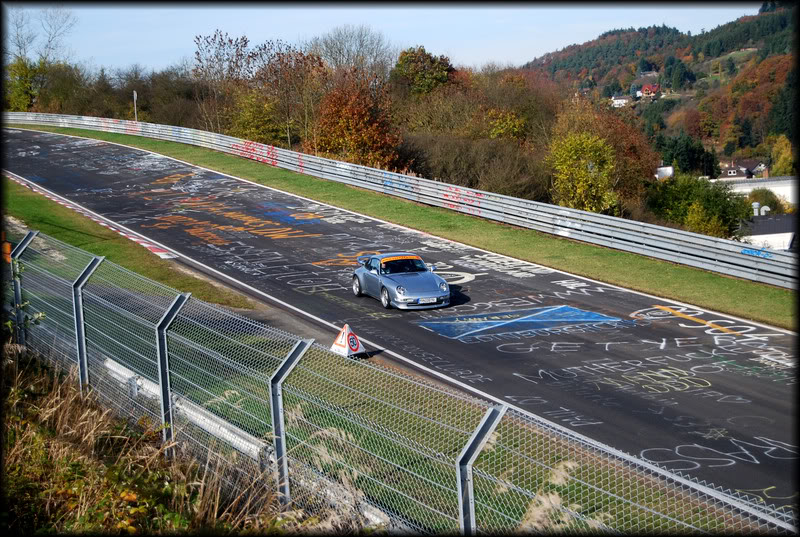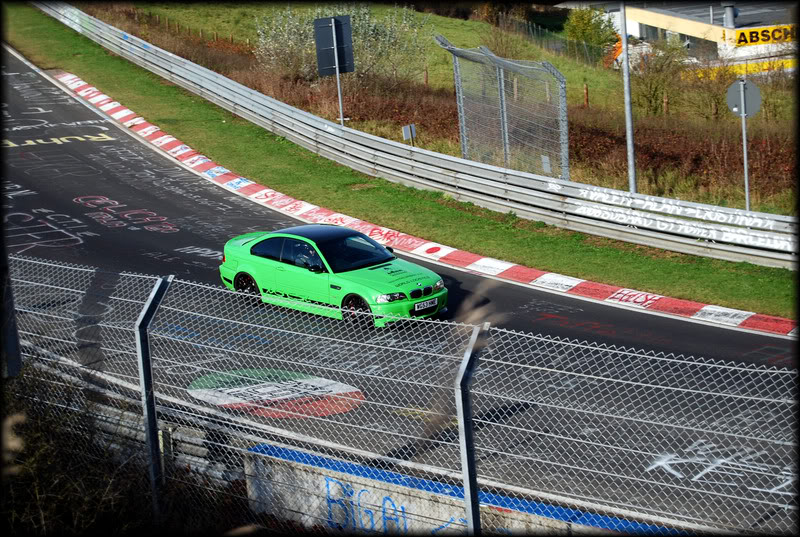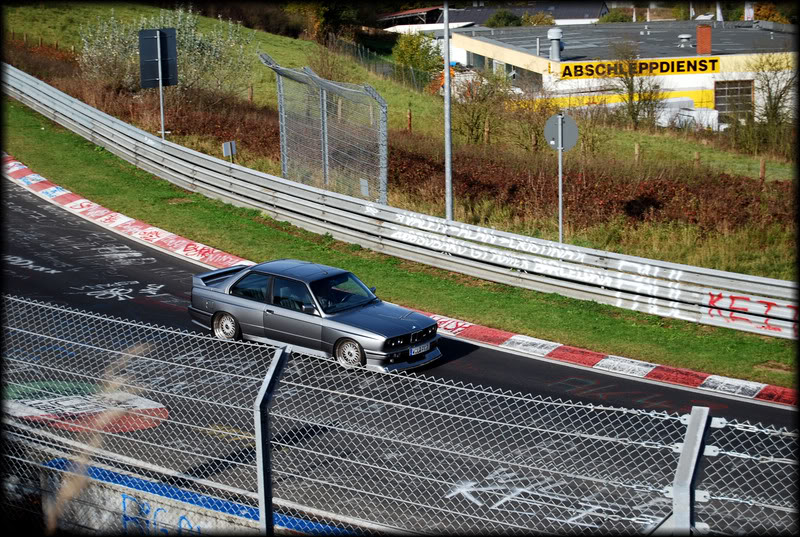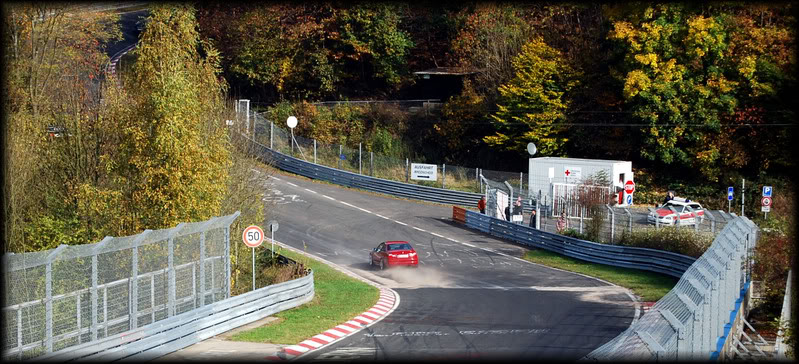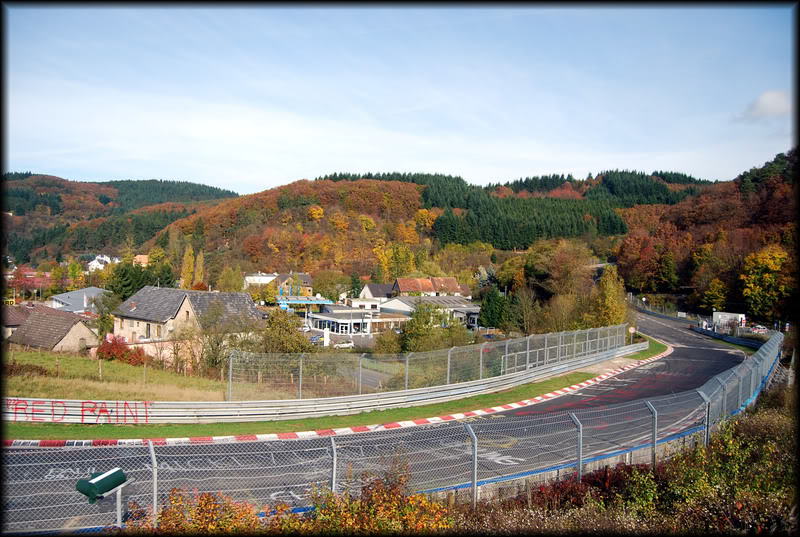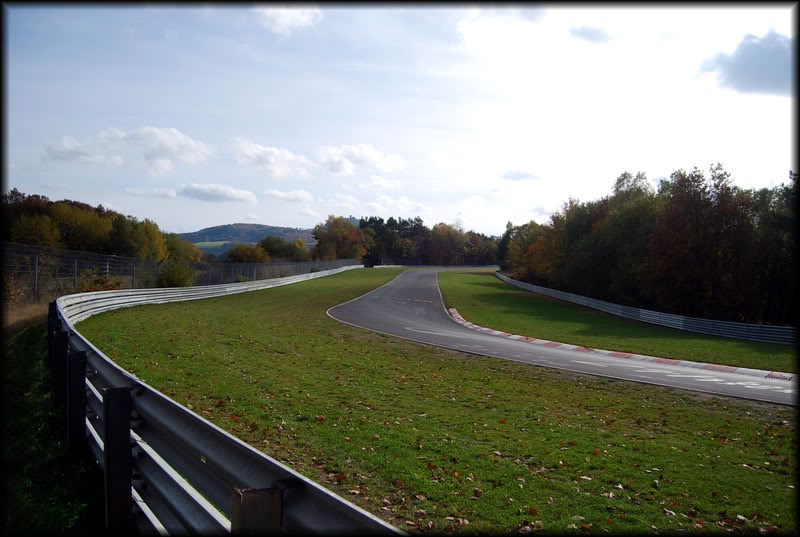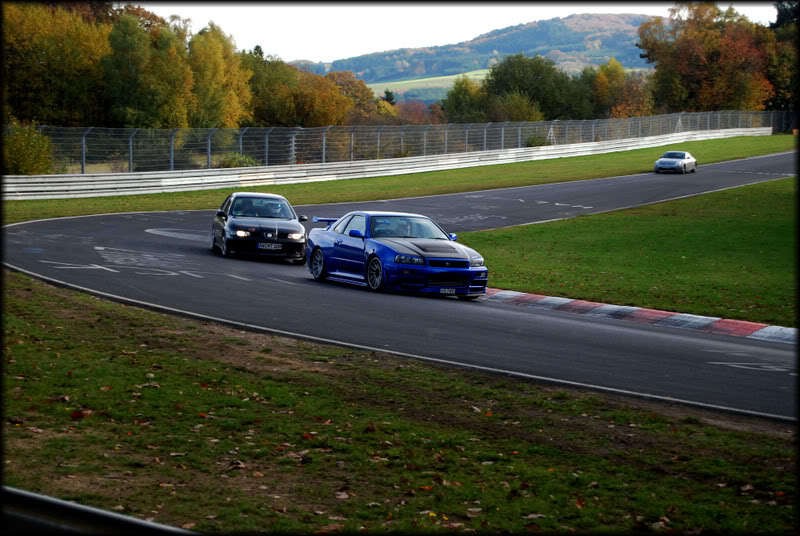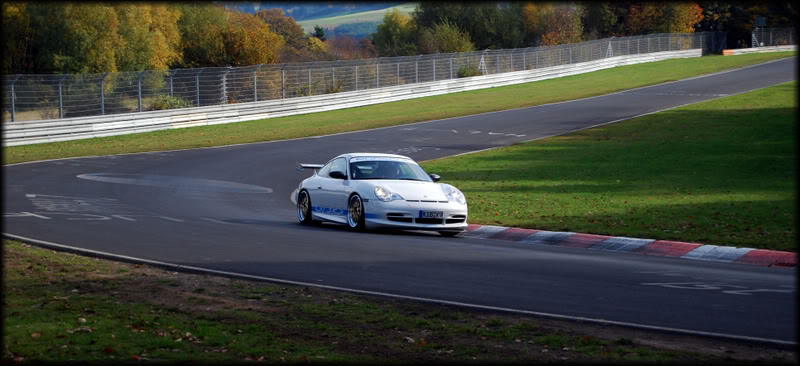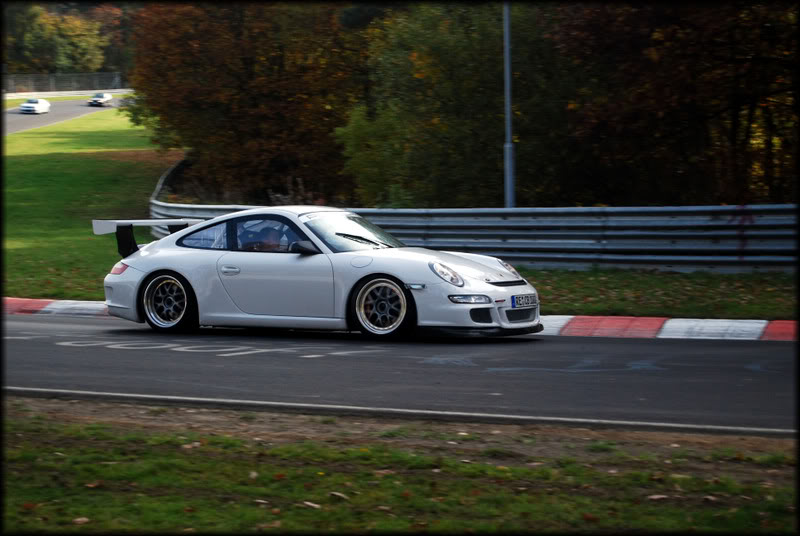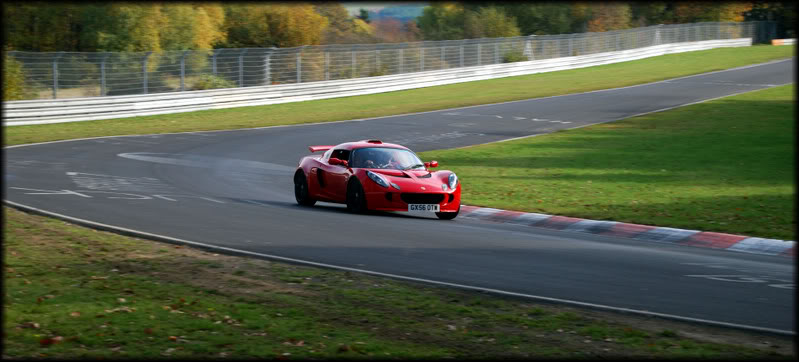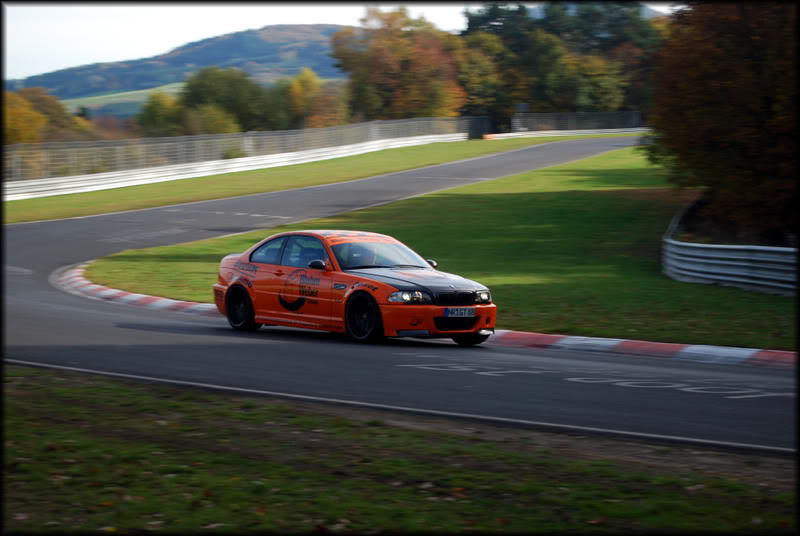 Then look who I caught on camera!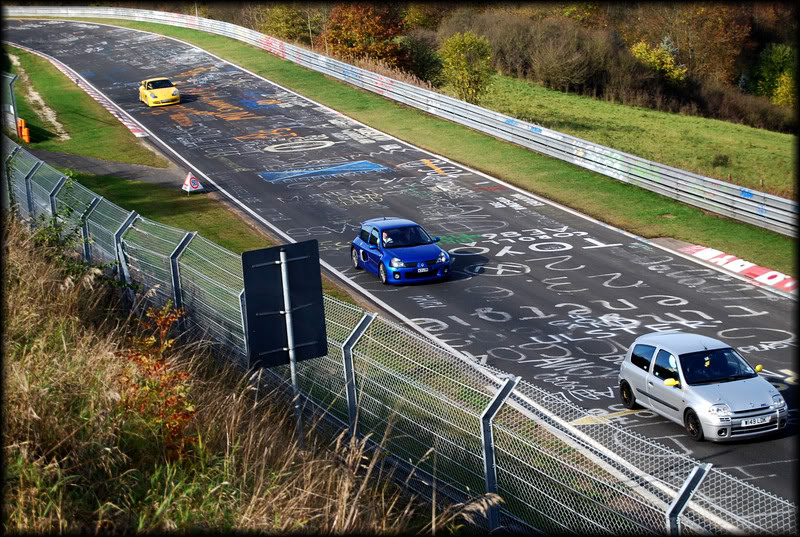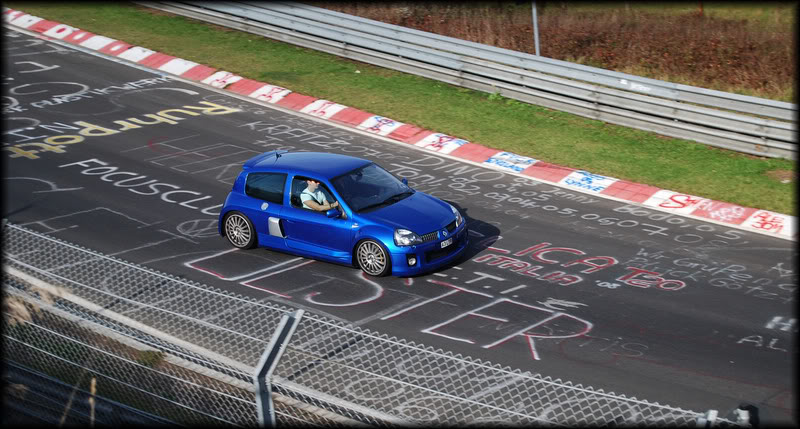 The way back up the road we got lost slightly, but found our way eventually. Then back home to a comfy bed! AAAH!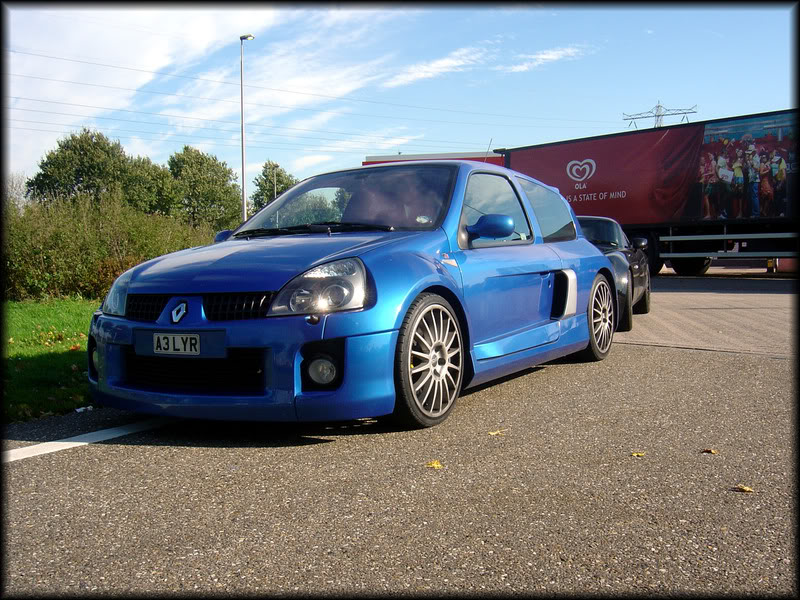 Havent bothered with any major PS work. Just tweaked a couple of light/dark ones.
Costs for the trip..
Ferry – £250 return each
Food/Drink on Ferry – Expensive! £4 a pint, and £30 for a small steak. Breakfast was another £10
Petrol – Just over 1000 miles all in, so car dependant. Think I spend about £250 on it.
Ring Ticket – £50 for 4 laps
Food and Drink elsewhere – Cheap! About £10-12 for a meal and a pint at night. Lunch was about £5 for a burger and chips.
Hotel – another £50 each for 2 nights.
So roughly around £700 ish. Give or take slightly.
All in all, what an awesome experience. Even though I only got one and a half laps, I loved it. The locals were all surprisingly friendly (the italian waitress was FIT!) and just the actual 'being there' was good. Plenty of other car nuts there to chat to, and loads of exotic metal to see aswell. The orange sagaris stole the show for me, and its almost convinced me to get one early next year.
Trevor and Vee made it there and back surprisingly flawlessly. Would recommend this to any car fan. Think we were lucky the weather was so good. Had it been raining it wouldnt have been as enjoyable. Next year I will be taking something quieter and more handling orientated. Thinking Exige again!
Last edited: