Well: as i've joined, loving and intending on frequenting this very busy little Clio hub; i thought i'd start a topic for my ride. Car has been owned by me for a little over 2 years and i've taken the miles from 31k to 41k. But currently its a true garage queen and i'm happy with that. I enjoy the odd Sunday spin. And i love owning it. Every time i open the garage, everytime i go for a blat it makes me smile. It not quick in real terms. Its nippy, handles great and stirs the motions. That's what cars should be about hey !
Theres alot of (Little ?) stuff you likely won't see / notice on this car as i've tried to [On the most part] keep it OEM+ and not have it too loud. Literally listening to it - or visually. Probably because to many of you i'm an old git
I've just kinda tried to make things look like any mods done - might just have been how Renault would have done so......
There is a 137 page build thread so far; here over on 197/200.net. Much of it me mulling over and chewing that fat on how to do any mod's to the best of my ability; as i'm completely anal:
BUILD THREAD
Current specs are:
2010 Clio RS-200: Renault Racing Blue. Mileage circa 40k:
ENGINE:
Toyo-Sports Stainless Steel 4-2-1 manifold
Scorpion Resonated Stainless Steel system (1 x Cat removed)
Ram-Air panel filter in standard airbox
Acoustic Valve removed
Modified Acoustic Valve inlet / Cold air feed into air-box
Engine dynamics Remap and 7750rpm Rev-limit (199.8bhp / 158.4lb-ft)
Yellow Silicone vacuum hose and Aluminium non-return valve
Various VT Customs dress-up bolts etc and some Yellow colour-coding
Streamline Carbon - "RENAULT sport" inlet manifold badge
Custom-made Carbon Fibre radiator reservoir-bottle cover
Custom-made Stainless Steel Alarm plunger bracket
Powerflex (Yellow series) Engine and gearbox mount bushes
Fuchs Titan 5w-40 Fully Synthetic Engine oil
Redline MTL 75W80 gearbox oil
Bosch oil filter, NGK plugs
Cambelt, Aux Belt, Dephaser, Tensioner, Water-pump, Camshaft seals etc changed with genuine Renault parts October 2016.
CHASSIS:
Continental Contisport-5 XL (215/45-17) tyres
Powdercoated Gloss Black / lacquered 'Speedline' wheels
Black Renault centre-caps
Black wheel-nut covers
Meyle uprated / stainless-steel heavy duty drop-links
Meyle Uprated / stainless-steel heavy duty anti rotation links
Camber / Toe / Caster set-up on Hunter Hawk-Eye
Eibach Pro-Kit lowering springs (15mm drop front / 20mm drop rear)
5mm Hub-centric spacers - Front
10mm Pure Motorsport Aluminium stub-axle extenders – Rear
+5mm high tensile extended wheel bolts all round
BRAKES:
Standard Brembo 4-piston calipers front / Standard rears
Brembo High-Carbon 312mm vented front discs
Brembo rear discs
Ferodo DS2500 front brake pads
Mintex 1144 rear brake pads
Motul RBF600 Synthetic fluid
Mintex Front Pins / Springs
Megane rear brake calliper return springs
Hubs painted with Hammerite smooth
EXTERIOR:
Gloss Black "Classic" rear spoiler
Gloss Black door rubbing strips
Carbon-fibre Black Renault badges front and rear
Satin Black Carbon Fibre 'B'-pillar decals
Black Renault flag decals on rear quarter's
Stubby Carbon Fibre Aerial
"CLIO" badge removed on boot
White sidelight / indicator bulbs
Xenon number-plate bulbs
Uprated headlamp / side-light bulbs
Bosch wipers all-round
INTERIOR:
Custom-trimmed Recaro CS seats in Anthracite Leather; with Silver stitching.
Custom Leather steering-wheel by 'Royal' ; with Orange centre-band and Orange stitching
Leather gear-gaiter with Orange stitching
Tailored floor mats with Orange trim
Custom dash-decals with Orange highlights + various other Orange highlights
RENAULT Sport "RS" Aluminium gear-knob
Xenon Bulbs: Courtesy lights front and rear, door-cards, boot and number-plate
JVC CS-DR520 speakers front
JVC CS-J520 speakers rear
12mm Sound-proofing under carpet in boot
And a few pics: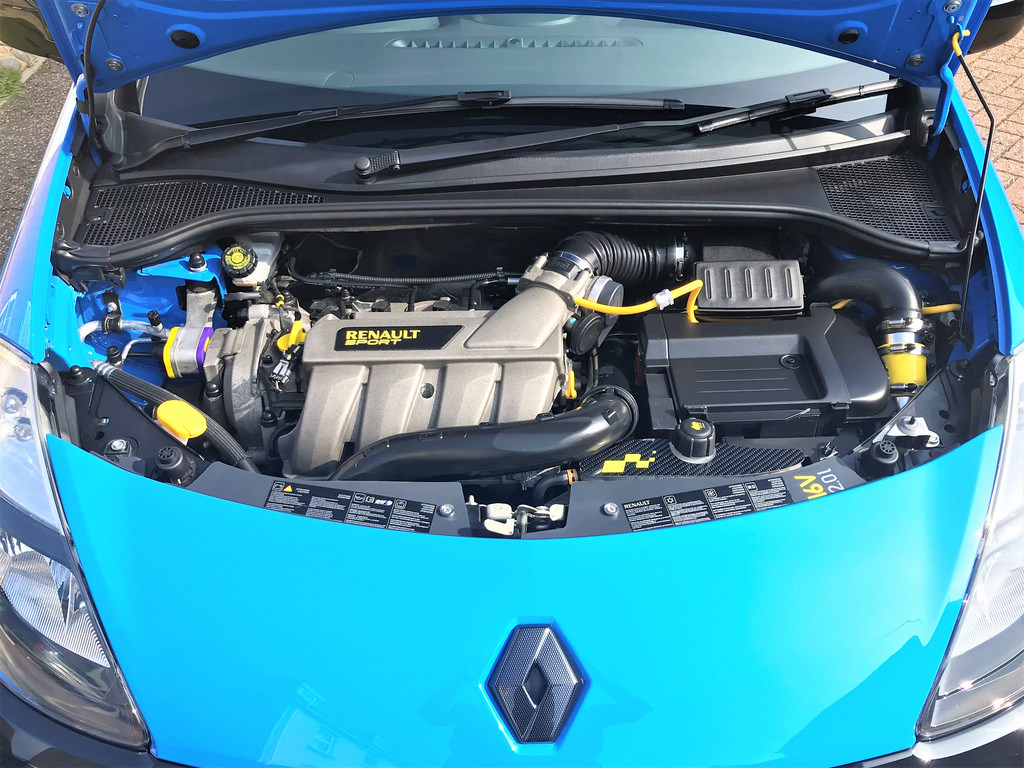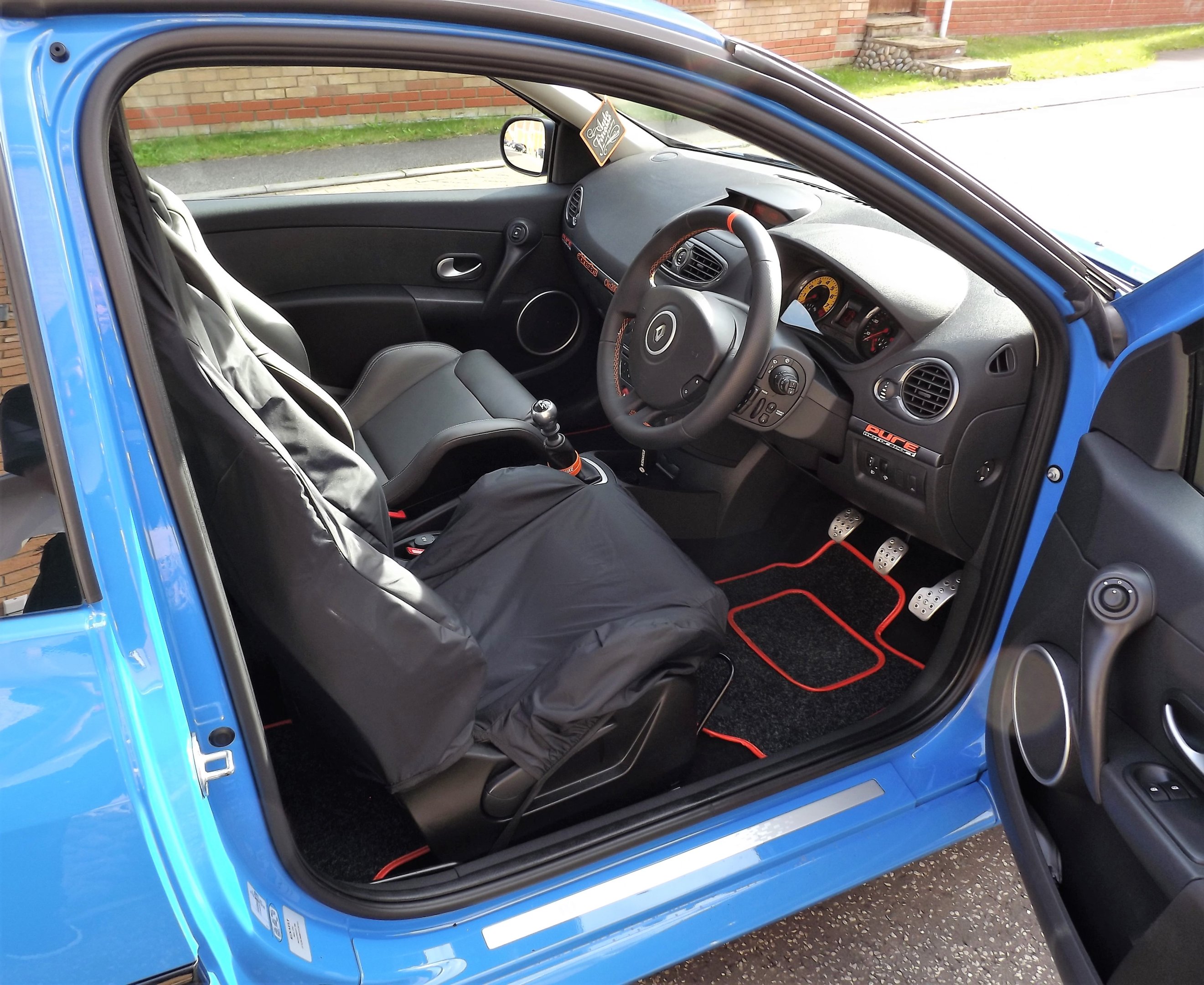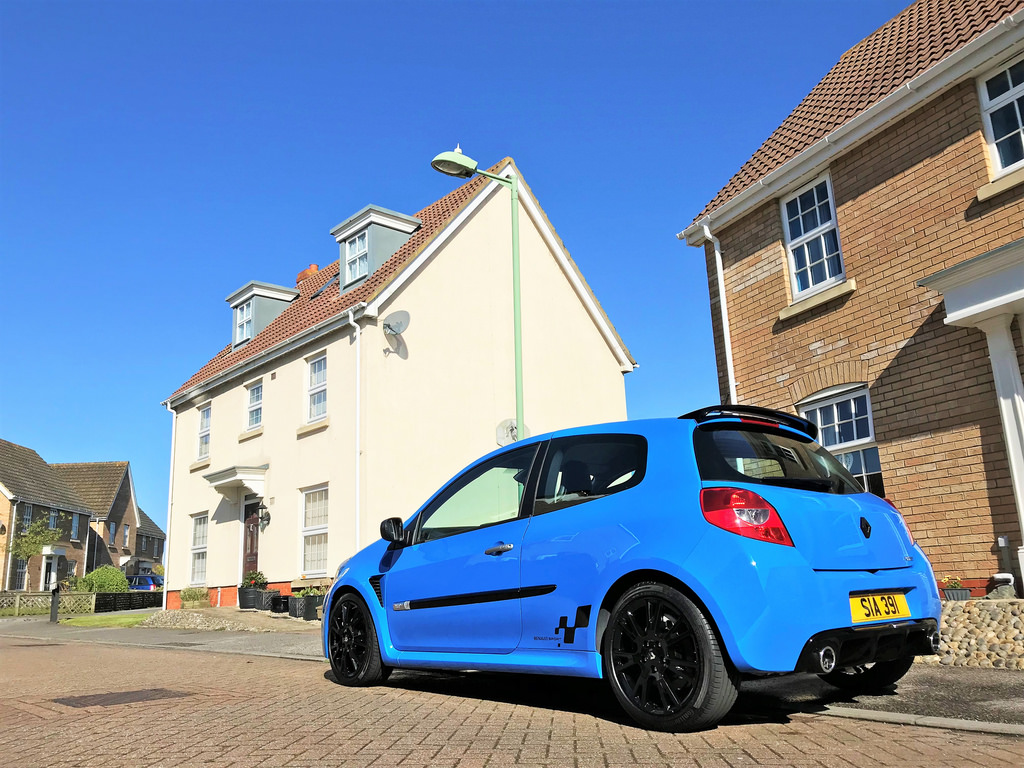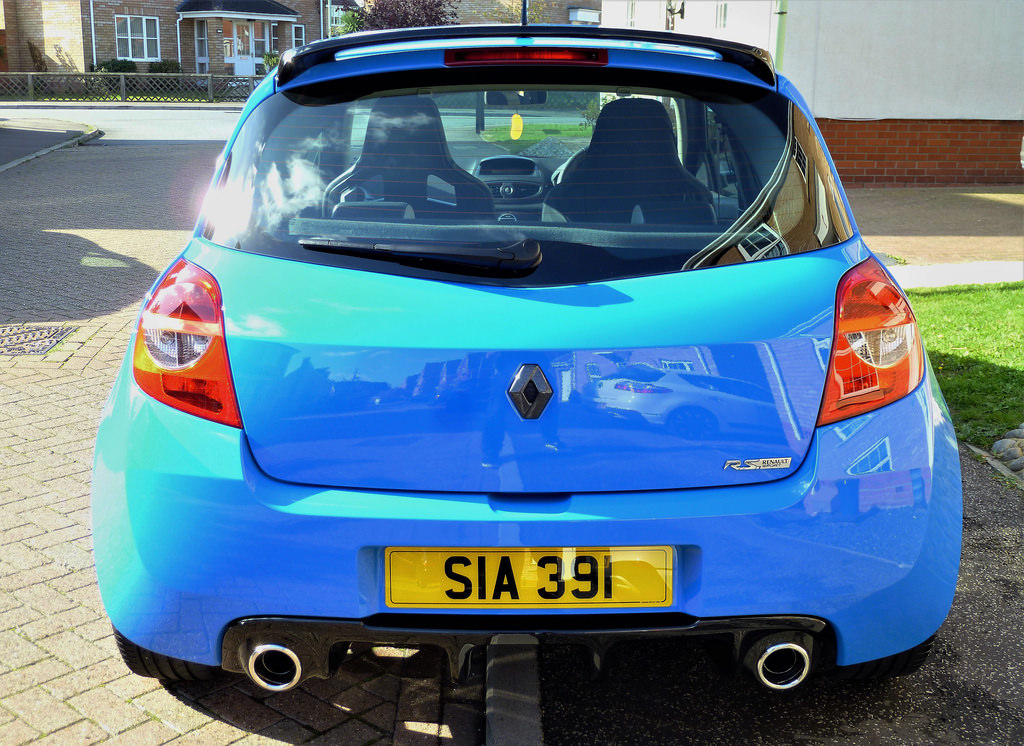 Cheers for looking.