So I've been on here a few years just rarely seem to post! But thought I would start a thread on my 182 and the bits I've done since picking it up back in Feb 2014. I had a 1.2 mk2 clio before the 182 as my first car, which I chucked some OZ F1's on, painted the mirror caps and added a sport grille before I decided to stop wasting money! Although in fairness it didn't put a foot wrong in the two years I had it.
On to the 182, it's a black gold (as per title) 2005 182 Full Fat. Here's how it sat the day after I picked it up.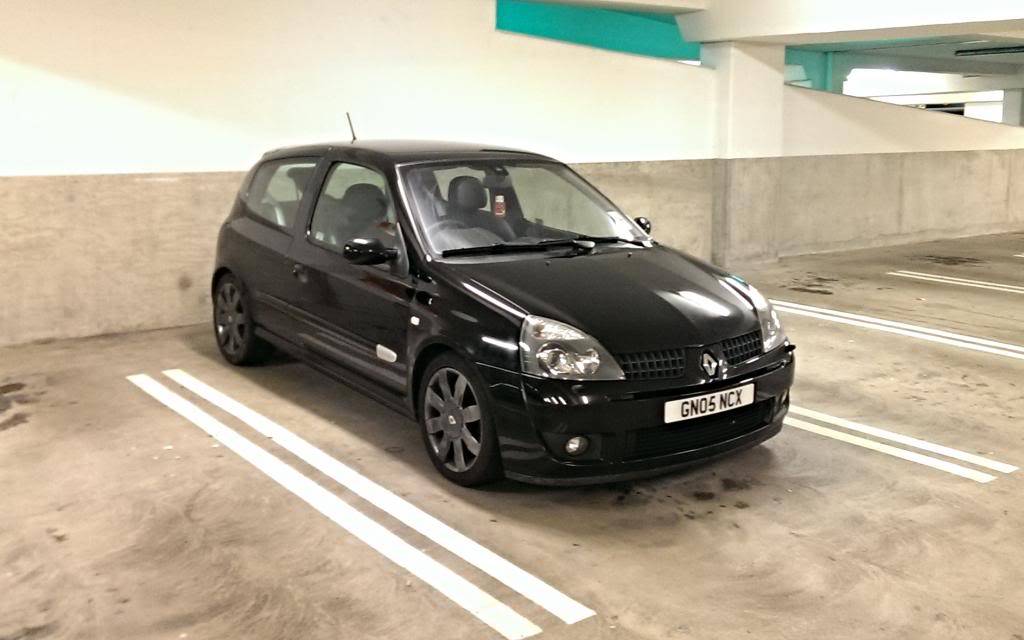 I bought it on around 80,000 with a ton of invoices, receipts and history. It drives really well and was sat on eibach sportlines, it also apparently had a remap although there was no paperwork on this, I've been thinking it was possibly a rs tuner map as it revs to around 7600 ish and seems to lack the '5k kick' that the standard map has. It also has a scorpion rs 192, which even after readjustment blows like a b*tch, and a decat pipe. I didnt have huge plans for it as I really do like the way they look and I didnt fancy any power upgrades due to only being 20 when I picked it up. So this thread is just about making the car my own, with some subtle mods and keeping it clean and tidy.
2014
To kick things off I bought some led sidelights as the halogen ones didnt match. Couple of quid ebay jobbies which looked pretty good imo!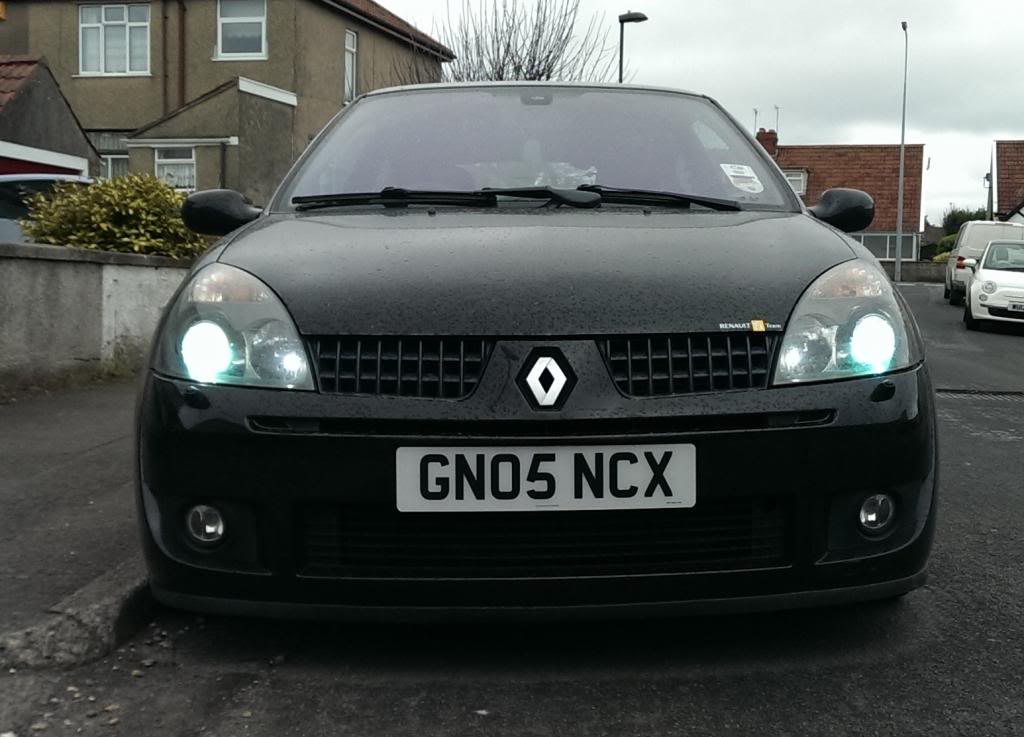 Dont seem to have a before picture with the yellow halogen sidelights, oh and also added a F1 sticker to the bonnet as I quite like them.
[/URL][/IMG]
Then the car stayed the same for a few months aside from cleaning it up every two weeks as black wont stay clean for more than 30 seconds. It went through mot just needing some tyres on the front so got some new hankook's chucked on as I had them before and the car seemed to handle well on them. The car then attended FCS which started off drizzly but turned out to be a nice day after the morning!
Following that I added a new style sport badge to replace the halfords badge which, as many have said, tidies up the rear nicely. I also added some yellow lamin x to the fog lights, a bit marmite but I like it, well for now.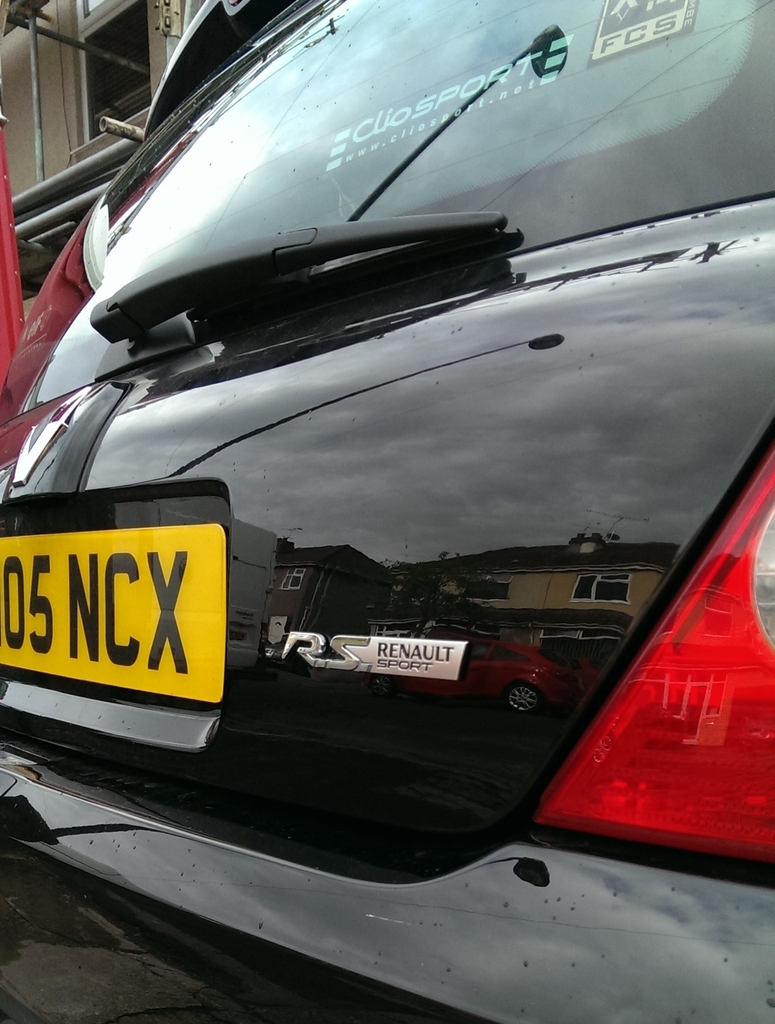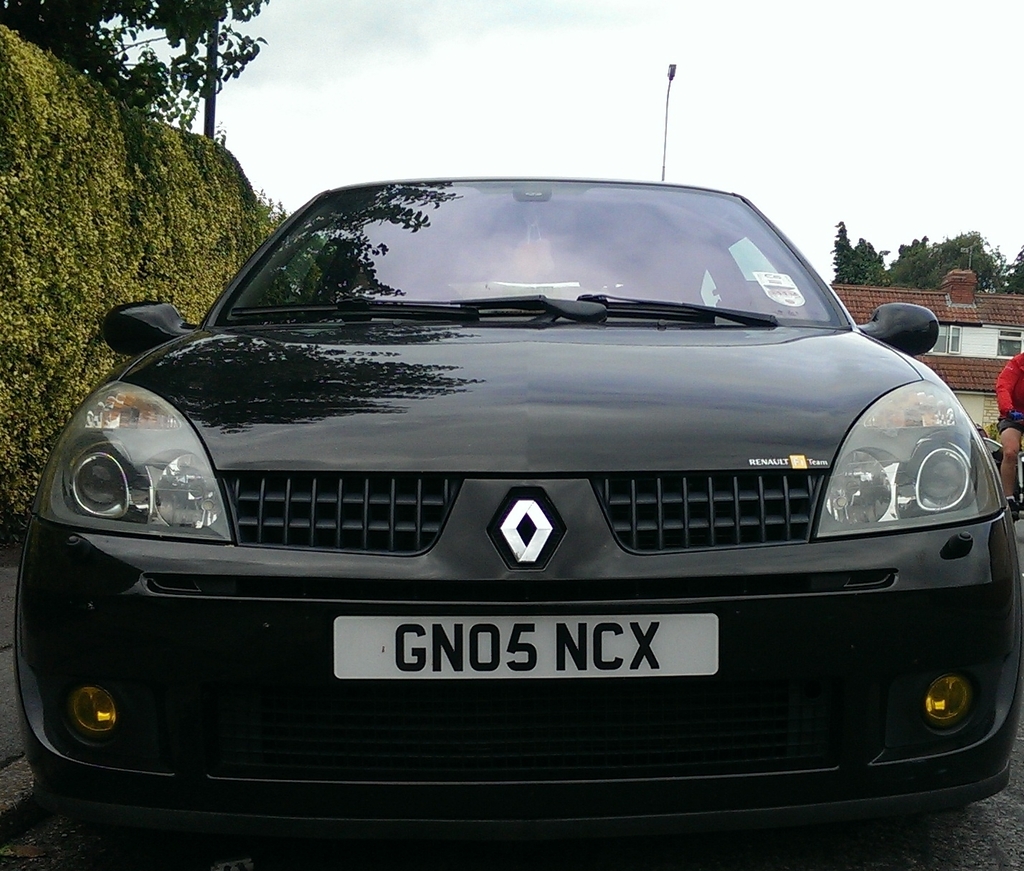 I had toyed with the idea of having some of the little bits (handbrake cover, a pillars, b pillars) flocked but I still haven't gotten around to that, but I did see a post on here in which someone had a gear gaiter made up in alcantara type material which I liked the look of, so this was up next. Ordered it from a seller on ebay and requested the material to be alcantara or similar as it would match the seats, bit of a bad photo fitted.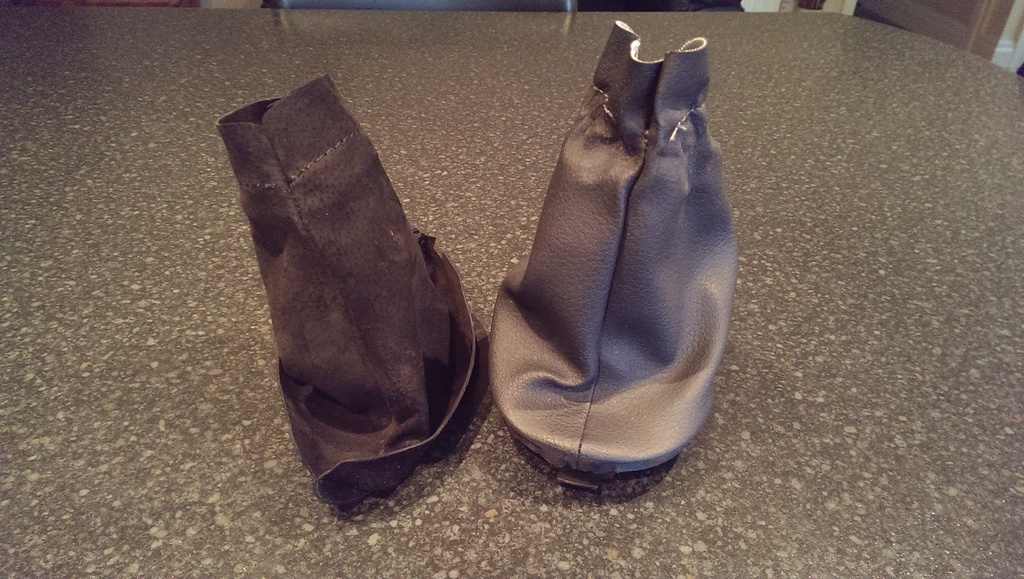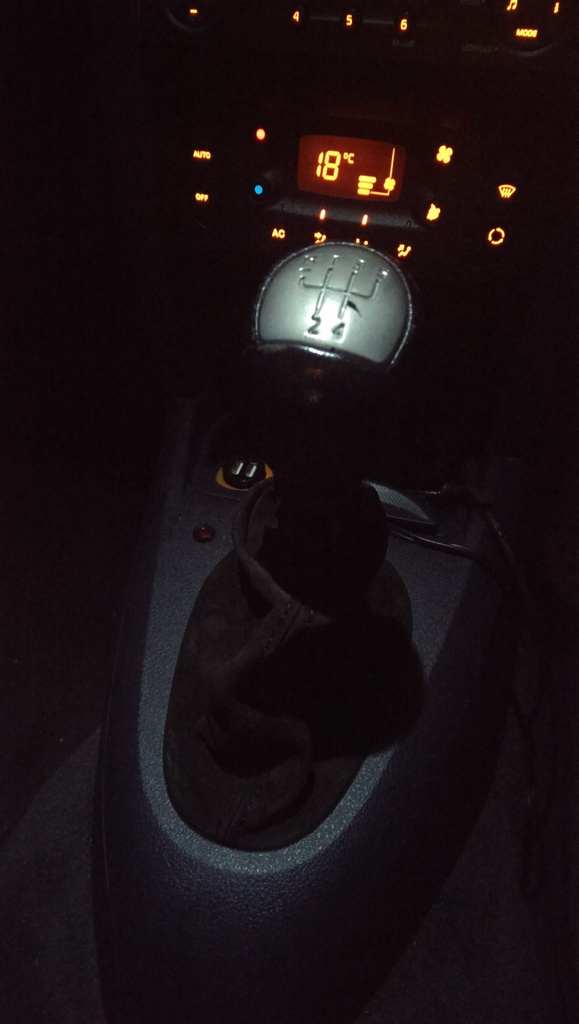 PFC up at donington was quickly approaching so I decided to grab a 3M headlight restoration kit and have a crack at the headlights as they were looking a little tired. Before picture of the passenger side as this was the worst with most of the hazing at the top, and an after of both all done.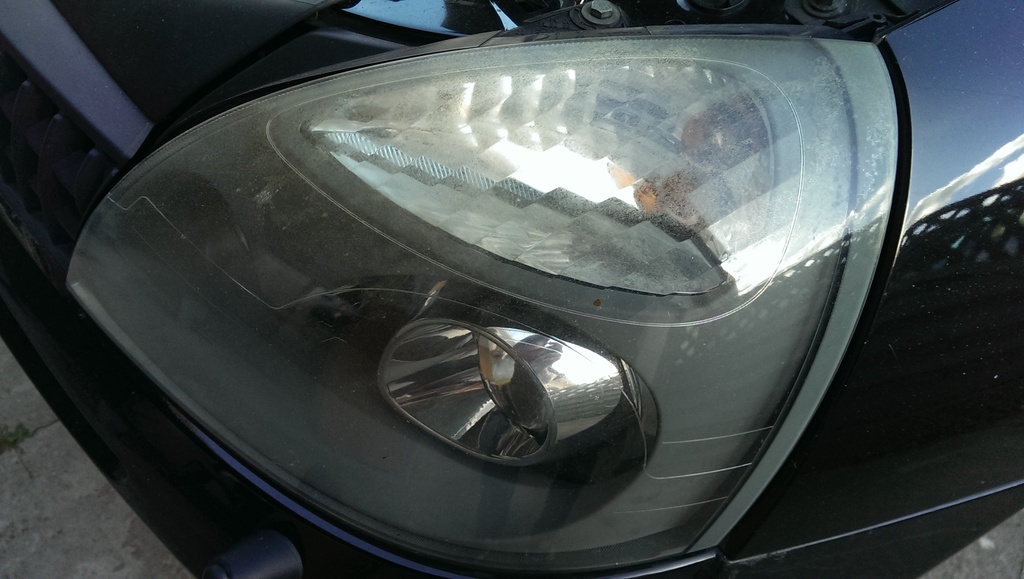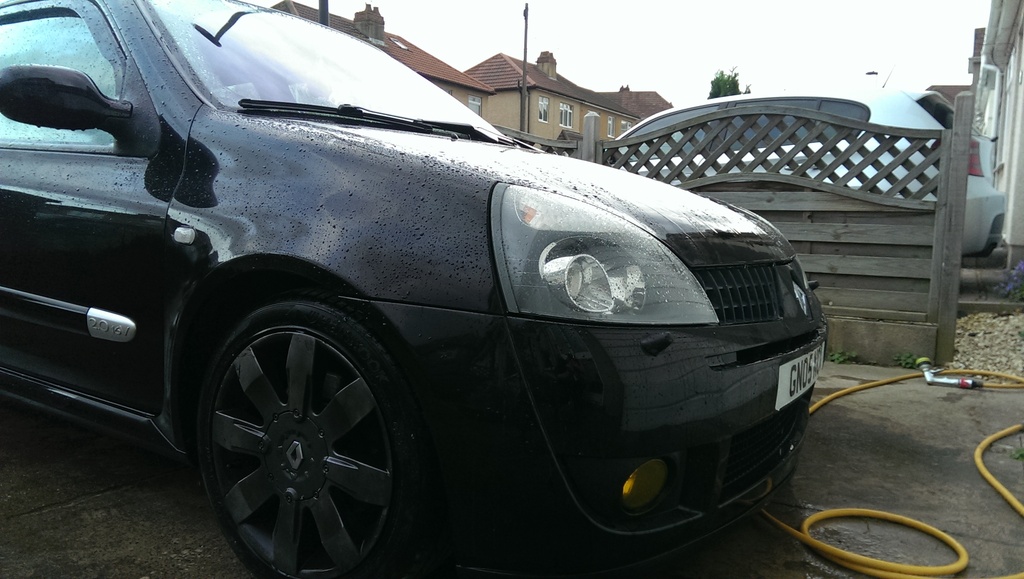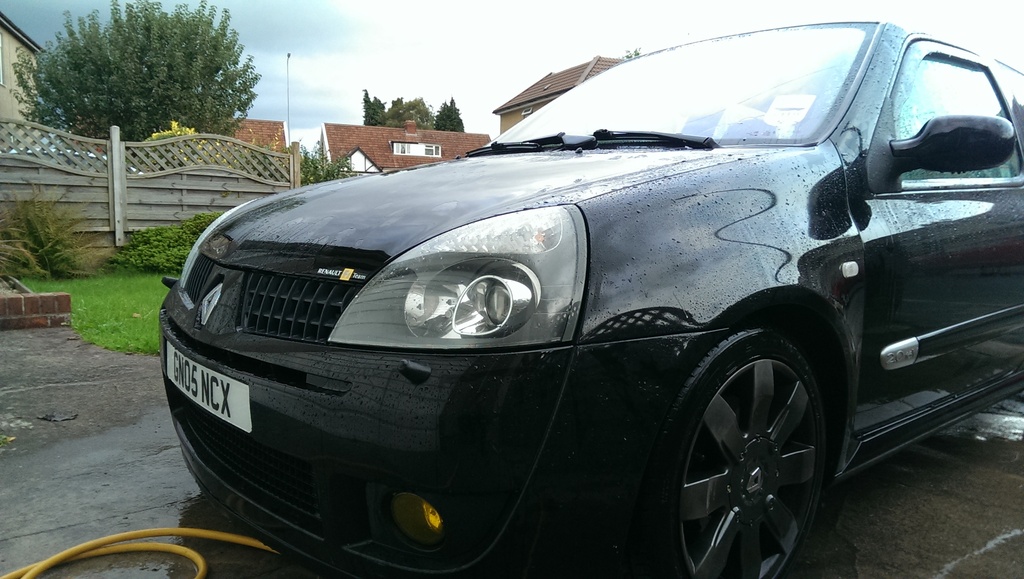 After PFC I decided it was time for some new wheels as I'm not the biggest fan of the 182 wheels and there was a little kerbing on the front two. I like the look of turinis but wanted it to look a little different to the norm, so it was between 2118's and williams wheels. A set of white williams came up in the parts for sale section, tyres were really good all round and aside from needing a respray the wheels were in really good condition. Once they arrived I booked them in for refurb and chose to have them in anthracite as I think it goes best against the black gold.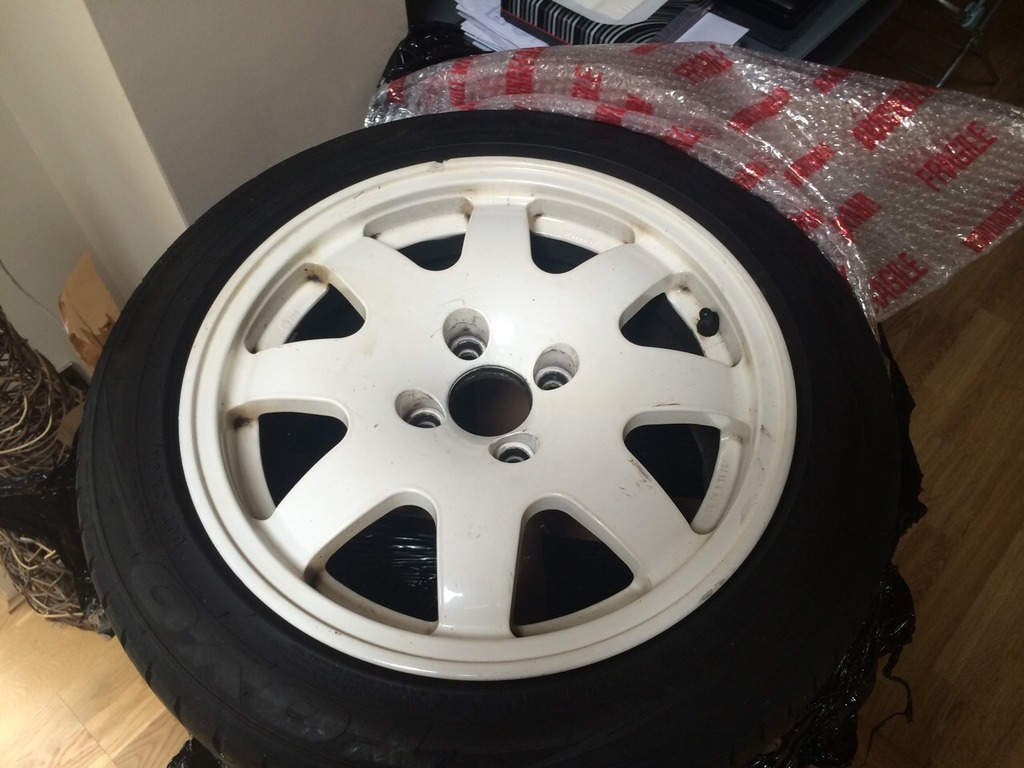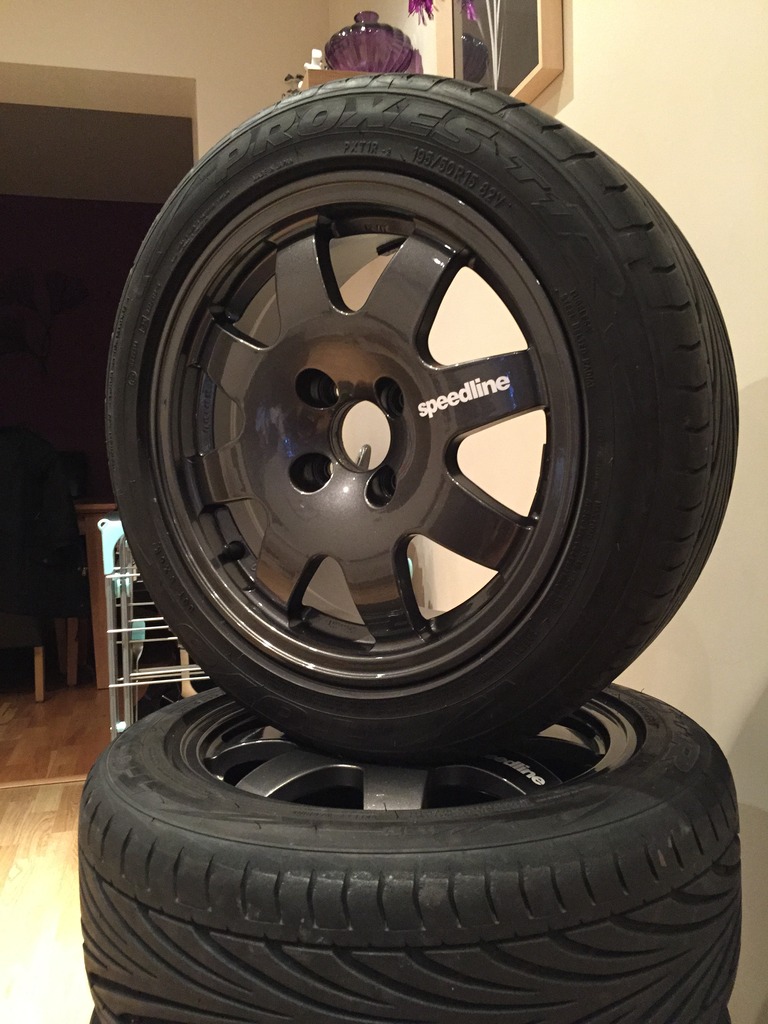 Then fitted.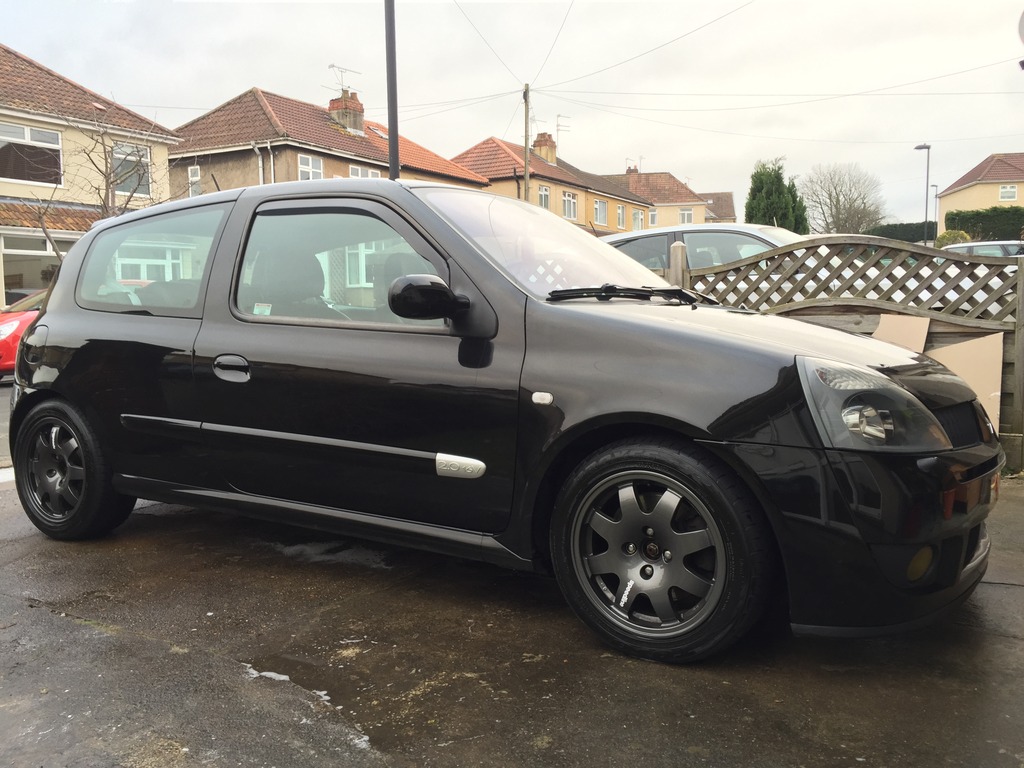 2015

Got a few compliments on the wheels from mates and I think they suit the car really well, however I did think the sportlines sat a bit high on them. Decided against coilovers and picked up some cooksports after waiting an age for them to come back into stock.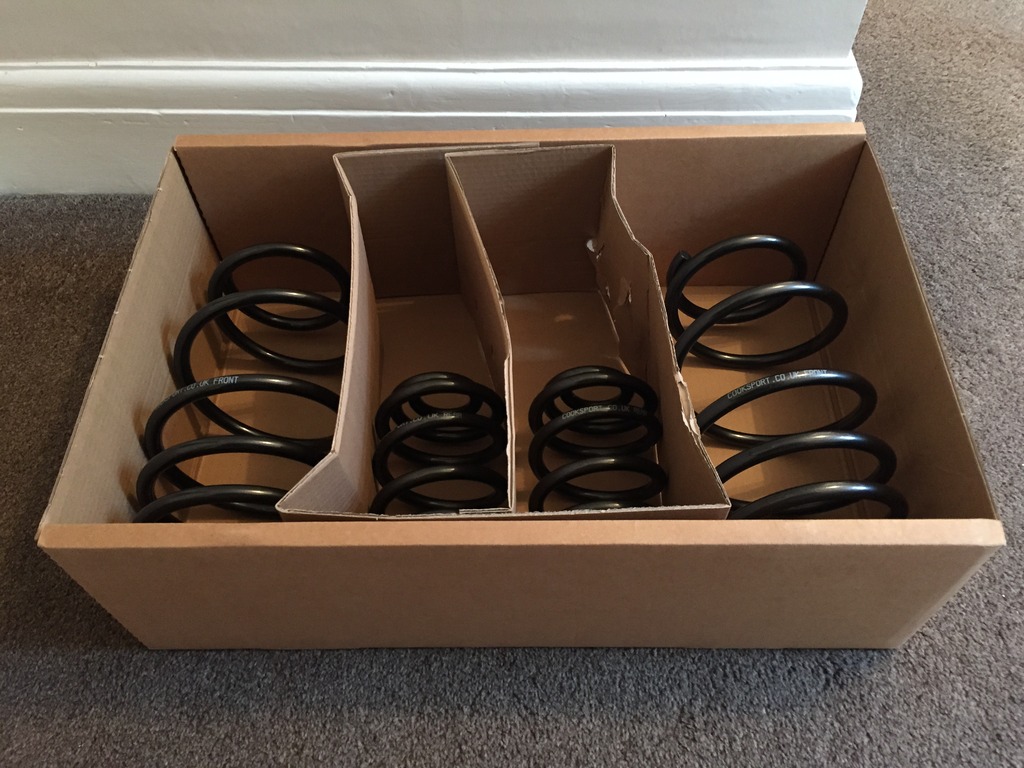 At the same time I thought it would be a good idea to get the belts changed alongside the water pump, dephaser etc, as this was due in the summer. Got the car booked in with
@lemonnobby
and decided to get the springs fitted at the same time. Here's how she sat all cleaned up afterwards.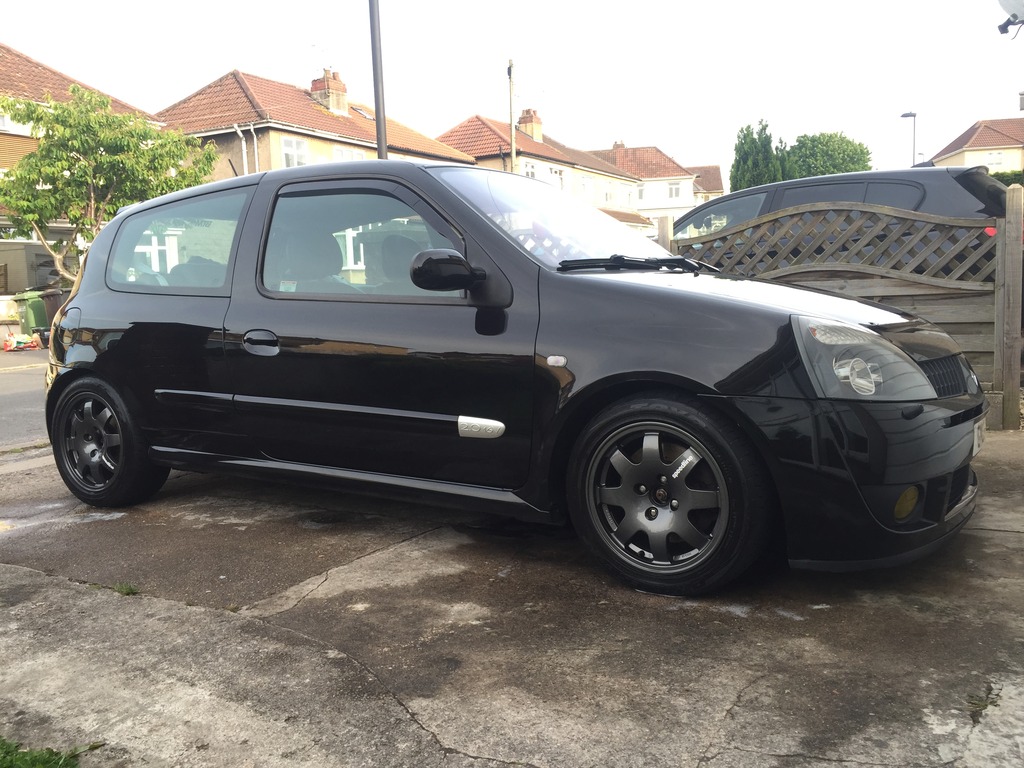 My driveway is all over the place so it's a bit hard to see the difference but it definitely sits slightly lower on the cooksports.
The next few months nothing really happened with the clio other than changing the climate control unit for one from a dci, some of the buttons on the existing one were scratched off and I prefer the matte type feel of the dci one over the sticky feel on the 182 one. Also picked up the carbon effect silver interior strips, steering insert and gear insert as I prefer those to the standard silver ones. It went through mot only advisory being the numberplate light being intermittent.
Then had a few hours cleaning session in prep for FCS, I had picked up a karcher k2 and some snowfoam in the weeks before so treated the car to a snowfoam, then two bucket wipe. Polished the car with some meguiars ultimate polish and waxed with some autoglym HD wax. Cleaned the door shuts, cleaned up the interior, polished the exhaust tips with some meguiars metal polish and finally hit the plastics with some auto finesse revive. Came up alright for a 10 year old daily!
Brining us up to speed the clio has been a bit neglected in the last few months, currently its needing a new numberplate light unit and bulb as the pins are corroded to sh*t and a new passenger side wing mirror glass as someone clattered into it coming down my road the other day! The windscreen washers need fixing as they haven't been working for ages (removal tool on the way for the wipers) and it could also do with a respray on the bonnet and front bumper due to a ludicrous amount of stone chips and some scuff marks on the passenger side by the fog light. Numberplate light unit and bulb turned up yesterday so got that swapped over, its bright to say the least!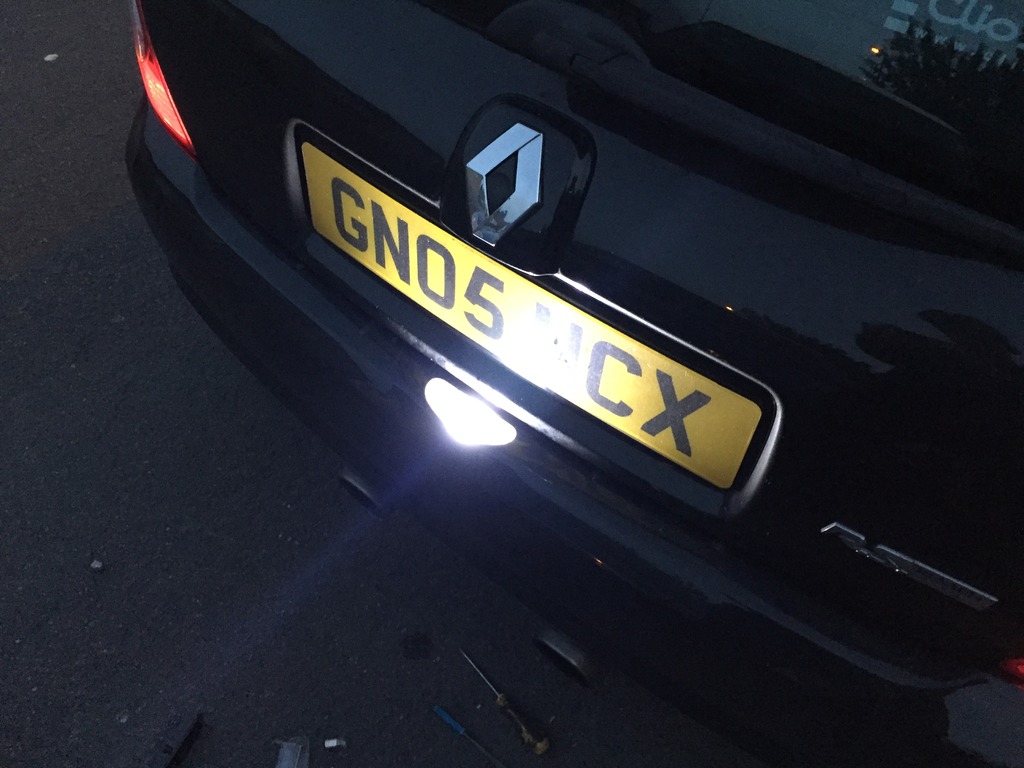 A new mirror glass should turn up tomorrow hopefully, and I may look at a respray for the bonnet and bumper in the new year. This is how she was sitting around a week ago.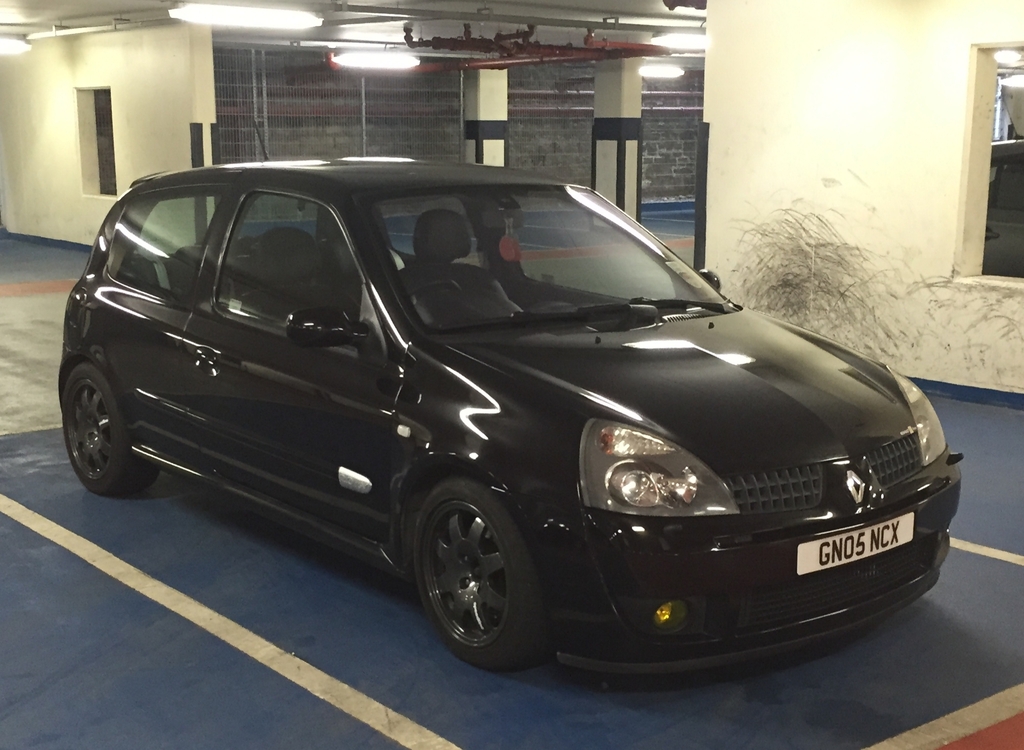 Thanks for reading!