Good eve!
Another update for you. As of late, I seem to be attracting lots of BMW's!
First up,
BMW 330ci
– Sapphire Black
Working to a budget, the car was to go through a Major Paint Correction Detail to restore clarity and help remove some Random Deep Scratches (RDS) and swirls.
Product used:
AutoSmart G101
AutoSmart Tardis
AMDetails Bubbles
AMDetails Foam
Blackfire Wet Diamond All Finish Paint Protection
Car Pro Iron-X
Jeffs Werkstat Acrylic Prime
Menzerna 85RD 3.02
Menzerna 203s
Meguairs Endurance Tyre Gel
Meguairs Metal Polish
Scholl Concepts S17+
3M Glass Cleaner
Video highlights:
Upon inspection.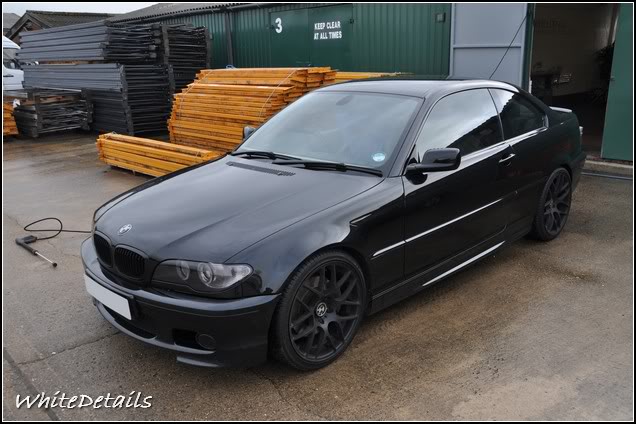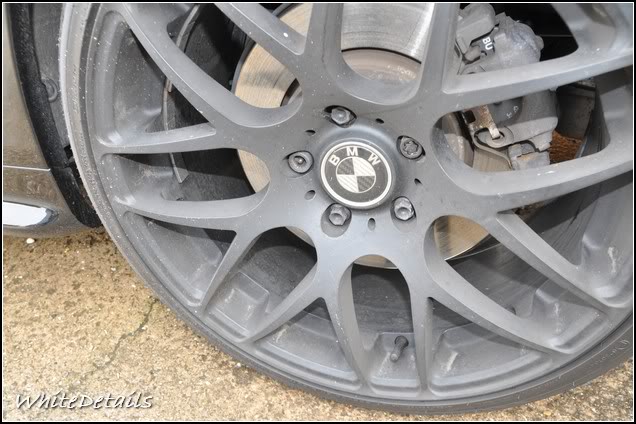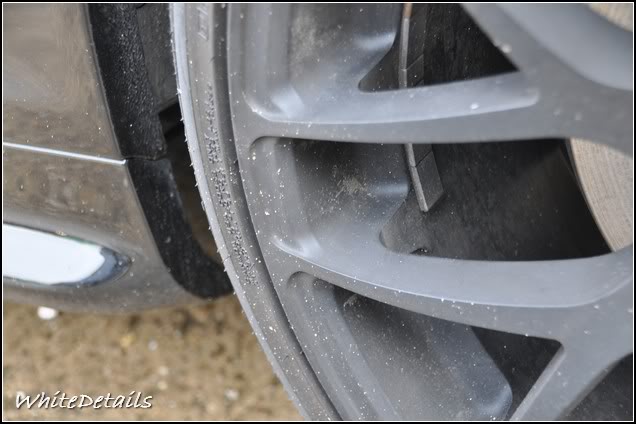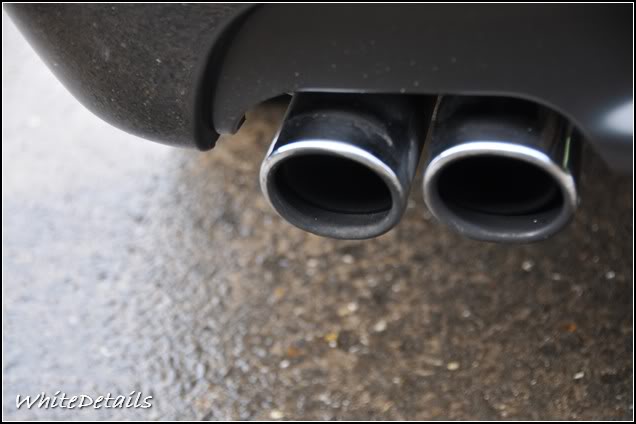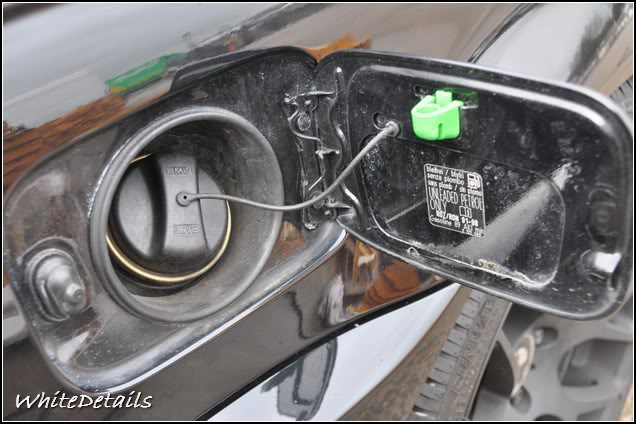 Residues from previous polishing sessions: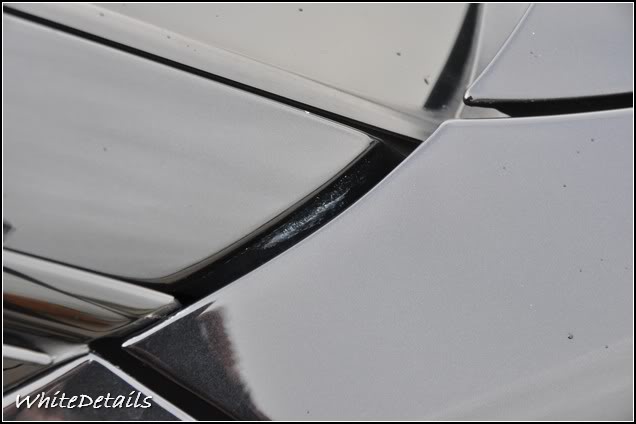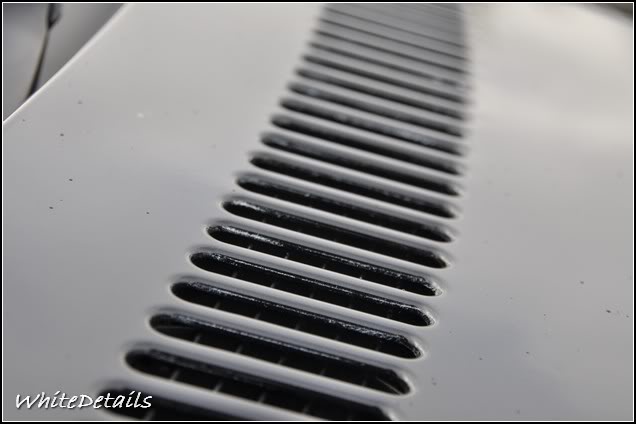 An area to focus on; nasty scratches around the BMW badges.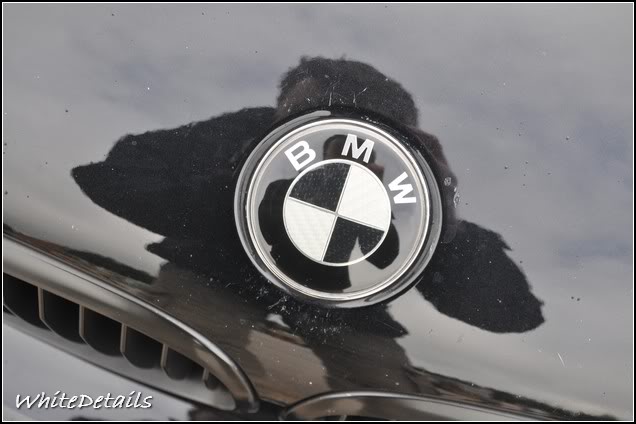 Usual wash and decontamination stage performed.
CarPro Iron-X deep cleaning the matte finished rims: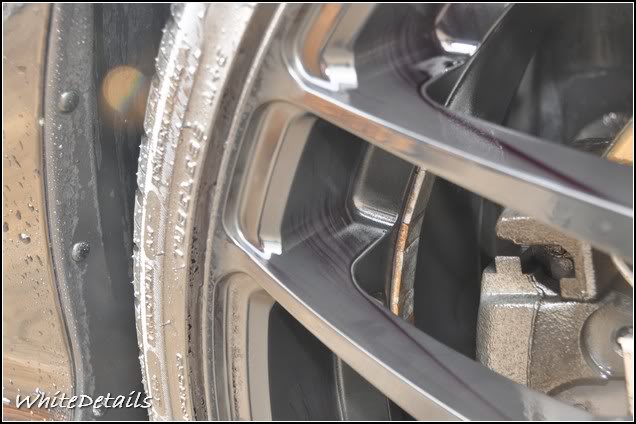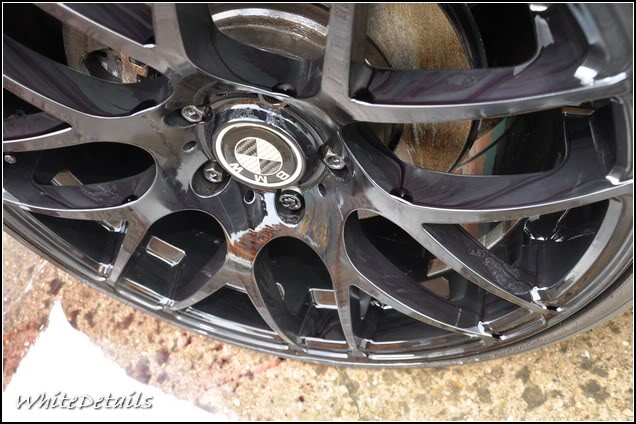 Once inside, clay barred and blown dry, it was time to fire up the rotary.
A few defects (difficult to capture 'swirling' on sapphire black; only visible marks are random scratches and blemishes)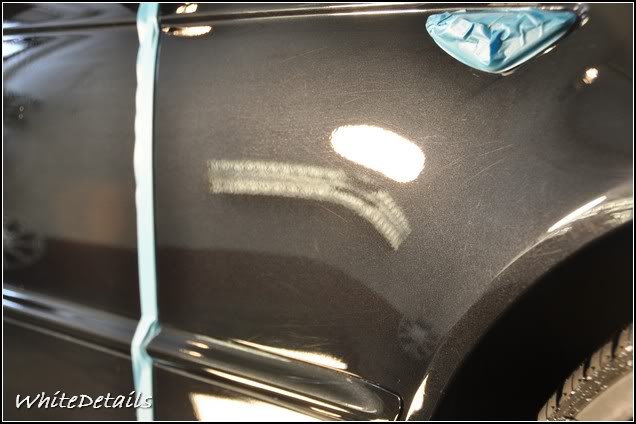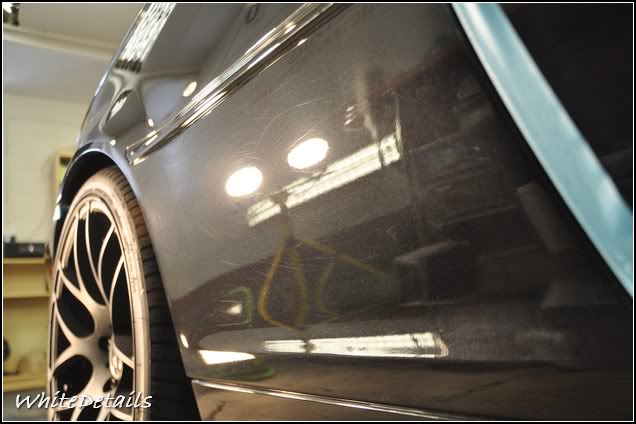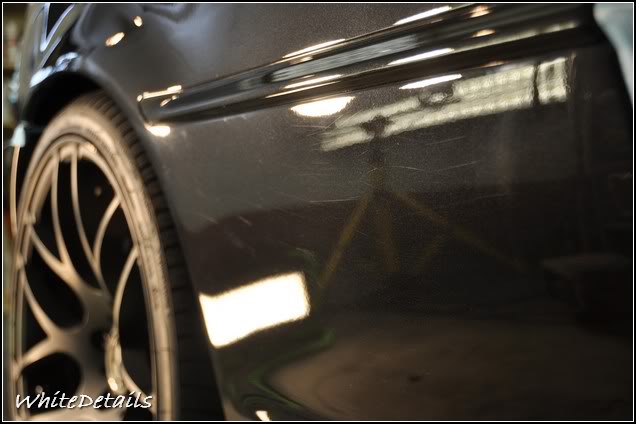 Working with Scholl Concepts S17+ and Lake Country polishing pads, results were pleasing: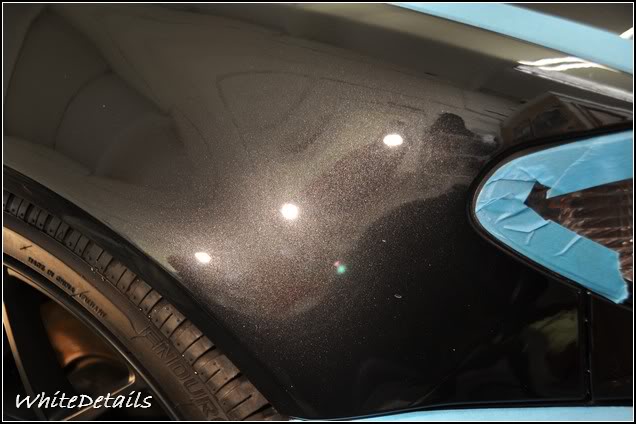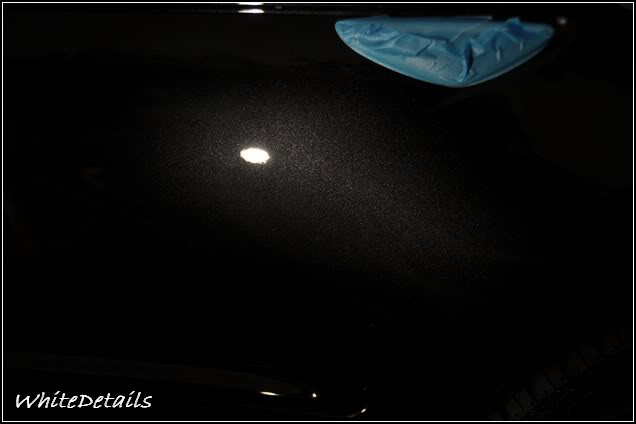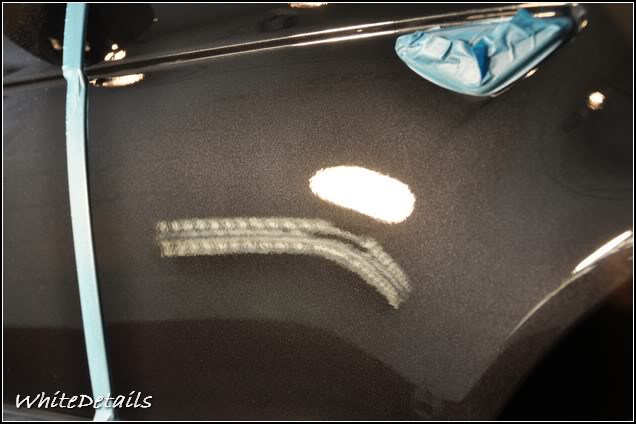 A 'sort of' 50/50 on the OS door: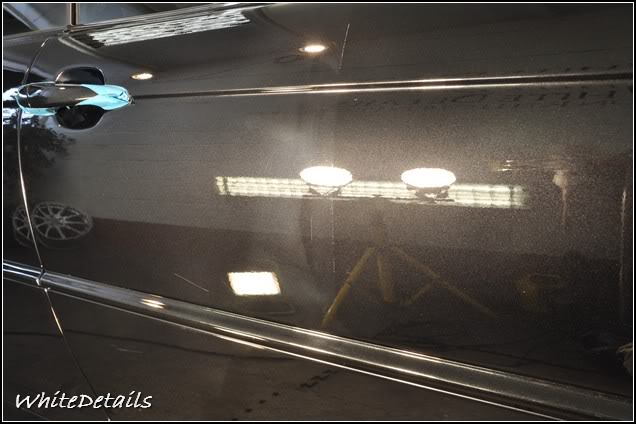 Nasty scratch: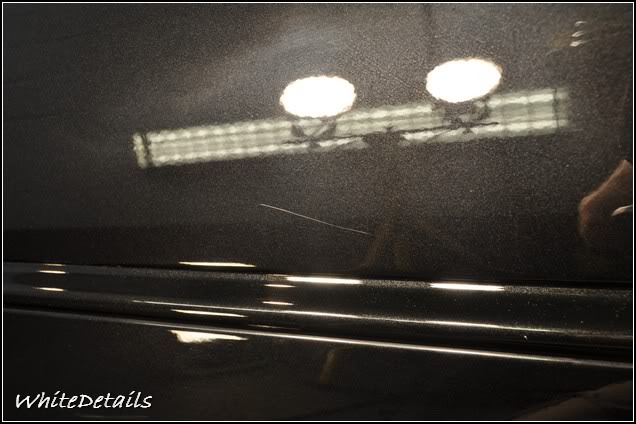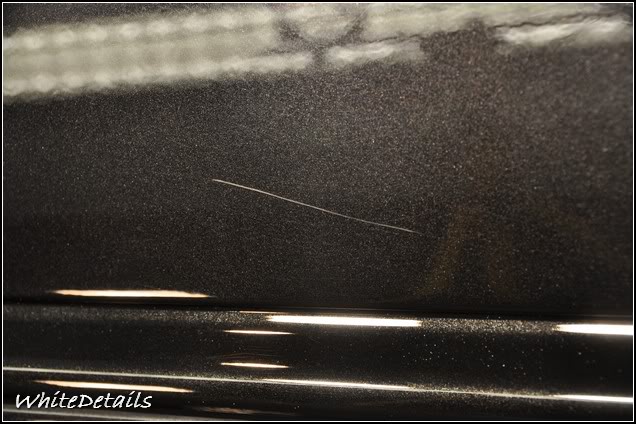 After: (after many polishing sets)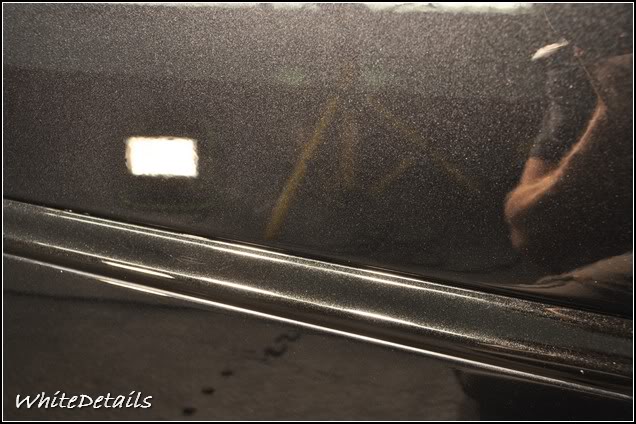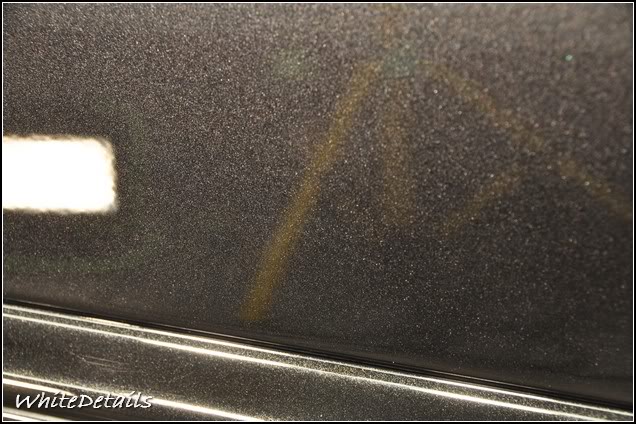 Not completely removed if you looked ever so closely in the right light and at the right angle, but MUCH improved (would no longer be visible outside in natural lighting)
Bootlid before/after: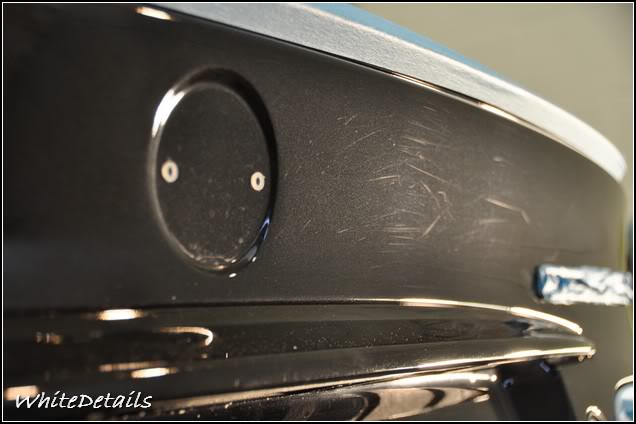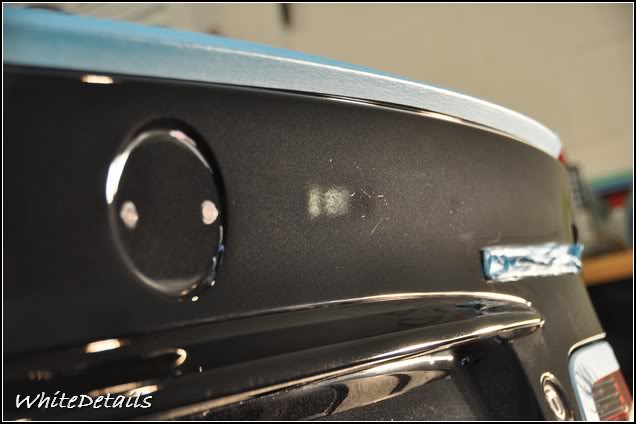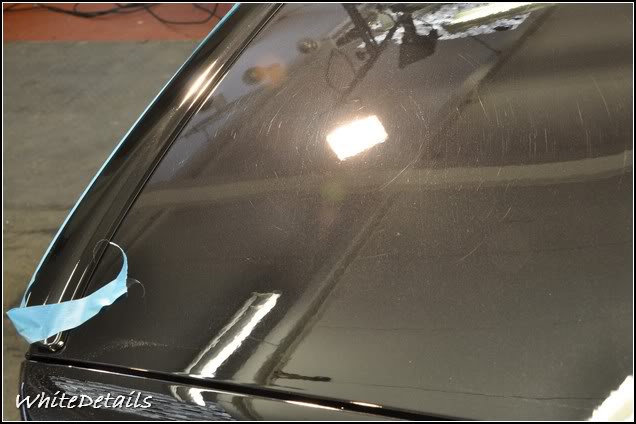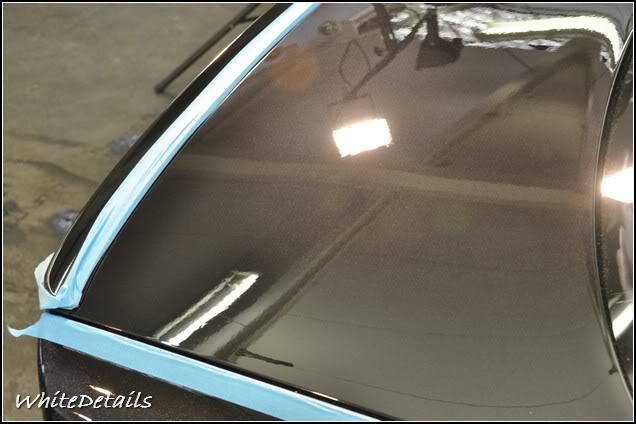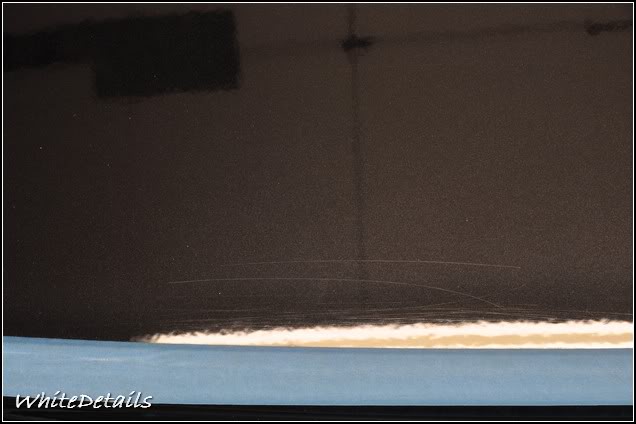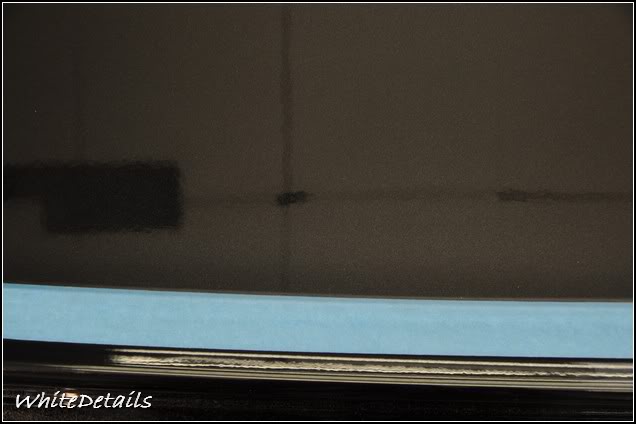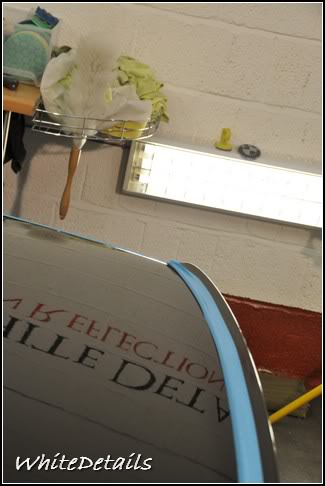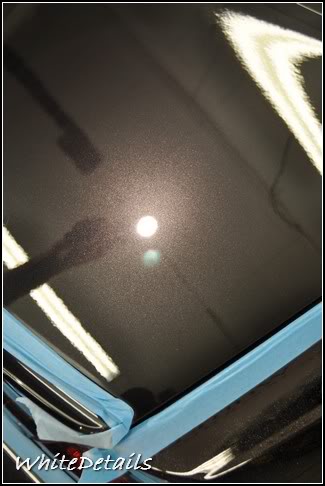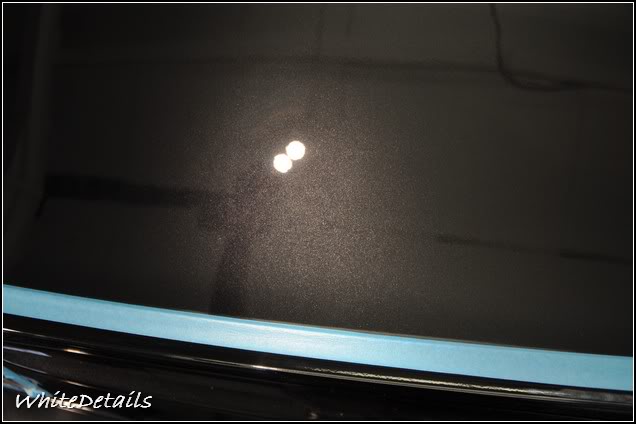 A small 50/50 on the lower sill: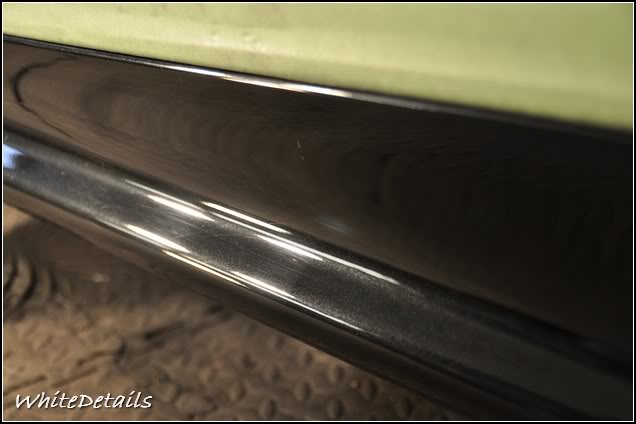 A-C pillar work: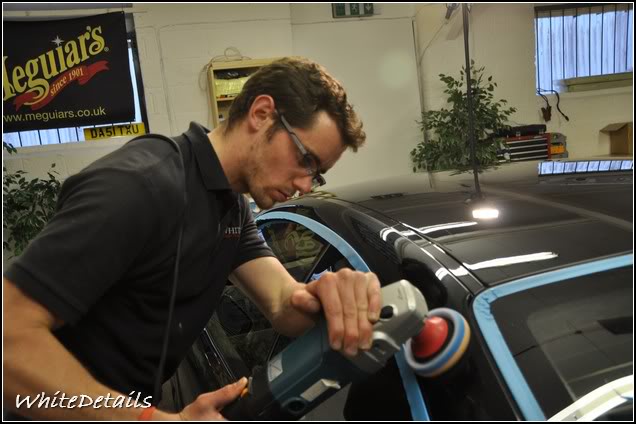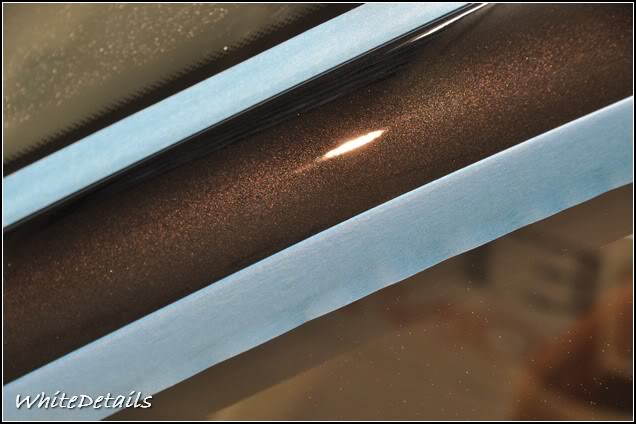 Lower doors before: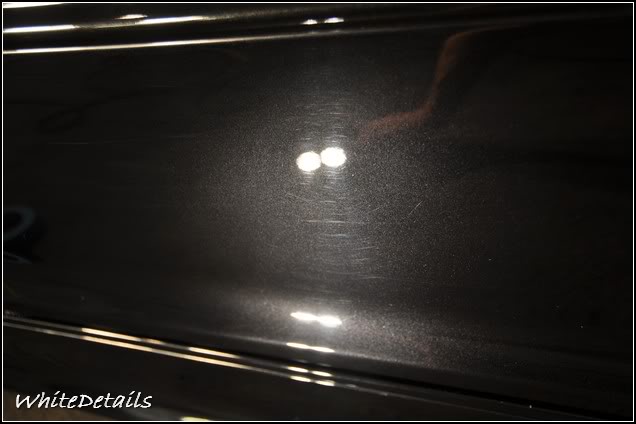 After: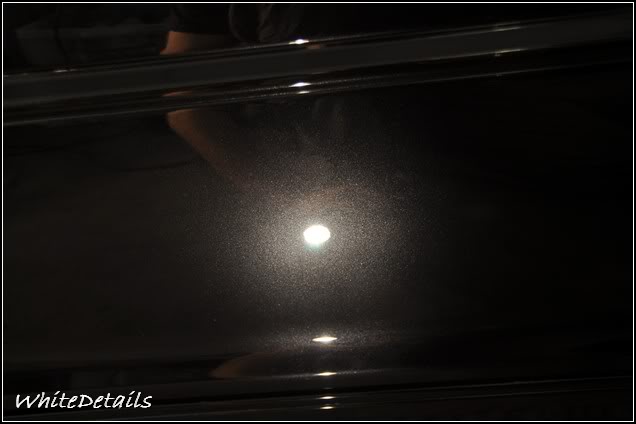 N/S/R wing before/after: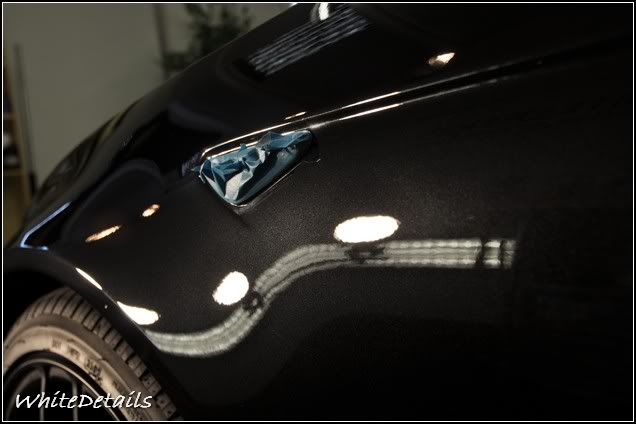 Bonnet was a little tired; requiring a wool pad and several polishing sets to get 'right'.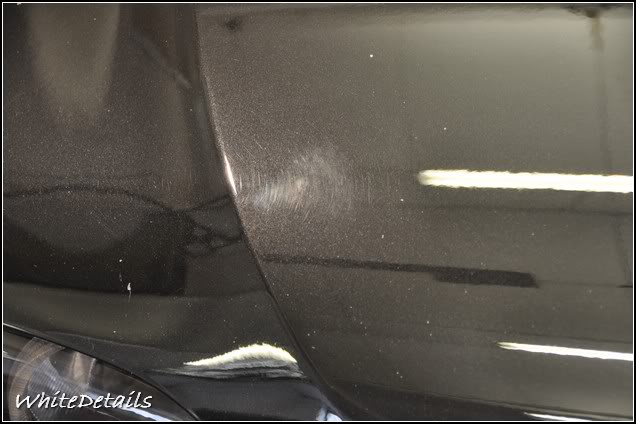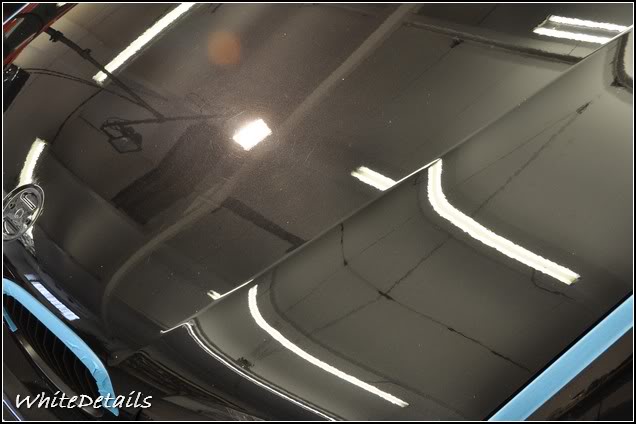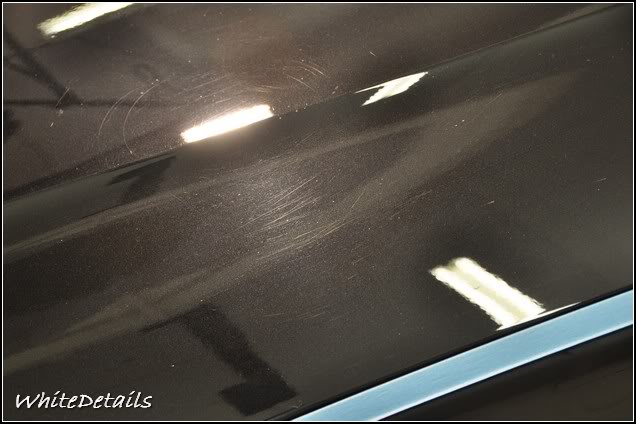 After: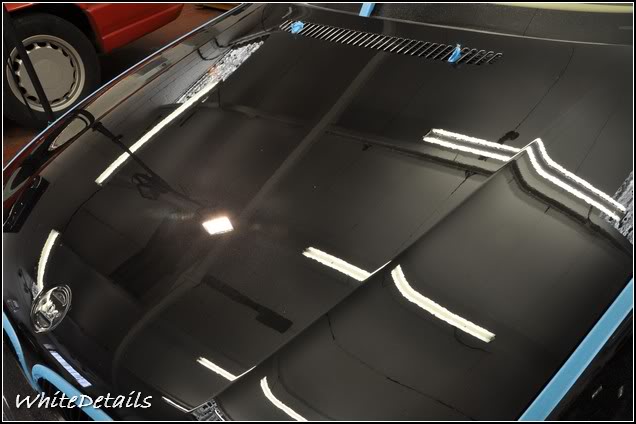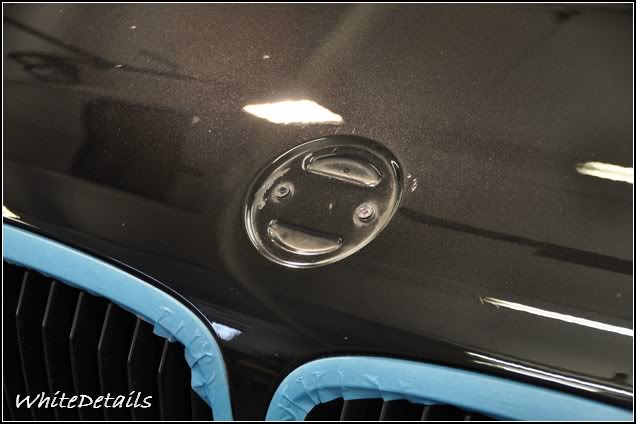 Front bumper: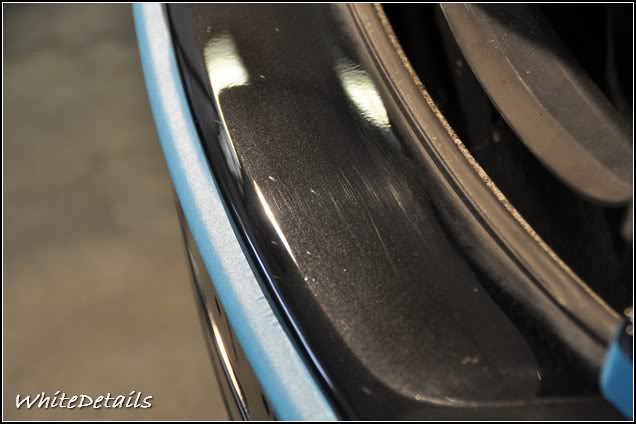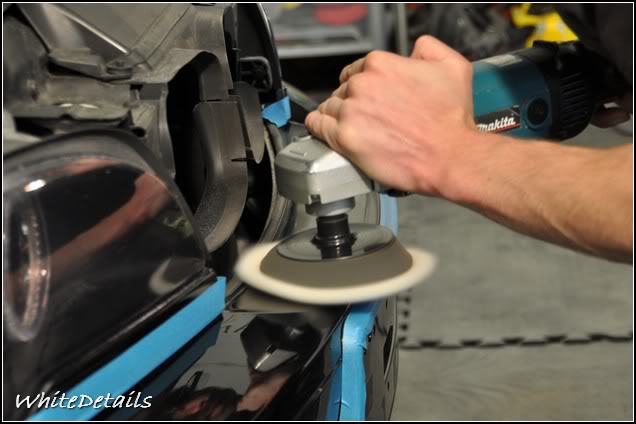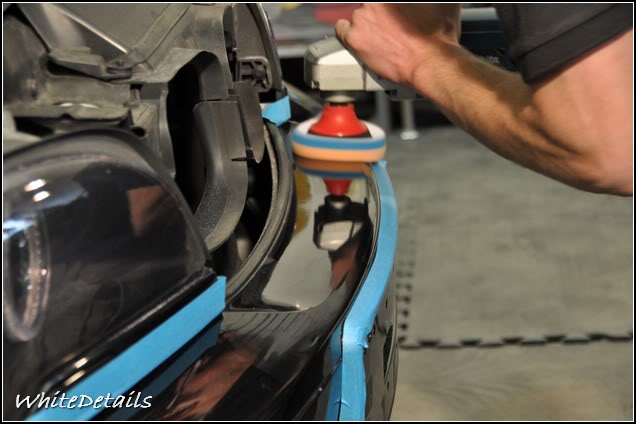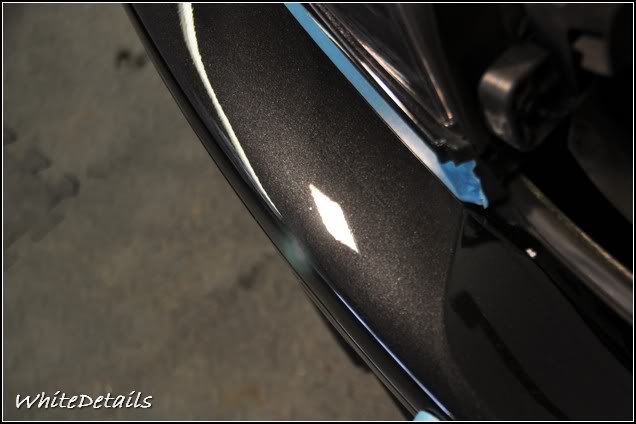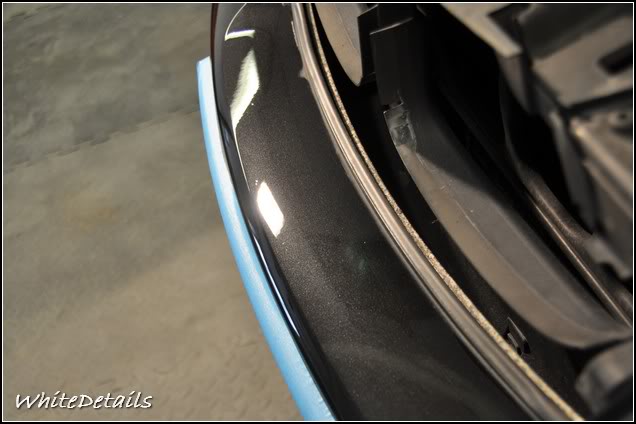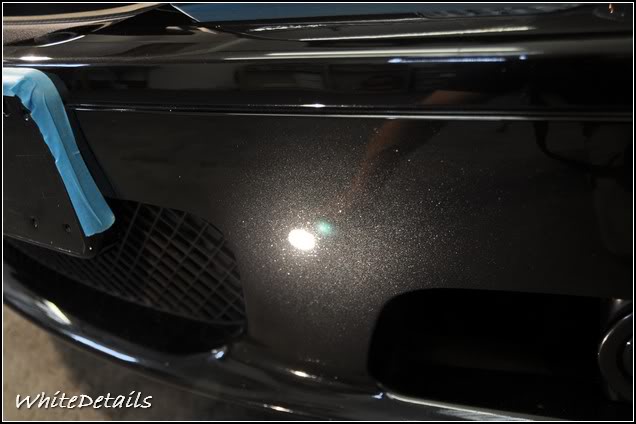 Rear bumper: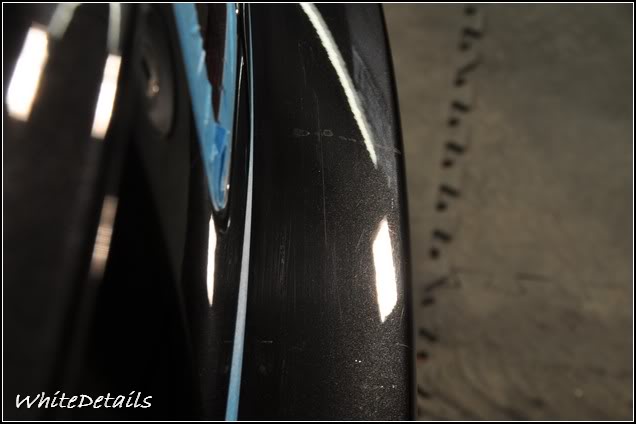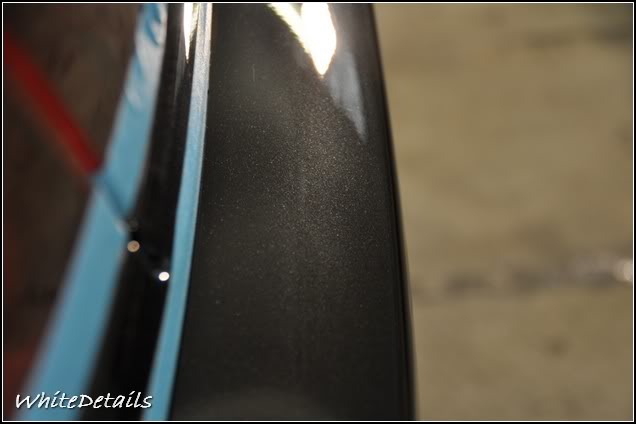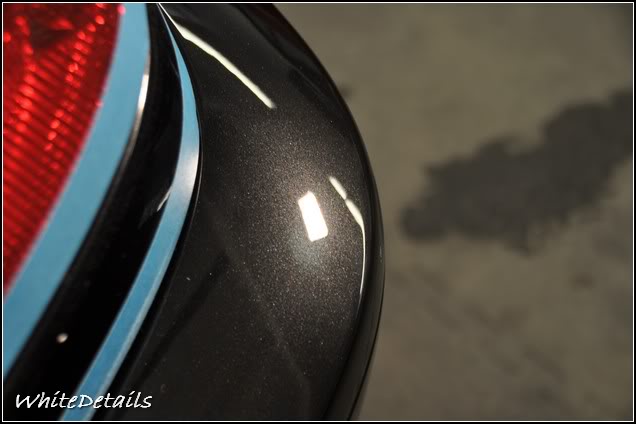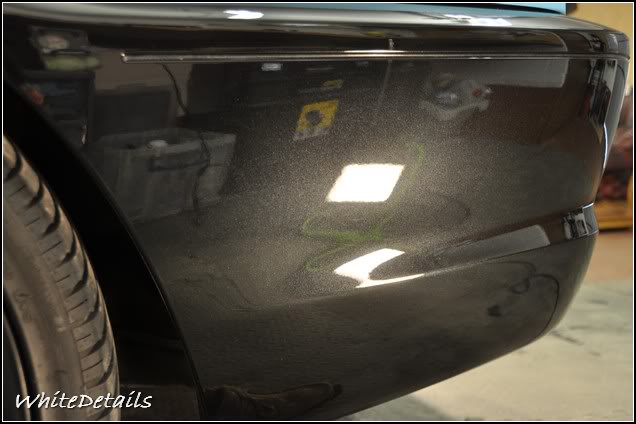 With the machine work complete, the car had collected a fair amount of dust so outside for rinsing.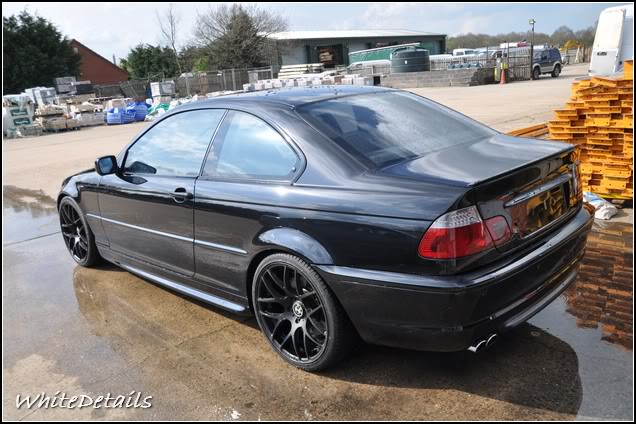 Back inside and blown dry, time to layer some protection. In this case, Blackfire's Wet Diamond was the last stage product. Why? Next weekend, the car will be on show at a German car show in the East Midlands. Blackfire offers a slick, glossy 'wet look' finish. Perfect for show go-ers.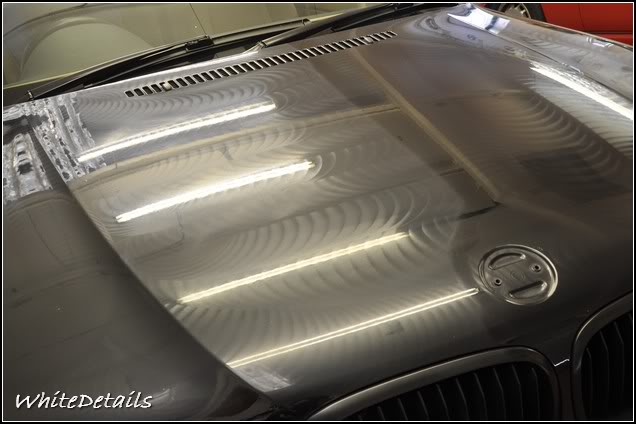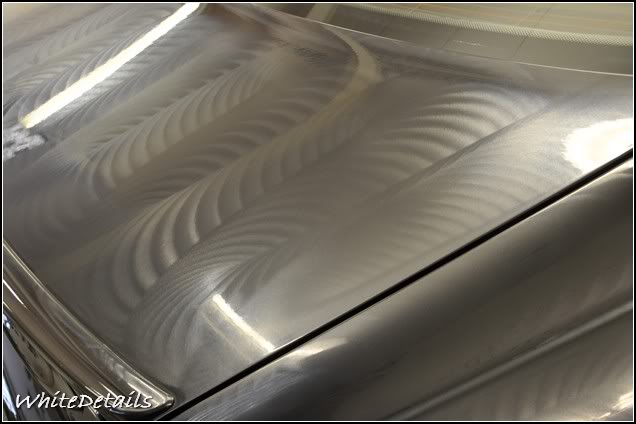 Exhausts and other britework polished with Meguairs Metal Polish: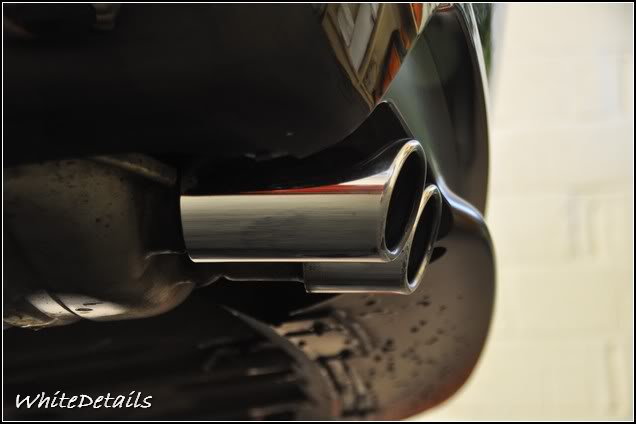 Glass cleaned. Interior tidied. Wheels polished and tyres dressed. Finished.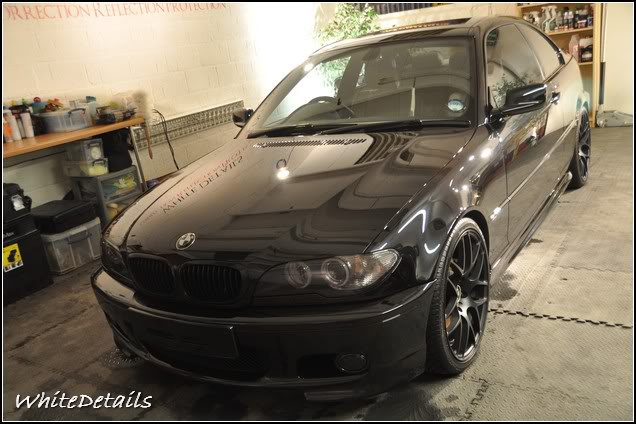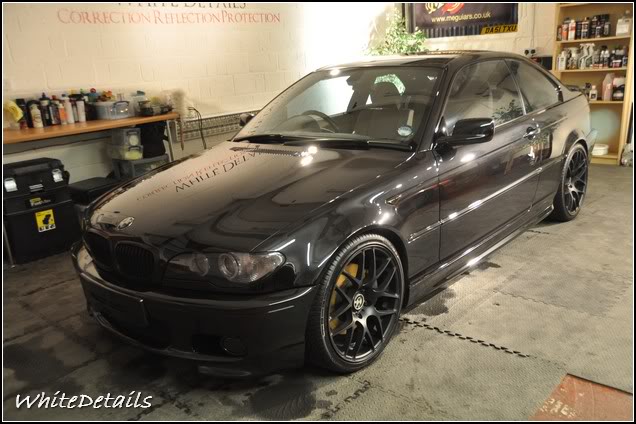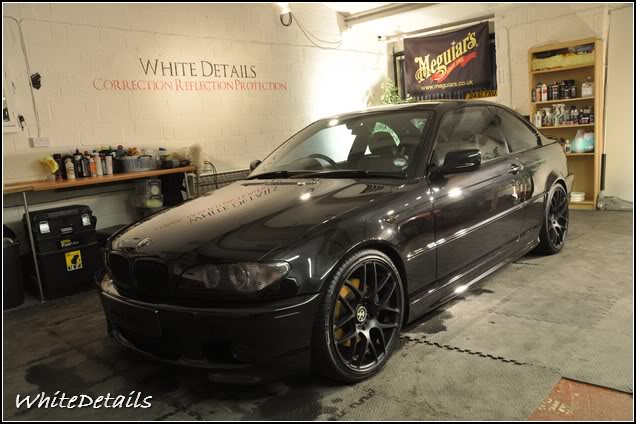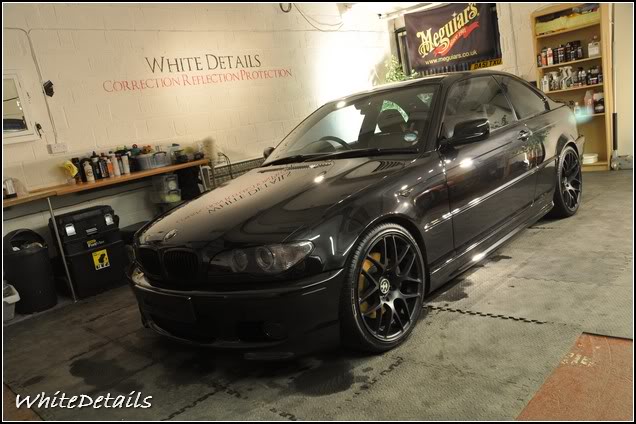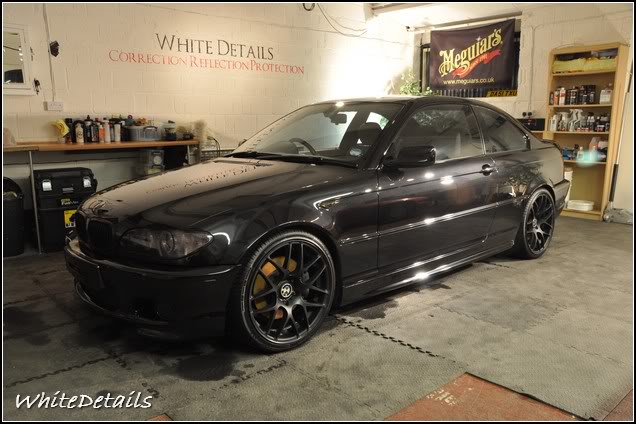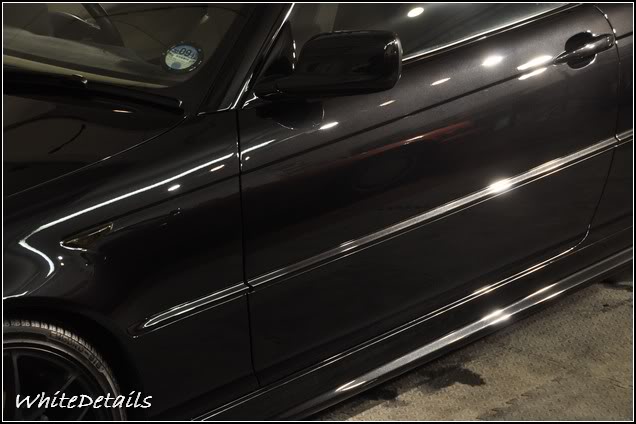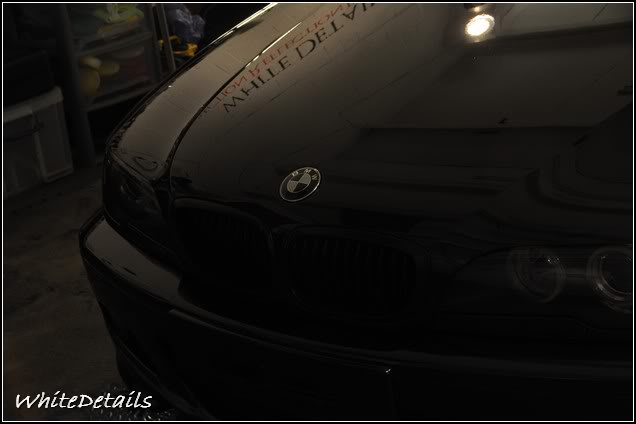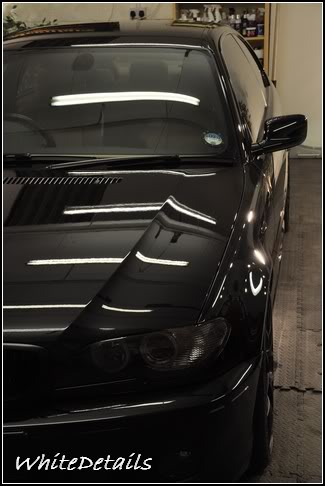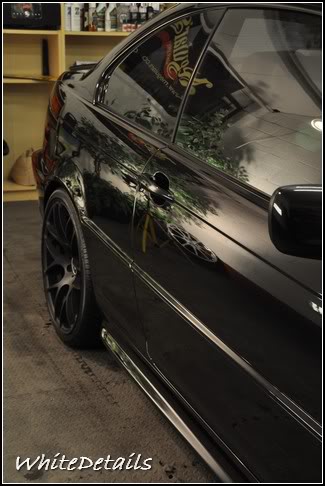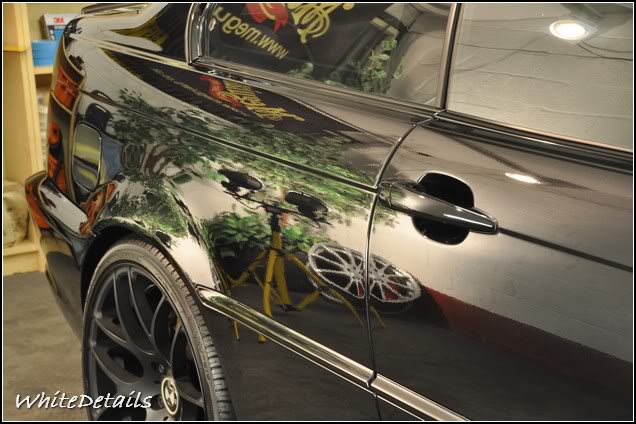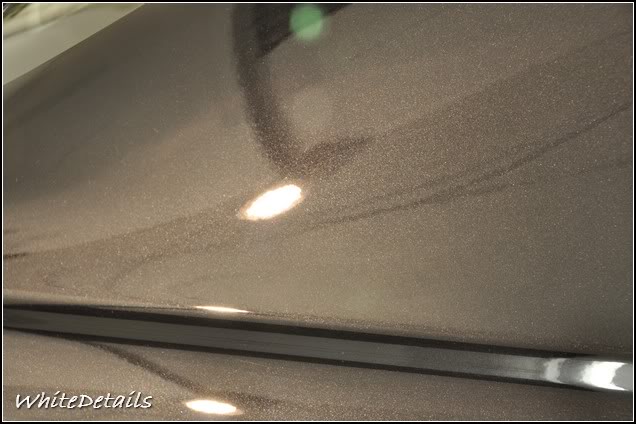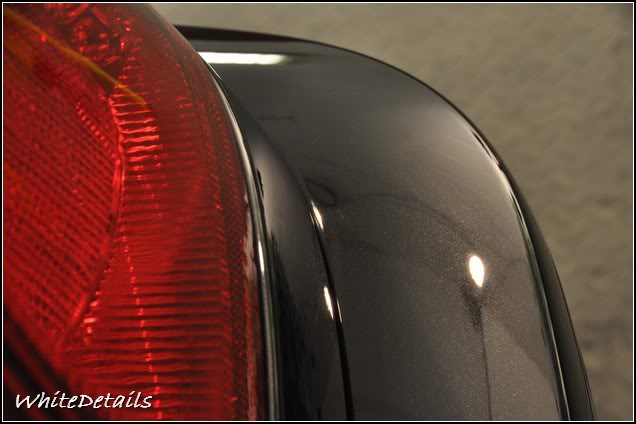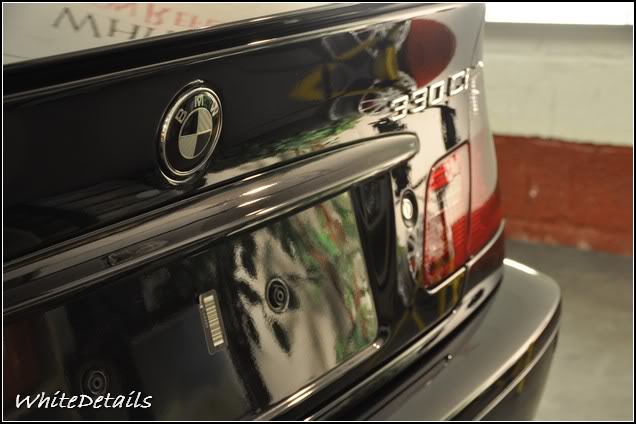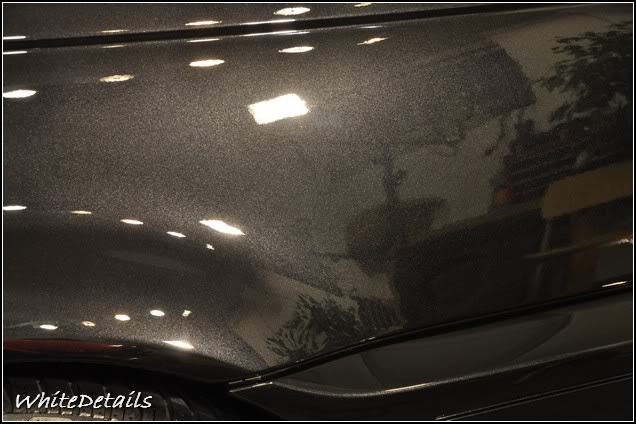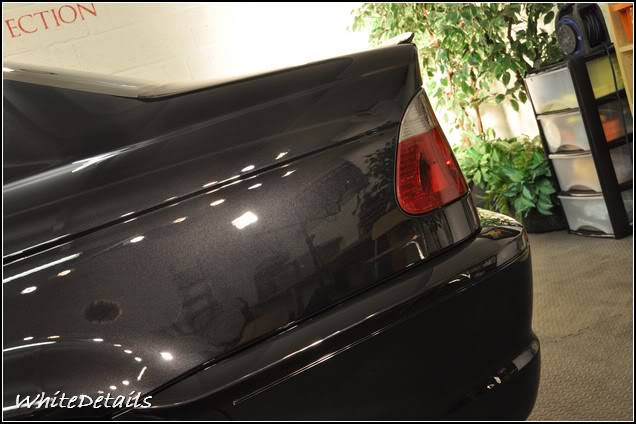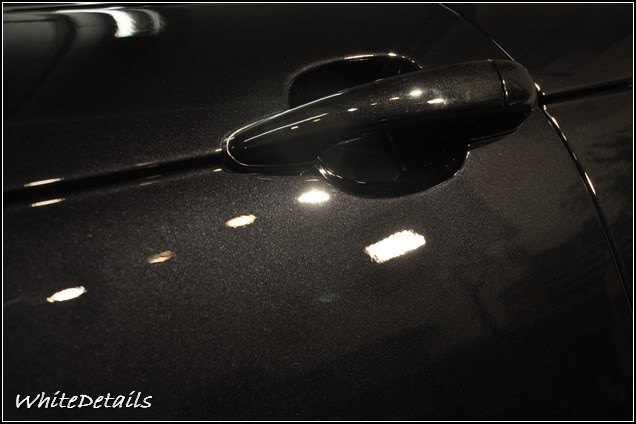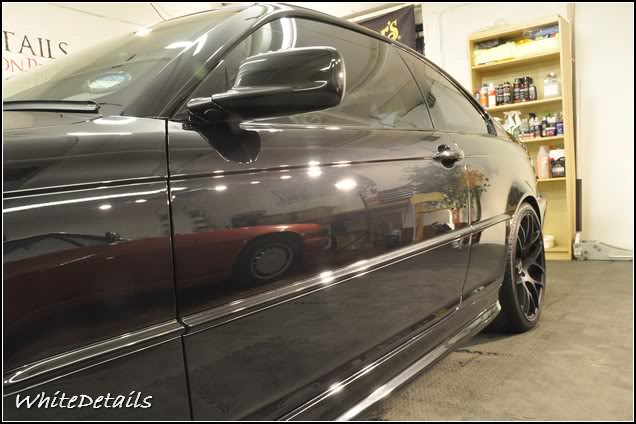 Very nice. Thanks for reading.
Jim.
~*~*~*~*~*~*~*~*~*~*~*~*~*~~*~*~*~*~*~*~*~*~*~*~*~*~*~~*~*~*~*~*~*~*~*~*~*~*~*~*~
and lastly:
e61 BMW 530D M-Sport Touring
2005, 86k miles, FBMWSH with all the toys!
Vehicle was brought to WhiteDetails just three days after the new owner collected the car. Previously listed as "IMMACULATE", as will be seen, this was NOT the case. Some people's idea of "mint" and "excellent condition" does shock me!
My task? Restore throughout.
Full major paint correction
Interior detail with leather care
Engine bay detail
Wheels-off with caliper and hub refurb
Front bumper respray
Product range used:
3M
AMDetails
AutoGlym
Auto Finnesse
AutoSmart
Bilt Hamber
CarPro
Jeffs Werkstat
G-Techniq
LTT
Meguairs
Menzerna
Scholl Concepts
Zaino
Vehicle on inspection: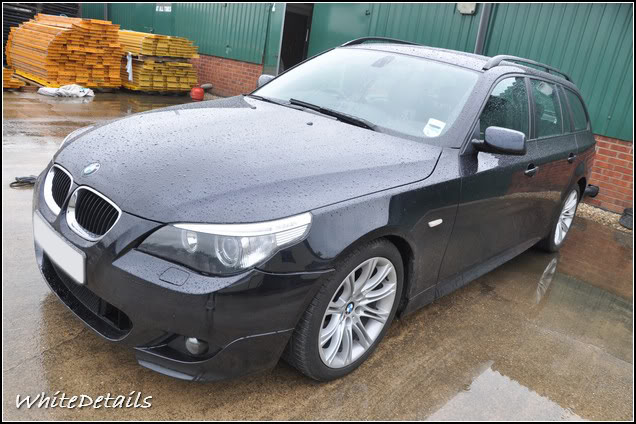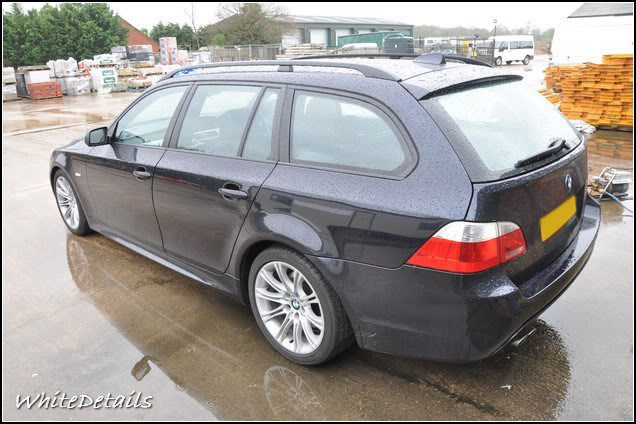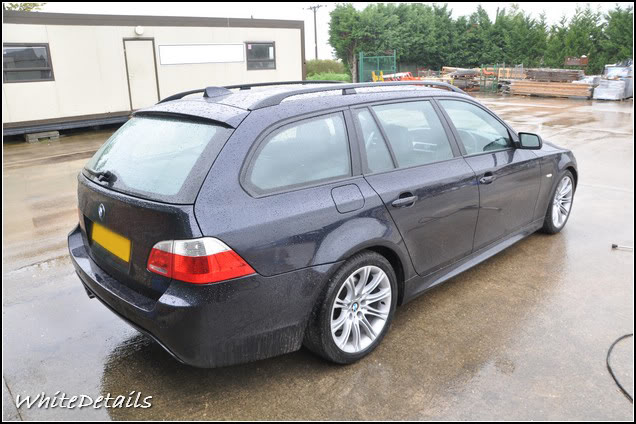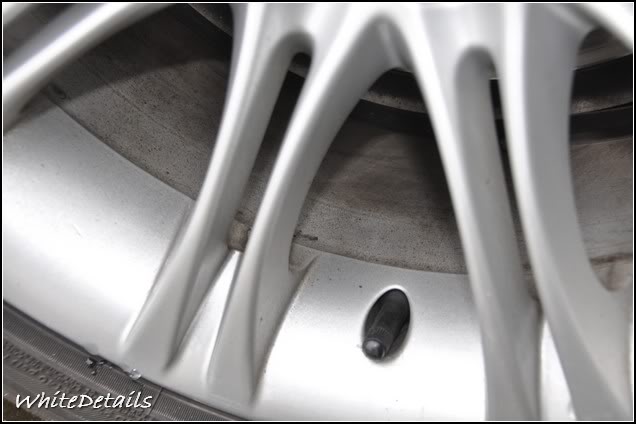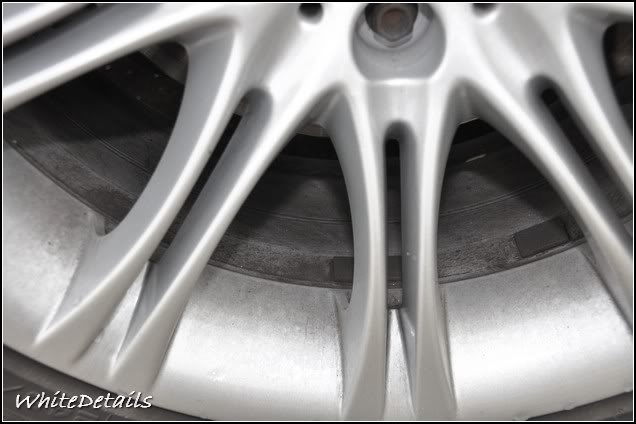 First task was to whip the wheels off, tidy the arches and fully strip back/protect the rims.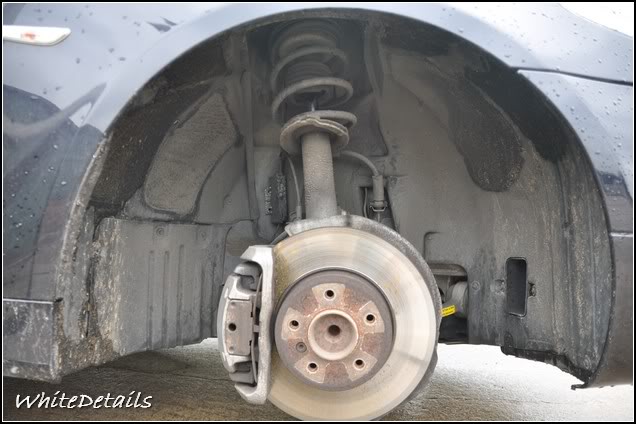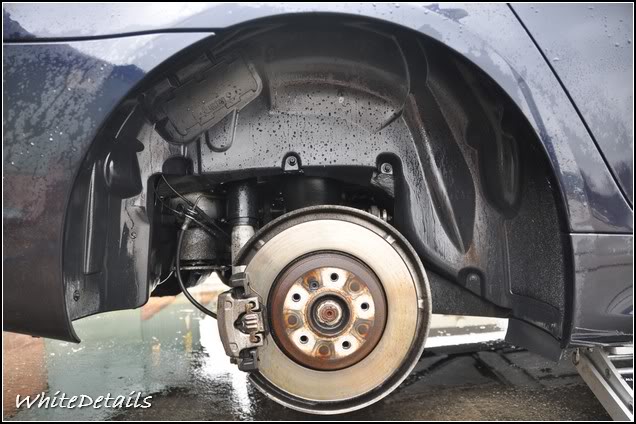 AS Tardis dissolving tar deposits on arch liner: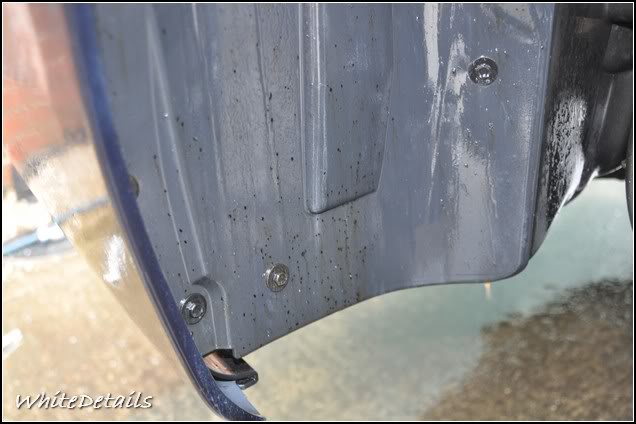 All four wheels had been previously refurbed.
Lots of tar, wheel weight glue and overspray to remove!!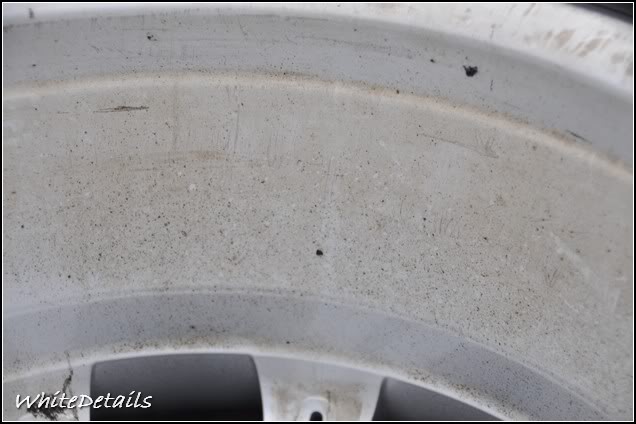 O/S/F rim before: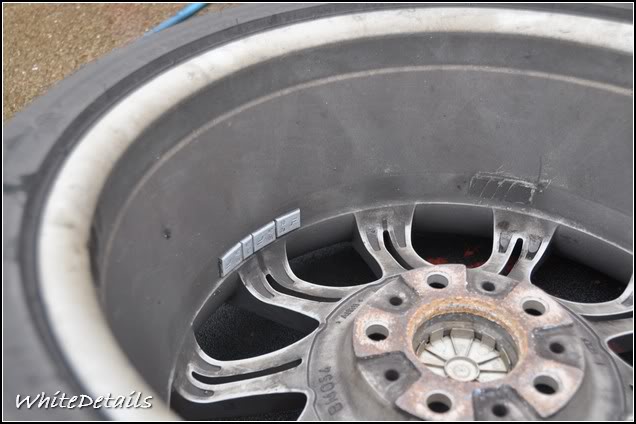 During: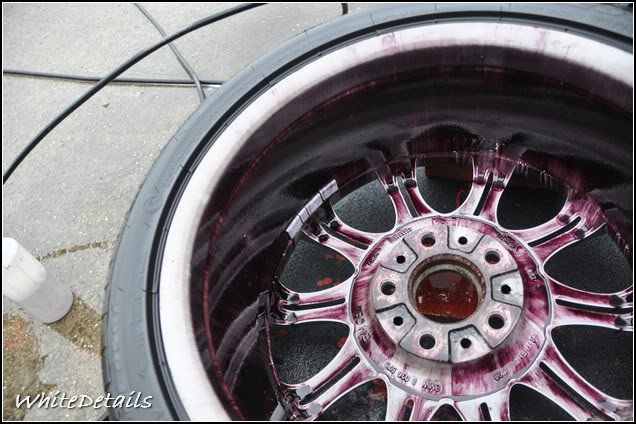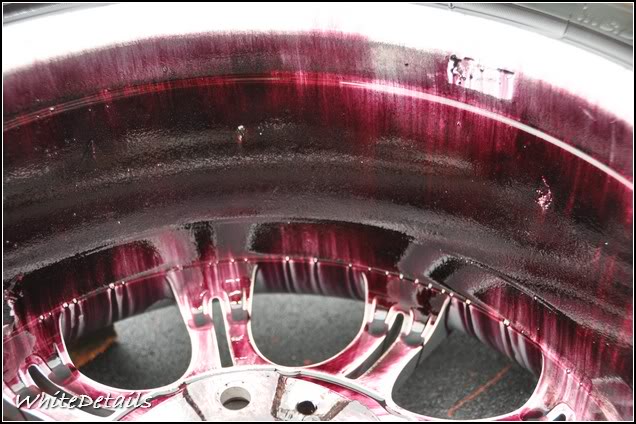 After: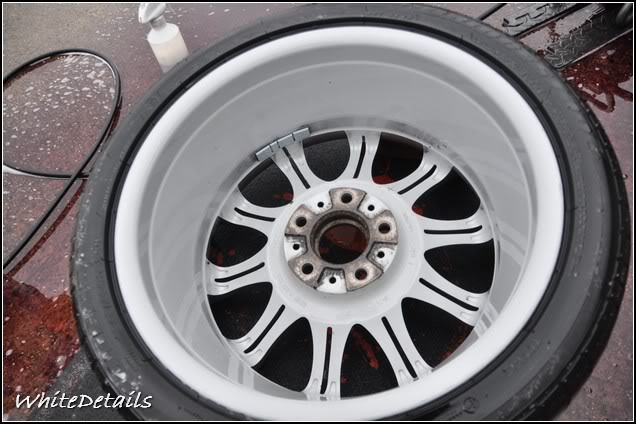 I kid you not, to clean this one rim, I was at it for well over an hour! 1ltr of Iron-X used in the process. Nightmare!
Inside and jacked up again, brake assembly and disc was painted with high temp hammerite.
Before/After: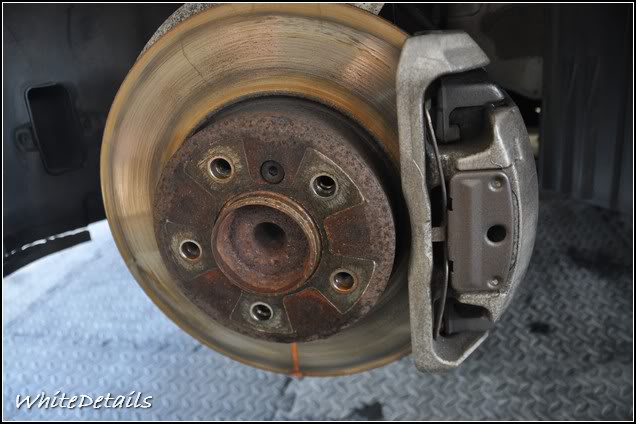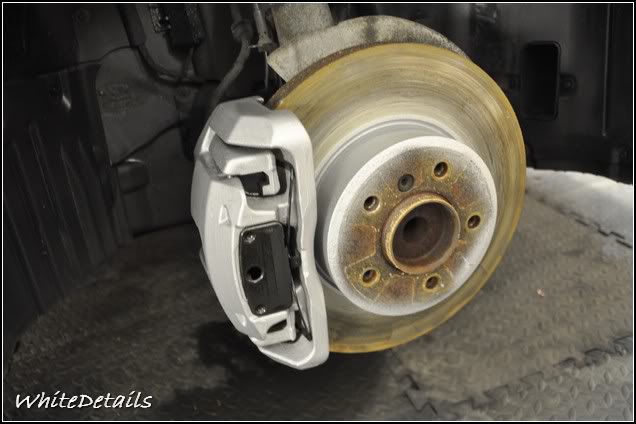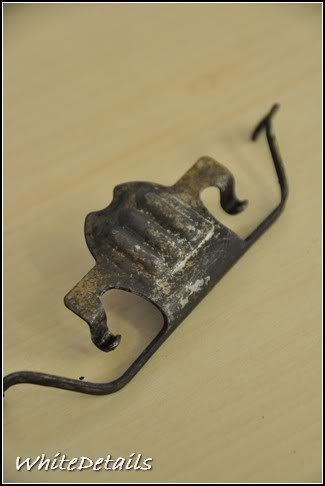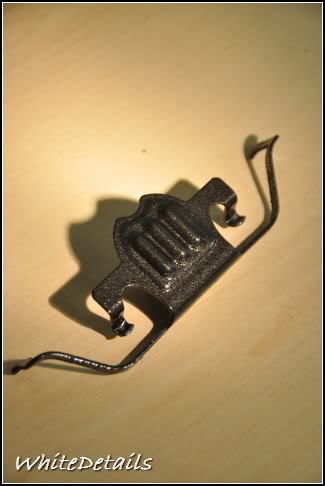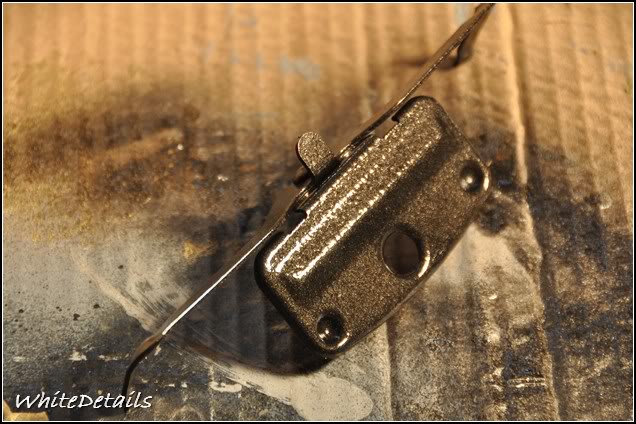 Wheel bolts also sprayed to give an even cleaner image: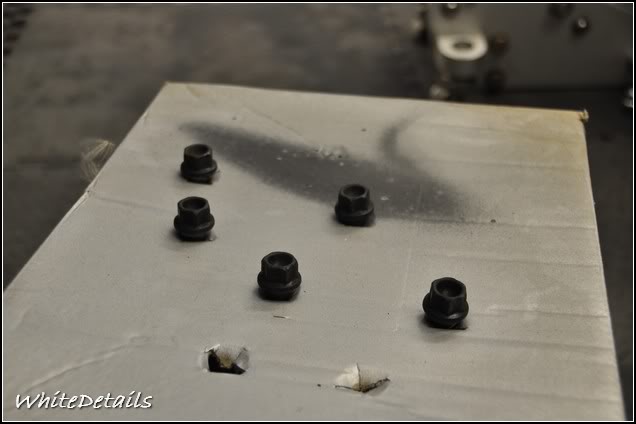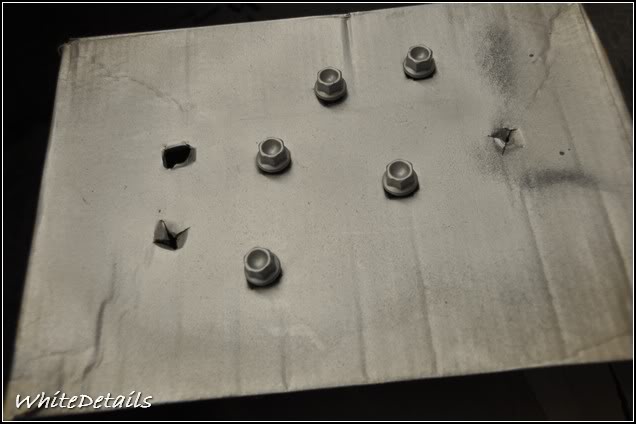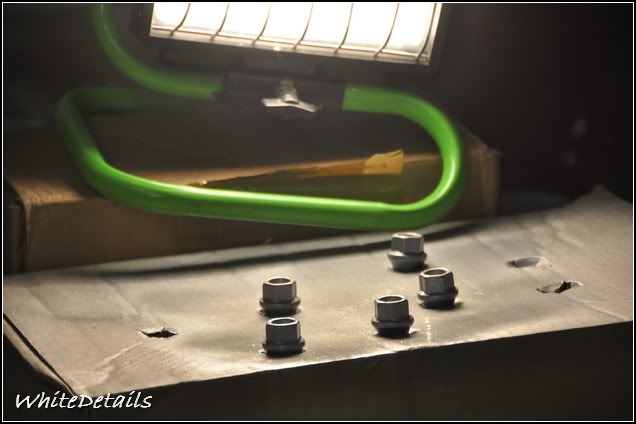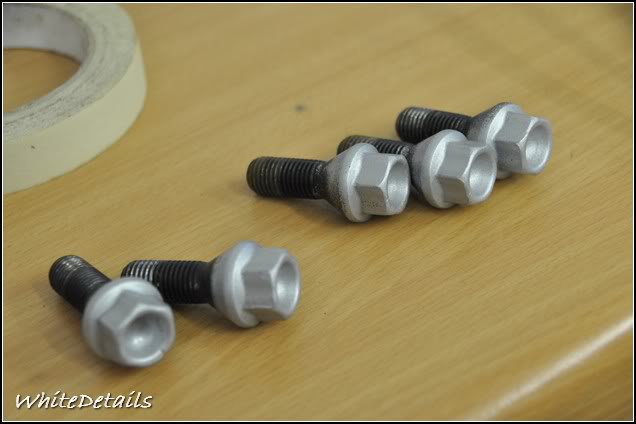 Finally each wheel received 2x coats of AM Seal to protect.
End result: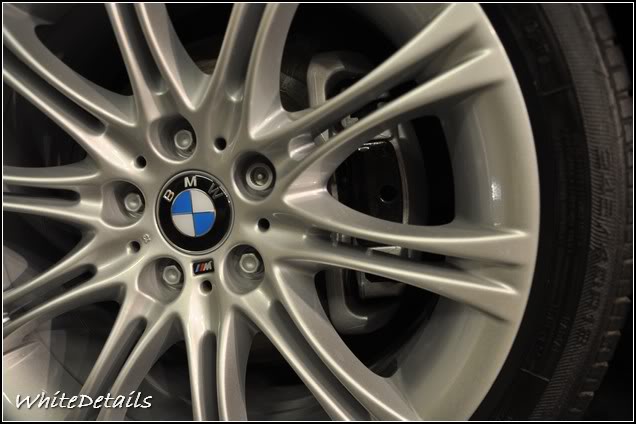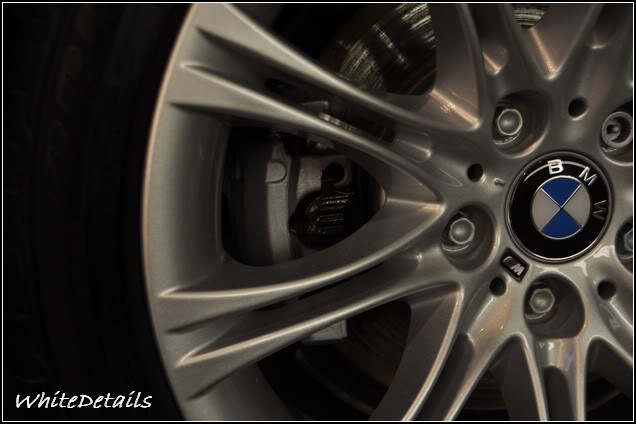 At this point the front bumper was removed and sent to the bodyshop for a respray. (Ultimate Car Care, Lincoln, 01522 686299,
http://www.ultimate-carcare.co.uk/
)
Whilst off, the pitted fog lights were flatted back and clarity improved greatly.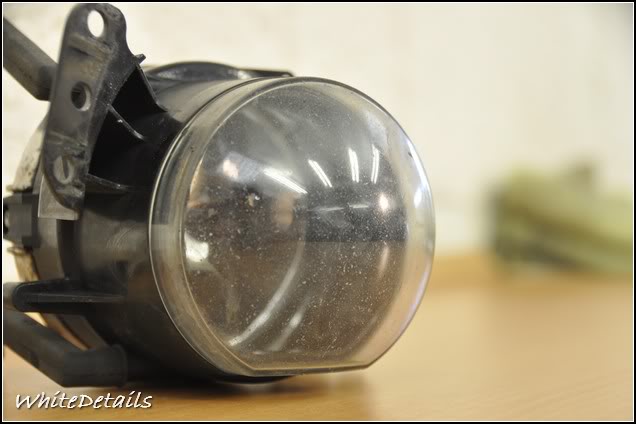 50/50: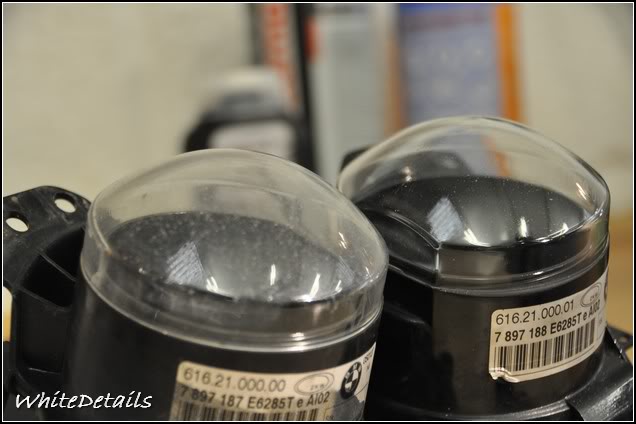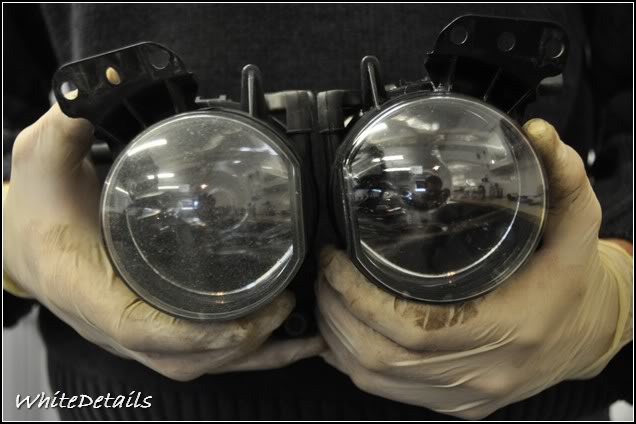 Fog light surrounds dressed. G-Techniq C4 Trim Restorer.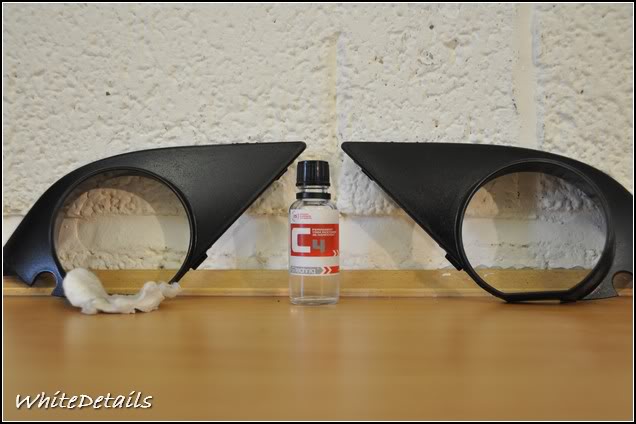 Somewhere around here, the car was fully washed and decontaminated. Lots of surface contaminants removed and tar deposits shifted with AS Tardis. Once inside and blown dry, one or two trim pieces were removed to assist machine polishing later on.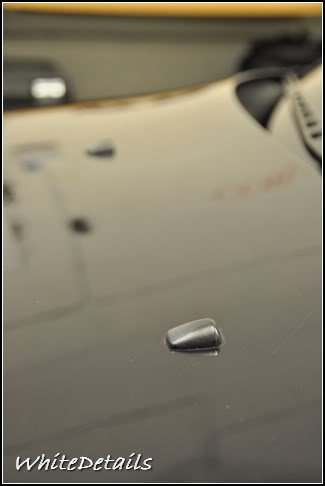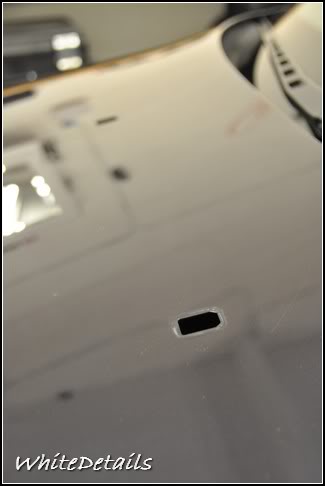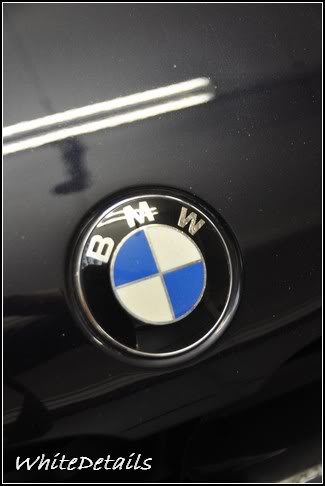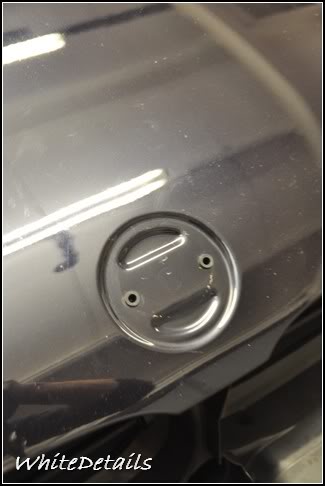 OK. You ready? Ready? (Remember, this car is 'immaculate!')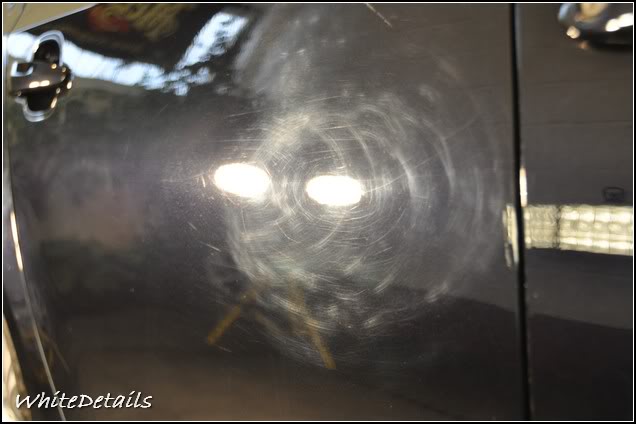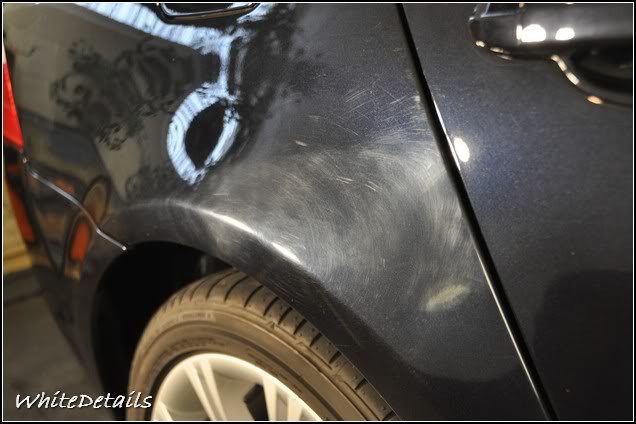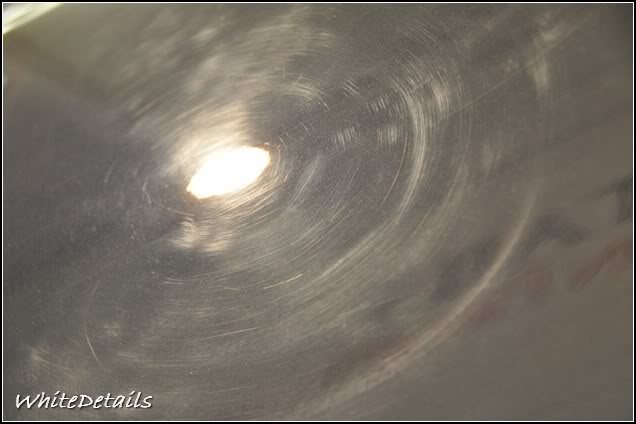 *ooooft!*
A year ago, the car was professionally detailed. Cool…
Since then, I think someone has been a little over eager with T-Cut or similar…? What a mess.
Elsewhere: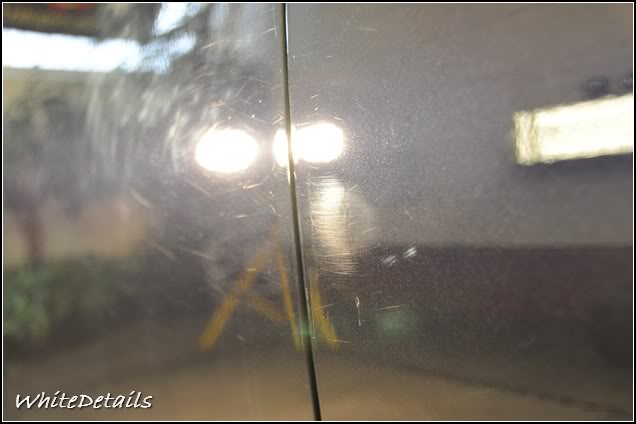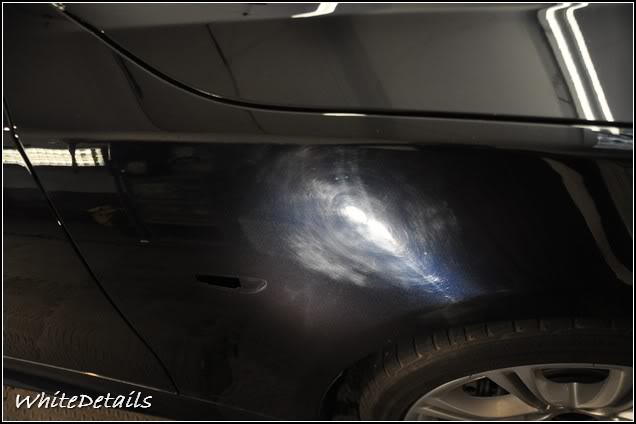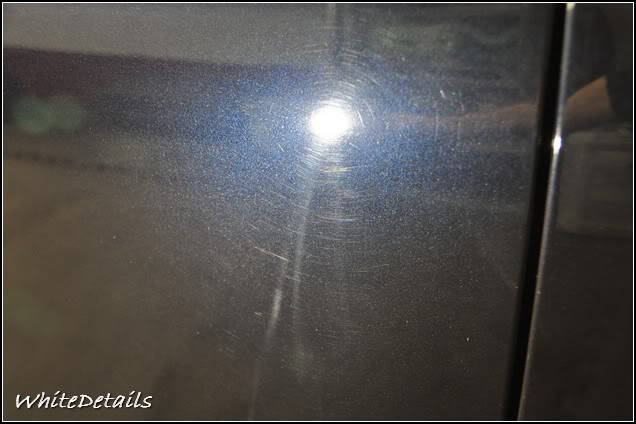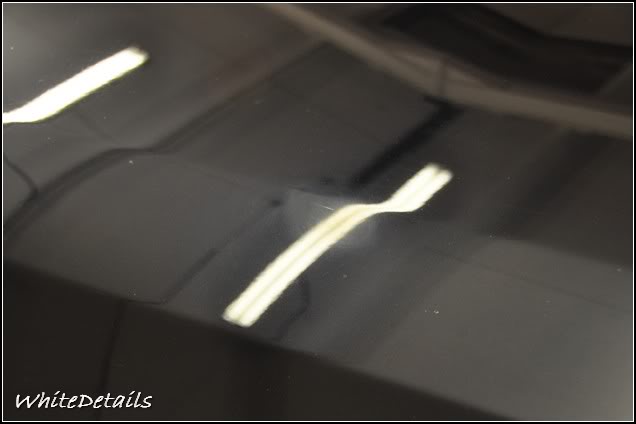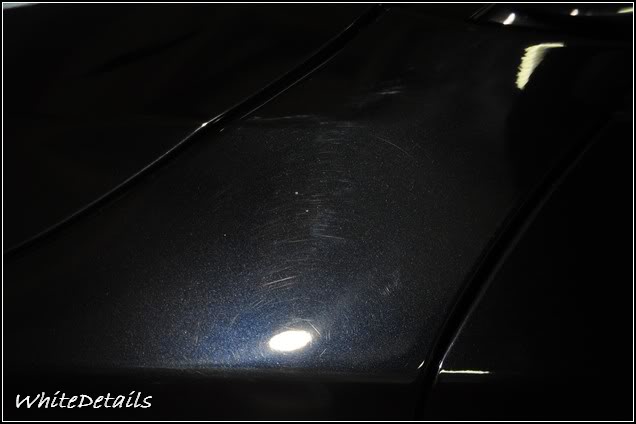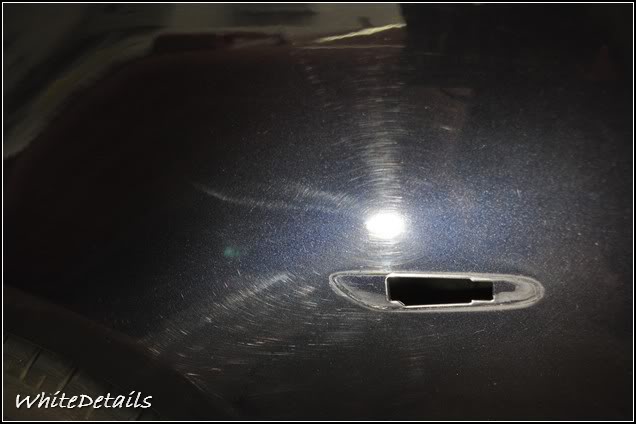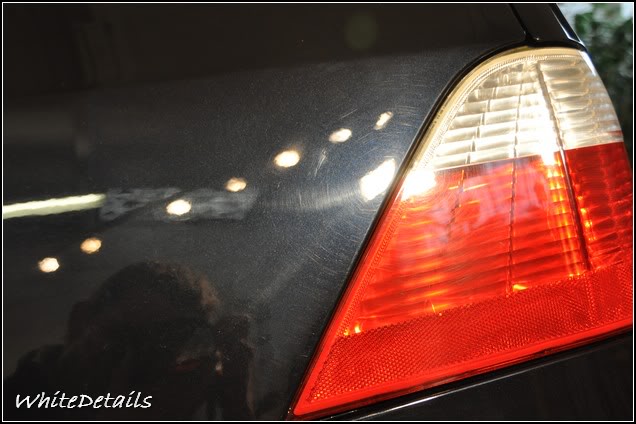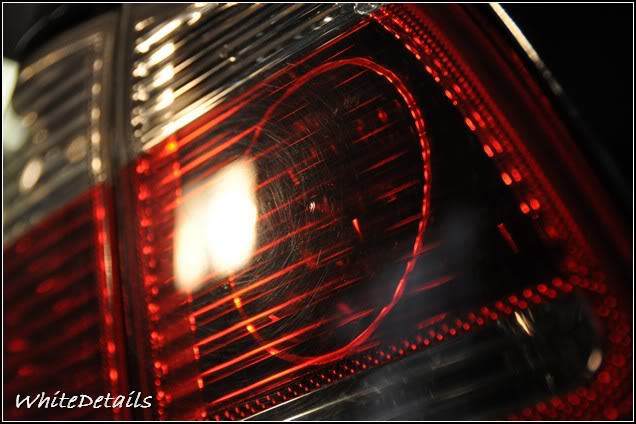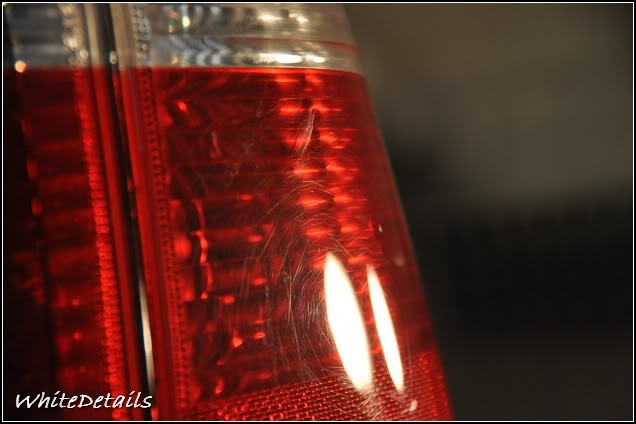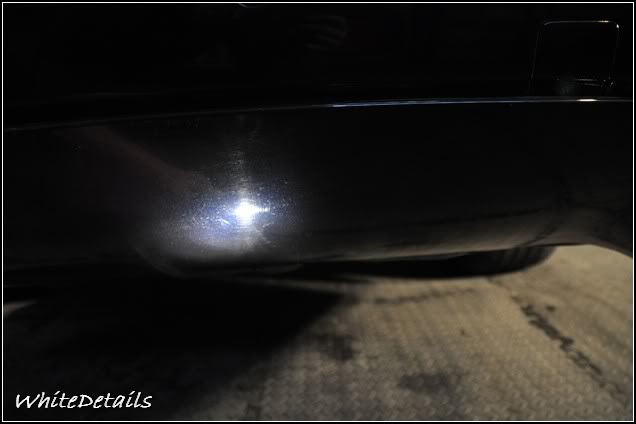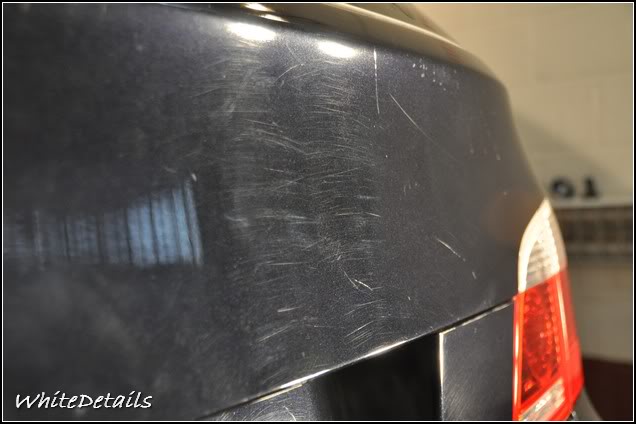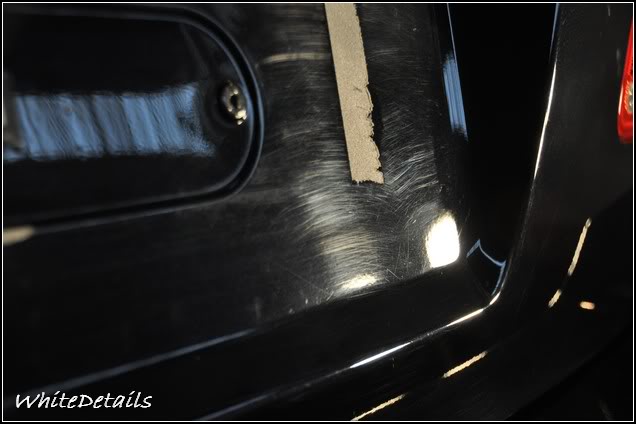 Some deep machine inflicted buffertrails: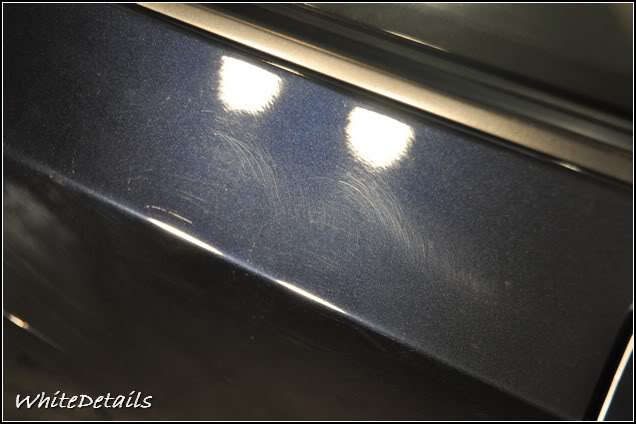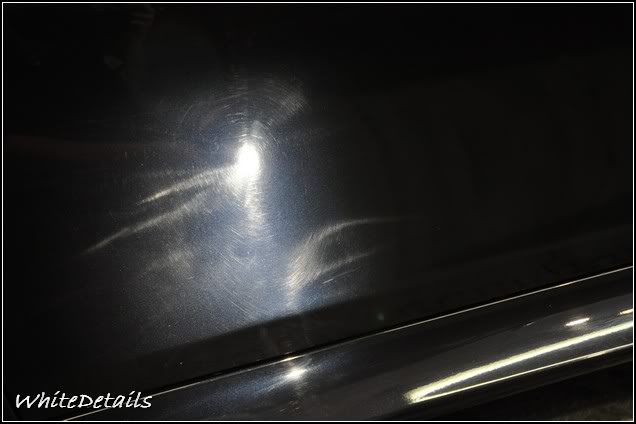 Lots of random scratches: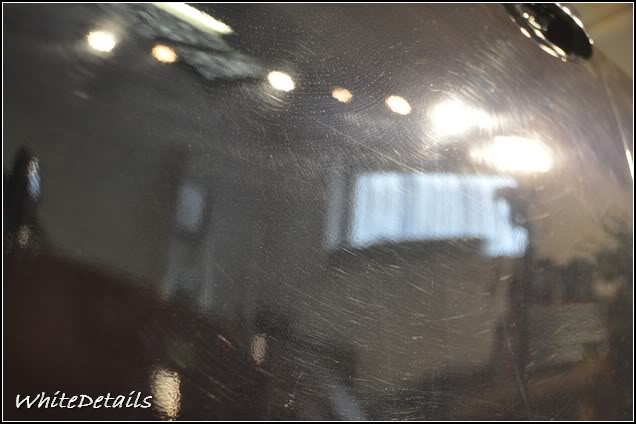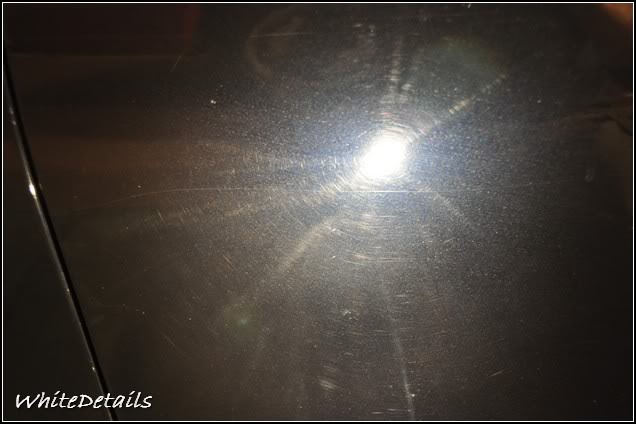 Some scratches from opening the petrol filler: (almost unavoidable)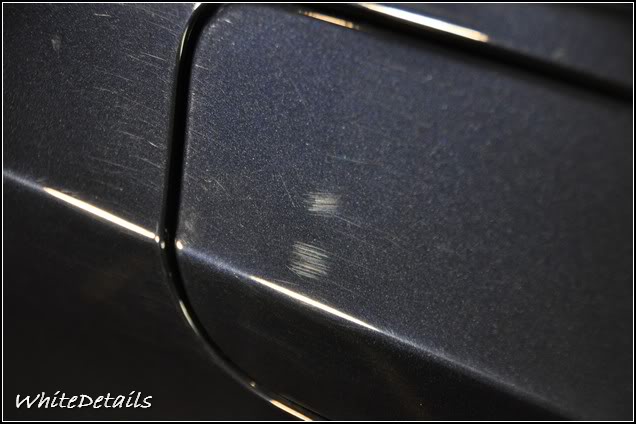 And closing the boot by wrapping your hand round the paint: (avoidable)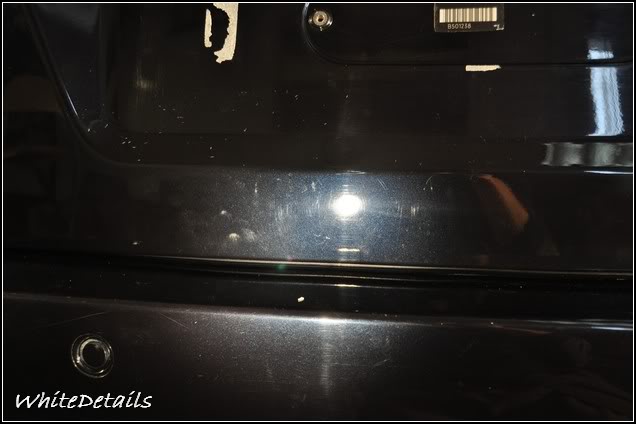 Starting high with the machine polishing, the O/S half of the roof was tackled first. G-Techniq Wool and Scholl S3 Gold for compounding, a white Hexlogic polishing pad and Scholl S17+ for polishing and finally a blue 3M finishing pad with Menzerna 85RD for burnishing to a high gloss.
Roof line before/after: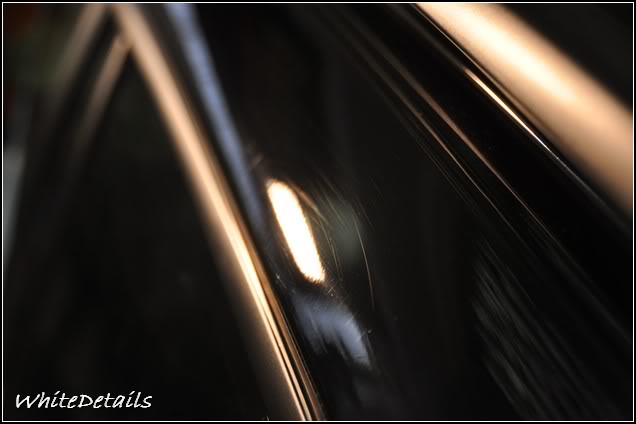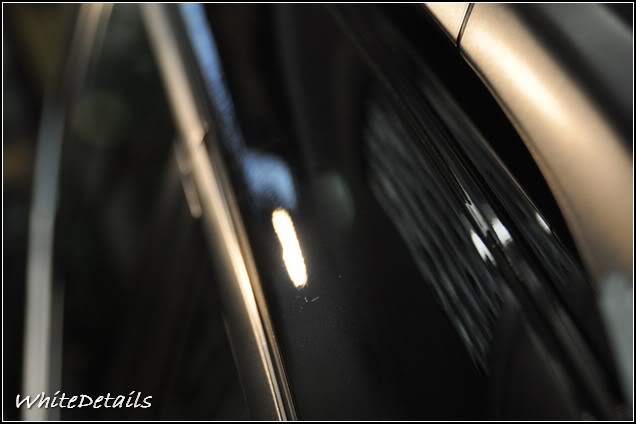 Lower down on the awful OSR quarter…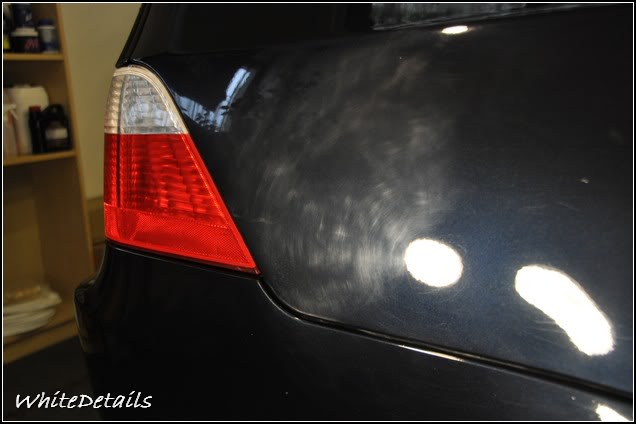 Look closely, someone, somehow, has managed to burn through the edge of the panel (lowest leading edge)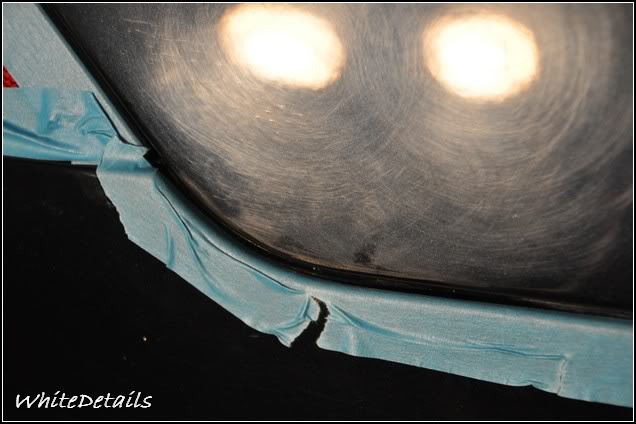 Caution here…
Panel corrected, polished and refined. No problem.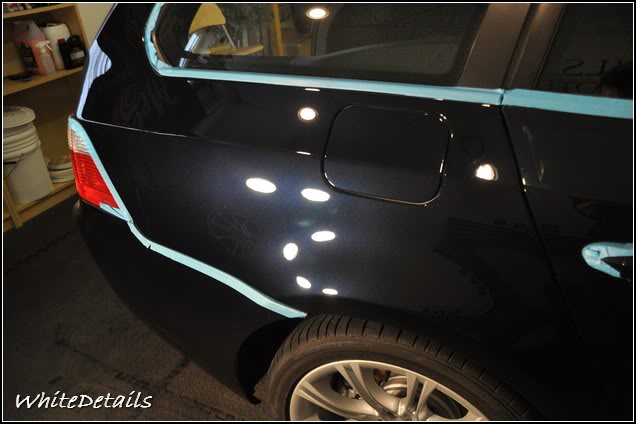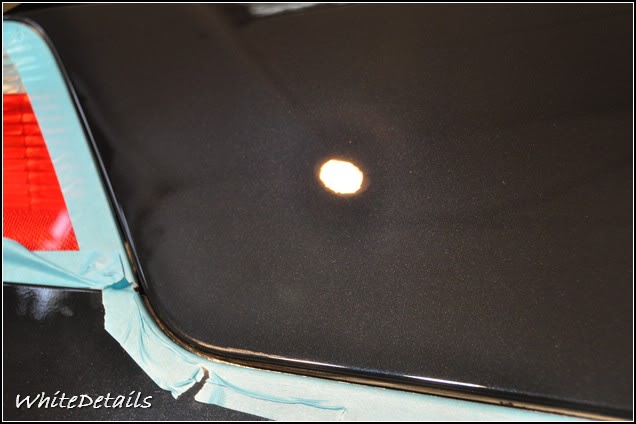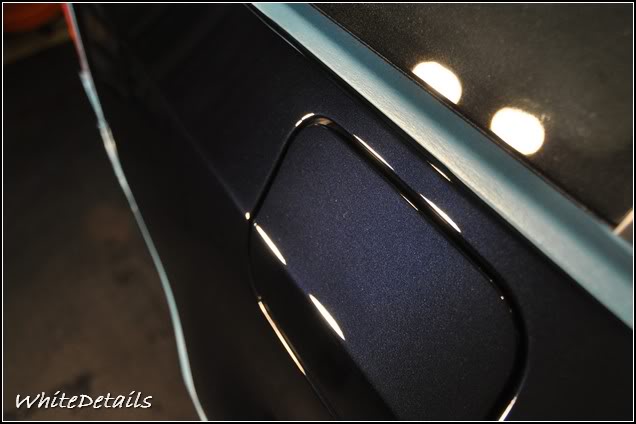 Some tight fiddly work around the door handles: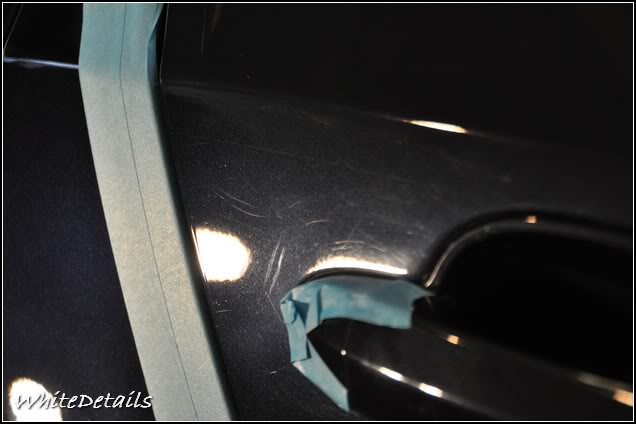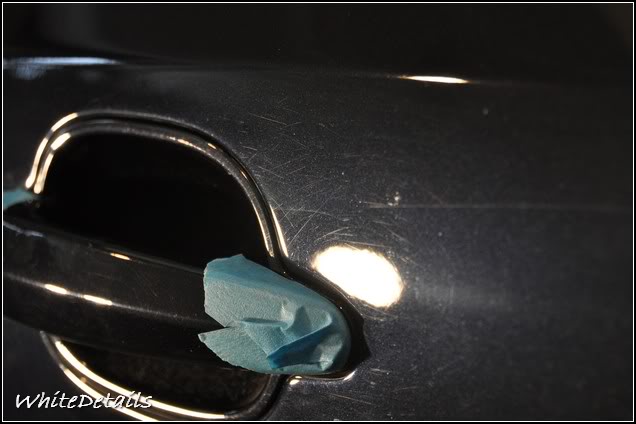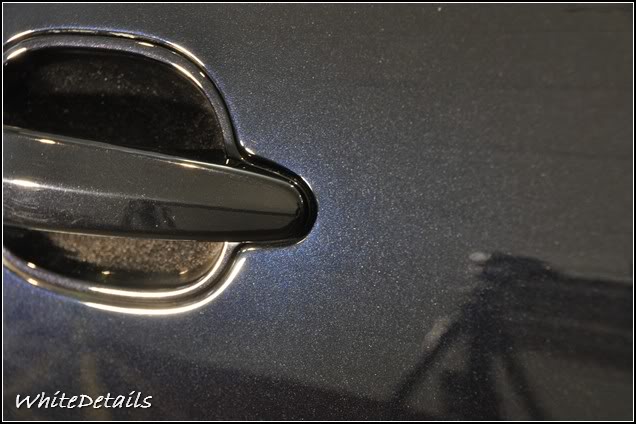 OSR door before/after: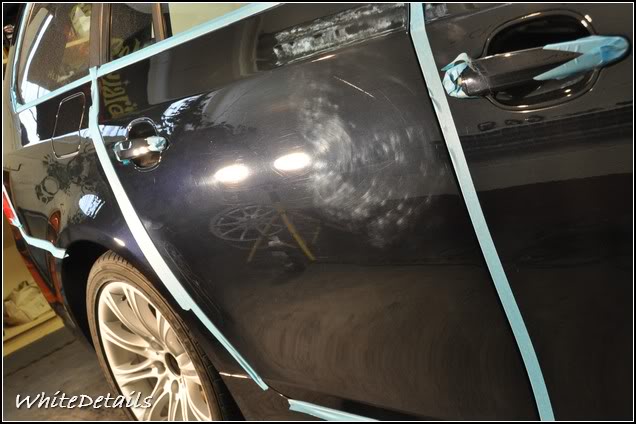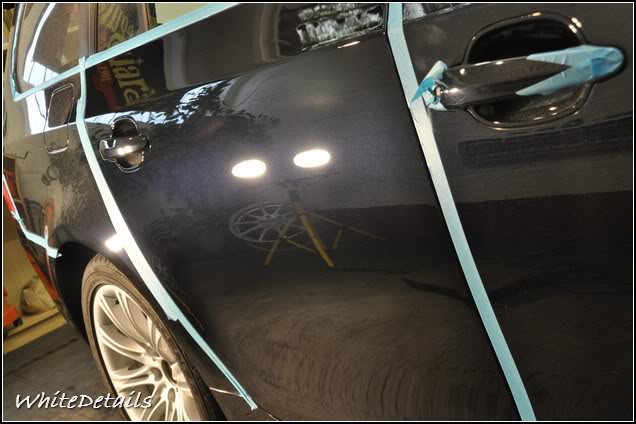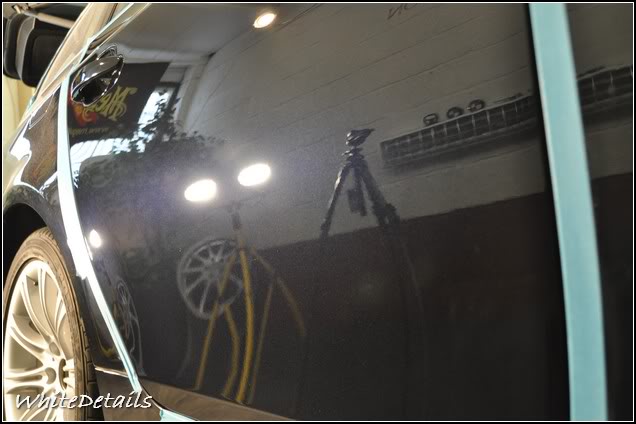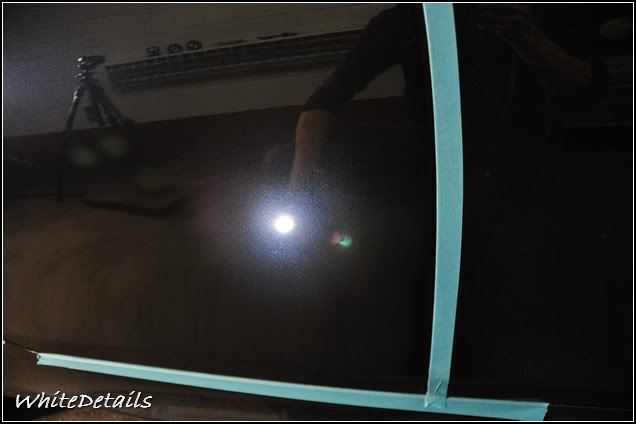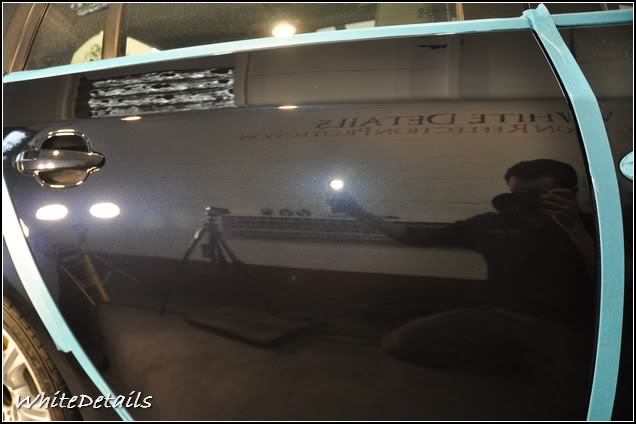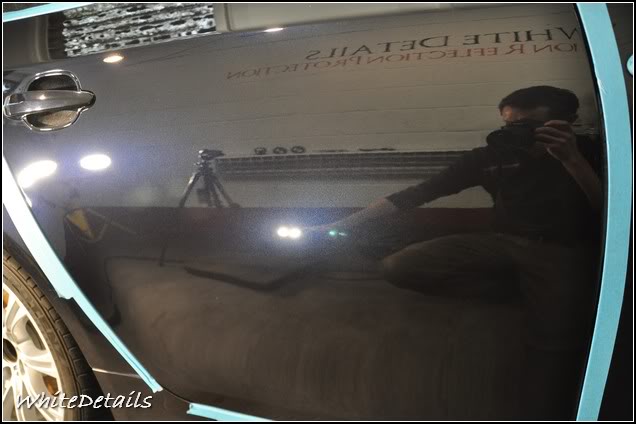 OSF door: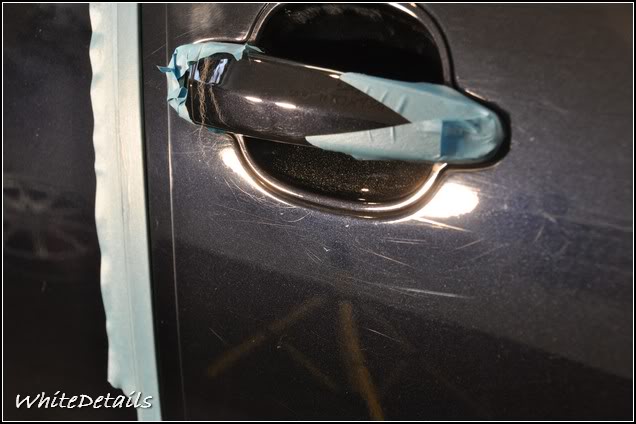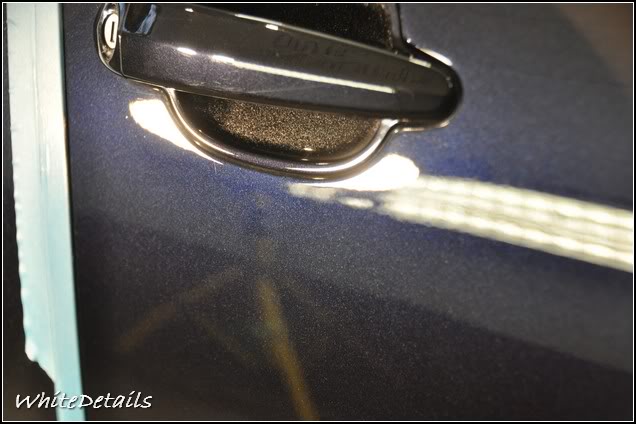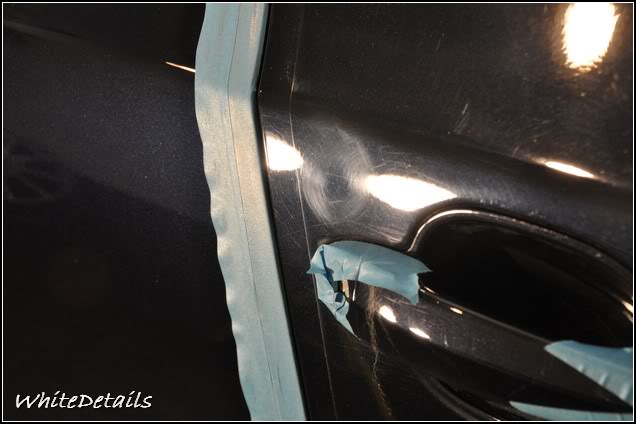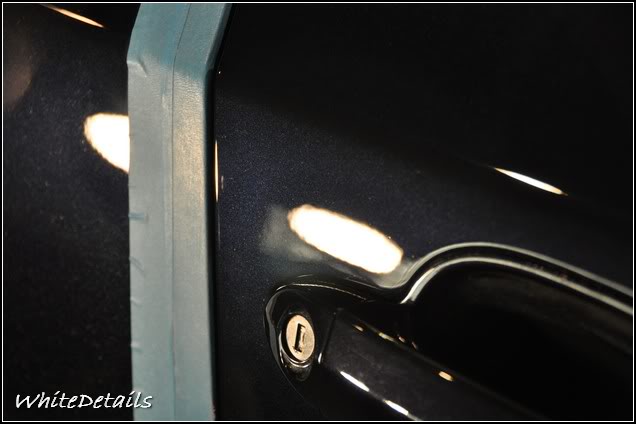 Weapon of choice for the bulky areas: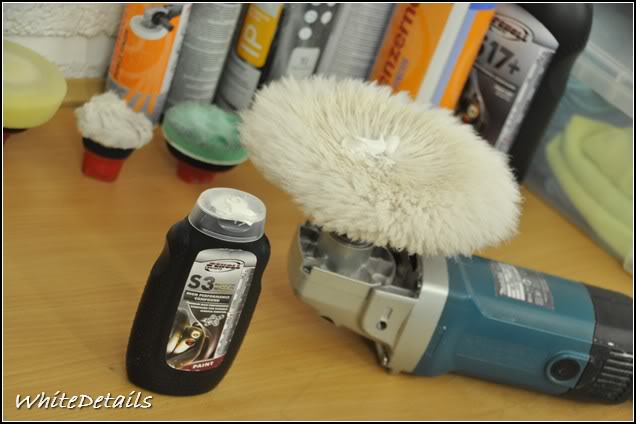 After: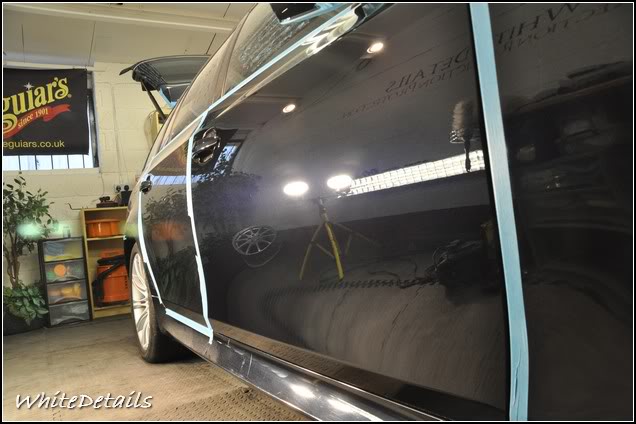 Bonnet before/after: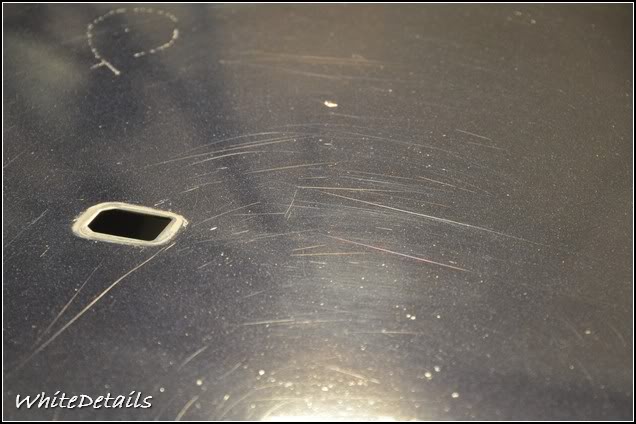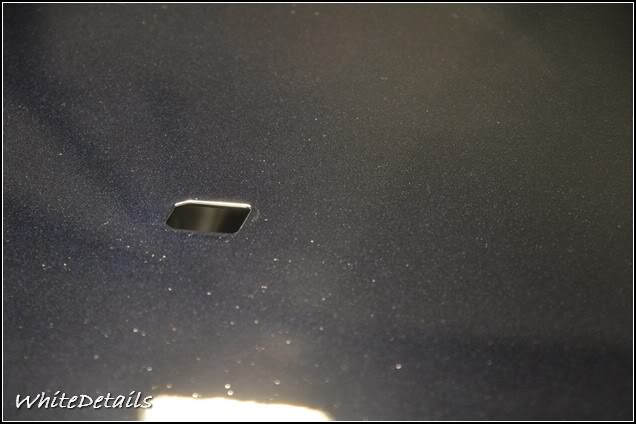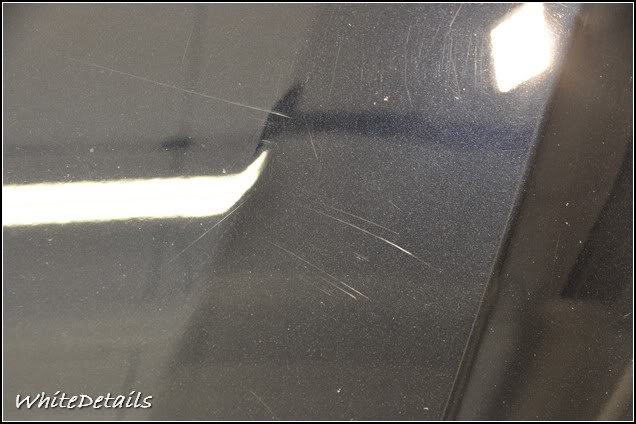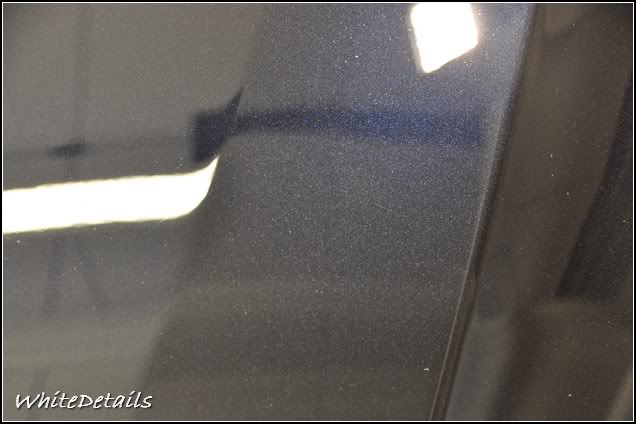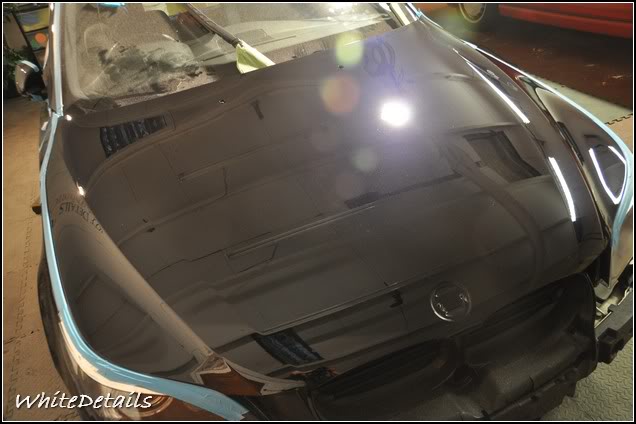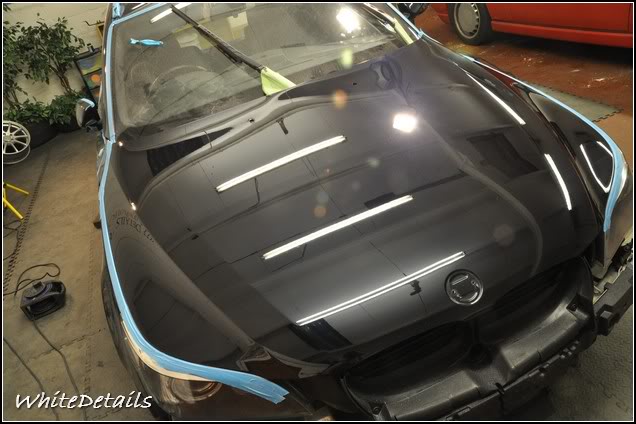 OSF wing: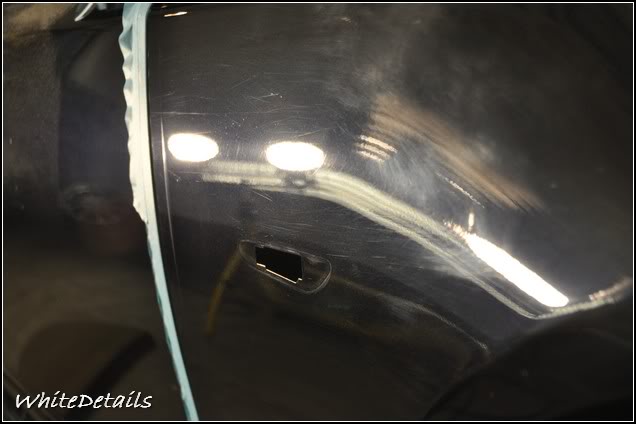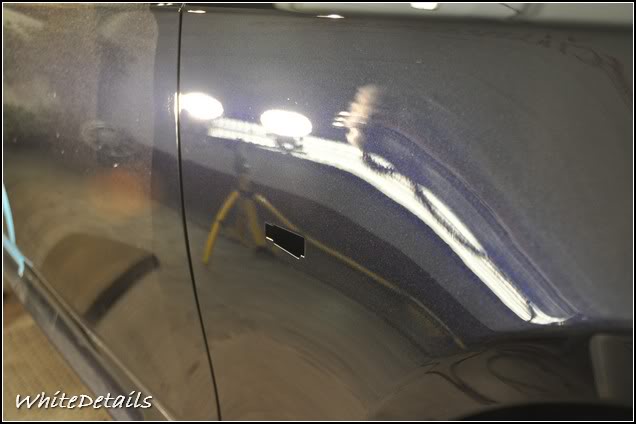 And finally the OS sill:
Nasty scratch; not quite 100% removal (but an improvement nevertheless)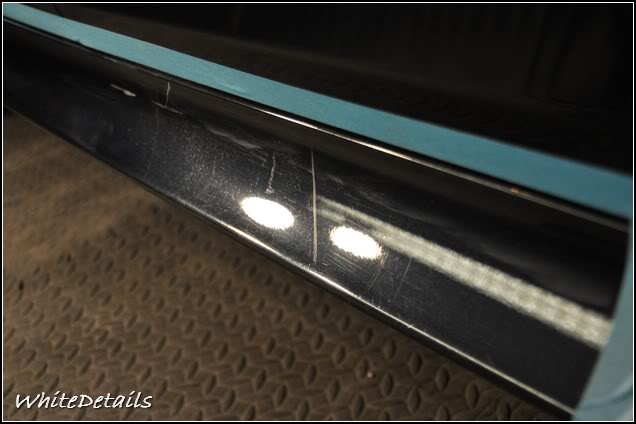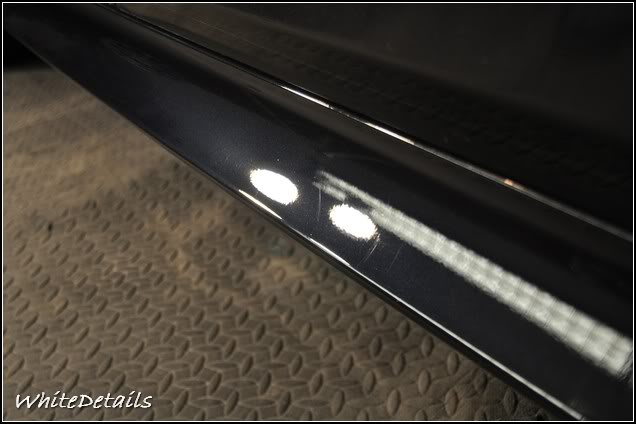 Spinning the car round. Roof completed: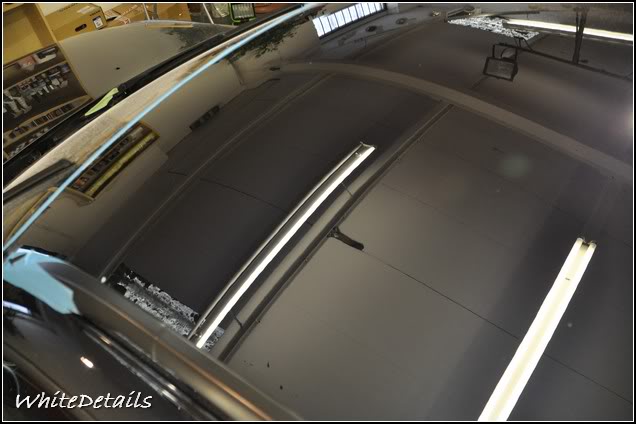 Boot spoiler:
Roof line: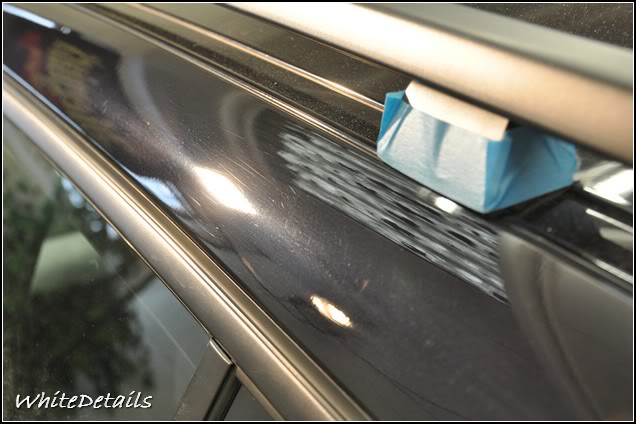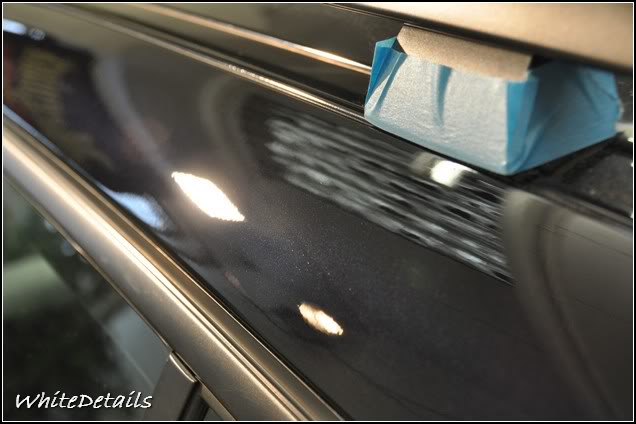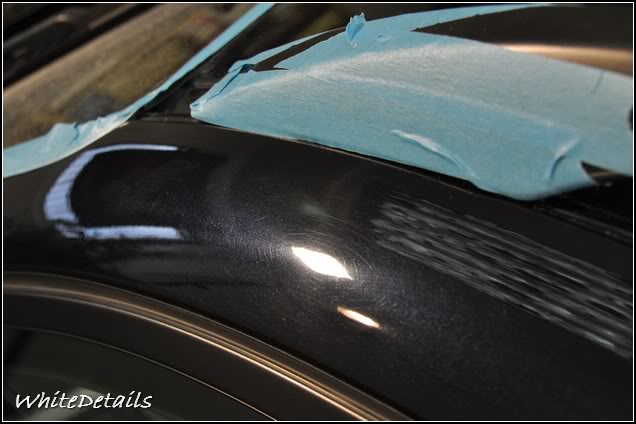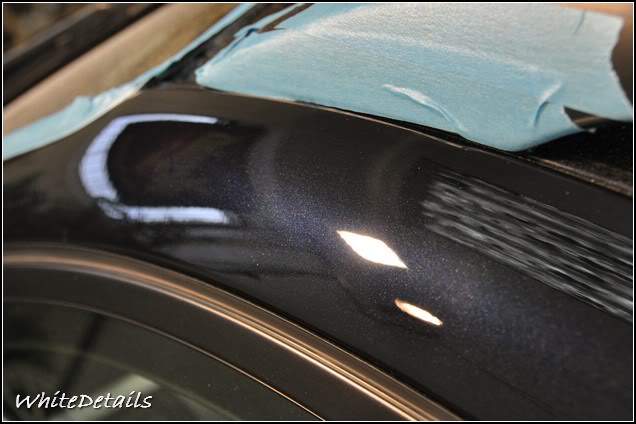 NSR wing/door: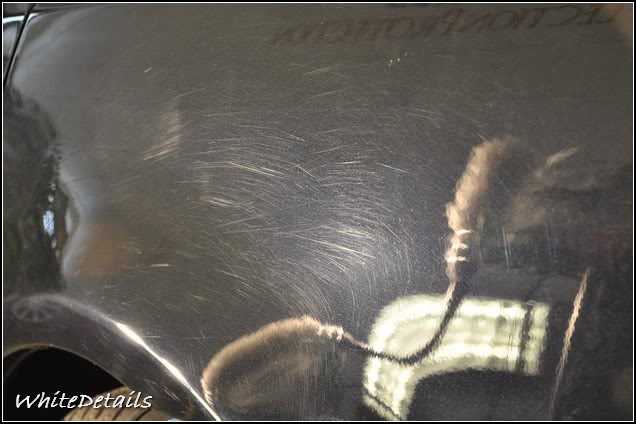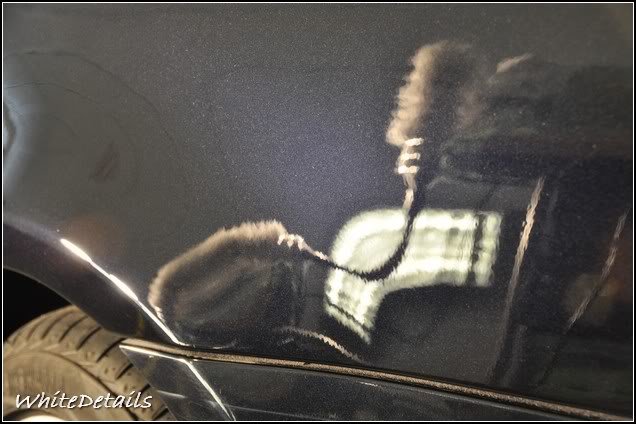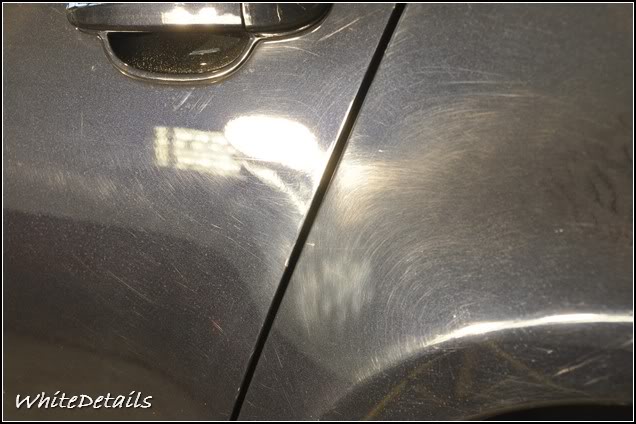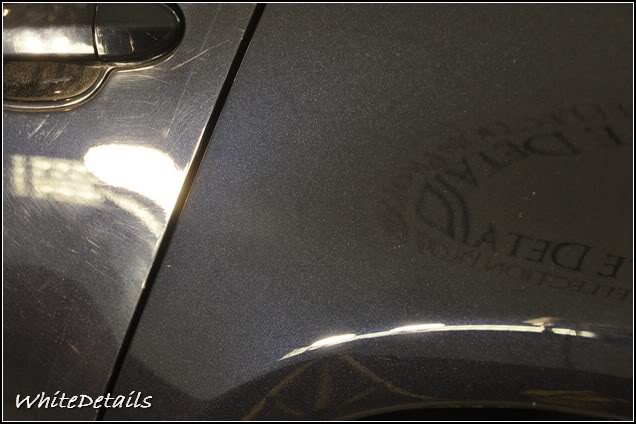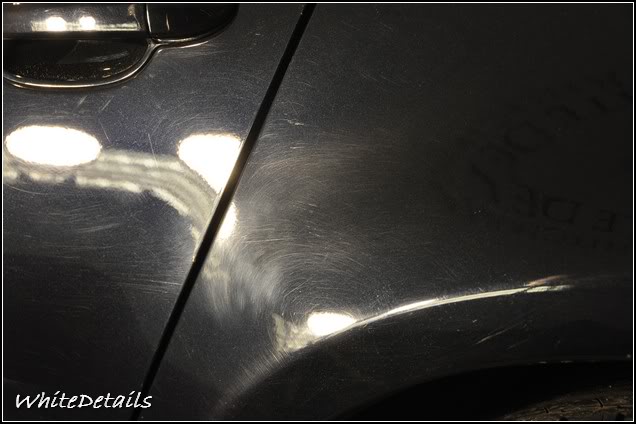 Checking results: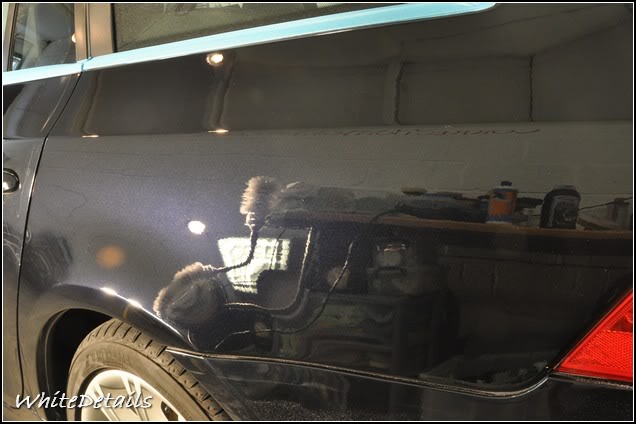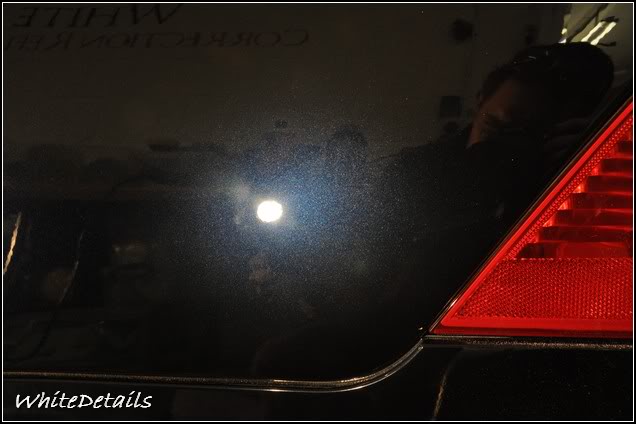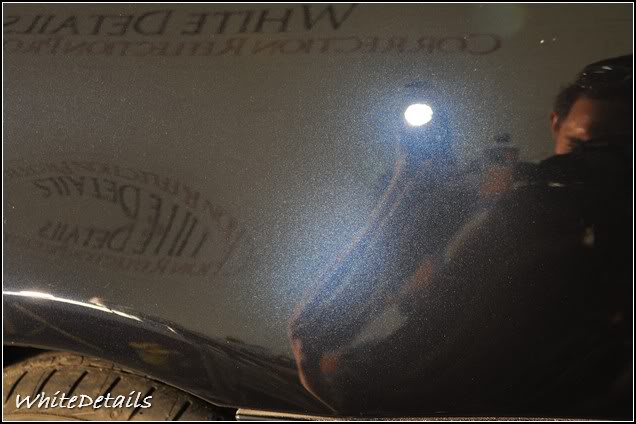 1. Scholl S3 and G-Techniq wool for compounding. 2. Scholl S17+ and white Hexlogic for polishing. 3. Blue 3M and Menz 85RD for refining.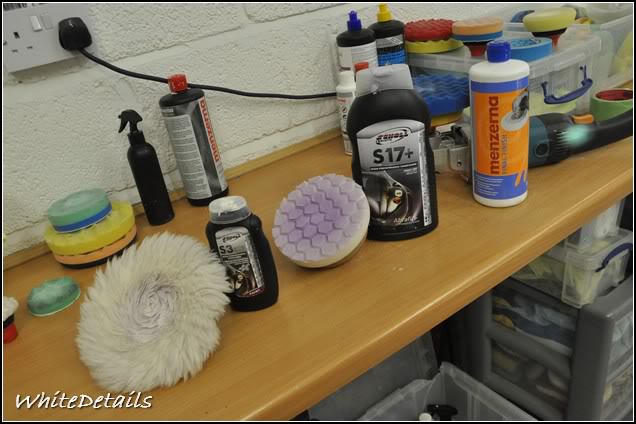 Before/after: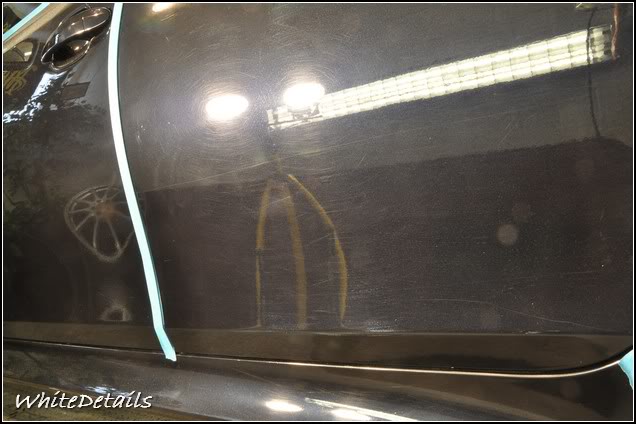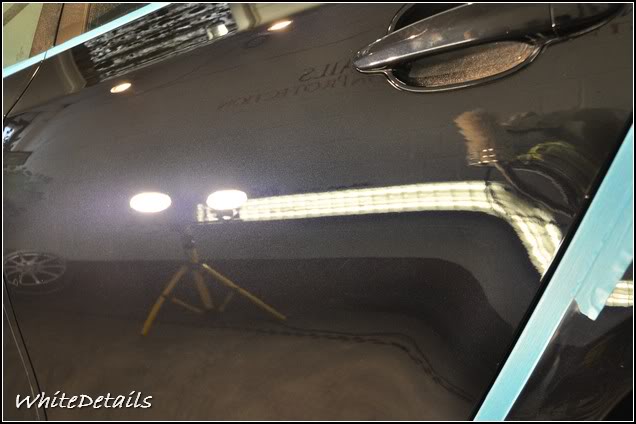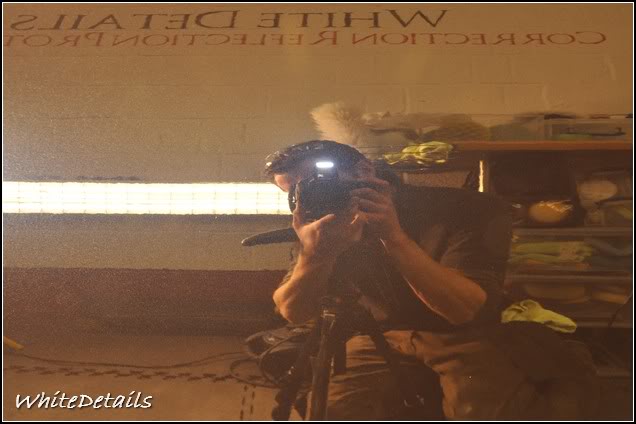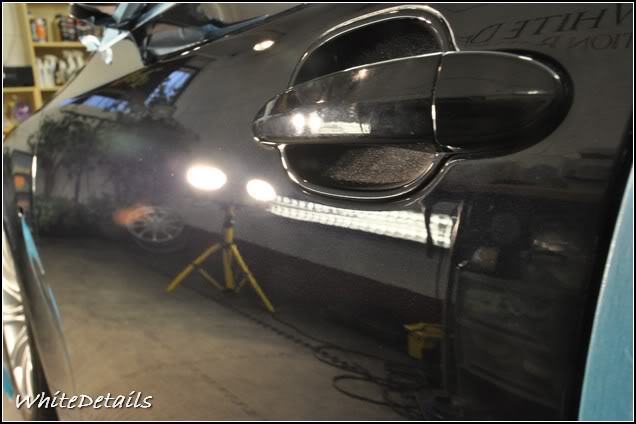 And 50/50s: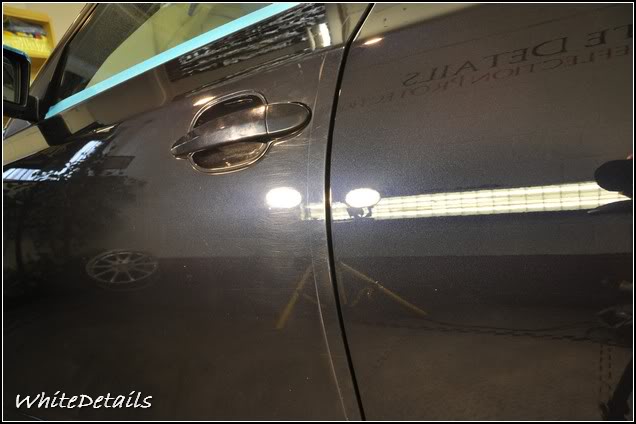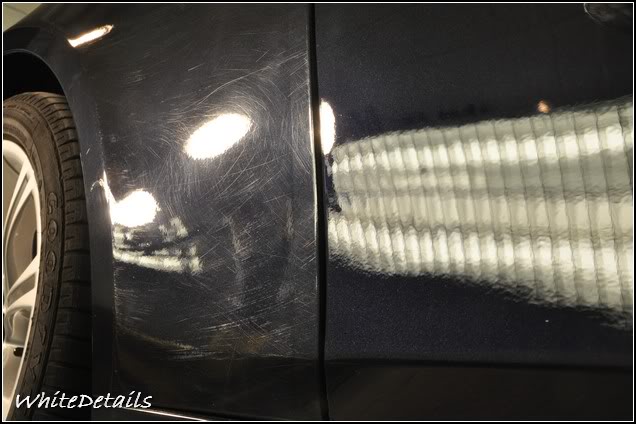 NSF wing: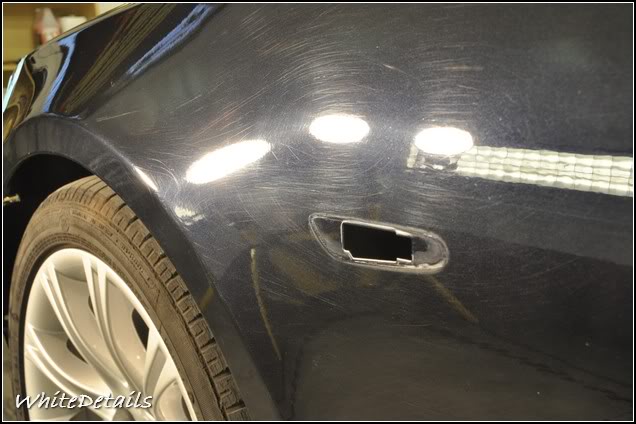 As you can see, not perfect (low paint thickness readings preventing me from chasing this one 100%)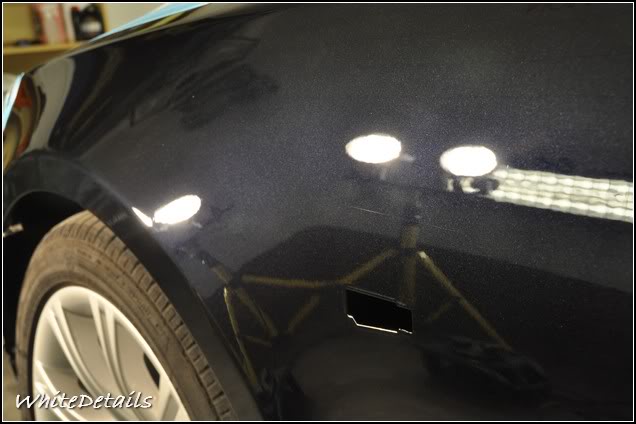 This series of scratches however were removed altogether.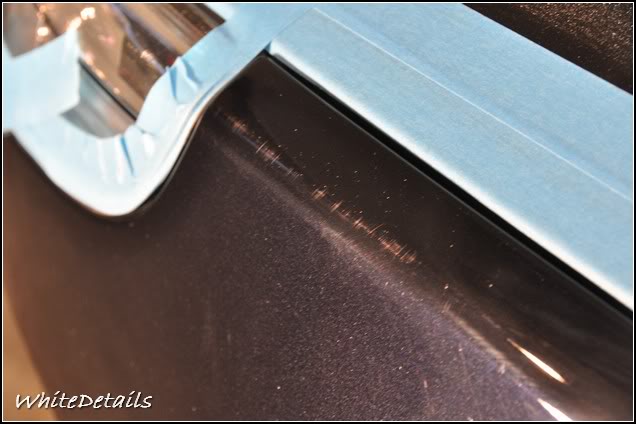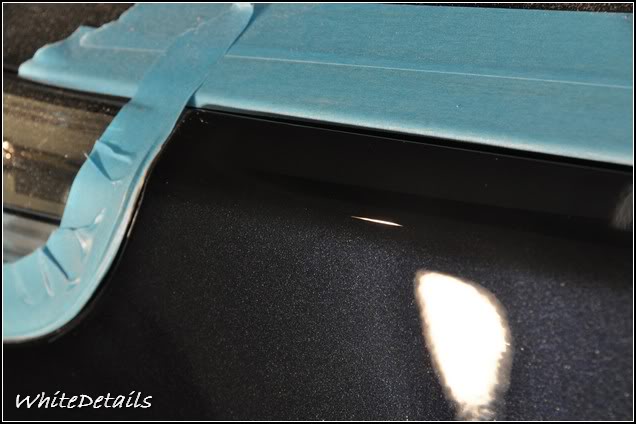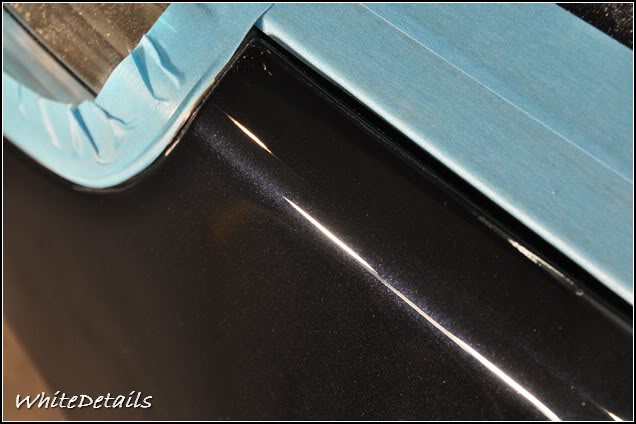 More sill action. 50/50: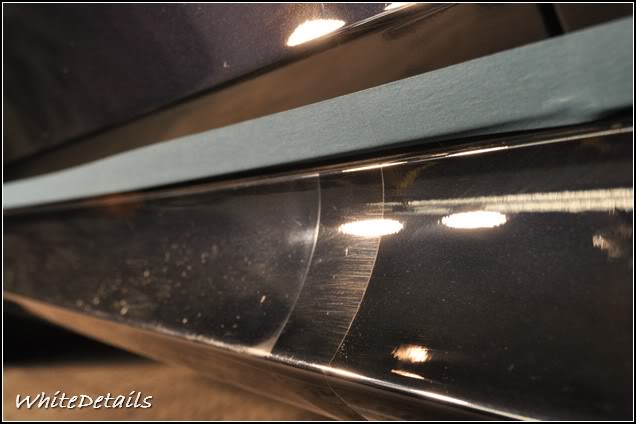 The boot lid was pretty bad. Lots of random deep scratches.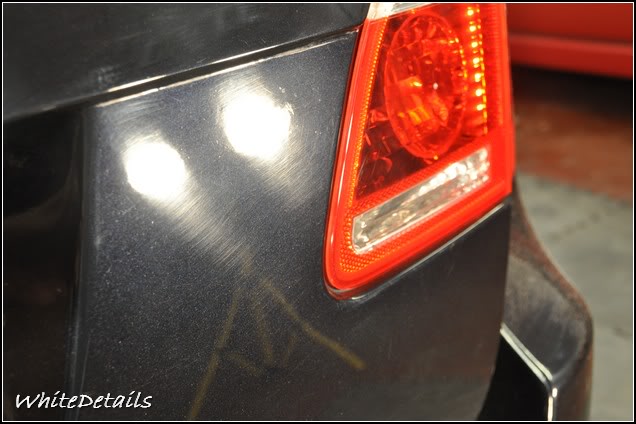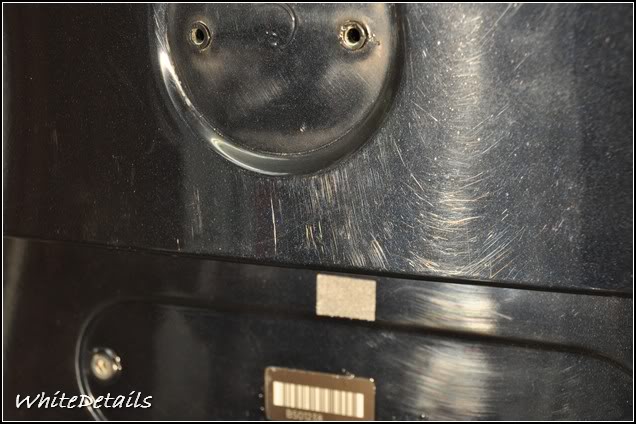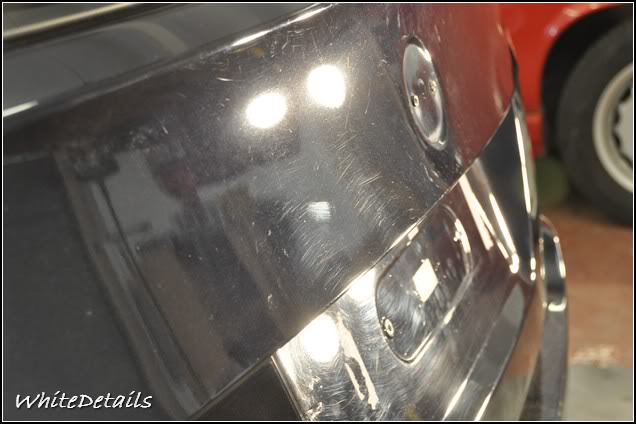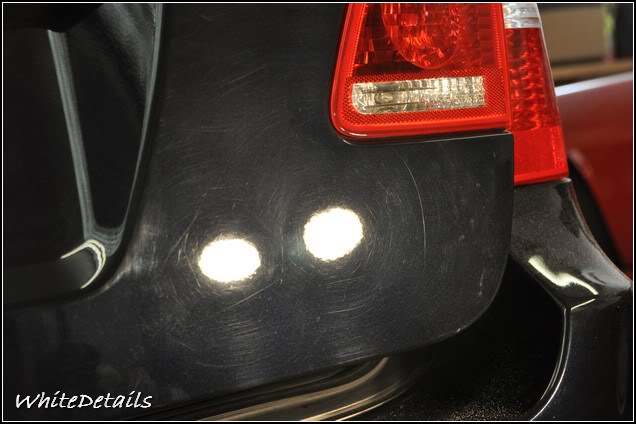 After: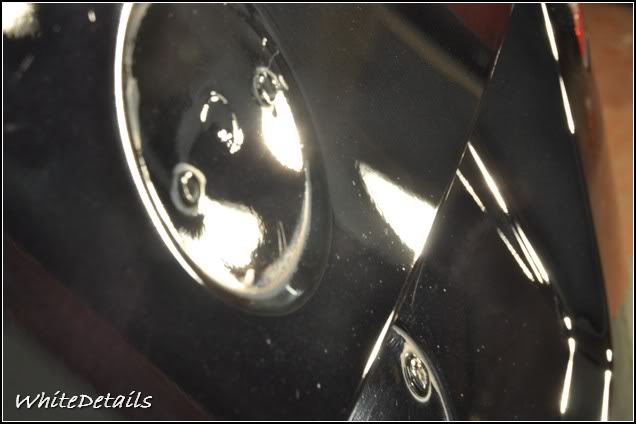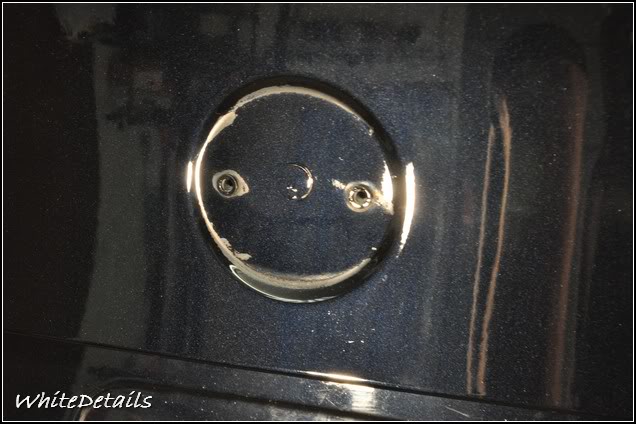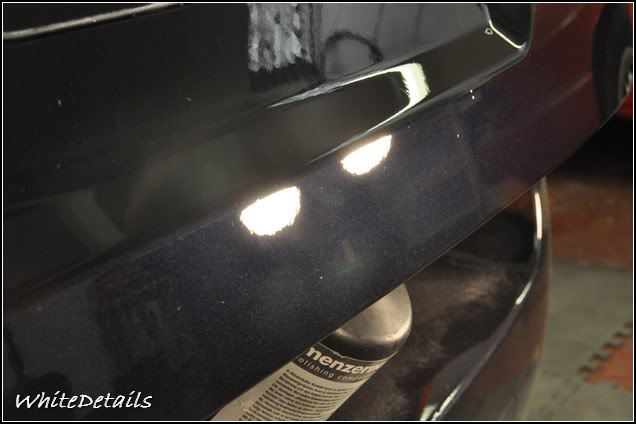 Light clusters before/after: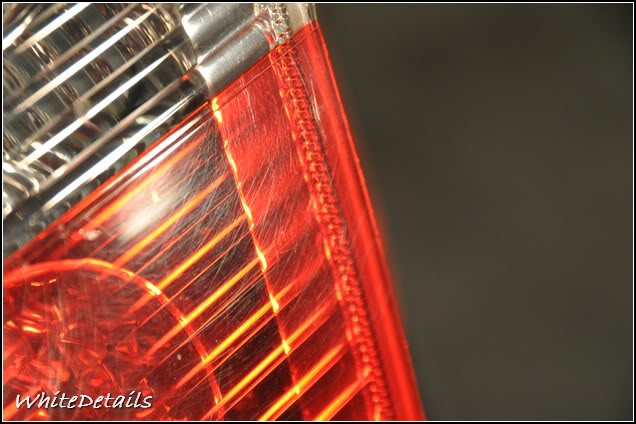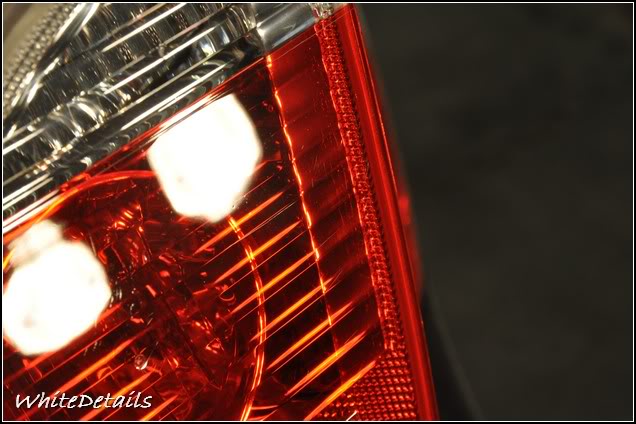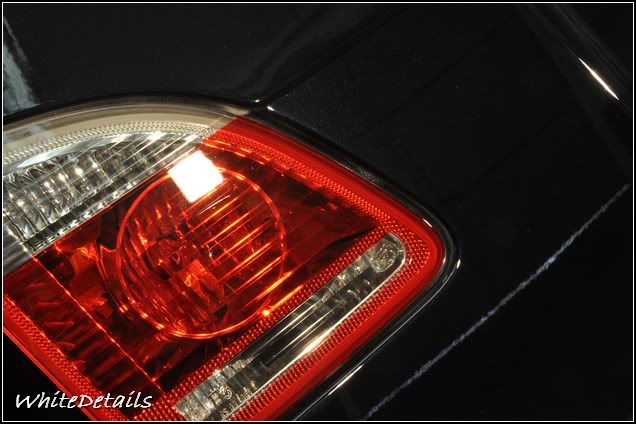 50/50: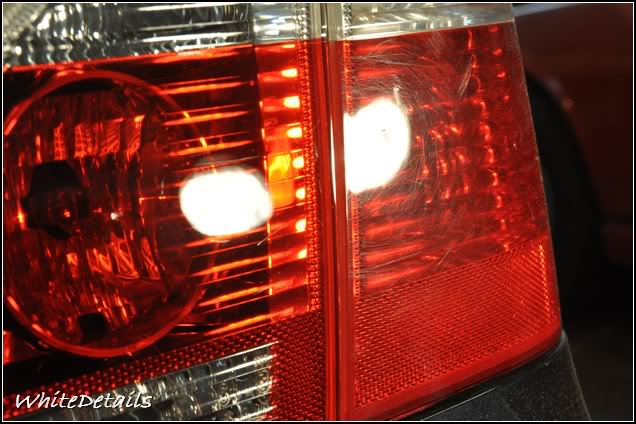 Rear bumper also quite tatty.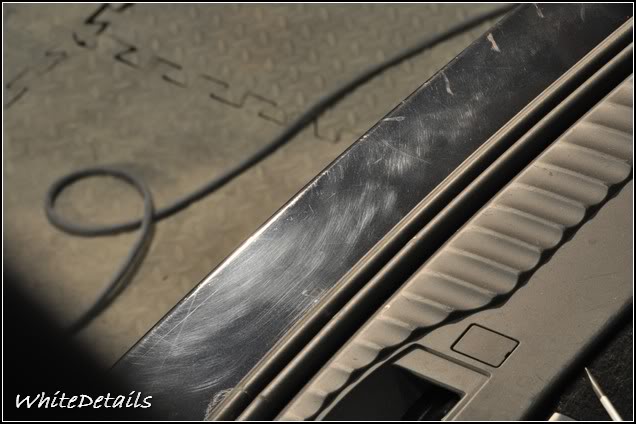 Before/after: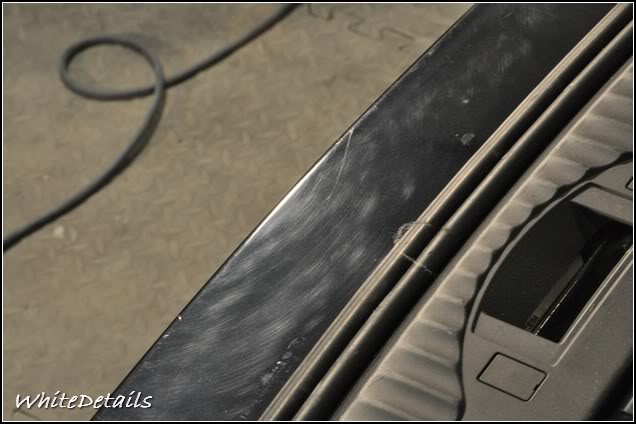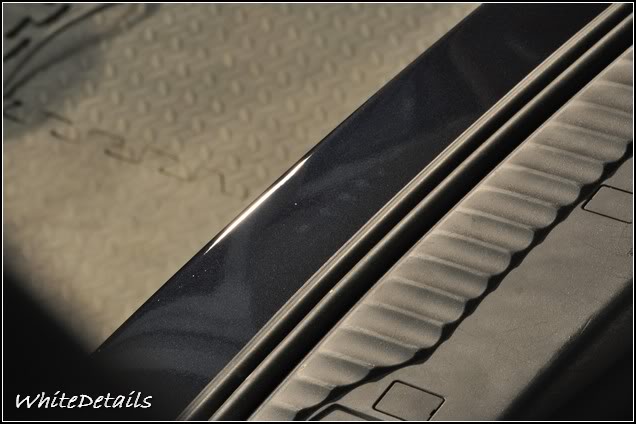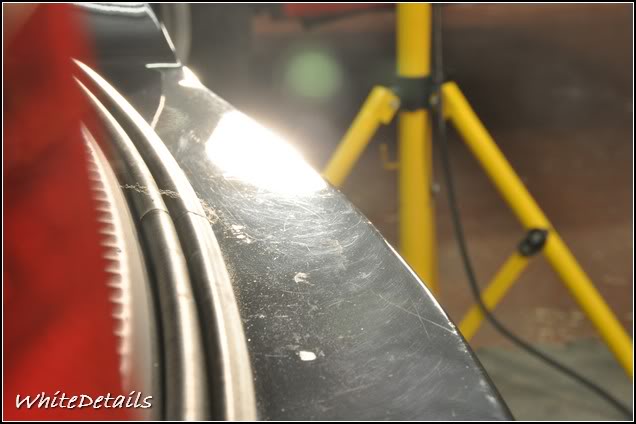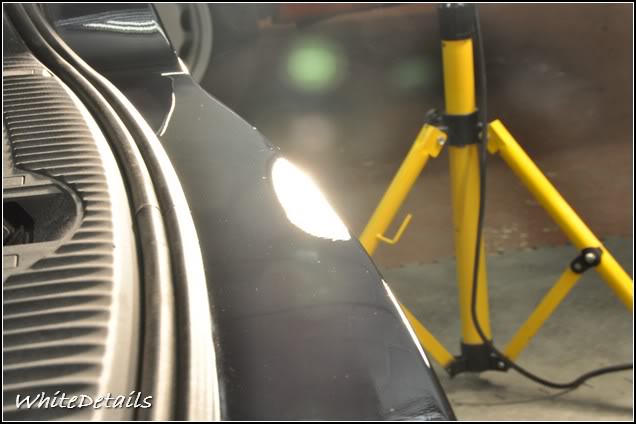 Under inspection: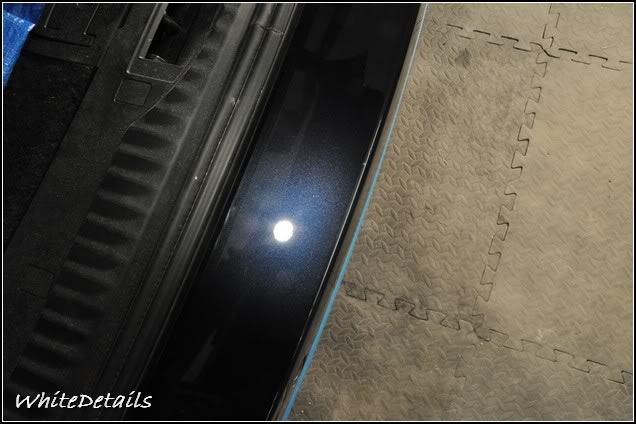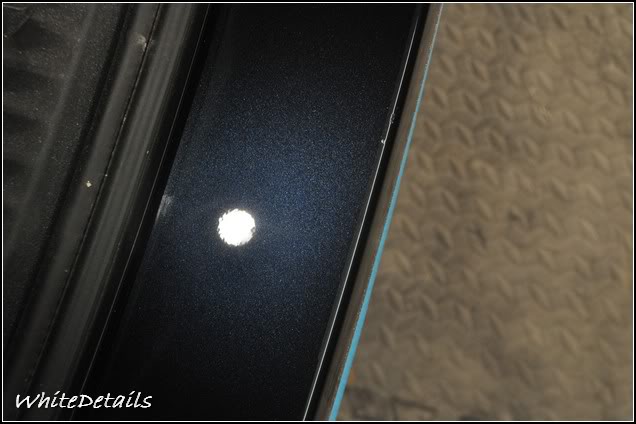 With the bulk of the machine polishing complete, the car was maneuvered outside for a good jet down. (Heavy dusting from aggressive compounding)
At this point, the engine bay was cleansed, blown dry and later protected: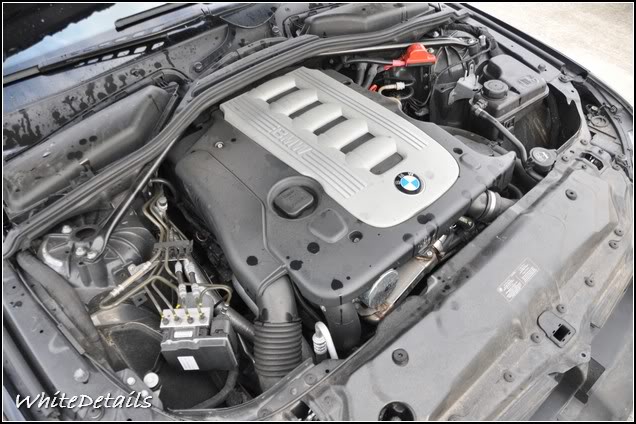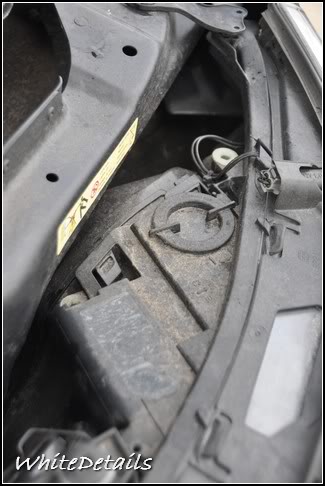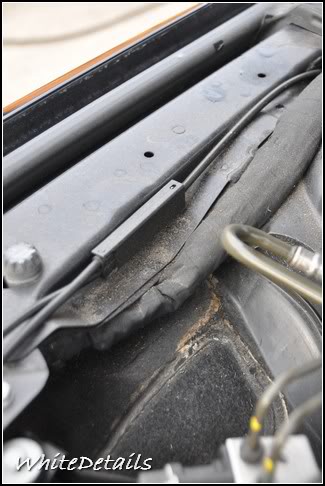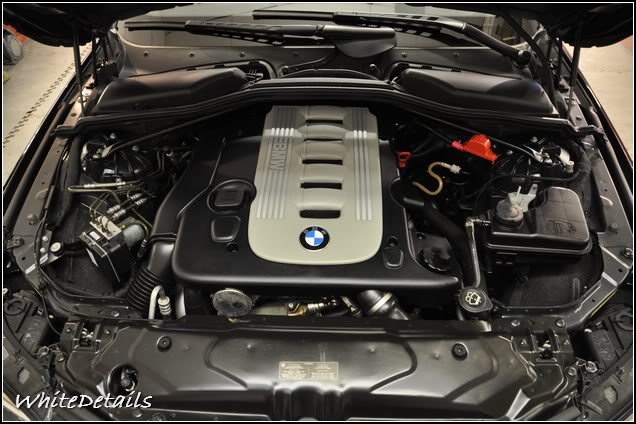 New BMW centre caps to replace the tired looking, corroded old ones.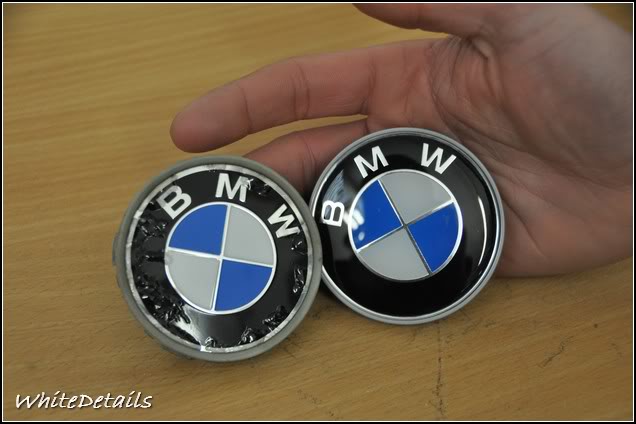 Exhaust tips removed for easier polishing: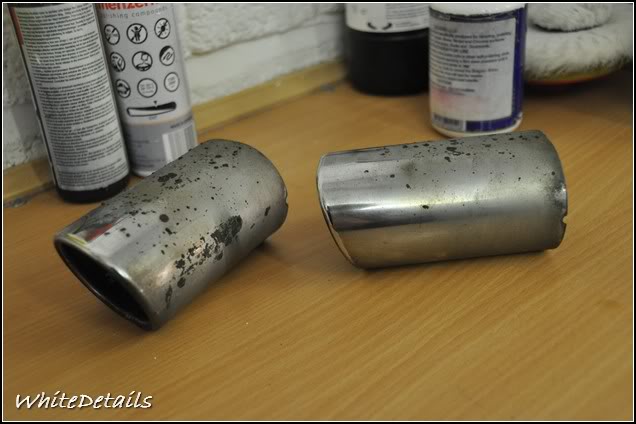 50/50:
Bling!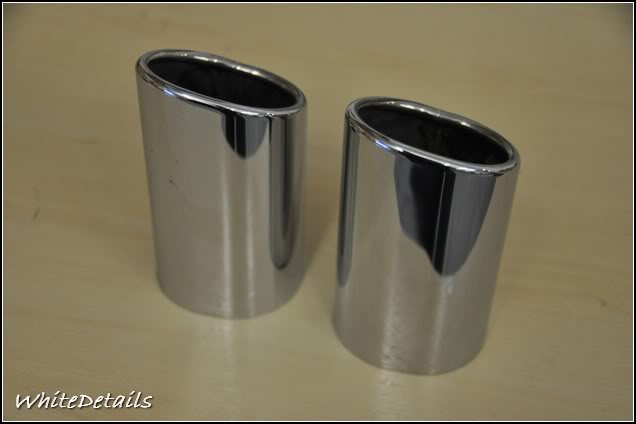 With the car now blown dry, Auto Finnesse Rejuvenate was loaded onto a 3M polishing pad to further cleanse the paint.
To protect, Raceglaze's Black Label Concours Wax was applied via a foam applicator pad: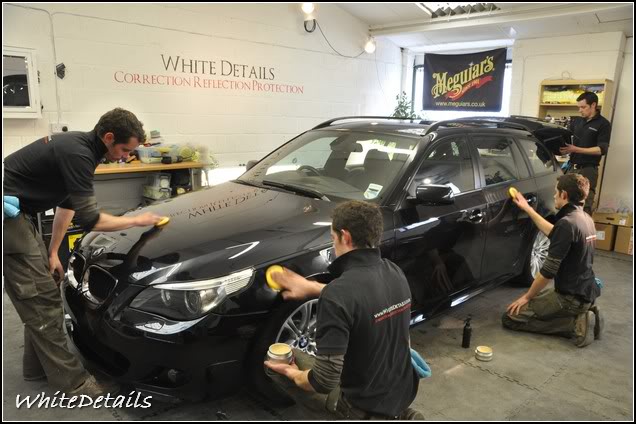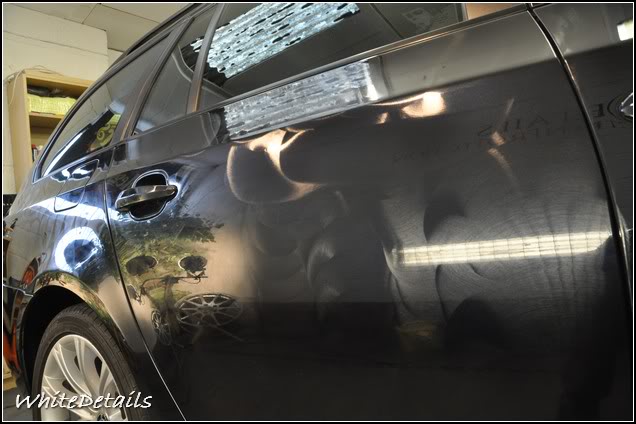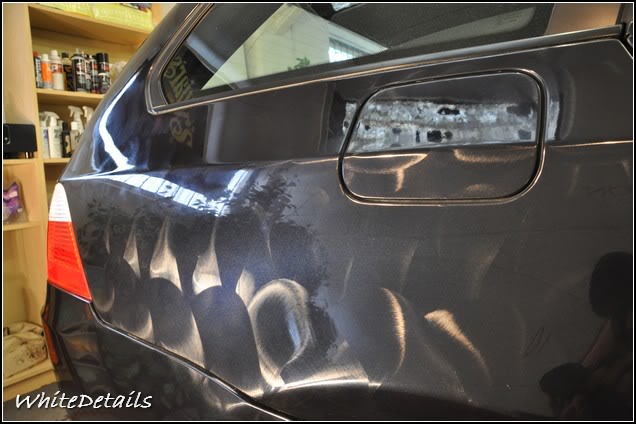 Some 'toothpickery' work to remove trapped polish residues etc.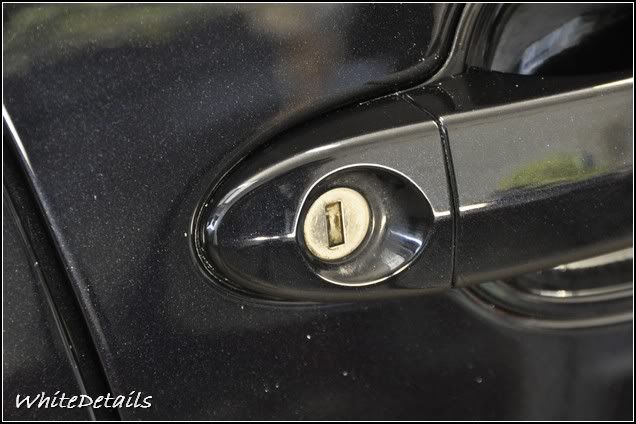 Exhaust box polished and tips installed: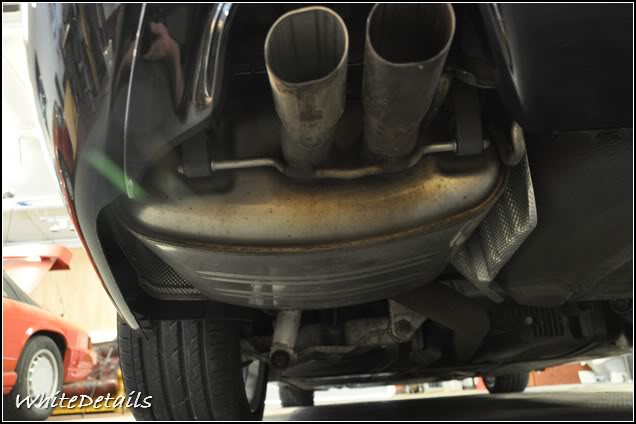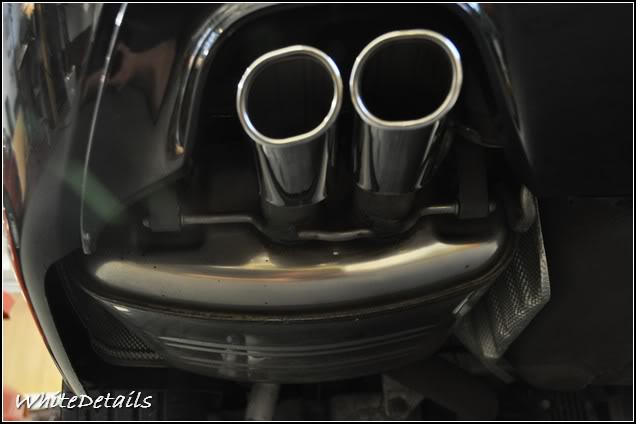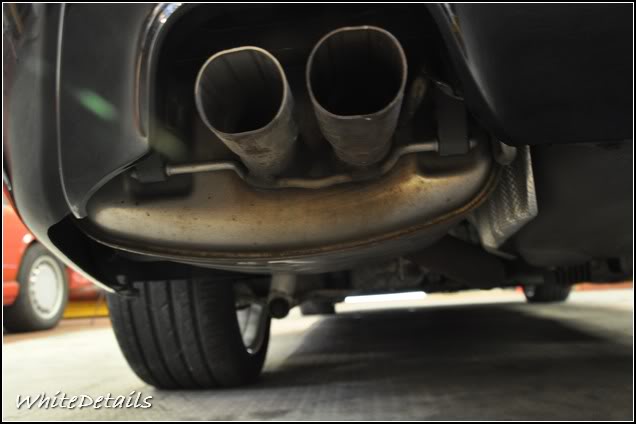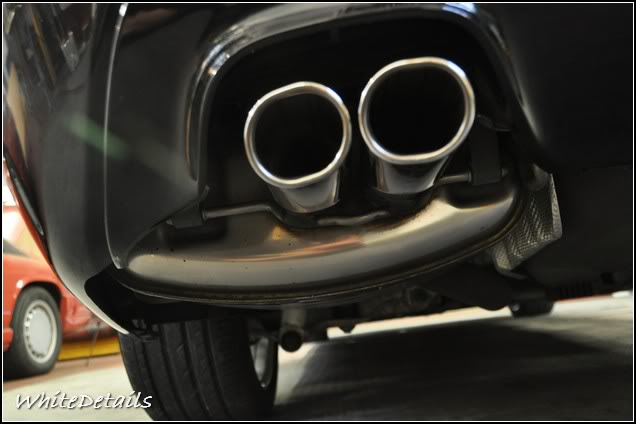 External black plastics treated to G-Techniq C4 Permanent Trim Restorer.
Washer jets: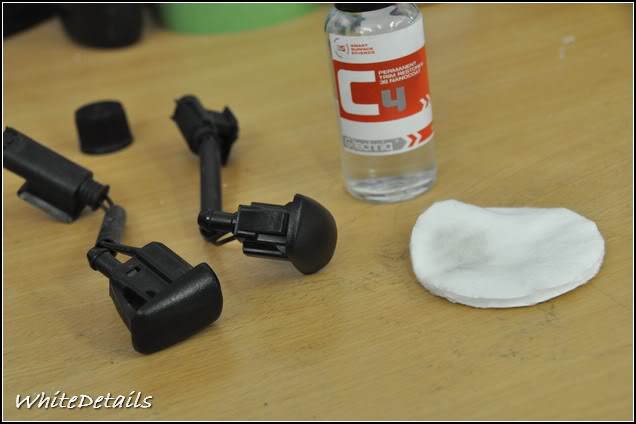 Mirror base plates – during/after: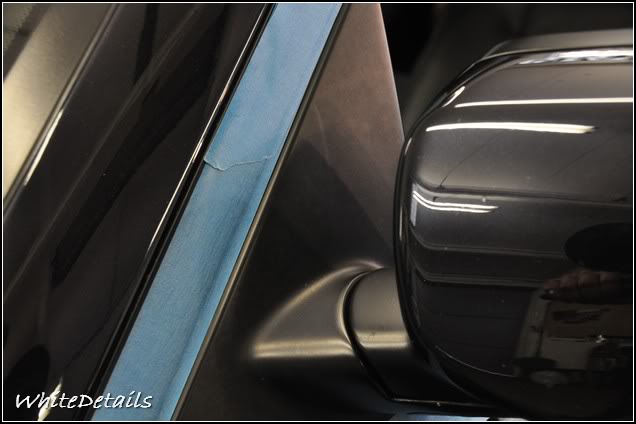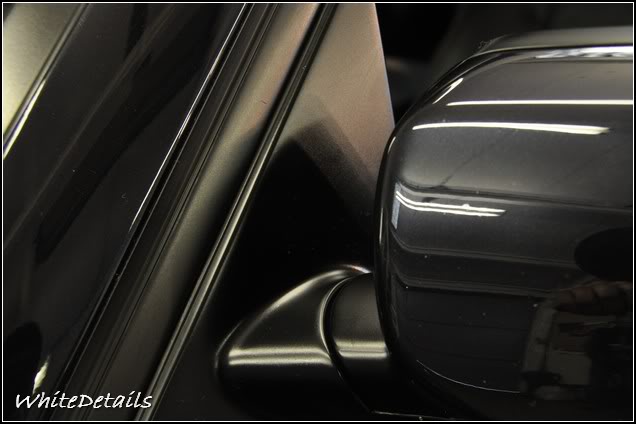 Interior also in need of a good scrub.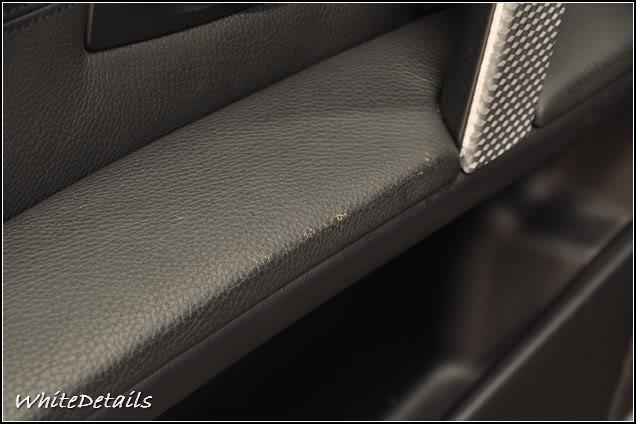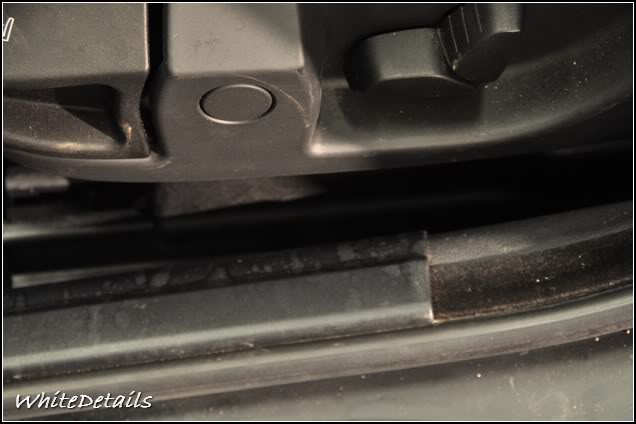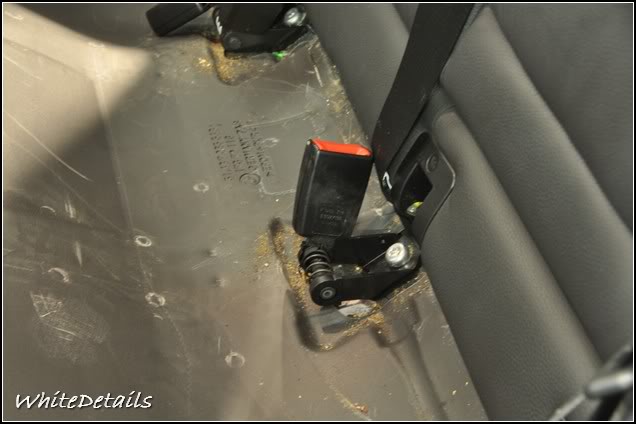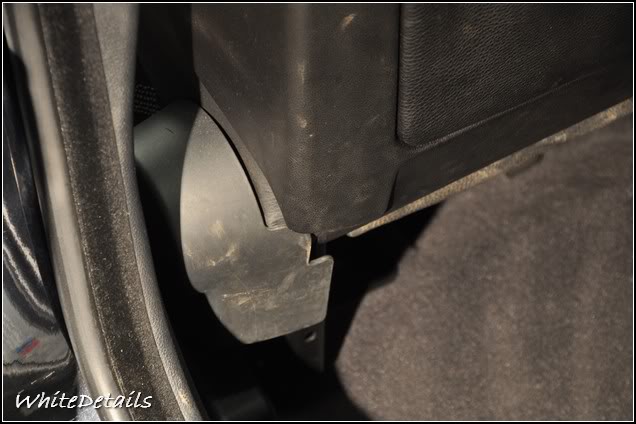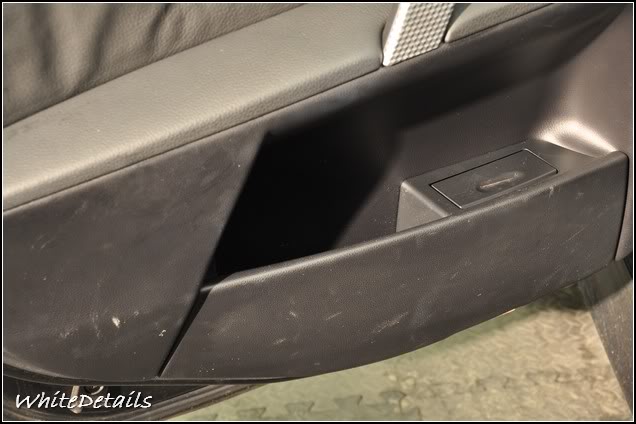 Plastics tackled with an APC and leather deep cleaned with LTT's Auto Ultra Foam and 'Protect' to form a barrier against future build-up.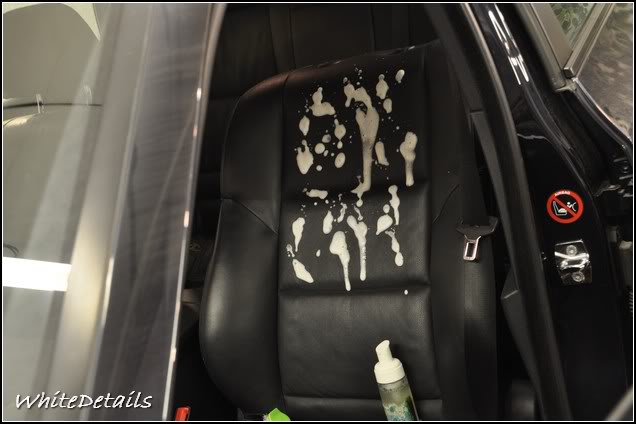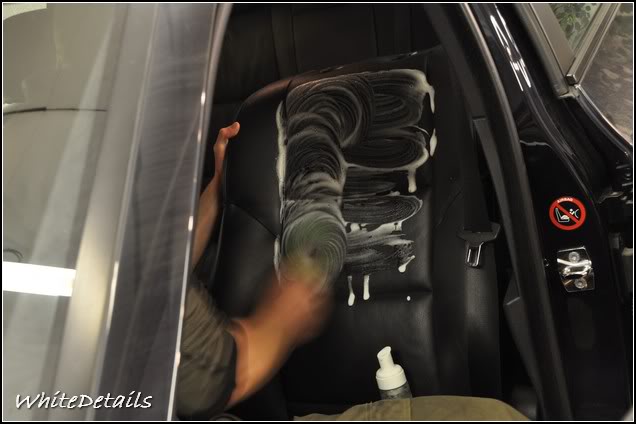 (I forgot to take after pics!)
Some 40 hours later, e61 BMW finished: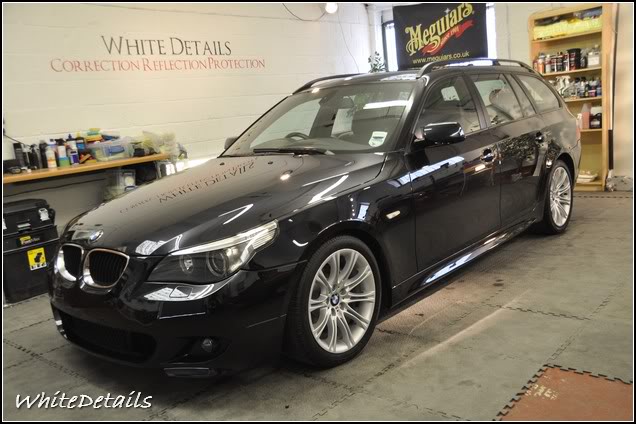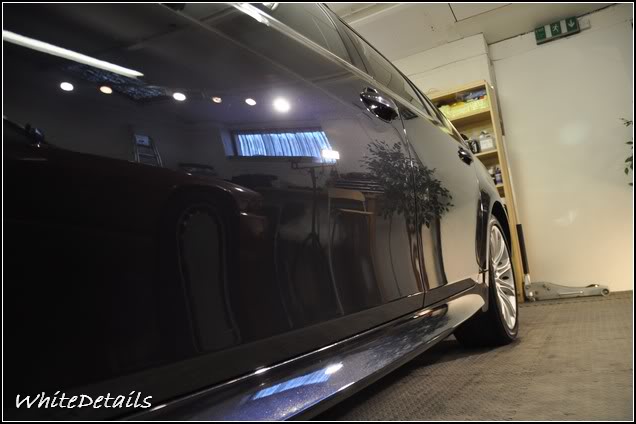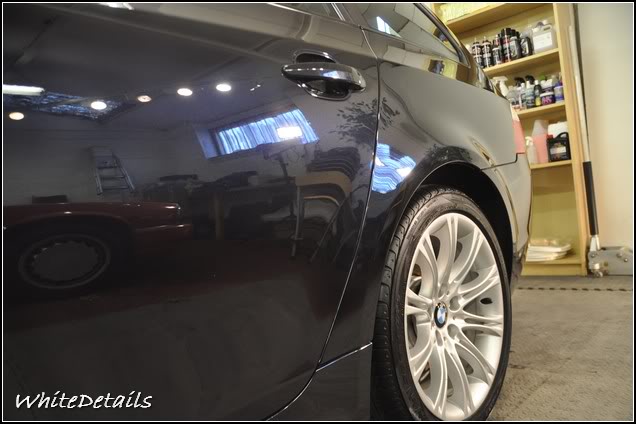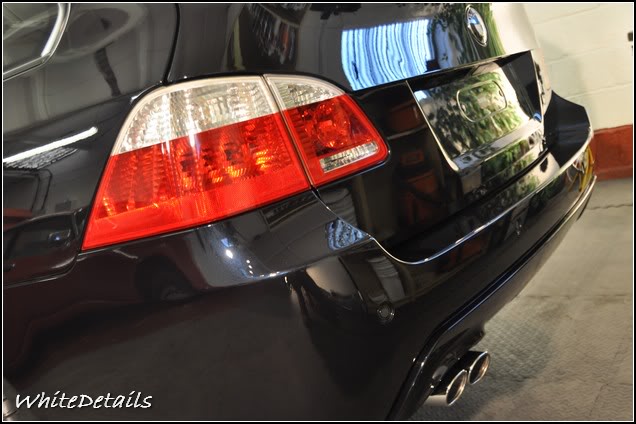 Funny, on the vehicle's V5, it's actually listed as a 'black' car…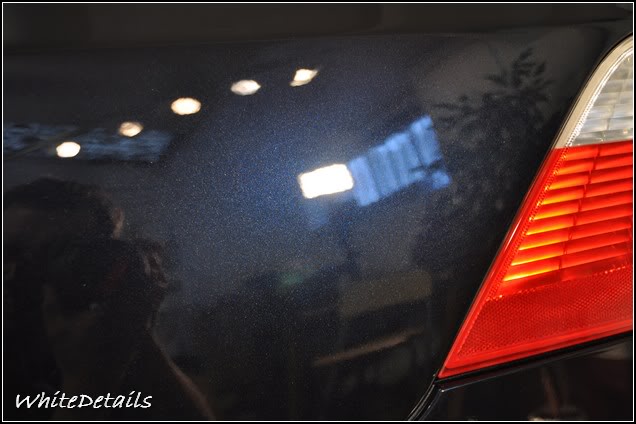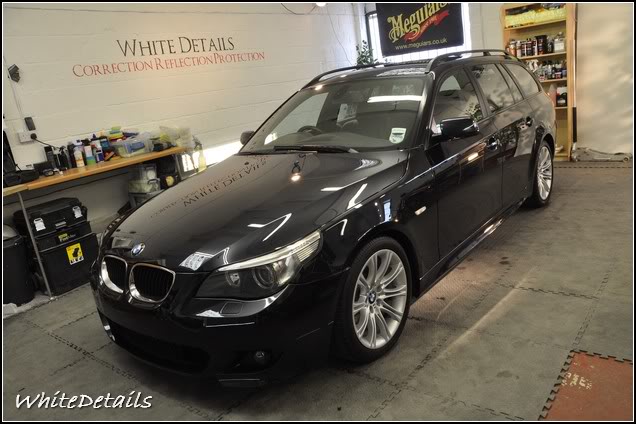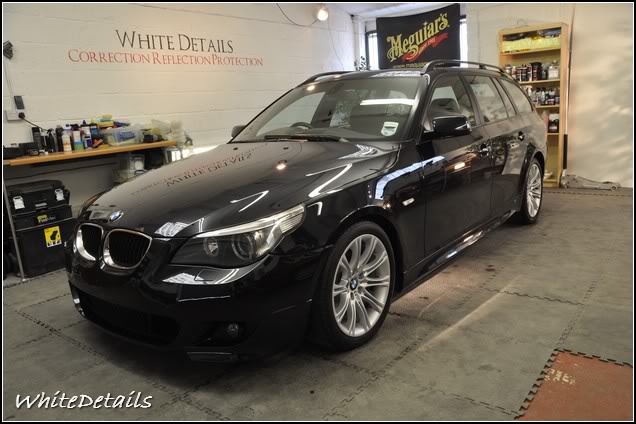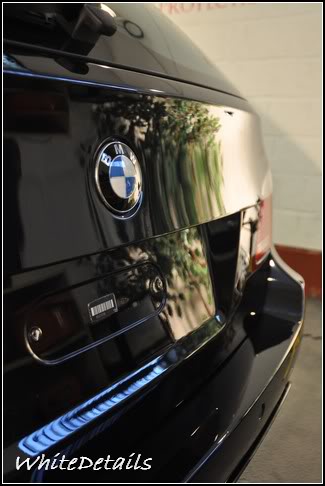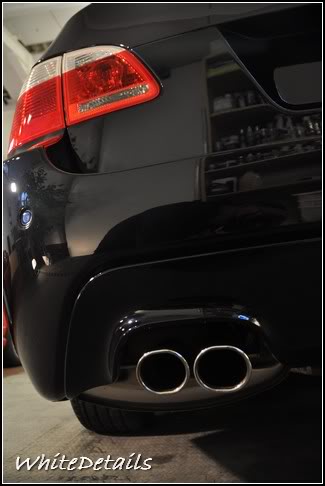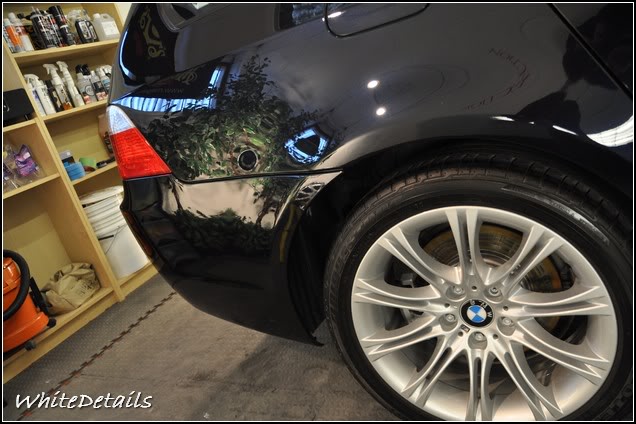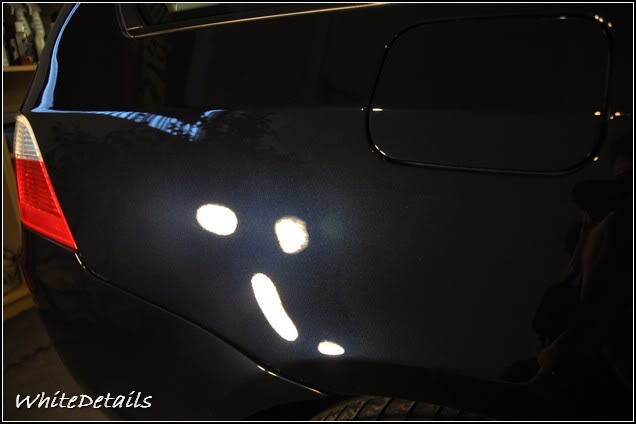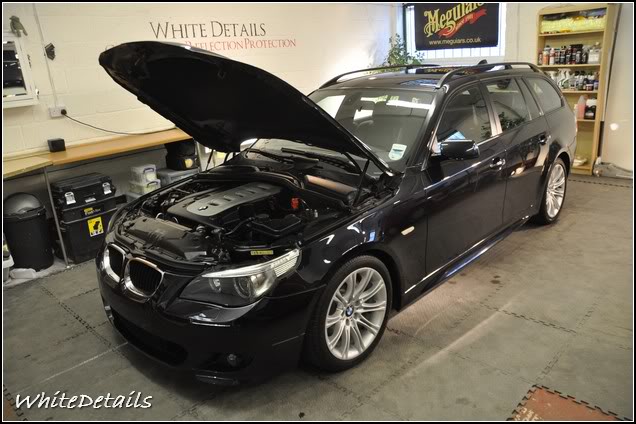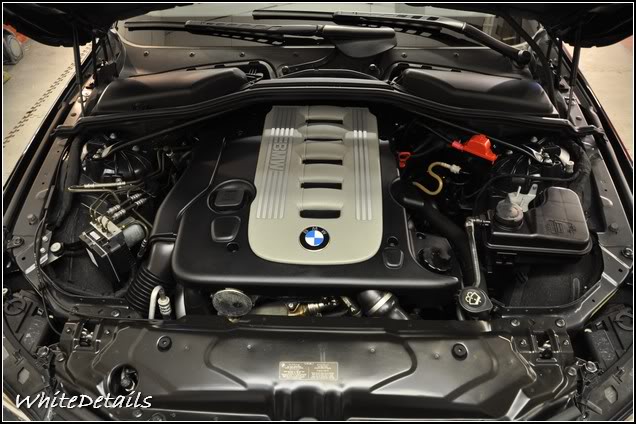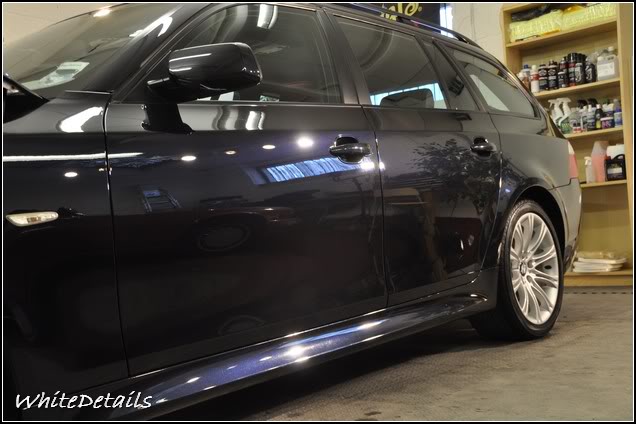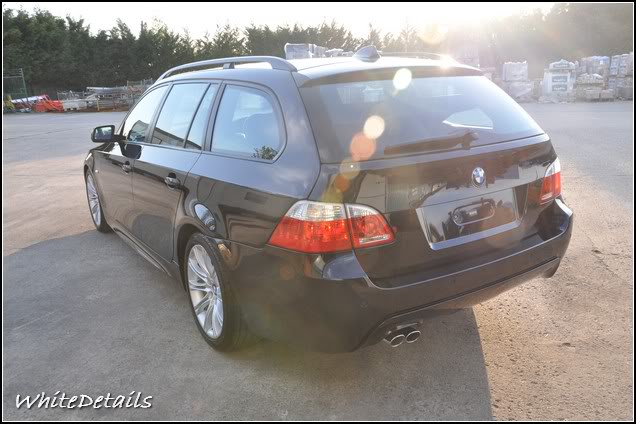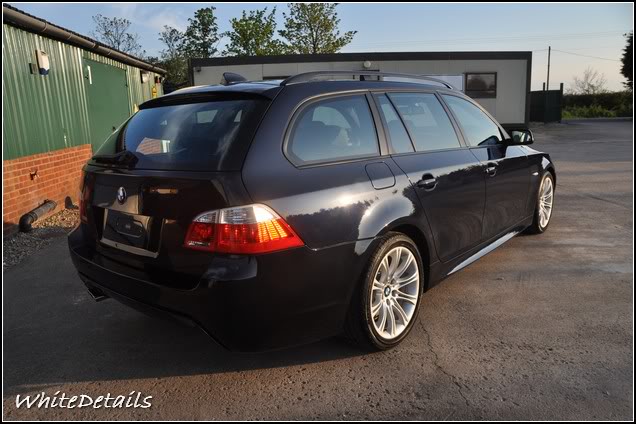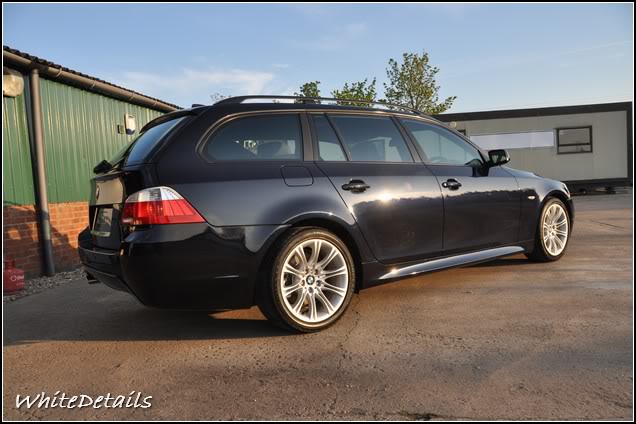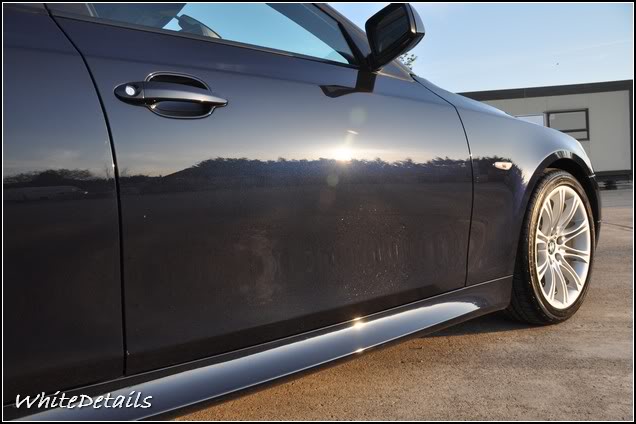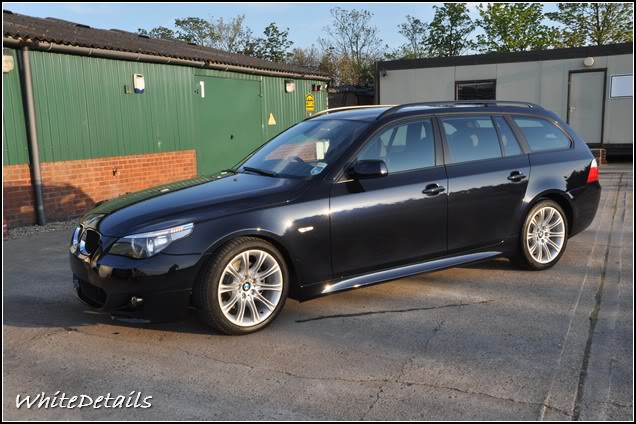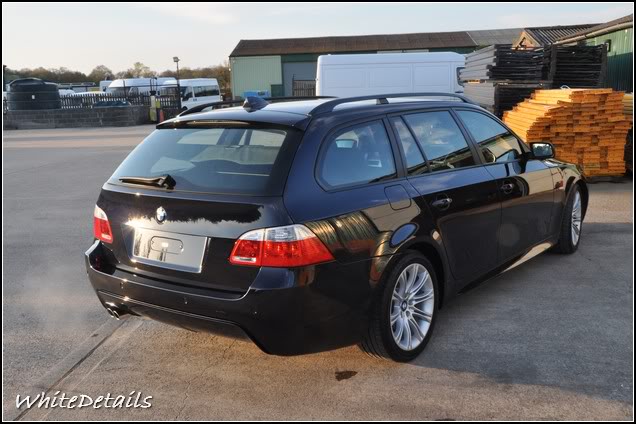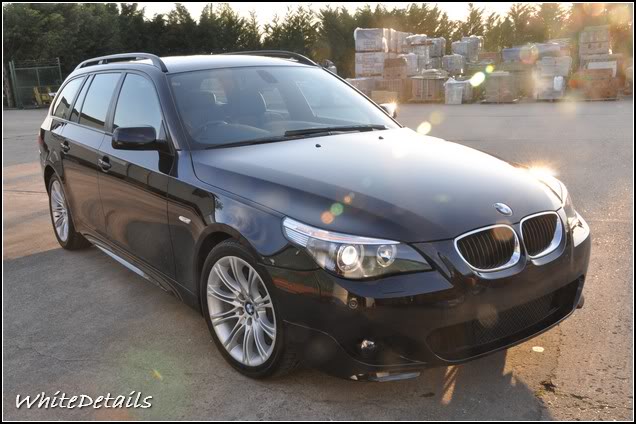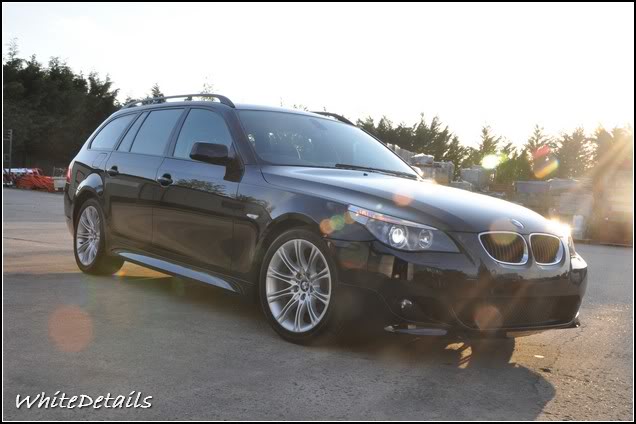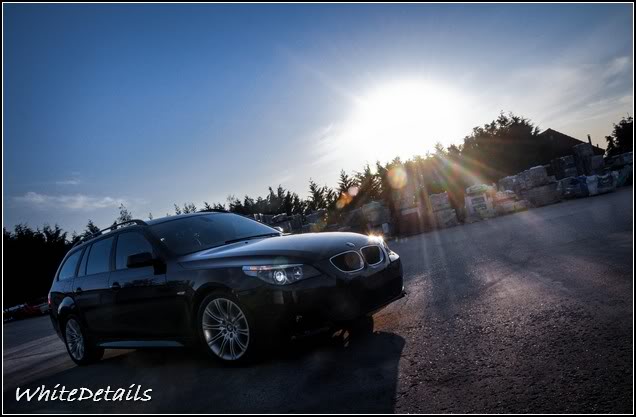 And finally….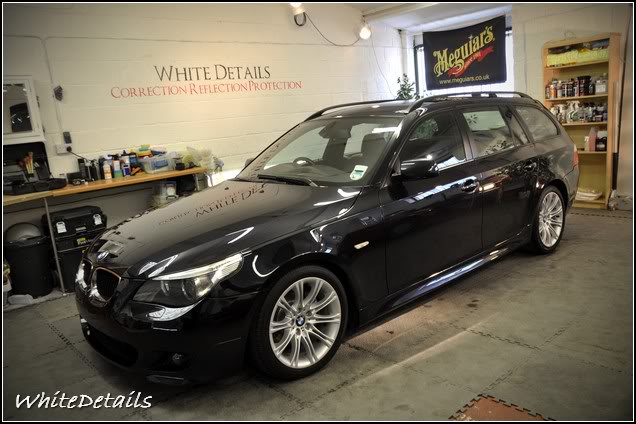 If you made it this far, I salute you.
THIS is an 'immaculate' car.
Thank you for reading.
Jim.