Heres the story of my beloved Renaultsport Clio 172:
I bought the car on the 1st november 2008, a mint 2002 monaco blue 172. I payed £3995 for it, the car was totally standard apart from a Magnex 6x4 oval backbox. It had all the usual extras: Air conditioning, Cobra alarm, Xenon headlights, headlight washers, automatic wipers and headlights, 6 disc alpine cd changer, onboard computer, 16" alloys. The car had 58000 miles from new and full service history. Although on the way home from leictershire the exhaust started blowing, at first I thought it was a badly fitted backbox but once I got home and had a look I realised the centre section was corroded and split, so the next day I took it to Longlife exhausts in Leeds and had a 2.5" stainless cat back fitted with no silencer: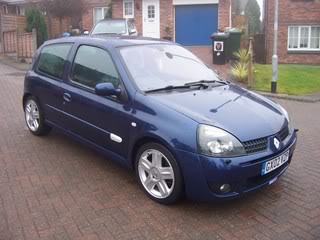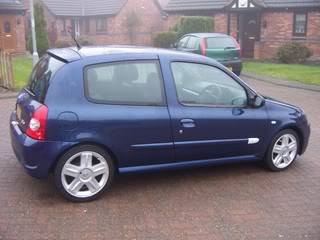 The first thing I decided to get was a set of wheels, I opted for a set of white 16" Team Dynamic pro race 1.2's, I also purchased a white 172 inside sticker for the tailgate and colour coded my bullets with white detailing: I then decided that I wasnt keen on the Team Dynamics wheels. So I sold them and went for a set of silver 17" O.Z superleggeras. I think these suited the car better as I felt the old wheels looked too small and didnt fill the arches: I had some spare money so I decided to do a bit of forum shopping. I bought a set of unused 40mm Apex springs for £50, a cup spoiler for £160, a Janspeed decat for £65 and a carbon cup splitter for £50, Bargains!! The next available weekend I painted and fitted the spoiler, aswell as the springs, decat and splitter. At the same time I sold my bullets to another member and took the 172 inside sticker off as I felt they now didnt tie in with my theme, I then painted my calipers blue: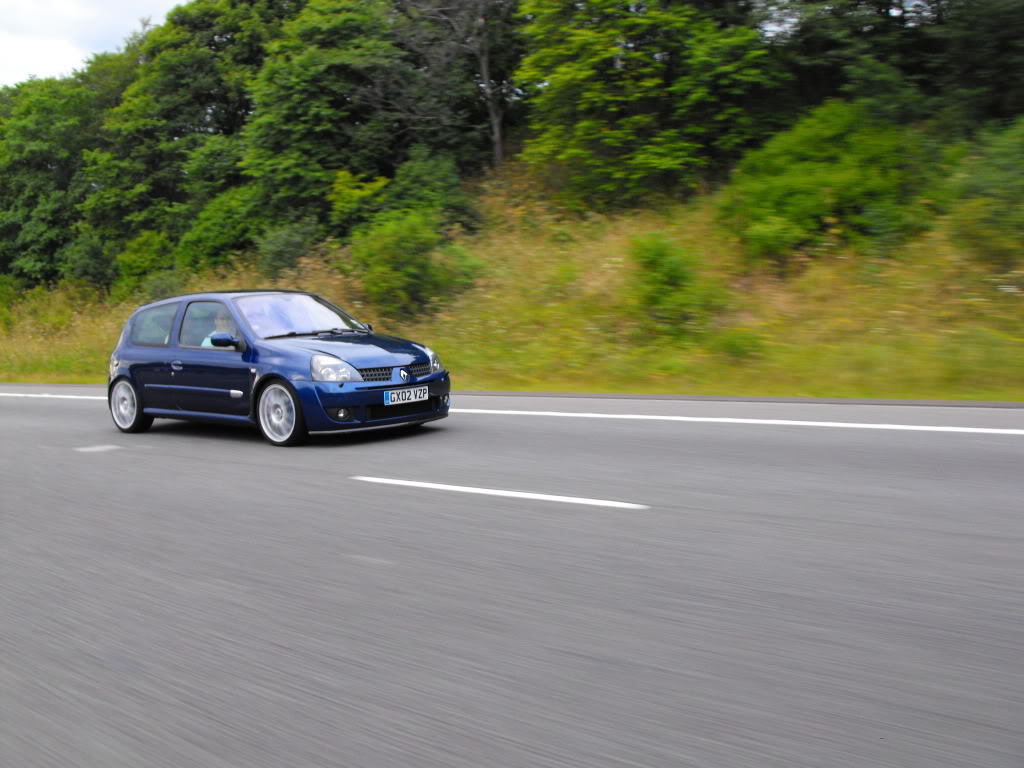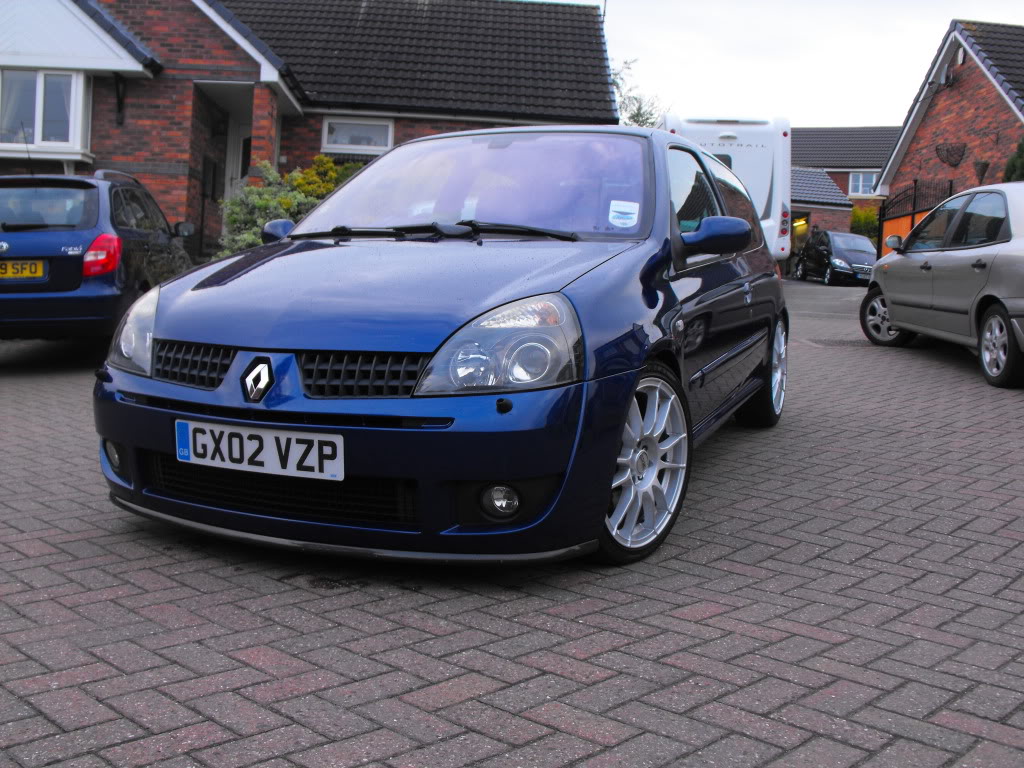 I then made the biggest mistake I have made since owning the car! I decided to paint the bullets, diamond and mirror covers orange! :dead::dead: This lasted about a week before I put the orange parts for sale on here and replaced them with standard parts again! I then decided to paint my bonnet as it was very stonechiped and had a small dent in. So the stonechips were sanded out and the dent was filled. A really good coat of highbuild primer, fully blocked down, then basecoated and lacquered. Whilst I was buffing and polishing the bonnet I decided to do the whole lot, so I used fine compound and machine polish with the buffer and then finished off with a coat of Maguires carnuaba wax, heres the result: After this I wanted some more grunt out of the 2.0l engine so I fitted a silicone bend and an induction kit. I then realised it wasnt a very good one as the car felt slightly slower but had a nice sound so I left it on and compromised! After driving the car for a few months like this I was hungry for more power, I then saw that K-tec was doing a good deal on a new kit they had developed, a low pressure turbo conversion. I was very interested so I spoke to K-tec and got all the details, off I went to get a loan!!
I then spoke to Steve off of the forum who was having the conversion done at K-tec on his Trophy at the time, he told me it was going to RS Tuning for mapping during the week and luckily I was off work so I nipped down to see it hoping he would take me for a spin so I could see what the power was like before I splashed out the cash! Upon seeing the results I was quite dissapointed as K-tec claimed 220-230bhp and Steves only made 208bhp! This did feel quick but I couldnt help feeling slightly dissapointed. Paul at RS Tuning then mentioned he could do me a supercharger conversion for the similar sort of money but that would give me approx 250bhp! I was exstatic with that and gave Paul the go ahead! I then paid my deposit on the 25th of April and off he went to start development on the parts. A week after this my clutch went so instead of replacing it with an OEM clutch I thought it would be wiser to upgrade, especially with the supercharger conversion on the way! I spoke to Paul to ask his advice and he got me a kevlar clutch for £325, the next day this was fitted by my mate who charged me £80: I got the car back from my mates and drove it home. On the way back I noticed the gearbox was crunching into 2nd! So I called him, he asked me to nip it back the next day so off I trot down to his place and he had a look! The synchro had one on 2nd gear!! This was not the news I wanted, my loan money was getting smaller and smaller but he did me a good deal and rebuilt the box for me for £150! I was pretty happy with that as I knew the box and clutch was going to be nice and healthy for the conversion.
I decided then I needed to upgrade my brakes before my car went to RS Tuning, So I bought a set of front and rear drilled and grooved discs with new rear bearings off of ebay for £129.99, some new OEM rear pads from the local dealership and a set of new front Ferodo DS2500 pads off of a member on here for £70. On the 23rd of July I got a very pleasing call from Paul, he finally had all the parts developed and delivered for my conversion!!
After pestering him like mad for the past 3 months it was finally time! So I dropped the car off at RS Tuning for the work doing.
That day I decided that I wanted to go back to 16" wheels for handling purposes once it was charged so I advertised my wheels for a swap. I wanted to do a deal with my 17" superleggeras for some turinis or O.Z F1's. Liquidforce off of here pm'd me, he had a set of 16" O.Z F1's in satin black, these sounded perfect, I couldnt believe it! I arranged to meet him at RS Tuning to do the swap as thats where my car was, I did him a swap plus he gave me £100 on top towards some new tyres as the ones on his wheels were pretty knackered and mine were like new!! By this time Paul had the charger mounted, aswell as the intercooler, rad and oil cooler: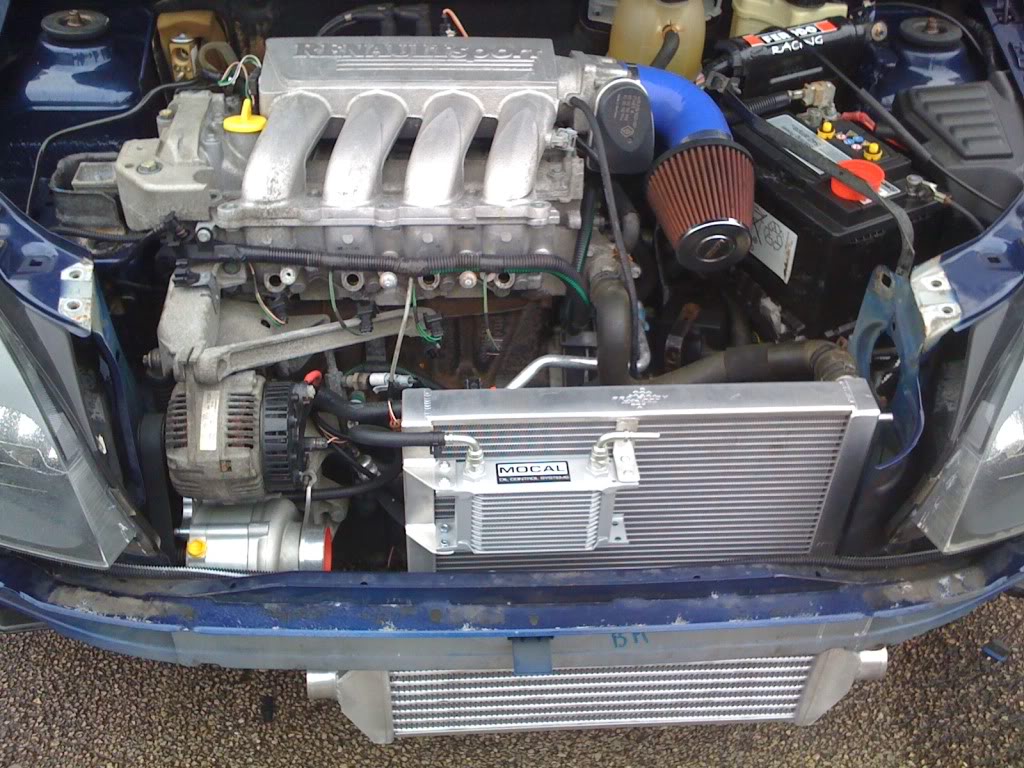 My uncle bought a sticker machine and I wanted to spice the wheels up a bit and make it stand out so he made me some O.Z RACING decals in yellow which were pre-curved to the rim of the wheel. I couldnt wait to fit them and see what they looked like so I nipped to Pauls to stick em on: Paul mentioned that the battery in my car was a little bigger than usual and I needed to get a smaller one so it would allow room for the intercooler pipework. My mate had a stainless battery tray and wanted £50 for it, so rather than waste a good battery I bought it off him and nipped down to RS Tuning with some wire to fit it to allow Paul to carry on with the car. I decided to fit it in the wheel well and get shut of the spare wheel to save a little weight, I also fitted a can of tyre foam incase of emergency: Paul called me on the 3rd of September with some great news! My car was ready and running healthy! It was better than xmas day!!! I went straight down and handed over the rest of the cash and he took me for a spin in the car! WOOOOOWWW!!
It was awesome, sound was amazing and I just could not believe the transformation! The power was totally immense! The car was running 251.9bhp and just over 200lbft at 0.6bar of boost at peak! He printed my RR graphs and we had a chat then away I went with a massive smile on my face :approve:, All just intime for TRAX 2009:
Power at the Flywheel: Power at the Wheels: Before TRAX I painted the calipers Gloss black to tie in with the new theme and gave the paintwork a full polish using Maguires polish then Maguires carnuaba wax and finished it off with a Diamond Bright paint pretection stystem: It was now the 6th of September, TRAX 2009. I was excited because it was the first time I would be able to get some good pics of the car. My brother took an awesome one when we were on the motorway on the way there: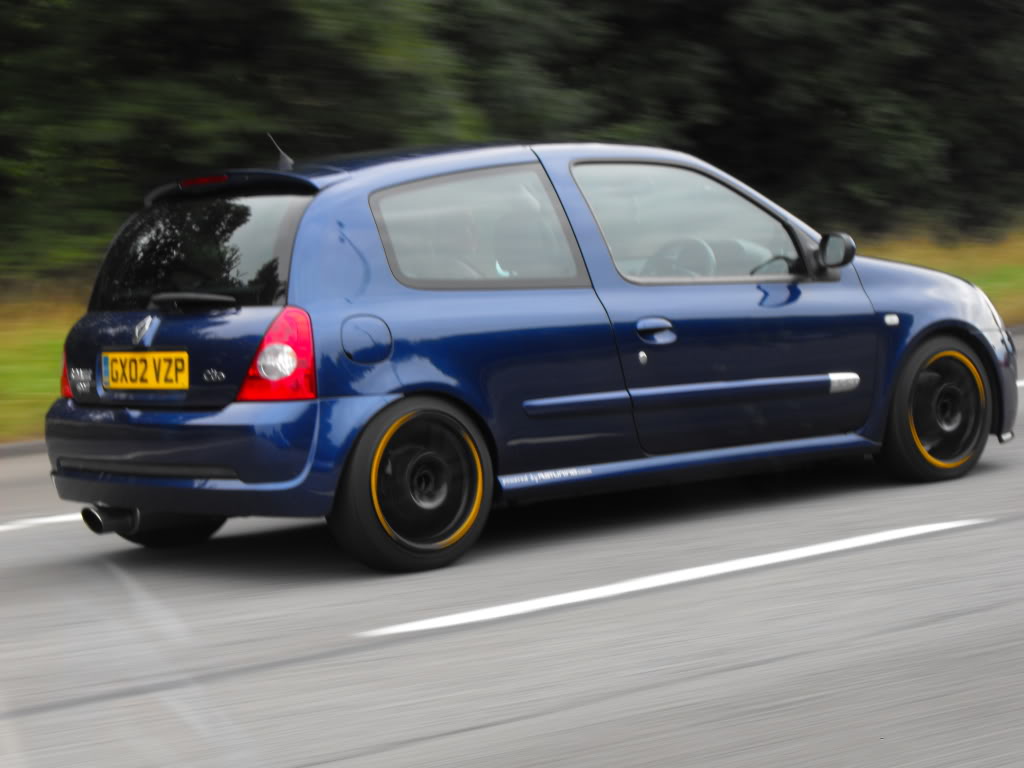 These are all the pictures taken from TRAX 2009 on the club stand: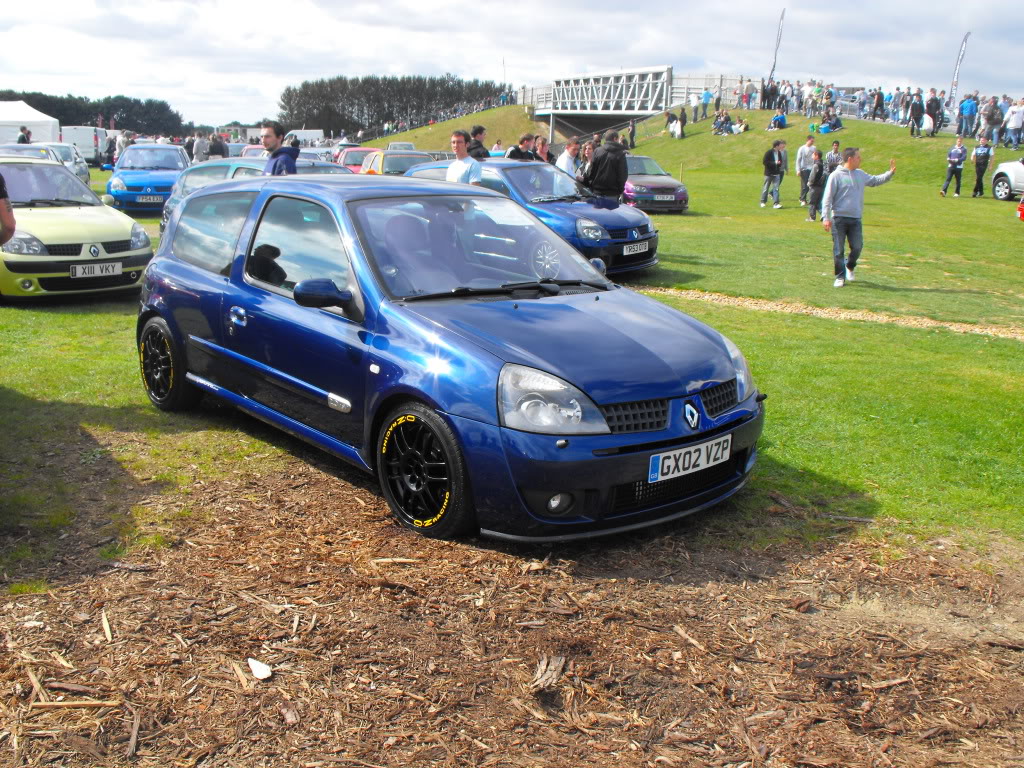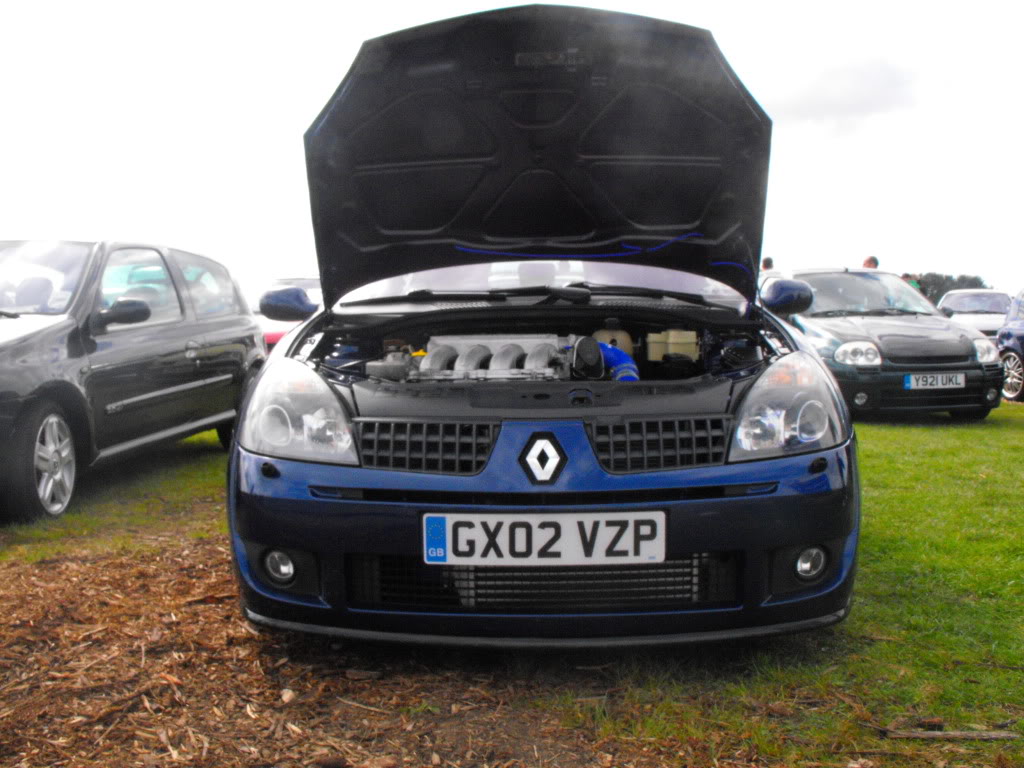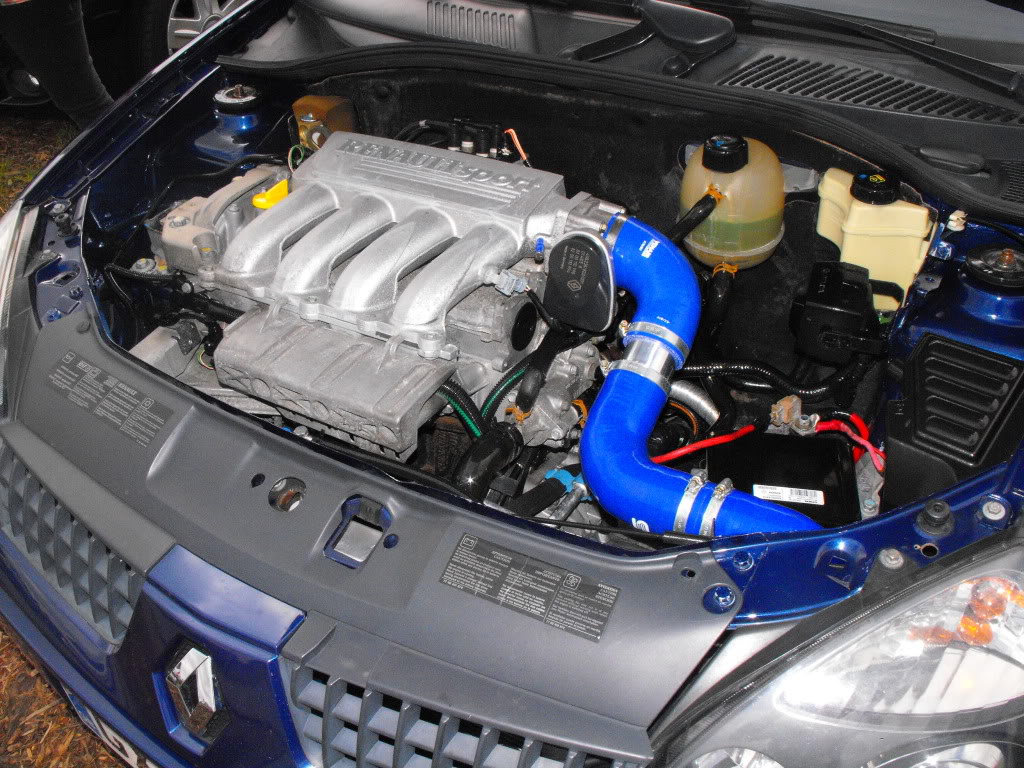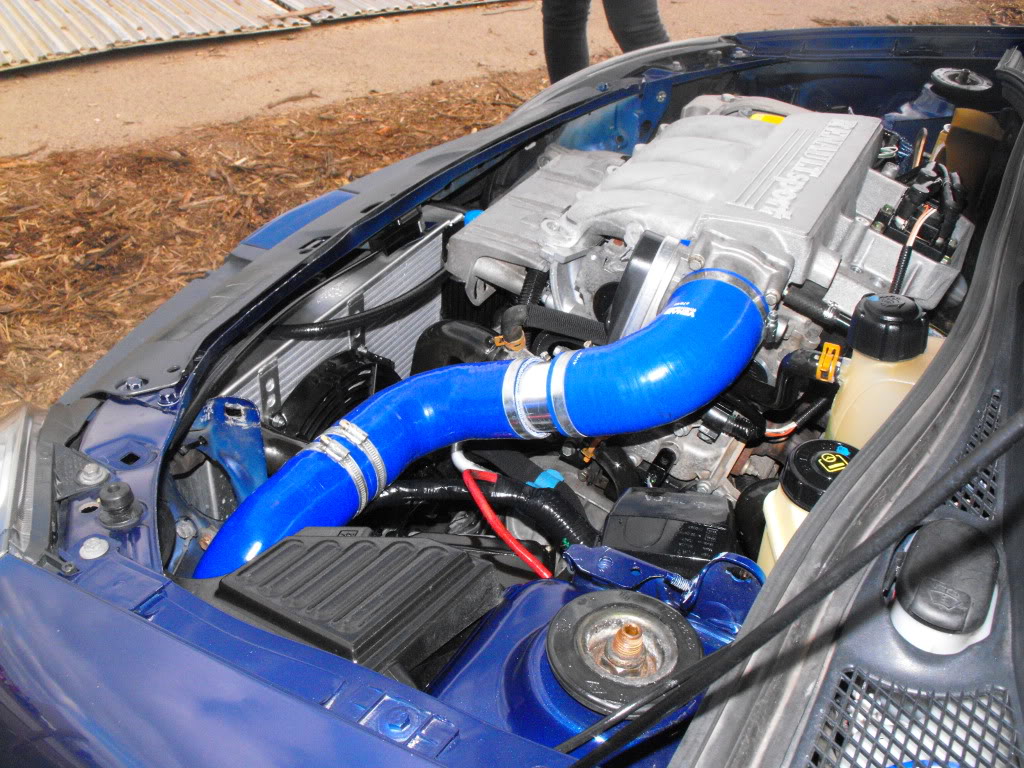 TRAX was awesome and it was really good to have a nice long drive in the car and meet a few of the cliosport.net members! The car was running perfect and I was happy with the looks of it too! I wanted to fit a boost gauge to keep an eye on everything and ensure it was always running tip top so I had a look on ebay. I managed to win one for £10 which came with a universal gauge pod. Once it arrived me and my brother set about mounting it. After about half an hour my brother came up with the idea of mounting it where the ashtray is, it never gets used and would be a nice subtle place, I didnt want it on show! We took the ashtray out and cut the gauge pod to the same shape using a dremel. We then used the spare plastic and a soldering iron to plastic weld the gauge pod to the cetre console. We soldered the positive and minus wires for the backlight on the gauge to the cigarette lighter, couldnt of been in a more perfect place! We routed the vacuum hose through the bulkhead and plummed it in, heres the result: I then wanted to fit a dump valve. I know it has no real use on a supercharged car but I wanted the noise! I had a Forge competiton dump valve in my toolbox which had a 60mm t-piece connected too! Bonus! This was from my old mk4 astra GSI. I fitted it but the spring in the valve was too soft, it was constantly open until the car got on boost from the way the supercharger works on vacuum, so on idle and low revs it was constantly hissing which was really annoying! I spoke to Forge and they sent me some shimms and a stiffer spring which once fitted work perfect! The dump valve is totally silent unless the car is over 0.4 bar of boost which is approx 5k revs so it only works once your giving it the beans, which in my opinion is the best way! Heres a few snaps once fitted: AND, thats the story so far!! I have a few plans for the near future which are: new exhaust, coilovers, blue silicone water hoses, painted engine cover, and a low compression bottom end for more power!
. I will keep you all updated with progress in this thread with pictures, videos and info on how car is doing! Hope you all enjoyed the read?