Back in the summer of 1994 my mother wanted to replace her Peugeot 205 and chose a brand new MK1 Phase 2 Clio 16v delivered on 1st August 1994 with the reg
M916 WAV.
I vividly remember that when she ordered the car, the dealer asked her if she wanted to have a Clio Williams 2 instead as he was sure he could get her one? I was all for that, but she declined the offer as she wanted the "Luxury" options of Sunroof & Remote stereo controls that only came on the regular 16v.
I was so taken with that car, and the reason I bought my first 5GTT Raider as it was the closest thing to one I could afford at the time (Here's my 1st Raider behind my Mothers Clio 16v)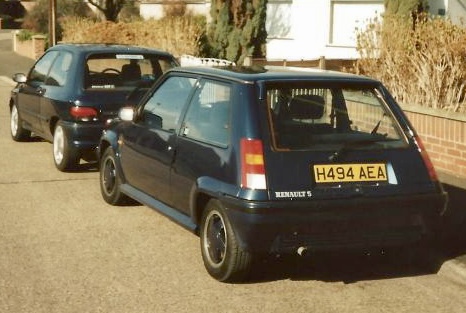 One of my mothers work colleagues actually bought a Clio Williams 2 at the same time and I can remember drooling at the two "HOT" Clio's parked next to each other at my mothers office when I used to visit her.
I knew back then, that my mother had made the wrong decision buying the regular Clio 16v and wish she had bought the Williams. The car just looked so much more purposeful with those Gold Alloys and wider/squat stance.
I've always wanted a Clio Williams, but have never done anything to satisfy that craving, and as the years pass, realise I'd missed the boat as the prices of them just keep climbing up as they rightfully take their place in the Hot Hatch hall of fame.
Earlier in 2022 I went to the Linas De Monthlery Renault show in Paris and the place was awash with Clio Williams' being thrashed around the track and that added to the conversation with Jesus aka Matty Clements about how much he loved his Williams really got those juices to own my own Williams flowing HARD!
Following my return to the UK I started to see if there was any way I could get myself into Clio Williams… and a few options presented themselves:
1) Chap in Sunderland is selling a Williams 2 on Facebook for £8,500, but it's a Cat D, and that put me off:
2) Clio Williams 1 on eBay that keeps being auctioned off, he wants £7k for it, and it's been thru auctions several times and finished making the number, but sure enough, re-appears back on eBay a day or two later as the buyer pulls out?
The problem is, the cars ROTTEN as a pear!!!: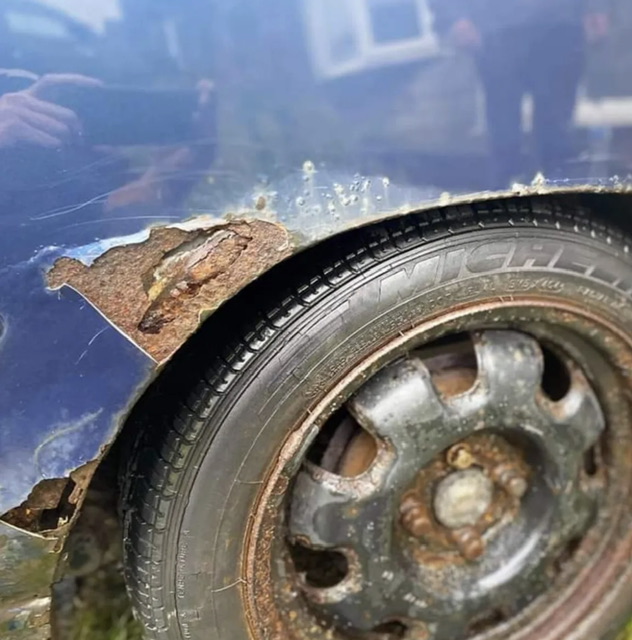 The other problem with this car, is it's got a load of bits missing which are just unobtainable now.
3) Clio Williams 1 which a chap is trying to sell on eBay right now. The car looks great, and really original. 87k miles, 3 owners, heaps of history, bill of sale, dealer plates etc. BUT, it still needs a pair of sills and arches repairing, so at the £16,500 he wants for it, makes it out of my price range.
4) Looking at what else is available, there's only one other Clio Williams 2 on sale now at a dealer in Ware. £17,495 gets you a 109k car that again looks really clean: But I'm not interested in spending that much money, so it got knocked on the head.
So looks like I've properly missed the boat for a Clio Williams
Well, I then found a lead and gave it a tug… an unearthed a Clio Williams 2, 127k miles, plenty of owners, 6 months MOT, original book pack and some service history. Started a conversation with the guy, and the found the numbers
could
work, even with the pair of sills it needs.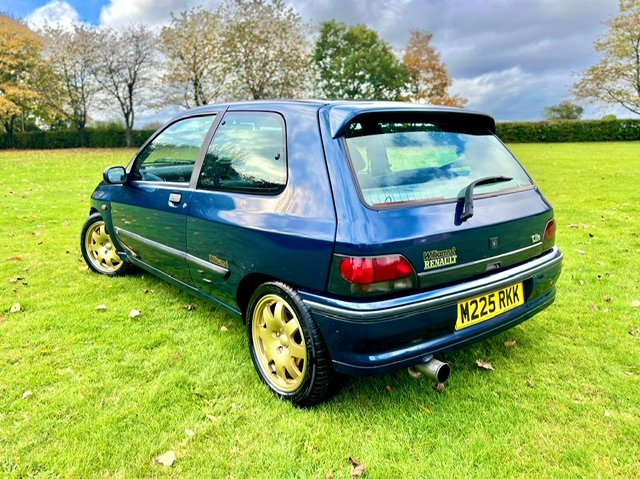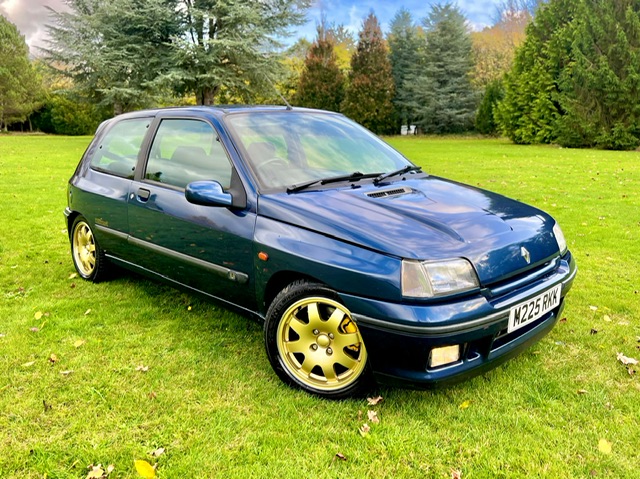 I was REALLY into this car, as I could see where I could make a difference to it with my history of working with Old Renaults…
So on Sunday 18th December 2022, my best man Jez and I took a ride down to Andover to have a look at it… turned up and this was the first time I saw the car: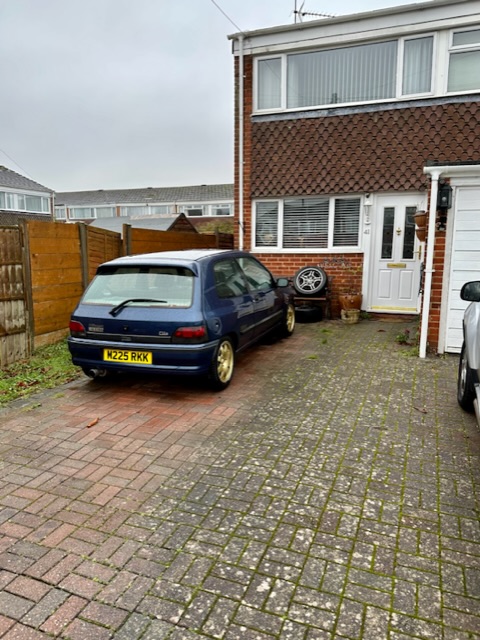 The car looked great, but was covered in rain so knew it was going to look better for itself! Have a look over and could confirm everything was present & correct and the engine ran sweet.
Took it out for a test drive and just fell in love with it… within 3 miles, I could see why the motoring press make such a noise about these cars! Took another photo whilst out on the test drive whilst I changed driver with Jez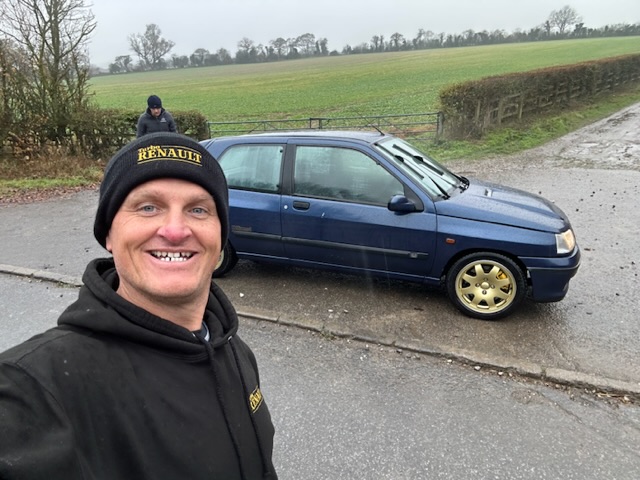 Jez drove back to the sellers house and instantly commented he thought the car would be my best car should I buy it! Preferring it over my Clio 182 and Clio 200 Raider!!
So with that… I bought it!
Took nearly 3 hours for the money to eventually be transferred to the seller, so by the time I was ready to drive home, the 2022 Qatar World Cup Final between France & Argentina had started, and I spent a truly memorable drive home listening to that game play out!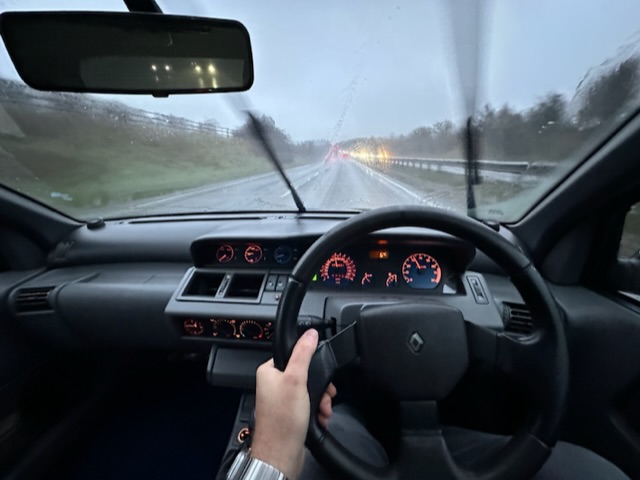 The car drives REALLY well and just SOOOO comfortable with those big squishy armchair seats! The only issue was I had no heater fan and you can see I'm the picture above, the centre vents are also missing for some reason..??
By the time we got back to Peterborough, the Megane desperately needed some petrol, so I took the chance to get a couple of photos whilst the car was being filled as I was listening to the penalty shootout play out!!!!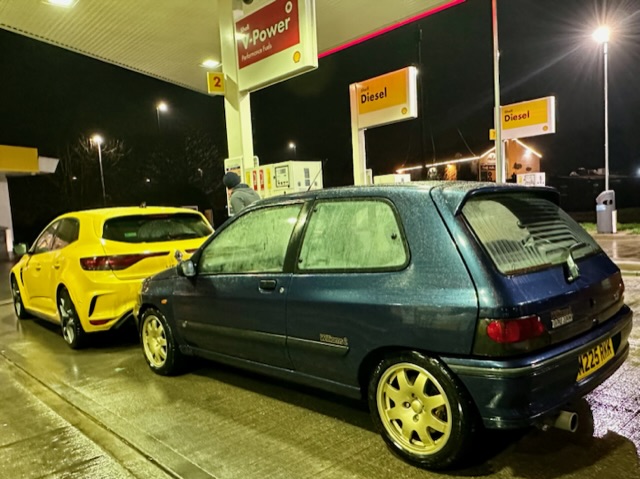 We also had to pick up a bit of shopping: