I'm trying to install an aftermarket head unit into my Clio Mk3.
I'm using this wiring diagram which matches the factory fitted stereo (I have a single large C connector, not the smaller yellow one that just covers the C1 pins):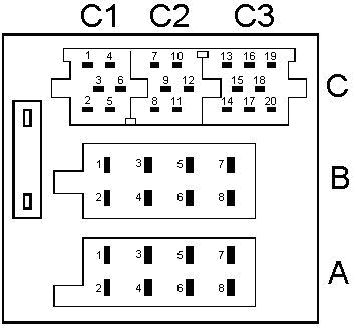 A​

1​

Speed Dependent Volume Control​

2​

n/c​

3​

Phone mute (ground to activate)​

4​

+12V (constant)​

5​

+ Aerial (12V when radio on)​

6​

+ Lights (12V when lights on)​

7​

+ACC (12V when ACC on)​

8​

GND​

B​

1​

+ Rear Right​

2​

- Rear Right​

3​

+ Front Right​

4​

- Front Right​

5​

+ Front Left​

6​

- Front Left​

7​

+Rear Left​

8​

- Rear Left​

C1​

1​

DTA​

2​

CLK​

3​

MIRQ​

4​

n/c​

5​

Radio ON​

6​

GND​

C2
(**)​

7​

n/c​

8​

n/c​

9​

n/c​

10​

Audio Left​

11​

Audio Right​

12​

Audio GND​

C3​

13​

Tx (from HU to CDC or PC)​

14​

Rx (from PC or CDC to HU)​

15​

GND​

16​

12V (constant)​

17​

HU ON (12V when HU is ON)​

18​

SPDIF IN (***)​

19​

SPDIF GND (***)​

20​

(SPDIF GND) (***)​
Source: https://www.tehnomagazin.com/Auto-radio-car-connector/RENAULT-Car-Radio-Wiring-Connector.htm
I'm not precious about the steering controls/display panel for now, so it should be a simple case of just connecting A and B to the included adapter, right? Except that A only has two wires in it - pins 8 and 4 (ground and 12v constant).
Haynes wiring diagram is telling me that there should be a yellow pin A7 for ignition switched power, as is pretty much every source I've found on wiring in an aftermarket stereo, including other threads I've seen on on here. The adapter that came with the stereo relies on this being the case, but helpfully includes bullet connectors on pins 4 and 7 so I can either swap them or connect both to pin 4 if necessary - I've done this and the new stereo works, except I've got to remember to turn it off or risk a dead battery, so not ideal.
I was fully convinced that the pin had been pulled out through previous manhandling, and had my weekend put aside for pulling the dashboard apart to go looking for it...but then I looked at the old stereo - and it only has two pins on the A connector! Which means the switched ignition must be somewhere on the C connector, right?
The only one I can see it being is C5 (listed as Radio ON) in the diagram. Is this the one I need to connect to pin A7? Or do I need to run a whole separate ignition switched cable from scratch?