After feeling the need to get a Ph1 for some time now i've finally entered into the elite club
Some you may know of my BG182 that i had. This was a great car and i spent a lot of time and money on it. I bought it totally standard and then added my touch to it, Here's a few pics of how it looked during my ownership: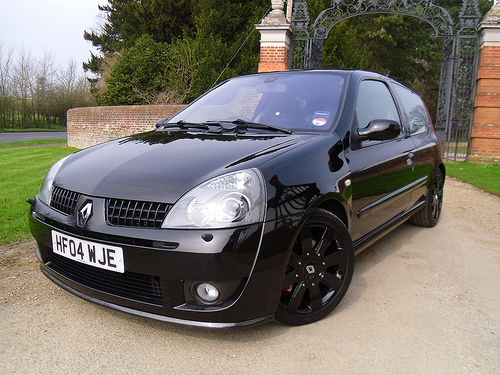 Front Angle
by
Dr-Jekyll
, on Flickr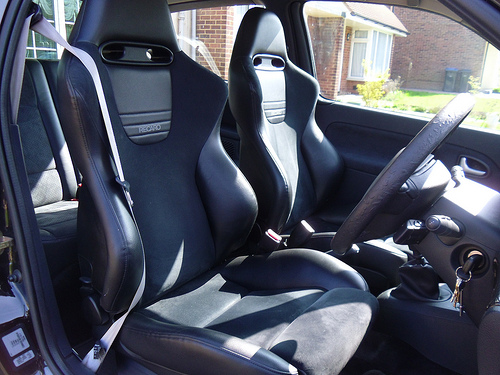 Reaco Trendlines
by
Dr-Jekyll
, on Flickr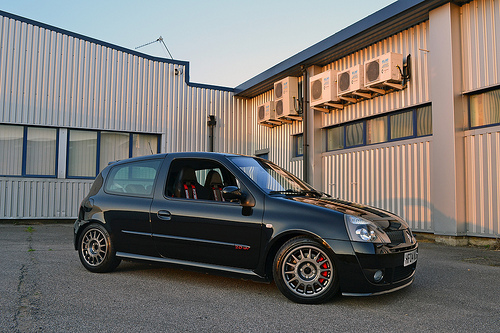 Clio 182
by
Dr-Jekyll
, on Flickr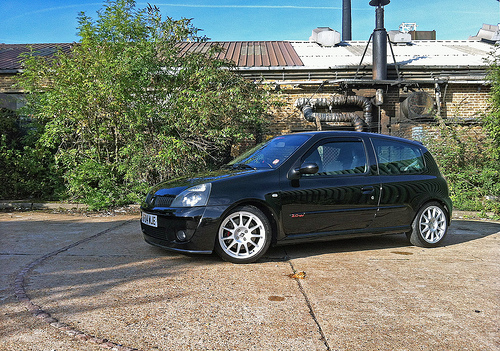 BG182 On Turini's 9
by
Dr-Jekyll
, on Flickr
And the full project thread:
http://www.cliosport.net/forum/showthread.php?671127-Dr-Jekyll-s-BG182-Project-Thread
Having been on this site for a few years now and been to various meets and shows, the love for a Ph1 kept growing stronger. In the end i decided to take the plunge after seeing @
Phase1sr
car. So the search began. I see Jamie @
yeecup
had he's up for sale but ideally i needed to sell mine 1st. After i mentioned that mine would be up for sale Arran @
azza_
sent me a few PM's. 2 weeks later and the money was passed and the BG was going all the way back to he's homeland of sunny Scotland.
So i started looking at phase 1's. I had a look at a few but kept coming back to to Jamie's. After a few PM's were sent i waited untill he found another car as it was he's only mode of transport. Cue this friday just gone and after speaking to him that the Ph1 was available i booked myself a flight to Scotland! I shoulda jumped in the car with Arran lol.
Jamie picked me up and took me to he's home. We had a good chat about the car and after nearly 2hrs of chin-wagging the car was mine. I drove it down the road and gave it a tank full of V-Power. After all it was 379miles from he's address to mine!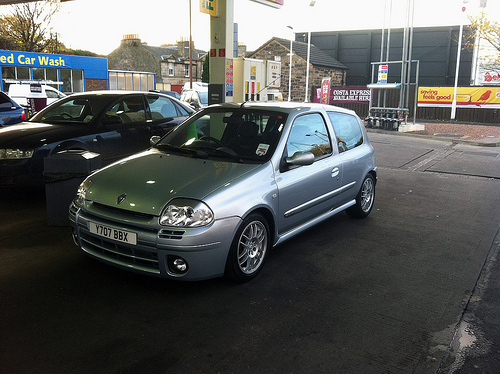 Filling with V-Power
by
Dr-Jekyll
, on Flickr
So the drive home began. I must say that the ride is very comfortable. I had sportlines on my BG but felt it wasn't low enough. On the Ph1 it looks spot on and is complemented nicely with the Koni adjustable shocks
It feels totally different from the 182. I can understand now, having driven one on a long journey, why people say they are much more raw. It has a K-Tec stealth exhaust system and K-Tec induction kit, which i must add is very addictive. It sounds great and the car pulls nicely too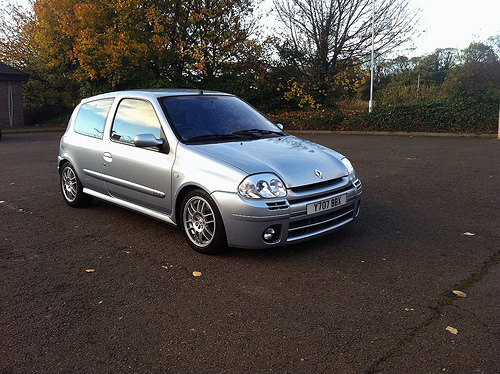 1st day of Ph1 172 ownership
by
Dr-Jekyll
, on Flickr
After a few stops off on the way home for leg stretching and toileting i finally got back to mine. Total journey time was 8 1/2 hrs! Bought the car on76,785 and it is now on 77,174.
So the Ph1 project begins. I wont be going as mad as i did on the 182, purely from a cost point of view. Im currently saving for a mortgage so i wanted a car that was part done that would last me a long time as i want this long term.
There is a few things that will need to be done. It has a dodgy fuel regulator which Jamie told me about. Having a look on here it seems a common fault. This will be the 1st job i tackle. Is this something that i can do or is it a garage supply and fit job?
The car is in good condition but isn't mint but this is something that i shall try to do over time. However it is a great base car to add the Dr's touches to it
It needs to have a dent taken out on which i will get Simon@County Dents to do. It has a few chipped marks which will be eventually sprayed but not yet.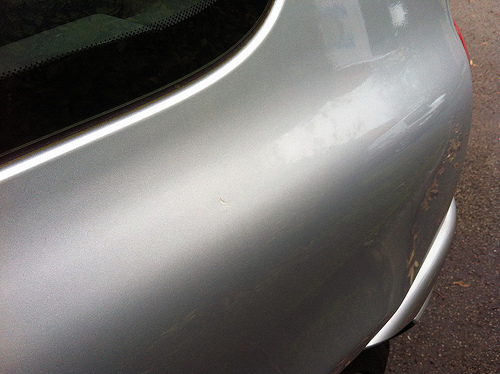 Rear chip
by
Dr-Jekyll
, on Flickr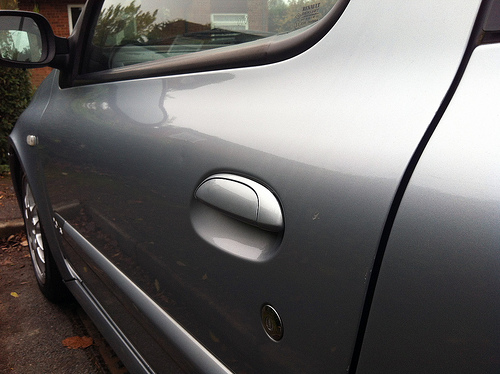 Door dent and chip
by
Dr-Jekyll
, on Flickr
I need to sort out the front bumper too.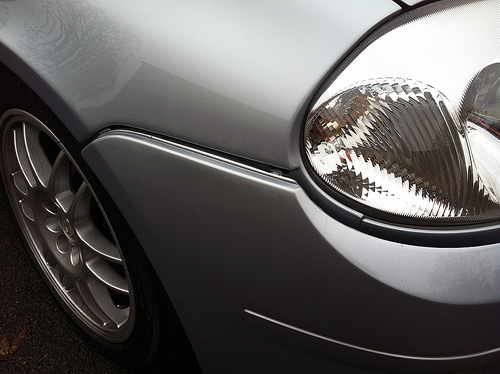 Front wing clip
by
Dr-Jekyll
, on Flickr
Interior is in good nick. I just need to clean up the grab handles and center console as they are a tad grubby and replace the left air vent as the center is snapped. I bought some wipes today so i shall give that a go this week.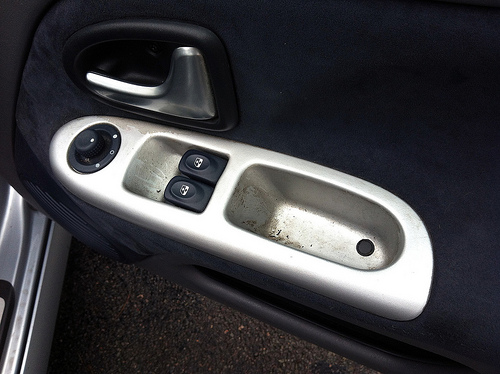 Grubby right grab handle
by
Dr-Jekyll
, on Flickr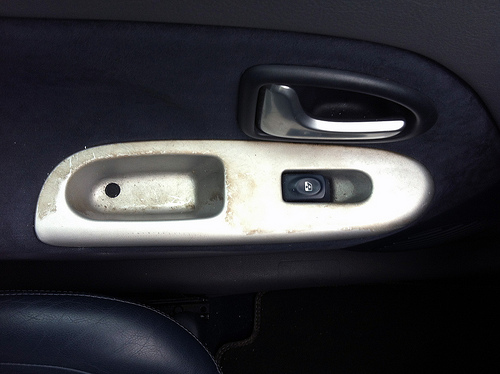 Grubby left grab handle
by
Dr-Jekyll
, on Flickr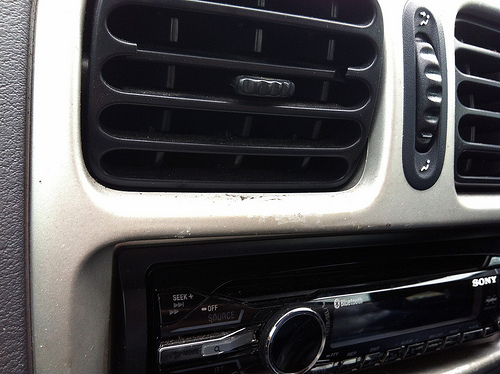 Grubby center console
by
Dr-Jekyll
, on Flickr
I thought i'd hate the Ph1 wheel but it's been retrimmed and is actually quite nice to drive with.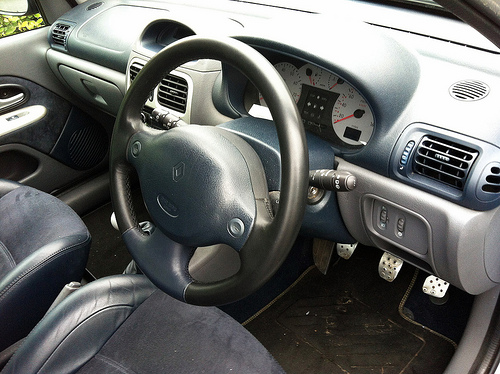 Retrimmed steering wheel
by
Dr-Jekyll
, on Flickr
I have to say though that im loving it. It just looks so good
Im really pleased and im actually looking forward to doing bits to it over time.
The current upgrades are full K-Tec stealth exhaust with center silencer, Koni adjustable shocks, Eibach sportline springs, Whiteline ARB, Cup spoiler, Ph2 side strips and interior door handles and a Sony bluetooth headunit.
Ive got a few things in mind that i'd like to get and do to it. These are:
New Renault Sport mats.
(Possibly) Renault Sabelt wheel with boss.
Fit poly dogbone mount that ive already got.
Ph1 interior door handles.
Shave the front seats to remove some of the bobbling.
Clean up the engine bay with new coolant bottle and painted inlets.
Dan@MAD battery cover and top mount covers.
I have the original headunit and it still has the CD changer under the seat so i might replace the Sony one with the original one but not just yet.
Get a few CS stickers.
Fit a stud and nut kit. I was undecided at 1st as i wanted to keep this quite oem but it does make wheel changes easier than bolts so i probably will end up doing this.
Get Dan@MAD 5mm spacers all round.
Paint calipers silver all round.
Undecided at the Ph2 side strips. At 1st i wanted to put the originals on but i must admit the Ph2's do look quite smart
Remove the acoustic rear parcel shelf with the 6x9's connected and get a standard one.
Remove 3/4 front plate and just have a standard sized clean plate. I personally think it looks better
Thats all i can think of at the moment so let the Ph1 progress begin
Last edited: