Hi, I'm Steve, as you can probably tell by my username. Just wanted to clear that up as I regularly get called Kyle and it's quite annoying 😂
A little bit about me:
I'm 24
CNC horizontal miller
Massive love for all things car related
For the last 6 years since passing my test I've only went 9 months without a Clio Sport. These 9 months where when I owned my Audi RS5. I know people say Renault are renowned for being unreliable but that Audi, Jesus Christ. There is a reason it only lasted 9 months! Just over 3 months of this was spent in Audis workshop. 2 x gearbox failures, 2 x ECU failures and a Suspension System failure resulted in 5 courtesy cars:
VW Toureg
Audi A6
Audi A3
Audi Q2 - Arguably the ugliest car I have ever driven
Audi Q3
I completed my 2nd Euro Trip (Details of the 1st are mentioned below) in the RS5 and surprisingly all was fine. I loved the car, it was a monster yet so refined. Just a shame I couldn't rely on it getting me to work.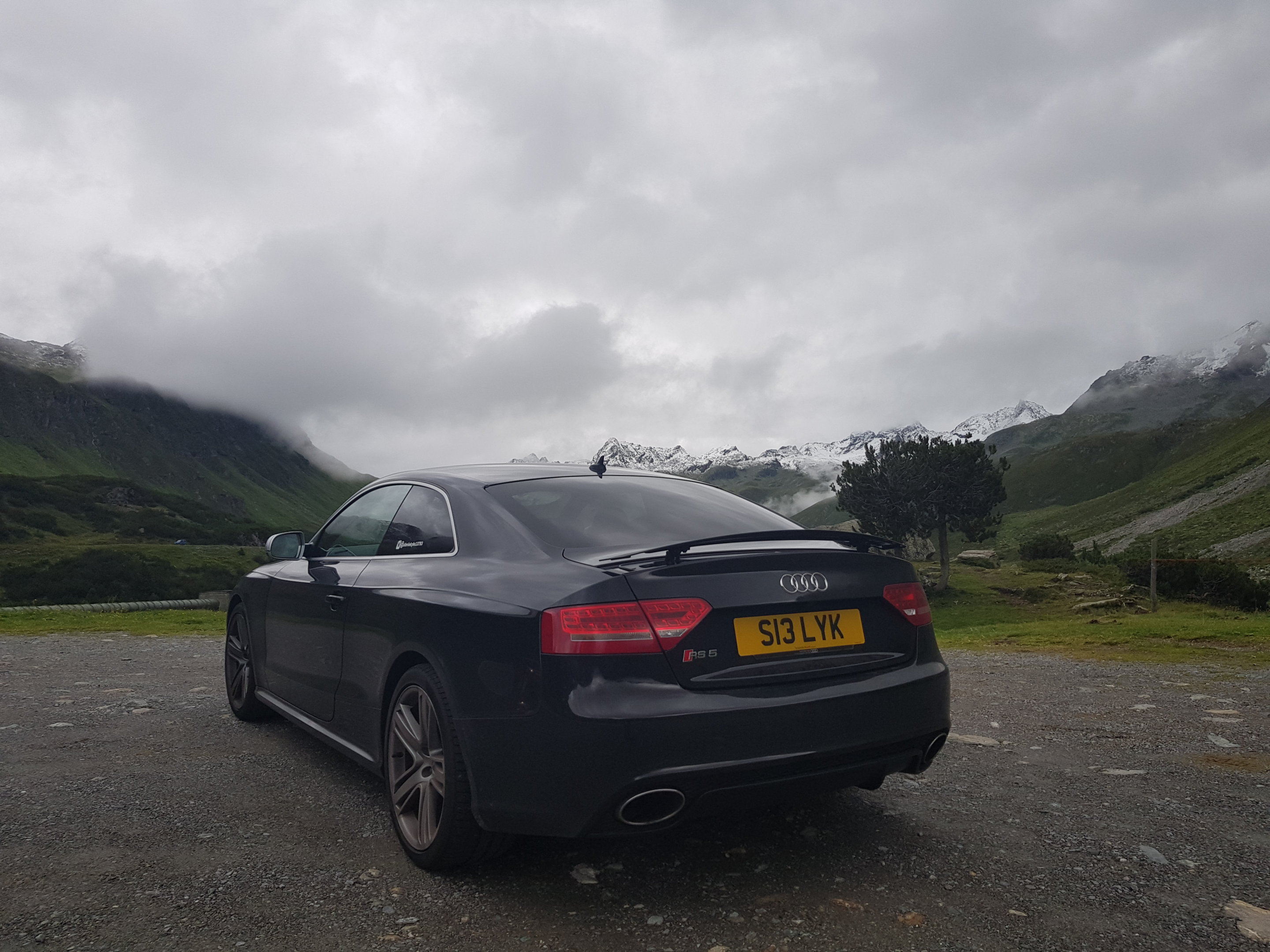 I've owned a handful of other cars such as an Audi A6 Avant, Toyota Yaris T-Sport, Fiat Punto, Clio DCI 80 and I'm back in a Clio Sport ... again 🙈
I'm now on to my 5th Clio Sport and here goes my first attempt at a build thread:
My Clio history consists of:
Black Gold 182 - I don't think I could have hated a single car any more than this one if I tried. I think the only reason I didn't set fire to it is due to it being my first car. Long story short, I decided to do a Euro Trip consisting of Amsterdam, Nurburgring, Munich, Innsbruck, Vaduz, Interlaken, Geneva, St. Louis, Luxembourg City and all of the twisty mountain roads in between, (Passo Del Rombo, Stelvio Pass and the Susten Pass to name a few). No sooner had I left Innsbruck and one of my rods decided it wanted to wave Hello to everyone in Austria. After months and months of phonecalls between my insurer and the breakdown company my car was eventually brought home. Probably one of the most painstaking, tedious and frustrating of situations I've ever been in. Luckily I was with a friend and continued the trip in his car whilst I ditched mine on the Timmelsjoch Pass amongst a herd of horny bulls. How do I know they were horny you ask ... ? I'm just assuming by the sticky substances on my car and all of the scratches. I think I have some photos of these big hairy b*stards somewhere.
It was relatively standard other than:
ITG Maxogen
Recaro Trendlines
PMS solid top mounts / strut brace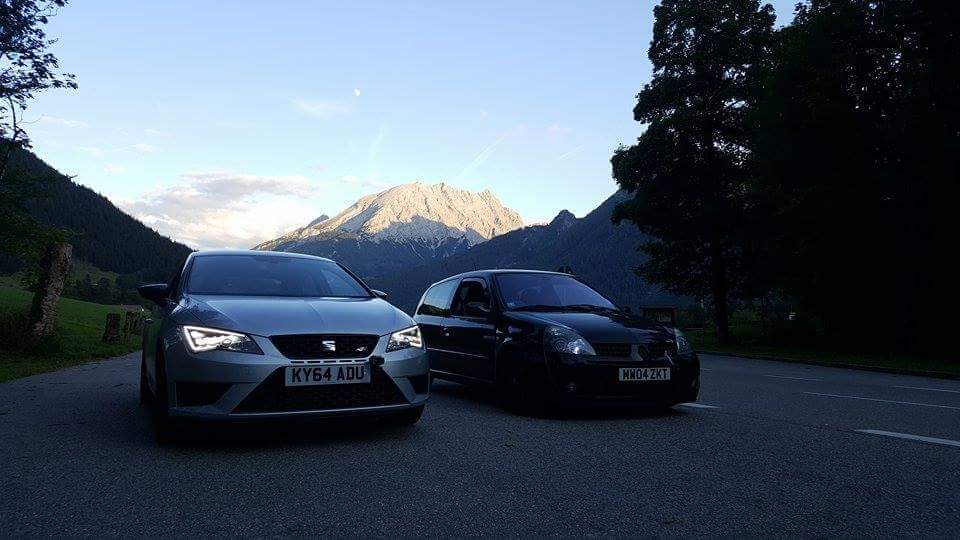 Arctic Blue 182 - Spec is quite large:
Forged engine pushing out 345bhp
Adaptronic ECU
02m 6 speed gearbox with Quaiffe LSD
Mocal oil cooler
PMS upper engine mount
Magnecor HT leads
AST 5100 coilovers
PMS solid top mounts and strut brace
Whiteline RARB
Corbeau pro series system 5 carbon bucket seats with Sabelt 6 point harnesses
Standalone fuel system with Bosch 044 fuel pump, Walbro 255 in tank pump
Battery relocated to boot
Half roll cage
Braided brake lines
Ferodo DS1.11 pads
Sabelt wheel
Momo boss
Depo boost gauge with oil pressure, oil temp and voltmeter
AEM wideband air/fuel ratio gauge
CM Composites splitter and canards
Loackable aerocatches bonnet and boot
FK Euro rear lights
Probably some more I have missed. It had the old Clio Turbo treatment so this car eventually got broken for parts after breaking down on 3 out of 3 trackdays.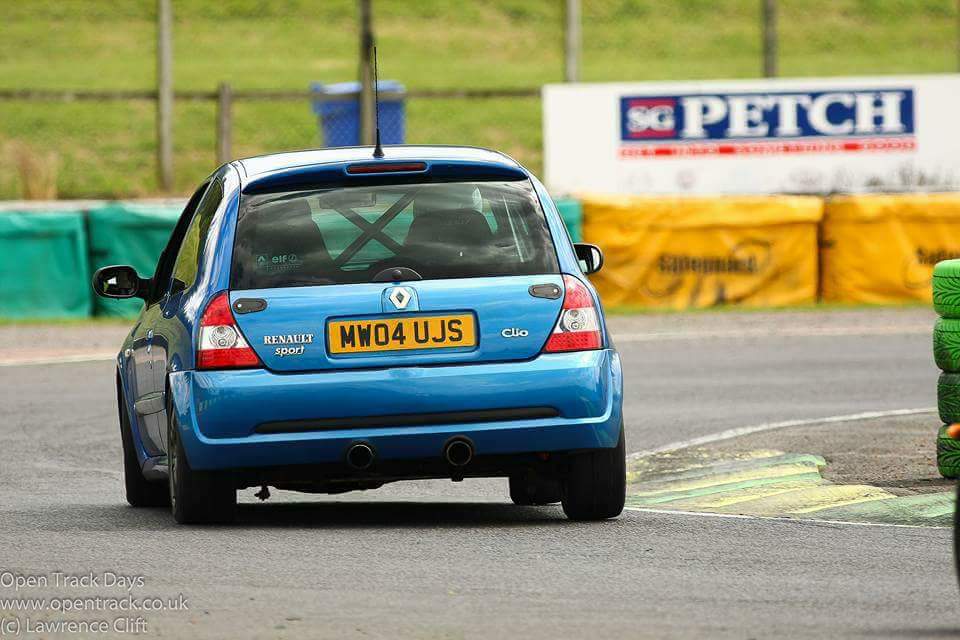 182 Trophy - Not one of my proudest cars, but one of my most profitable:
I decided to sell the Trendlines, Sachs and Turinis which resulted in the car owing me almost nothing. It was on 130,000 miles when I bought it and I figured it had lost the majority of its Trophy appeal. However, this is just one car I never really fell in love with unfortunately. I only owned it for around 4 months before doing a PX deal on my second Black Gold 182 (See below).
Spec:
Ramair induction
Half cage
Corbeau pro series system 5 (I kept these from the Turbo build)
Braided brake lines
ASH silicone water hose kit
CM Composites splitter and canards
OMP wheel
Powerflex yellow upper engine insert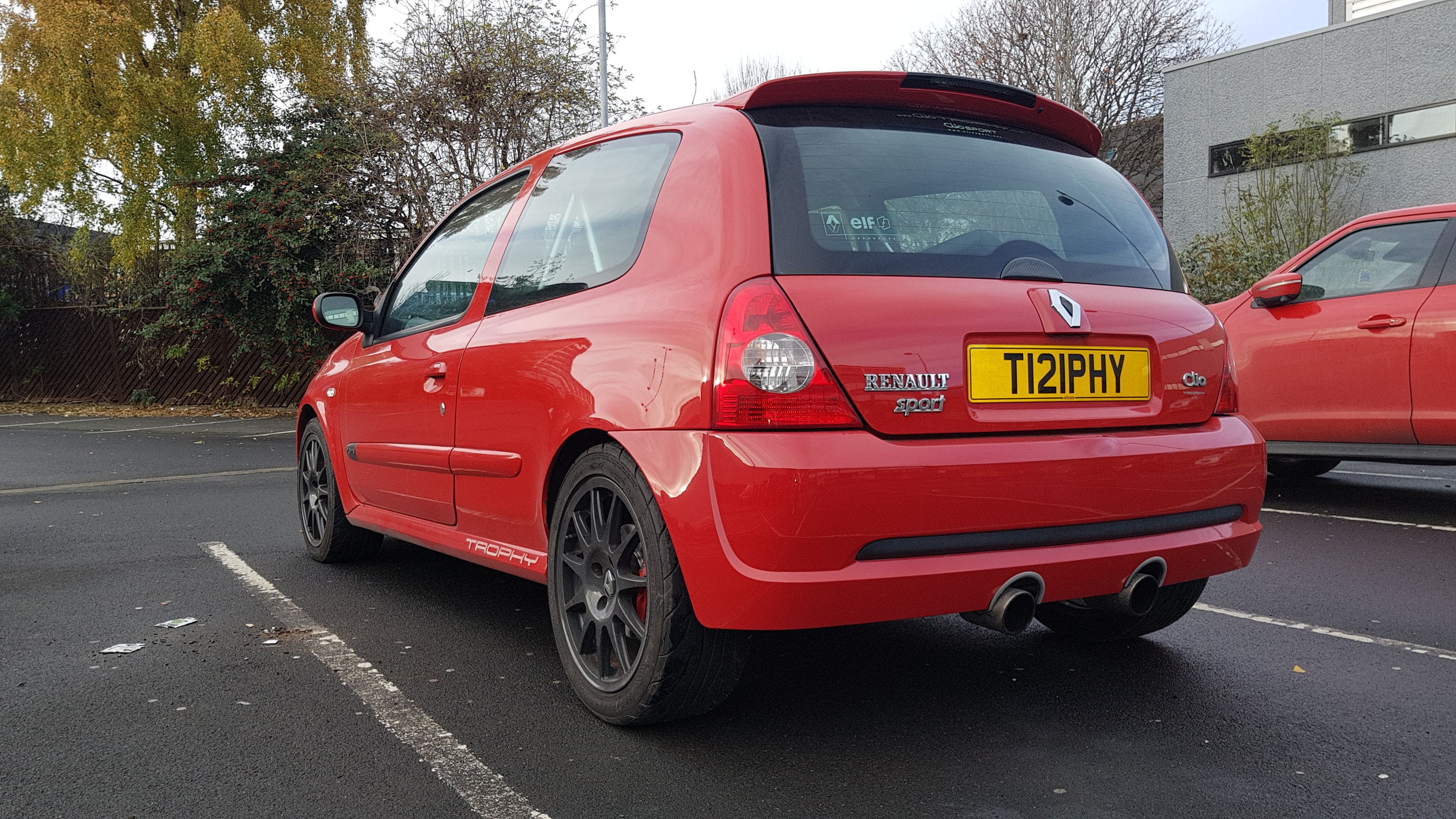 172 Cup - (The car the thread is designed around)
I bought this for £1,000 with only 75,000 miles on. Absolute steal considering the mileage in my eyes. I will talk more on this throughout the thread ...
Black Gold 182 v2 - This is my current daily, I done a swap for my Trophy and it has a really nice road going spec:
Bilstein B14 coilovers
Full Powerflex polybush kit
Recaro Trendlines
Ktec induction kit
Braided brake lines
Whiteline RARB
Sabelt wheel
Cup splitter
Brake ducts in place of foglights
OZ F1s in 16"
Trophy rep spoiler
Scorpion exhaust
Only 78,000 miles too. I'm in love with it!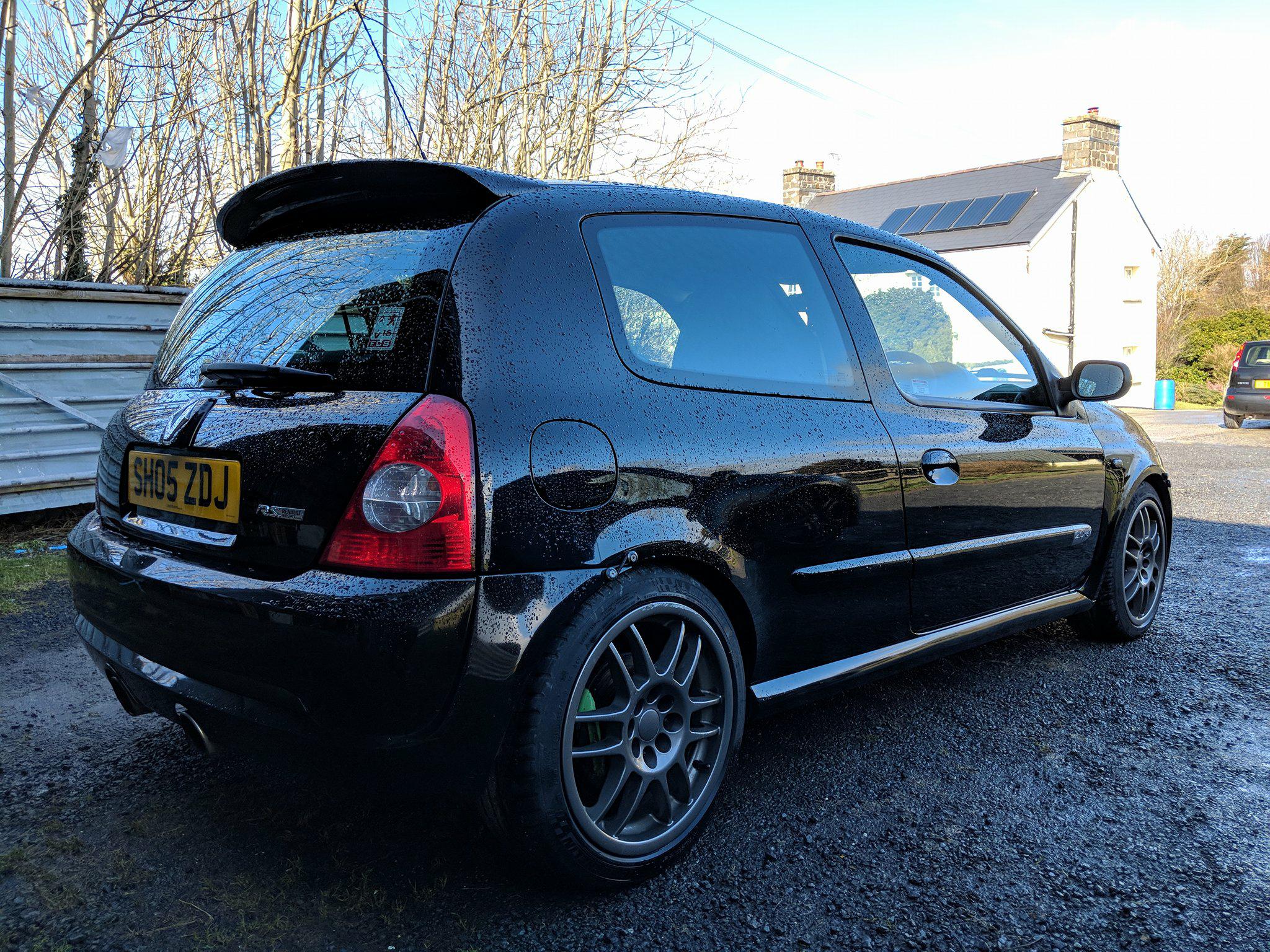 Right, now to the purpose of the thread, my Clio 172 Cup:
I bought this a few weeks back with the intention of building another big spec Clio, although this time staying N/A due to the amount of teething problems I had with the turbo build. My long term plans are to go for cams and throttle bodies but I believe the term is 'slowly slowly catch the monkey'.
When I bought the Cup it was already stripped out and had been painted black inside, with a rattle can I presume judging by the finish. The wiring loom has been cut by no other than this guy: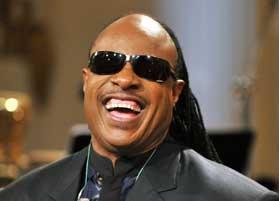 When I say the Airbag ECU was chopped out I literally mean chopped out. The loom is almost an inch thick and it has a straight slice through it, god knows what was used to get though it, a Samurai sword perhaps?
Loose electrical wires all over the car, the custom made subframes are something to behold. I will get some pictures next time I'm over the garage. Hazard switches, heaters etc were all cable tied to the dash and literally looked a mess. However, it wasnt all doom and gloom:
2 x Cobra Monaco Sport seats
2 x TRS 4 point harnesses
Sparco flat bottom steering wheel
Now then, I never bothered to get photos of the below as I only thought of making this build thread a few days back. Over the last few weeks the car has sat in the garage whilst I start to order parts for it, I firstly started with the brakes.
Front and rear PBS pads
Brembo HC front discs
Genuine renault rear discs
Rear disc spacers as one of mine snapped when removing due to being seized on
New pad fitting kits
Then I fitted 4 new spark plugs along with my Magnecor red HT leads.
Now, this is where the pictures started to come in and shall continue to do so ... (I will start a new message as I believe you can only add 10 images to each message, correct me if i'm wrong ... ?)